Yes, it's true: $8 flights are now a thing in Canada. How is it possible? Ultra Low-Cost Carriers, of course. We've been singing their praise since the day Flytrippers launched… and maybe with today's news you too will see how amazing they are!
We love Ultra Low-Cost Carriers (ULCCs). They are airlines with a completely different business model and they are incredible: they make it possible to travel for incredibly cheap. They are the best thing to have happened to the aviation industry in… well, forever.
We are actually on a all-ULCC trip right now: our flights to Europe (and back) plus 8 different additional flights within Europe have cost us only $450 TOTAL. That's how amazing ULCC prices are (and it could've been cheaper, but we were time-constrained and wanted to pick European countries that we hadn't been to yet).
And the ULCC model is finally coming to Canada. At Flytrippers, we are your ULCC experts (I've flown 70 ULCC flights in the past few years myself). We want to help you take advantage of these flights so you can travel more. That's why we already curate the best flight deals on our deals page, from 9 Canadian departure cities… and why we have lots of tips on this blog to help you understand ULCCs (and all other travel-related subjects).
So let's get to today's incredibly great news. There is a lot to process here, so bear with us. We'll try to give you as much information as possible, as clearly as possible.
First of all, we had already put ourselves out there and predicted that 2018 would be the cheapest year ever for airfares in Canada, and boy is it looking even better than we thought.
SWOOP, one of the two ULCCs launching this summer, finally released its first routes… and its first prices.
And it's good.
One-way flights start at under $8.
Yeah $7.50 to be more specific. And like all plane ticket prices in Canada (and all those on our flight deals page), that always includes all taxes and mandatory fees.
Here is the screenshot from the SWOOP website: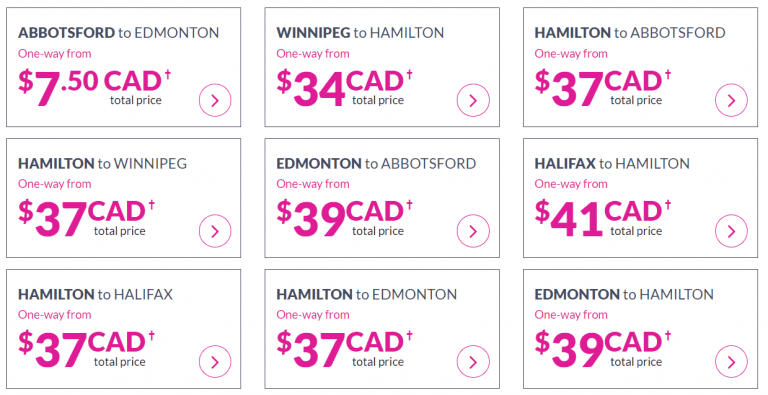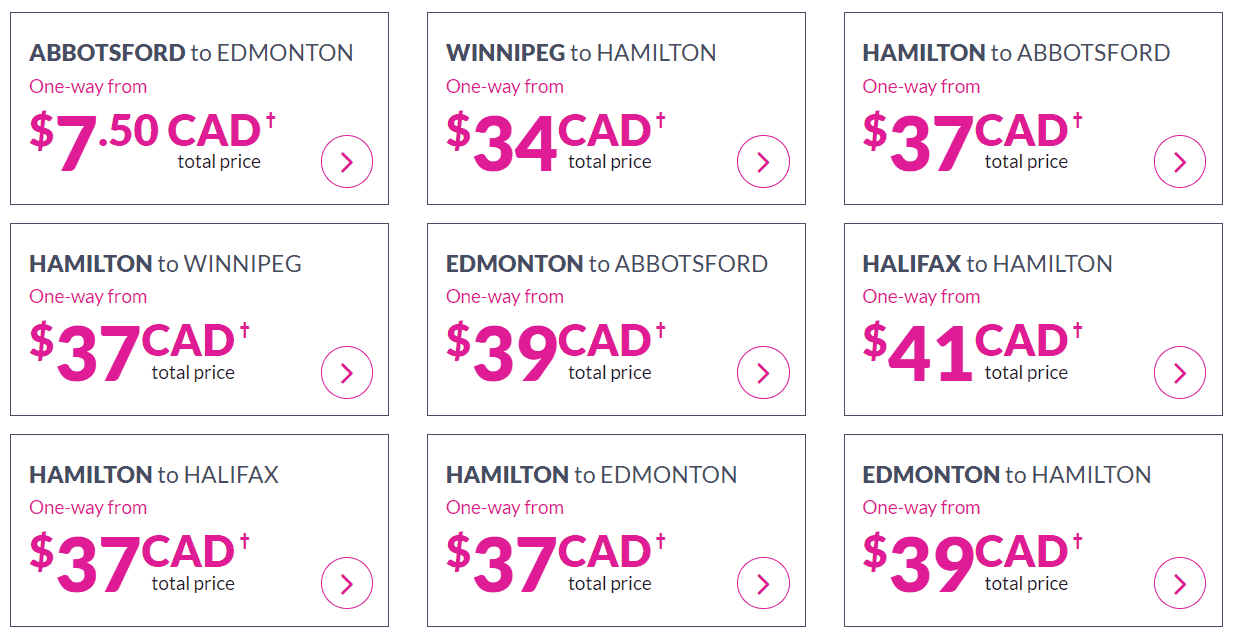 There are also other deals. Of course, the $8 flights are a promotional launch price, but still all those other flights under $100 were exactly what we told you would happen when ULCCs would launch in Canada. Even at the regular prices, you can expect many roundtrips within Canada in the $100 to $250 range.
It's unbelievably low for Canada, as we have ranked among the most expensive countries in the world for domestic flights for a long time, in large part because there were no ULCCs.
So the SWOOP launch is amazing for residents of the 5 initial markets that will be served:
Vancouver (via Abbotsford)
Toronto (via Hamilton)
Edmonton
Halifax
Winnipeg
For our friends in Calgary, Ottawa, Montreal and Quebec City, SWOOP mentions that many more routes will be announced soon (we'll keep a close eye on this for you, subscribe to our free newsletter to get all the news and deals from your city).
Again, this is incredible news. You can't even imagine how excited we are about all the possibilities. We will definitely be able to help you travel more in 2018.
As always dates are limited (and will of course expire really quickly), that's why we'll be here to curate the dates that are on sale and help you fly for less. The SWOOP calendar on their website is pretty useful, so you can see for yourself which dates are on sale for now, as we wanted to publish this right away very quickly since this is quite an amazing promotion to celebrate their launch.
In fact, some tickets are at a $0 base fare (which means you literally just pay the taxes). It won't always be this low, but it'll obviously be much cheaper than what you are used to in Canada. It is very common for flights in Europe, Asia and even the US to be regularly priced at about $20, so it is very encouraging for us Canadians!
I remember the skeptical comments when I wrote that $20 flights and $10 flights were coming to Canada: "impossible"… well my apologies, it wasn't $10 or $20, it is $8 after all. ULCC are really cheap, that's the whole point of their model!
You can head to their sale page here to see all the deals and book a cheap flight right away, but we also have quite a few resources here to help you navigate the world of ULCCs, as they are completely different from what you are used to.
First of all, you should definitely read our detailed article about How ULCCs Work (and you can check out the video here below). This explains the basics of this business model and all that you need to know to understand them. You will learn about how to avoid all extra fees. I've flown on ULCCs 70 times, I have never paid a dime more than the posted price. It is very doable, if you want to travel really cheap.
You can also read our article about The Most Common ULCC Myths, I am sure at least one of those crossed your mind.
You can also read our article about a typical ULCC experience, with lots of photos, A Review Of Our 10 WOW Air Flights.
You can read our previous article with more details about the SWOOP launch here.
Here is a video produced by SWOOP that explains how ULCCs work:
Bottom Line
This is hot off the press, and it's an amazing price that has us really excited for Swoop's arrival in Canada this summer.
Have you ever flown on ULCCs?
Help us spread the word about our flight deals and travel tips by sharing this article and most importantly bookmark Flytrippers so we can help you navigate the world of low-cost travel!
Advertiser Disclosure: Flytrippers receives a commission on links featured in this blog post. We appreciate if you use them, especially given it never costs you anything more to do so, and we thank you for supporting the site and making it possible for us to keep finding the best travel deals and content for you. In the interest of transparency, know that we will NEVER recommend a product or service we do not believe in or that we do not use ourselves, as our reputation and credibility is worth far more than any commission. This principle is an essential and non-negotiable part of all our partnerships: we will never give any third-party any control whatsoever on our content. For more information on our advertiser disclosure, click here.
Share this post to help us help more people travel more for less: