More good news in the Canadian aviation world, there has been quite a bit lately! To be fair, it's major news that has great potential… but that could also be bad news actually.
To give you a bit of context, you probably already knew this, but Canada is one of the most expensive countries in the world in terms of plane ticket prices (65th out of 80 to be precise).
That being said, 2017 was the cheapest year ever to fly (even here), and we've already made the prediction that 2018 would be even cheaper. And we are not even talking about our great flight deals that we spot for you every day here, but rather the overall prices of plane tickets in Canada.
Another prediction that we made turned out to be spot-on, the arrival of the "Basic Economy" fares in Canada. We explained what these fares were in October saying that it was coming and that precisely yesterday's news.
Air Canada announced the launch of this new "Basic Economy" fare class.
To be clear, this is definitely not as good a headline as the arrival of Ultra-Low Cost Carriers in Canada (their absence is one of the main reasons why plane tickets are so expensive here). We had predicted $10 flights with their arrival, and it turns out they were even lower, only $8 for SWOOP's launch.
READ ALSO: How Ultra Low-Cost Carriers Work
Yesterday's news could also be very positive. We'll explain it in detail, but we'll also get to why, unfortunately, it could just as easily be bad news.
What's the Basic Economy Fare Class?
We will summarize this very briefly because the airlines' fare classes are quite complex. On a plane, there are usually 4 major types of seat classes: First, Business, Premium Economy and Economy. The vast majority of seats on airplanes are in Economy (also called coach) and this is obviously where you will find the best prices. We only travel in this class ourselves, and we encourage you to do the same (cheaper flights = more trips).
Last year, a brand new subcategory appeared, the Basic Economy fare class, even cheaper than the regular economy class. It had not yet arrived in Canada but was already very common in the United States so it was only a matter of time, as I mentioned in an article last fall.
So in short, the Basic Economy class is how legacy carriers have responded to the arrival of Ultra-Low Cost Carriers. To better compete with this new type of airline, who have a completely different business model and very cheap fares with an "unbundled" pricing system (only the seat and a small bag are included in the price, everything else is optional for a fee), the 3 major regular American legacy airlines now offer a lower fare class, with fewer inclusions than their regular tickets.
This is great news in theory because we are big fans of letting consumers choose what they want to pay and the concept of Basic Economy is just that: you have the choice to select fewer services, fewer options, and fewer extras. That's why it's a good news: more choice and especially lower prices for those who don't want or need optional services. Easier to travel cheap, if you want to travel cheap.
Let's be clear, these are not new separate rows or anything like that. It's really the same seats as the current economy class, with additional restrictions. You can read more about the different seat classes here.
This is logical for the airlines too, because they are already experts in customer segmentation: out of 200 seats, passengers have paid around 100 different prices for their ticket. In the United States, with the meteoric rise of their three Ultra-Low Cost Carriers, the three legacy carriers were losing a lot of customers and reacted by offering a new fare class, with restrictions similar to those of Ultra-Low Cost Carriers (ULCCs). With ULCCs now arriving in Canada, Air Canada has decided to introduce this new type of fare as well.
But since nothing is simple in the world of air travel, the restrictions that come with these new Basic Economy fares are different on every airline and there are very sizable disparities. So we'll explain which business model Air Canada has chosen… and then we'll explain why it may very well be negative, despite what we just said.
Air Canada's Announcement
Only the three major airlines in the US offer Basic Economy: American, Delta, and United (the fourth legacy carrier, Alaska, is considering offering it). What is common to all three (and we will detail each point in a second) is that the tickets purchased in this new fare class do not allow you to earn miles, they do not allow you to select a seat, they make you board the plane last and they further restrict cancellations and changes.
Finally, the biggest restriction is that, like on Ultra-Low Cost Carriers, standard carry-on luggage is not included, only a small backpack (a personal item as they call it) but only on American and United. The other, Delta, being the most premium of the three, decided to include carry-on luggage in its Basic Economy fares.
So if this reassures you, Air Canada has chosen the same strategy, namely to leave carry-on luggage included. We can't say we're surprised, because people are so unfamiliar with the concept of Ultra-Low Cost Carriers in Canada (understandable, since we've never had any), so travelers' habits here haven't had time to change yet.
We are trying to convert as many people as possible to the concept of traveling light, because for one, it allows you to travel more by saving hundreds of dollars on airfares, but also because it is more practical and has many other benefits. But there are many people who are reluctant to try it for many reasons (some rational, others less so) so it makes sense that the first step of Air Canada's new Basic Economy fares, to be less of a shock, is to include a carry-on bag. And also because Air Canada is positioning itself as one of the most premium airlines in North America, they're following Delta's lead in terms of luggage… in short, it makes sense.
Here is the chart from Air Canada that explains the changes compared to Economy Tango, their current cheapest fare class.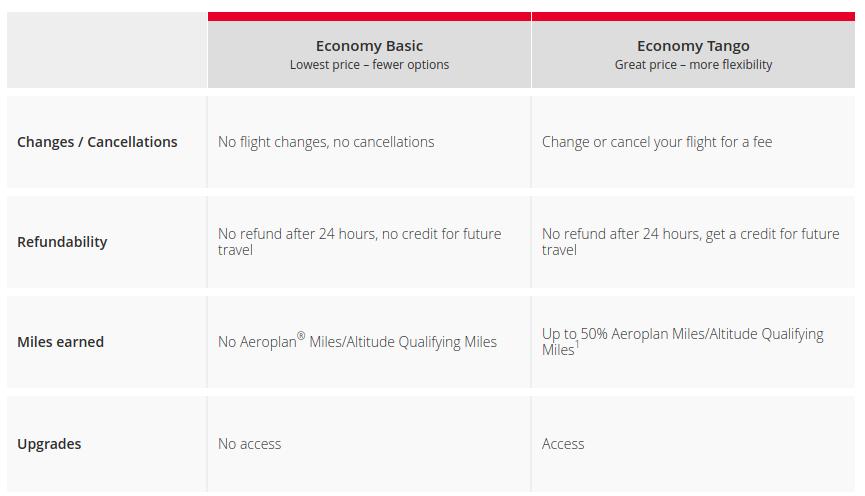 So before we explain why this may not be as good of a news as it seems, here are each of the major points in a nutshell.
Modifications, Cancellations, and Refunds
Airplane tickets are never refundable anyway, at least not for free. That makes sense, as allowing changes would increase prices for everyone. We have a detailed article on the way to explain why.
As it is now, changes and cancellations are usually available for a fee (often pretty high). The difference with this new type of Basic Economy ticket is that it's more restrictive. With these, it is simply impossible to change, cancel or refund a ticket.
Not a big sacrifice. If you buy tickets only when you are sure you can use them (and you make the purchase with a travel credit card that has free insurance that will refund you if you have to cancel your ticket due to illness / loss of employment / cancelled event), this restriction does not change anything at all for you. I would conservatively estimate that 99% of leisure flights never need any type of modification anyway.
Earning Miles
Flying to earn miles is so 1999! Unless you travel a lot for work or buy tickets to far-off destinations, you will not earn a lot of miles this way. It's really with credit cards and travel hacking that you earn miles quickly. The current cheapest tickets from Air Canada didn't really give you a lot of miles, so it will not change much in most cases.
To give you just one example, returning from Miami on Air Canada gave me a whopping 500 miles (worth $7.50). This credit card gives you 25,000 as a welcome bonus (worth $375). See the difference?
Keep in mind that Aeroplan Miles are worth 1.5 cents / mile according to the latest Flytrippers valuations, which means that if the price difference between the new Basic Economy fare and the Economy Tango fare is higher than what you would receive in Aeroplan Miles, it's not worth paying a fare difference just for that. It's almost never worth it, unless you're traveling to a faraway destination, because miles are awarded based on the distance traveled. More details to come in an article about Aeroplan in our travel hacking section. But in short, again, this is not a big sacrifice.
Other
What is surprising is that Air Canada has decided not to imitate the other Basic Economy fares and will allow you to pay to select a seat (although it will cost you twice as much as someone traveling in regular economy). That being said, you will obviously board last, but that's not a big change either: in case you did not know it, it's already that way. The cheaper your ticket, the longer you wait to board. This is how the boarding "zones" printed on your tickets are determined.
Finally, upgrades or standbys will not be allowed, but I don't think it's relevant to many casual flyers, because you have to travel very often with Air Canada to be eligible anyway.
Why This Might Be Bad News
It will be interesting to see how Air Canada will roll out this new fare class because while the concept is great and travelers should always have more choices, there is a risk.
In the US, most observers have noted that the prices on the three airlines that launched Basic Economy haven't really dropped… they've simply taken their lowest fare and restricted what's included… charging more for what was previously free.
In other words, if the launch of the Basic Economy fare class in the United States is an indication of what is to come, the current Economy Tango price, Air Canada's cheapest, could simply remain the lowest price available, but would now be under the Economy Basic name and therefore be more restricted. And having what is currently included in the Economy Tango fare would cost a premium compared to now.
So there would be no savings whatsoever for travelers, but having said that, Air Canada seems to be marketing it all as lower prices, so let's be (cautiously) optimistic.

We believe that with the arrival of three Canadian Ultra-Low Cost Carriers in 2018, Air Canada will have no choice but to lower their fares to some extent, so we hope that this announcement actually does lead to lower prices. That being said, Air Canada is great at a lot of things (they have the widest choice of routes and are the top-rated airline in North America by Skytrax), but having low prices is usually not one of those things.
Secondly, there is also the fact that their new restrictions are still very minor, and usually, when the restrictions are so limited and it's not much of an effort for travelers, there won't be much of a saving either (if at all).
Finally, the last point to watch for is transparency. It was a hot topic in the US, because, of course, it was a totally new concept and people did not know much about the Basic Economy class. So it created a lot of confusion when booking, transparency-wise (knowing the restrictions of what you were buying).
Travelers are as much to blame for that as airlines, to be honest. It's 2018, every single airline has different policies and rules, you have to read the details to know what you're buying, every single time.
That being said, the frustration around Economy Basic among our neighbors to the South was mainly because of the carry-on baggage restriction, which will not exist with Air Canada, so it's probably not going to be as bad.
But the lesson to remember, and it applies to many things, is to be well informed. Apart from "when will there be a deal for my destination?" one of the questions we receive most often from our readers is whether or not a specific thing is included on an airline. The answer is: it depends. Every airline is different and the best way to compare apples to apples is to read the policies before you buy to find out all the details.
At Flytrippers, we already have an orange "ULCC" mention on the deals we spot where carry-on baggage is restricted, to be transparent (there's also a warning on the deal page itself). But there are lots of less important details that can also differ from one airline to another, so if you're picky or care about those kinds of details, take the time to read up before booking.
Bottom Line
In addition to the traditional economy class, Air Canada is following the American trend and introducing its own Basic Economy fare class, with fewer inclusions, to compete with the upcoming Ultra-Low Cost Carriers. They are doing so without the most important restriction though, by including the carry-on luggage. It remains to be seen if it will actually lead to a lower price option, or if it will simply cost more for what used to be included for free.
What do you think of this new fare class option?
Subscribe to our free newsletter in 3 clicks to join 25,000+ other travel enthusiasts and receive flight deals and travel tips in your inbox directly.
Help us spread the word about our flight deals and travel tips by sharing this article and most importantly bookmark Flytrippers so we can help you navigate the world of low-cost travel!
Advertiser Disclosure: Flytrippers receives a commission on links featured in this blog post. We appreciate if you use them, especially given it never costs you anything more to do so, and we thank you for supporting the site and making it possible for us to keep finding the best travel deals and content for you. In the interest of transparency, know that we will NEVER recommend a product or service we do not believe in or that we do not use ourselves, as our reputation and credibility is worth far more than any commission. This principle is an essential and non-negotiable part of all our partnerships: we will never give any third-party any control whatsoever on our content. For more information on our advertiser disclosure, click here.
Share this post to help us help more people travel more for less: