Yesterday, WestJet announced that they too would be offering the new Basic Economy fare class that will be cheaper than regular economy fares (or at least they're supposed to be).
If you follow our blog, you saw the news last week: Basic Economy fares are coming to Canada! Air Canada has announced the launch of this new type of ticket by promising "low low low low low low low low prices".
We will not re-explain at great length what Basic Economy tickets are, nor why it could end up being very good news or very bad news for travelers: everything was detailed in our original article that we invite you to read if you haven't already.
Let's focus on yesterday's news that Air Canada's rival decided to follow suit by offering these fares. This is exactly what happened in the United States, once a first legacy airline launched this kind of fare, the others quickly jumped on board.
WestJet is Adding Basic Economy
To give you a bit of context, WestJet once was a low-cost airline. Not ultra low-cost, it's not the same thing at all. But in recent years, they decided to compete with Air Canada, which had the virtual monopoly here, being our only Canada-wide international airline.
ALSO READ: Air Canada vs. WestJet: Which One Is the Best?
WestJet now offers "regional" flights to smaller airports (like Kamloops, Sudbury, Fredericton, Quebec City or Brandon), they're now adding more and more flights to Europe, they now have partnerships with other airlines and they now have long-haul aircraft on order. All signs of wanting to become an international player, and in fact they're not hiding it.
That's why they launched an ultra low-cost carrier (ULCC), SWOOP, to re-position WestJet a bit higher up the market, now that they're well established (and apparently more beloved than Air Canada by many) and that they no longer need to be that much cheaper. We've covered the news of SWOOP's launch recently, and that launch is the very cause behind the arrival of Air Canada's Basic Economy fare.
So now WestJet has also announced the "Econo (lowest)" class which will replace "Econo" as the lowest fare class. They won't get bonus points for the name.
It will be very similar to that of Air Canada, but they gave us interesting details. The rates will be available selectively on certain routes both within Canada and to the United States and the sunny destinations.
Now, because we did not talk about this aspect in the first article… we can already make another prediction, as we did by saying Basic Economy was coming to Canada back in October and by predicting $20 flights in Canada (which have both materialized) and by saying that flights that will be cheaper in Canada in 2018 (we're still very confident about that one).
Our prediction: it's only a matter of time before Basic Economy fares are available on just about every route, not just on selected routes.
In the United States, it started like that too: only on routes that were in direct competition with ultra low-cost airlines (that made sense because it was the purpose of this new fare class) … it didn't take long before they were everywhere, mainly for the same reason why we told you in the first article that even if the principle is good, these rates are perhaps very bad news: Basic Economy fares will simply replace the current lower rate, offering fewer inclusions at the same price and encouraging more passengers to pay more than they are now paying for the same services (and therefore potentially generating more revenue for the airlines).
That being said, at least we can have a little more confidence in WestJet than Air Canada when it comes to low prices, so maybe it really will be lower fares, only time will tell.
In any case, what WestJet has included in its Basic Economy fares is similar to what Air Canada has announced (mainly that it also includes a carry-on baggage unlike United and American):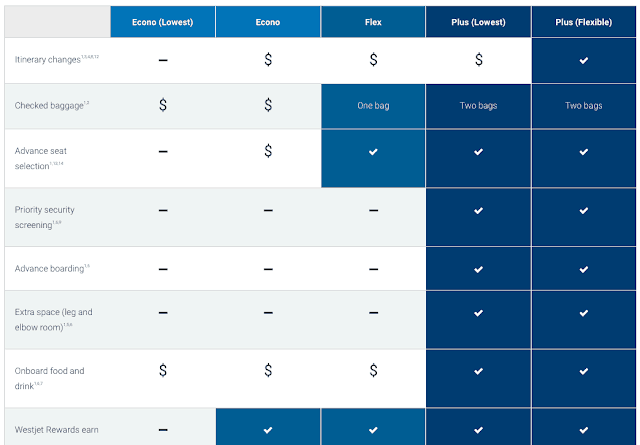 The key points are:
No cancellations/modifications
Seat selection only 24 hours before departure (and fees to do so)
No earning of WestJet Dollars
No upgrade to Economy Plus
These are pretty minor restrictions … as explained last week. Go back to the article to read the details of these restrictions (they're about the same) and also read the explanations why this might not be as good an announcement as it should be.
The only difference of note is that Air Canada will allow you to pay to select your seats at all times (at twice the current price) while WestJet will only allow it 24 hours before the flight when the online check-in period starts.
And about WestJet Dollars, it's the equivalent of the Aeroplan program, and again the best way to earn free flights quickly is not by flying (unless you do it very frequently for work), but rather with Travel Hacking, with the WestJet RBC Credit Card which gives you $250 in WestJet Dollars as a welcome bonus when you get the card.
Bottom Line
WestJet is following its main rival Air Canada and will also be offering Basic Economy fares, it will start soon.
What do you think of this new ticket option?
Subscribe to our free newsletter in 3 clicks to join 25,000+ other travel enthusiasts and receive flight deals and travel tips in your inbox directly.
Help us spread the word about our flight deals and travel tips by sharing this article and most importantly bookmark Flytrippers so we can help you navigate the world of low-cost travel!
Advertiser Disclosure: Flytrippers receives a commission on links featured in this blog post. We appreciate if you use them, especially given it never costs you anything more to do so, and we thank you for supporting the site and making it possible for us to keep finding the best travel deals and content for you. In the interest of transparency, know that we will NEVER recommend a product or service we do not believe in or that we do not use ourselves, as our reputation and credibility is worth far more than any commission. This principle is an essential and non-negotiable part of all our partnerships: we will never give any third-party any control whatsoever on our content. For more information on our advertiser disclosure, click here.
Travel Hacking Disclaimer: Flytrippers does not give financial advice. You should ensure travel hacking fits your personal situation and obtain professional advice if you so desire. Flytrippers may receive a commission for referrals, however our policy is to only recommend products or services we really believe in (and have ourselves). To read more on our disclaimer, click here.
Share this post to help us help more people travel more for less: