Would you like to learn to surf and discover Ecuador thanks to this awesome deal? Here are the details of this great offer by the Canadians behind the Free Spirit Hostel.
If you've seen deals going to Ecuador (or other idyllic destinations in Latin America) on our cheap flights deals page and you wanted to get an idea of how affordable it can be once there, here's an awesome deal for you.
Especially if you want to learn to surf. A super 37% discount to learn to surf for 1 week! But it includes a lot more, all the details below.
Details of the offer, directly from one of the co-founders of Free Spirit Hostel
—
You want to travel, to surf, to discover Ecuador, but especially to have a lot of fun, we have the solution for you.
A new Free Spirit Hostel in another country, just as exciting. It's just another good reason to go on a trip this winter!
After a road trip from Montreal to Nicaragua in 2014, we hosted more than 3,000 people at our first Free Spirit Hostel during the last 3 years in Nicaragua. We gave ourselves a new challenge, we decided to open another surf and yoga hostel, this time in Ecuador.
Why Ecuador: it's hot, it's another country where the waves are constant year-round and where we are able to build another incredible place for our customers to experience the Free Spirit experience.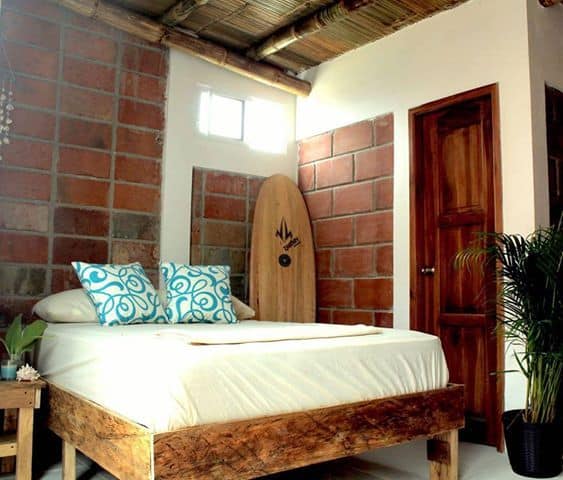 To launch this new adventure, that will begin on March 1, 2019, we wanted to give you the chance to pay the lowest price ever, $199 for a week of "Learn to Surf" with us in Ecuador, including 6 nights in dorms, 6 breakfasts, 6 dinners, 4 surf lessons, 5 yoga sessions and surfboard rentals. This is a 33% discount off our normal price.
Just for you, loyal Flytrippers fans, we offer you an extra $10US off. Just use the code "flytrippers" in the "coupon code" field when buying online here and you will get a week for only $189 US. That's 37% off in total!
The best thing is, you have to buy your package before Christmas, but you have until March 1, 2021, so 2 years to use it.
Restriction: the package is only available for 14 years old and up.
Merry Christmas in advance and we look forward to sharing some waves with you in Nicaragua or Ecuador!
Here are 2 links to buy the voucher at this exceptional price or to get more information.
—
Reading this, I really should go back to surfing! 😉
How to get to Ecuador for less
The advantage of the package is that it is valid at any time in the next 2 years. We've already told you, one of the most common mistakes is to book your accommodation first. By doing this, it is almost guaranteed to pay more for your flights, because you have no flexibility and flexibility is the key to cheap flights!
But with this flexible deal, you can wait for the next deal to Quito (UIO) or Guayaquil (GYE), should be around $500-$700 depending on where you are flying from.
In any case, by using our flight search tools and being flexible, you should be able to find a good flight deal to enjoy the package!
My own experience in Ecuador
Last fall, I lived for several months in South America and spent 3 weeks in Ecuador. Since I spent most of my time in the Galápagos Islands and Quito & Guayaquil on the mainland, I, unfortunately, did not have the time to explore the coast. I'll have to go back! I have, however, loved these 3 weeks.
Bottom Line
A great deal for those who want a cheap trip to Ecuador that will allow you to relax… and learn to surf!
Is this helpful? Any other questions about our flight deals? Let us know in the comments!
Help us spread the word about our flight deals and travel tips by sharing this article and most importantly bookmark Flytrippers so we can help you navigate the world of low-cost travel!
Advertiser Disclosure: Flytrippers receives a commission on links featured in this blog post. We appreciate if you use them, especially given it never costs you anything more to do so, and we thank you for supporting the site and making it possible for us to keep finding the best travel deals and content for you. In the interest of transparency, know that we will NEVER recommend a product or service we do not believe in or that we do not use ourselves, as our reputation and credibility is worth far more than any commission. This principle is an essential and non-negotiable part of all our partnerships: we will never give any third-party any control whatsoever on our content. For more information on our advertiser disclosure, click here.