Imagine falling asleep on your flight… and waking up alone on an empty plane in the dark, parked far away from the terminal. This is the stuff of travel nightmares, and it just happened to an Air Canada passenger.
Here at Flytrippers, we've seen, heard, and personally experienced many unusual travel tales. We usually don't share all the crazy things that happen on planes, because often the stories get blown out of proportion and become "newsworthy" only because everything related to the aviation world is scrutinized so closely (worse things happen in the street without ever being in the news).
But this one takes the cake… being forgotten on a plane after a flight simply doesn't happen very often. To be fair, that's true of almost all the bad flight experiences you might have heard about before (like the unbelieveable video of a kid shared last week).
The millions of passengers who experience a normal flight every single day won't ever make the news, so you be reassured that even if you do travel a lot thanks to the low prices on our cheap flight deals page, you'll likely never go through such an ordeal.
Here's the story… and what we feel is the important takeaway.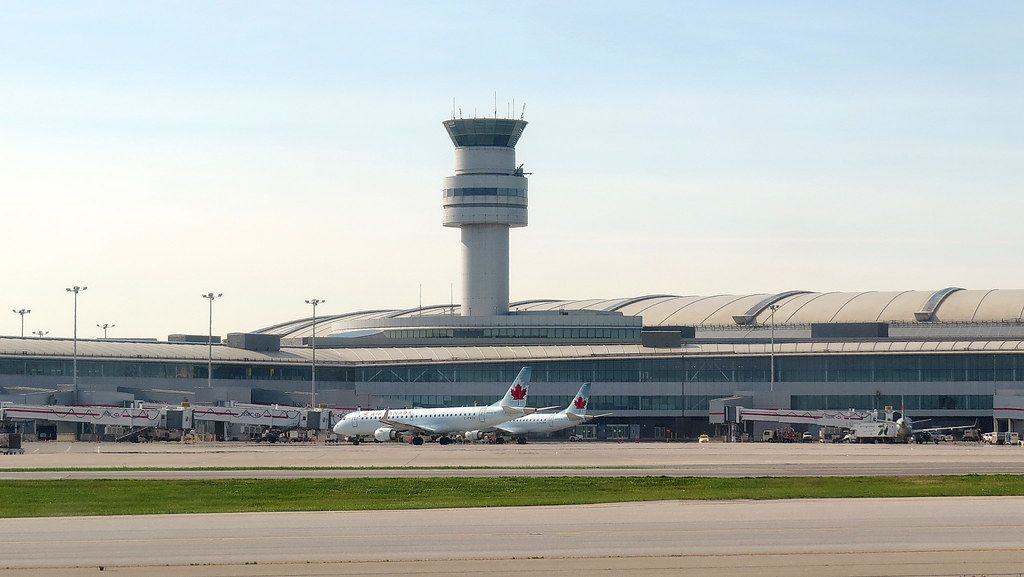 What Happened
For Tiffani Adams, what began as a relaxing and short evening flight from Quebec City to Toronto-Pearson with a whole row to herself and a nice book, soon turned into what seemed like a nightmare once she awoke around midnight in complete, utter darkness.
This passenger fell asleep on Air Canada Flight 1799, as many passengers regularly do on planes.
According to available recent flight data, AC 1799 is usually operated by Air Canada Rouge, not mainline Air Canada or Air Canada Express, but this hasn't been confirmed and all outlets who covered this news only mention Air Canada…
In all cases, whatever was painted on the side of the aircraft, the fact is the passenger woke up to find herself in a dark, empty plane already parked near a hangar for the night.
No lights, no crew, no other passengers. Just her and her nearly-dead cellphone.
She describes feeling anxious and freezing cold with no electricity available.
Adams attempted to FaceTime her friend, but doing so caused her phone to completely run out of battery. As it was shut off, the plane was without electricity and she was unable to recharge her phone in order to contact help.
With her anxiety running high, she tried to find her escape. Adams first checked the cockpit in an attempt to use the radio with no avail. Next, she attempted to exit through the main door only to be faced with a very high drop to the ground. At this point, Adams felt trapped with no way of descending from the plane safely.
Thankfully after some time attempting to wave down passing Air Canada baggage cart drivers, she caught one driver's attention. He helped her by docking a ladder to the exit so that she may safely get out of the plane. Even this driver was shocked that she was left behind according to her tale of the story.
Once she made it to the airport, she stated that Air Canada offered her lodging at nearby hotels; however, she insisted on simply going home. The following Monday and Tuesday, Adams writes that Air Canada did reach out to her over-the-phone to follow up on the incident.
Since the incident, Adams reports having insomnia and anxiety saying, "it [has] been a rough 10 days. I feel like a zombie from sleep deprivation."
The main takeaway for budget-travelers
Many experts in the media in the past few days have expressed how much of a failure this event has been. Obviously, the crew is supposed to make sure no one is left onboard and many have speculated that they might have been tired after a long day.
If you remember, fatigue was also officially blamed by authorities when Air Canada pilots came within 3-6 meters of causing the "worst disaster in aviation history" recently.
Ironically, just last week Air Canada was once again ranked as North America's best airline by Skytrax.
As we've discussed before ourselves in Which One Is The Best Canadian Airline: Air Canada or WestJet? airline rankings are very subjective and can't be representative of every flight experience on an airline.
So as I keep telling people who say they want to travel more: no, it's usually not worth paying more for any airline. Take the cheapest flight, save money, and use it towards another flight to travel more.
Even the airline that is arguably the most expensive in North America (and the one that many experts rank as the best in North America) can lead to a bad experience.
And paying $20 for flights as I've done countless times around the world can lead to flight experience where everything goes right.
In fact, an overwhelming majority of flights on all airlines go just fine. So take the cheapest.
If you want to travel more.
Summary
This is quite the harrowing story, right? I can't even fall asleep on 12-hour flights, I wish I could sleep on a plane as well as this passenger did. I just hope never to wake up on a dark empty plane.
Do you have any tales as bad as this one? We'd love to hear about your plane experiences, even if they're as bad as this one. Leave a comment!
Help us spread the word about our flight deals and travel tips by sharing this article and most importantly bookmark Flytrippers so we can help you navigate the world of low-cost travel!
Cover image: AC Rouge plane (Photo credit: briYYZ)
Advertiser Disclosure: Flytrippers receives a commission on links featured in this blog post. We appreciate if you use them, especially given it never costs you anything more to do so, and we thank you for supporting the site and making it possible for us to keep finding the best travel deals and content for you. In the interest of transparency, know that we will NEVER recommend a product or service we do not believe in or that we do not use ourselves, as our reputation and credibility is worth far more than any commission. This principle is an essential and non-negotiable part of all our partnerships: we will never give any third-party any control whatsoever on our content. For more information on our advertiser disclosure, click here.
Share this post to help us help more people travel more for less: