How would you feel about going all around the world, without spending a fortune? You now can, if you are ready to experience a once-in-a-lifetime trip this fall.
At Flytrippers, every day we curate great flight deals like Europe for $400 roundtrip or the Caribbean for $300 roundtrip. Usually, these deals are pretty straightforward: heavily discounted roundtrips to a specific destination.
READ ALSO: Which Summer Weeks To Choose For Your Vacation To Travel and Save Money
But today we have something special for you. So here is our flight deals mashup that gives you an itinerary to go all around the world, with stops in multiple cool cities, for only $1283 (from Montreal) or $1287 (from Toronto).
The funny thing (or the sad thing) is that a lot of people don't know about flight deals and pay that same price just to go to Europe. We help you see four continents for the same price!
READ ALSO: How to Fly to Any European City At a Cheap Price
How does it work?
Read on for all the details but essentially, we've combined great one-way deals from all over to help you accomplish what very few people can do: go all around the world in one exceptional trip!
The itinerary below is for those who have about a month to go and explore, so it is pretty intense. But we want to be the flight deal website for people like you, who don't have unlimited vacation time (unfortunately).
However, if you want to stay longer, or even go quicker, it is quite possible by manually playing around with those dates. Often the price will be quite similar, if you act fast of course.
READ ALSO: The 13 Best Money-Saving Travel Tips

If you want to buy this trip, make sure you book very quickly because these deals won't last forever and flight segment prices will change. Like any flight deal, prices for specific dates always expire quickly so hurry up!
The basic rule for multi-ticket itineraries is to book the longest and most expensive segments first, as those are the ones whose prices you want to lock in quickly. If the $20 flight changes to $30 in the meantime well, so be it.
READ ALSO: Air Canada or WestJet? Which one is the best Canadian airline?
And if you really aren't comfortable booking complex itineraries online, our travel agency partner, in business for over 30 years, can help assist and advise you for a flat fee of $30 plus tax. Click here for more details.
Where this around-the-world trip will take you
You will fly to Dublin (Ireland), London (United Kingdom), Barcelona (Spain), Nairobi (Kenya) and Beijing (China). You will have visited four continents: Europe, Africa, Asia and of course North America.
Two of these flight segments are on Ultra Low-Cost Carriers (ULCCs), so pack light and instead bring back amazing memories of a unique trip that will make you part of the very select group of people to have gone all around the world in one trip!
READ ALSO: How Ultra Low-Cost Carriers (ULCCs) Work
By the way, if you want to bring luggage and don't want to travel light, there is a way to do so on this itinerary for a very similar price. Go to the end of the article to read more.
Torontonians: this is the itinerary from Montreal but you can also do this from Toronto for just $4 more. Go to the end of the article to see how.
Who would you go with? Use the sharing buttons to spread the word with your favourite travel partners!
So here is how you go all around the world for only $1283:
FLIGHT 1: Montreal to Dublin – Oct. 19 – $225


On WestJet (with a full day to wander in Toronto as a bonus and a fuel stop in Newfoundland)
FLIGHT 2: Dublin to London – Oct. 24 – $21

On Ryanair (direct flight)
Go to the end of the page for non-ULCC options
FLIGHT 3: London to Barcelona – Oct. 28 – $32

On Ryanair (direct flight)
Go to the end of the page for non-ULCC options
FLIGHT 4: Barcelona to Nairobi – Nov. 1 – $253

On Royal Air Maroc (with short layover in Casablanca)
FLIGHT 5: Nairobi to Beijing – Nov. 7 – $386


On Egyptair (with almost a full day to explore Cairo as a bonus)
FLIGHT 6: Beijing to Montreal – Nov. 14 – $366

On American Airlines (with a short layover in Dallas)
TOTAL – $1283 – October 19 to November 14
In four weeks, you'll have been in nince countries and all around the globe: Ireland, United Kingdom, Spain, Morocco, Kenya, Egypt, China, United States and Canada.
READ ALSO: Why Plane Tickets Are So Expensive in Canada
What do you think of this itinerary? Tell us in the comments below!
Toronto
Are you from Toronto? No problem. You can go all around the world too, for only $1287, just $4 more than Montrealers.
You can easily switch out the first flight for Dublin by departing Pearson Airport on October 19 for just $6 more. For the return, just switch out the last flight from Beijing to Toronto for $2 less.
ULCCs
If you do not want to pack light, you must avoid Ryanair as it is a ULCC. Instead, for a few bucks more, you can fly Aer Lingus or Iberia on the two short European flights to allow you to bring a larger carry-on. Another option is to skip London altogether, fly directly from Dublin to Barcelona on Aer Lingus to get a bag allowance and therefore price this trip out at a similar level than the original itinerary.
Bottom line
Although it might seem like a big amount to spend, $1283 to fly all around the world and see five incredible cities is quite a deal. You probably won't regret a once-in-a-lifetime trip like this one!
Help us spread the word about our flight deals and travel tips by sharing this article and most importantly bookmark Flytrippers so we can help you navigate the world of low-cost travel!
Advertiser Disclosure: Flytrippers receives a commission on links featured in this blog post. We appreciate if you use them, especially given it never costs you anything more to do so, and we thank you for supporting the site and making it possible for us to keep finding the best travel deals and content for you. In the interest of transparency, know that we will NEVER recommend a product or service we do not believe in or that we do not use ourselves, as our reputation and credibility is worth far more than any commission. This principle is an essential and non-negotiable part of all our partnerships: we will never give any third party any control whatsoever on our content. For more information on our advertiser disclosure, click here.
H/T to SecretFlying for finding these deals from New York for us to adapt for Canada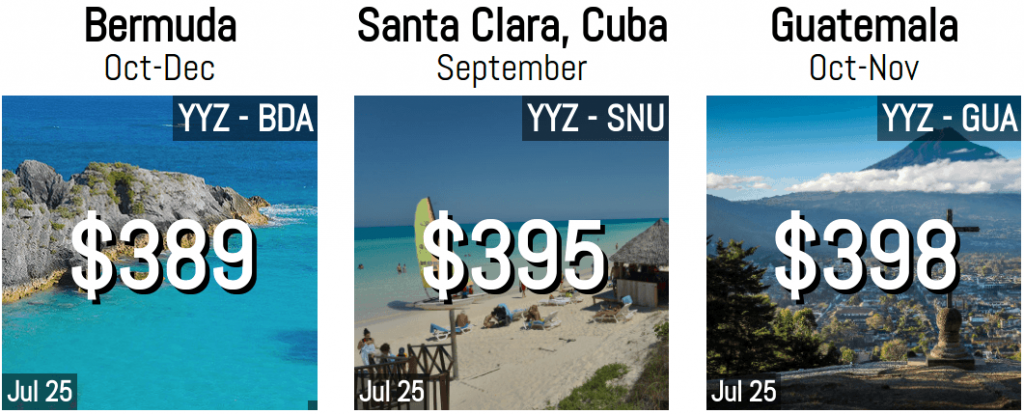 Share this post to help us help more people travel more for less: