Since tomorrow is Canada Day, we wanted to share something a bit quirky about airfares in Manitoba. Did you know that for the same price, you can either fly from Winnipeg to Timmins… or to Hawaii!
The fact is, regional flight are usually very expensive because there is little demand, no economies of scale for the airlines… and also very little competition most of the time. That's why you won't see deals to smaller Canadian cities too often on our cheap flight deals page.
Just to give you an idea of how expensive it really is and how flight prices don't correlate with the distance flown, we wanted to show you that for the same price as flying from Winnipeg to Timmins… you can actually fly from Winnipeg to Hawaii!
Timmins Or Hawaii?
Yes, really! Winnipeg-Timmins flights are regularly priced at around $500-$600 roundtrip (and obviously even higher if you wait at the last minute, as is always the case for non-leisure destinations).

But for about the same price, we spot dates on sale for Hawaii very often (there weren't any yesterday, but deals change every single day so check our website very often).
Yes, Hawaii. If you are flexible on your dates and wait for one of our deals, it's very easy to fly there for $500 to $600 roundtrip (being flexible really is the key to saving money on flights, it's really quite simple… more on that in an article soon).

As you probably figured, even without knowing where Timmins is… Hawaii is much further away.
An even more extreme example can be found in Quebec, where airfares are even higher! A short regional flight between Montreal and the Gaspésie region (near the Maritimes) is the same price as a flight from Montreal to Hawaii!!!
The Montreal-Gaspé flight is 856 miles roundtrip, while the Montreal-Honolulu flight is 8540 miles roundtrip, which is almost 10 times more if you're keeping count.
It Actually Makes Sense
If you find it appalling that these two flights are the same price (or that Winnipeg to Timmins and Hawaii are the same price), in fact it's quite normal.
The price of flights has nothing to do with the distance traveled, and that's normal.
That's why it's the same price for Montreal-Gaspé or for Montreal-Hawaii. Sometimes for the same price you can even get Montreal-Singapore, like when I bought the amazing deal to the Southeast Asian city for $499 roundtrip last year. Singapore is nearly 16,000 miles roundtrip, just under 20 times further than Gaspé.
As you can see below, the flight to Gaspé (YUL-YGP) is slightly shorter than the one to Honolulu or Singapore…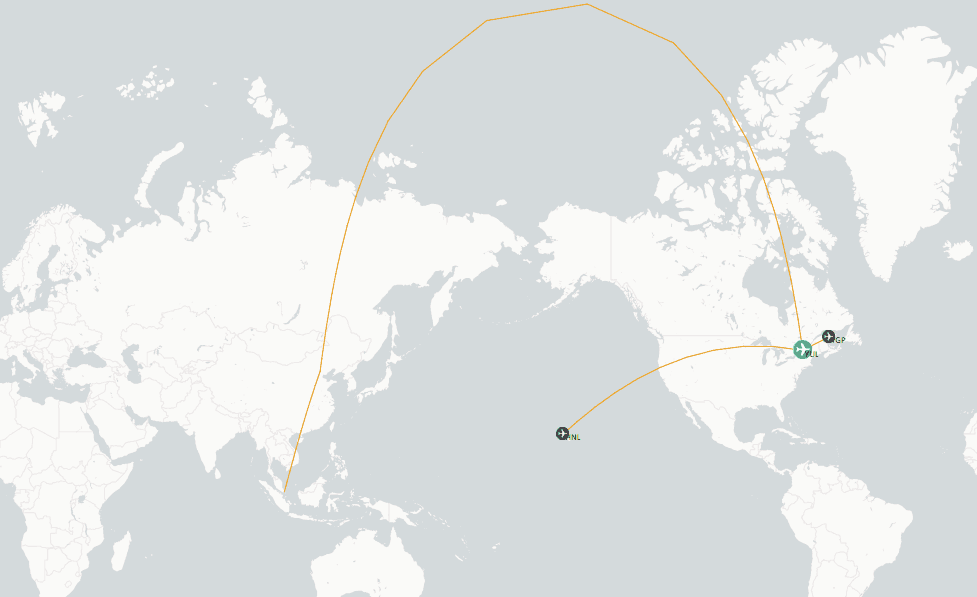 I've already explained in quite a bit of detail why flight prices have nothing to do with the distance traveled in my article about why Air Canada sells the same flight to Americans for half the price.
That article was very popular, and you often ask us more information about how flight pricing mechanisms work, so I'll have an article up soon that will delve even deeper into the relationship between flight distances and prices.
In a nutshell, there is one main factor that determines the price of a flight. And it's not distance. It's not even how much the flight costs to operate. It is how much money people in a given market are willing to pay to fly to a specific destination.
A lot more people want to go to Hawaii than to Gaspé as you can imagine. Hawaii is a leisure destination, therefore people are willing to pay less. A lot more airlines fly to Hawaii, therefore people are willing to pay less. That translates into a price per mile flown that is 10 times less expensive. It's quite logical when you think about it.
So with all due respect to the Gaspésie region (it looks beautiful)… given the choice between both… for the same price… I'll choose Hawaii 11 times out of 10. Same goes for Timmins or any other smaller community that is so expensive to fly to.
Gaspésie…
Hawaii…
So even though Canada certainly does have beautiful regions that are somewhat remote (and even if it is Canada Day tomorrow), if you do want to visit them, you should really avoid visiting them by plane… and keep your money for Hawaii. Instead, hit the pavement for a cool roadtrip to visit the expensive destinations in Canada!
By the way, if you really do need to fly to one of the smaller Canadian airports that are extremely expensive when paid in cash, the best way to do so is often with travel hacking.
For example, instead of paying $600 to fly to a close-by Canadian destination, you could go there for only 15,000 Aeroplan Miles and about $200. You can get 30,000 Aeroplan Miles just by getting the American Express Gold card (for $150). Do the math: that's two $600 flights… for only $550. Half price. Aeroplan Miles can save you hundreds of dollars on short-haul flights in Canada, and the AMEX Gold Card is the best way to get many Miles.
So shorter flights to smaller communities are often the same price as flights that are ten times as long, and it's actually quite normal. How do you feel about this? Did you know that the price of flights have nothing to do with the distance traveled?
Help us spread the word about our flight deals and travel tips by sharing this article and most importantly bookmark Flytrippers so we can help you navigate the world of low-cost travel!
Advertiser Disclosure: Flytrippers receives a commission on links featured in this blog post. We appreciate if you use them, especially given it never costs you anything more to do so, and we thank you for supporting the site and making it possible for us to keep finding the best travel deals and content for you. In the interest of transparency, know that we will NEVER recommend a product or service we do not believe in or that we do not use ourselves, as our reputation and credibility is worth far more than any commission. This principle is an essential and non-negotiable part of all our partnerships: we will never give any third-party any control whatsoever on our content. For more information on our advertiser disclosure, click here.
Travel Hacking Disclaimer: Flytrippers does not give financial advice. You should ensure travel hacking fits your personal situation and obtain professional advice if you so desire. Flytrippers may receive a commission for referrals, however our policy is to only recommend products or services we believe in and consider to be great deals. To read more on our disclaimer, click here.
Share this post to help us help more people travel more for less: