In addition to the many limited-time deals we find for you, there is another way to save money, even though it is quite rare: error fares. The transatlantic fares under $200 roundtrip we found earlier this month were just that. Here's what you need to know.
If you visit our flight deals page regularly, you already know that our deals are only valid for a very limited-time. That's a given because if that wasn't the case, it wouldn't be a deal…
But even then, you usually have a couple of hours or even a day or two to book, depending on what the airline is trying to do. And that's very hard to know.
But error fares (or mistake fares) are different. And they are actually quite rare.
That being said, earlier this month there were flights from Toronto to Dublin for $110 roundtrip or Montreal to Paris for $200 roundtrip on both Air Transat and Air Canada that we featured on our deals pages. These fares were exceptionally low since those two are not ultra low-cost carriers.
These were error fares.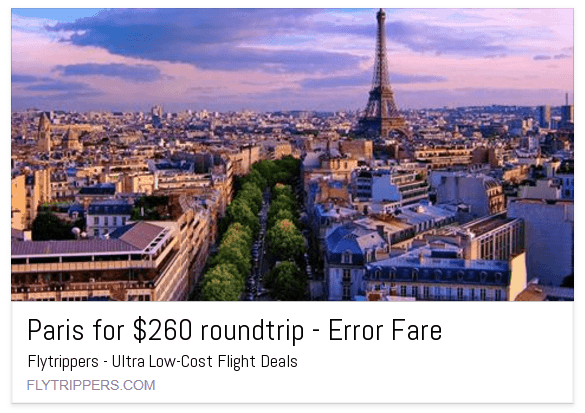 Here's what that means… and what you need to know.
What are error fares
Just in case you are wondering about are regular deals, even though the price is really low (often 50% off the regular price), in 99.99999% of cases, these ridiculously low prices are discounts offered voluntarily by airlines, for various reasons.
But in the case of error fares, it is exactly what it says in the name: it's an error. The airline publishes a flight at a price it doesn't want to publish. Human mistake, computer problem… whatever the cause, it's an error. And it's completely random and unpredictable. And these prices aren't supposed to be there.
That means that for these tickets, you need to buy immediately. They will probably disappear within the hour, as soon as the error is noticed in fact.
These are very special deals, so there are a few important rules to know about and to abide by.
1. DON'T CALL THE AIRLINE
The most obvious rule. This is the dumbest thing you could do. It's a mistake price… if you tell them about it, not only will they not let you buy it… but they will also fix the mistake and you'll have ruined the deal for everyone.
Do. Not. Do. It.
Book online, and do not contact anyone under any circumstances. Including the booking sites, for the exact same reasons.
I really don't understand why some people call the airline… just book it, that's it.
2. Act fast
As mentioned above, these error fares are gone in a matter of an hour or two, often less. Airlines are pretty quick to notice errors and correct them.
So don't wait too long to book, you'll miss out.
3. Wait before making other plans
Even though in a majority of cases the airline will honor the mistake fare, we recommend not making other plans until a few days. Delay booking your hotel or other activities a bit just to make sure the ticket isn't cancelled.
Just to be clear: when you book an error fare quickly, your payment will most likely go through quite normally and you'll get your ticket confirmation. But since there's really no use in booking anything else right away, err on the side of caution and wait 72 or 96 hours so you're not stuck with a useless hotel reservation.
By the way, in the case of a cancelled error fare ticket, you will be refunded entirely, so don't worry, there's no risk in trying.
How to make sure you don't miss the next error fare
Obviously, since there aren't many of these error fares and they vanish pretty quickly, they are easy to miss. The best trick is to follow us on Facebook of course, but you should also subscribe to our newsletter to receive the deal alerts directly into your inbox.
Bottom line
Basically, these error fares are quite rare… but when they come up, it can be an even better bargain than all our other deals.
Now that you know what it's all about, follow us to make sure you don't miss the next error fare and save a lot of money.
What do you think of error fares ? Have any questions ? Ask in the comments below.
Help us spread the word about our flight deals and travel tips by sharing this article and most importantly bookmark Flytrippers so we can help you navigate the world of low-cost travel!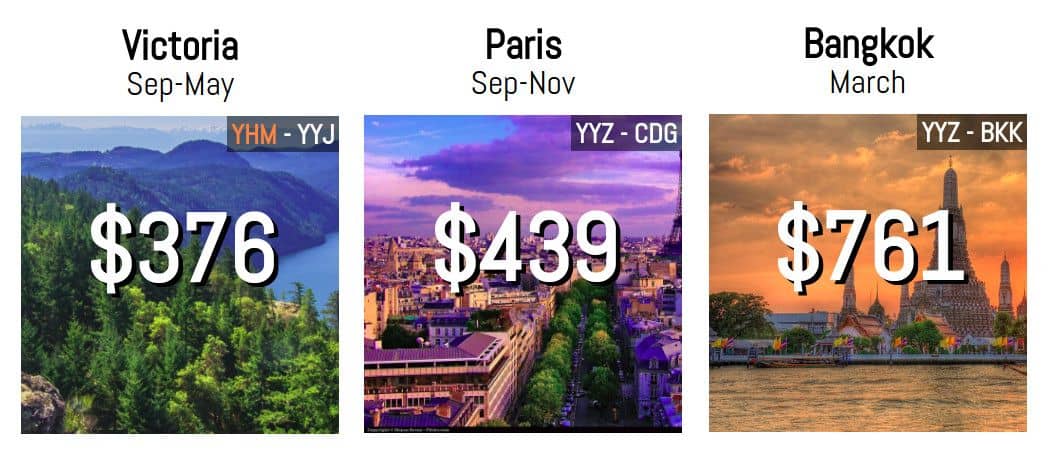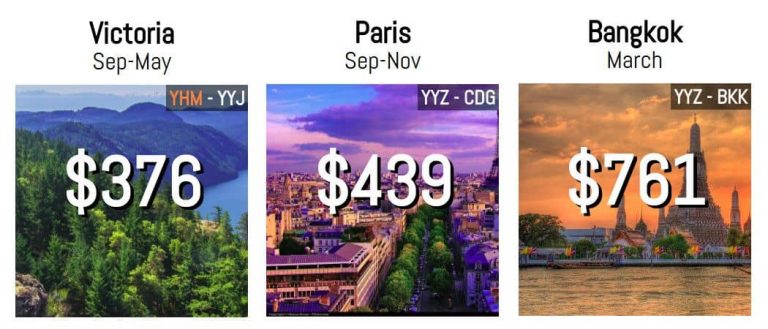 Advertiser Disclosure: Flytrippers receives a commission on links featured in this blog post. We appreciate if you use them, especially given it never costs you anything more to do so, and we thank you for supporting the site and making it possible for us to keep finding the best travel deals and content for you. In the interest of transparency, know that we will NEVER recommend a product or service we do not believe in or that we do not use ourselves, as our reputation and credibility is worth far more than any commission. This principle is an essential and non-negotiable part of all our partnerships: we will never give any third-party any control whatsoever on our content. For more information on our advertiser disclosure, click here.