On Monday, we spotted what was really THE deal of the year, at least for those who want to experience a luxury flight for an absolutely ridiculous price. It was an error fare on a flight that is worth $10,000+ but was available for only $737!!! We promised you follow-ups, so here's the first one.
You can read the details of the deal and the basics of error fares. But in short, it was a first class flight (which is much better than business class) from Indonesia to the USA, on one of the only 10 airlines rated 5-stars in the world. And it was less than 10% of the normal price because of a pricing error.
Here are the 6 important things to know (most importantly the 5 last ones; at least for those who didn't take advantage of the deal).
1. The airline has NOT yet decided if they will honor it
This error fare was so incredible that in recent days, the fallout has even been covered by business publications such as Bloomberg.
We don't often see media outlets like that talking about airline deals. That tells you how major it was.
All Nippon Airways (ANA), was forced to comment publicly. They confirmed that a currency conversion error on the Vietnamese version of their website was the cause of the terribly low price.
Most importantly, they said they are still evaluating their options and it is NOT yet guaranteed that they will honor the tickets.
They said they will decide by the end of the month. So at least we'll find out soon, as is always the case with error fares.
The pricing error would cost them a lot of money. Since they've opened the door to not honoring it, I deduce that Japan is one of the countries that don't have laws forcing advertised prices to be honored (or at least not clearly enough for ANA's lawyers not to take a few days to see if there is a loophole).
We'll obviously follow this for you (both of us bought the deal anyway), so sign up for our free newsletter to get confirmation, but also all our help to:
Maximize this deal

Getting 12,000+ free Aeroplan points with the flight
Choosing the best seats
Choosing the best airport lounges

Minimize other costs

Saving on the other flights
Saving on lodging (including getting lots of free nights in Indonesia)
Saving on everything else

Plan your itinerary

Indonesia is an amazing country
If they don't honor it, it's unfortunate. But they'll just refund us all back in full obviously. Zero risk. Whereas if you didn't even make a reservation… then you're obviously 100% sure you won't be able to enjoy it.
What I'm saying, to be very clear because it's important, is that it's not very savvy not to book it for fear that the error fare won't be honored.
You can abstain from booking for other reasons, of course. But it makes no sense to be afraid of an error fare. At worst you always get your money back on the rare occasions when error fare is not honored. Especially when it's on the airline's website directly like this one and not on a shitty third-party booking site.
2. Good deals do NOT last long
It's worth repeating because it's the most basic thing about good deals and so many people still don't know it.
A really good deal is going to be gone in a few hours, even less. Almost every one of the many deals we spot every day is not an error fare, just a good price. But they always expire quickly too.
You can't just say to yourself, "I'll look at it later." Too late, you've missed it. That's why tips 1-3 in our free ebook are vital to be ready to book (get your destinations and dates ready, it's so easy)!
However, even if you try a few dates and they are no longer at the deal's price, it doesn't mean that the whole deal is over… it means that the dates you tried have already been snapped up.
People faster than you have taken advantage of them. The best dates always go first, so they're gone even faster.
It's pretty much the basis of any airfare deal: it's not a full flight that's going to be 50% off obviously. There will always be just a few seats per flight of course.
So you should still look at the other dates, just because some are expired does NOT mean they are all expired. It's another one of the basics of booking a deal. We'll have more details to concretely help everyone with this soon, since it looks very complicated for many people (it's not at all when you know how).
But as we said this weekend, at the bare minimum you have to do THE most important thing to travel cheaper. There is no magic formula.
If you abandon after trying 2 date combinations, you won't go far. Well, you can go far, but you'll go at a steep price…
3. A "Like" on Facebook is NOT enough
A very important reminder so you don't miss the next deal.
Even if you like your city's Flytrippers page on Facebook, this web giant probably does NOT show you all our deals and content.
To make sure you see a deal sooner, you can use this pro tip to force Facebook to show you our content.
On the mobile app, you go to the Facebook page for your city.
You click on the button with 3 little dots at the top, near the name of the page.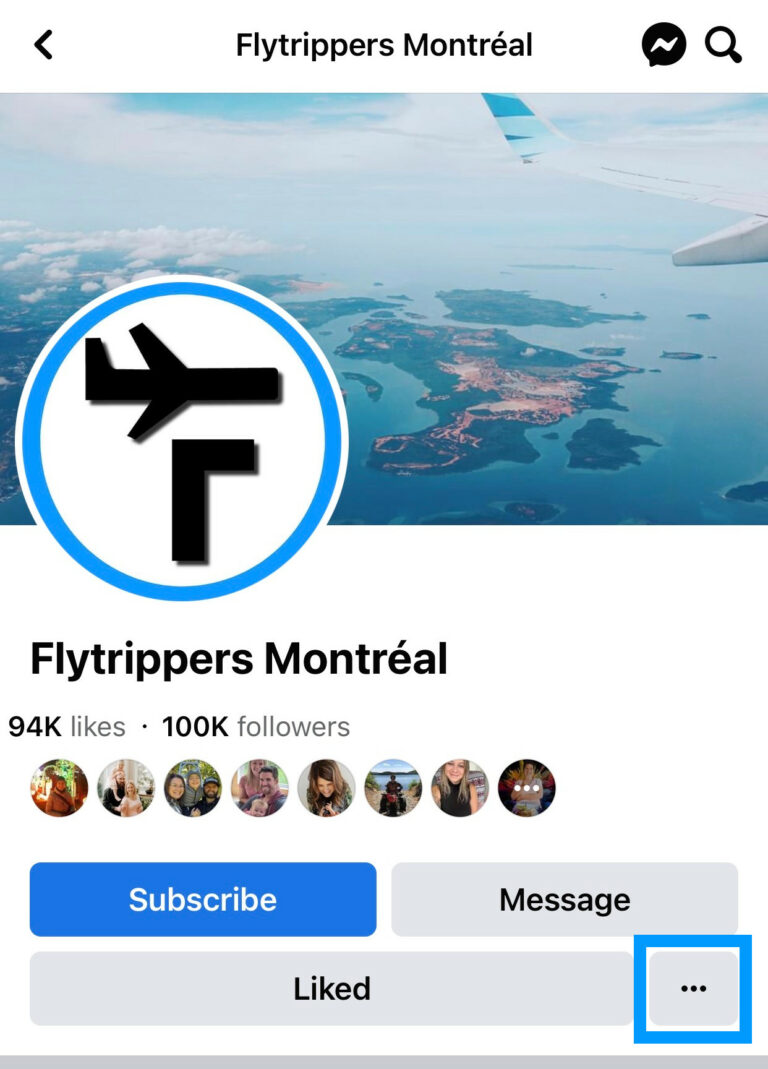 You click on "Following" (seemingly sometimes called "Follow settings").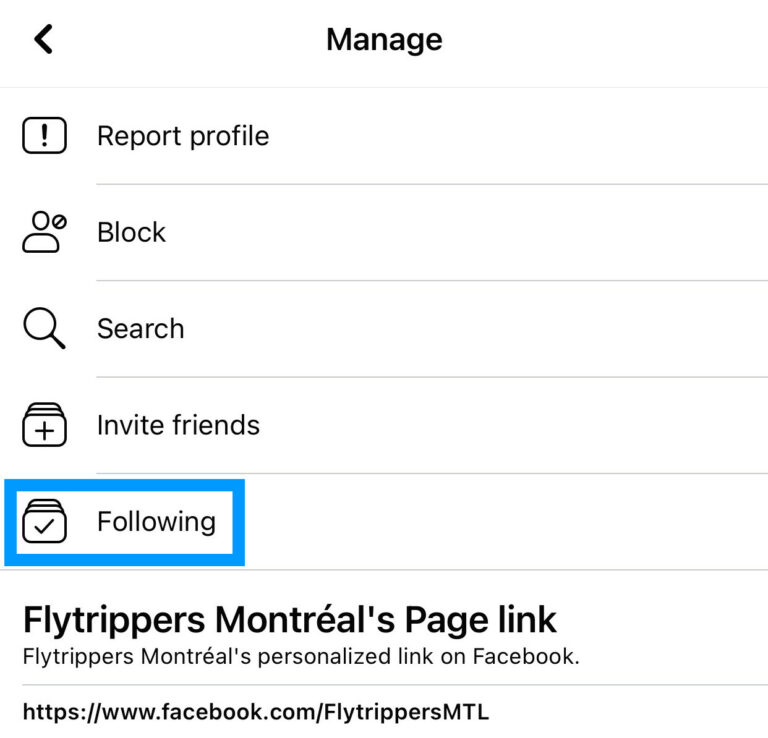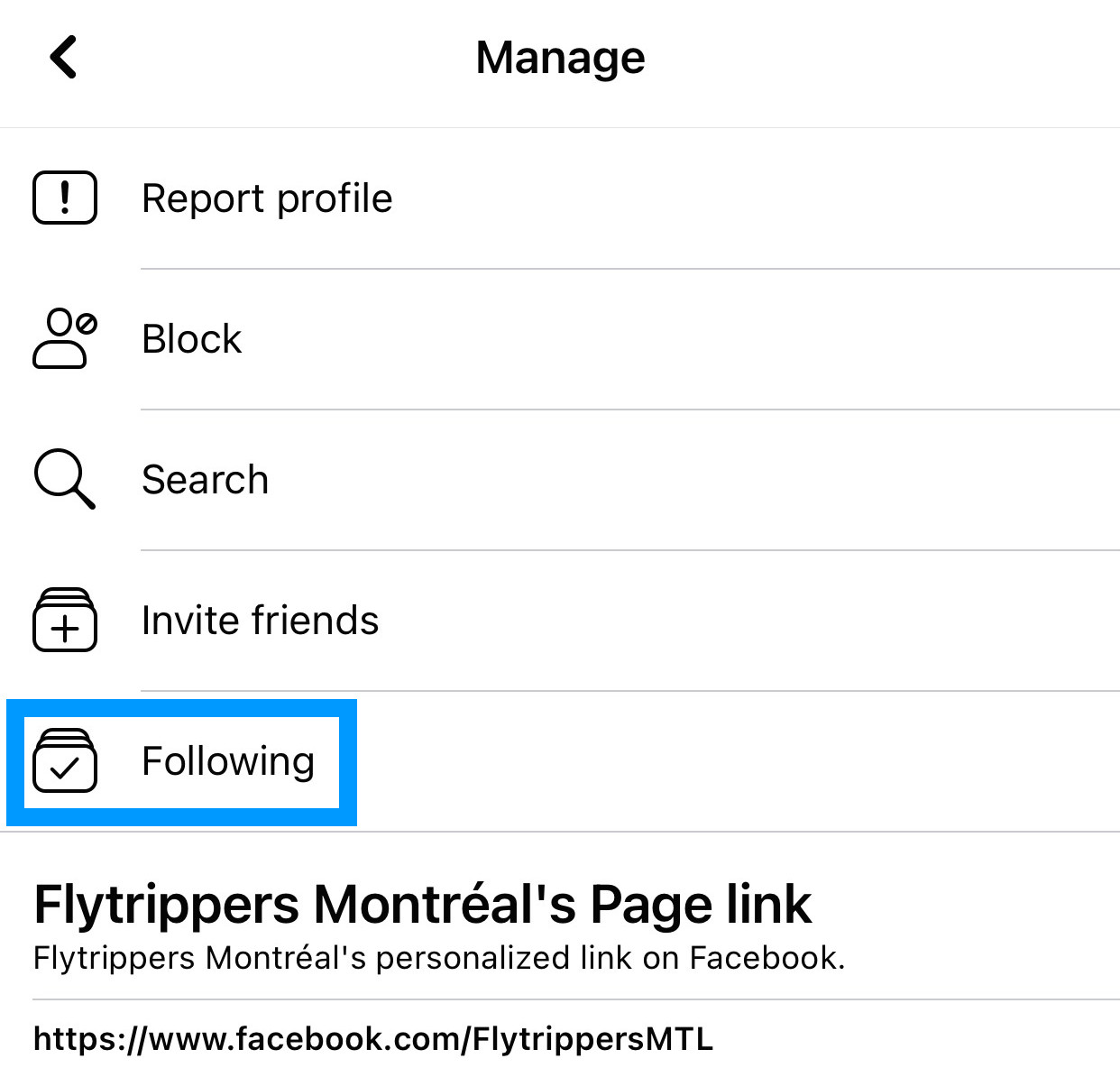 And finally you click on "Favorites."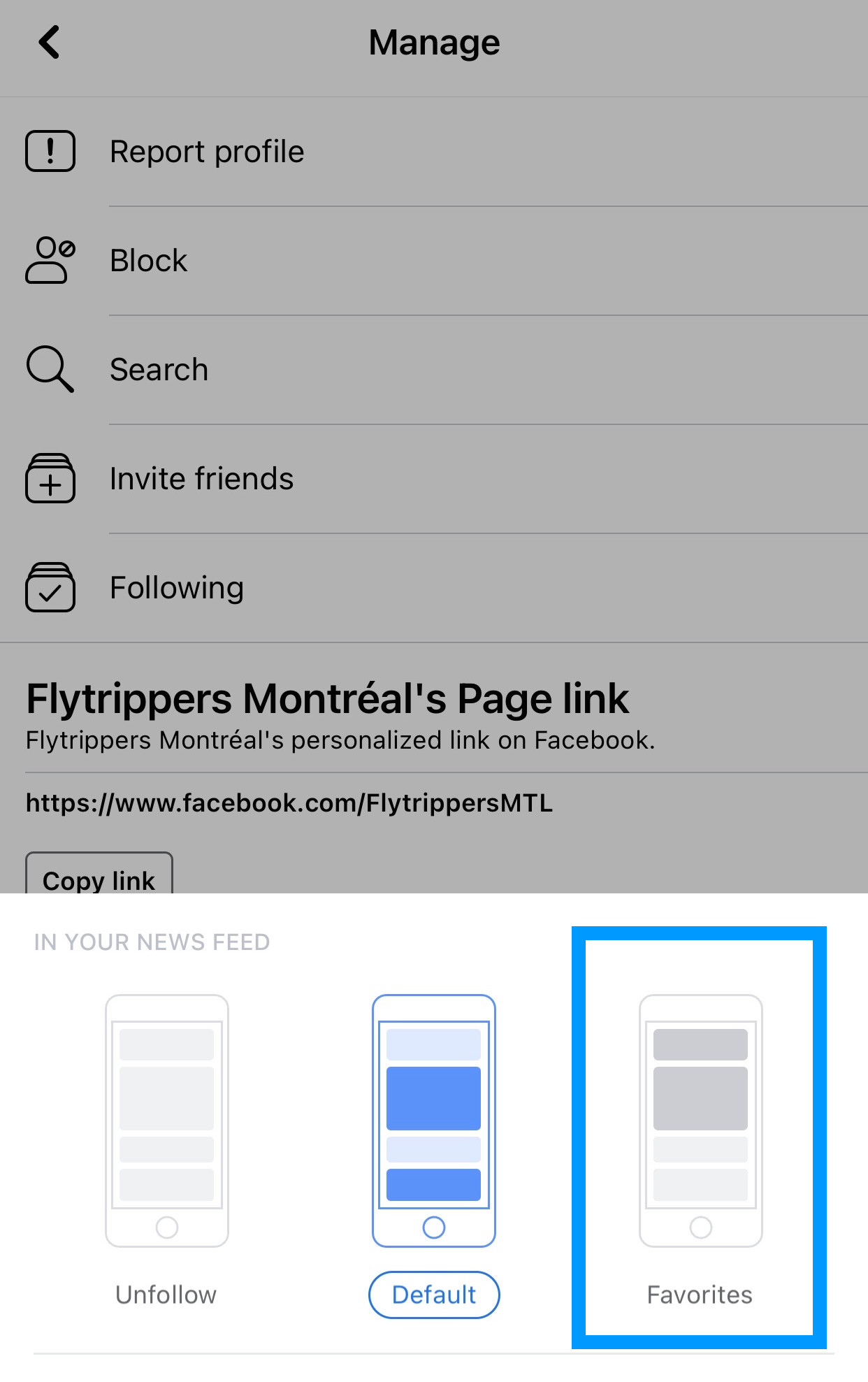 If you are on a computer, it's the same principle. Go to the Facebook page for your city, hit the button with 3 little dots, then click "Follow settings," then click "Favorites."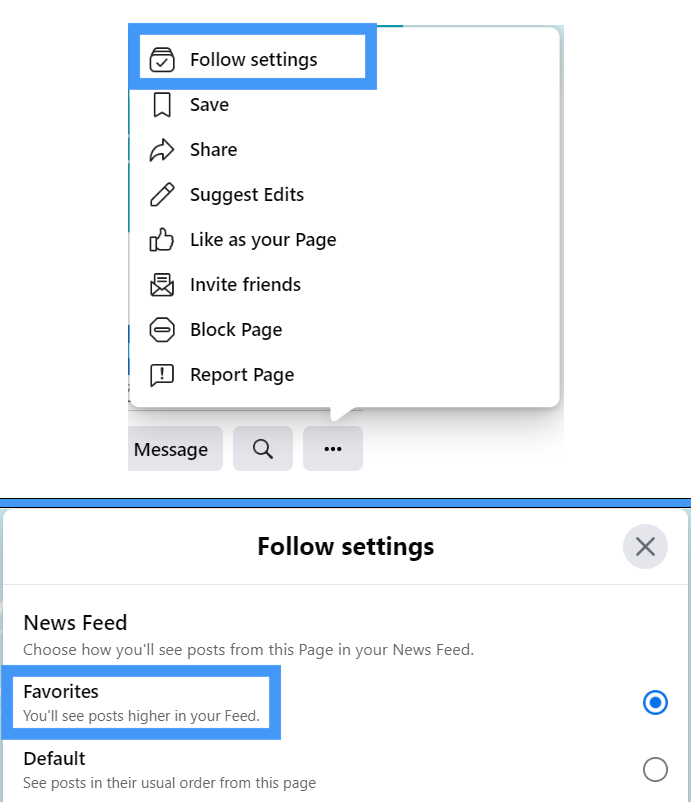 4. The important thing was to book the deal, NOT everything else
Of course it was a deal that was very particular, and of course there are additional logistics since it was not a roundtrip and not to Canada. But what was urgent was to book the deal as quickly as possible, because it was pulled pretty quickly, as expected.
Especially since it was a fully refundable fare class! You change your mind? You get your money back. Simple!
It was NOT time to think about it, it was time to book. You had to think about it afterwards, to minimize your chances of missing it! It's so rare that the deals are for fare classes that offer refunds for free, so as we told you, if you thought you had any desire to go to Asia, you had to book very quickly and take the time to analyze afterwards.
Getting to Asia and then back from San Francisco isn't rocket science either. There are plenty of flights.
It's kind of fascinating to us how many people think it's complicated to book separate tickets. It's really not.
It's actually one of the most important tips to save money on airfare, even without a deal. Very often. If you've never bought separate tickets to make self-transfers, you've definitely overpaid. So learn the tip and don't miss our more detailed video and text soon.
Normally, the self-transfer tip is to save a lot to travel for less. This time it was to save a lot on a very luxurious flight…
5. It's NOT going to be as affordable as economy class
Some have commented that it would be more expensive than economy class at the regular price. Yes, of course.
It was a first class deal worth $10,000, it wasn't a deal for those who want things to be as cheap as possible. We understand if you want the cheapest option, we're almost always like that ourselves. But this deal, considering the current economy prices to Asia, was worth paying a little more, for many people.
It was likely a once-in-a-lifetime opportunity to take a flight worth $10,000 for a total price that will be just a little more than the price of a roundtrip flight from Canada to Asia in economy class (and maybe not even more).
Prices to Asia have been incredibly high for the past few months. Often $1700 to $2000 for Indonesia specifically.
Without having looked too much into the details yet (because I won't waste time until we know if it's going to be honored), I estimate that with our help, you'll be able to manage spending less than $2500, and almost certainly less for those who are the most flexible (being flexible is always the key to saving).
But you will have had ultra luxurious flights instead of economy class! And even if it's $500 more than in economy, that's really low considering how much more luxurious a transpacific first class seat is.
6. First class is NOT business class
It's worth explaining it properly so you can be a well-informed traveler. It's exceedingly common (and normal of course) for people who don't travel often in the premium cabin to not understand the difference between business class and first class (or even sometimes not even know there's a difference and just use the terms interchangeably).
It's true that it's not clear or simple, like many things in life.
The short version is that on long-distance flights, the luxurious seat class that just about everyone knows is business class. All legacy airlines have business class. It's usually 180 degree lie-flat sleeper pod seats, it's obviously very luxurious.
It's worth thousands of dollars after all (but NEVER pay for that; always use points for that — I'll do a follow-up article just on that).
But that wasn't even the crazy deal.
The deal was for first class, which is even more luxurious.
The one on ANA that I'm really hoping to try is called THE Suite. It has a door to close off your suite on the plane, for complete privacy. You have a 43-inch 4K ultra-high-definition screen, so that gives you an idea of how big it's. It's one of the best first classes in the world (SKYTRAX ranks it as the 5th best in the entire world).
It's the ultimate luxury! Literally one of the most epic experiences you can have in aviation.
The food in first class is Japanese haute cuisine with 5 courses, caviar included. There are also 3 choices of premium champagnes, such as Krug Grande Cuvée (costs $367 per bottle). The quality of the service on board ANA is also very renowned.
Even if you already have free access to airport lounges like all savvy travelers should have easily, flying first class gives you access to much better lounges. The one at ANA in Tokyo looks simply amazing, with an on-demand noodle bar to give just one example.
In short, it is not "basic" business class!
The reason many confuse the 2, is that not all airlines have first class. They are very few in the world to have it in fact.
In short, it's another thing that people don't know, and even that they don't know they don't know. There are so many things like that in the world of travel, we want to help you become a pro too.
Business class is great, of course… but it's not first class.
That's why this deal was so phenomenal! There's a reason it costs $10,000+!
Want to get more content to travel for less?
Summary
The $737 deal for a first class flight worth $10,000+ was one of the best error fares ever. We'll follow up to confirm whether or not it will be honored, and if so, how to properly plan your trip to minimize the cost!
What would you like to know about flight deals? Tell us in the comments below.
See the deals we spot: Cheap flights
Explore awesome destinations: Travel inspiration
Learn pro tricks: Travel tips
Discover free travel: Travel rewards
Featured image: THE Suite first class seat (photo credit: ANA)
Share this post to help us help more people travel more for less: