Feel like lacing up your hiking boots and getting out for a heart-to-heart with the great Canadian outdoors? There are some amazing hiking trails all over the country (and some epic ones to plan a whole trip around).
Last week in part 1 of this post, we covered the best hiking trails (and a few honorable mentions) in Alberta, British Columbia, Manitoba, New Brunswick, Newfoundland and Labrador, Nova Scotia and Prince Edward Island.
Without further ado, here's the last half of our roundup of the best hiking trail in every Canadian province/territory.
The map
Here's the full map of all the best hiking trails in every Canadian province and territory (including those in part 1).
It's obviously a subjective ranking, based on what seems to be the consensus from experts. Feel free to comment below so we can add your favorites to the honorable mentions.
So, let's take a closer look at the best hikes in the province/territory we have left to cover.
Québec: Acropole-des-Draveurs Trail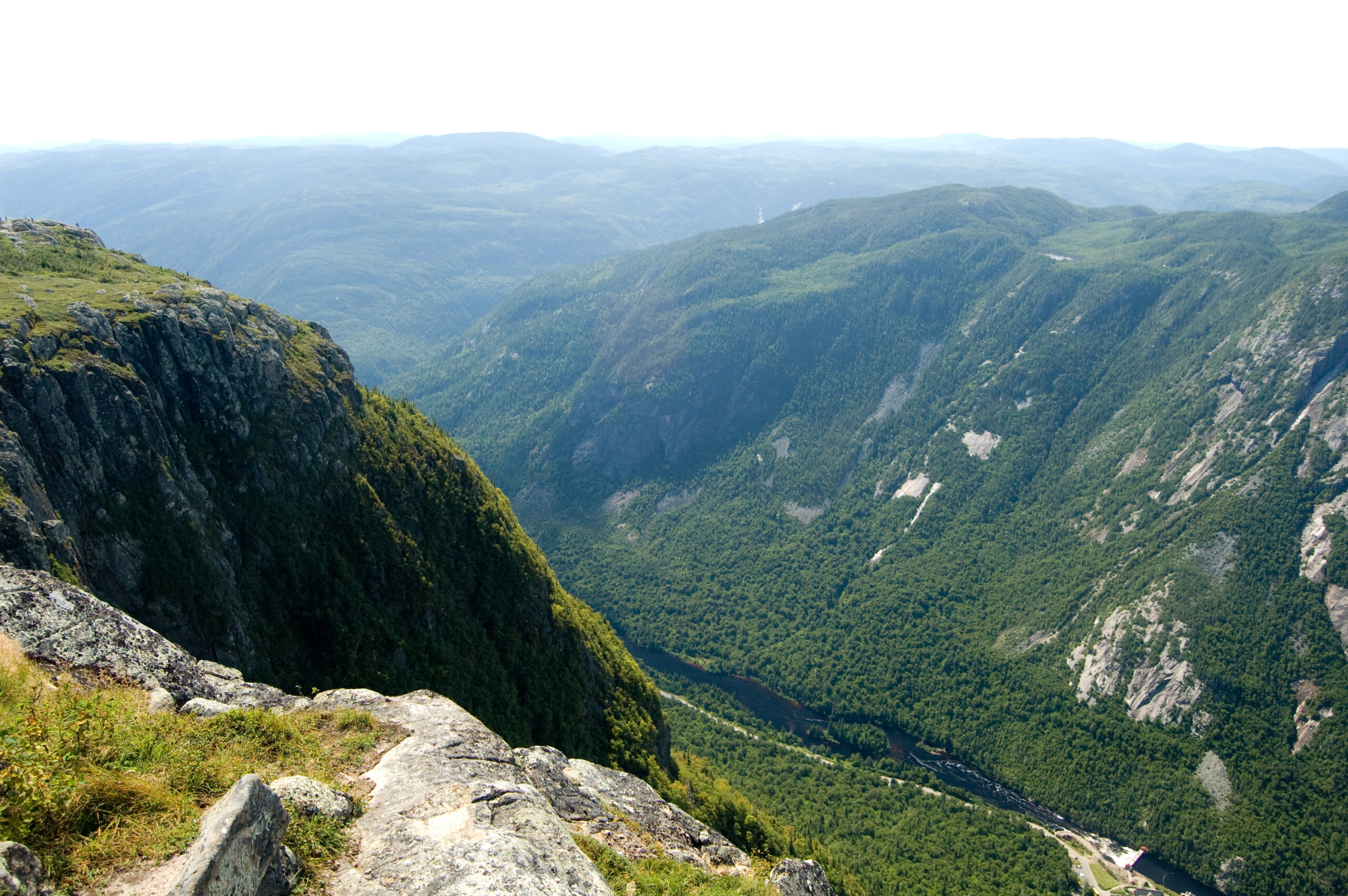 This 11.2-kilometer hike in the Parc national des Hautes-Gorges-de-la-Rivière-Malbaie offers spectacular views over the Québec wilderness. It's one of the steepest trails in the region and is pretty tough to tackle.
There are three main peaks on the route, meaning you'll need a certain fitness level. With such intense climbs and rugged terrain, there are plenty of cabins along the way where you can stop and picnic or grab a hot drink to recover.
The views are so worth it, but you should allow around 10 hours for the walk. However, it's relatively remote, so watch out for wild animals.
Honorable mentions
Deux-Criques Trail: Starting at a campground in La Mauricie National Park, this 17-kilometer loop isn't easy but has some amazing backcountry paths. The highlight is the view over Ruisseau du Fou falls. Allow a full day or camp overnight.
Pingualuit Crater: It's a far, far trip to get to this trail in Parc national des Pingualuit, but once you're there, the 2.5-kilometer walk to the crater is easy and quick. The crater and lake formed 1.4 million years ago and are a hell of an experience in Northern Québec.
Saskatchewan: Gem Lakes Trail
This 5.5-kilometer roundtrip trail hugs intense blue lakes shining like gems in the lush green meadows and forests. This is a super easy route that has some incredible views along the way.
The lakes are stocked with fish, and you'll find plenty of people angling.
Although the trail is easy and quick, many people choose to camp to spend more time enjoying the scenery. Camping and backcountry camping spots are popular, so sign up in advance.
Honorable mentions:
Nut Point Trail: This is a 30-kilometer round-trip hike near La Ronge Provincial Park with some challenging sections and climbing, so it's not for beginners. It can be done in 1 day, but it's worth taking 2 to bask in the scenery.
Nicolle Flats Interpretive Area: In Buffalo Pound Provincial Park near Moose Jaw, you'll find a set of trails ranging from 1.5 to 8 kilometers in some gently undulating hills and valleys. A popular attraction in the area, it's a great place for birding, hiking, and dog walking.
Northwest Territories: Cameron Falls Trail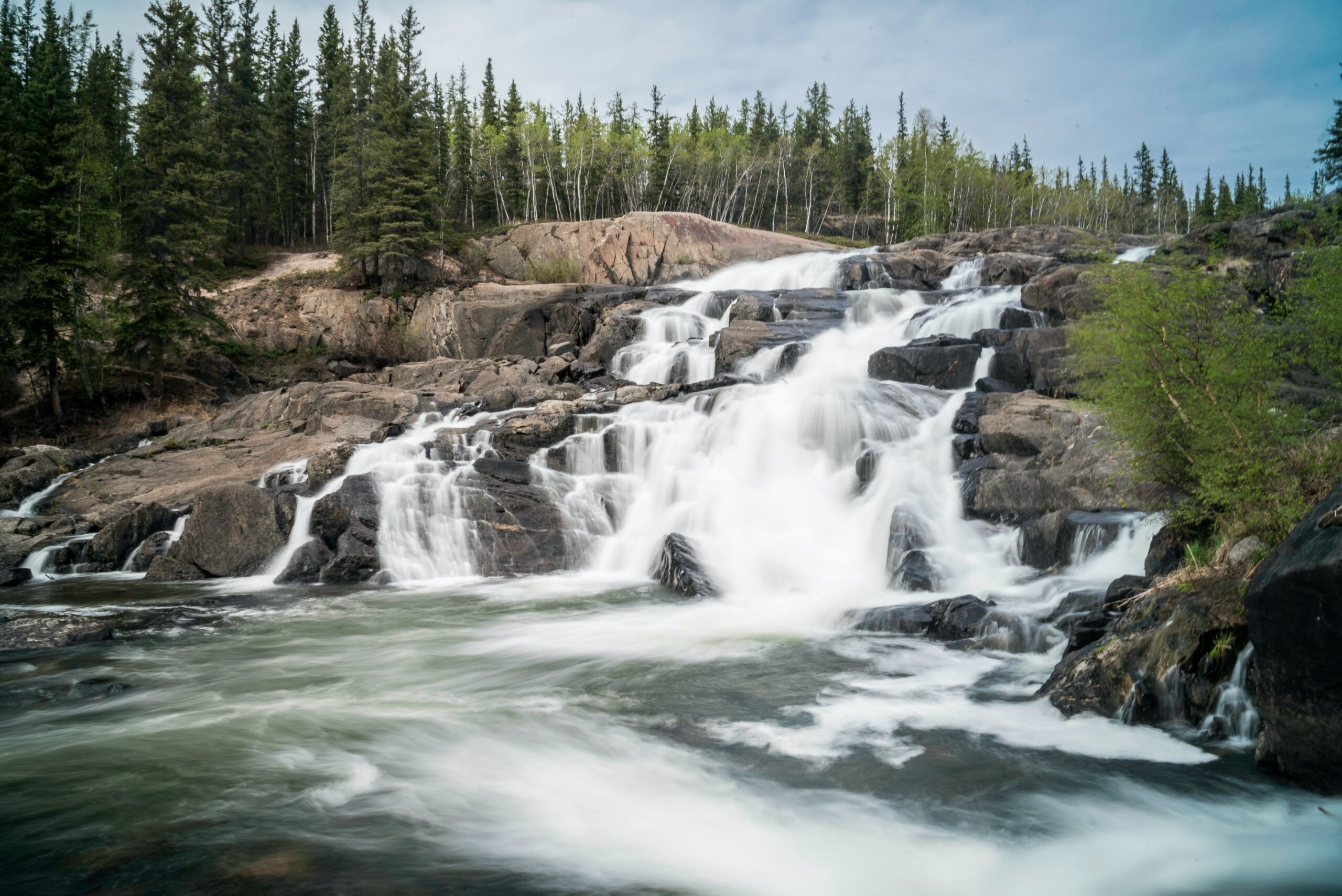 This quick hike takes less than 20 minutes each way and is only a total of 3.1 kilometers. It's super easy and great for beginners.
The trail is gentle and well-signposted, so you can stroll through evergreen forests until you reach the waterfalls, the highlight of this walk. You can get really close to the rocks or head downstream and view the falls from below.
It's a great place to picnic, and there's some fantastic fishing as well.
Honorable mentions
Canol Heritage Trail: As an old World War II trail, this 335-kilometer route is truly epic. It's a real test of endurance with lots of time exposed to the Canadian wilderness. It's one of Canada's longest and toughest trails, but oh so worth the effort.
Ingraham Trail: Near Yellowknife, you'll find 70 kilometers of stunning trail meandering past 7 lakes with boats, canoes, swimming, and fishing. The trail is mainly paved, so it can be a great bike route.
Virginia Falls: A popular spot in Nahanni National Park Reserve, Virginia Falls are twice as tall as Niagara and are an incredible sight to see. The short 30-minute hike to get there is easy and passes through some beautiful scenery.
This 5-kilometer out-and-back trail has everything to offer. It's close to the territory's capital, Iqaluit, which means you can make it to the start of the trail easily. Within minutes, you can be right out in the Canadian wilderness and enjoying the tundra.
The trail has a 67-meter elevation gain, so it's relatively gentle and great for experienced walkers looking for an easy route, and beginners can get to grips with being out on proper trails.
The views along the coast are stunning, and for an even better view, you can climb Apex hill. It's a challenge but it's worth it.
Yukon: Grizzly Lake Trail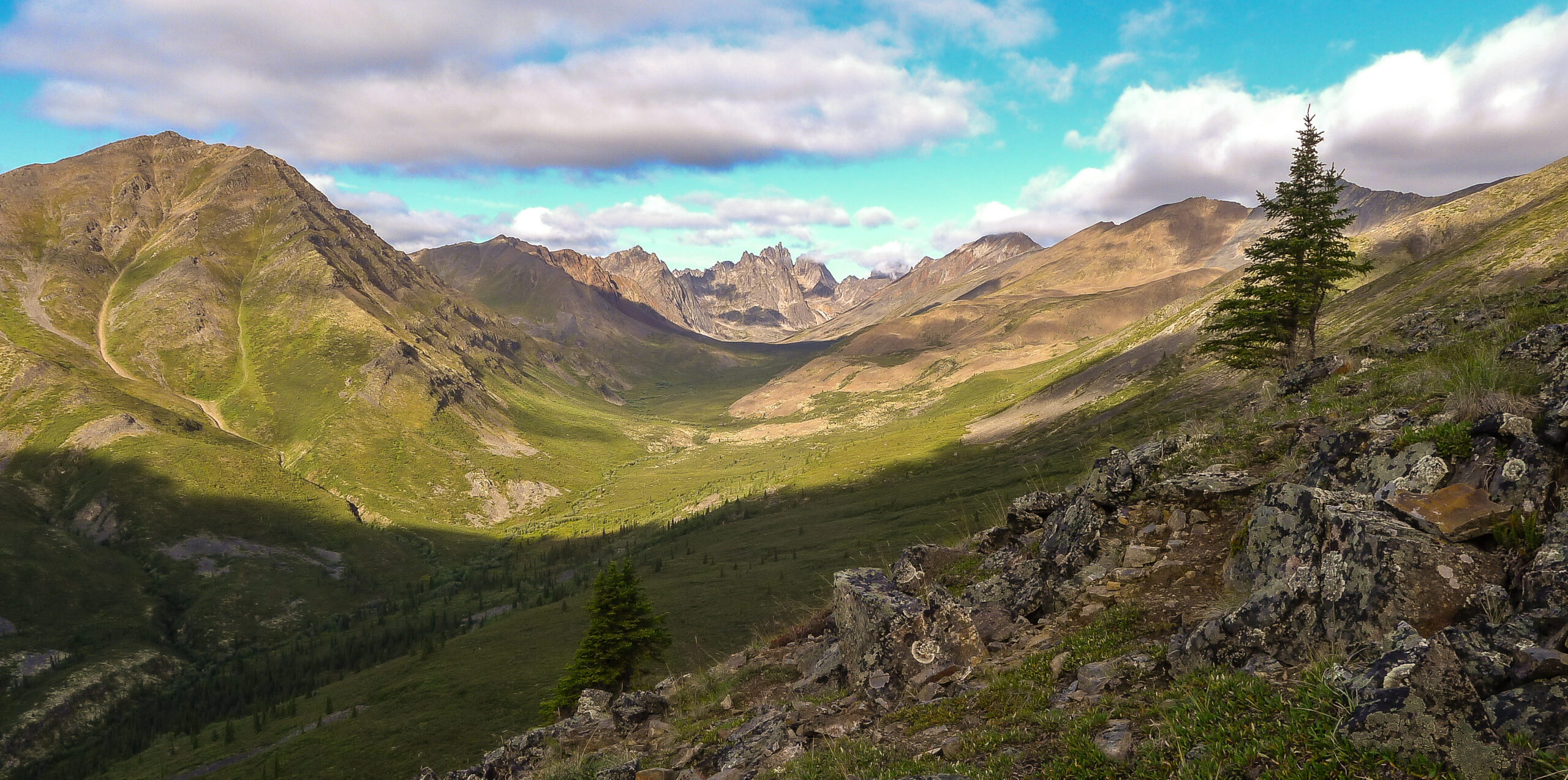 Not for the faint-hearted, this trail up to Grizzly Lake is definitely for the more experienced hikers.
Deep in the heart of the Tombstone Provincial Park mountains, the trail is 11 kilometers long, and you can couple it with 2 other trails for a longer, 43-kilometer hike. Both options offer what will likely be some of the most incredible views of any hike you'll ever do.
It's super remote, and you probably won't run into anyone else. You will need to register and take bear protection.
Most people who do the longer route camp overnight, but it's only permitted at designated camping sites.
Honorable mention
Fish Lake Trail: This trail near Whitehorse is ideal for getting out in the wilderness and experiencing high altitudes, meadows, lakes, and hills without traveling too far from civilization. There is hunting at some times, so it is worth checking to avoid hunting season.
Ontario: La Cloche Silhouette Trail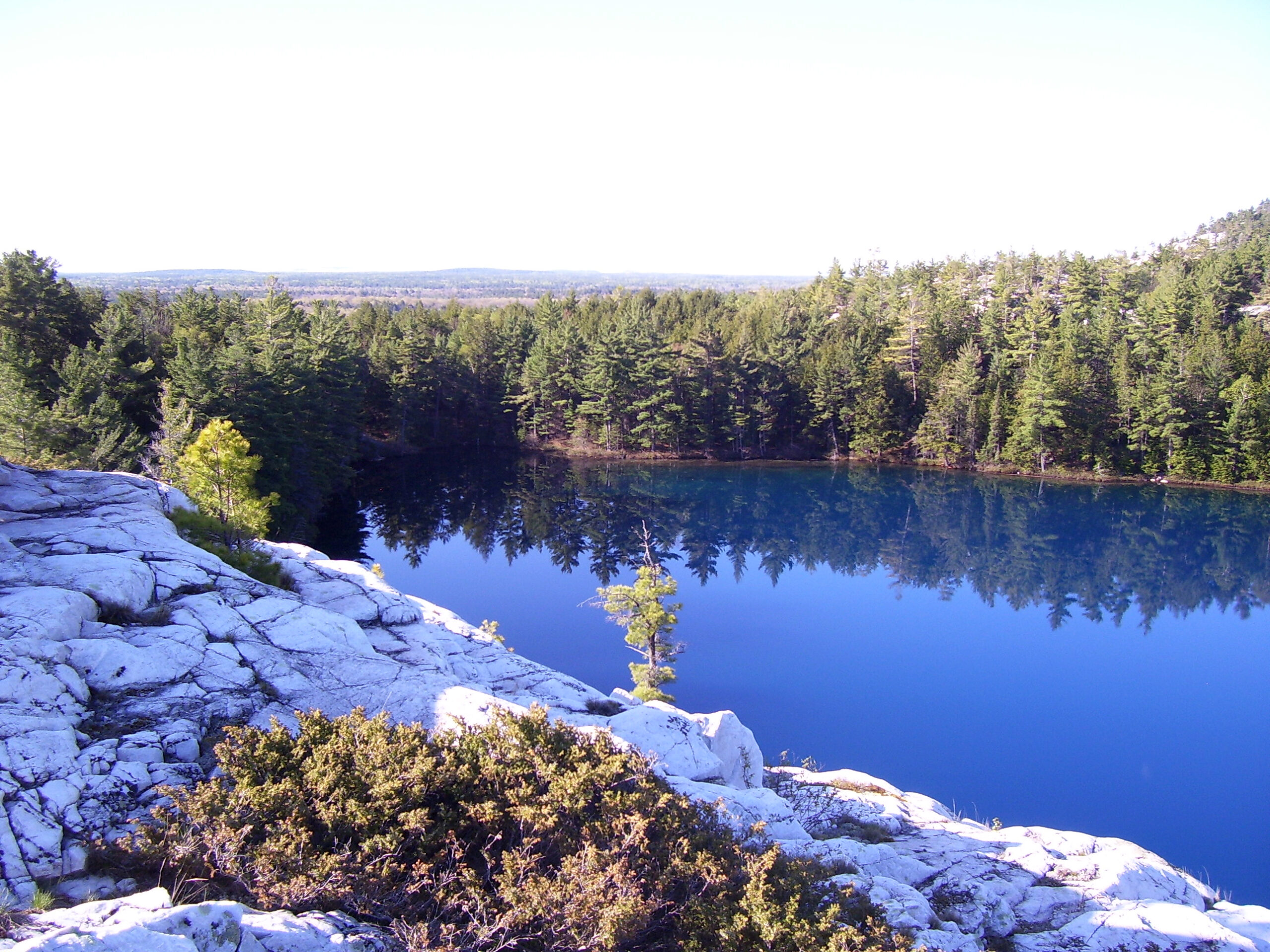 Famously one of Ontario's wilder and more intense trails is the La Cloche Silhouette trail.
It's 78 kilometers long with numerous steep and rocky sections, so it can take up to 10 days to complete at once. For anyone looking for a slightly less intense experience, you can tackle short sections at a time.
Every section has incredible views, gorgeous lakes (which you can swim in during the warmer months), mountains, meadows of flowers, forests, lakes, and rivers. There is an abundance of wildlife and some stunning campsites.
Honorable mentions
Top of the Giant Trail: This challenging 2.7-kilometer trail is accessed via Kabeyun Trail and Talus Lake Trail, so prepare for a 22-kilometer return route. Although the hike involves a lot of climbing (about 290 meters), the views over Lake Superior are so worth it.
Cup and Saucer Trail: On Manitoulin Island, this trail has a few options but nothing too long. The longest option is 14 kilometers and is relatively moderate in difficulty. It has amazing views of the Niagara Escarpment's famous cliffs.
Want to get more content to know more about good hiking routes?
Summary
This map of the best hiking trail in every Canadian province and territory gives you a whole new bucket list for your next domestic trips if you are into outdoor activities!
What would you like to know about exploring Canada? Tell us in the comments below.
See the deals we spot: Cheap flights
Explore awesome destinations: Travel inspiration
Learn pro tricks: Travel tips
Discover free travel: Travel rewards
Featured image: Map of the best hiking trail in each Canadian province (image credit: Flytrippers)
Share this post to help us help more people travel more for less: