Alexa is a guest-blogger with Flytrippers. Follow her on Instagram and read her bio at the bottom of this page.
Essentially all of my travelling revolves around places where I know I can find beautiful remote beaches. Since the Toronto winters are so long, it leaves me on a constant hunt for a tropical paradise.
There were a few beaches in my previous post about the hidden gems of Brazil and just like Brazil, many of the destinations with the best beaches happen to be featured on Flytrippers' cheap flight deals page too.
From the Caribbean, Asia and South America, here are my top 10 favourite beaches.
1. Crystal Bay, Nusa Penida, Indonesia
Nusa Penida is the biggest of 3 islands off the coast of Bali. It's virtually free of tourists as the island itself doesn't have very much accommodation. You can stay on neighbouring islands Nusa Ceningan and Nusa Lembongan and take a quick boat ride over to Nusa Penida from the yellow bridge.
Crystal Bay is a beautiful stretch of beach, surrounded by colossus palm trees and is home to some of the most lively coral reefs I have ever seen. If you are there early in the morning, you might even be able to see some manta rays. This beach is truly an exotic spot and should definitely not be missed if you're heading to Indonesia.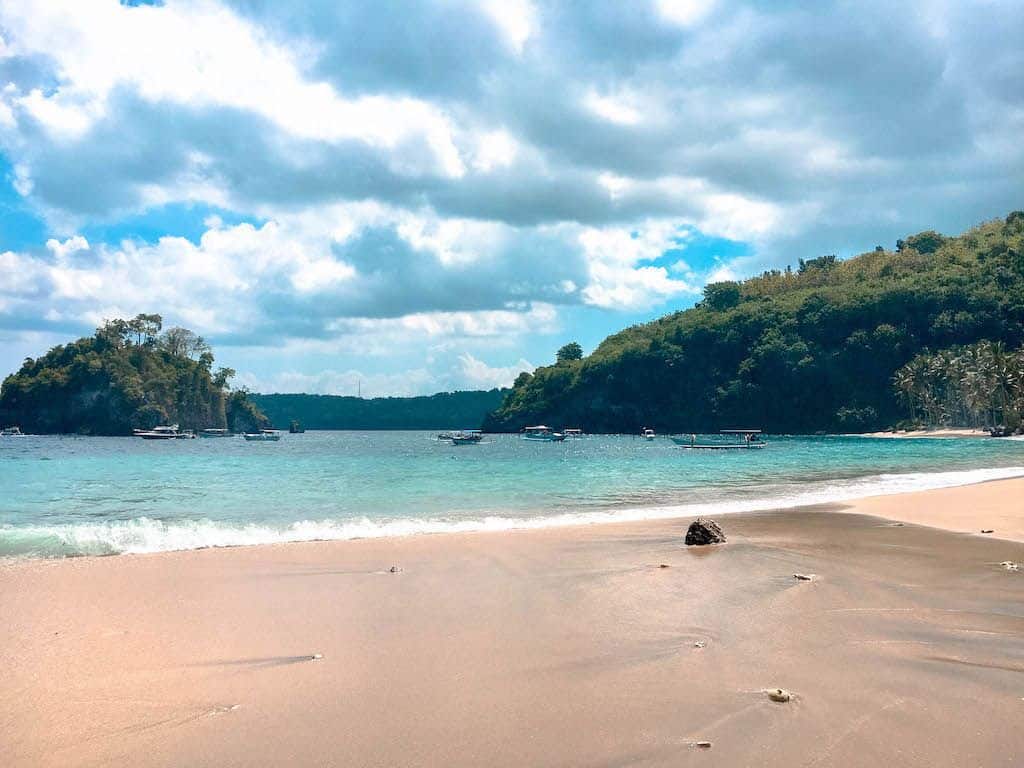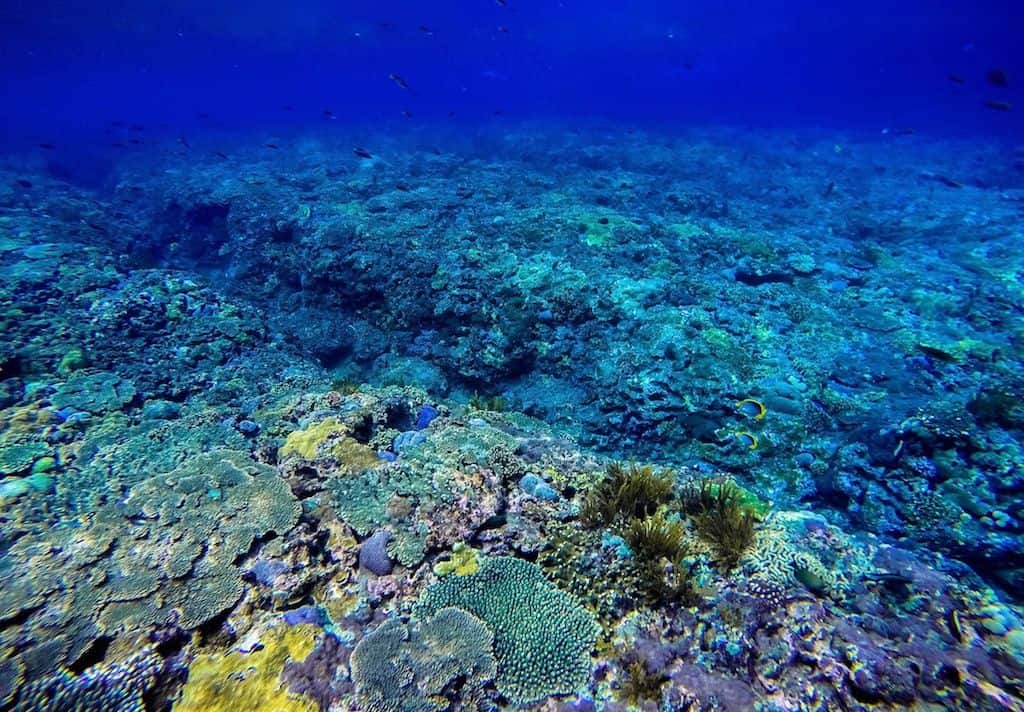 2. Mullet Bay, St. Maarten, West Indies
St. Maarten is an island in the Caribbean that I have visited multiple times. One side was colonized by the French and the other side by the Dutch. I always used to head over to the French side when I would visit, but during my last visit I decided to explore more of the Dutch side.
I decided to head over to Mullet Bay beach early in the morning and I arrived to a completely empty beach. There are a few bars on the south side of the beach, but if you walk the opposite way you'll avoid the crowds that form throughout the day.
This beach is just around the corner from the infamous Maho Beach, so you can still see the planes coming in, but without the loud disturbances.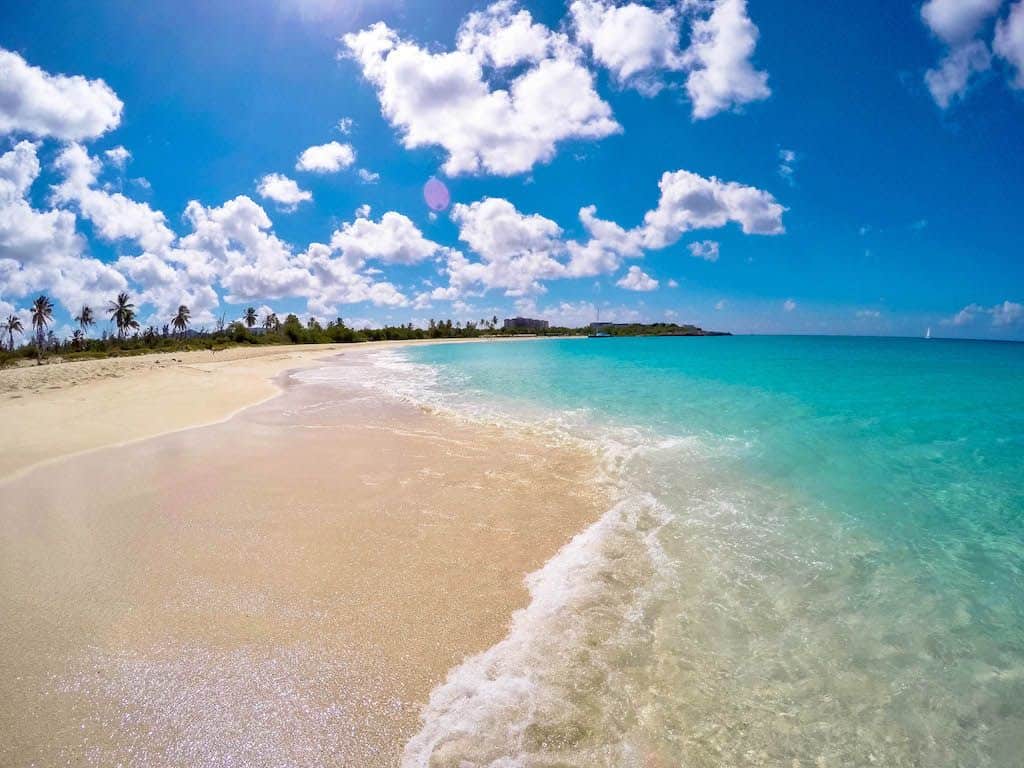 3. Carlisle Bay, Bridgetown, Barbados
Barbados is definitely one of my family's favourite places to vacation. If you're looking for a one of the island's best beaches, Carlisle Bay is the spot.
You are guaranteed to swim alongside green sea turtles if you take a snorkelling tour out into the bay and there are also some shipwrecks to explore. If you aren't a strong swimmer or you have young children, this beach is still perfect for you because of the calm waters.
I suggest going in the morning as this beach does get busy throughout the day because it's a favourite among both tourists and locals.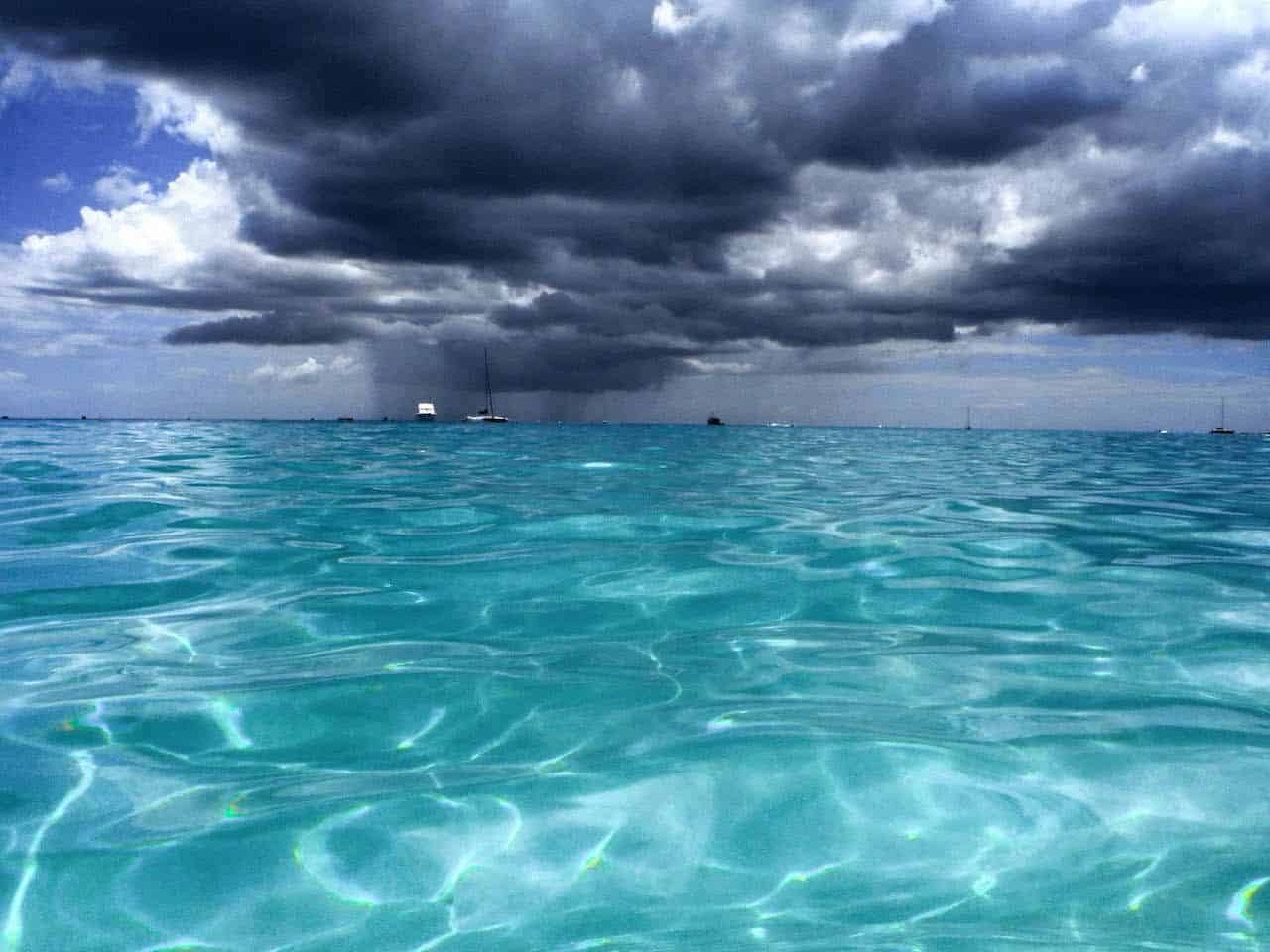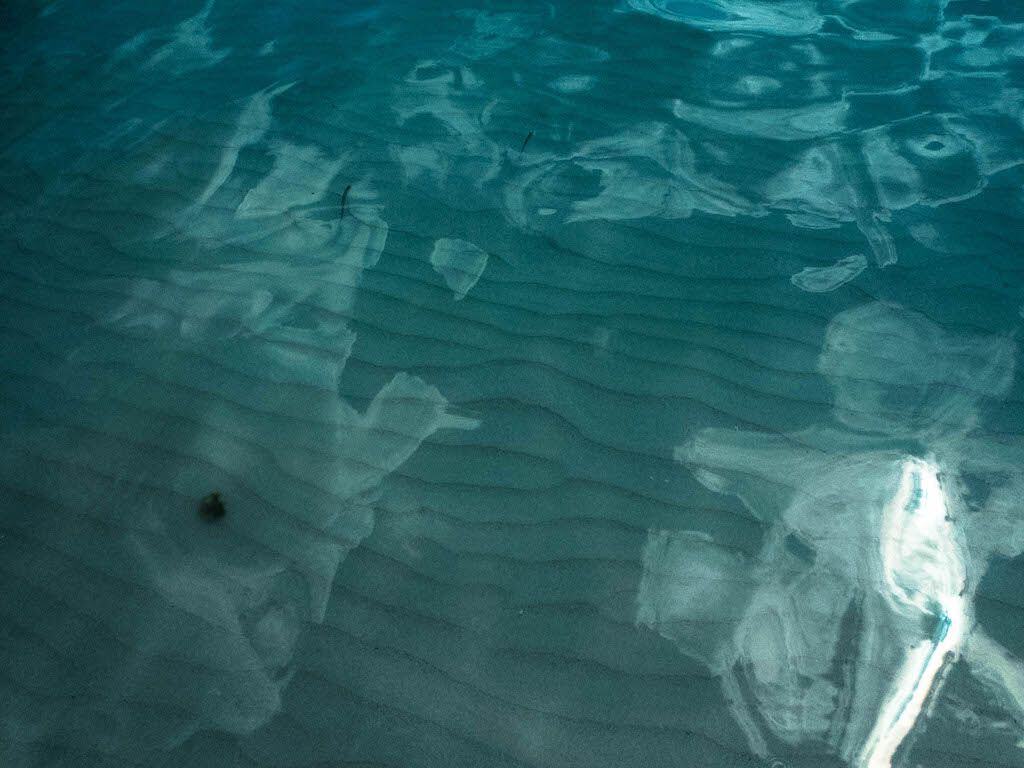 4. Ipanema, Rio de Janeiro, Brazil
There's a definite reason this beach is iconic. Just steps off the busy streets of Rio, this beautiful beach is a go-to spot for locals to hang out and socialize. Ipanema is usually crowded, so if you're there during the weekends or a holiday, you'll find it full of families and friends.
The waves are ideal for surfing, but are also fun to swim in. If you aren't a strong swimmer, the beach is a great place to lounge and do some people watching because it really attracts a diverse crowd. The sunsets over Ipanema are absolutely stunning and as it gets darker you can see the lights from the famous Vidigal favela start to twinkle on mountains of Dois Irmaos.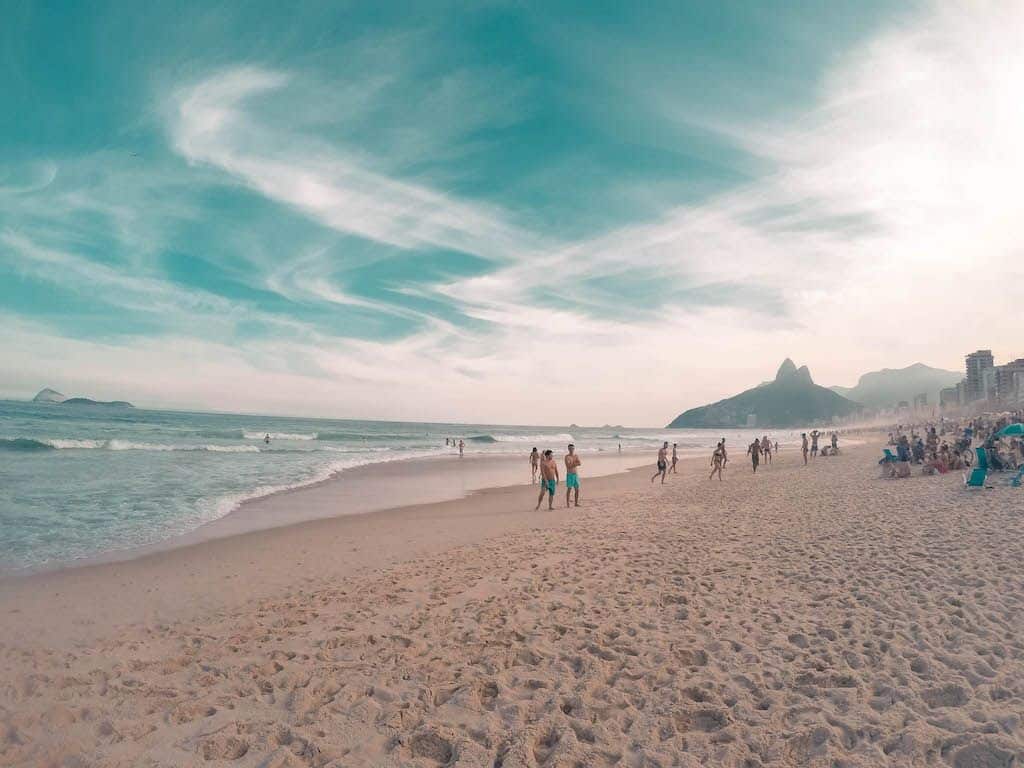 5. Dreamland Beach, Uluwatu, Bali
If you're heading to Bali, Uluwatu should definitely not be missed. While this beach isn't ideal for snorkelling, it's great for surfing and swimming. This beach was everything I was expecting from Bali's beaches.
The blue waters are surrounded by massive cliffs and you can even spot some monkeys playing around in the trees. There is a cliff trail you can climb up to get a great lookout spot of Dreamland beach and the neighbouring Bingin beach. If you're going to Bali for the beach and the lush jungles, I definitely recommend staying away from the Kuta area and heading down to Uluwatu.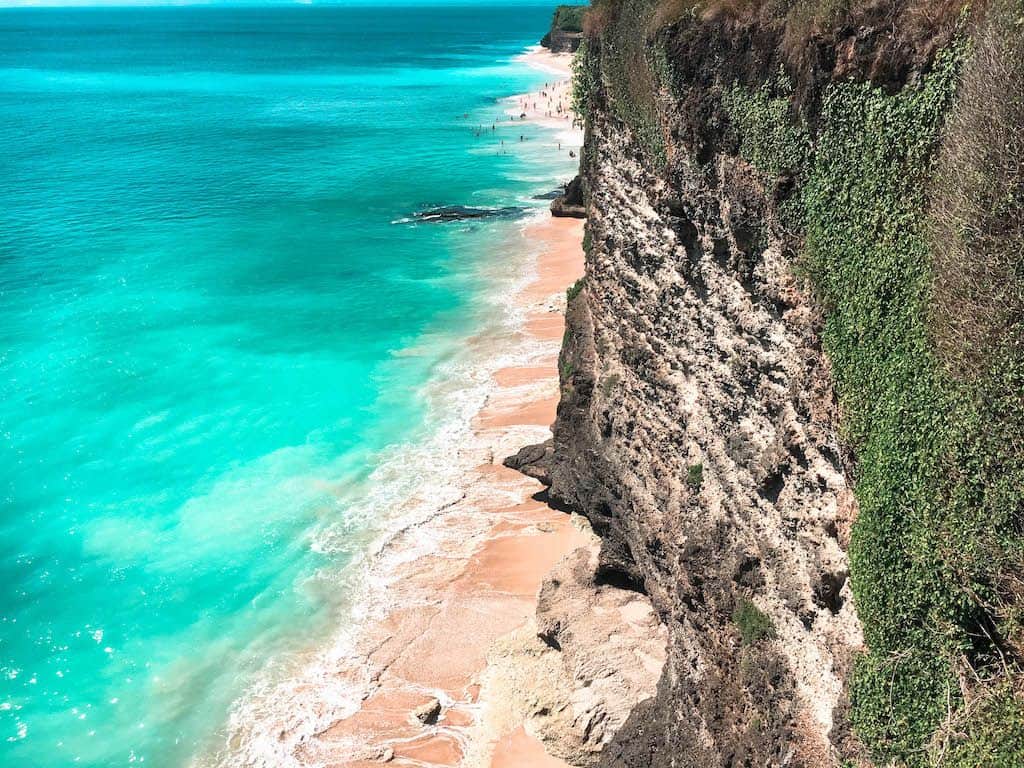 6. Devil's Bay, Virgin Gorda, British Virgin Islands
If you love unique beaches, the island of Virgin Gorda should be a priority on your travel bucket list. The main attraction here is amazing boulder formations which have created a cave throughout the shallow water, known as the Baths of Virgin Gorda.
I highly recommend heading to the Baths early in the morning to avoid the crowds. After you finish walking through the Baths, the trail brings you to a beach called Devil's Bay. This small bay is surrounded by the huge boulders that make up the Baths and is home to a variety of tropical fish, stingrays, squid and you might even be able to spot some juvenile reef sharks.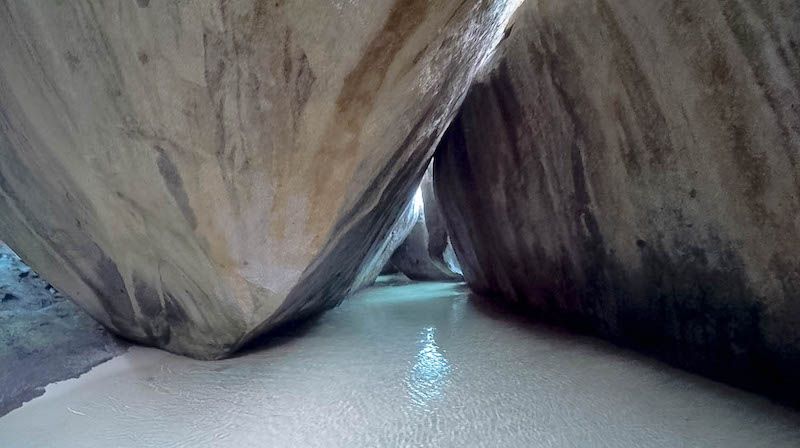 7. Gamat Bay, Nusa Penida, Indonesia
The island of Nusa Penida is absolutely stunning because it still isn't a major tourist destination, leaving it primarily untouched. Gamat Bay is a small beach located right off the channel between Nusa Ceningan and Nusa Penida.
The humble dark sand beach is surrounded by rows of palm trees and while it may look simple from the land, once you get into the water it's a completely different story. The reefs here are vibrant and lively, filled with a variety of marine life, much like Crystal Bay but without the crowds.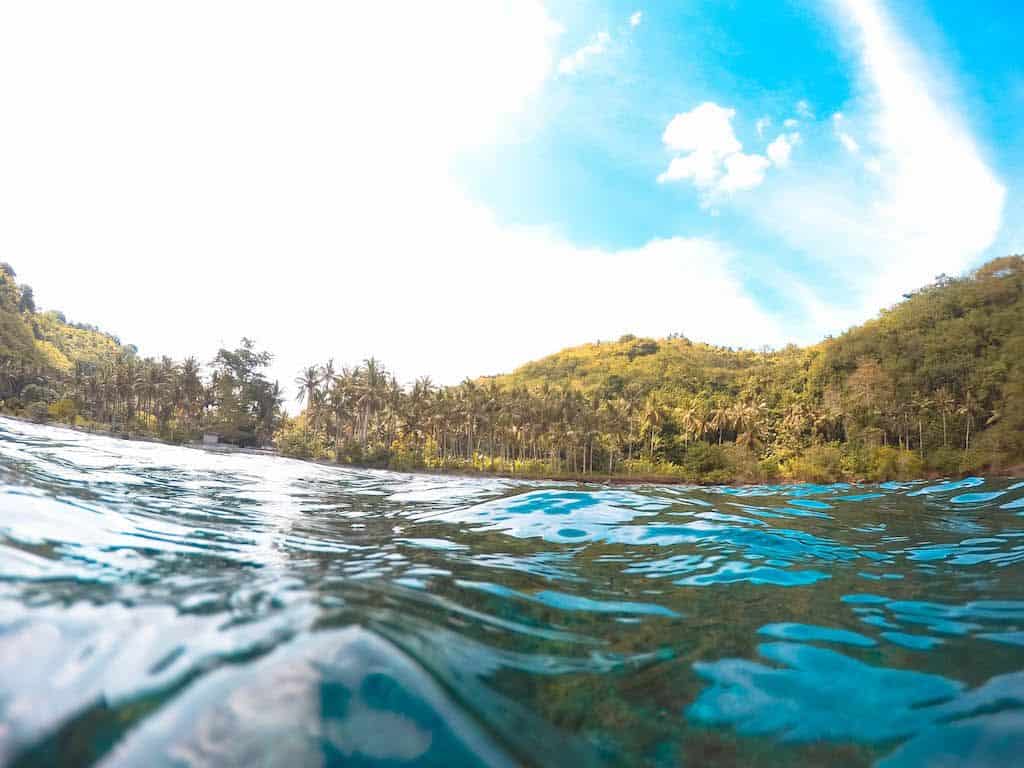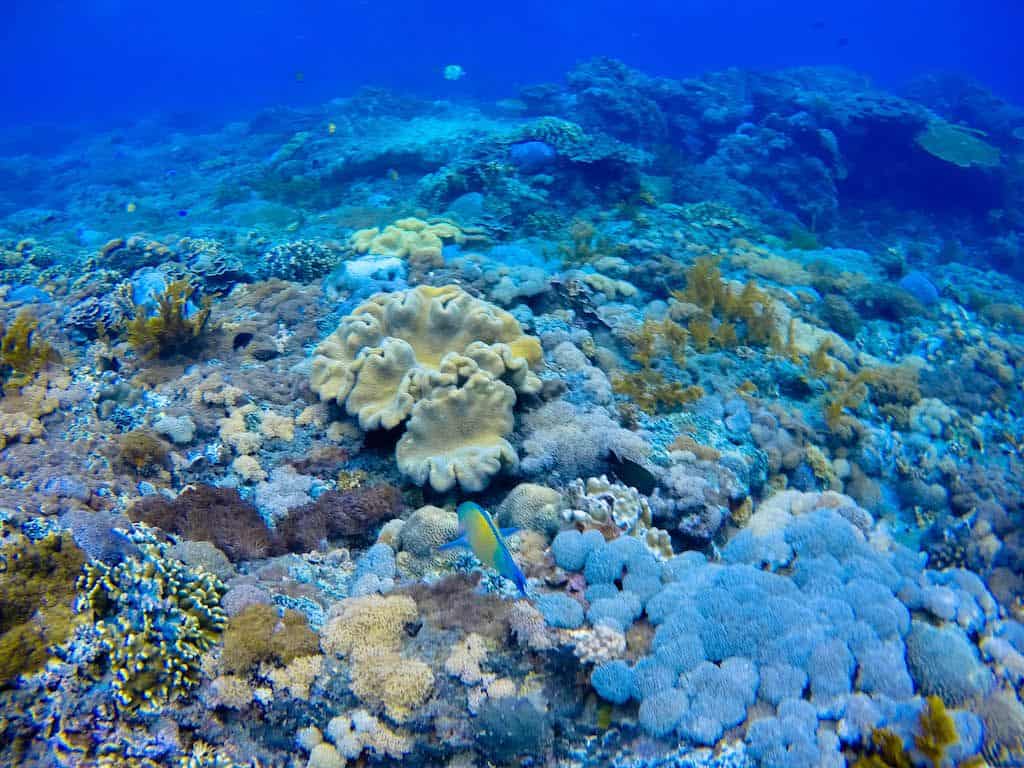 8. Buck Island Reef National Monument, St. Croix, U.S. Virgin Islands
Buck Island is a small island off the coast of St. Croix. The island is protected as it's a National Monument. There are tours you can book to take you out to the island, which usually stop at a stretch of beach located on the West side.
Since the land is protected, it's prohibited to remove any rocks, shells or anything else from the site. The island and the waters surrounding it are beautiful and filled with life. It's about a 45-minute boat ride from St. Croix and while tours may be expensive, they are well worth it.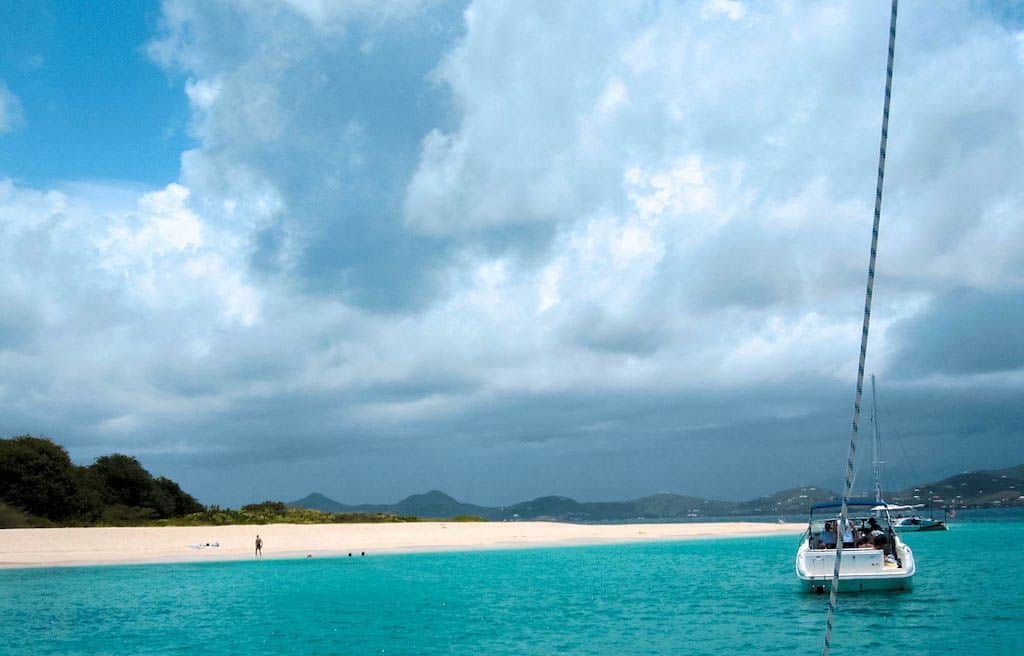 9. Praia de Feiticeira, Ilha Grande, Brazil
This quaint beach is located on the beautiful Ilha Grande off the coast of Rio. This was my favourite beach on the whole island because of the large boulders that surrounded both sides of the beach and the amazing views.
From the beach you can see the mountainous landscape of main land. There are a few small vendors on the beach selling coconuts and açai for around 2-5 Canadian dollars, so you won't go hungry. There's also a waterfall that is accessible from a hiking trail on the beach.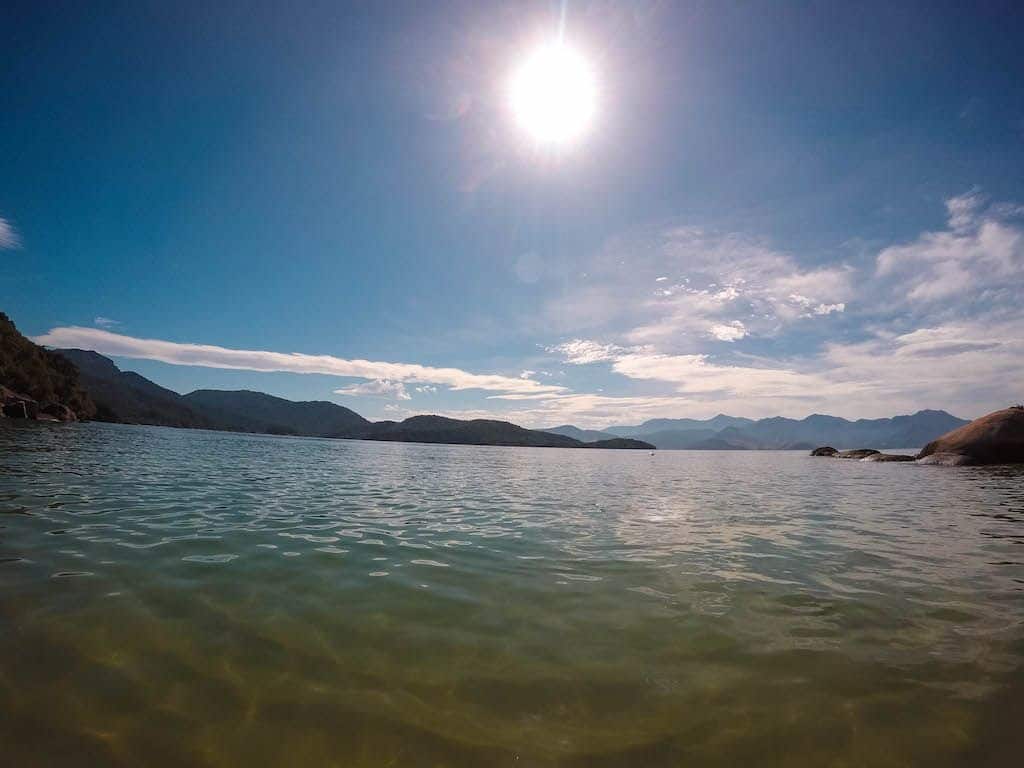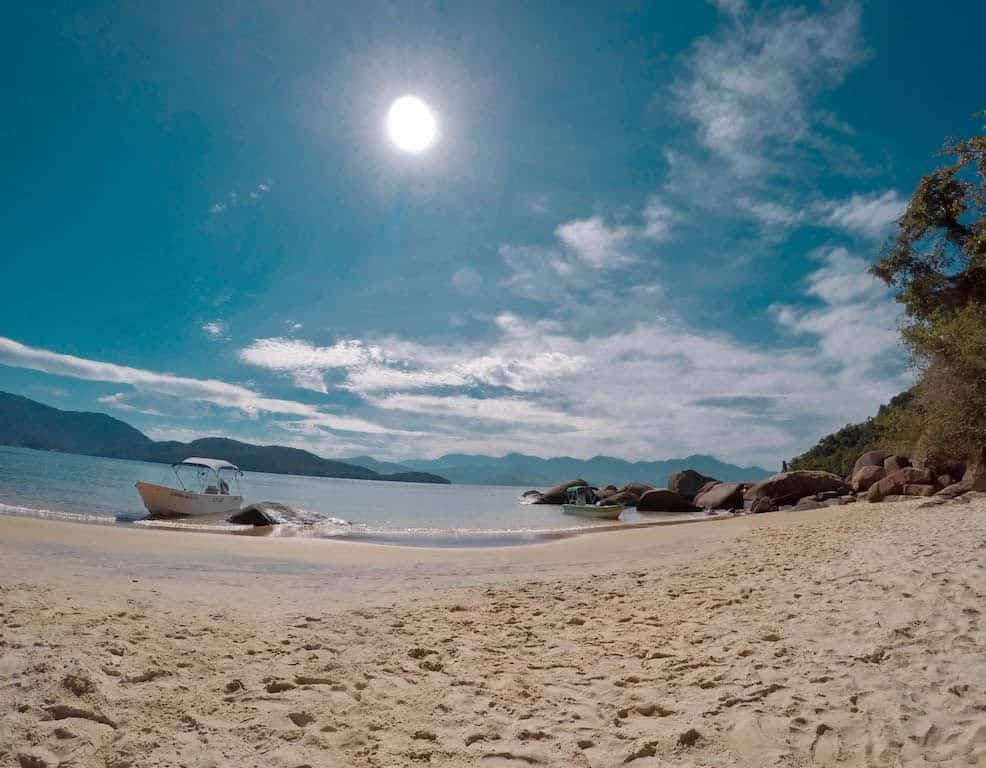 10. Half Moon Bay, Turks and Caicos Islands
If you've been searching for paradise, it can be found on the island of Little Water Cay in Turks and Caicos. The water here is crystal clear and you can swim alongside stingrays, green sea turtles and the occasional barracuda. Take a walk down the beach and you'll find some beautiful limestone rock formations.
Accommodation on the island is scarce, but if you're staying in the Grace Bay Area on the island of Providenciales, your hotel can set up a tour for you. I booked my tour with Island Vibes Tours and I highly recommend them.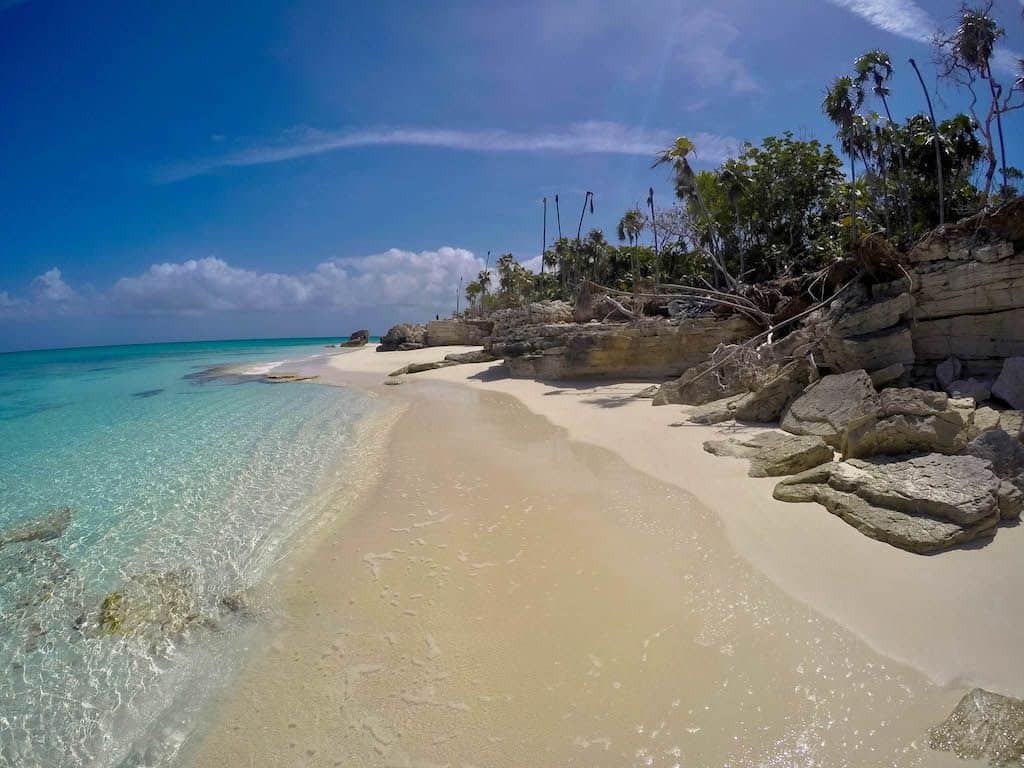 These are my favourite beaches in the world! Which ones would you add to the list? Tell us in the comment below!
Help us spread the word about our flight deals and travel tips by sharing this article and most importantly bookmark Flytrippers so we can help you navigate the world of low-cost travel!
Advertiser Disclosure: Flytrippers receives a commission on links featured in this blog post. We appreciate if you use them, especially given it never costs you anything more to do so, and we thank you for supporting the site and making it possible for us to keep finding the best travel deals and content for you. In the interest of transparency, know that we will NEVER recommend a product or service we do not believe in or that we do not use ourselves, as our reputation and credibility is worth far more than any commission. This principle is an essential and non-negotiable part of all our partnerships: we will never give any third party any control whatsoever on our content. For more information on our advertiser disclosure, click here.
Share this post to help us help more people travel more for less: