We are always talking about how Canada has some of the most expensive flights in the entire world, but that might finally change thanks to WestJet launching a ULCC airline, which they announced would happen in summer 2018. It's a move that paves the way for $20 flights in Canada.
This news is definitely the one that will have the biggest impact on Canadian airfare prices in years, if not decades. And it's not an exaggeration. WestJet announced in April the launch of a new airline in Canada, a ULCC. What is that? ULCC stands for "ultra low-cost carrier", a rather new and fast-growing type of airline that are way cheaper than "low-cost" companies like WestJet and of course legacy carriers like Air Canada. "Ultra" cheaper. And WestJet is finally bringing the model to the Great White North, although they announced this week it would happen in Summer 2018 instead of late 2017.
You probably know by now that our flight deal page features many flights at around $400 roundtrip to Europe from Toronto-Pearson and Montreal-Trudeau on WOW air, a European ULCC. Within Europe, you can frequently find $5 flights, including all taxes and fees. So the ULCC model is definitely the best thing to happen in the air travel industry in a long while, and we will soon be able to have it here!
What is a ULCC ?
ULCCs make flying for ridiculously low prices possible thanks to completely unbundled base fares. Everything that is "free" on other airline isn't actually free: it's built into the ticket price, whether or not you want or need that particular service. With ULCCs, you only get a seat from Point A to Point B, and honestly that's really all you need if you want to travel more!
By using our tips, thanks to our experience (I have flown on 40+ ULCC flights in the past 5 years), you will be able to buy these dirt-cheap flights and never pay a single dollar more. Every time I have used ULCCs, I never had to spend more that what the base fare was, so it's definitely possible to avoid the extra fees. My 3 roundtrip flights to Florida cost me $100 last December, and I also had a $10 Warsaw-Stockholm flight (and dozens of others) without paying a single dollar more. ULCCs are amazing: they allow you to travel much more frequently at a very low price.
To learn more about ULCCs, read our detailed article about how ULCCs work.
But isn't WestJet already a low-cost carrier?
Yes, a low-cost carrier. Not an ultra low-cost carrier. The difference is huge. In fact, the difference between low-cost airlines and ultra low-cost airlines is actually much greater than the difference between regular airlines and low-cost airlines.
Basically, there are three main categories of airlines:
-Regular airlines (also full-service or legacy)
-Low-cost airlines
-Ultra low-cost airlines
Full-service airlines include Air Canada, British Airways, United, Delta, American, etc. It is expensive, almost every service is included in the price and it's perfect for people who prefer simplicity and don't want to save money. They have the prestige routes, the whole nine yards. It is for people who do not want to compromise at all, even if it means paying hundreds of dollars more per ticket.
Low-cost companies, like WestJet or Southwest and JetBlue in the US, are almost always cheaper than regular airlines. But not by that much. A few services are optional, but overall, it isn't that different than regular airlines, and you'll almost never find roundtrips at around $100.
Ultra low-cost carriers are airlines with fares at under $50 with only the seat included, it is completely unbundled. It is a completely different business model as mentioned previously. Spirit Airlines is the most popular in the US (and available from airports near the Canadian border in Niagara Falls NY, Bellingham WA and Plattsburgh NY). Others include Allegiant and Frontier, as well as Ryanair, Wizz Air, WOW air and Norwegian in Europe and finally Air Asia in -you guessed it- Asia.
So what did WestJet announce exactly?
In Summer 2018, WestJet will launch a ULCC to cater to the budget travel segment. It's hard to convey how major of a move this is for Canadian airfare prices by typing words onto a screen. Seriously, it's YUUUUUGE! This will lead to lower fares than we've ever seen here in Canada, and we couldn't be more excited that we'll have more great low-cost deals to find for you!
Will it really make that big of a difference ?
Yes! Currently, Canada is ranked 130th out of 138 countries in terms of cost of domestic flights. Will this new ULCC bring us into the top 10 instead of the bottom 10? Of course not. Many structural factors will continue to make average air travel in Canada more expensive than elsewhere, but we're still going to see great new low fares on select routes and a definitive downward effect on prices in most markets. An upstart ULCC called NewLeaf already offers $19 flights in Canada during special promotions, so more competition in the ULCC space will only make that type of promotion more frequent.
Current Canadian airline offering $19 flights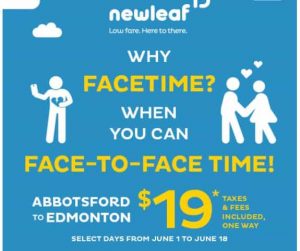 An example of the many cheap flights in Europe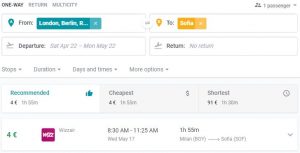 We want to know what YOU think! Give us your thoughts in the comments below.
What do you think of this news ?
What would you like to know about ULCCs ?
Have you ever tried ULCCs ?
Subscribe to our Flytrippers Newsletter to be the first to know when this new airline launches!
Want to see our flight deals ? Click here to go to our deal page
Want more travel tips ? Click here to go to the main blog page
[dealip]
Help us spread the good news about low-cost travel by sharing this post with your friends and add Flytrippers.com to your favourites for more travel content!
Share this post to help us help more people travel more for less: