As airlines around the world make drastic cuts in response to the nonexistent demand for flights and are mostly accepting that flying and traveling is not recommended for a while… a Vietnamese airline is taking a very different approach. The controversial Vietjet Air has announced a pretty strange marketing stunt to get people flying.
On a lighter note on this Friday afternoon, I'll take a pause from the serious coronavirus content (including an extremely disappointing—and possibly illegal—decision regarding refunds on Canadian airlines… that post will be online tomorrow morning) and talk about this weird news.
Vietjet Air has launched "SKY COVID CARE", an insurance policy that will cover you in case you get infected by COVID-19 (the disease caused by the novel coronavirus) on your flight OR anywhere else in the following 30 days.
Vietjet's "SKY COVID CARE" Insurance
I'll tell you a bit more about the unique Vietjet Air (and why they're called the "bikini airline") in a second, but here's what this stunt is all about.
SKY COVID CARE is an insurance policy worth 20M to 200M VND (≈C$1,200 to ≈C$12,000) that you will get if you fly VietJet within Vietnam from now to June.
It's supposed to reassure those who don't want to travel due to the coronavirus pandemic.
To be eligible, you'll need to "provide all information in accordance with Vietjet's Terms and conditions when purchasing tickets and using aviation services; and comply with all regulations on disease prevention and control of Vietjet, the Ministry of Health and authorities".
For 30 days after your flight, you'll be covered no matter how you are infected.
You can read the full press release here.
I have no idea what the healthcare situation is in Vietnam, and yes, Vietnam is only reporting 163 cases of coronavirus, despite a population of 96 million and a border with China, compared to 4,000 in Canada in a population of 38 million, in other words about 50 times less per capita.
But this promotion seems like a pretty stupid move to me. Then again, this kind of marketing stunt is what Vietjet Air seems to love doing. What do you think?
Vietjet Air Details
For those of you who do not know about Vietjet, it's a relatively large and growing Vietnamese Ultra Low-Cost Carrier (ULCC) with a fleet of 75 planes (and a whopping 324 on order).
If, like me, you've flown on ULCCs around the world, you're used to advertising on overhead bins and seats, but VietJet takes this further with ads on the actual airplane livery.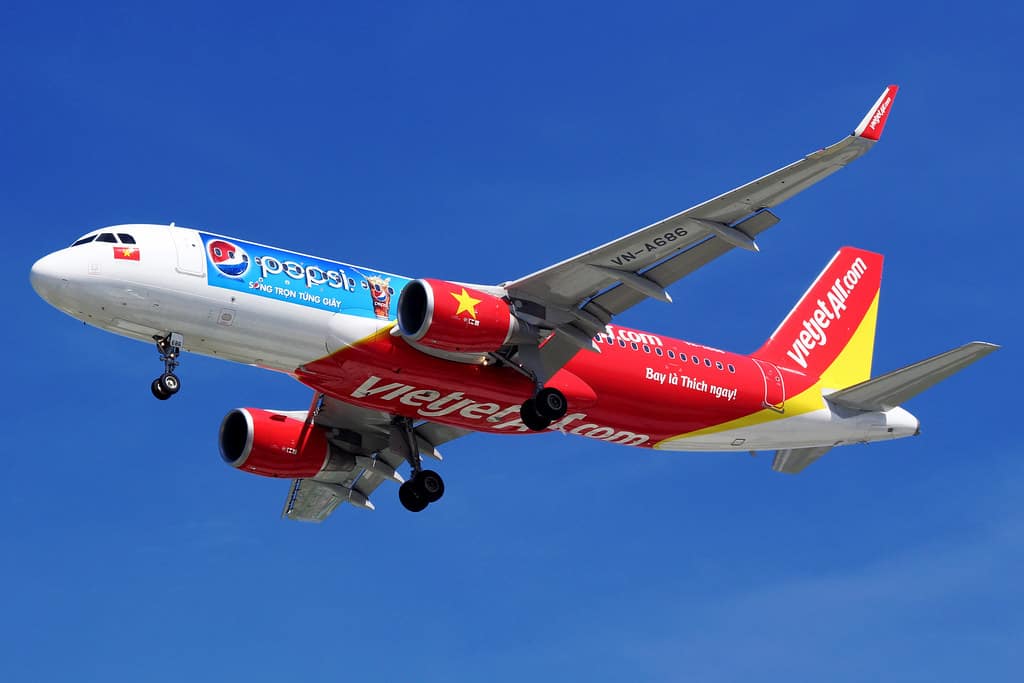 This coronavirus insurance is not the first outside-the-box marketing stunt from this airline and its billionaire female CEO.
They love controversy. They actually take great pride in being a "new age carrier", whatever that means.
But this one is very weird, even for an airline that once published a calendar of its flight attendants in bikinis, and often had bikini-clad models onboard flights.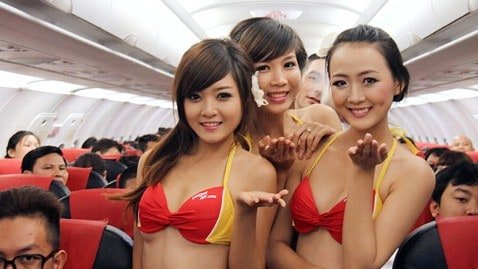 Vietjet Air is also one of the airlines that took over some of our beloved WOW air's planes (RIP), but without even bothering to repaint over the purple color, except on the tail.
This ex-WOW Air A321 is now flying for Thai VietJet Air in a 'hybrid' livery. https://t.co/qwFUdzliLw © toeychincha pic.twitter.com/xQPvzkrTyT

— JetPhotos (@JetPhotos) October 11, 2019
I haven't flown them yet, but Flytrippers' other cofounder Kevin has, and had a great experience. No bikinis on board, and in fact, the plane was almost empty for his flight from Nah Trang (CXR) to Da Nang (DAD).
Summary
Vietjet Air launched a controversial coronavirus insurance policy to get people to fly during this pandemic. It's par for the course for this airline that loves to do this type of marketing stunts.
Want to get all our content for Canadian travelers?
Share this post to help us help more people travel more for less: