There is now another (!) airline that plans to launch to try and replace our beloved Icelandic ultra low-cost carrier WOW air, and this one might actually become a real airline.

We love Ultra Low-Cost Carriers (ULCCs) and we've definitely missed WOW air. They used to offer extremely cheap flights between North American cities and Europe, via Iceland.
I went to Europe 3 times for under $1,000 TOTAL in the same year (roundtrips for $250, $300 and $330)! You can read our reminder about WOW air's story. In short, it was such a great and affordable airline.
But they tried to grow too quickly and had to cease operations last spring. This is obviously bad for prices, but it's even worse considering Air Canada will purchase Air Transat and dominate transatlantic flights with a 60% market share.
So this new WOW is encouraging. Since WOW's demise, there have been not one, but two different projects to revive the airline.
The two different new WOW airs are as follows:
New WOW #1, led by Americans, bought the defunct airline's assets (brand, flight operations systems, etc.)
New WOW #2, led by Icelanders, has no official ties but the co-founders are former WOW air executives
The first one is not very credible, as we told you (despite many outlets who aren't travel experts treating the news as if it was a serious venture), but the second one could be a bit more promising.
New WOW #1 (WOW air)
Here's a reminder about this one. They will theoretically keep the WOW air name. Because the good impression left when stranding thousands of passengers and going bankrupt is something you definitely want to keep and build your new airline on.
I'm very skeptical of this project. Many major outlets had headlines like "WOW air is coming back" after their press conference, but they clearly didn't look very deep into this.
In my post titled "WOW air Relaunch: Here's Why You Shouldn't Get Too Excited," I wrote that I might be even more skeptical of that airline than I was of Jetlines, which has since once again "delayed" their launch (many media outlets covered Jetlines' announcements regularly as if they were credible, too).
By the way, Jetlines is back in the news yesterday. In October, to justify their inability to do pretty much anything in 6 years, they were blaming WestJet for predatory pricing (all the while Jetlines never had a plane or sold a ticket I must remind you). Now they blame (and are suing) a US airline entrepreneur for stealing away one of their many CEOs. Of course.
So the problem with new WOW #1 is that, well, there's too many to discuss them all here. If you don't want to read the previous article, I'll say that it's just a very weird proposal, led by a pirate-negotiator and with a business model that makes no sense. They want to be an ultra low-cost carrier with a lounge for everyone and Michelin-starred chefs…
It's just my humble opinion, but it's based on my expertise in the aviation and travel industry as well as my management consulting background: I highly doubt any of us will fly new WOW #1 anytime soon.
I said that when they announced their October launch in September, and I'm saying it again now that they've delayed their launch once already (to the surprise of absolutely nobody who knows anything about the aviation industry).

New WOW #2 (PLAY)
Now, let's move to the positive news, New WOW #2 which was previously (and temporarily) called WAB (We Are Back).
The project now has an official name: the new airline will be called "PLAY," with a bright color scheme, something very typical with ULCCs.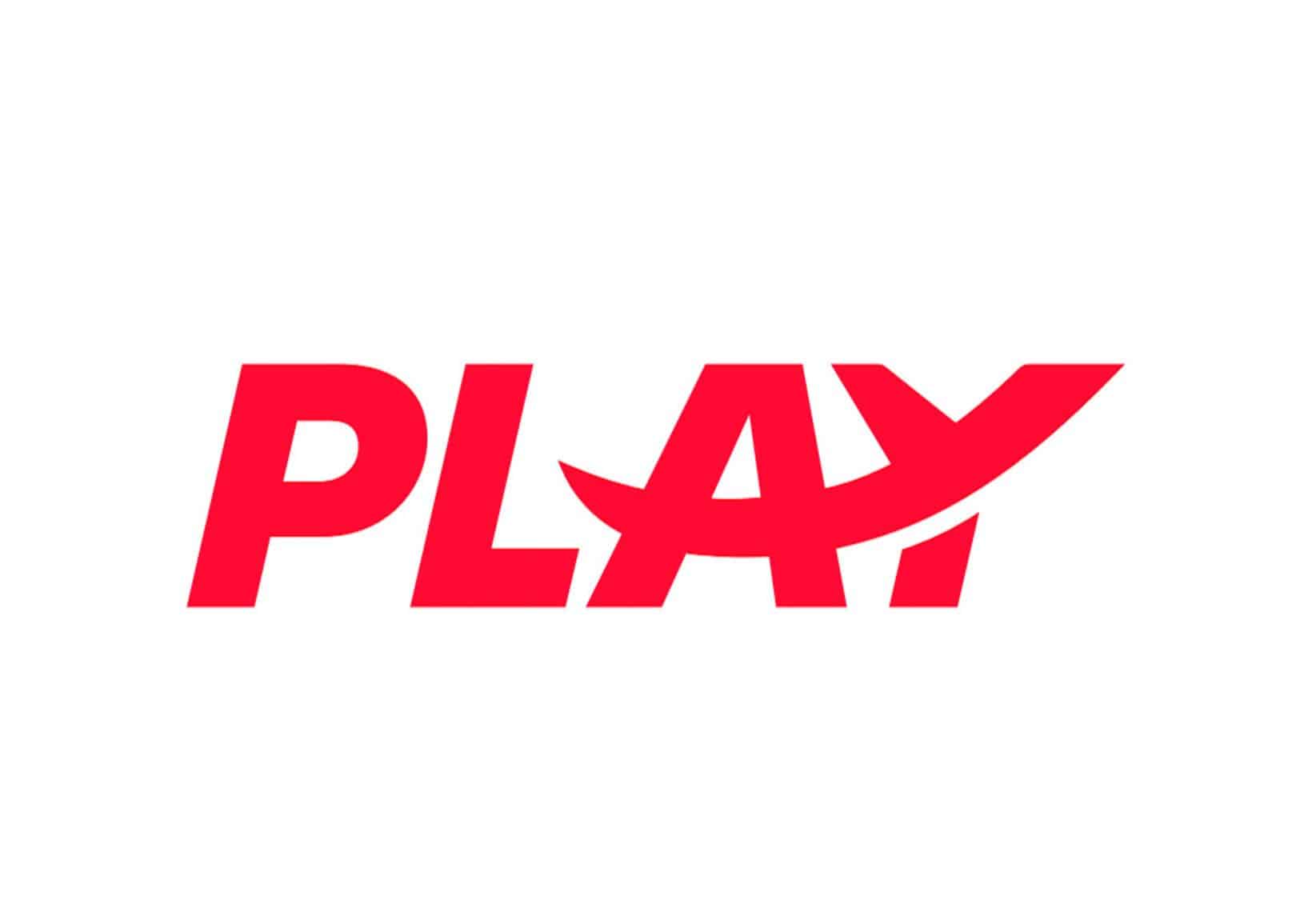 This time it's red instead of the WOW air purple. But you can see a very similar livery.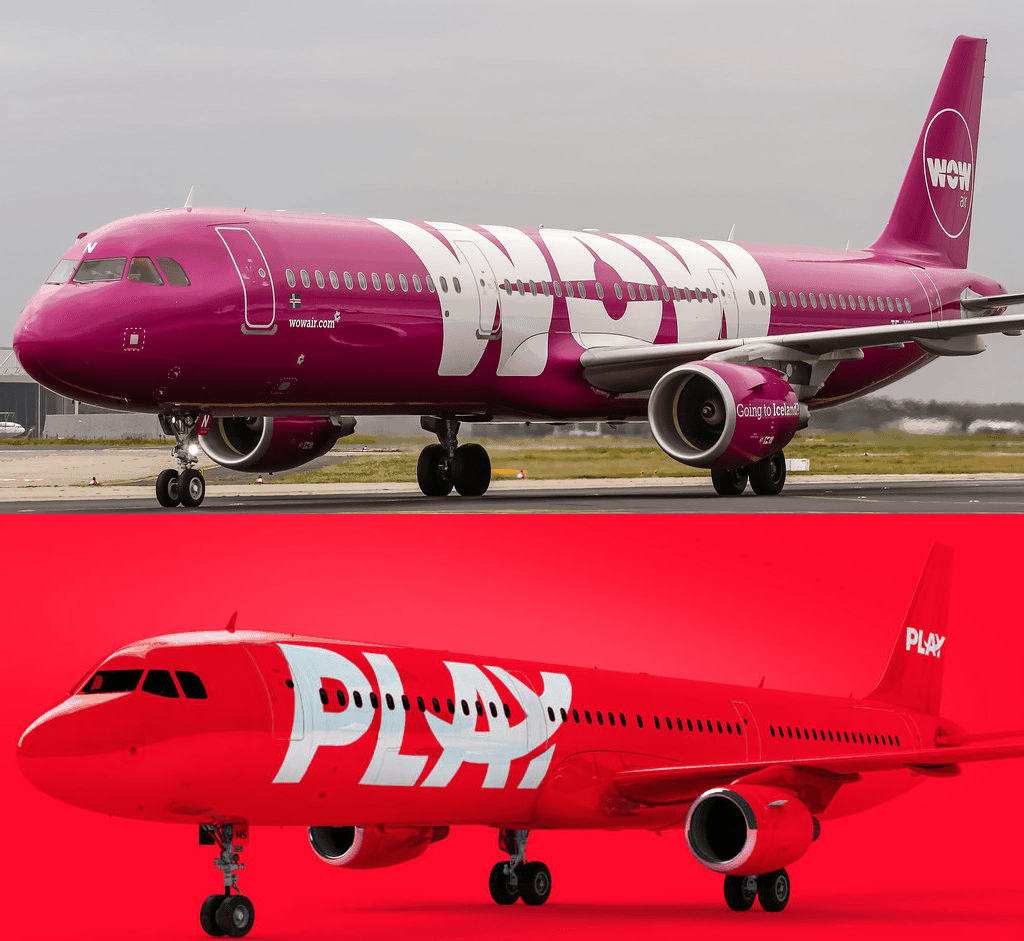 It is still way too early to tell, but at least PLAY looks somewhat credible. For one, the team behind it has actual commercial airline management experience. It sounds basic and seems like a low bar to clear, but that's something New WOW #1 doesn't even have.
PLAY is led by 4 former WOW air executives, including the new CEO who was Vice-President of Operations with WOW.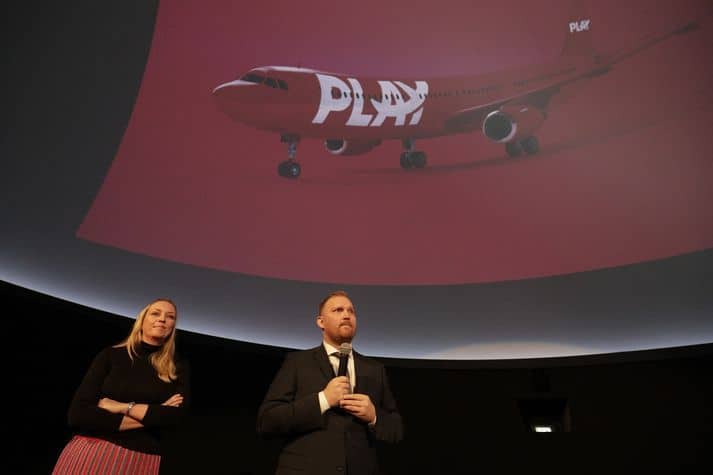 The former outspoken CEO of WOW, who lost his 2 million dollar home that he put up as collateral during WOW air's financial difficulties, is not involved in the project.
At a news conference earlier this month, PLAY announced its plan to launch before the end of 2019, which is still extremely ambitious. They plan to give away 1,000 free tickets at the end of November to publicize when tickets will go on sale. We'll keep you posted if that does happen.
They plan to fly from Iceland to Europe at the beginning, and then expand to North America later.
Again, starting an airline based in Iceland in the middle of the off-season is not ideal by any means, so that's still a hurdle, but just having a team with a proven background is a better start. I still wouldn't be shocked if it was delayed, but at least it has a shot at happening.

They claim to be in the "final stages" of obtaining their Air Operator Certificate (AOC), which is required to start flying. After 6 years in "launching soon" mode, Jetlines still hasn't gotten one, so either PLAY is too ambitious or Jetlines… well, I'll let you guess.
Finally, they plan to operate the A321, the favorite of many ULCCs, and to start with 2 planes. They're targeting 6 European destinations. Then, they hope to have 6 planes in the spring, for a possible North American launch. Then 10 aircraft within 3 years.
In terms of financing, which was the source of the original WOW air's demise, and the reason Jetlines still hasn't done much of anything, it seems very promising: Avianta Capital, an Irish investment fund, has apparently pledged USD 40 million to cover operations for the first 3 years for a 75% stake in the new airline.
Avianta is owned by Aislinn Whittley-Ryan, the daughter of Michael Ryan, co-founder of Ryanair. Ryanair is the original ultra low-cost carrier (they popularized the business model) and is now Europe's largest airline.
Time will tell if this project takes off, but there's at least a reason to be more optimistic about this new airline.

Other Airline Confirmed

TAP Air Portugal announced a new route from Boston to the Azores, another cheap way to (almost) cross the Atlantic.
Summary
So even though the original WOW air has gone under, we can at least look forward to the launch of future airlines like PLAY that could offer similar prices. We'll let you know as soon as anything official is announced.
Did you ever take a WOW air flight? What do you think about the possibility of PLAY replacing WOW? Let us know in the comments!
Want to see our current discounted plane tickets?
Click here to see our flight deals
Want more travel tips and inspiration?
Click here to see the blog homepage
You'll probably enjoy this article:
Travel Hacking: Free Travel (really)
Help us spread the word about our flight deals and travel tips by sharing this article and, most importantly, bookmark Flytrippers so we can help you navigate the world of low-cost travel!
Featured image: PLAY
Advertiser Disclosure: Flytrippers receives a commission on links featured in this blog post. We appreciate it if you use them, especially given it never costs you anything more to do so, and we thank you for supporting the site and making it possible for us to keep finding the best travel deals and content for you. In the interest of transparency, know that we will NEVER recommend a product or service we do not believe in or that we do not use ourselves, as our reputation and credibility is worth far more than any commission. This principle is an essential and non-negotiable part of all our partnerships: we will never give any third-party any control whatsoever on our content. For more information on our advertiser disclosure, click here.