Learning to travel light could save you hundreds of dollars per plane ticket. And it's much easier than you think! Here's why you should try it, and how to do it.
Ultra Low-Cost Carriers (ULCCs) are, in our opinion, the best thing that has ever happened to the airline industry, and that's why some of the deals on our cheap flights deals page are with ULCCs (not all, just a few of our deals, depending on the day).
These airlines only allow a small baggage on board for free, but in exchange, allow you to fly to Florida at around $100 roundtrip from the Montreal or Toronto area (lowest we've seen: $60) and to Europe for as little as $400 roundtrip (lowest: $190). Many flights within Europe, Asia and even the US are under $20 each way. Those are really ridiculously low prices, all thanks to ULCCs.
READ ALSO: How Ultra-Low Cost Carriers (ULCCs) Work
It's really worth it to learn to travel light, as saving hundreds of dollars on you plane ticket will help you pay for an extra trip!
We are often asked lots of questions about baggage fees, so we will have many other articles soon on this subject! Ask us your questions in the comments below so we can address them.
But just to be clear: the vast majority of the deals that are displayed on our deal pages are not with ULCCs. The vast majority of the deals that are displayed have no baggage restrictions.
Only a few destinations are served by ULCCs from Canadian airports, so all other destinations are with carriers that do not restrict cabin baggage, it's important to mention it. To make it easier for you, when the deals are on ULCCs, it'll be written in the bottom right corner of the image, in orange, as shown below for Tampa.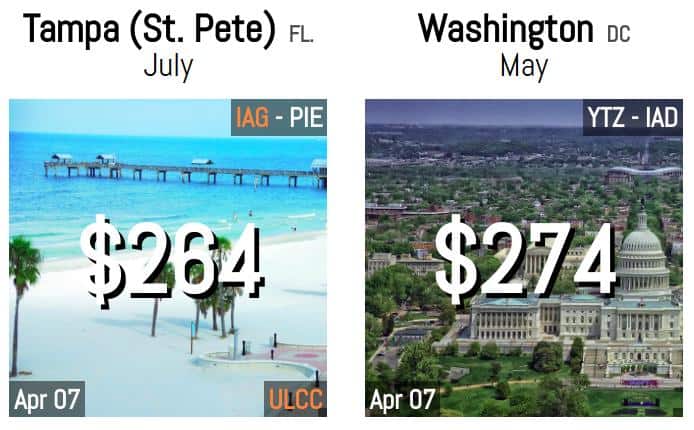 The Tampa deal is with a ULCC while Washington (and the majority of others) isn't.
So this article applies especially to the few destinations where luggage is restricted… which will be more and more numerous this year with the arrival of new Canadian ULCCs.
That being said, many regular airlines are starting to charge for checked bags as well, limiting passengers to a carry-on only (although their carry-on allowances are bigger than on ultra low-cost carriers). So traveling light is only going to become more and more useful.
In my opinion, you should always avoid checked baggage anyway. They make travel more difficult and you waste time waiting for them… I flew 65 times in 2017, not once have I ever brought checked baggage (no experienced traveler ever does by the way).
In any case, if you really want to travel more, you should never pay baggage fees… and you should learn to travel light.
Why You Should Never Pay Baggage Fees
As you probably know by now, the ULCC business model is designed to make you pay only for the services you want to use, and they hope to make more money by selling additional services, such as an allowance for baggage, or the selection of specific seats (among other services).
READ ALSO: Why You Should Never Pay To Choose Your Seats
It's very easy to travel light and as I have personally taken over 70 flights on ULCC carriers without ever paying a penny in baggage fees, so I will share how to avoid these.
It's quite doable: I even left for two weeks in Europe with just a small backpack, so it's not impossible unlike what many try to convince themselves of to feel better about not making any effort to learn how to pack light.
It's a matter of choice, and choosing to travel light makes it possible to fly more than 65 times a year as I just did, thanks to the money saved. Okay, I understand you cannot all work from all over the world, so as many trips might be a bit exaggerated for most of you.
But traveling light will certainly save you money and allow you to travel more! When the flight to Europe only costs $400 roundtrip because you travel light, it allows you to go twice a year instead of once… when Florida is only $100 roundtrip, it allows you to go three weekends in a row (as I did last winter) or 6 times in total during the winter (true story).
So here's how to avoid paying baggage fees:
1. Check The Airlines' Policies
There are dozens of ultra low-cost, low-cost and regular airlines, and they all have different baggage policies.
Check the bag rules for each option before booking your flight and keep in mind that if you do not find a deal for your dates, sometimes the best way not to pay for the luggage is to fly on a regular airline – if the difference in price is minimal.
Let me explain: if you are flexible, and if you don't travel during the peak season, you can usually find a flight to Europe for $400-$500 roundtrip on an ULCC from Montreal and Toronto. In these cases, it's never worth it not to travel light.
On the other hand, if your dates are not flexible, sometimes the ULCC carrier won't have a deal for that day and the flight will be $800. If Air Canada is $850, maybe some people will prefer not to worry about restrictions and get the first bag free on Air Canada.
READ ALSO: WOW Air Flight Review Montreal to Europe for $247 roundtrip
That said, also remember that the best trips are those where you explore and move within the city or country, and carrying a backpack is a hundred times more convenient than a suitcase.
When booking, check the exact measurements of the free bag allowed to choose the correct one. ULCC carriers don't all have the same allowed measurements.
2. Choose The Bag That Maximizes Space
If you plan to take advantage of cheap flights to Florida or Europe often, it's worth it to invest in a bag that has the exact measurements you need to maximize your space with that airline.
Maybe you'll be able to find one in your favorite stores, but our experience is either they are very difficult to find, or very expensive. That's why we're working on sourcing perfect bags for ULCC measures, check back very soon!
In the meantime, most regular backpacks will do the trick for any ULCC, as long as you don't fill it up more than the allowed measurements (especially the allowed depth).
3. Put On Several Layers Of Clothes… Temporarily
You should wear the clothes that take up the most space in your luggage (hoodies, jacket, jeans) on you to take the plane, to leave more room in your bag. The more you wear, the more you can bring for free.
As soon as you get on the plane, the bag will not be re-measured so you can undress without any problem, fill your bag fully and be comfortably dressed for your flight.
4. Choose Clothes That Are Interchangeable
Ideally, if you're tops "fit" with several bottoms, you will need fewer clothes, of course. Logically, the fewer clothes you bring, the easier it will be to travel with just a small bag.
5. If You Travel With Someone, Share Everything You Can
No, we're not talking about underwear, don't worry. But you can easily save space by taking a single tube of toothpaste for your travel companion and you, for example. Whatever cosmetics or accessories that can be shared will leave you more space.
When Flytrippers' other founder Kevin and I went to Europe together twice in the past year, we didn't even have to do this, so it's not essential. But when I go to Florida with my girlfriend with ULCCs, sharing a few items allows her to make room for one or two extra pieces of clothing!
And if you choose to bring paid baggage, only pay for one at least! You'll reduce the cost by dividing the bag fees in half, and that will leave you with two small backpacks AND a suitcase … which should be more than enough unless you're leaving for six full months!
6. Do Laundry While Traveling
I'll give you the best example. To go to Turkey last spring, we brought only a small backpack each. Obviously, for two weeks, it's harder to fit 14 sets of clothes.
It's not like a week-long trip or a trip to a hot destination like Florida, where you should not even dare to think about paying for a piece of luggage.
So we brought clothes for a week, which we washed in the middle of the trip. For $5 each! For $5, the hotel took care of our entire bag of laundry, washed everything, and even folded it all for us.
Paying baggage fees would have cost us literally hundreds of dollars. Flying on Air Canada or another regular airline would have cost $400 more per plane ticket. Instead, we spent $5 on laundry and saved enough for another flight to Europe…
Same thing for our trip to Europe this January, we simply booked an Airbnb that had a washing machine one night, and we did our own laundry. It cost us a $2 bottle of detergent and a few minutes of our time. Quite simple.
And it's not more complicated for 3 weeks or 4 weeks. You still only just need one week's worth of clothes and you can leave with a small backpack for any length of trip.
Just do laundry every week … as you probably already do at home anyway. And travel more often with the money saved.
7. Learn To Enjoy Your Travel Experiences Without Having Different Clothes For Every Day
When traveling, the goal should be to relax or explore and in both cases, you do not need two combinations of clothes a day. Otherwise it's very difficult to travel at low prices, if not impossible. And nobody gives a damn that you're wearing the same clothes combo after you've done some laundry. Nobody notices how you are dressed and you will never see these people again anyway.
So learn to live without a vast choice of clothes during your travels, and take a few minutes during your stay to do your laundry yourself, and you will see, you will enjoy the trip just as much! And saving hundreds of dollars on your plane ticket will let you travel more, that you'll surely enjoy too!
8. Be Open Minded, Yes It Is Possible To Travel Light
Many people wrongly think that it's impossible. We become so addicted when we get used to traveling with a lot of luggage. The first time will be the hardest, but you are definitely capable of doing it if you only try.
At the risk of repeating myself, I did it over 70 times. Here is an example of my trip in June, a 10-day trip to Arizona.
My computer, six shirts, five pairs of shorts, underwear and a sportswear kit (and a small cosmetic bag in the following photo). All this is enough for a trip to a hot destination. And it fits very easily in a small backpack.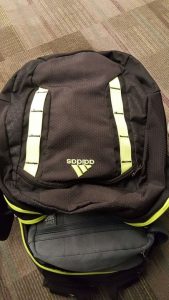 We're in Asia right now, we're on a 3 week trip and we only have that small backpack. We went to Europe for two weeks in the middle of winter (read: warmer clothes that take up more space) and we managed to fit it all.
It's definitely far from being impossible. If you want to travel light and save money for future trips, you can.
Bottom Line
It's very feasible to fly without paying any baggage fees, you just need to make some sacrifices. Is it worth it? Tell yourself that you could travel twice as often by saving all that money, so use the tips above and yes, it's definitely worth it!
Do YOU travel light? Tell us about it in the comments below!
Subscribe to our free newsletter in 3 clicks to receive flight deals and travel tips in your inbox directly.
Help us spread the word about our flight deals and travel tips by sharing this article and most importantly bookmark Flytrippers so we can help you navigate the world of low-cost travel!
Advertiser Disclosure: Flytrippers receives a commission on links featured in this blog post. We appreciate if you use them, especially given it never costs you anything more to do so, and we thank you for supporting the site and making it possible for us to keep finding the best travel deals and content for you. In the interest of transparency, know that we will NEVER recommend a product or service we do not believe in or that we do not use ourselves, as our reputation and credibility is worth far more than any commission. This principle is an essential and non-negotiable part of all our partnerships: we will never give any third-party any control whatsoever on our content. For more information on our advertiser disclosure, click here.
Share this post to help us help more people travel more for less: