Everyone loves cheap flights. We've been telling you for a while that things are finally looking up for Canadian flyers. For months now, we've been predicting that 2018 will be an amazing year for cheap flights (it's about time). We just got the first official confirmation today.
A new Ultra Low-Cost Carrier (ULCC) called Canada Jetlines announced today that it will start offering cheap flights in 2018 and the CEO wants "to start a rebellion against high fares in Canada."
They also want to make a lot of noise to celebrate their launch.
To do that, they announced what their launch deals would be: $10 flights !
Obviously, these are promotional prices.
Like all discounted plane tickets that we curate for you on our flight deals page, since the price is often over 50% off, yes the deals are only for a limited time. And yes, only certain dates and destinations are included. That's simply how flight deals work.
By the way, I want to mention that a lot of people said that $20 flights were impossible in Canada when we predicted it back in April ("that's too cheap, it can't be true"). We had gone out on a limb and made that prediction even though it hadn't been confirmed. Well, it has already happened out West thanks to another ULCC called Flair Air (formerly NewLeaf) who offered flights for only $19 a couple of times (yes, including all taxes).
That means that you better believe us when we tell you that we are the Ultra Low-Cost and cheap flights experts ?
So obviously $10 flights are a whole other thing, and what they mean is that the base fare, before taxes will be $10. Even with taxes added though, we'd still be talking about flights around $50 depending on the airport, which is much lower than what we currently have in Canada as you surely know.
The good news is that in either case, most of their flights will be under $100 even at regular prices, according to the CEO himself.
So you can definitely expect many flight deals under $100 during special sales… and we'll be there to spot them for you. This is a really cheap price for flights in Canada.
As you might know, Canada happens to be ranked 65th out of 80 countries for flight prices. One of the main reasons is that we didn't have any Ultra Low-Cost Carriers (ULCCs) in the Great White North.
What are ULCCs? They are airlines with a completely different business model than what you are used to. You can read all about how these airlines work by clicking here.
We've known for months that WestJet also plans to launch a new ULCC: you can't imagine how excited we are about the increased competition (and lower prices) that Canada flyers will soon benefit from, thanks to ULCCs. It's amazing news!
Almost Everyone Will Benefit Next Spring
Canada Jetlines plan to start flying in the GTA, the GVA, Calgary, Edmonton and Winnipeg next June, with more destinations (like Montreal) being launched a bit later, in the Fall. At those prices, it's worth the wait.
Whatever the initial fares are where you live, one thing is certain: it will be cheaper than what we're used to seeing. That's for sure.
So it might not start for a couple more months, it's still incredibly positive news for those who want more low-cost options to explore Canada (and other destinations).
Here is the official route network released today by Canada Jetlines. This is what is projected in the longer-term, about 18 months from now: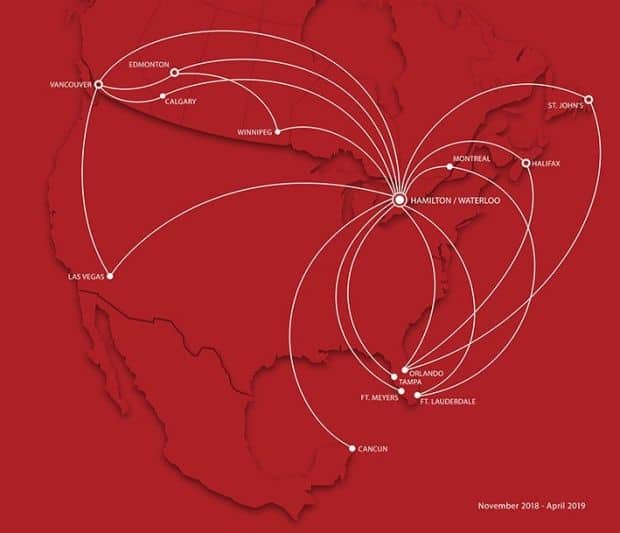 Their hubs, announced today, will be at Hamilton and Waterloo airports, to serve the Toronto market.
The best news is the planned service to Florida. Currently ULCCs serve these cities from border airports in the US, in Niagara Falls (near Toronto), Plattsburgh (near Montreal) and Ogdensburg (near Ottawa). Many Canadians drive to these airports to find flights to the Sunshine State for under $200 roundtrip.
The only other ULCC currently serving Canada is WOW air, offering very cheap flights to Europe from Montreal and Toronto (around $400 roundtrip, which is often cheaper than flying within Canada). Frontier Airlines, a domestic ULCC from the US, also announced it will link Calgary to Denver next year, but that's it. LEVEL and Primera Air are two other transatlantic ULCCs who have recently announced service to Montreal and Toronto.
Useful Information
Last time we wrote about ULCCs coming to Canada, we got thousands of reactions, including the inevitable skeptical comments… understandable, given how little Canadians know about ULCCs.
So before you even think of asking these, here are a few details.
«It can't be true»
Believe it or not, we don't sit here all day wondering about what kind of stuff to make up just for the thrill of it. It's really true. It already exists in Western Canada, and I have flown on dozens of $20 flights myself in the US… and many flights cheaper than $20 in Europe. That's what ULCCs are all about. It's true, and it's normal. What isn't normal is being gouged and paying more for a flight from Montreal to Vancouver than for a flight from Montreal to Asia like we often do in Canada. Not for long.
«There will be hidden fees»
No. There could be extra fees, but they're not hidden. They're all optional, and it's really transparent. You decide what you want. That's the ultra low-cost model. I have flown over 50 times on ULCCs and not once have I spent a dollar more than the base fare. It's quite feasible. It mostly involves packing light. If you can't, well then ULCCs might not be as advantageous for you. It will still likely come out cheaper than regular airlines but if you prefer expensive built-in fees, you can keep flying traditional airlines and paying twice the price for the convenience of having a "free" bag.
«Prices won't always be that low»
Well, duh. Obviously. I am shocked that I even have to specify that. But yes, these are plane ticket prices. Like I said earlier, prices vary quite a bit. On a 200-seat flight, often about 150 passengers will have paid a different price for the exact same flight. Airfare algorithms are very complex. They change all the time. So the best prices will be available during limited-time deals. If you want a stable price, you can always pay full-fare on regular airlines, which is about 10 times more expensive than ULCCs (or even more). All cheap flights, even those we already have, are always special sales… and we'll always be here to spot them for you!
«Sometimes it's not even cheaper than regular airlines»
The followup to the previous point. Yes, sometimes that will be true. In rare instances, it might even be more expensive. There's no absolute rule, all prices depend mainly on supply and demand, as well as the dates, and many other variables. Again, this is complex stuff. The bottom line is you'll never find $50 flights on Air Canada, but you will on ULCCs, quite often. But not always.
«They will have old, ugly planes»
Absolutely not. Though we don't know the specifics of Swoop's fleet yet, the reality is that ULCCs actually have the youngest fleets. Yes, newer planes than regular airlines have. For comparison, ULCC WOW air that serves Montreal and Toronto has planes that are under 3 years old on average while Air Canada's planes are 14 years old on average. Spirit Airlines, the largest ULCC in North America, has literally the youngest fleet on the continent. Even though they have the lowest price. So no, cheap flights don't mean old planes.
«It won't be comfortable»
Wrong. Well, at least it won't be that much more uncomfortable than regular airlines. A bit less legroom, but even then, I'm just under 6 feet tall and my many ULCC flights went just fine. I have been on over 150 flights, on 10 different ULCCs and even more regular airlines and I can assure you that there isn't that much of a difference in terms of comfort (and even service) onboard. More and more regular airlines are cutting down on legroom too, there's just not that much of a difference anymore.
«They'll cut corners on safety»
Absolutely not. Aircraft maintenance requirements are the same for all airlines, no one can cut corners. It's among the most regulated processes, all industries combined. Federal safety rules and norms are very strict and all airlines must abide by them, no matter the price of their tickets.
Bottom Line
This is great news for cheap flight enthusiasts! Flights within Canada will likely be much cheaper than they have have ever been thanks to these new Ultra Low-Cost Carriers!
Any questions about this news? Tell us in the comments below!
Help us spread the word about our flight deals and travel tips by sharing this article and most importantly bookmark Flytrippers so we can help you navigate the world of low-cost travel!
Advertiser Disclosure: Flytrippers receives a commission on links featured in this blog post. We appreciate if you use them, especially given it never costs you anything more to do so, and we thank you for supporting the site and making it possible for us to keep finding the best travel deals and content for you. In the interest of transparency, know that we will NEVER recommend a product or service we do not believe in or that we do not use ourselves, as our reputation and credibility is worth far more than any commission. This principle is an essential and non-negotiable part of all our partnerships: we will never give any third-party any control whatsoever on our content. For more information on our advertiser disclosure, click here.
Share this post to help us help more people travel more for less: