There are annual studies about "the most powerful passports in the world" and in Canada, we are lucky to be among the best. But, despite our high ranking, it's always essential to verify visa requirements before leaving for a new country.
As of now, Canadian citizens have the fifth most powerful passport in the world (we'll have an article about this soon). Optimists will say that this ranking somewhat makes up for the fact our plane tickets are among the most expensive in the world.
And with the variety of countries that you'll find deals for on our cheap flight deals page, there has never been a better time to discover new international destinations. Even though most of these countries don't require that Canadians have a visa, it's always best to check before leaving.
It's one of the things that you should always do when booking an international trip. It's just as necessary as getting free travel insurance and free flight delay insurance by booking your flights with a good travel credit card. We've recently posted a detailed article with tips to plan an international trip on your own.
For those who are less experienced with international travel, you might be wondering: what is a visa? No, we're not talking about the credit card! It's a legal document required to give you entrance to a given country. But this does not replace your passport—it's an additional document. But it's not necessary everywhere.
Here's a useful map about visa requirements for Canadians (bookmark it for future reference)… and how each category works.
A Useful Map For Canadians
To help you with your research, here's a useful map available on Wikipedia that gives you a glimpse of each country's visa requirements.
On the page, you'll also find each country in alphabetical order, by continent, and with additional notes on the specific policy. Then, if you want more info on a particular country, the Canadian government's website is a handy reference for entry requirements (but not so much for travel "risks" though as we've mentioned before).
By the way, when visas are required, there is a very common mistake that many travelers make. Subscribe to our free newsletter to make sure you get our upcoming detailed article about that.
Here is the map: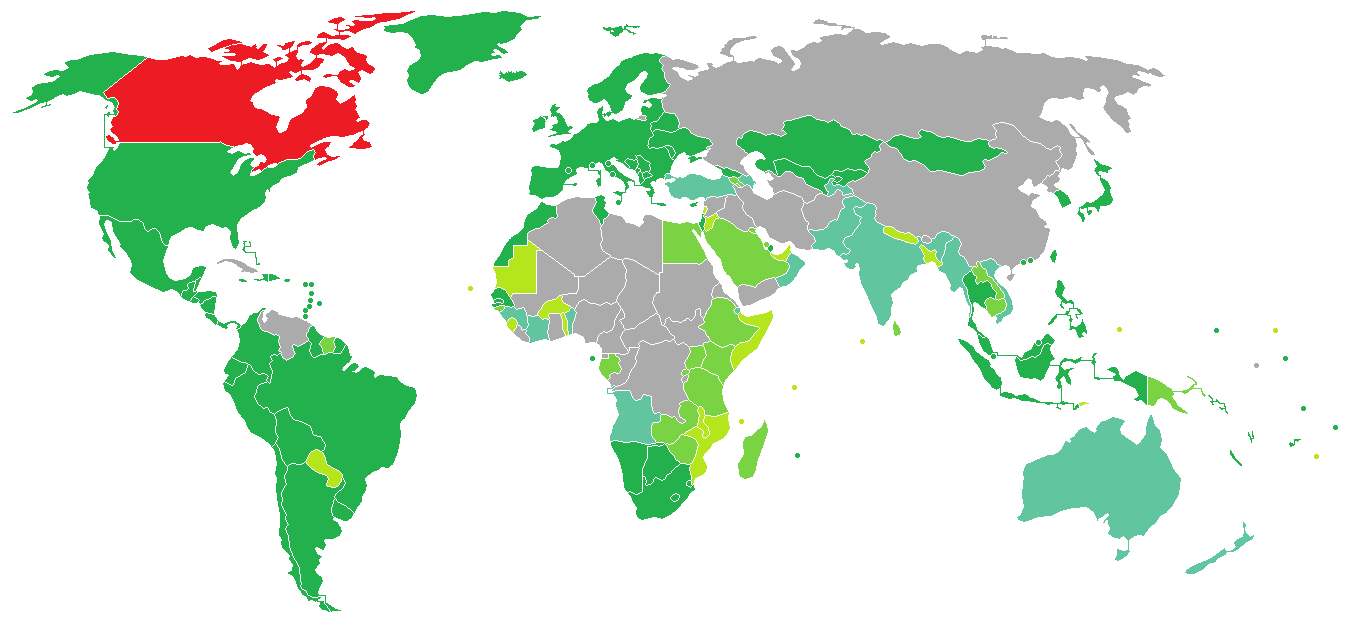 There are 5 categories that I'll explain now, before our upcoming detailed article on how to get a visa:
Countries where a visa is not required
Countries where a visa on arrival is offered
Countries where an eVisa is required
Countries where a visa on arrival or an eVisa are both available
Countries where a visa is required prior to arrival
1. Countries where a visa is not required
For these countries, you don't need to do anything special. All you need is your passport.
You will notice that Canadians can access most of Europe with a passport only (until 2021 that is). The same goes for the United States, Mexico, and nearly all of Latin America.
That said, pay attention. All countries that allow entry without a visa have a maximum length-of-stay in place. So, if you have a short trip, it's no problem, because a stay of 90 days is often allowed. However, sometimes, it's only 30 days, or even less. So double-check this major detail, especially if you are one of the travelers who want to travel for longer (if that's a goal of yours, we'll help you with our upcoming guide on the subject).
2. Countries where a visa on arrival is offered

Some countries require a visa, but make it an easy process by offering it "on arrival". That means you still don't need to do anything special before your trip like visa-free countries; it's only when you get there that you have an extra step to go through.
Visas on arrival can sometimes be free, but most of the time they require a visa fee payable on arrival. My September trip to Southern Africa is a great example: Zambia and Mozambique both offered visas on arrival.
All I had to do was choose the right queue at the airport immigration counter and fill in the forms. Visa fees were payable by credit card, although if my memory serves me right, only cash was accepted in Egypt last year (but at least they accepted US dollars, as is often the case for visas).
3. Countries where an eVisa is required
This category requires you to take action before your trip, but it's still extremely simple. Electronic visas, eVisas, or electronic authorizations: whatever the name, it means you can do it easily online on your own. Scoop for our tip article: don't fall for scammy websites okay, always find the official website.
The rules and costs vary from country to country, so do your research. Occasionally it's free, while other times, it's closer to $100. Sometimes you need to do it somewhat in advance, other times it is instantaneous. In many cases, a cynic would say that it's more of a way of taxing visitors rather than truly doing any verifications.
For our trip to Turkey for example, the process was rather simple, and we completed the application online the day before getting there. It was accepted instantly and automatically (at least it seemed that way). Many of our readers will be headed to Sri Lanka after taking advantage of that crazy deal we spotted a few months ago; that's another country that offers eVisas. But for Sri Lanka, that's one of two options…
4. Countries where a visa on arrival or an eVisa are both available
This one is quite simple: some countries offer both previous options. You can either get the visa on arrival or get it online electronically before your trip.
It really depends on what you prefer, like anything else it's best to just Google the issue and see what other travelers say about each option so you can compare. Sometimes one is much more expensive than the other, sometimes it's more convenient to do it beforehand and sometimes it's faster to just do it on arrival.
5. Countries where a visa is required prior to arrival
This is the most restrictive category. Among the countries that require a visa before you arrive, there is China, Russia, and much of the Middle East and Africa.
Moreover, do your research and be ready—I say this from experience. When I took advantage of one of our cheap flight deals to Asia (Montreal-China for $497 roundtrip), I dealt with my first visa application process with China, which is quite demanding. This means it'll take you more than 5 minutes to complete the application, and you cannot wait until the last minute.
Sometimes you even need to visit an embassy or consulate, while others can be mailed it. Yes, snail mail with postage and all, like in 1999. So you see why this process can be slow, and it's also very bureaucratic. You often need to send in a passport picture and/or proof of your travel plans, so in short: do it as early as possible.
And within this category, there is an even more complicated subset of countries: those where you can't just decide to visit on your own. Yes, some countries simply don't allow Canadians to visit unless they have either a local tour guide or a letter of invitation from someone in the country.
We'll cover these countries where special local government authorization is necessary for entry in a future article, but the good news is at least there aren't too many of them. North Korea and Iran are two examples.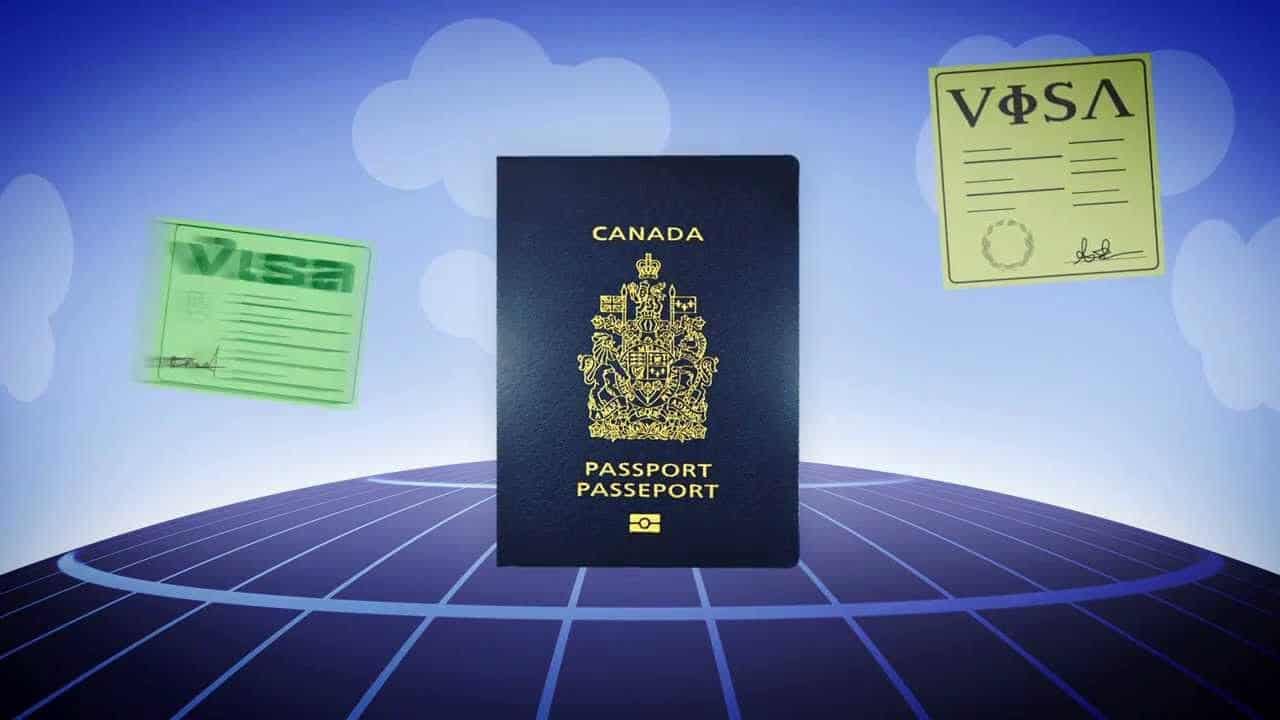 Summary
Trips abroad are definitely the most nerve-wracking and culture-shocking, but also incredibly rewarding. So, take advantage of going to faraway and exotic places: just prepare yourself before leaving by making sure you understand the visa requirements, and don't miss our upcoming article with more details about the process.
Do you have anything to share about your visa experiences? Tell us about it in the comments!
Want to see our current discounted plane tickets?
Click here to see our flight deals
Want more travel tips and inspiration?
Click here to see the blog homepage
You'll probably enjoy this article:
Travel Hacking: Free Travel (really)
Help us spread the word about our flight deals and travel tips by sharing this article and, most importantly, bookmark Flytrippers so we can help you navigate the world of low-cost travel!
Featured image: Visa requirements for Canadians by country (Photo Credit: Wikipedia)
Advertiser Disclosure: Flytrippers receives a commission on links featured in this blog post. We appreciate it if you use them, especially given it never costs you anything more to do so, and we thank you for supporting the site and making it possible for us to keep finding the best travel deals and content for you. In the interest of transparency, know that we will NEVER recommend a product or service we do not believe in or that we do not use ourselves, as our reputation and credibility is worth far more than any commission. This principle is an essential and non-negotiable part of all our partnerships: we will never give any third-party any control whatsoever on our content. For more information on our advertiser disclosure, click here.
Share this post to help us help more people travel more for less: