The excellent 2-for-1 deal on very luxurious Fairmont hotels across Canada is back, including the historic and grandiose railway castles like the iconic Fairmont Lake Louise in the Canadian Rockies (and many others). And you can book fully-refundable rooms for future stays up until April 30th 2021, but the deadline to book is tomorrow.
We told you about Air Canada's great new 2-for-1 deal that can save you hundreds of dollars this week, here is another one that's not for every traveler unlike the other, but it's risk-free.
Fairmont Hotels are some of the most prestigious luxury hotels in Canada. And getting an effective discount of 50% (you get a free night for each paid night) is pretty much the best deal possible for these hotels since their rewards program is not great.
Here are the details.
How does the Fairmont 2 for 1 deal work?
The promo is called "Stay Close" or "Every 2nd Night On Us" and is pretty simple:
you pay for one night
you get a 2nd night free during that same stay
there is no limit; if you pay for 3 you'll get 3 free
instead of a 2nd night, you can get a 2nd room the same night
The rules are also pretty simple:
you must book directly on the official Accor Hotels website
you need to follow the instructions below (important)
bookings are fully-refundable (with advance notice)
only certain specific hotels are participating
the promo ends on November 16th for most hotels
the promo is for stays until April 30th
there are some blackout dates
Most dates are eligible, but you might need to do a bit of trial and error searches on your own. It will make you appreciate our flight deals pages with our turnkey date combinations already provided for you even more 😉
Kidding aside, we'll show you how to see more than one date at a time in the instructions below. But since we first told you about this deal's return a few weeks ago, some dates are no longer available as it is a very popular promo. Subscribe to our free newsletter (if you haven't already) so you never miss a deal!
Flytrippers analysis: is this a good deal?
Fairmont is a luxury hotel brand with 76 hotels (it originated with Canada's grandiose railway castle hotels in the late 1800s). Fairmont now belongs to the European Accor Hotels chain, one of the world's largest with over 4,000 hotels.
These are very high-end and expensive hotels. They are luxurious and extremely well-located… most are even iconic historic hotels that some might dream of experiencing.
So the deal is either:
not interesting at all if you are a traveler who prefers saving money and don't want to pay this much for a hotel
very interesting as a unique opportunity to stay in these luxurious hotels for less than what it normally costs
It's true that with this promo, most of the participating Fairmont Hotels are at the lowest price ever seen.
That said, personally, as a budget-traveler who wants to keep his money to travel more often and therefore go on 12 international trips per year like I did in 2019, when I want luxury, I have two strategies:
splurge on luxury in affordable countries where it's so much cheaper, certainly not here in Canada
use my travel rewards points for free hotels to save a lot of money
This promo doesn't fit either of those two. The promo is valid only in North America, so hotels are very expensive. And the Accor rewards program is without a doubt one of the least interesting out there, a lot less valuable compared to others like Marriott (or even Hilton, Choice, Wyndham, Best Western, and IHG).
But then again… I love a good deal. Half the price is pretty good. So anyway, analyze these many options below and decide for yourself.
If you want to book, I have included a section about how to easily see the cheapest dates so you can at least save a bit, since you're probably a bit more flexible than usual in this case.
What are the participating hotels?
It's not just Fairmont: other Accor Hotels luxury brands are included in the promo this time.
We'll look at each in detail, but first here is the list of 13 Canadian hotels bookable with this promo:
| Hotel | City | Province |
| --- | --- | --- |
| Fairmont Chateau Lake Louise | Lake Louise | Alberta |
| Fairmont Banff Springs | Banff | Alberta |
| Fairmont Hotel MacDonald | Edmonton | Alberta |
| Fairmont Palliser | Calgary | Alberta |
| Fairmont Le Château Frontenac | Quebec City | Quebec |
| Fairmont Le Château Montebello | Montebello | Quebec |
| Fairmont Le Manoir Richelieu | La Malbaie | Quebec |
| Fairmont Queen Elizabeth | Montreal | Quebec |
| Sofitel Montréal Golden Mile | Montreal | Quebec |
| Fairmont Tremblant | Mont-Tremblant | Quebec |
| Fairmont Château Laurier | Ottawa | Ontario |
| Fairmont Royal York | Toronto | Ontario |
| Fairmont Winnipeg | Winnipeg | Manitoba |
There a few hotels in other countries, I'll just list them without any more details…
First, in the United States:
| Hotel | City | State |
| --- | --- | --- |
| Claremont Club & Spa - A Fairmont Hotel | Berkeley | California |
| Fairmont Heritage Place Ghirardelli Square | San Francisco | California |
| Fairmont San Francisco | San Francisco | California |
| Fairmont San Jose | San Jose | California |
| Fairmont Sonoma | Sonoma | California |
| Sofitel Los Angeles at Beverly Hills | Beverly Hills | California |
| Fairmont Orchid | Kohala Coast | Hawaii |
| Fairmont Scottsdale Princess | Scottsdale | Arizona |
| Fairmont Seattle | Seattle | Washington |
| Fairmont Copley Plaza | Boston | Massachussetts |
| Fairmont Dallas | Dallas | Texas |
| Fairmont Chicago | Chicago | Illinois |
| Swissotel Chicago | Chicago | Illinois |
| Sofitel Philadelphia | Philadelphia | Pennsylvania |
| 21c Museum Hotel Cincinnati | Cincinnati | Ohio |
| 21c Museum Hotel Nashville | Nashville | Tennessee |
| 21c Museum Hotel Louisville | Louisville | Kentucky |
| 21c Museum Hotel Lexington | Lexington | Kentucky |
| 21c Museum Hotel Durham | Durham | North Carolina |
| 21c Museum Hotel Kansas City | Kansas City | Missouri |
| 21c Museum Hotel Oklahoma City | Oklahoma City | Oklahoma |
Finally, in the Caribbean:
| Hotel | Country/Territory |
| --- | --- |
| Fairmont El San Juan Hotel | Puerto Rico |
| Fairmont Royal Pavilion | Barbados |
| Fairmont Heritage Place Mayakoba | Mexico |
| Sofitel Mexico City Reforma | Mexico |
Now let's look at the Canadian properties more closely since most of you don't want to travel internationally, mostly because of the mandatory quarantine (which finally may be ending soon if the Alberta pilot project goes well).
Keep in mind that the price shown is the effective price per night for 2 nights (so it's the regular price for one night, divided by 2) and that obviously excludes all taxes as all hotel bookings always do (as opposed to flight search results that always include all mandatory taxes and fees). See below for a simple step-by-step guide to find the cheapest dates for your desired hotel.
Fairmont Banff Springs (Banff, Alberta)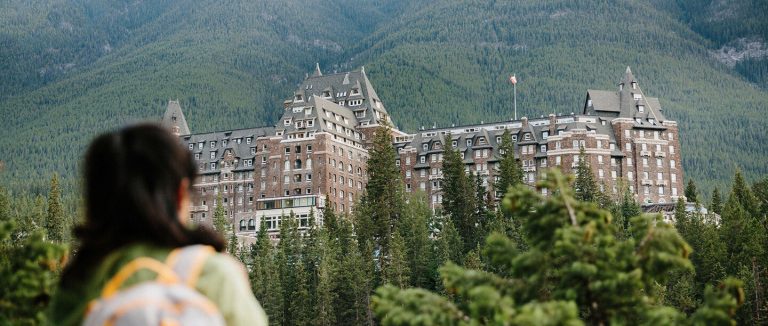 The Fairmont Banff Springs is a legendary hotel directly inside Banff National Park, a UNESCO World Heritage Site and the oldest and most-visited National Park in Canada.
That location comes at a premium, and it is also the hotel with the least availability in the promo.
Fairmont Château Lake Louise (Lake Louise, Alberta)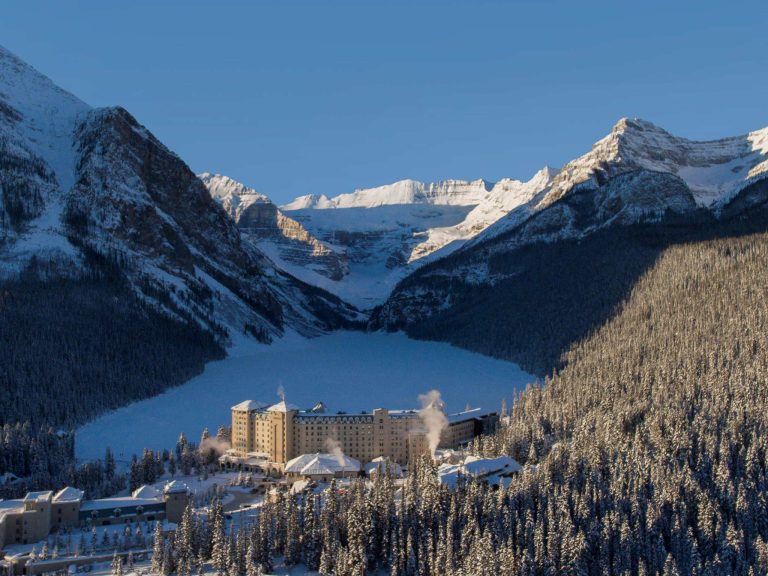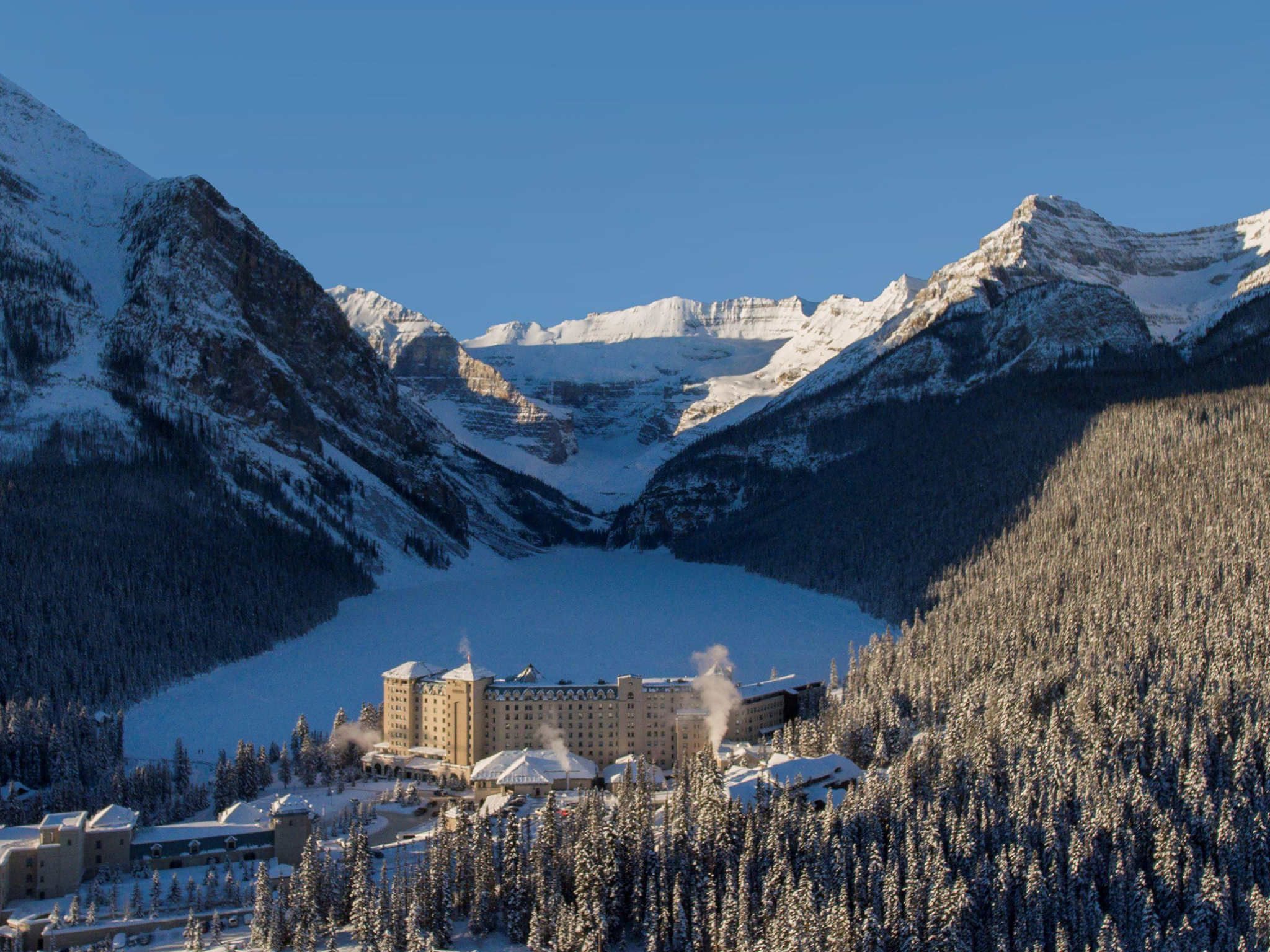 The Fairmont Lake Louise offers a great view year-round.
Fairmont Le Château Frontenac (Québec, Québec)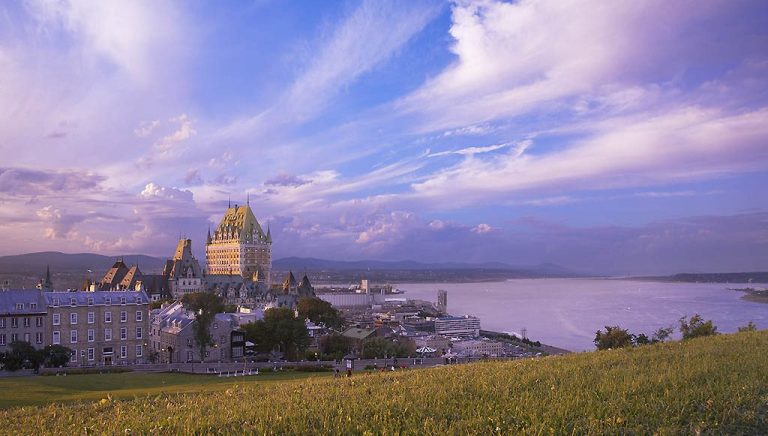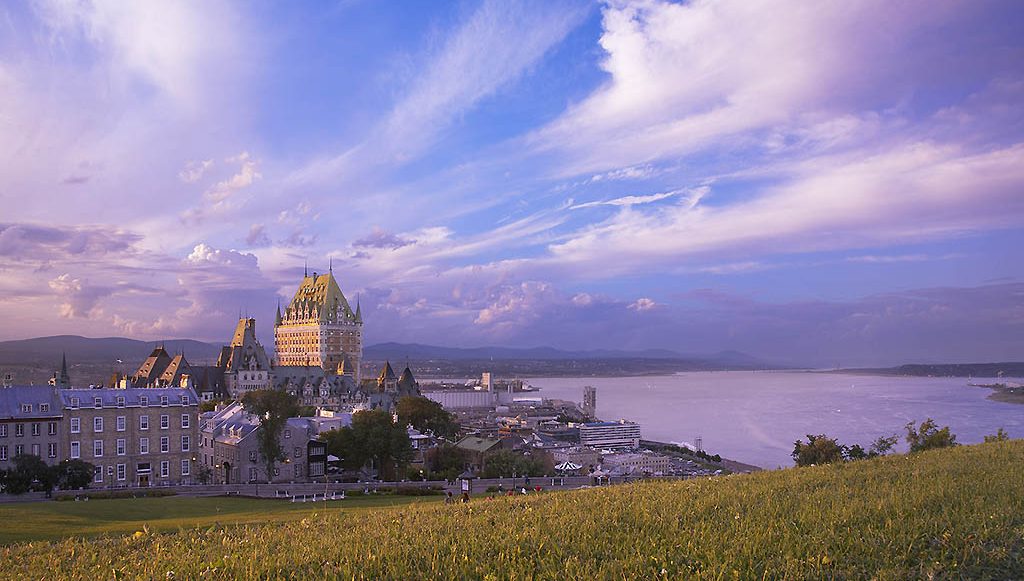 The Fairmont Le Château Frontenac needs no introduction. The world's most photographed hotel is located smack in the middle of another UNESCO World Heritage Site, the Historic District of Old Québec.
I've satyed there with my parents when I was a kid and while my memories are pretty vague given how long it's been, I know that it was quite a unique experience to stay in the famous hotel, one with an undeniable charm.
Fairmont Queen Elizabeth (Montréal, Québec)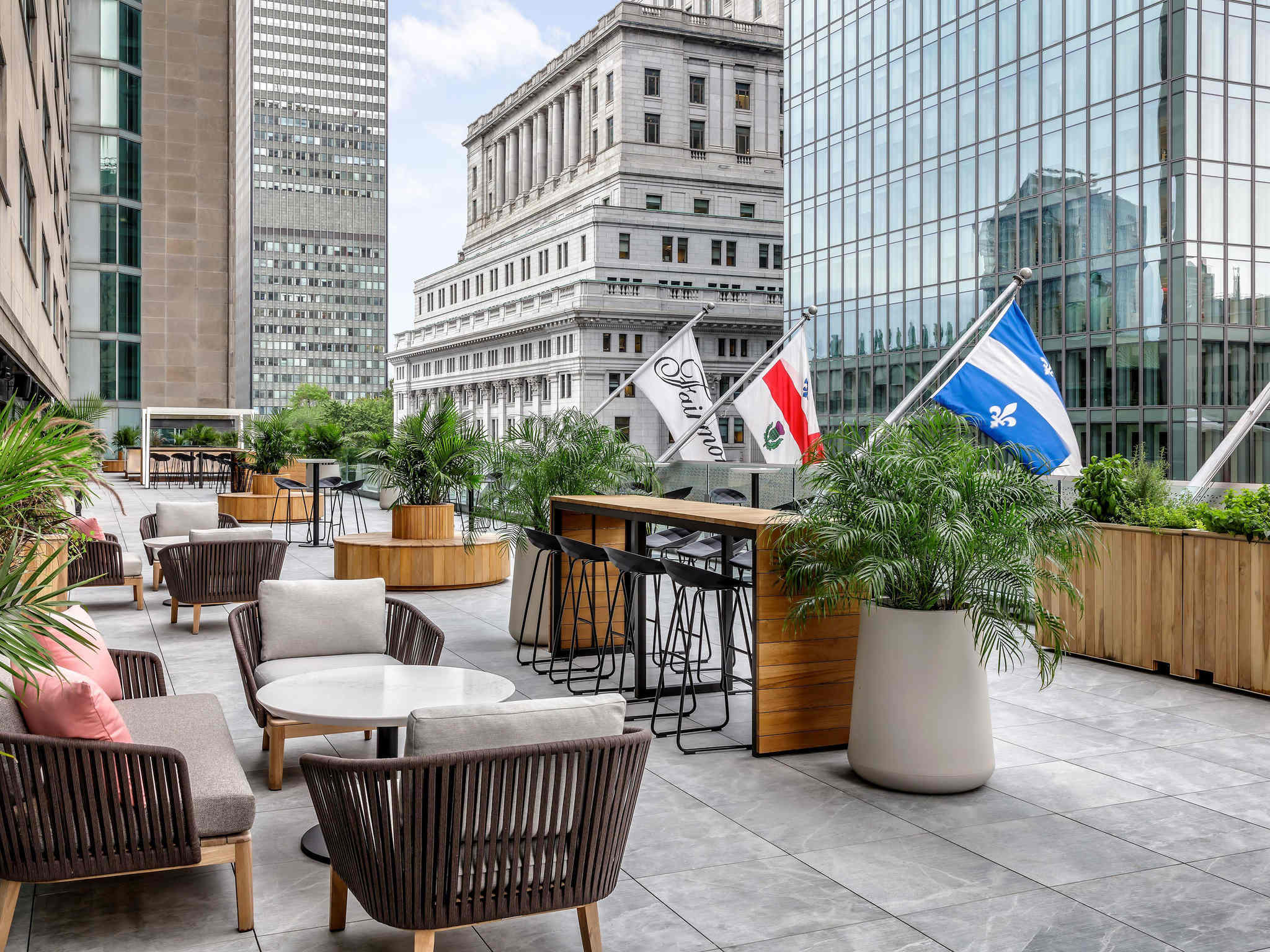 Let's go to Quebec other large city. This downtown hotel in Montreal is perfect for an urban adventure. I stayed there in 2015 thanks to my consulting firm's expense account, but it has been fully renovated since (they actually closed it down entirely for about a year) so it must be even better. It sure looks like it, based on the photos.
Did you know that one of John Lennon and Yoko Ono's 2 famous Bed-Ins for Peace took place in a room at the Fairmont Queen Elizabeth? It was supposed to be in New York, but US Customs denied entry to Mr. Lennon because of his marijuana record (strict US border agents are not a new phenomenon!), so they chose Montreal.
Fairmont Le Château Laurier (Ottawa, Ontario)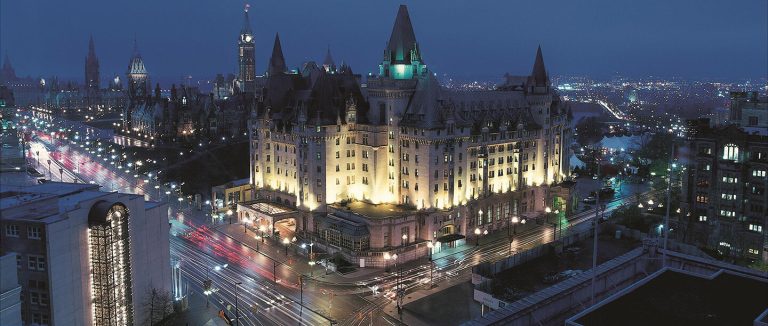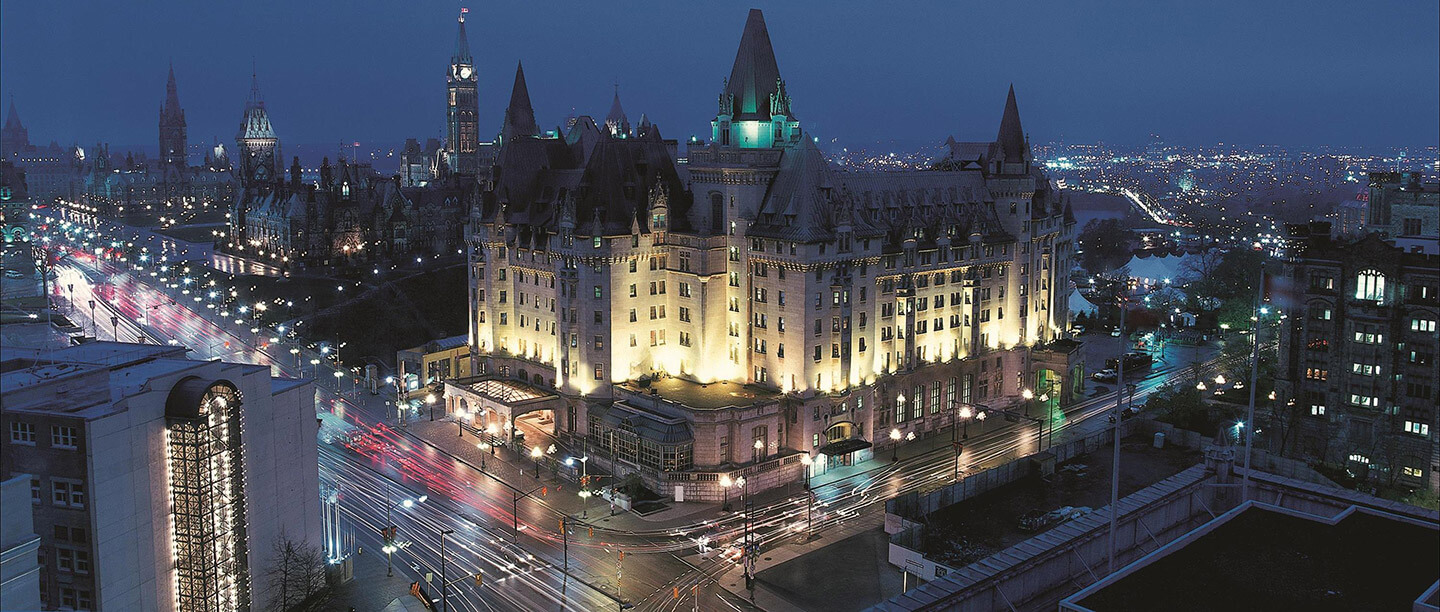 I'll finish up the list of Fairmonts I've had the chance to experience, the Fairmont Le Château Laurier in central Ottawa. Once again, I did not pay for it, as I was invited to an event in the city (I'm really not lying when I say that I don't pay cash for expensive hotels haha).
The hotel has an exceptional location, with a view of Parliament. It is very classy and memorable, a great option in the nation's capital.
Fairmont Tremblant (Mont-Tremblant, Québec)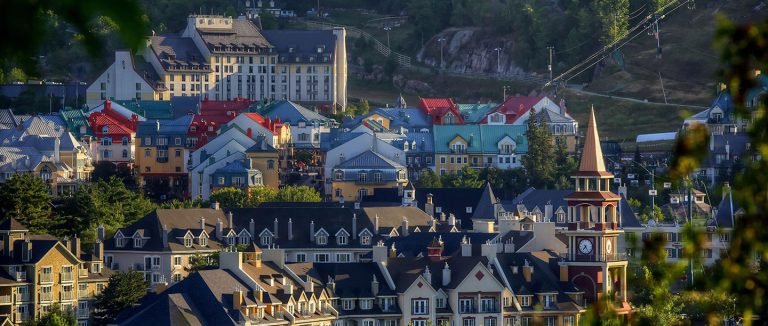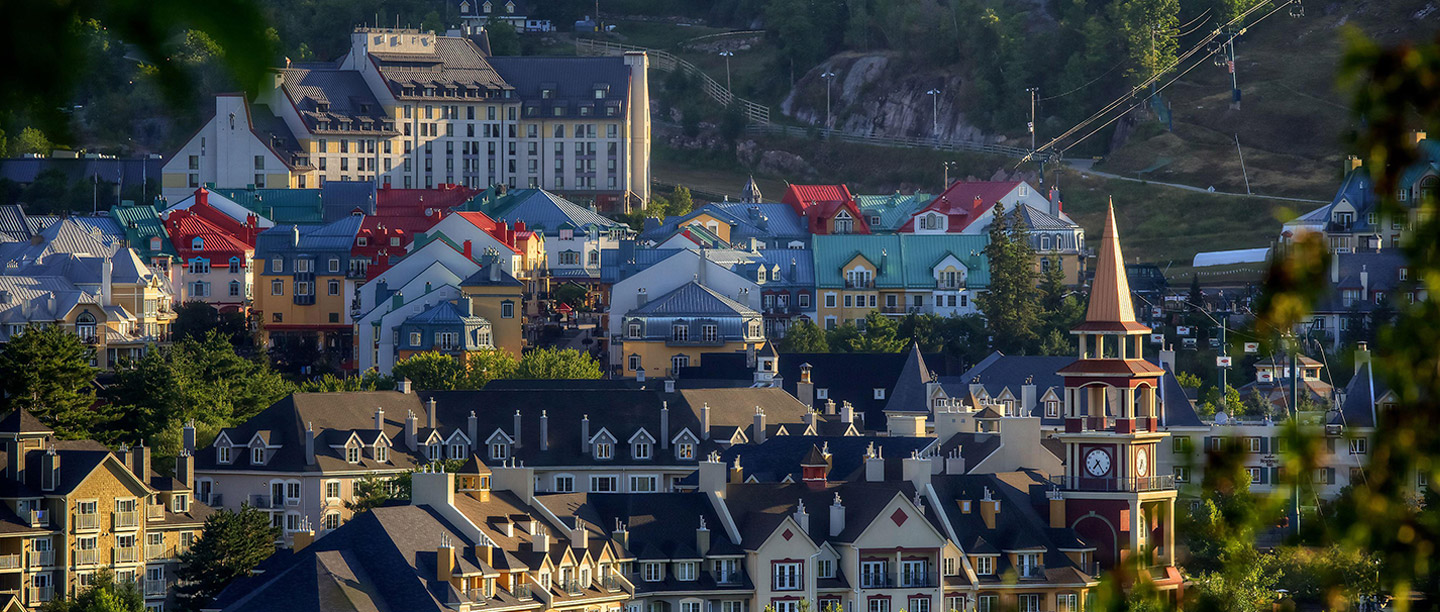 The Fairmont Tremblant is located in one of Quebec's most popular destination for international travelers. Its main draw is that it is a ski-in ski-out hotel directly on the slopes.
Fairmont Le Manoir Richelieu (La Malbaie, Québec)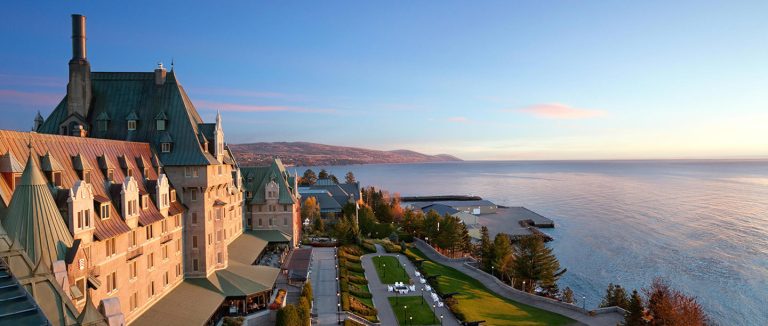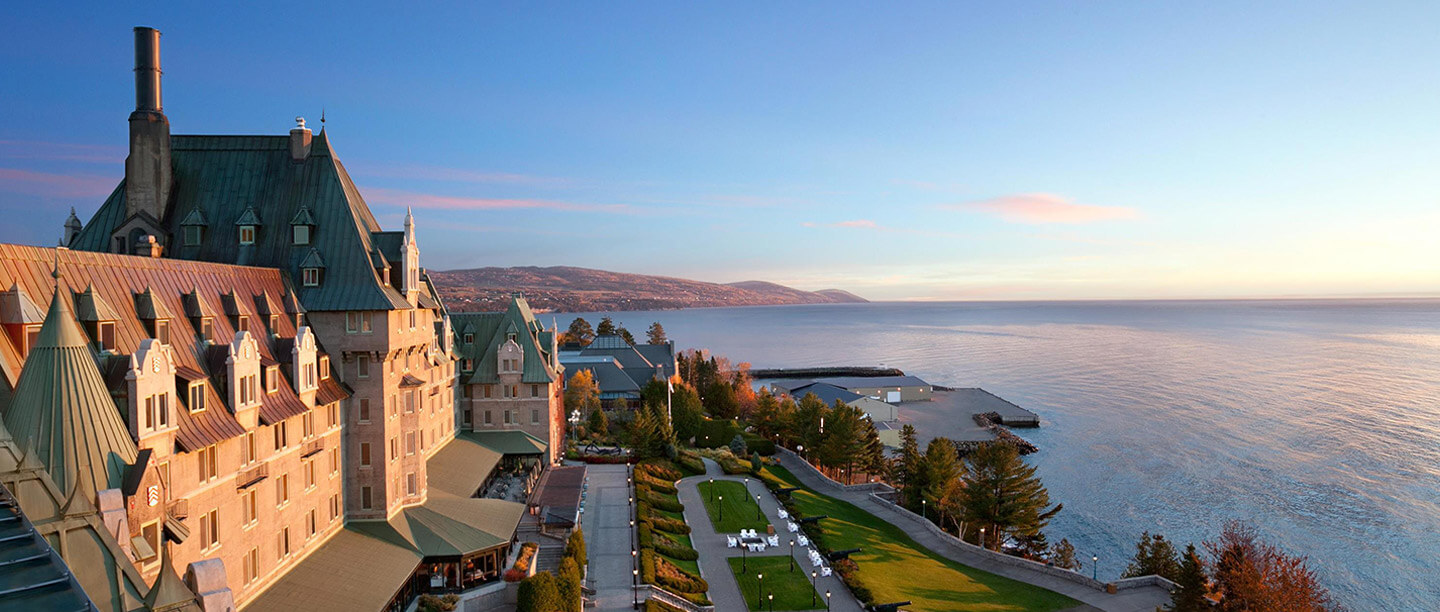 The Fairmont Le Manoir Richelieu is in the beautiful Charlevoix region just north of Quebec City, directly on the Saint Lawrence River.
Fairmont Le Château Montebello (Montebello, Québec)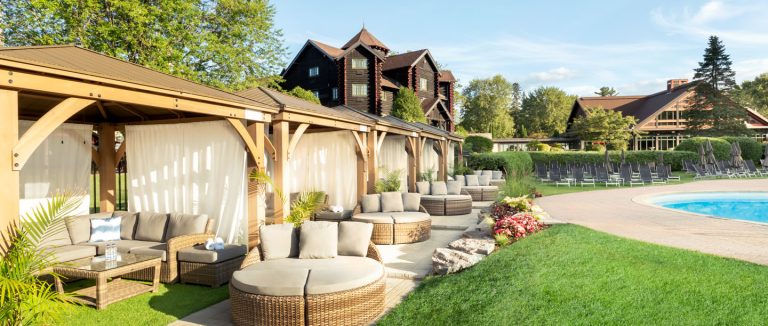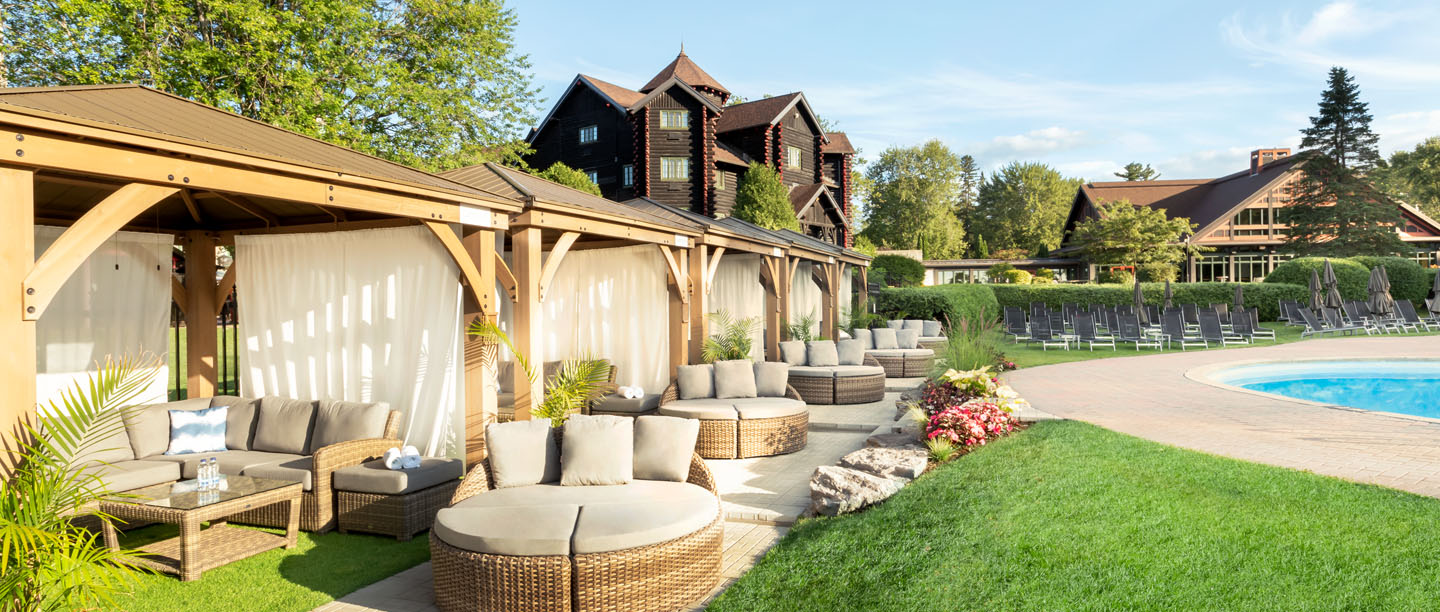 The Fairmont Le Château Montebello is the world's largest log cabin building, on a beautiful site on the Ottawa River, halfway between Ottawa and Montreal.
Fairmont Royal York (Toronto, Ontario)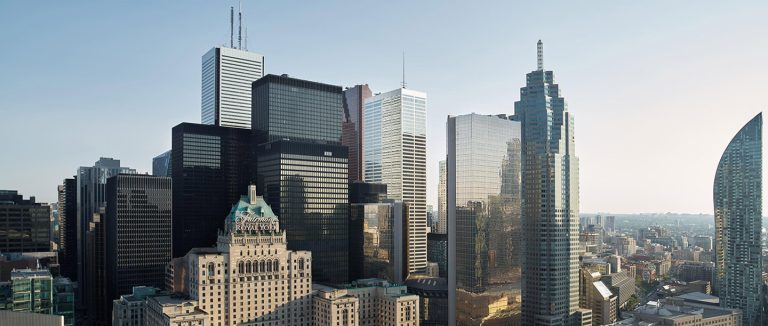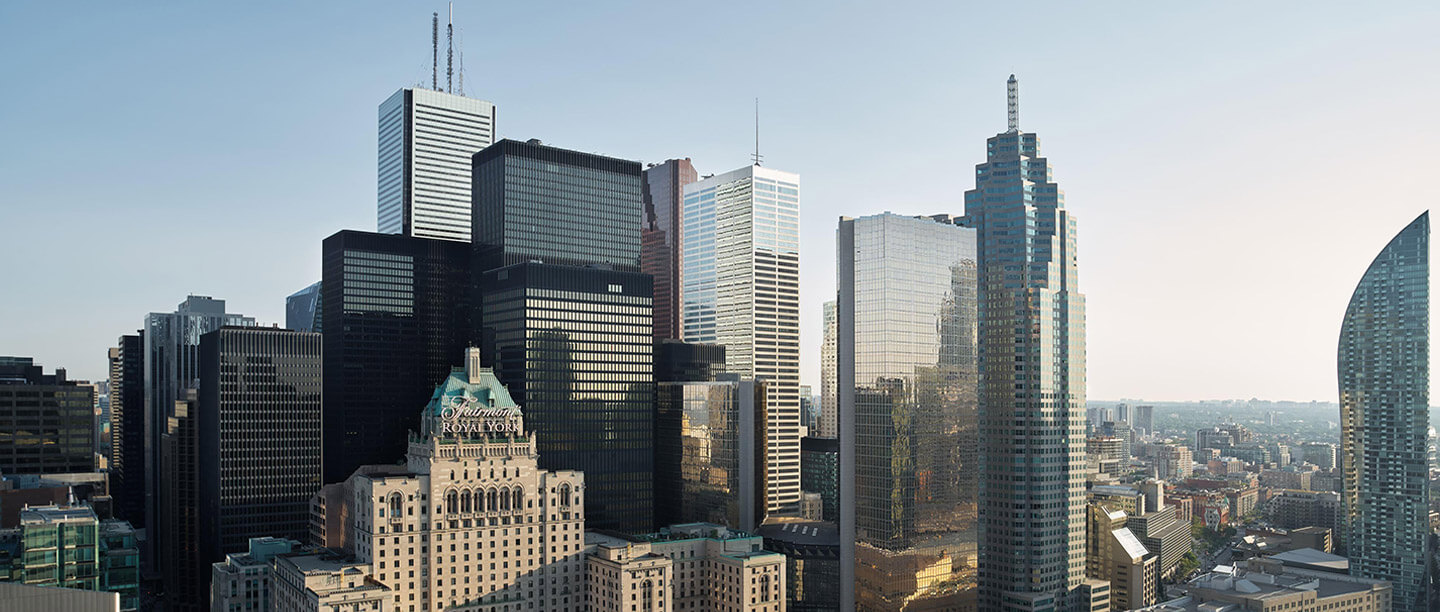 With a great location in downtown Toronto, the Fairmont Royal York is a great option if you want to visit Canada's largest city.
Fairmont Palliser (Calgary, Alberta)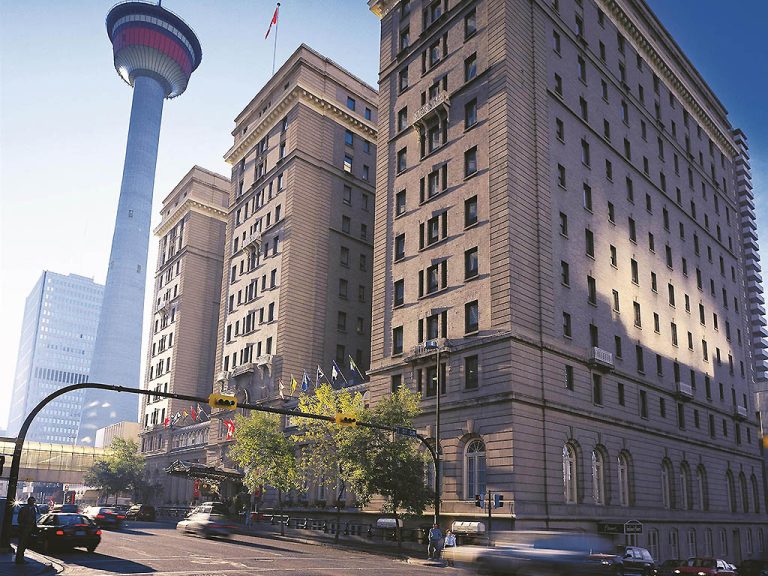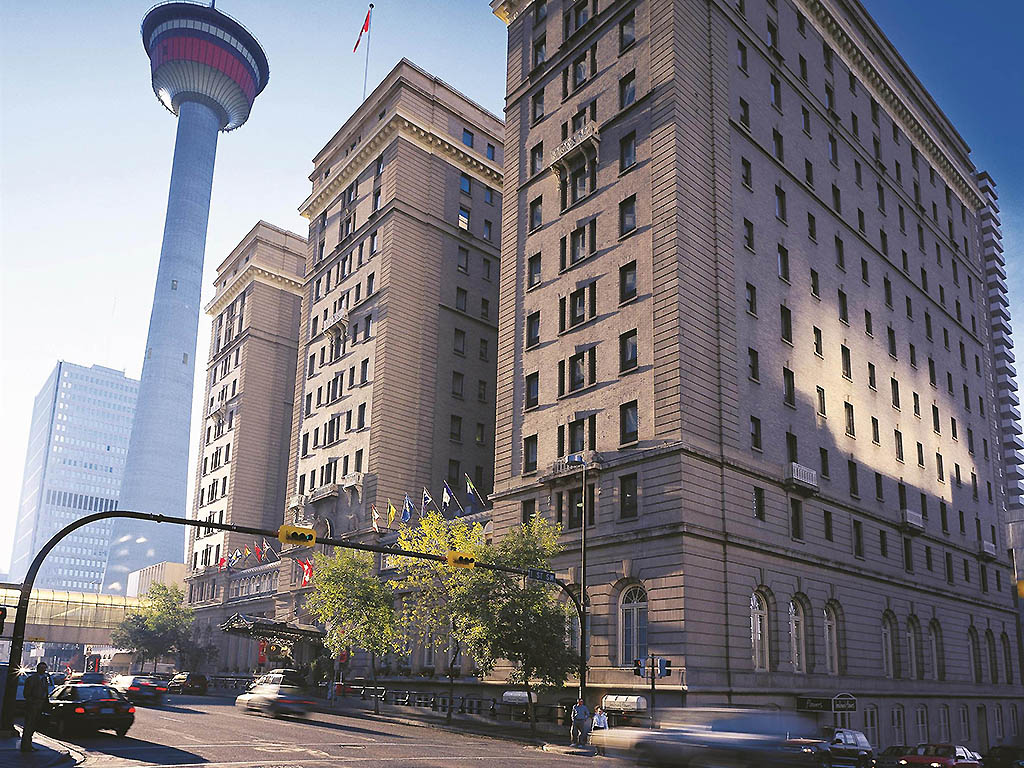 The Fairmont Palliser was recently renovated and is located in downtown Calgary, a great way to combine an urban getaway and a visit to the nearby national parks.
Fairmont MacDonald (Edmonton, Alberta)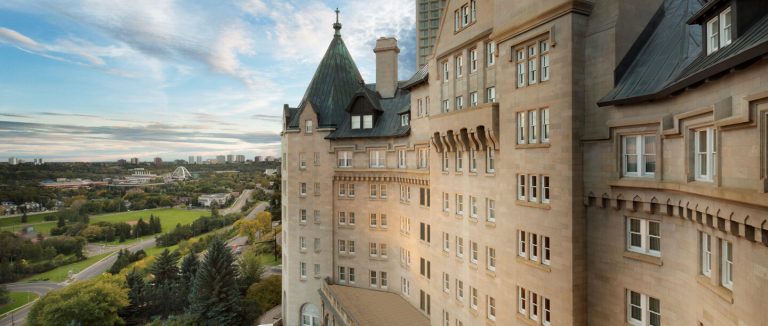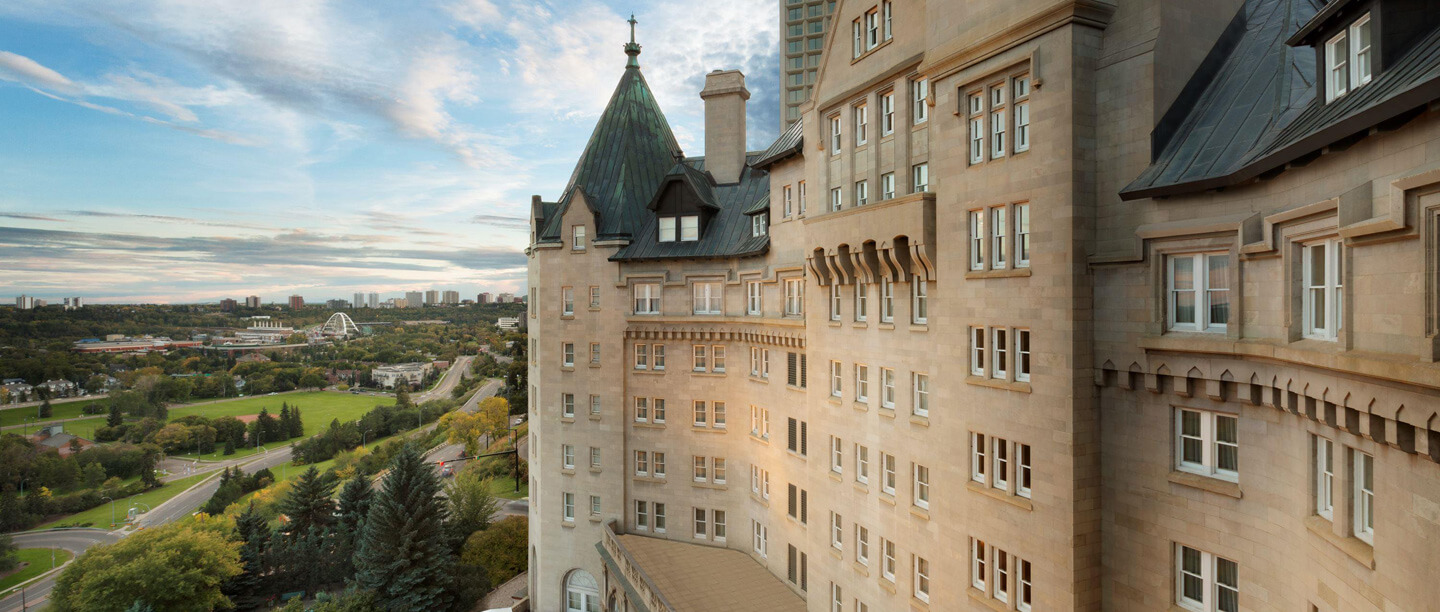 If you want a view over North America's largest urban park, the Fairmont MacDonald in downtown Edmonton is for you. I was pleasantly surprised by Alberta's capital when I visited for work a few years ago.
Fairmont Winnipeg (Winnipeg, Manitoba)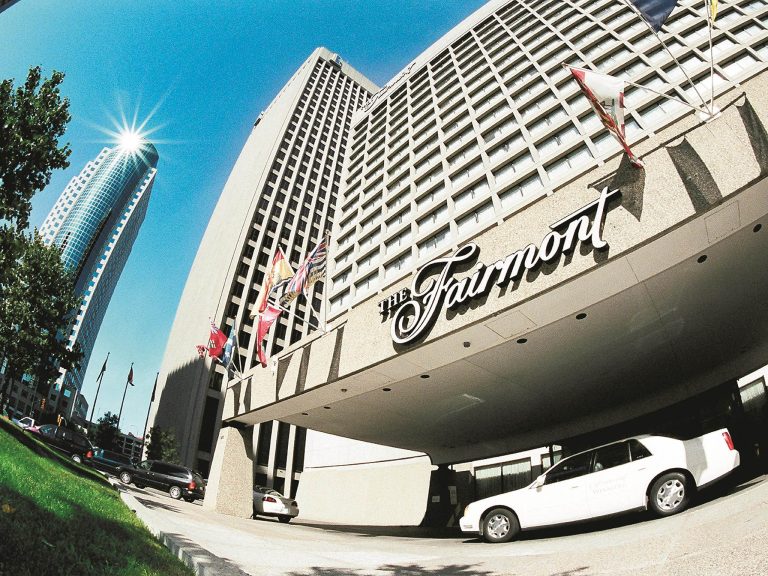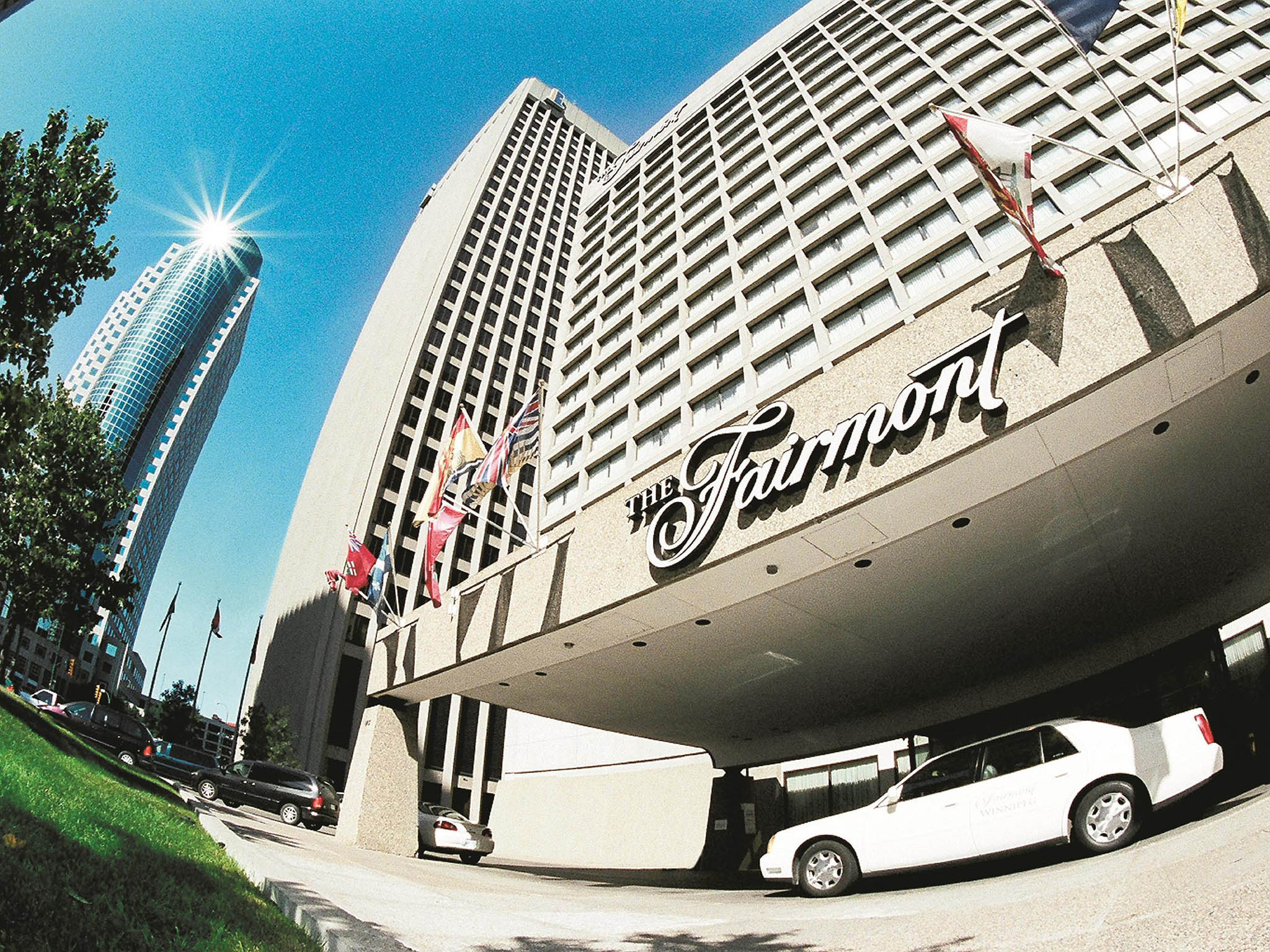 The Fairmont Winnipeg is an option in Manitoba's capital.
Sofitel Montréal Golden Mile (Montréal, Québec)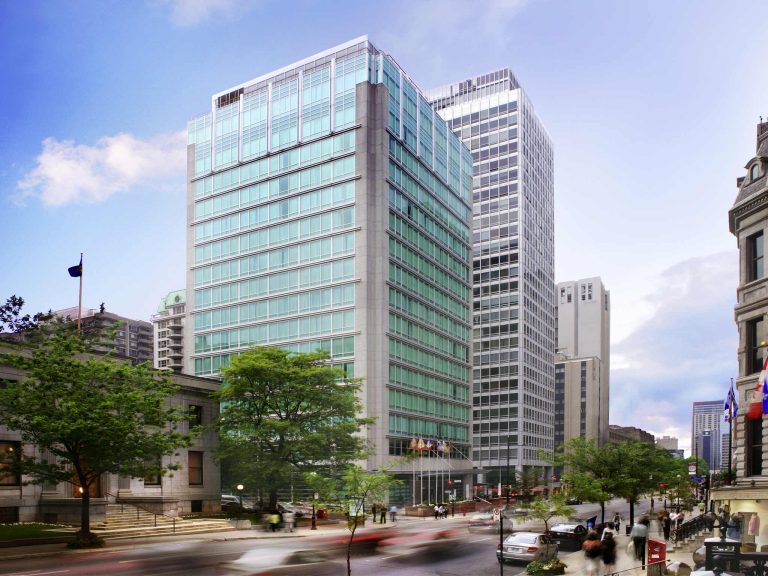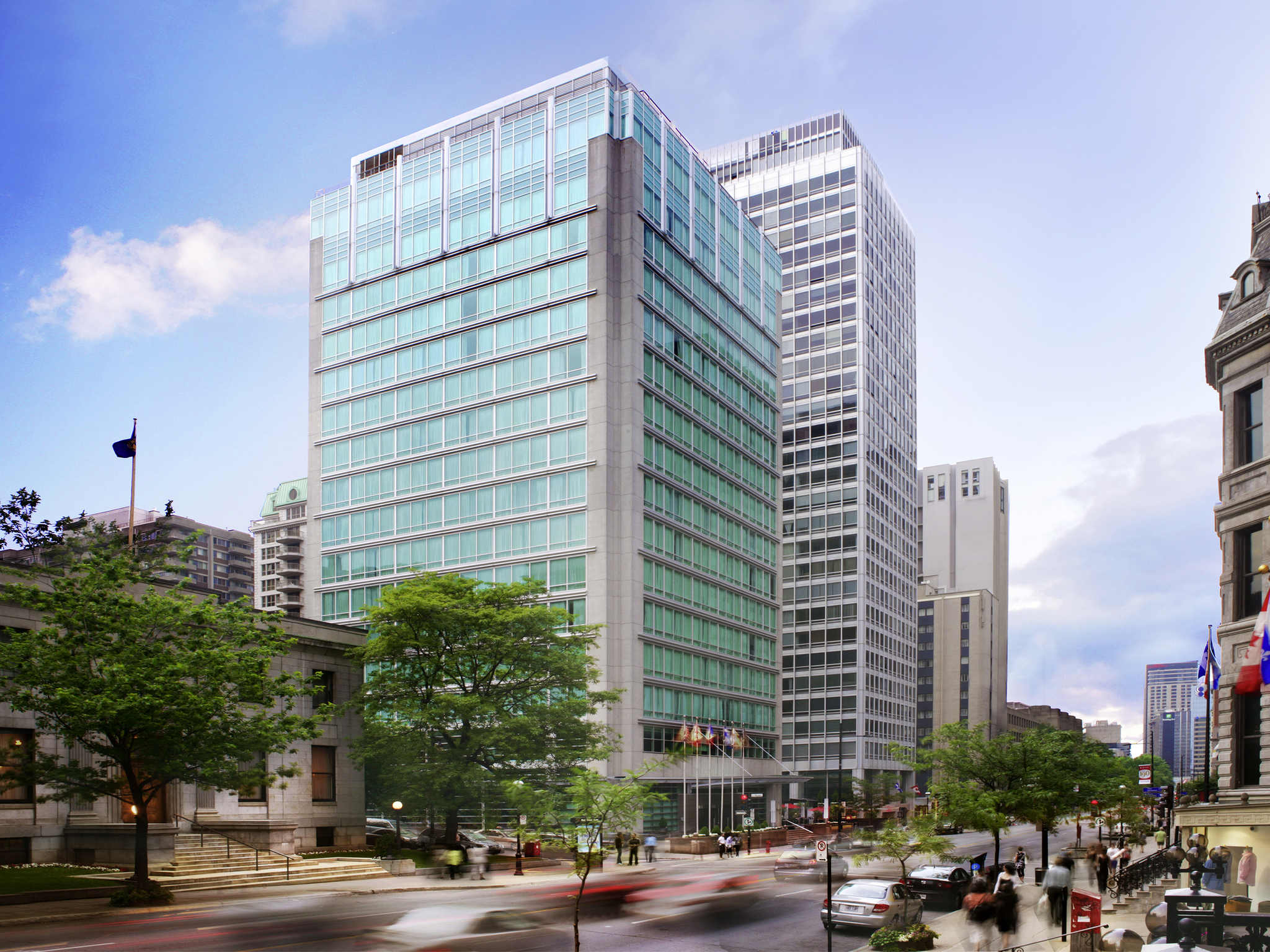 The only non-Fairmont hotel in Canada, the Sofitel Montreal is another option if you want to visit the city!
How to search and book
There is a specific process because you must absolutely search for two consecutive nights to see the promo appear.
1. Go to the Accor Hotels website
Start on the official Accor Hotels homepage.
2. Search for your desired hotel
Don't forget to search for 2 consecutive nights. If you want to use your free night for a second room the first night, you must book 2 consecutive nights and call the hotel to modify the booking manually.


3. Open the rate calendar before clicking on the hotel
If you don't have specific dates (more likely than usual for a staycation or roadtrip, which are normally more flexible), you can use the calendar to spot the cheapest dates.

4. Look for the cheapest dates
Unlike Marriott and other chains that allow you to easily see the price for every night in a full month, with Accor you can only see 5 days at a time (by using the arrows). This is still a lot faster than looking for one date at a time.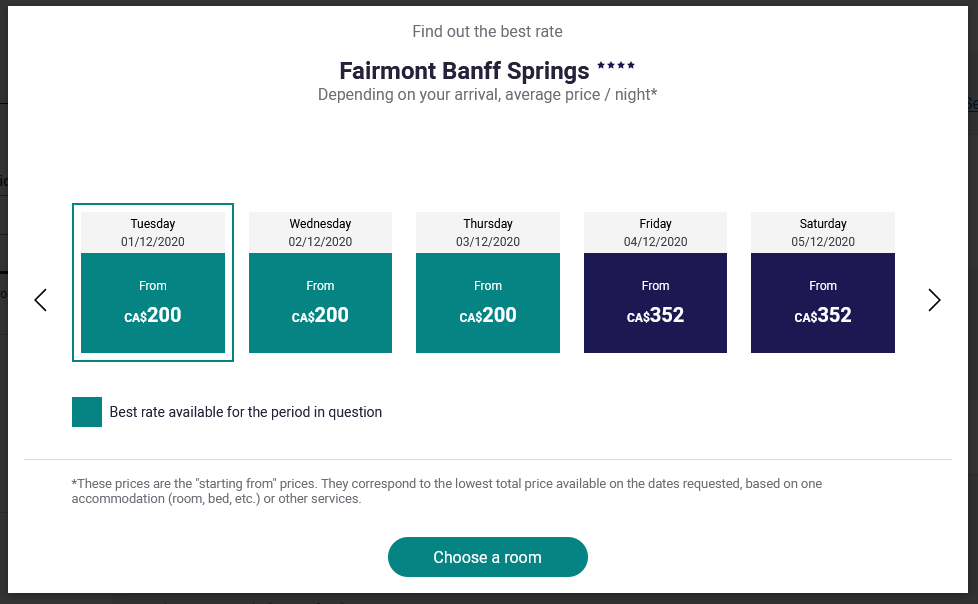 5. Confirm the promo is available that night
If you are looking at a participating hotel and the nights are eligible, the "Stay Close" rate will appear once you click on the blue "Select a rate" button.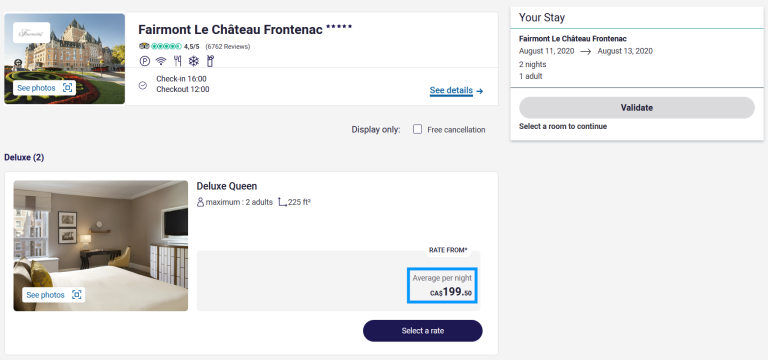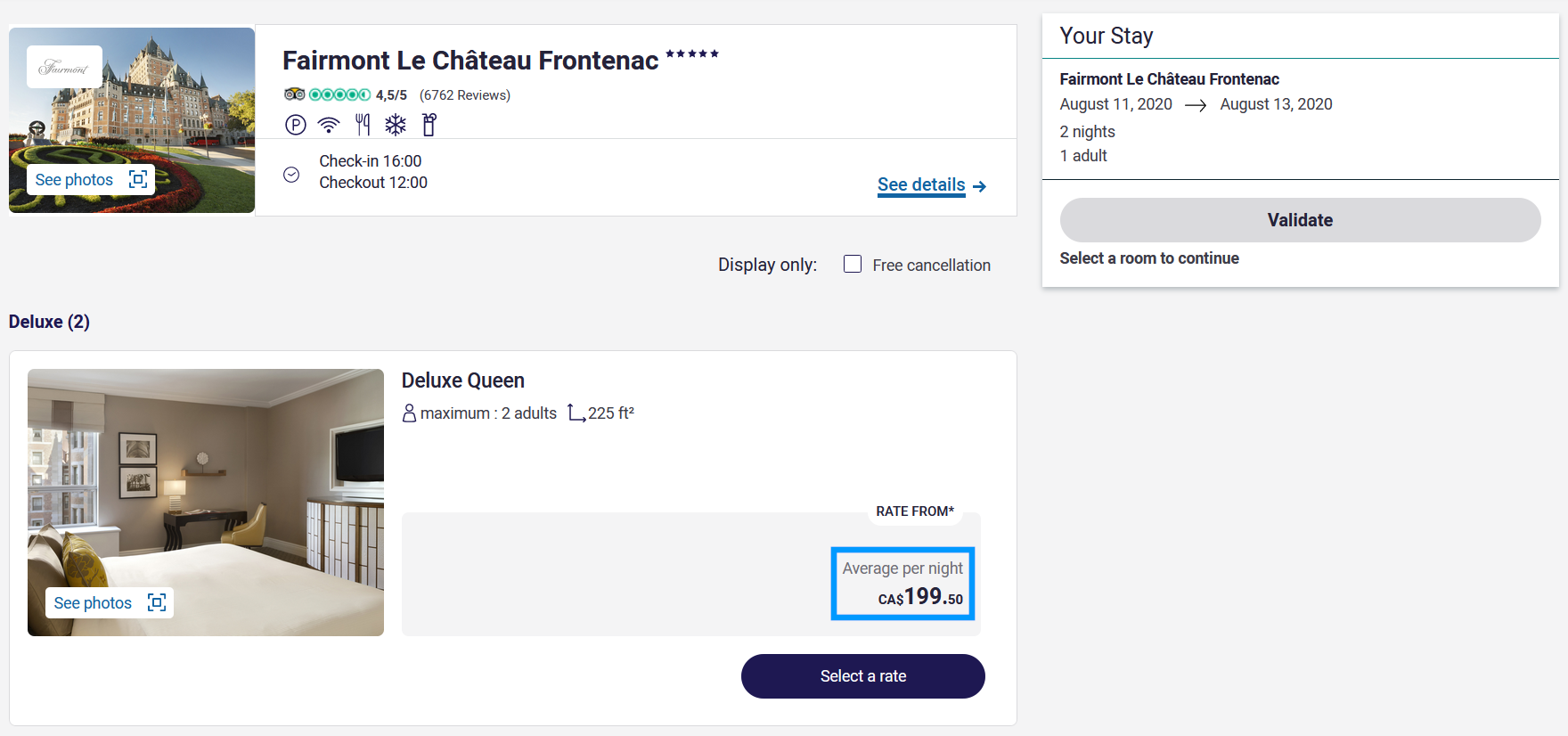 6. Book your stay
Under the "Stay Close" rate tab, you'll see the effective price per night. It is the regular price of one night divided by two. So just to be clear, it's not $200 for two nights, it's $200 per night, as the Fairmont Le Château Frontenac is expensive and sells for $399 per night. Unfortunately, unlike with flight searches, all hotel prices that appear in results never include taxes.


Bonus. Create a free account
A common mistake many travelers make is not taking the time to learn about travel rewards points. Traveling is definitely not the fastest way to earn these, not at all. But it takes just 5 minutes to sign up for the rewards programs to earn a few points on each stay, so you should create a free ALL (Accor Live Limitless) account.
I explained why it's important in an article about another 50% off deal, and you can download a free cheat sheat with the essential programs for Canadians.
That said, with this promo, it's worth booking with Accor. But when there is no promo, if you don't travel often enough to have many stays with the same hotel chain, you are better off just booking with Hotels.com to get 1 free night after every 10 nights (which is a fixed 10% return), as long as the price of your hotel is not 10% lower on other sites like Booking.com, Agoda, Hotwire or another that Momondo spots.
Is it safe in hotels right now?
While some of you might have started traveling already this summer, many are worried about hygiene in hotels. However, in a way, hotels might have never been cleaner than they are now. My 32 nights in hotels since late July have certainly reassured me personally.
Many do not like hotel chains (and it sure is a less authentic experience than charming local boutique hotels) but one advantage to chains right now is that they have huge budgets to implement thorough disinfecting programs.
They have no choice but to take this seriously and invest in this to gain travelers' trust and all chains have done so. Their survival depends on it. In short, rooms and common areas are likely a lot cleaner than before the pandemic thanks to the measures taken by hotel chains.
Accor Hotels has a 22-point (!!!) program to ensure hotels are clean. I am personally very confident about the cleanliness in chain hotels particularly.
Is it time to travel? Should you travel?
This summer we published our ultimate guide to deciding whether or not to travel based on your own situation, with 15 factors to consider. We had recommended safe and responsible travel within Canada if it makes sense for you, but now many places are back under lockdown orders.
However, that can certainly change before April 30th 2021, so I'd be comfortable booking this Fairmont deal myself (and probably will). In fact, the coronavirus situation is completely irrelevant since it is fully-refundable anyway.
We've already shared our experience in hotels in both Greece and Turkey, and we'll have a lot more content about how to start traveling again, whether you want to travel to the provinces that don't have any entry restrictions or to the countries that don't have any restrictions (there are many!).
Subscribe for free to get everything in your inbox.
Want to get all our vital content to resume travel in the coronavirus era, whenever you are ready?
Summary
This 2 for 1 deal on Fairmont Hotels is as good as it gets in terms of discounts for these very luxurious hotels.
What do you think of this deal? Tell us in the comments below.
Explore awesome destinations: travel inspiration
Learn pro tricks: travel tips
Discover free travel: travel rewards
Featured image: Fairmont Lake Louise (photo credit: Accor)
Advertiser Disclosure: In the interest of transparency, Flytrippers may receive a commission on links featured in this post, at no cost to you. Thank you for using our links to support us for free, we appreciate it! You allow us to keep finding the best travel deals for free and to keep offering interesting content for free. Since we care deeply about our mission to help travelers and our reputation and credibility prevail over everything, we will NEVER recommend a product or service that we do not believe in or that we do not use ourselves, and we will never give any third-party any control whatsoever on our content. For more information on our advertiser disclosure, click here.
Share this post to help us help more people travel more for less: