We told you about the Hong Kong government's unusual initiative when it was announced and we now finally know the date of the giveaway for these "free" tickets here in Canada. And I also wanted to follow up with info from the countries where the giveaway has already taken place.
Here are all the details.
Basics of "free" flights to Hong Kong
To attract visitors, the Hong Kong government has announced that it will give away 500,000 "free" plane tickets to visit this special administrative region of China. The giveaway has started and it's taking place in phases depending on the country of origin, as they had promised.
I say "free" tickets, because not only do the winners have to pay the taxes, they even have to pay the carrier surcharges as well.
This makes the "free" ticket cost about $439 roundtrip between Canada (Toronto and Vancouver) and Hong Kong, which is not a bad deal at all!
(Especially considering the current very expensive prices of transpacific flights which are the result of the strict government restrictions there which led to less flights being offered and which are also the result of the government conflicts involving Russia which led to a closed airspace — we'll have great tips to fly to Asia for less soon!)
So this giveaway a good deal… especially for solo travelers of course!
If you're not traveling solo, the odds of you AND your travel buddy both winning seem minimal. And if you have to pay full price for a ticket to go with the "free" one, it's quite a bit more expensive.
The thing is Hong Kong's Cathay Pacific is a very expensive luxury airline. That said, even by having to pay about $3000 total for 2, it's not so bad given the current prices. But it's still a lot less interesting than a $439 ticket!
Anyway, you can read all about it in our article on "free" flights to Hong Kong for the basics, today I want to do a separate update with the new information.
Giveaway date announced
The airline, Cathay Pacific, just announced the date of the draw today (but their email is dated the 13th, so the 13th in Hong Kong)!
Here are the details:
The giveaway will take place on Wednesday, May 17
At 9PM (Eastern time)
There will be 1,555 "free" tickets to win
It's absolutely certain that they will be gone fast
Like ANY good airfare deal!
They "expect a high volume of traffic"
Here are the 3 simple steps to participate:
Create your Cathay Pacific account in advance
Sign up for Cathay's email communications to get your link

In your online profile on the Cathay Pacific website
Maybe the giveaway will be accessible without that link
But why take a chance in case it's not
You can simply unsubscribe afterwards

Be ready at 9 PM sharp and follow the steps in the email Cathay will send

Create an alert in your calendar
We'll send you a reminder on Wednesday in our free newsletter too
The first 2 steps should absolutely be done BEFORE Wednesday! Unless you want to miss out on your chance.
Here are more details on the 3 steps if you need them.
Create your free account
Creating your free account is as easy as filling out any online form:
Just fill in all the required fields
That's it
It will only take a few minutes! You'll need to be logged in to enter the giveaway of course, so keep your login info close (which is why 1Password is so useful, especially for travel rewards enthusiasts who have lots of accounts).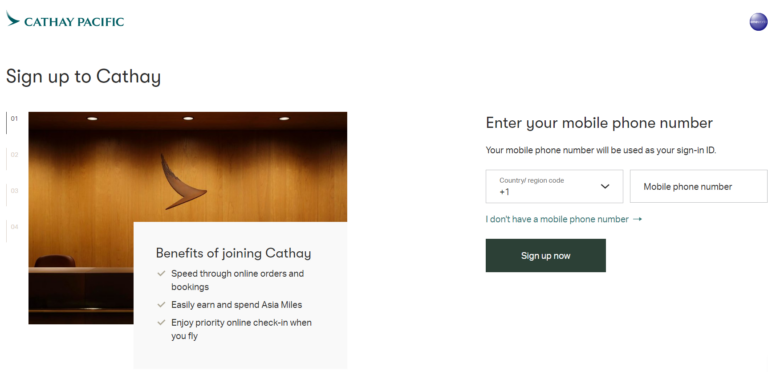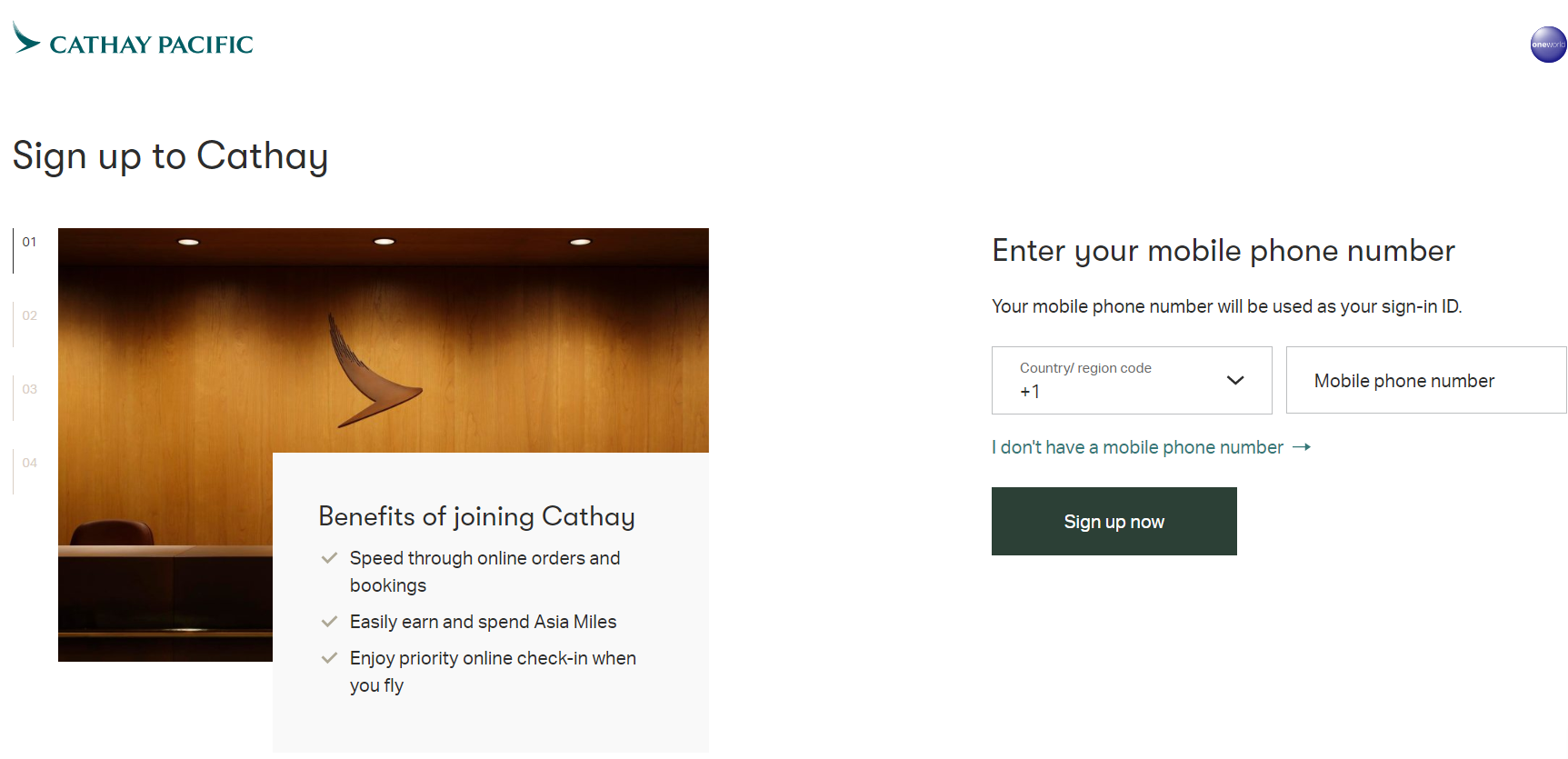 Sign up for email communications
Signing up for email communications can even be done directly during registration, but otherwise it's very easy afterwards for everyone else too:
Log in to your account on the Cathay Pacific website
Click on your name in the top right corner of their site
Click on "Update Profile" in the menu that appears
Click on "Communication preference" in the menu on the left
Click on "Edit" next to the "Communication channel" title on the right
Click on the big buttons to activate the 3 types of communication
Check the "Email" box in all sections
Click on "Save changes" at the very bottom
It seems to be mandatory to receive the link to the giveaway, at least according to the email I received today!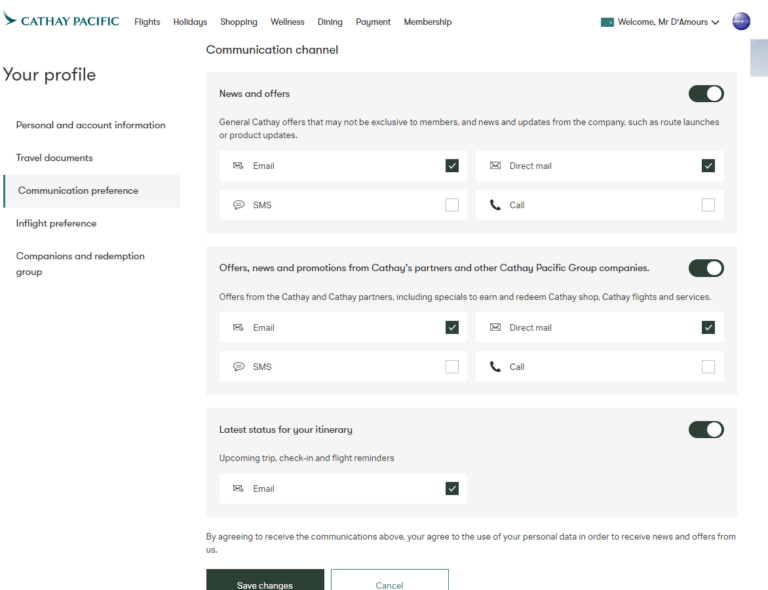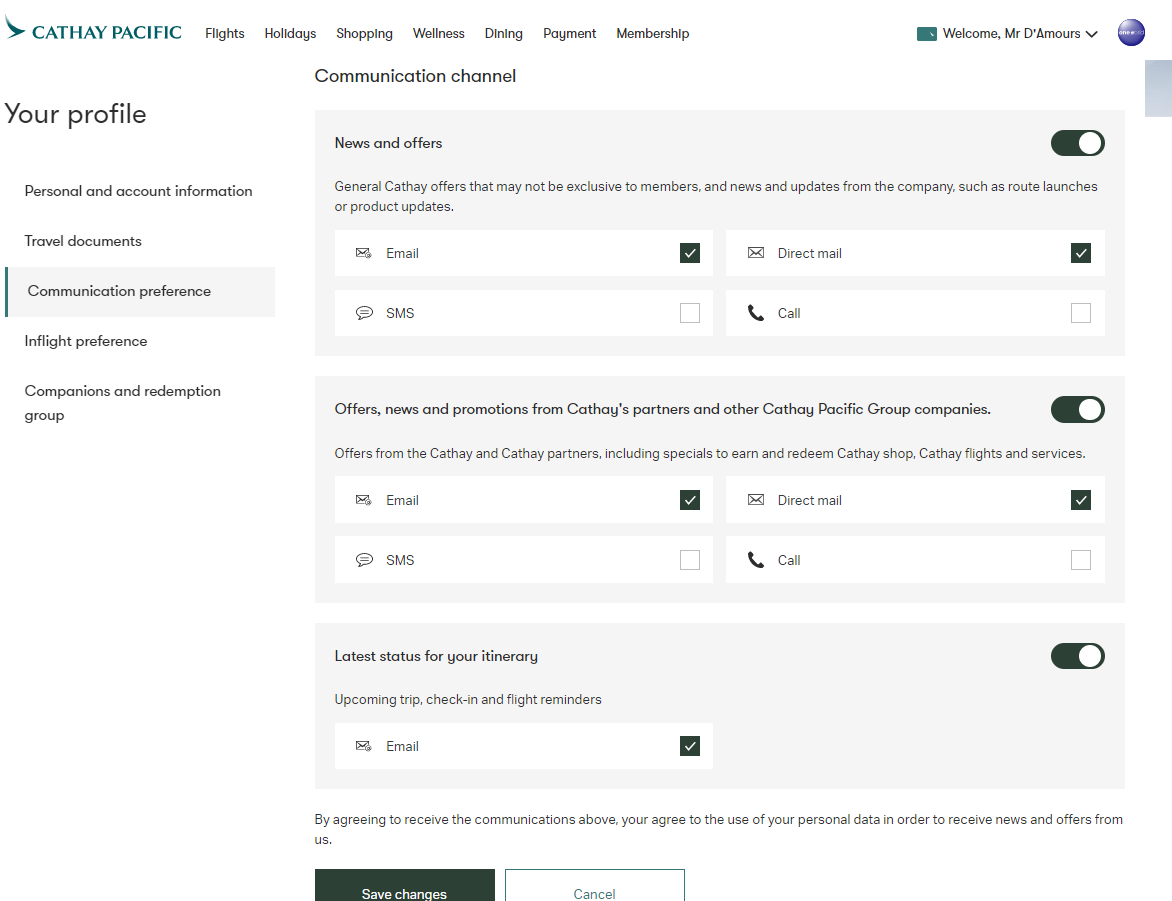 Participate on Wednesday at 9PM (Eastern)
Participating itself will probably involve a quiz game like in the other countries' giveaways.
Be ready at 9PM (Eastern) sharp to be among the first. They explicitly say it's first come, first served.
It's not clear if you have to pick your departure airport on Wednesday or if you can just pick when it's time to book.
If so, the most logical choice for those in Ontario and everywhere east is Toronto (YYZ) since it's closer and easier to get to by plane/car/bus/train. And Vancouver (YVR) for those out West. But cheap flights are often available to both cities as well, so the other city maybe cheaper for your dates (or you might want to combine a trip to Asia with a trip to one of those cities).
And from Hong Kong (HKG), you can fly to Thailand or to the Philippines for less than $200 roundtrip.
That's the self-transfer tip, a very vital one to know if you want to stop overpaying for your plane tickets — like so many people unfortunately do because they always buy their flights on 1 ticket!
Here is what we know about the draw:
You can get 1 roundtrip ticket from Canada to Hong Kong

You have to pay taxes, fees and surcharges (about $439)

You will have 9 months to travel

There are blackout dates (unspecified)
Your stay cannot exceed 1 month

Winners will receive a unique code to book

Not instant (winners will be announced later)
Wednesday is only to enter the giveaway (not to book)

Tickets are not transferable

Can only be used by the person who won

Tickets are not exchangeable and not changeable for free

Of course, like any cheap ticket
If you want to change the date after booking, it's $415

You can read the full terms and conditions of the giveaway
And here's the travel rewards angle (our free webinar on the basics happens to be at 9PM Wednesday too; come join us at the same time):
Finally, don't forget that you can consider NOT participating if you don't want to travel solo, unless you are willing to maybe have to pay at least $2500 for the 2nd ticket at full price!
Because it's crazy how there must be so many people who win the "free" tickets and waste them by not taking them, since they find that at about $3000 for 2, it's not as interesting at all (while many solo travelers would love to take advantage of the $439 flights and won't be able to because others will have won and won't even want to take advantage of it).
It's an opportunity to be civic-minded towards fellow travelers!
Details of the giveaway in other countries
On May 9th, travelers from the UK, Switzerland and Germany got their turn to be eligible for the "free" flights so we had written this post about what we learned about the process.
First, we learned about the giveaway logistics:
The demand was incredibly high
The tickets were gone excessively fast
Like ANY good airfare deal!
It was supposed to last 6 days and it lasted only a few hours
Many travelers were obviously disappointed
Sign up for free so we can send you an email alert
We learned about the number of tickets available:
There were only 4540 tickets offered for the 3 countries

3260 in the UK (2830 from London and 430 from Manchester)
900 in Germany (Frankfurt)
380 in Switzerland (Zürich)

For a population of 67 million, 83 million and 8 million

So maybe only 400 to 1800 tickets in Canada

The number of travelers who wanted tickets was 70,000+

So about 1 chance in 15 to win, not too bad
And here are some more logistical details that we learned:
The draw works by country of residence separately

Therefore, it is not possible to participate for the American departure cities
Only from Toronto (YYZ) or Vancouver (YVR)

The announcement of the winners comes just 4 weeks later

Not instantly
Travelers have 1 month to book
Flights must be within 9 months (approximately June to February)
There are dates of blackout obviously (not specified)
The maximum stay length is 1 month

Participation involves an online quiz game

Only 1 entry per person allowed

The step of creating an account on Cathay Pacific should be done before
It gave us access to the detailed terms and conditions of the draw
So we'll stay tuned for the launch of the giveaway for Canadian travelers for you, sign up for a free email alert as soon as it launches.
Want more help saving money on flights?
Summary
The giveaway for "free" flights to Hong Kong will take place on May 17th for Canadian travelers. Be prepared to enter early by signing up for our free newsletter and having created your free Cathay Pacific account in advance (especially if you're not going to waste the "free" tickets)!
What would you like to know about "free" flights to Hong Kong? Tell us in the comments below.
See the deals we spot: Cheap flights
Explore awesome destinations: Travel inspiration
Learn pro tricks: Travel tips
Discover free travel: Travel rewards
Featured image: Tian Tan Buddha, Hong Kong (photo credit: Nadine Marfurt)
Share this post to help us help more people travel more for less: