One current shopping promo can give almost everyone a free flight, without spending a penny more. Those who are willing to put in a bit of effort can reach their goal of traveling more by earning much more free rewards with their holiday purchases (well, all their purchases). Maximizing promos can easily triple your return.
We told you that spending less is obviously the key to having more money for travel, but specifically how just $100 saved this holiday season can pay for 11 surprising things on our list (including adding 4 full days to your trips, all expenses paid).
But for what you do spend, it's important to maximize your rewards by buying online and earning 100% (or even 1700% more) rewards with just one click through shopping portals. That's double-dipping.
In today's article of our What To Do Now To Travel More In 2020 series, we'll see how you can maximize even further by taking advantage of promos and triple-dipping (also called "stacking" promos or deals).
Introduction To Maximizing Promos
Just to be clear, this isn't about taking advantage of "sales" and discounts. Obviously that's an important part of saving on everything and we already help you with that: we spot flight deals every day, including great ones this week (Japan for $450 roundtrip from many Canadian cities, wow) and we'll keep finding more.
No, this is about the rewards angle. There are often promos that can give you a lot of bonus rewards on your spending, for free.
A reminder: earning points on your purchases is NOT how you'll earn the most points, we'll cover that soon. It's slow and not the right way at all. You won't go far with 1% or 2% back (promo #1 below will show that once more…)
But what you do earn on your purchases, you should at least maximize with promos as much as you can.
In short, certain programs will offer special limited-time deals. They won't all be good, but many of them are easy to take advantage of. You should never spend more just for a promo, that makes absolutely no sense. But if you can just time your purchases or be a bit flexible, it can really pay off.
Here are 3 great ones right now for Canadians.
1. AIR MILES "Shop The Block" Promo
During off-peak periods, just 1,400 AIR MILES are required for a short-haul roundtrip flight.
And you can get that for free with this promo. It really is a no-brainer.

You simply need to visit 7 different partners and complete one of their offers. Most are easy to accomplish, 3 don't even require a purchase. Others have very easy amounts to reach. It really should be very easy to tick off 7 of these. I'll get back to this.
What you get
I touched on this in the shopping portal article, but AIR MILES can be very valuable if used as Dream Rewards, not Cash Rewards. A reminder: variable-value points (like Dream) are always potentially more valuable (50% more in this case) but fixed-value points (like Cash) are much simpler to use. It depends on your preference.
Instead of just 10 ¢ per point with Cash Rewards, you can increase that by around 50% by using them for car rentals, and also if you are interested in short-haul flights. It's crazy when you think about it; the same points… but 50% more value! That's maximizing.
So the short-haul flights are extremely interesting if you want to add an extra trip in the year, say a long weekend city getaway. Everyone says they want to travel more, that's an easy way.
Especially for free.
Here are a few examples of where you can go:
Ontario / Quebec to New York City, Chicago or Washington DC
British Columbia / Alberta to Seattle or Portland
Manitoba to Milwaukee or St. Louis
Those are great weekend trips. You'll still have to pay around $200 in taxes/fees, but still: those 1,400 AIR MILES will save you at least $200 on the full cash price of the flights (instead of saving just $140 off merchandise when used the other way).
So paying just $200 in taxes is not too bad for flights on non-flexible dates; and that's a pretty cheap getaway. Again: those weekend tickets are often very expensive when paid in cash, that's probably why you haven't done these nice little weekends to travel more without needing an extra week off from work.
But even if you prefer not to maximize their value and use them as Cash, this promo will still give you $140 free.
Promo details
So how can almost all of you get those 1,400 AIR MILES for free this holiday season without spending more?
There is a promo: AIR MILES Shop The Block.
Once you complete offers from 7 different partners among the 20+, you'll get 1,200 bonus AIR MILES for free, and easily.
But each of those 7 offers will also give you a separate individual bonus, plus of course your regular points (both the base AIR MILES and your credit card points). That's quadruple-dipping.
So with 7 transactions, you'll get 1,400 AIR MILES to go to one of the above destinations with only taxes to pay. Simple and easy!
Depending on which offers work best for you, you could get that 1,400 AIR MILES for less than $200 in spending (that you would have spent anyway).
Considering the normal rate is often 1 AIR MILE earned per $20 spent, it would take you $28,000 to get 1,400 AIR MILES the slow way. Yes, $28,000 and now you can get the same amount with under $200 in spending.
$28,000 is insane… no wonder many people think rewards are a waste of time (!!!). See how earning points with your purchases is NOT the best way to earn points?
We've repeated it many times: earning points one purchase at a time is slow and not the right way to do travel rewards. We have to destroy that myth once and for all; it's costing hundreds of dollars a year to way too many people.
But at least, if you take advantage of very rewarding promos, this slow part will at least go faster. And this promo is as good as it gets to reward your spending.
So the full list of offers by province is here, but here are a few of the easiest ones to complete:
(the parenthesis is the individual bonus that is in addition to the 1,200 AIR MILES you get by completing 7)
Complete 3 surveys at RewardingYourOpinions (+15)
Register to convert Hudson's Bay Points to AIR MILES (+30)
Link your AIR MILES number to a free Samsung account (+100)
Spend $25 at Shell (+5)
Spend $50 at Sobeys (+10)
Spend $50 at Sobeys Urban Fresh (+10)
Spend $50 at Foodland (+10)
Spend $50 at Safeway (+10)
Spend $50 at Thrifty Foods in BC (+10)
Spend $100 at IGA in QC (+50 in-store, or +150 online)
Spend $40 at Rexall (+20)
Buy specific bottles at LCBO in ON (+15)
Spend $100 at any retailer on the AirMilesShops shopping portal (+50)
Spend $100 on a hotel cash booking on AIR MILES website (+100)
Spend $100 at Staples (+25)
Spend $50 at Global Pet Foods (+10)
Spend $350 in total at these partners with BMO AIR MILES card (+50)
Spend $50 at The Children's Place (+10)
Spend $75 at Budget rent-a-car on base rate only (+30)
Spend $75 at Timber Mart (+25)
Spend $160 at ACE Hardware / Lowe's (+24)
Spend $160 at RONA/Réno-Dépôt (+24)
Spend $30 on spa chemicals at IPG/LeisureScapes (+10)
Get an oil change at Jiffy Lube (+5)
Spend $20 at Jean Coutu in QC (+3)
Spend $15 at IGA Express in QC (+10)
Spend $40 at Marchés Tradition in QC (+10)
Spend $30 at Daoust in QC (+3)
Spend $20 at Nickels in QC (+5)
Spend $45 at Rachelle-Béry in QC (+10)
Get a free home valuation by Proprio-Direct in QC (+50)
It's very little effort to make these stops or do the few that you can complete online.
And it's worth it: you complete 7 before December 27, and you earn around 1,400 AIR MILES thanks to the 1,200 bonus and the other bonuses.
You'll get a roundtrip flight to a cool city for just the taxes. Or ≈ $200 off a car rental. Or $140 cash if you really must.
Not bad for very little effort and no additional spending. Make sure to set your preference to "Dream Rewards" before starting.
If there are 2 of you, you should both do this promo and you'll get an extra weekend getaway in 2020. Rewards are much easier to earn in two-player mode (and when you know the pro tips).
2. Aeroplan Black Friday Promo
Here's the least interesting, since I already talked about it Wednesday. I went over how Aeroplan Miles can be valuable, especially when using them to fly on airlines OTHER than Air Canada.
I won't repeat everything I said in that previous article about shopping portals: you can earn up to 10X bonus Aeroplan Miles, which is like an extra 15% return based on our Flytrippers valuation with the Aeroplan portal's Black Friday Event bonuses.
It's always a good idea to get more free rewards on top of your regular credit card earning (instead of getting no bonus at all), but it's especially good this weekend with the promo: you can get up to an 18% return (essentially an extra 18% discount) on your purchases as I showed you, which is huge.
So take advantage of the promo and go earn your extra miles (it doesn't change anything for the eStore if you are already a member, but if you don't have an account yet hopefully you are able to create one, because Aeroplan is having MAJOR technical difficulties—the likes I have never seen before from a major company—and are basically unreachable since a planned AC systems upgrade went awry last week).
The Amazon 5X special is especially interesting given Amazon's great deals and vast selection of items. And especially since most of you probably have an AMEX card…
3. AMEX Offers
So this one is for AMEX cardholders.
AMEX also has some of the best travel rewards cards. My 3 favorite cards in my wallet are all AMEX cards (and I've added 3 more than many of you might like as a reminder):
AMEX Offers won't be the #1 thing that will give you the most value, since the cards themselves are so good. It's still a very nice addition and can represent hundreds in free money every year.
If you've read us before, it's no secret to you that AMEX have some of the best promos out there, called AMEX Offers, and it's a very underrated benefit of having the cards.
Last year I got two completely free $50 rings from Birks. Two years ago I got $250 completely free at the Toronto Pearson Duty Free, which was pretty amazing. Those didn't even require to spend more, as is often the case with these offers.
And when it's not "Spend $200, Get $200" like those, it's often a reasonable amount to spend and it's even easier to reach since taxes are included (because AMEX doesn't know/care how much tax you pay when you charge X amount to your card).
If you have an AMEX card, you're probably already familiar with AMEX Offers.
In case you aren't, they appear at the bottom of your online card account, or on the AMEX app. Each of your cards has its own set of offers. And an important reminder: you need to register them to your card before using them (one click).
Right now, there are quite a few interesting ones I wanted to make sure you take advantage of.
Amazon AMEX Offer

First, let's start with Amazon because it's for the weekend only. And since we just mentioned you get 5X Miles on the Aeroplan portal. Well double-dipping is nice, but triple-dipping is even better.
AMEX currently has an Offer for 4X extra MR Points per dollar spent at Amazon, for a total of 5X.

This is very good:
1 MR Point per dollar (regular earn rate)
4 MR Points per dollar (bonus AMEX Offer promo)
5 Aeroplan Miles per dollar (Aeroplan portal)
Instead of just earning 1 point per dollar, you stack all these promos and triple-dip: that comes out to 15% back on your Amazon purchases, which is amazing. Better than 1% or 2% right?
If you consider that Amazon often offers discounts compared to prices at other retailers, it's almost like quadruple-dipping again.
If you were to spend just $500, that's still a very good amount of points (officially Amazon gift cards aren't supposed to count, but it worked for me last year… TBD).
Your MR Points can be maximized by transferring to Aeroplan or Avios, or to Marriott for the Cobalt Card (we'll have more details in our Ultimate Guide To AMEX Points soon, sign-up now to get access first for free).
I have this AMEX Offer on my Platinum (capped at $1,000) but also on my Cobalt (capped at $500). My girlfriend has it on her Gold Card (capped at $500).
Mall Gift Cards AMEX Offer
I know some of you still love shopping in-store like it's 2009. Joking aside, some things are sometimes cheaper in-store too, so this other AMEX Offer is very useful. I maxed it out already, twice (or rather six times).
It's very simple: you buy a $100 mall gift card (many major malls included), and get a $15 statement credit (mine posted literally the next day).

That's $15 free. The card is accepted in most stores in your mall, and the other Ivanhoe Cambridge malls across Canada (here is the list of participating malls). If a mall near you is on that list, it's almost impossible not to burn through these gift cards; so that's really $15 free, times 3.
Yes, you are allowed up to three, so I bought 3 of the $100 at the customer service desk at my mall and got $45. My girlfriend had the offer on her card, so we bought 3 more. Yes, $600 is a lot, but with holiday shopping and regular purchases (there's a Walmart in my mall), there's no way I'll be stuck with those.
A completely free $90. Not bad. Many of you should be able to take advantage of this promo without spending a penny more than usual if you plan to buy for $300 at your participating mall. I personally bought each card on separate transactions since the terms are vague.
The offer was on my Cobalt Card and it was on the Gold Card for my girlfriend.
Mobile Phone AMEX Offer

You probably have a cell phone. You probably have to pay once a month.
This AMEX Offer will give you 1000 bonus points for paying 3 bills before March. It's not much (a $10 travel credit or $15 worth of Aeroplan/Avios Points, which we value at 50% more) but it's still completely free money with no effort.
The offer was on my Platinum Card and it was on my girlfriend's Gold Card.
McDonald's AMEX Offer
This one is very minor, but this is another one that everyone will be able to use without too much effort and without spending more.
You get $5 back after spending $10 at McDonald's. You can take advantage of it twice, so that's $10 free too.

You don't even need the $10 to be in one purchase, it's cumulative (good for me, I'm cheap and never spend $10 at McDonald's with just two snack wraps when I go there because I'm in a rush).
So it's really free money you should be able to get if you go at least twice before December 15.
The offer was on my Platinum Card and on my girlfriend's Bonvoy Card.
Marriott AMEX Offer
This one might be only for those who have the Platinum Card, but if you do it's great.
You get $60 back if you spend $300 at Marriott. That's a 20% discount, so it's not bad at all.

The offer was on my Platinum Card only.
Wayfair AMEX Offer
If you were going to buy furniture on Wayfair, $25 off of $125 is another 20% discount. Not bad either.

It was on my Platinum Card and on my girlfriend's Gold Card.
Other AMEX Offers
The other current offers are very specific and again, it's only useful if you were going to buy whatever is offered anyway. Some of them aren't great because of higher requirements.
But over the course of the year, these promos give you easily a hundred dollars in value.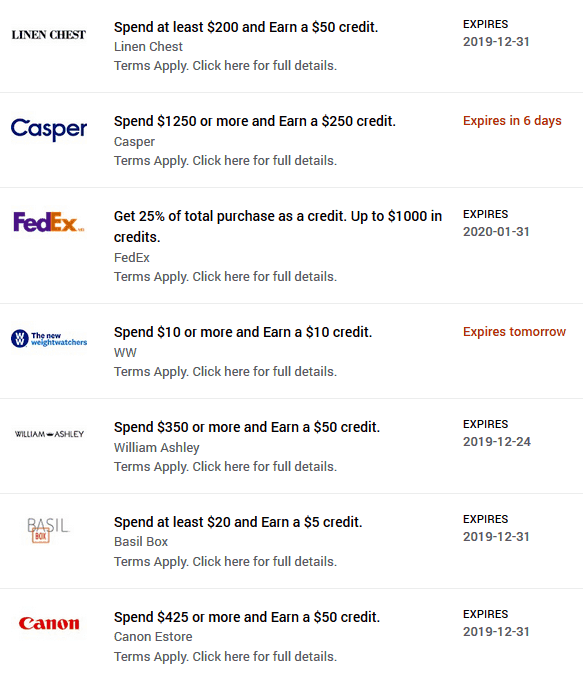 Don't miss the next article in our What To Do Now To Travel More In 2020 series:
Summary
Great promos. Take advantage of them.
Don't miss the next part of our special series next week:
Have any questions? Ask them below, I'd be glad to answer!
Share this post to help us help more people travel more for less: