Rental cars are another area where so many people sadly pay way too much because they don't know the tips (not as much as with plane tickets, but still). But we don't often share rental car deals, because they're not very frequent and not very good usually.
Especially compared to plane ticket deals (which often save you 50%) and credit card deals (which always give you hundreds of dollars in free travel).
But I shared a hotel deal for once last weekend, and it was popular.
So I want to share this rental car deal with you, until we have more content on the topic very soon (a guide like the one with the 31 tips to save on plane tickets). Especially since rental car prices are very high right now in many markets (compared to usual).
Here are the details of the electric vehicle rental car deal.
Overview of the Hertz rental car deal
Here are the essentials of the Hertz rental car deal:
Hertz promotion for electric vehicles

One of the world's largest rental car companies
The largest fleet of electric cars in North America
Mainly Tesla, Polestar,and Chevrolet Bolt cars

Promotion give you 1 free rental day

Minimum rental of just 2 days
Maximum rental of 27 days

This theoretically gives you a 50% discount if you rent for 2 days

With rental cars, it's never quite that
Because of all the taxes and fees
And the fact that it's just a terrible industry
It's closer to 40% off, which is still very good
Example of prices below

There is no maximum number of reservations

Someone highly-motivated could book several in a row
And get 1 day out of 2 for free multiple times in a row
Of course, you have to be able to go back to the agency though

Electric rental cars are more expensive than others

But with this deal it could be interesting
Here are the important logistical details to know about the Hertz rental car deal:
It's for rentals in the USA only

The promo code simply won't work elsewhere

It's until September 6, 2023

Booking must be completed before this date
Pickup must be before this date too

You must book on either 1 of the 2 official Hertz websites
Make sure you always compare the prices on RentalCars.com

That site compares all rental car suppliers
No supplier has the best price 100% of the time
Another pro tip: Hotwire's opaque deals
Here's the travel rewards angle (including insurance and benefits):
Pay with the right credit card (in the following order of priority)

One on which you are unlocking a huge welcome bonus
One that doesn't charge foreign transaction fees
One that has a good multiplier rate on the travel category
One that has rental car insurance

Avoid the queue so easily at many Hertz locations

Create a free Hertz Gold Plus Rewards account
You'll be able to go straight to the car without going to the counter
In many locations in major airports (not everywhere)

Avoid the queue at all Hertz locations everywhere

With the best premium card in Canada
The American Express Platinum Card gives you Hertz elite status
Priority queue in locations where you can't skip the counter
It also gives you several Hertz benefits

Free car upgrades
4 additional hours of rental free of charge
2nd driver on rental free of charge
Discounts on regular prices (can't be combined with other promos)
Analysis of the Hertz rental car deal
It's rare that a deal will give you a free rental day so easily.
If you want to maximize the deal, 2-day bookings are obviously the best! When the reward is something that doesn't change based on the length and amount spent (like this one), you simply have to spend as little as possible if you want to maximize the value you get.
Of course, electric cars come at a higher price than the cheapest small economy rental cars (which travelers who want to save money should always choose).
But if you usually pay for larger or more luxurious rental cars, this Hertz rental car deal is an even better deal for you. And it's an opportunity to test-drive an electric car if you're interested.
Logistically, an electric rental car isn't always ideal, depending on the type of trip. But if it works for you, it can save you money on gas too.
It's a good discount, even if it doesn't give a true 50% discount for 2-day bookings, as I'll show you in the example in the next section.
It's that percentage discounts never apply to taxes and fees (rental cars are really the worst for all those many mandatory fees). Kind of like why airline sales are pretty terrible, as we've been telling you for the past 6 years.
(And sometimes with rental cars, promotional codes and coupon codes just don't work, or don't really give the exact discount it's supposed to… it's a pretty terrible industry frankly!)
The deal ends pretty quickly, but if you've got travel plans this summer, it might be worth taking advantage of it. Even if you've already booked a rental car, you could take advantage of this deal because your reservation is probably 100% cancelable and refundable at no charge (this is often the case, but always double-check).
That happens to be why you should always double-check the price of your rental car as often as possible, just like the price of all your hotels, as I showed you with my example from July in India.
Example of the Hertz rental car deal
To give you an example of the deal, I chose Las Vegas because it's still possible to go there in the $300s roundtrip before Labor Day, from many Canadian cities.
Obviously, the most basic tip for saving money on rental cars is not to rent one when you don't need to. Including not renting one for the whole duration of your trip when you clearly don't need it for thw whole duration of your trip, like if you're going to Las Vegas.
But let's say that after a few days in this strange artificial and surreal world, you're tired of throwing cash away left and right. You might want to go to the Grand Canyon or even Red Rock Canyon, which is much closer.
So if you go directly to the Hertz website and search for a 2-day electric rental car without using the promotional code, you get a total of C$149.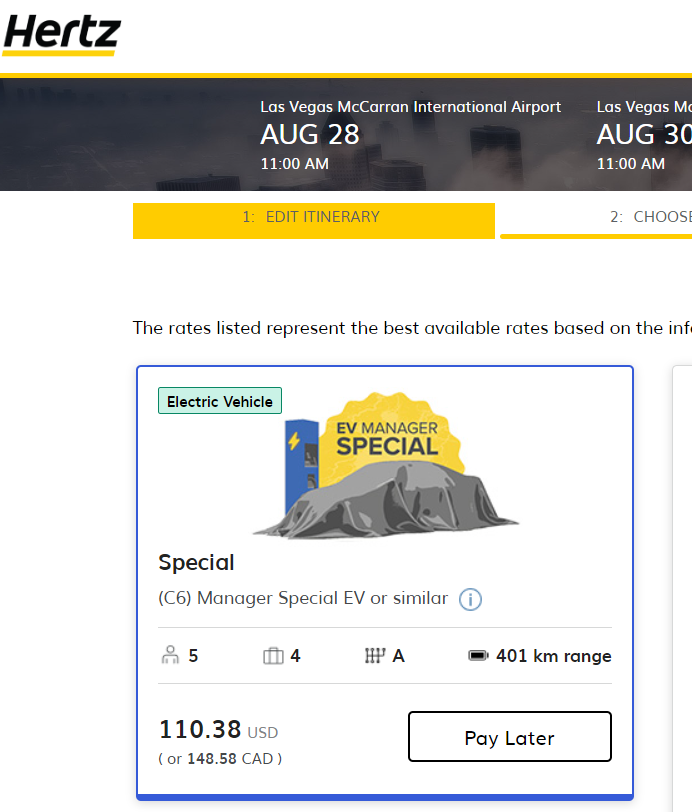 (Never pay extra for damage insurance of course, it's pretty much the most common travel scam: virtually all credit cards offer it for free, even the terrible ones that don't give big welcome bonuses!)
However, if you add the promotional code 211174, the total price drops to C$95 for the same dates.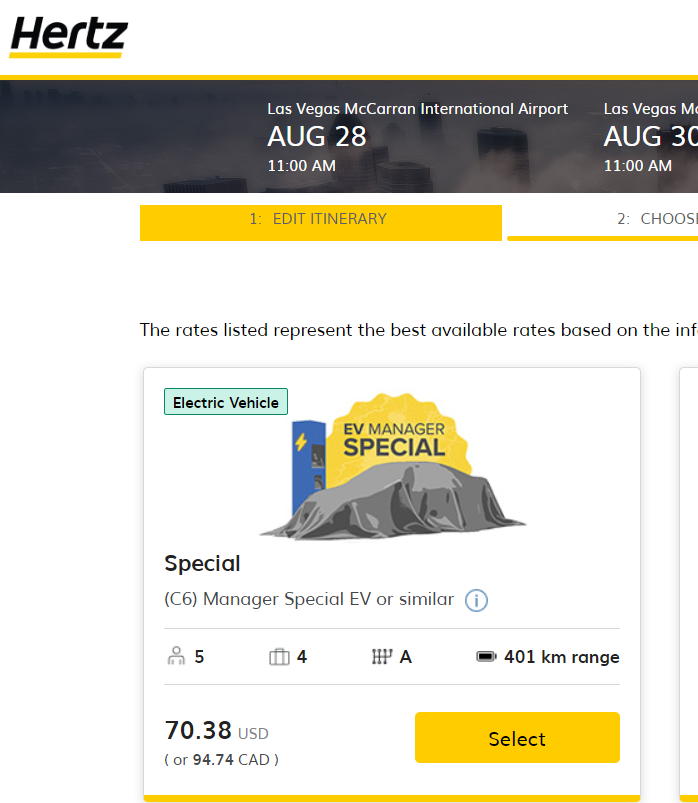 It's a lot better, even if it's not quite 50%.
For a Tesla Model Y, it's C$334 without the code.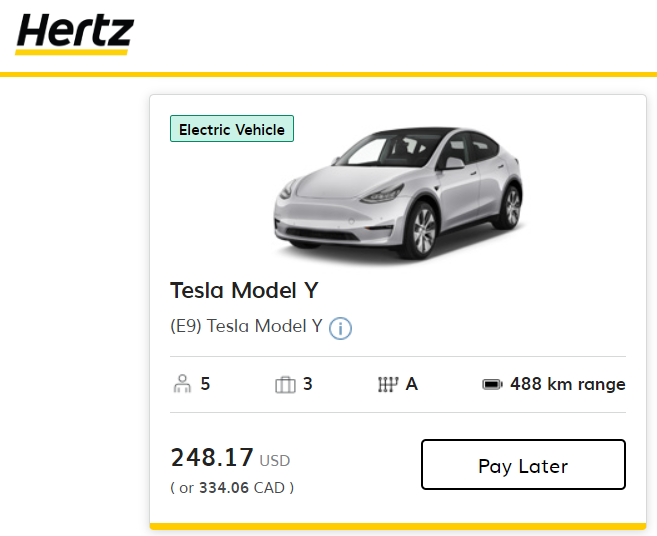 And C$202 with the code.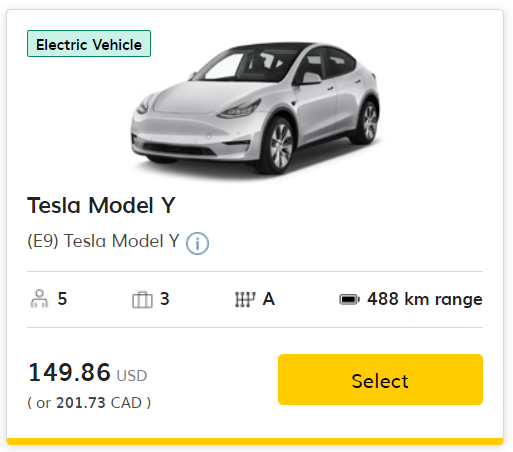 Obviously, prices vary for all dates and for all cities, but it was just to give you an idea. Don't miss our upcoming rental car savings tips, they're good.
Want to get more content to learn about rental cars?
Summary
The Hertz electric rental car deal is very good for those who wanted to rent an electric car (or a more luxurious or larger car), especially for a short 2-day rental where you get 1 day free by having to spend as little as possible.
What would you like to know about rental cars? Tell us in the comments below.
See the deals we spot: Cheap flights
Explore awesome destinations: Travel inspiration
Learn pro tricks: Travel tips
Discover free travel: Travel rewards
Featured image: Tesla at Devil's Slide (photo credit: Charlie Deets)
Share this post to help us help more people travel more for less: