There are travel tips that we at Flytrippers sometimes take for granted because we've known them for so long… but that might make someone's day if they've never heard about the trick before. For example, the easy way to pay with a Canadian credit card at US gas pumps, even if they ask you to enter a Zip Code.
In addition to the great flight deals we spot every day, we also have a travel tips section (that is now more easy than ever to get to, as it can be found in our main navigation menu at the top of every page) to help you travel more for less.

So here is the tip for those who didn't know that Canadians can easily pay for gas directly at the pump even if entering a Zip Code is required in the US.
The Easy Way To Pay For Gas In The US
The United States are among the most popular destinations for Canadian travellers. Whether you are going on a roadtrip nearby or you are flying to a warm spot in Florida or Arizona thanks to our flight deals, you'll most likely need to fill up on gas at some point.
And since you'll probably want to avoid uselessly waiting in line inside, you'll want to pay at the pump. And since you know that always paying for everything with a credit card to earn free Points is the smart thing to do (Travel Hacking is awesome), you'll want to pay at the pump with your credit card, just like you do here.
But when you try to pay with a Canadian credit card, the machine will ask for your Zip Code. Most Canadians think that this means there is no way to pay at the pump… but they are wrong.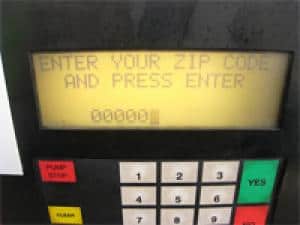 Obviously, your Canadian postal code won't work. We have a A1B 2C3 format… and in the US it's 12345. But all you need to do is slightly modify your postal code, since numbers are all you need.
You simply need to keep the 3 numbers in your Canadian postal code (the postal code linked to your credit card account obviously, so that means your billing address or the address where you get your statements if you still use paper and actual mail).
That will give you 3 digits, and all you need to do is add two zeroes (« 00 ») to get a 5-digit code like American Zip Codes. So if your postal code is H3B 5E8, you simply enter 35800 and that's it.
Here is the tip in a more visual way, great to share with your friends and family who often buy gas in the US: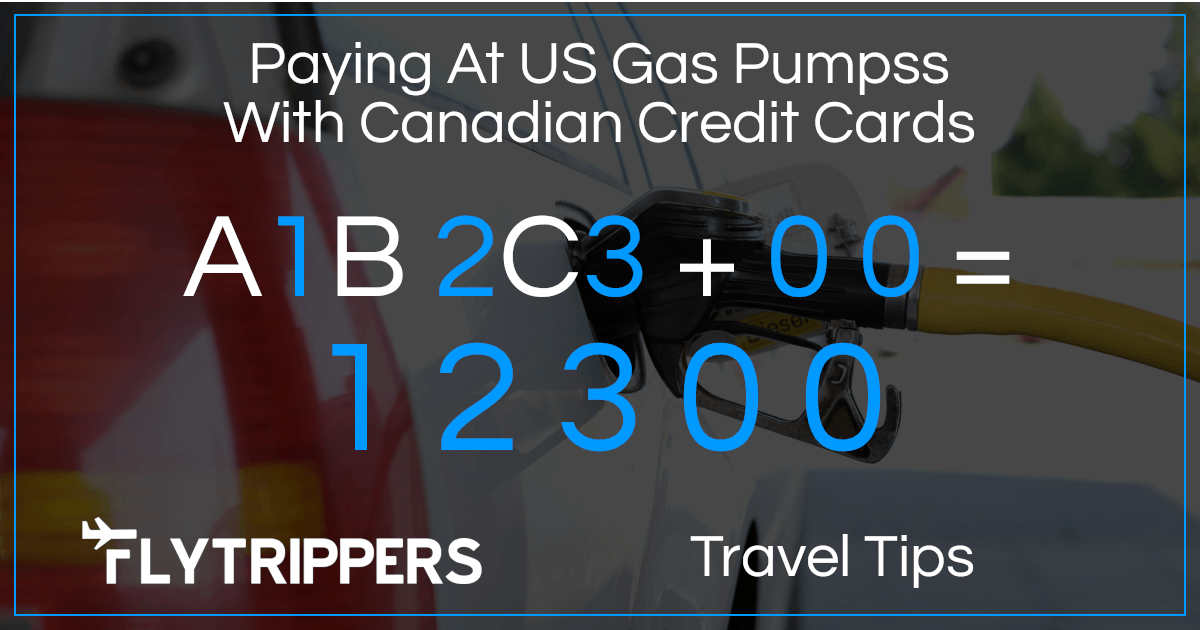 So there you have it, it's really that easy (although there are 2 caveats). By the way, if you want to receive great travel tips like this one (and of course our flight deals, often at 50% off), subscribe to our free newsletter now.
I'll share literally the best travel tip there is and also tell you why US gas pumps ask for a Zip Code… but first let's see those two caveats I just mentioned.
Two Caveats
First, this trick might not work on some old gas pumps. These are rather rare nowadays, but you might still have to go inside if the pump is too old unfortunately.
Secondly, some say that the trick doesn't work with all credit cards. I am personally quite skeptical, simply because I've been Travel Hacking for the last 10 years and I've tried the trick myself with many many different credit cards from different banks… and since I've visited 46 out of the 50 States and I hate waiting in line for no reason when there is a simple way to avoid waiting in line for no reason, I've paid at the pump many many times.
And here is the total number of times the trick didn't work for me: Zero. So I can't corroborate the claims that sometimes it doesn't work, at least not based on my own experience. It's quite possible though, and one issue that seems to often come up is specifically with those whose postal code has a zero as the first number (I don't know how postal codes are assigned, but as an estimate let's assume that's about 10% of the population). Did you ever try the trick and have it not work? Tell us in the comments… if you're sure you entered the right postal code that is!
Why US Pumps Require A Zip Code
For those of you who, like me, have the annoying habit of wanting to know everything about everything (let's call that high intellectual curiosity to spin it as a positive okay), here is the quick explanation.
In Canada, consumers aren't liable to pay if their credit card is used fraudulently, thanks to the policies in place here. Rules are different in the US, so gas stations came up with the Zip Code rule to protect their customers from credit card fraud. The « Address Verification System » in gas pumps is a way to quickly confirm that you are the owner of the credit card.
The Best Travel Tip
Speaking of credit cards, and since here at Flytrippers we love giving you more bang for your buck, here is by far the best travel tip I've learned after setting foot in 41 different countries.
It's not what you think, and it'svery easy. All Canadian travellers should do it (all those who are financially responsible that is): getting a good travel credit card.
Why? Because it's kind of dumb not to, if you are financially responsible of course.
There are 3 main reasons:
Credit cards give you free travel just by signing up (if you choose the right ones of course)
Credit cards give you free insurance coverage (medical, car rental and flight delay are the 3 most useful)
Credit cards let you earn Points that give you free travel on all your purchases
It's called Travel Hacking, and we want to help you make the most of it.
And while the best cards are often only available to those who earn more than $60,000 a year, there is currently an amazing offer for those who earn just $15,000: a credit card that gives you $161 for free, gives you great insurance coverage and has a great earn rate.
I'll tell you a bit more about those 3 benefits of Travel Hacking in a second, but you can also check out our monthly ranking of the best credit card offers in Canada.
Our Travel Hacking section will be updated regularly with lots of free tips to help you do it on your own, but alternatively you can also join our $1,000 Free Travel Club if you don't want to invest the time required to read up about all the amazing perks of Travel Hacking (but still want $1,000). I've been doing this for 10 years and have easily gotten thousands (yes, thousands) of dollars of free travel.
So here is a quick intro on all 3 main benefits of Travel Hacking.
Free Travel
As mentioned, it's really amazing. Sign-up bonuses give you hundreds of dollars of free travel. Be sure to read the 10 important rules about credit cards, because you need to do it right for it to be really free. That means paying 100% of your balance every month (and therefore paying exactly $0 in interest). And keeping your old credit cards open to keep the long credit history.
But, overall it's really that simple: get credit cards, get free travel. Rinse and repeat.
Free Insurance
We'll have a detailed article about the insurance part, but what you need to know is it's honestly a bit dumb not to have a travel credit card now that you know that it gives you free insurance coverage.
First, medical. If you go abroad (even close by, to the US where a hospital stay costs thousands) without medical coverage, you might go bankrupt if something happens… it's kind of dumb now that you know that it's so easy to be covered: good cards cover you completely free, usually for 15 to 21 days depending on the card.
Second, car rental insurance. We've already told you about this, so you can read our article about car rental collision insurance. It's a scam, it often costs more than the rental itself… and credit cards have this exact same coverage for free if you simply charge the rental to your card. Don't throw your money away, it's kind of dumb now that you know.
Finally, flight delay insurance. We've just posted an article about how to get free meals and a free hotel when your flight is delayed. Again, it's kind of dumb to book a flight without it now that you know. I can't believe people think airlines owe them anything when weather delays or cancels a flight. Airlines don't control the weather, so why would they have to pay for your hotel? Just charge your flight to a good credit card and you'll get $500 easily (I've taken advantage of that one many times, like the two others in fact).
Earn More Free Travel
Again, the most lucrative part of Travel Hacking is getting free travel just for signing up for cards. But then you can also earn Points for everything you buy. Using Points is a bit complicated for beginners, but we'll take you through the whole thing.
You can start by reading the basics: the two types of Points (fixed value points and variable value points).
There you have it, a trick to pay for gas with a credit card… and a trick to get hundreds of dollars in free travel thanks to credit cards. Have any questions? Ask us in the comments!
Help us spread the word about our flight deals and travel tips by sharing this article and most importantly bookmark Flytrippers so we can help you navigate the world of low-cost travel!
Advertiser Disclosure: Flytrippers receives a commission on links featured in this blog post. We appreciate if you use them, especially given it never costs you anything more to do so, and we thank you for supporting the site and making it possible for us to keep finding the best travel deals and content for you. In the interest of transparency, know that we will NEVER recommend a product or service we do not believe in or that we do not use ourselves, as our reputation and credibility is worth far more than any commission. This principle is an essential and non-negotiable part of all our partnerships: we will never give any third-party any control whatsoever on our content. For more information on our advertiser disclosure, click here.
Travel Hacking Disclaimer: Flytrippers does not give financial advice. You should ensure travel hacking fits your personal situation and obtain professional advice if you so desire. Flytrippers may receive a commission for referrals, however our policy is to only recommend products or services we really believe in (and have ourselves). To read more on our disclaimer, click here.
Share this post to help us help more people travel more for less: