If you had decided not to go anywhere during the holidays (because of the high costs during the worst week of the year for travel) but you want to change your mind, here's how to very easily see the cheapest destinations to fly to during the holidays.
Some think that the deals on our cheap flight deals page are last-minute deals. No, they are not; it's just that you got to book quickly… which is not the same thing.
It's almost never last-minute deals because last-minute deals on flights are pretty rare in the first place, contrary to popular belief (possibly influenced by the omnipresence of "all-inclusives" and vacationers in Canada). I will explain this in a detailed article within the next couple of weeks.
In short, last-minute deals on holiday flights are even less likely. It's obviously the only week of the year where literally everyone wants to travel at exactly the same time. So, there are rarely any deals at this ti,e (there are some, but not often, which is why it's important to be ready to snag them up).
That's precisely what I was saying in that article; the key to traveling for less is preparation… and it's getting a little late for Christmas travel.
You'll prepare earlier for next Xmas now I'm sure, if you read our What To Do Now To Travel More In 2020 special series, but, since you didn't know, we are still going to help you with this article on how to see the cheapest destinations… and don't miss a really good advice article this Tuesday on how to save money if you want to leave during the holidays.
Sidenote: even me, the cheapest budget-traveler who wants to save up all his money in order to travel as often as possible, I have my 11th international trip of 2019 planned for the holidays. It will be the first time since 2012 that I travel during this period (and that was a trip I didn't even pay, so the last time I paid for one was in 2010!). I've really tried to avoid it, but anyhow I will share my own tips from this year too in Tuesday's article.
How To Find A Holiday Destination In 9 Easy Steps

We are often asked: "I have specific dates, how can I see where I can go?"
It's a good way to go about it, as I explained: you must be flexible on either your dates or your destination if you want a low price. If you don't prioritize getting a low price, you will not get a low price.
So, yes, it's easy to find out exactly where you can go, like for the holidays for example.
I'll show you these steps in a short step-by-step; if you want detailed instructions (but not specific to the holiday period), read How To Find Cheap Destinations For Specific Dates.
1. Open The Tool For Advanced Searches
These more complex searches are all possible thanks to our preferred advanced search tool, Kiwi.
If you want to put it in your bookmarks, like all of our links, we'd appreciate if you take the URL source code directly in the following link (not the link once opened), because it contains our referral code and helps us earn a commission (at absolutely no cost to you), which allows you to support us so that we may continue to help you travel cheaply! If not, even more simple, you can always go to our flight search resources page to also support us and to see our preferred search tools. Thanks in advance, we really appreciate it!
We're also working on a feature for you to receive our deals for specific dates, but for now, Kiwi is the best option.
So, the first step is rather simple:
CLICK HERE TO ACCESS THE ADVANCED SEARCH TOOL
2. Choose Your Departure Airport
Start at the beginning. Three things are highlighted by blue boxes on this screenshot.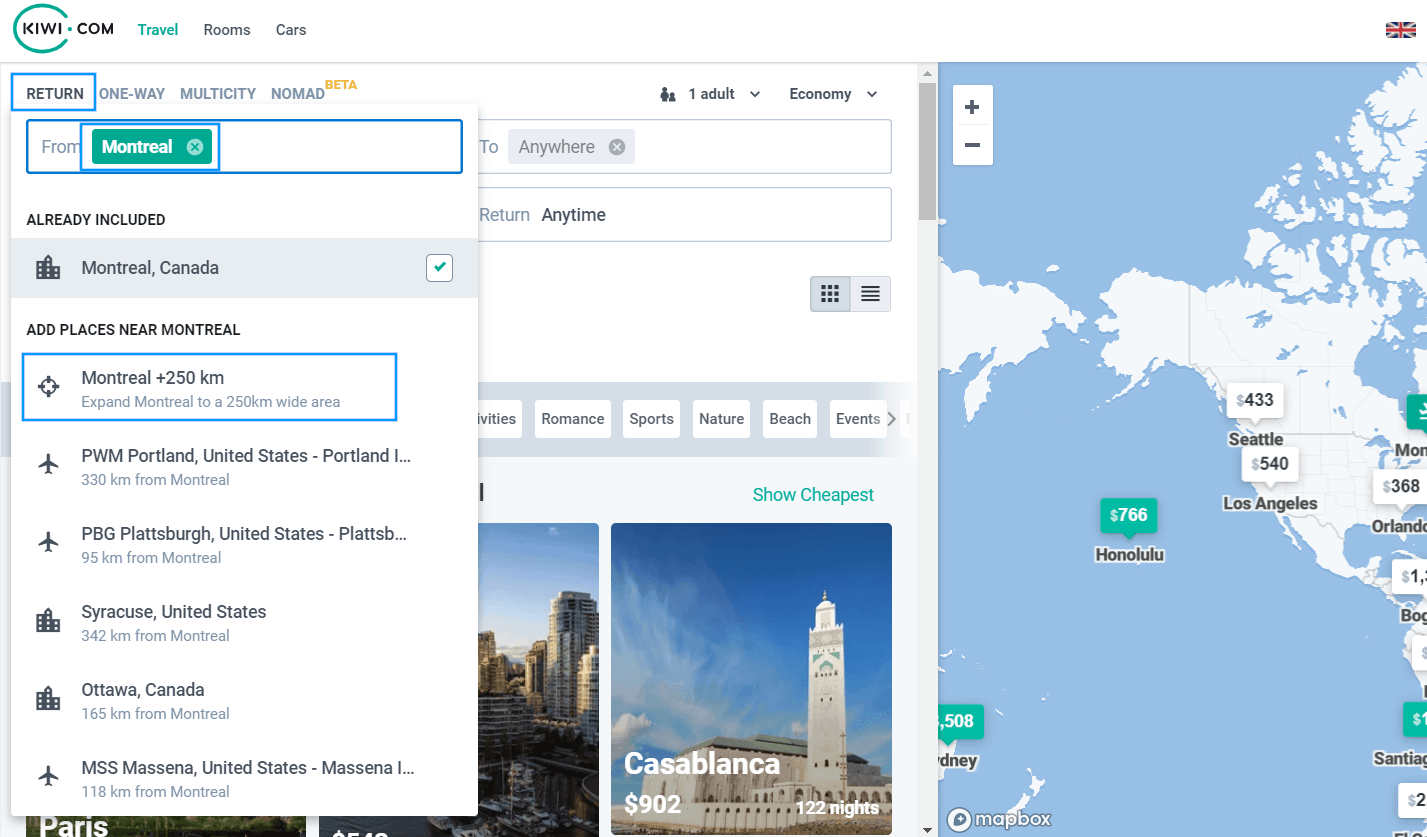 Make sure that you're on the "Return" tab so that you don't book a one-way.
Write Montreal (or your own city) for the departure in "From."
If you want to increase your odds to find a low price, add a radius around your departure city.
3. Choose "Anywhere" As A Destination
If you want to find out where to go for the holidays, opt to see all possible destinations so you can spot the cheapest.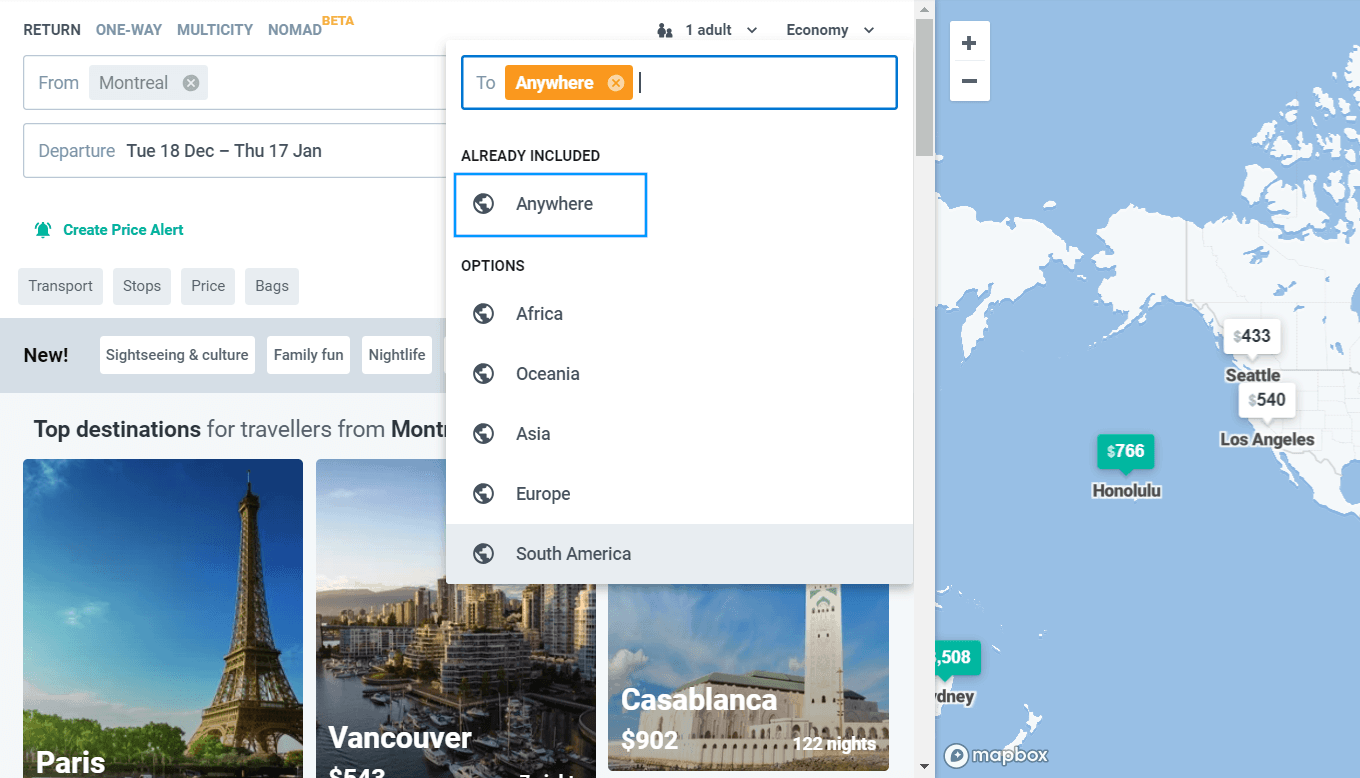 In "To," the "Anywhere" option with appear by default in the choices.
4. Choose Your Departure Date
With plane tickets, it's not that complicated: the more flexibility you have, the less you'll pay (I'm not saying that it is easy to be flexible on dates… I'm saying that the principle of flight prices is not complicated at all). Those who are flexible save more money than those who aren't.
Therefore, try to include a couple of days before or after your ideal departure date (or both).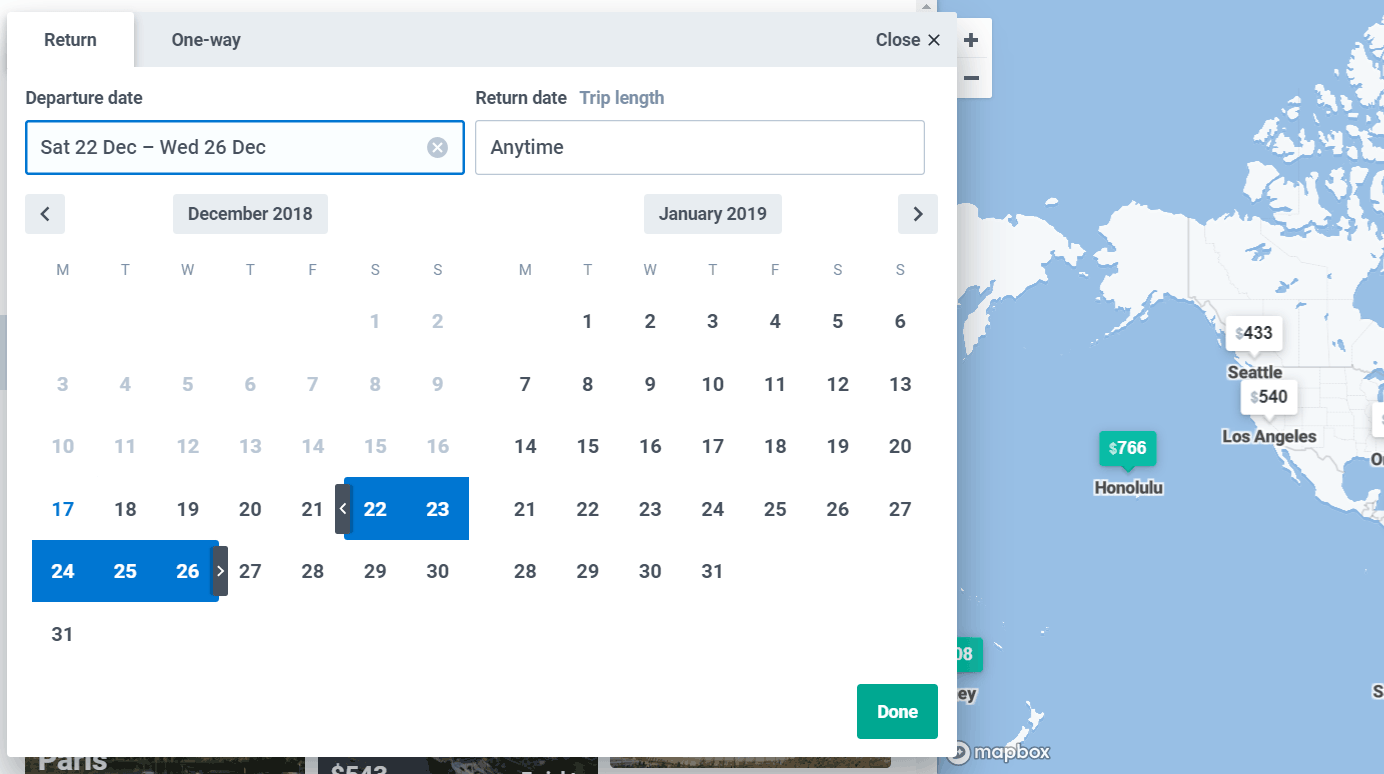 The tool will let you easily choose a range of days.
5. Choose Your Return Date
Same thing. The more dates you include, the more chances you'll have of finding a low price.
You have two options for the return, the first one is shown: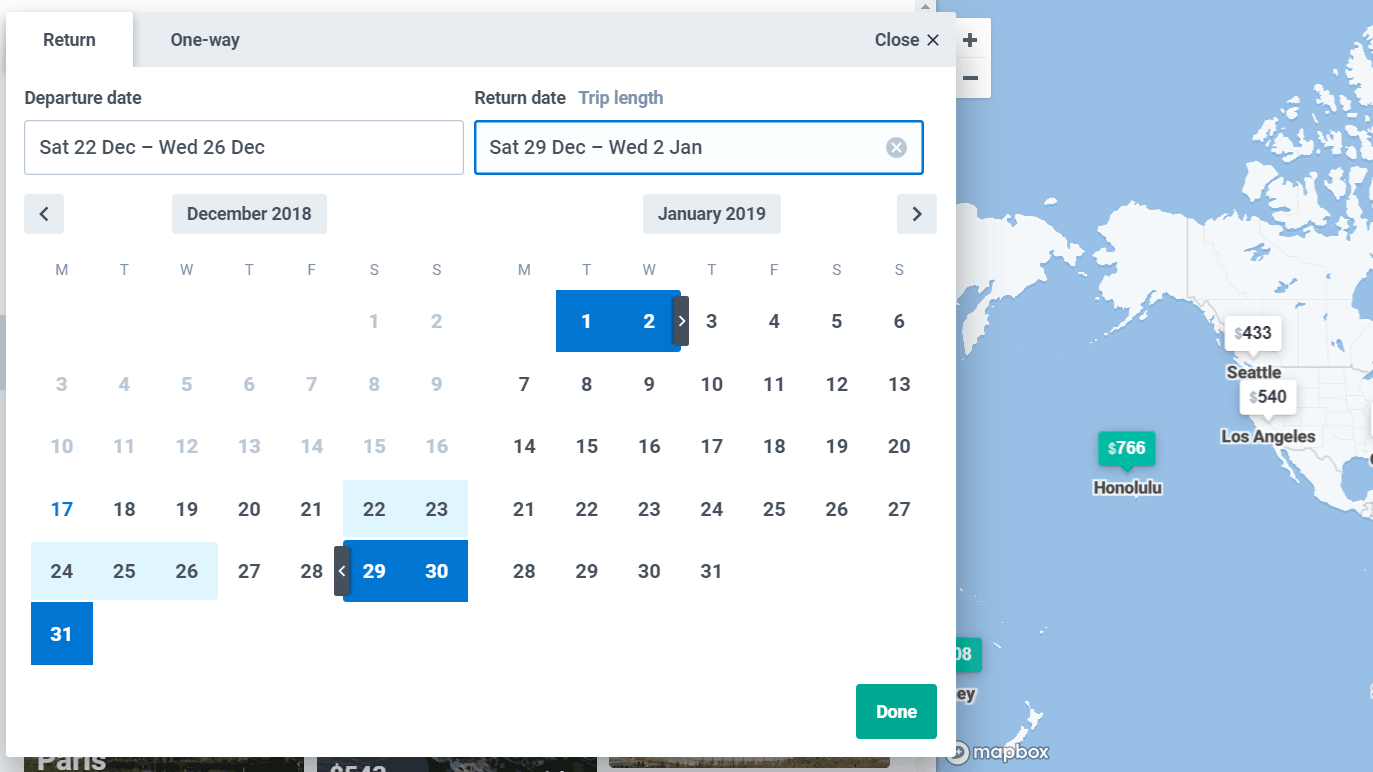 Choose a range of days, like for your departure date.
Or use this option shown below to go with the desired length instead of a range of dates.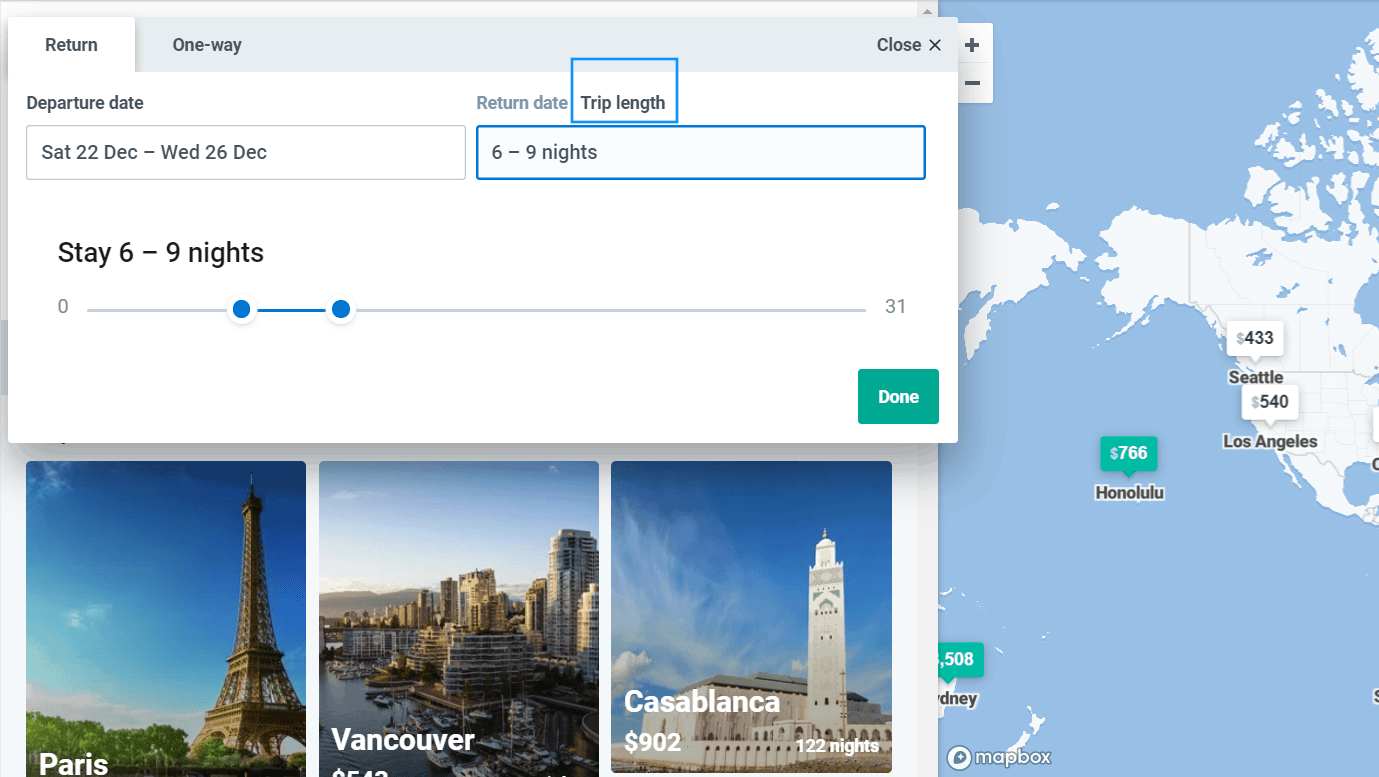 Choose the "Trip Length" option.
Then indicate the duration of your trip by a number of nights.
6. Filter By Price
The point of this exercise is to see the lowest prices, so choose this option (by default all search tools will show you the most "popular" or the "best" destinations instead of the cheapest, don't fall for this).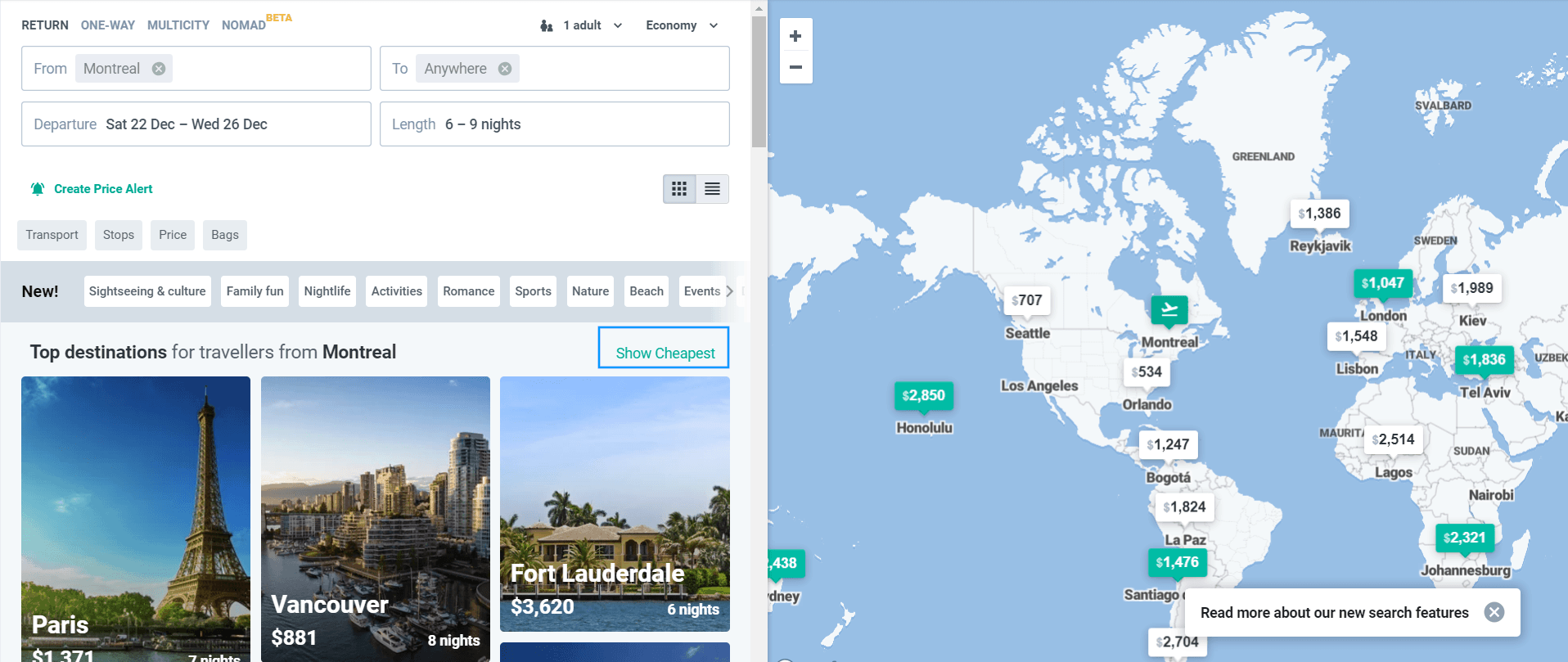 Click the "Show Cheapest" button to the right, above the destination images.
7. Explore Your Results
You can now see all of your options for the holidays.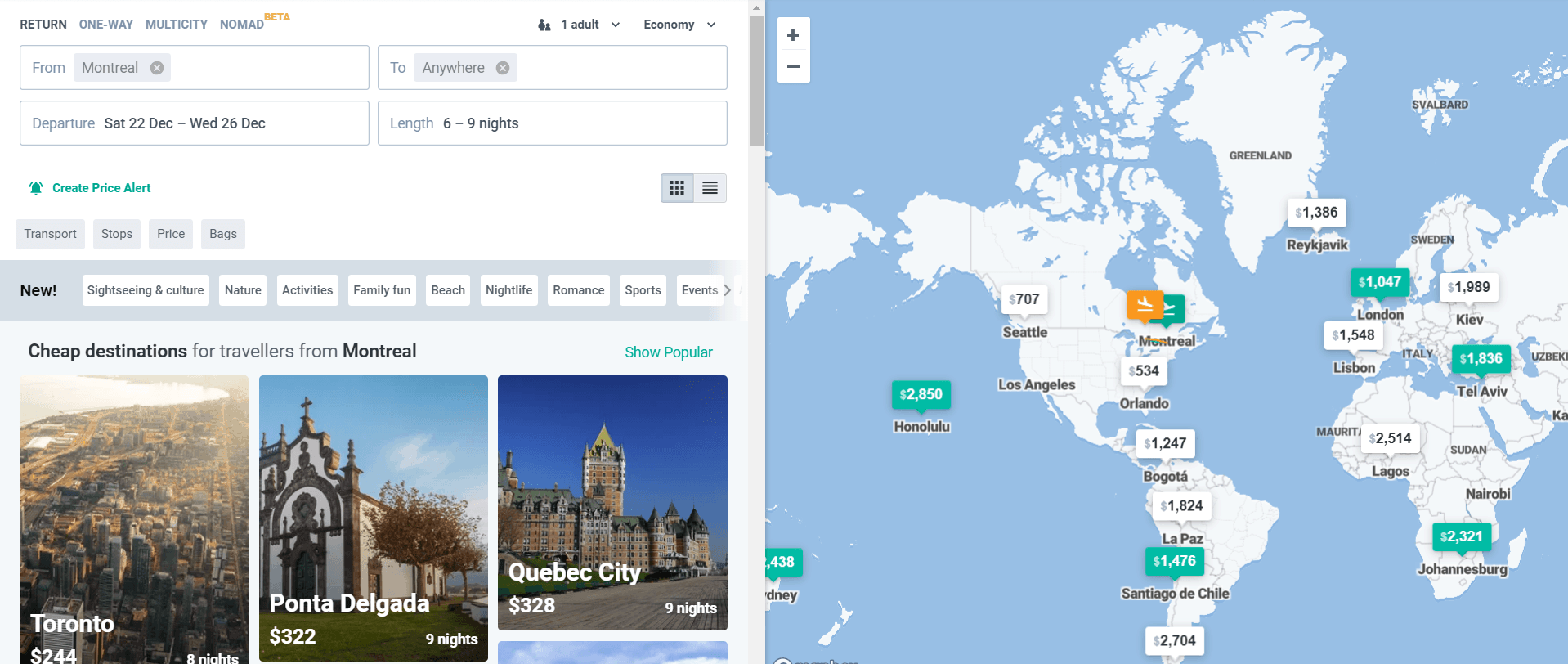 To the left, there's a list of cities that you can scroll based on the price.
To the right, there's a map that you can explore by region.
8. Understand That This Varies Each Day
There are a lot of myths around plane ticket prices, but one thing that's really simple and that everyone must understand is that the prices will vary continually and constantly.
Therefore, depending on your level of risk tolerance or on your openness to going anywhere, look at the options for the next couple of days and then read Tuesday's article. But don't wait too long to book a flight if you find one you like! Especially since Christmas is less than 3 weeks out.
9. Book On An Aggregator
We recommend this tool for advanced search because it's powerful, but you should never book on a specific booking site, whether it's Kiwi or an airline website. Not without comparing first. You always have to compare prices; always.
Once you've spotted the flight you want, we highly recommend checking out the first search tool here once you're ready to book, because it often has better prices since it's an aggregator (but, it's not as practical to do complex searches).
It seems confusing, but it's really not. A booking website and an aggregator are not the same thing:
You have aggregators who compare the price of your ticket on dozens of booking sites
You have booking sites who actually take your reservation and sell you your flight
Aggregators, comparators, and meta-search websites… call them whatever you want. It's one thing, and booking sites are another.
Going directly to a booking site wouldn't make sense. It would be like buying a $1,000 computer in a random store without even looking at the price on Amazon or anywhere else. I have hope that no one would do that, but it saddens me to see that many people lose money by doing that for plane tickets.
Aggregators will tell you which booking site has the best price on your chosen dates. Many smaller sites offer cheaper prices, we use them all the time with no problems.
We will have an article about this too because there are many myths around this too. To sum it up in one sentence would be: "don't believe everything you read online" (which should be a generalized rule in life). But, we'll give you the details soon!
Don't miss our following tips (and many more like this):
Summary
Here's a very simple way to see where you can go for cheap during the holidays. It's never going to be as good as finding a half-off deal the rest of the year, but without flexibility though, it will be hard to find ridiculously low prices like the ones we've gotten you used to. At least this way, you'll have an idea of what is available by following these steps!
Do you have questions? Leave us a comment below.
Want to see our cheap flight deals?
Want more advice and travel inspiration?
You'll undoubtedly love this article:
Help us spread the word about our deals and tips on cheap flight deals by sharing this article with your friends and save us to your favorites so that we can help you navigate this world of low prices!
Disclosure: Flytrippers receives commission from the links in the this article. We appreciate that you use them, especially since it will never cost you much. We thank you for encouraging and allowing us to continue finding these excellent deals and interesting content for you. Under transparency issues, know that we NEVER recommend products or services that we are not confident in or ones that we have not used ourselves because our reputation and credibility are what give us our commission. This principle is an essential and non-negotiable part of all our partners: we never will give them control over our content. For more information on our advertising politics, click here.
Share this post to help us help more people travel more for less: