As Canada Day approaches, here is a very interesting map that will remind you how huge our country is… and how sparsely populated it is.
Often people ask us why flights within Canada are so expensive (and why Canadian destinations aren't featured as frequently on our cheap flight deals page)… and they (wrongly) assume that Canada's size is the only reason.
Of course, it doesn't help. But the fact is most of that area is pretty much empty, almost nobody lives there. Our country's populated parts aren't as vast and has a much more reasonable land area… although it is a bit uneven and stretched out in an elongated form.
So here are 6 maps that are very interesting to better visualize our world!
Canada
You probably already know that Canada has a very low population density, but this map makes it very easy to see.
A website called Visual Capitalist shared this map that shows Canada split into 4 evenly populated sections, meaning each coloured section has one-quarter of the population.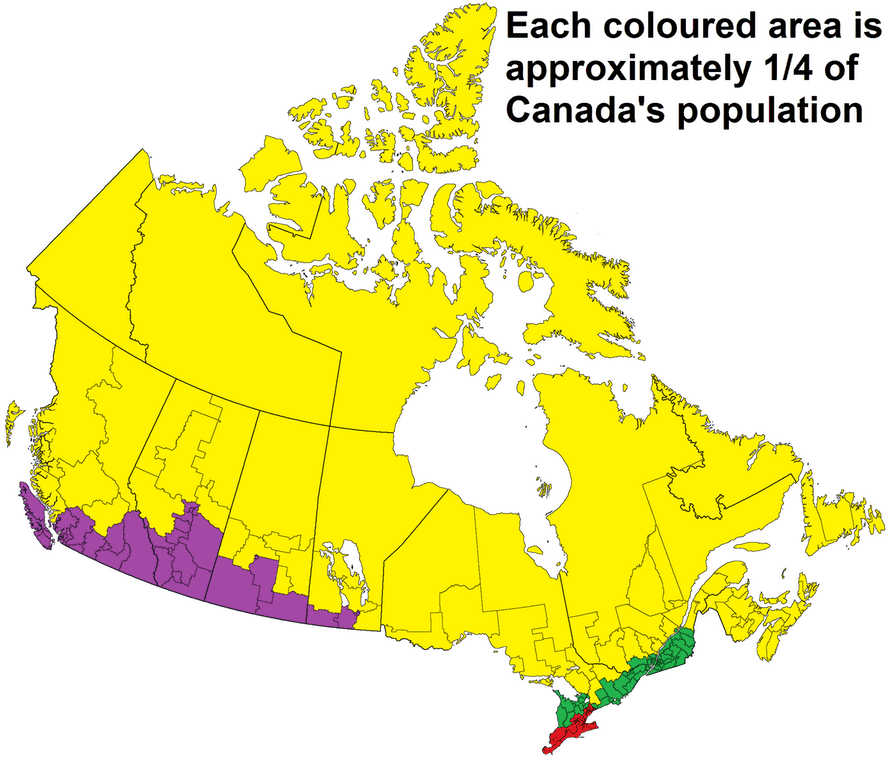 So yes, Canada is huge. But knowing that about 90% of our population lives within 100 miles (161 kilometers) of the US border, it's misleading to look at just our size.
By the way, I would like to remind you that maps grossly exaggerate Canada's size too.
We have a couple of similar maps below, but first let's look at Canada: the yellow section that covers pretty much the whole country has as many inhabitants as each of the 3 others: the purple section that includes the most populated Western regions, the red section that includes Southern Ontario and the green section that includes a small portion of Ontario and Quebec.
In short, if you exclude the 10% of our population that takes up all the parts of Canada that are more over 100 miles from the US border, our country isn't as low-density as you might think… and the above map shows that quite clearly.
United States
Speaking of the US, their 4 sections are much more equal. Sure, they have areas that are less densely populated, but overall looking at their 4 coloured sections, it seems more balanced.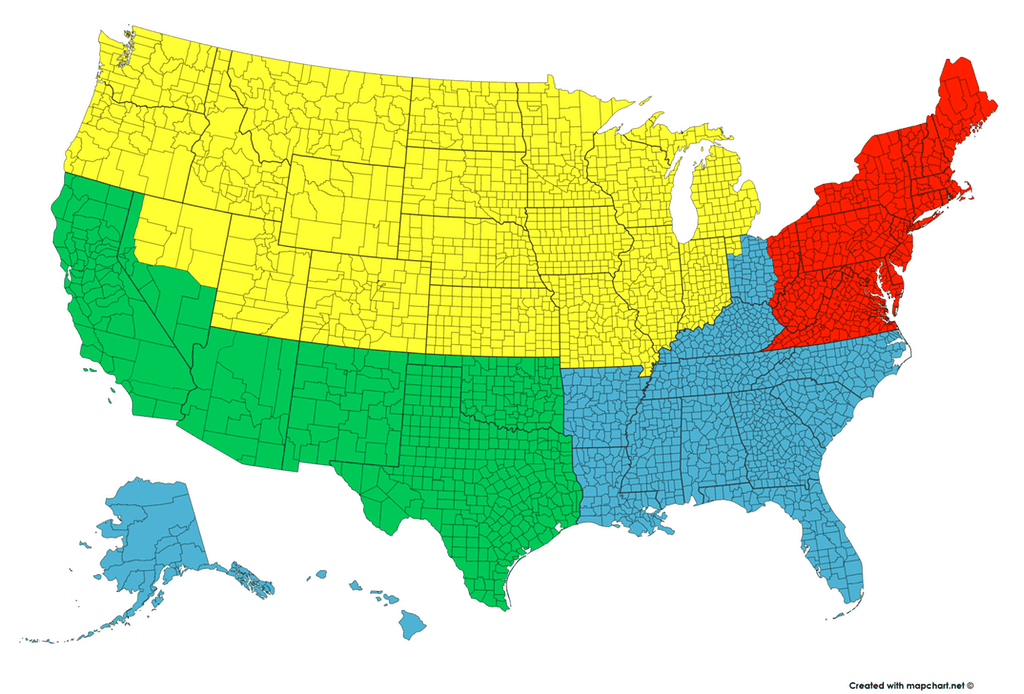 It's a whole other story for their most populated state though. By the way, California's population is higher than Canada as a whole.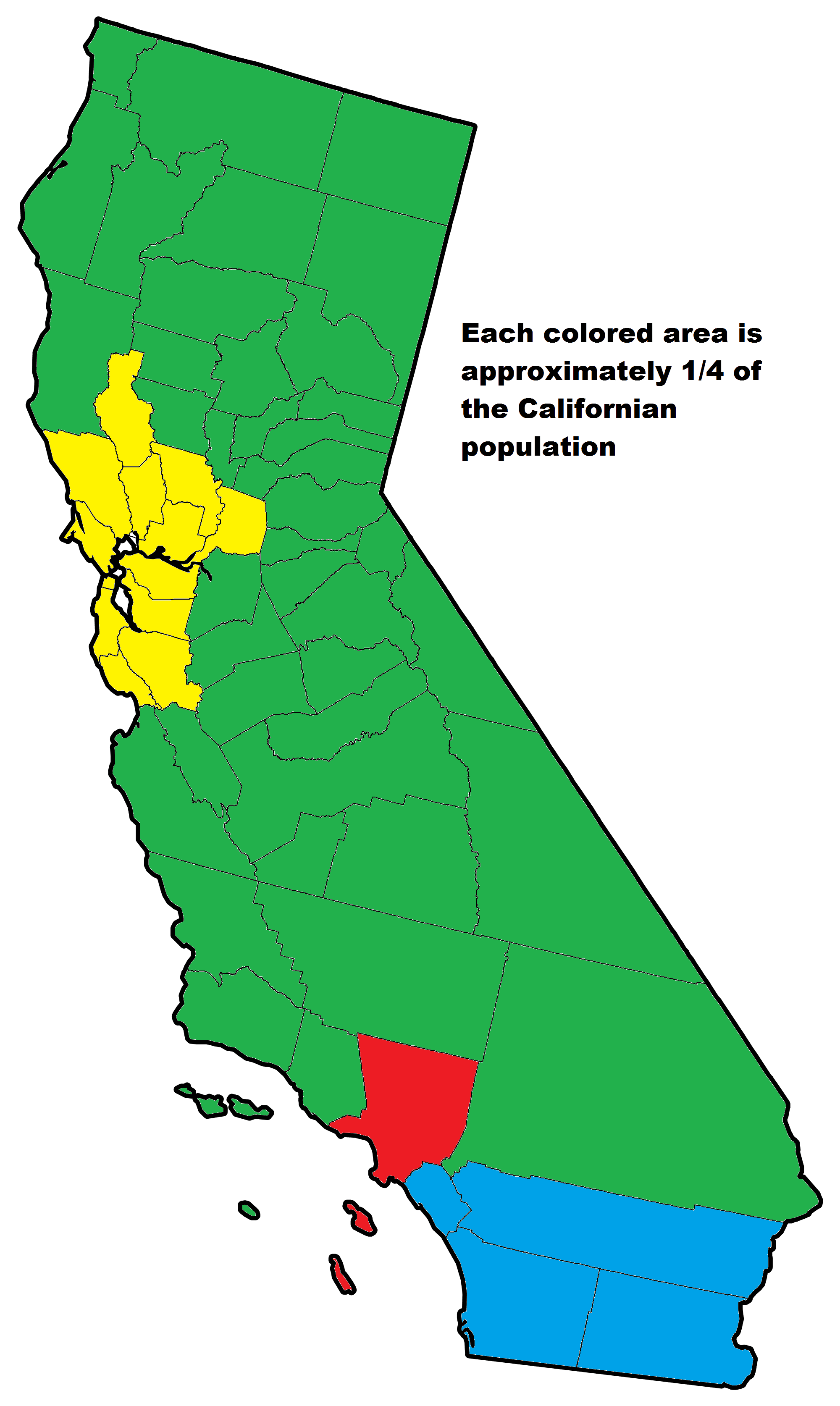 The 4 evenly populated sections are far from being similar in size.
Particularly interesting is the red part, Los Angeles County, which has the same population as the 3 other coloured sections of California.
But even worse, and this upcoming map is the only one from a different source (it is from Reddit) and not split into 4 quarters, Los Angeles County is very dense even compared to entire States.
Below, Los Angeles County is still in red, as in the previous California map. But in blue, you can see every US state that has a smaller population than Los Angeles County.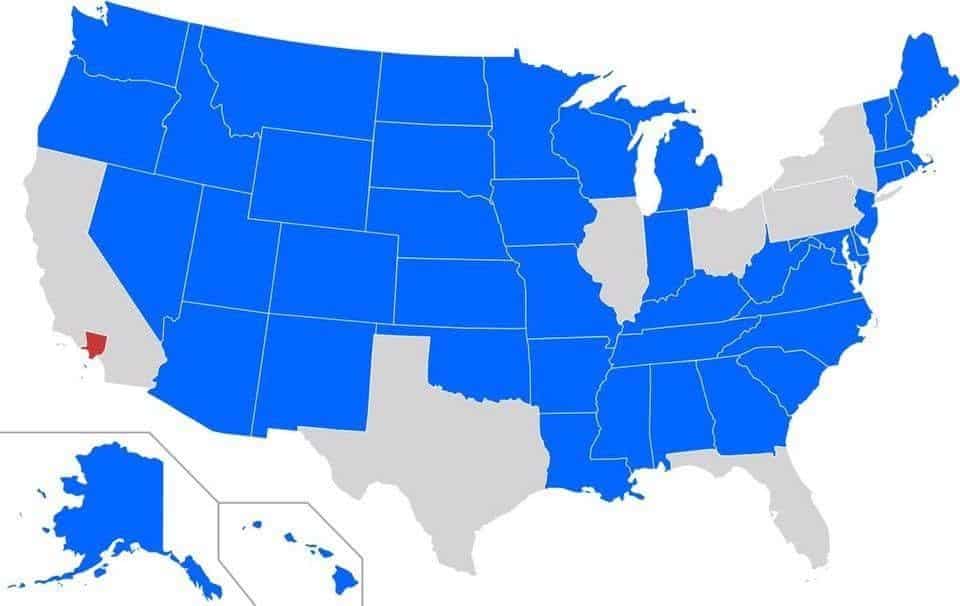 Yes, the red section, Los Angeles County, has a higher population than 43 of the 50 States (not their combined population in this case, but each state's individual population). In other words, only 7 States have a higher population than Los Angeles County.
Australia
Back to maps of 4 evenly split sections, here is another than country that more closely resembles Canada.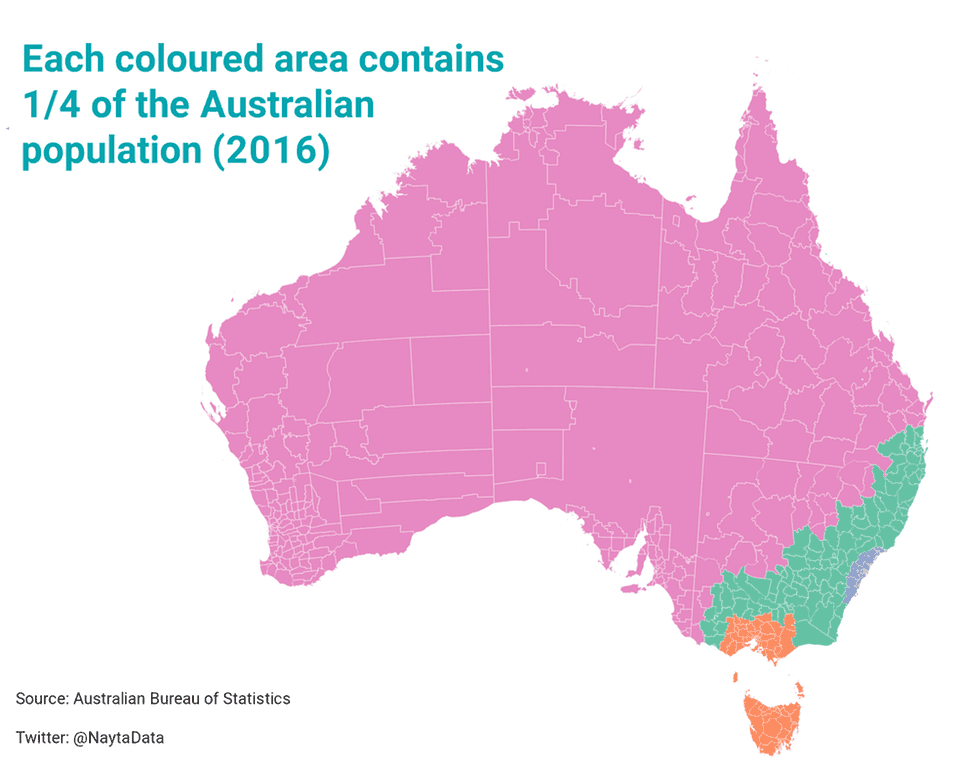 Australia is dominated by Sydney and Melbourne. And the surrounding area. Everything else is very sparsely populated.
Chile
Last one, Chile. A country with a very unusual and elongated form.

As you can see, both extremities have fewer inhabitants, but more striking is that a quarter of the population lives in the capital, in red. Which is often the case in smaller countries actually, especially in Europe where one city dominates a country.
Here are a few maps that illustrate our world and allow us to see it a bit differently than on standard maps. Or at least that make us realize that maps don't tell the whole story!
Help us spread the word about our flight deals and travel tips by sharing this article and most importantly bookmark Flytrippers so we can help you navigate the world of low-cost travel!
Advertiser Disclosure: Flytrippers receives a commission on links featured in this blog post. We appreciate if you use them, especially given it never costs you anything more to do so, and we thank you for supporting the site and making it possible for us to keep finding the best travel deals and content for you. In the interest of transparency, know that we will NEVER recommend a product or service we do not believe in or that we do not use ourselves, as our reputation and credibility is worth far more than any commission. This principle is an essential and non-negotiable part of all our partnerships: we will never give any third party any control whatsoever on our content. For more information on our advertiser disclosure, click here.
Share this post to help us help more people travel more for less: