There's an amazing new special offer for all of you who have the card that pretty much every Canadian traveler should have. Until August 31st, you will now earn an impressive 5 Marriott points per dollar on food (groceries, delivery apps, takeout, and more).
This AMEX increased earn rate on the Marriott Bonvoy Card is a great example of how brands are offering more value in new ways during the coronavirus crisis.
The promo applies whether you already have the card, like many of our readers do, or if you decide to get the Marriott Bonvoy Card now to have free hotel nights ready for when we can travel again (we strongly recommend it as travel experts—this card is truly one of the best deals for Canadians).
I won't repeat all the reasons why the Marriott Bonvoy Card is exceptional. You get a Welcome Bonus of 50,000 points, which means you can get 8.5 completely free nights. Get one for your life partner too as I did for my girlfriend, and that's 17 free nights just like that. You can see our new summary page for the card or read all the Marriott Bonvoy Card's benefits.
Marriott Bonvoy Card Increased Earn Rate
Groceries are a huge expense for many of us—especially now during the lockdown.
The Marriott Bonvoy Card will now earn 5 points per dollar on food. That's very good!
It will be 5X on:
grocery stores (many accept AMEX, see below)
any type of gift cards purchased at the grocery store (tip details)
food delivery (use our codes for free food by the way)
restaurants (takeouts are open in most places)
coffee shops and drinking establishments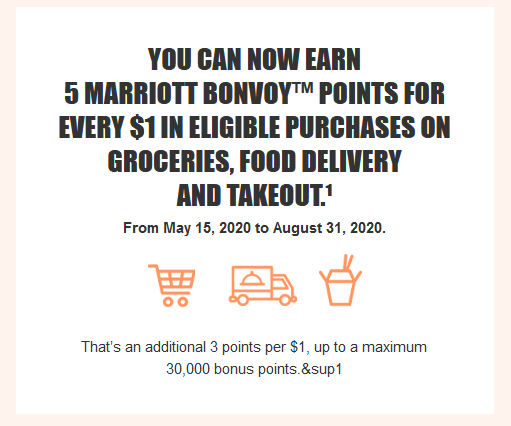 That is an excellent earn rate. I'll show you examples of how easily you'll get free hotels with that rate in a minute.
But for comparison's sake, the best card for groceries (and all those same food categories) right now, the American Express Cobalt, earns 12 Marriott points per dollar the first year (for those who spend $500/month). That is a phenomenal rate. But without the Welcome Bonus offer, the regular Cobalt earn rate is 6 Marriott points per dollar on food.
So the Marriott Bonvoy Card's 5 points per dollar is still very good since you get it no matter how much you spend (up to a maximum of $10,000).
Keep in mind, while credit card Welcome Bonuses are infinitely more important than earn rates in the world of travel rewards, the Marriott Bonvoy Card's regular earn rate is great for all the "non-bonused categories". Purchases in non-bonused categories mean purchase categories where no cards offer multipliers that increase your earn rate (the most common bonus categories are groceries, gas, travel, etc.) It's the card I use myself for my purchases on non-bonused categories.
But many other cards normally offer more value when used for groceries. (Yes, you should definitely use different cards for every type of purchase—that's one of the ways I earn way over $1,000 every year in travel rewards… and having just one card is terrible for your credit score, contrary the myth that is very widespread and very wrong).
But with this 5X promo, the Marriott Bonvoy Card is probably the best card to use on food for everyone who does not have the Cobalt Card or the Scotiabank Gold Card.
Never forget that even at this great rate, you'll always earn points faster with welcome bonuses. For example, to get the same 50,000 points the Marriott Bonvoy Card gives you as a Welcome Bonus, you'd need to spend $10,000 with the 5X promo. That's a lot. It's a lot simpler to just get another Marriott Bonvoy Card for your partner, get a Cobalt Card, or get a Marriott Bonvoy Business Card if you have any type of side income (we'll talk more about that one soon).
How Quickly You Can Earn Free Nights
This promo will get you a lot closer to free nights. The detailed math is below, but here's the short version… if you maximize your points.
With the 5X promo, by spending just $1,200 on food, you'll get an extra free hotel night. You can value those conservatively at $100 (when including tax, most decent hotels will cost $100).
You get $100 back on $1,200 spent on food. Imagine if you had a card that gave you just 2% back. You would only get $24. You're getting over 4 times more!!! 317% more rewards for the exact same purchase.
See how important it is to have the right cards, to be aware of promotions… and to know how to maximize your points?
If you have Marriott points, you HAVE to sign up to get our pro tips!
Here's the detailed math and the assumptions for those calculations if you're interested:
The best way to maximize (getting more free nights for the same amount of points) your Marriott points is choosing Category 1 hotels. You'll have to choose destinations based on this, but for 17 free nights for a couple who both get a card, it's worth it if you want to travel more for less.
By the way, we just updated our post about the best Marriott Category 1 hotels. That will show you where you should go to get the most nights
I assumed you are flexible and chose a Category 1 hotel. A Category 1 hotel night costs just 7,500 points on standard dates (that's most dates). Then some dates are 5,000 and some are 10,000 (off-peak and peak dates). For simplicity, I used standard dates since most nights are standard.
The other key to maximizing is booking 5-night stays. Because you always get 5 nights when you pay for 4. That brings the cost per night to 6,000 (7,500 x 4 is 30,000 for 5 nights). Since you probably have leftover points or will earn more before traveling, I used that 6,000 point cost per night (Category 1, standard dates, 5-night stays) to get to the $1,200 food spending required for a free night.
Of course, you can also use your Marriott points for higher hotel categories if you want things to be simple, but that will affect the value you get from your points (either negatively or positively: that's the beauty of variable-value points).
Canadian Grocery Stores That Accept AMEX
In terms of grocery stores, while not all grocery stores accept AMEX, many do.
I literally changed my grocery store to Metro just for the American Express Cobalt Card; that's how rewarding its 6X/12X Marriott points per dollar is. For this 5X promo, it could be worth changing for you too if you value free hotels.
Metro, Sobeys, Safeway, Whole Foods, Super C, and Food Basics are just some of the Canadian grocery stores that accept AMEX. Some other banners may have locations that accept AMEX locally, but those are the groceries who accept it as a company rule. Giant Tiger stores will code as grocery stores, but Walmart won't.
Summary
Your Marriott Bonvoy Card will now earn 5X on food until August 31, which is a very good earn rate to get more free hotel nights relatively quickly.
Have any questions about Marriott points? Ask us in the comments below.
Explore awesome destinations: travel inspiration
Learn pro tricks: travel tips
Discover free travel: travel rewards
Featured image: produce section and Marriott Bonvoy Card mash-up (photo credit: nrd & AMEX)
Advertiser Disclosure: In the interest of transparency, Flytrippers may receive a commission on links featured in this post, at no cost to you. Thank you for using our links to support us for free, we appreciate it! You allow us to keep finding the best travel deals for free and to keep offering interesting content for free. Since we care deeply about our mission to help travelers and our reputation and credibility prevail over everything, we will NEVER recommend a product or service that we do not believe in or that we do not use ourselves, and we will never give any third-party any control whatsoever on our content. For more information on our advertiser disclosure, click here.
Share this post to help us help more people travel more for less: