With Queen Elizabeth II in the news unfortunately for a very sad reason, I thought I should share a unique travel experience I had last June. I was able to sort of celebrate her Platinum Jubilee while being formally hosted by the Lieutenant Governor of Manitoba.
When you travel as much as I do, the really unique experiences draw you in the most.
This trip was really special, with a lot of these unique experiences… But in this article, I'll just talk about the royal part to start.
My trip to Manitoba (and Ontario)
I had obviously heard about Queen Elizabeth II's Platinum Jubilee, which marked her 70th year on the Throne.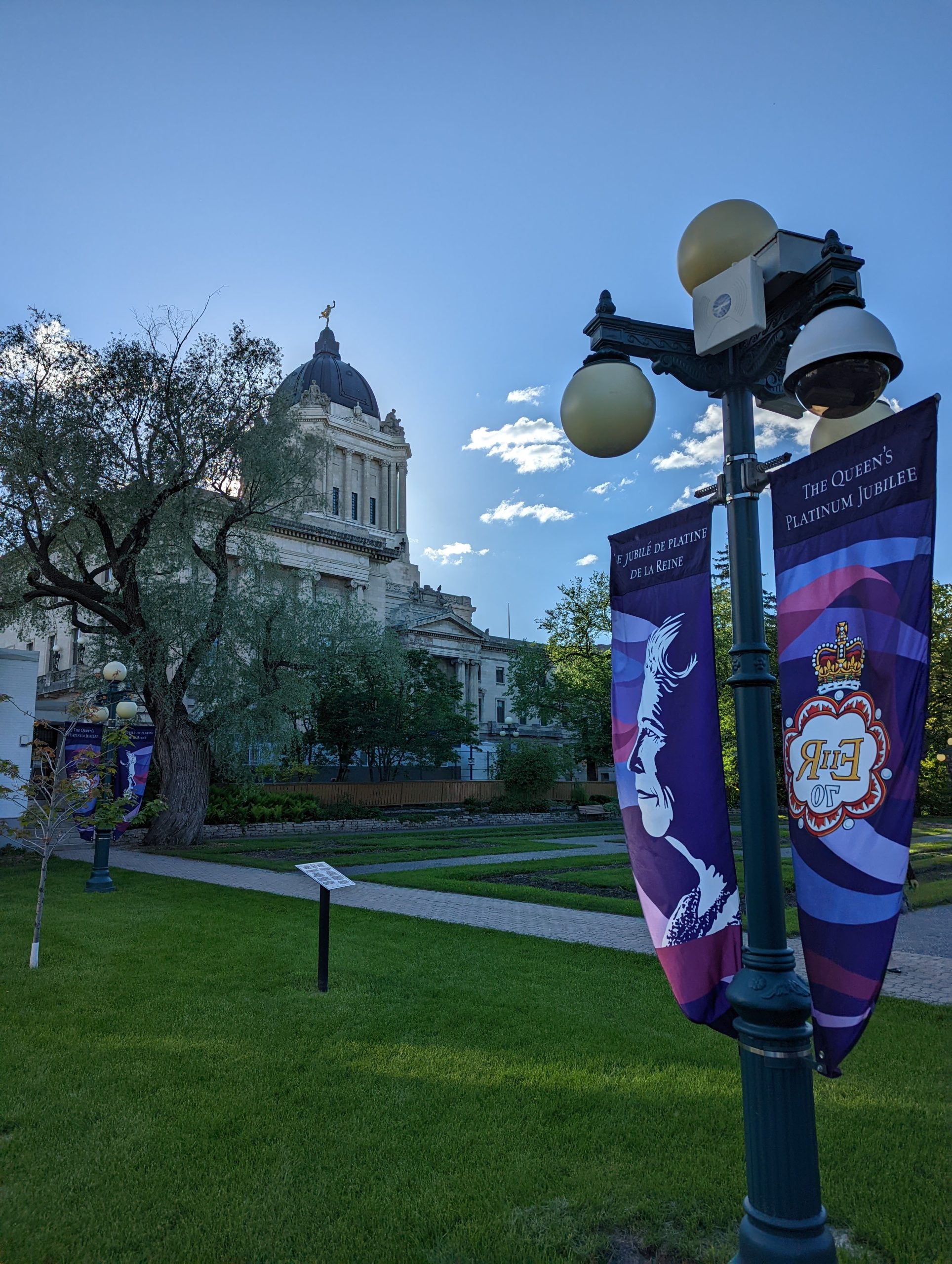 But honestly, the only platinum thing I care about is my beloved Amex Platinum Card, which gives me unlimited access to airport lounges. 😅
(It has an amazing increased offer that gives you a welcome bonus of ≈ $1211 in net value, which ends TUESDAY by the way; it's the highest in Canada right now!)
I'll be honest: I can't say I'm a fan of the monarchy…
But I was invited to take part in a unique conference, The Governor General's Canadian Leadership Conference.
To tell you a bit more about it, I'll write a separate post about the context of my trip (as I did recently for Central Asia since many people ask us to talk more about our own trips).
But in short, every 3-4 years, ≈ 200 leaders from across the country and from many different sectors (business, public, labor, community, culture, academics) are invited to spend:
3 days together for a weekend of conferences on the future of Canada
9 days divided into about 15 groups to tour a province/territory
4 days together to prepare and present learnings directly to the Governor General
Since she's the official representative of the Queen (and now the King) in Canada, there was a certain (minimal) royal element to this trip.
That is, on the first night of my tour, our delegation was formally hosted at the Lieutenant Governor of Manitoba's residence to welcome us to the province (that's where I did my tour; it was one of the only 2 provinces I hadn't already visited).
And we were also hosted by Governor General Mary Simon at Rideau Hall (that's her official residence in Ottawa), where I was able to chat a bit with Her Excellency, as well as present her with our findings the next day, of course, and then answer her questions about our trip to Manitoba. But I'll save that for another post since it doesn't really have anything to do with Queen Elizabeth II.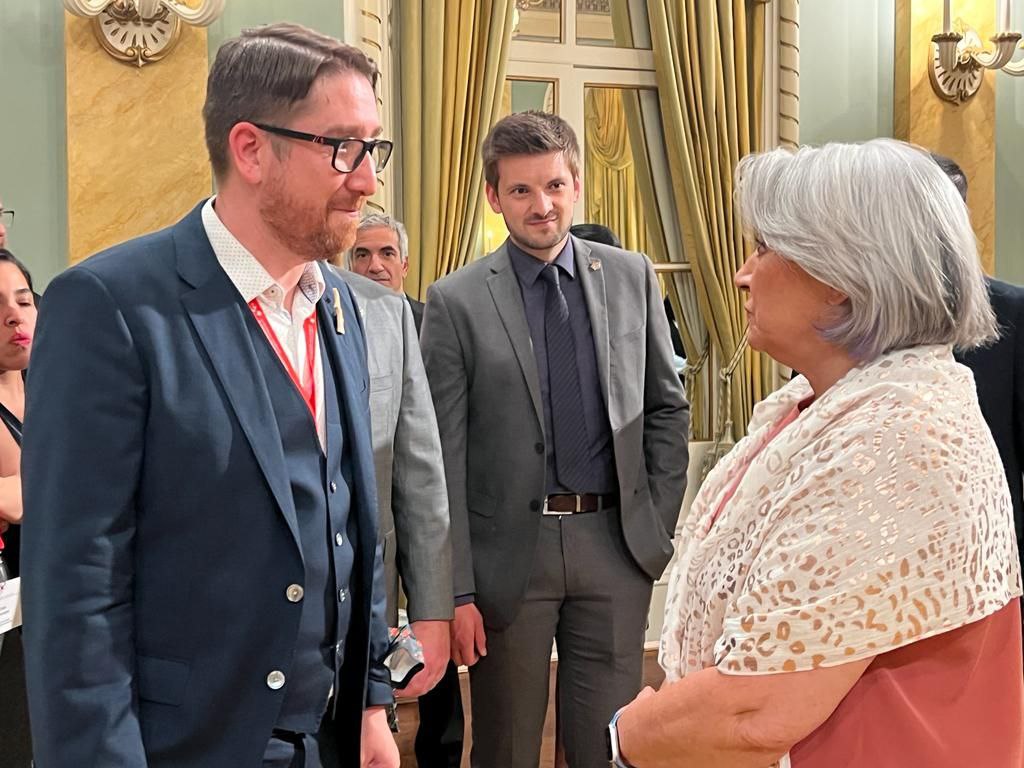 By pure luck, the event in Manitoba happened to be the Monday right after the Platinum Jubilee celebration weekend, so we got to celebrate a little (really just a little).
My experience during the Platinum Jubilee celebrations
I may have experienced many special things in my life, but I must admit that I had never had a reception held in my honor by a representative of the Queen.
Of course, you needed a formal invitation.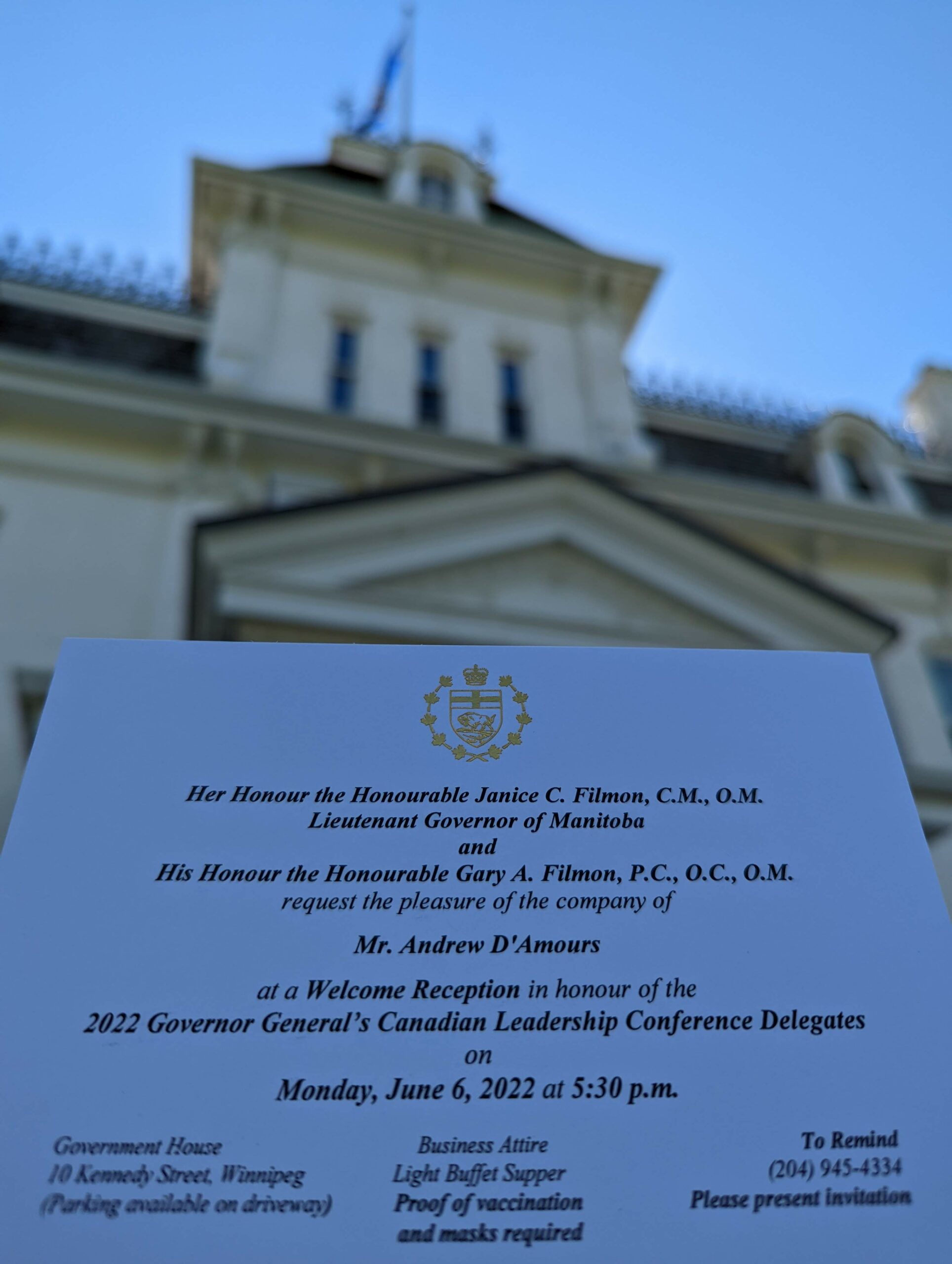 The evening was very, very formal, as you can imagine.
First of all, we were invited to sign the official book at the entrance, which Queen Elizabeth II has signed in the past.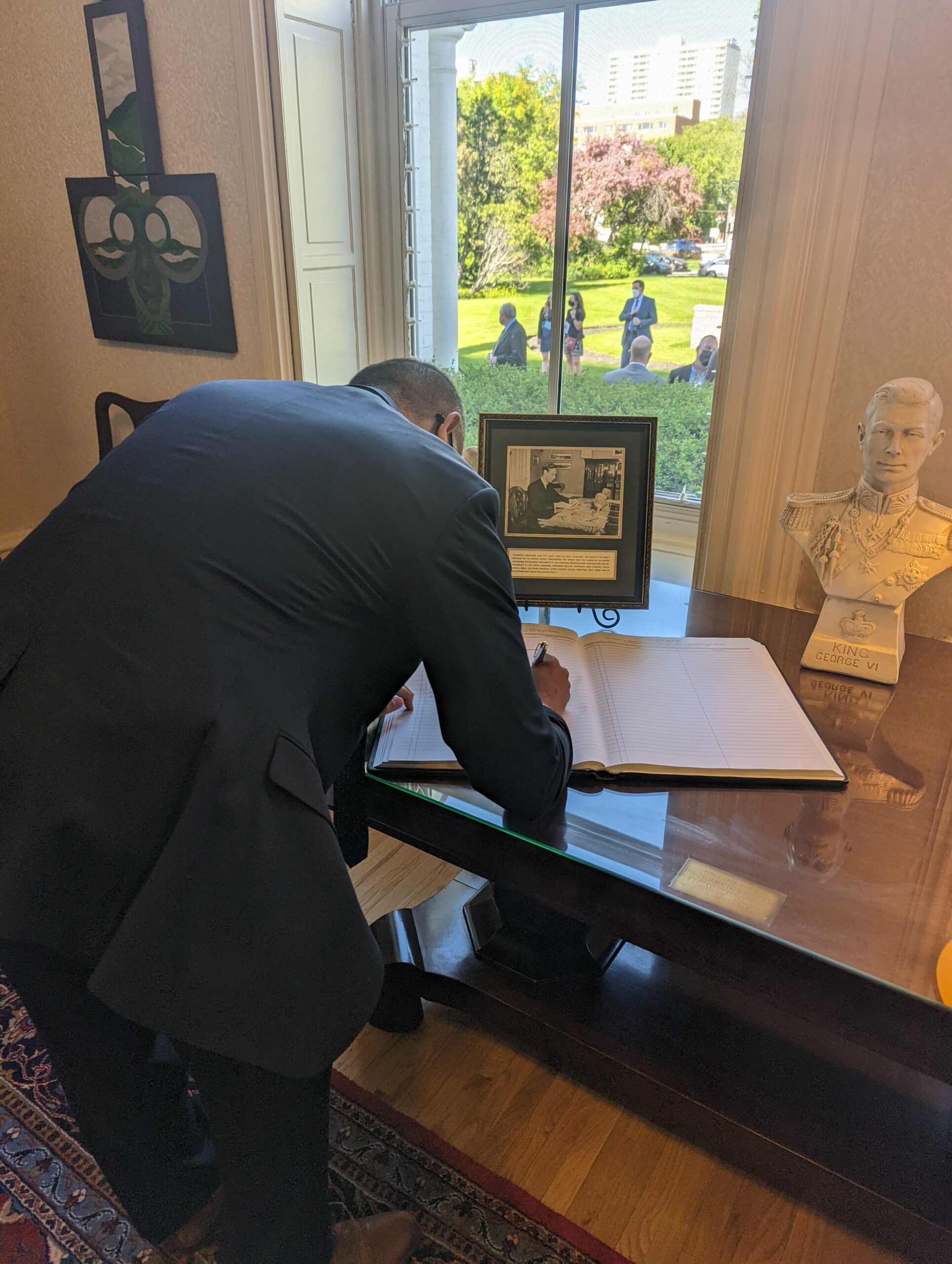 Then, I had to wait before the official reception line.
I took the opportunity to take a picture with an official portrait of the Queen.
Lieutenant Governor Janice Filmon and her husband, Gary Filmon (a former premier of Manitoba), were standing in a reception hall to greet each guest one by one.
The aide-de-camp (I think; I can't quite remember the title of the gentleman who managed all the protocol) then read my name aloud, which was my cue to walk up to the couple to exchange a few words before heading to the main room.
I told them I was from Trois-Rivières, Québec. One of their children had done some sort of summer internship here, which pretty much monopolized the few seconds they spent with each guest before the formal part of the evening began.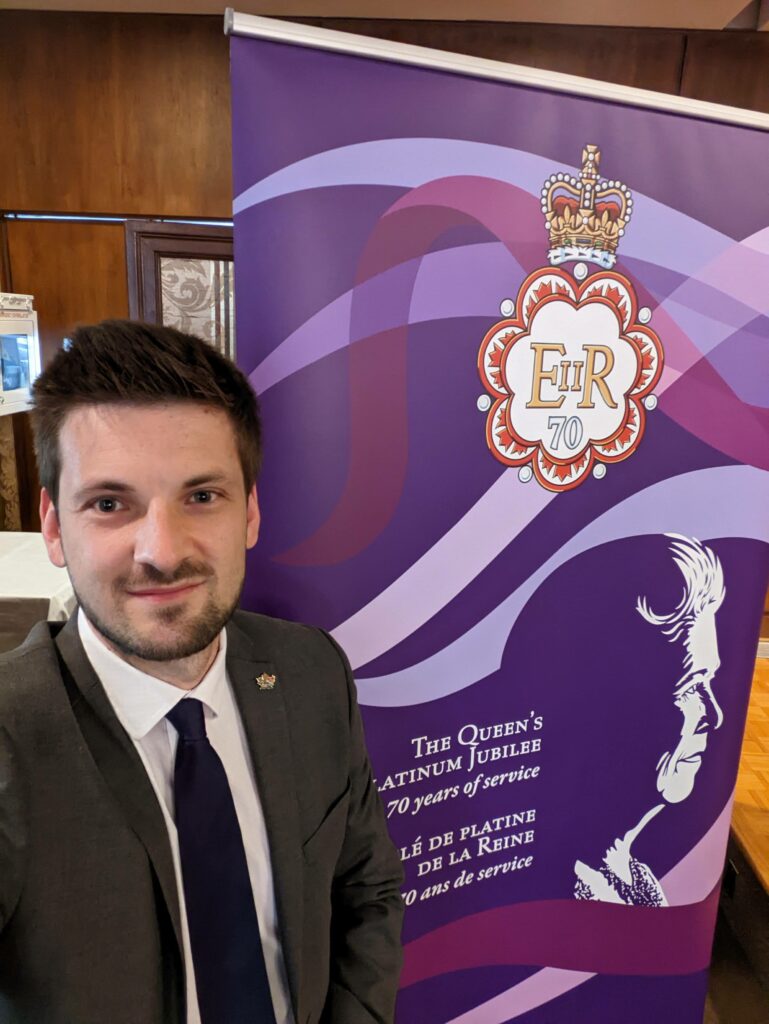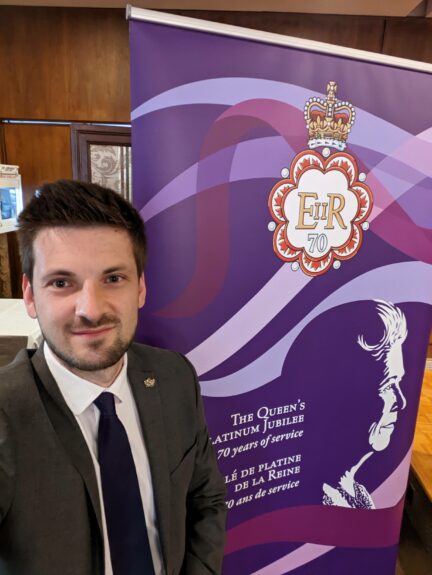 In case you didn't notice, I had chosen my purple tie since that was the official color of the Jubilee.
(I'm joking, I don't care about fashion at all; that was entirely coincidental!)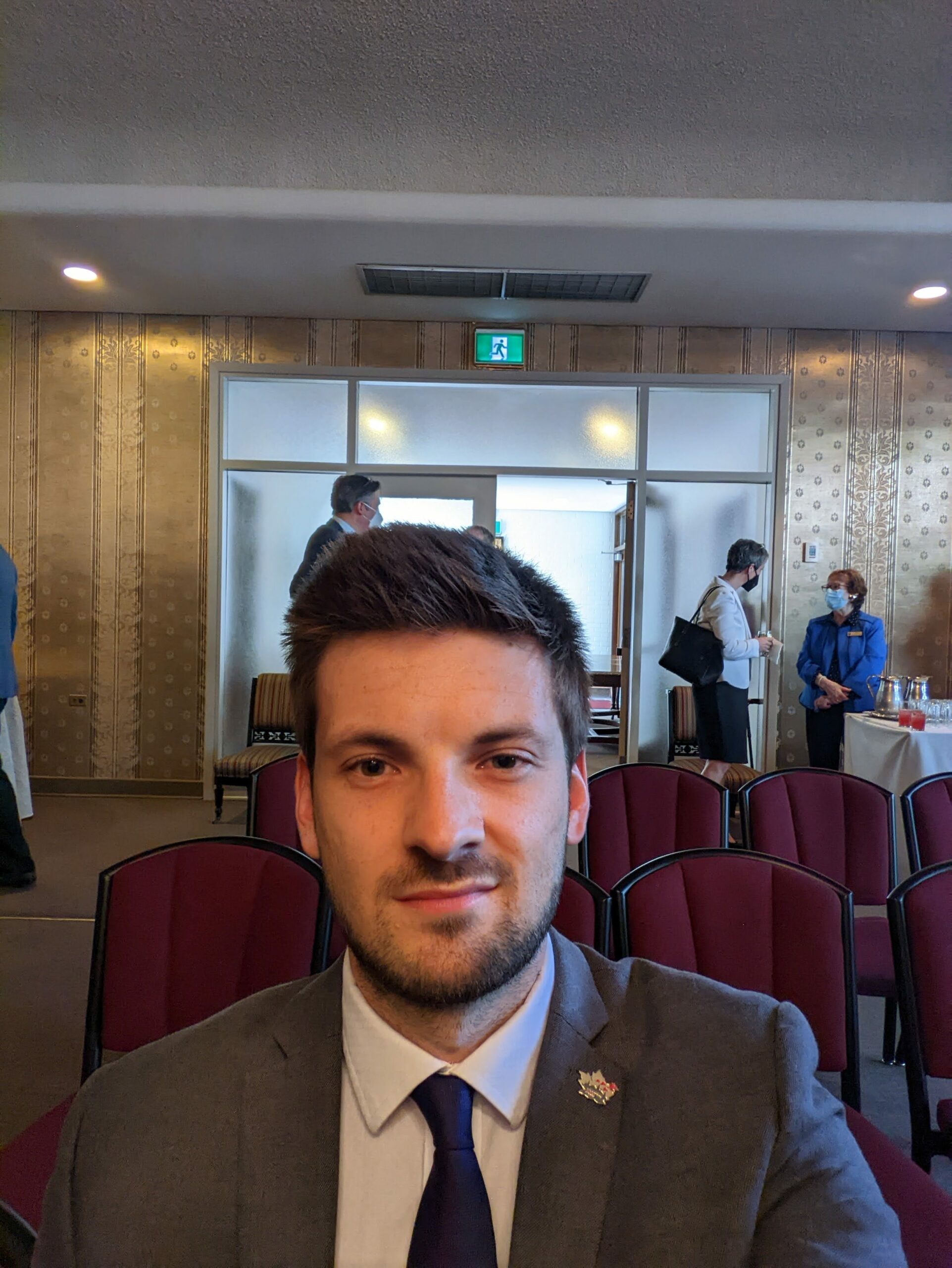 There was a formal address by the Lieutenant Governor, a conference alumni from Manitoba, and one of our delegation members.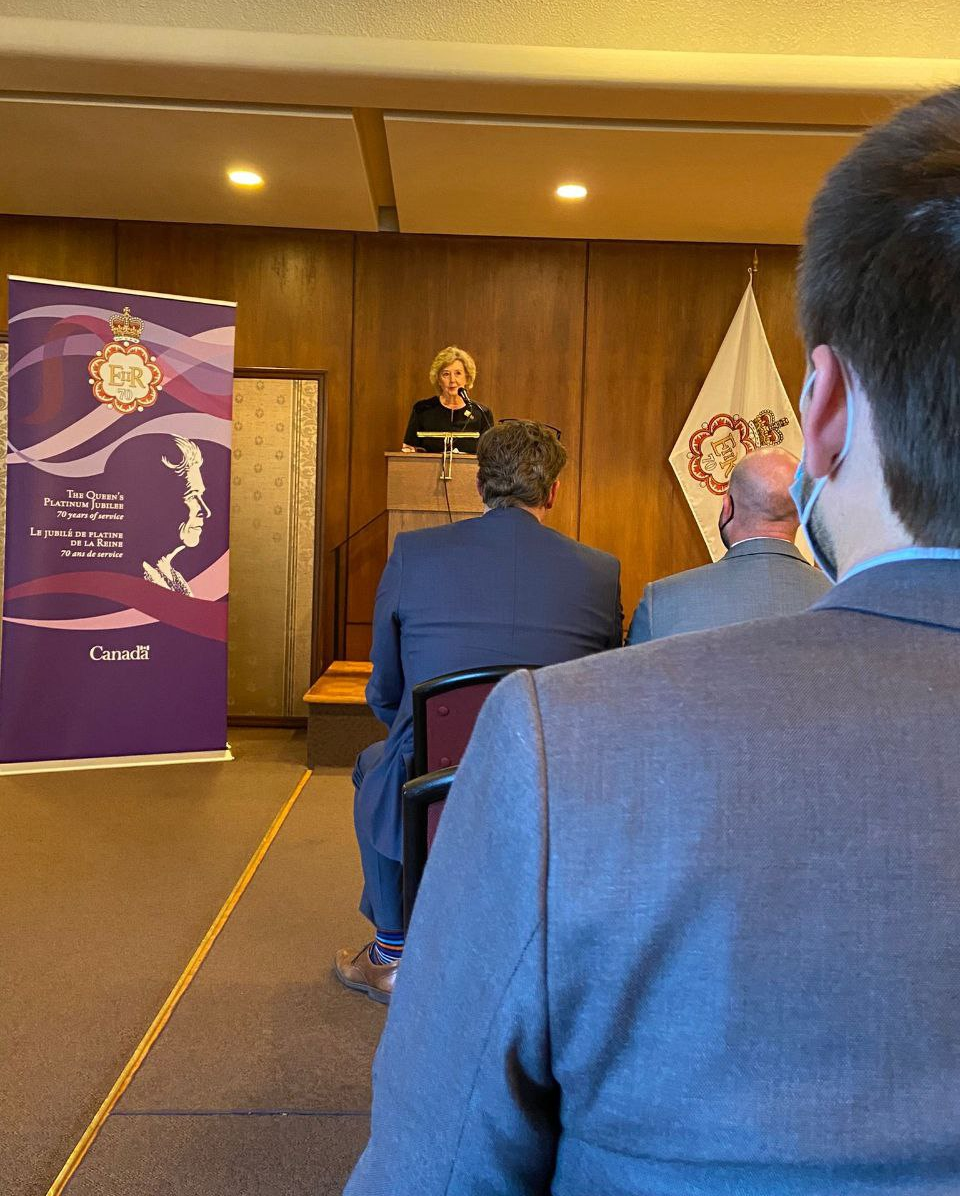 Then, there was a networking session, as several people were invited to join the Lieutenant Governor in welcoming us to the friendly province of Manitoba.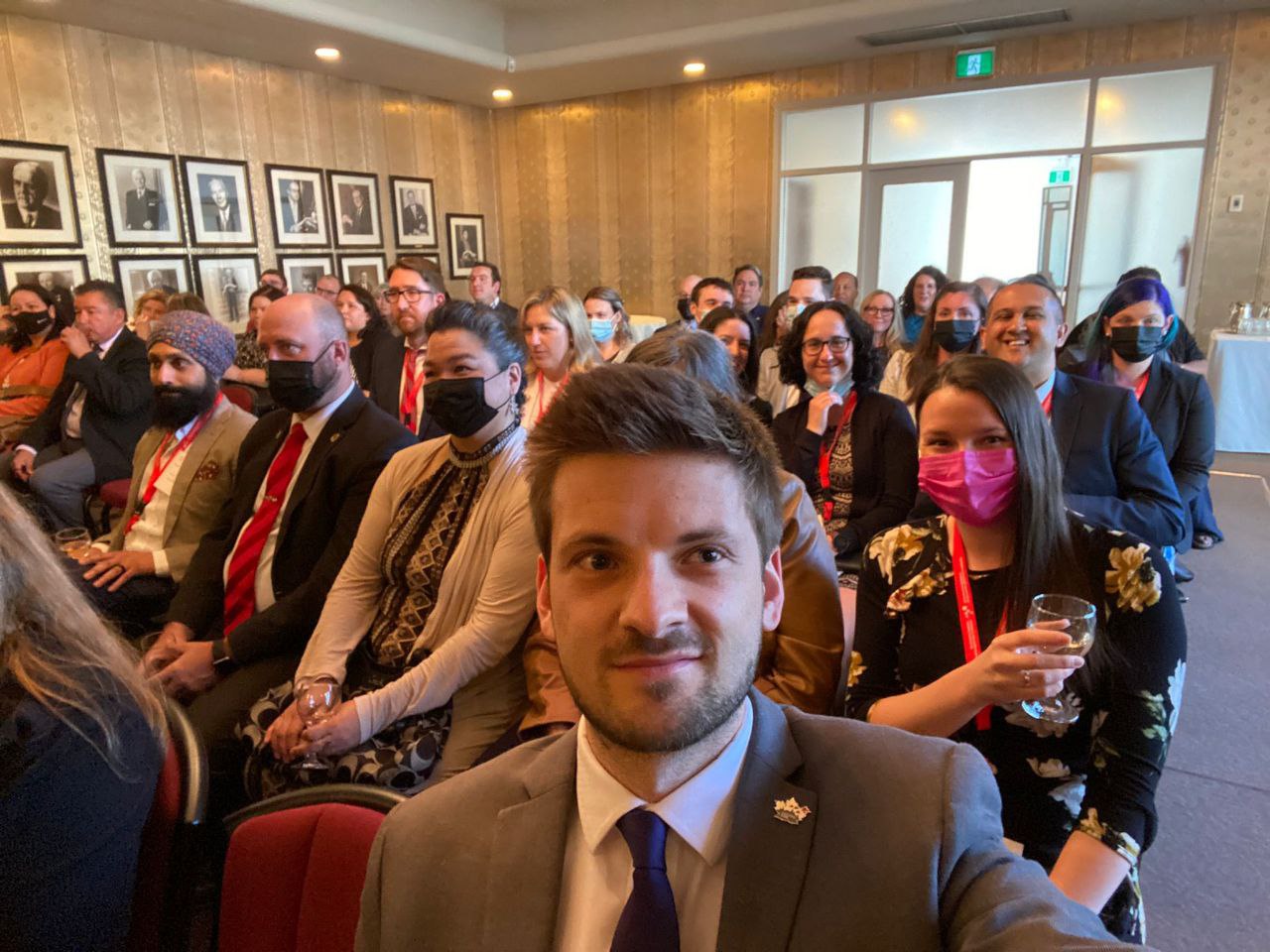 We were treated to a unique souvenir: an official pin to commemorate the Platinum Jubilee — and even a royal cookie!
(It lacked some chocolate, in my humble opinion…)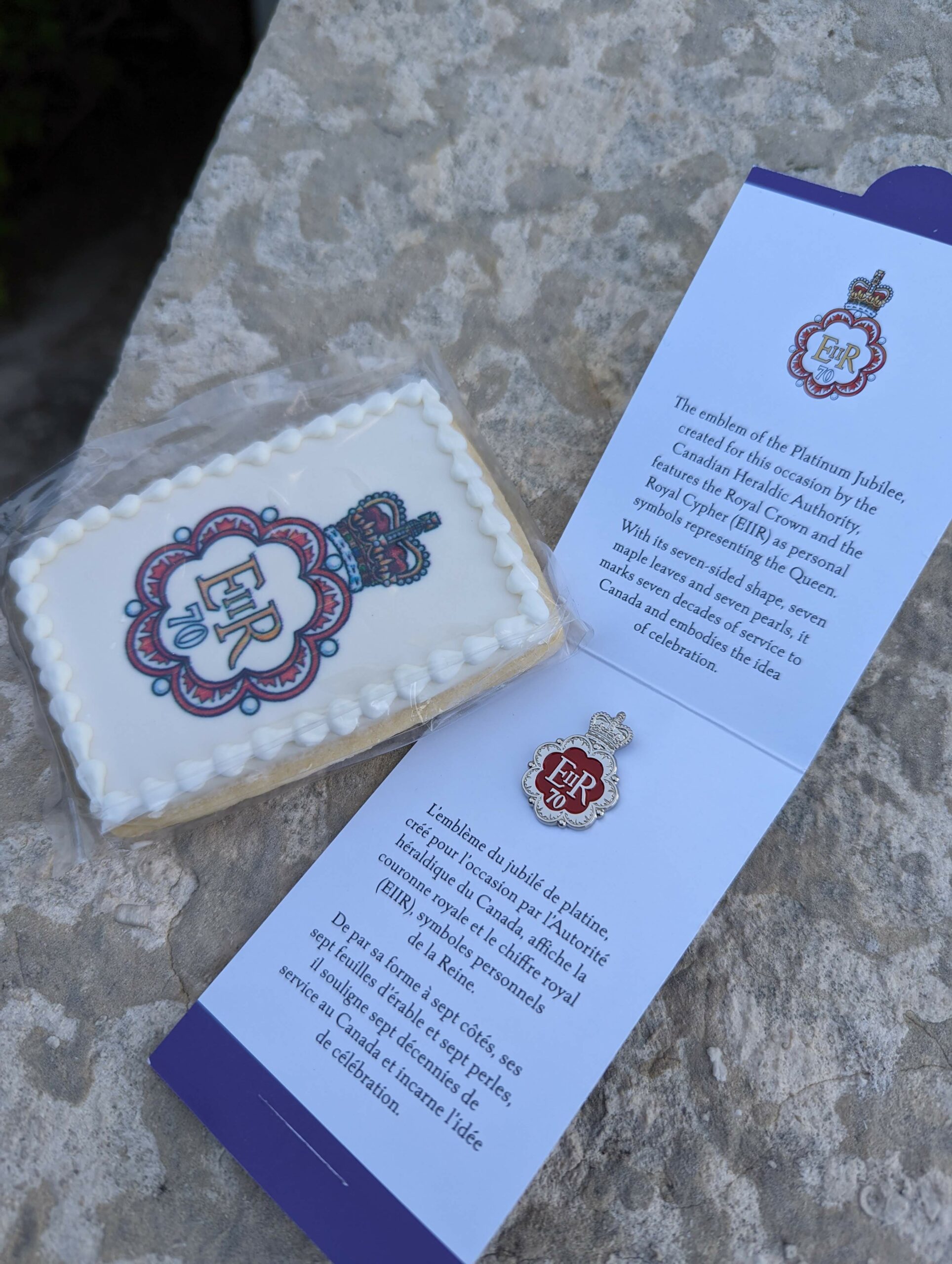 I can only assume that these were leftovers from the actual celebrations over the weekend, but hey, it's not often that you get to receive something like this!
Since the house is really a personal residence as well as being used for functions, they insisted on getting us to leave as we were all having a lot of fun with this unique experience.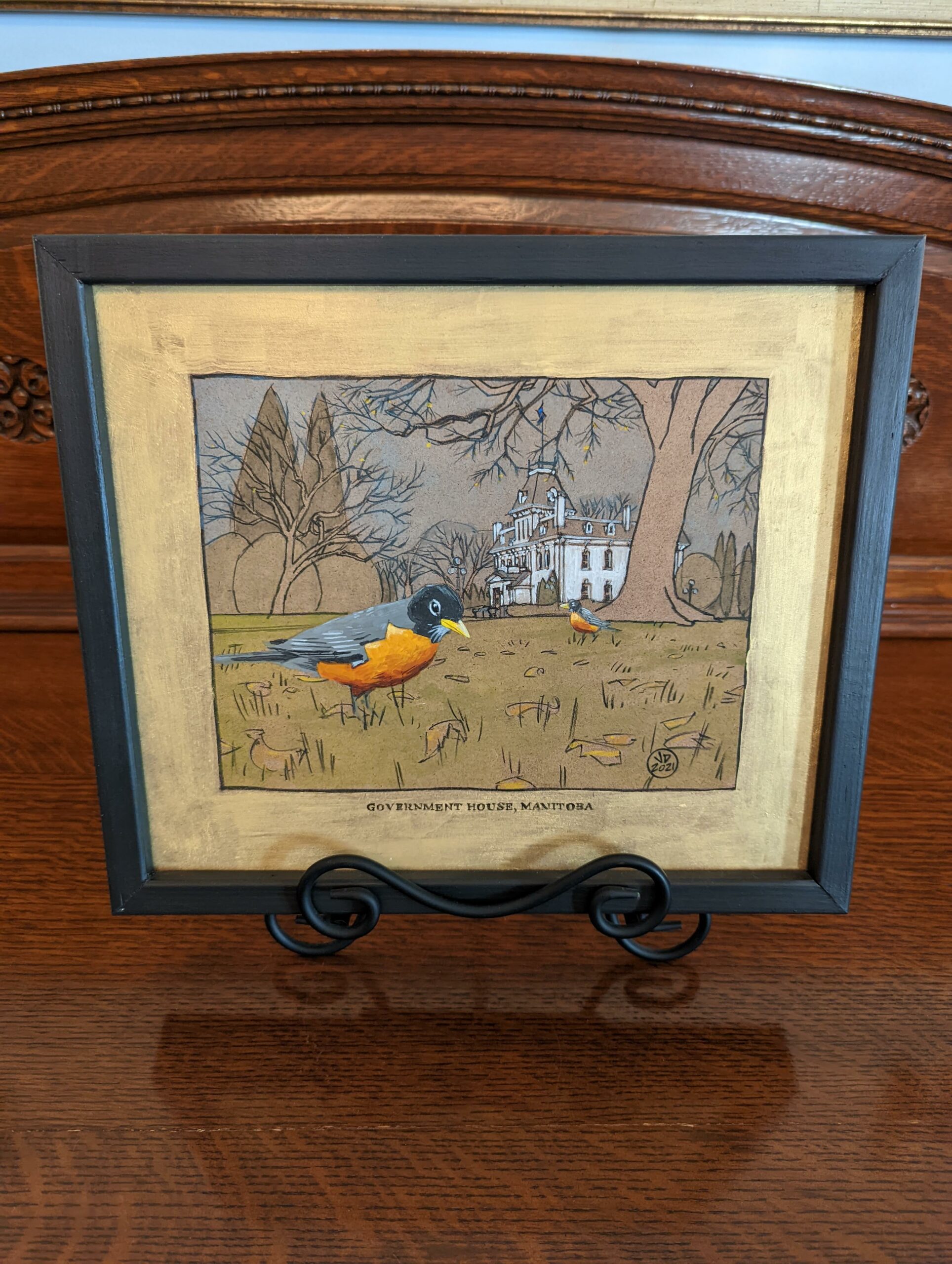 The experience was honestly far outweighed by the reception at Rideau Hall the following week, but still: it was an interesting evening, and it was much more intimate to be hosted with only 15 people than in Ottawa, where 200+ people were being hosted.
So, this wasn't for the Platinum Jubilee per se, but still: it's more than what most people get to experience during this historical event, so it was worth sharing it.
My other experiences during this trip
As mentioned in the intro, there were quite a few other experiences that were very different from a normal trip that I could tell you about:
My discussions with the Governor General
My first trip with a military liaison officer escorting me at all times
A once-in-a-lifetime, authentic sweat lodge experience with Indigenous leaders
A real fire (not just a false alarm) in the middle of the night at our accommodation
A walk that required police intervention in downtown Winnipeg
A behind-the-scenes tour of a military base and lots of other cool places
Dozens of meetings with inspiring Manitobans
Funny airport anecdotes thanks to my Amex Platinum Card
A reception at the Parliament in Ottawa
A nice stay at the Ottawa Marriott Hotel with a funny story thanks to my elite status
Sleeping in a room where a G7 leader stayed at the famous Deerhurst Resort
A top secret evening with an intimate performance by a Juno award-winning musician and food prepared by one of Canada's top celebrity chefs
15 COVID-19 tests in 16 days, almost as many as all the other tests I did during the pandemic — just great!
You can subscribe to our free newsletter to receive mostly our travel tips and deals, but also content about destinations and special trips like this one eventually.
Want more content about travel?
Summary
I was fortunate enough to travel to Manitoba recently, and was able to officially celebrate the Queen's Platinum Jubilee with the province's Lieutenant Governor and be part of some other pretty special experiences.
What would you like to know about this experience in Manitoba? Tell us in the comments below.
See the deals we spot: Cheap flights
Explore awesome destinations: Travel inspiration
Learn pro tricks: Travel tips
Discover free travel: Travel rewards
Featured image: In front of the Platinum Jubilee poster (photo credit: Andrew D'Amours/Flytrippers)
Share this post to help us help more people travel more for less: