Las Vegas is a very popular travel destination and therefore the city's McCarran International Airport (LAS) is the 9th busiest in the United States. It is already named after a politician, but local officials have announced a change to… another retired politician's name. And while there were public reports of former President Trump wanting a US airport named after him, he'll have to stick to having his name on hotels only (at least for now).
Here are a few details, and other US and Canada airports named after Presidents and Prime Ministers… because politicians sure love naming things after politicians.
Plus our own Canadian airport name drama of the week…
Las Vegas airport renaming
Honorary airport names aren't that relevant: most people call the airport by its city's name (as they should). Nobody calls it McCarran Airport, it's just Las Vegas Airport.
I found the sound of slot machines in the terminal very surreal and unique. Nothing else is quite like it, even after passing through 150+ different airports… but then again, nothing else is quite like Vegas either.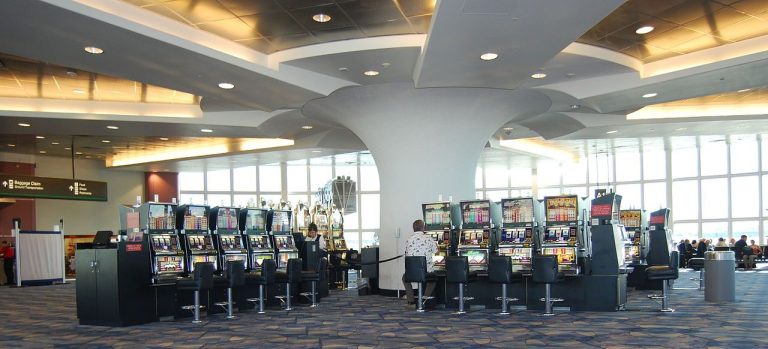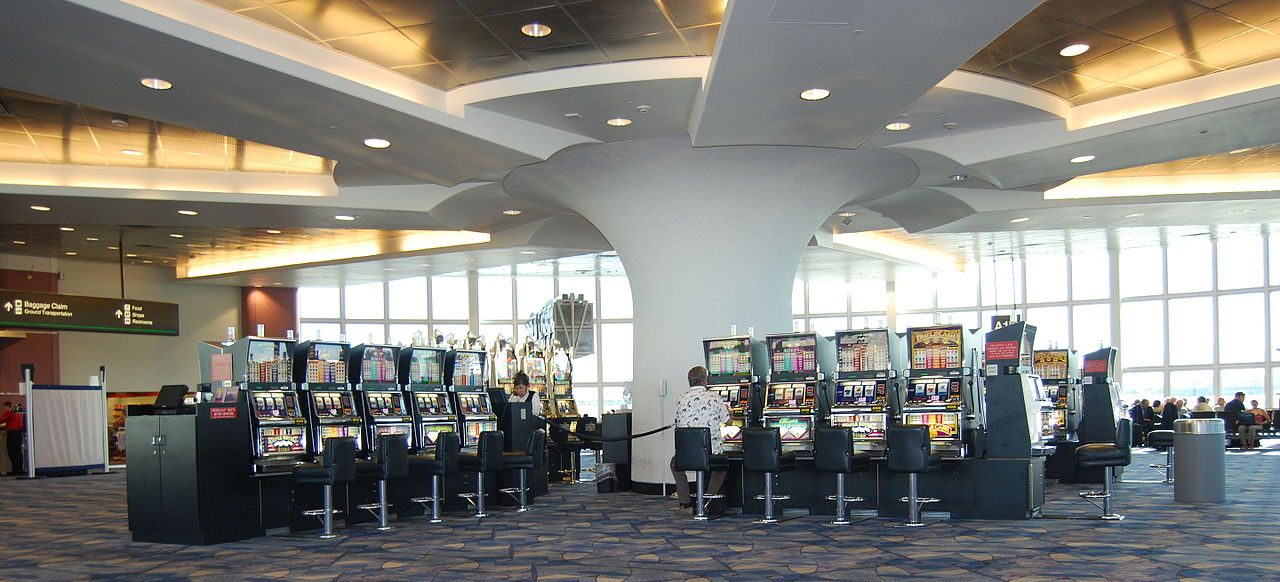 That said, the official name is McCarran International Airport, named after former Democratic Senator Pat McCarran.
According to one Nevada historian who collaborated with the state senate, McCarran was a "racist, anti-Semitic, communist witch-hunting lunatic." So the name change is more about canceling that guy than anything else (the so-called "cancel culture").
But former President Trump won't get his wish, at least not yet (reports surfaced in December about him wanting an airport named after him). He can at least see his iconic 64-story 5-star Trump Hotel from the airport though…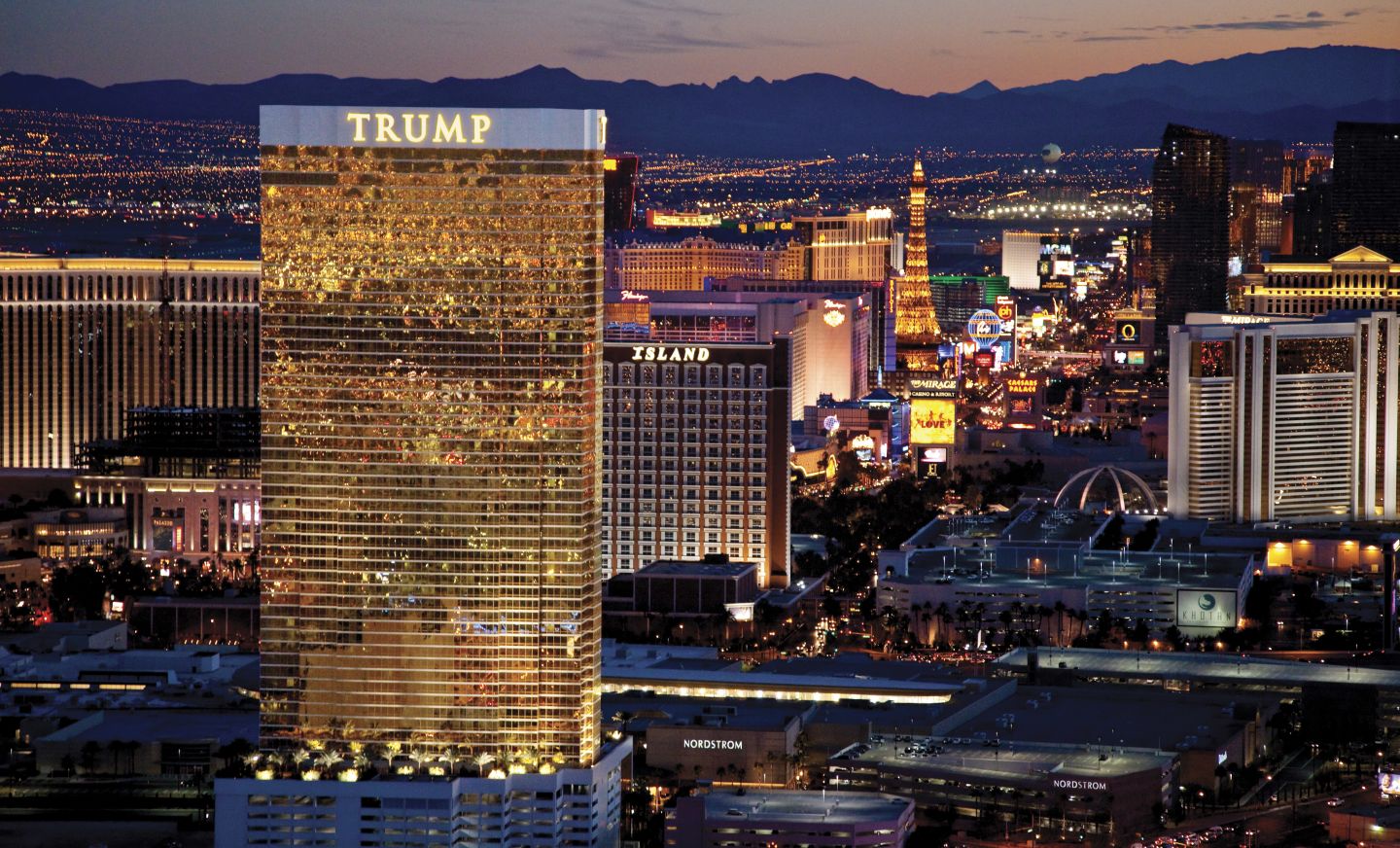 Don't miss our upcoming guide and tips about Las Vegas and the beautiful surrounding area to dream about a future trip (subscribe to our free newsletter to get all our content).
Anyway… officials from Clark County, where Las Vegas is located, have officially decided to rename McCarran to Harry Reid International Airport.
Reid, who retired from the US Senate in 2017, was a major figure: he was Senate Majority Leader for 8 years when the Democrats had control of the upper chamber and Senate Minority Leader for a few years too. A lot of signage will have to be changed at an estimated cost of 2 million US dollars, but at least it apparently won't be taxpayer-funded.
Thankfully, with the airport's 3-letter code being the very beautiful and simple "LAS", there will be no confusion about the code.
That's why in my post about how 3-letter airport codes are chosen, I said that I much prefer when the code represents the city name (which is far from always being the case as you can see in my examples, as there are 7 other ways that those important codes are sometimes chosen) and not the airport name.
Imagine if New York's John F. Kennedy International Airport (with its JFK code) had to be renamed… (well actually, one world capital changed its airport code entirely last year, something that is really very very rare: I'll tell you more about that in a separate post).
US airports named after presidents
Speaking of JFK, a total of 8 commercial airports are already named for US presidents.
Here they are in reverse chronological order of the president's term, along with the city served:
Bill and Hillary Clinton National Airport (LIT) – Little Rock, Arkansas
George Bush Intercontinental Airport (IAH) – Houston, Texas
Ronald Reagan Washington National Airport (DCA) – Washington, D.C.
Gerald R. Ford International Airport (GRR) – Grand Rapids, Michigan
New York John F. Kennedy International Airport (JFK) – New York City, New York
Wichita Dwight D. Eisenhower National Airport (ICT) – Wichita, Kansas
Dickinson Theodore Roosevelt Regional Airport (DIK) – Dickinson, North Dakota
Abraham Lincoln Capital Airport (SPI) – Springfield, Illinois
And here they are on a map: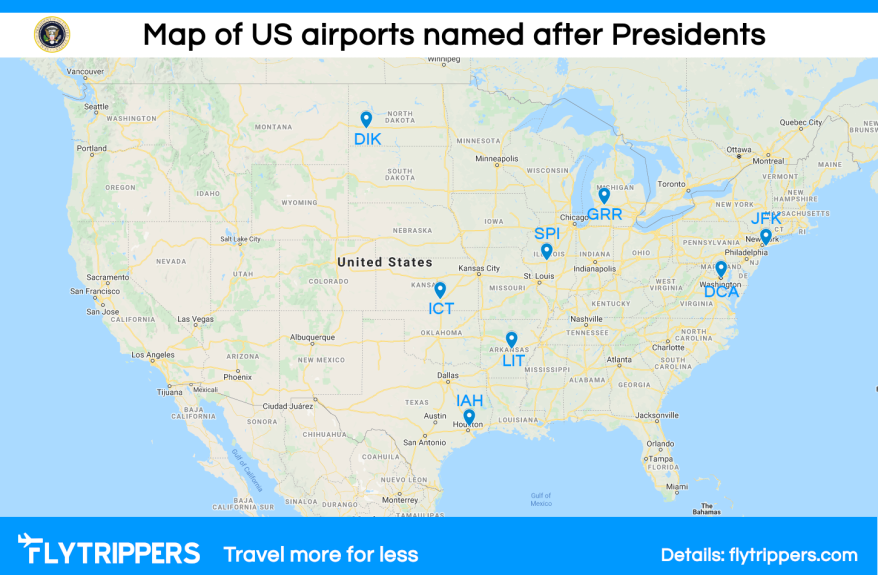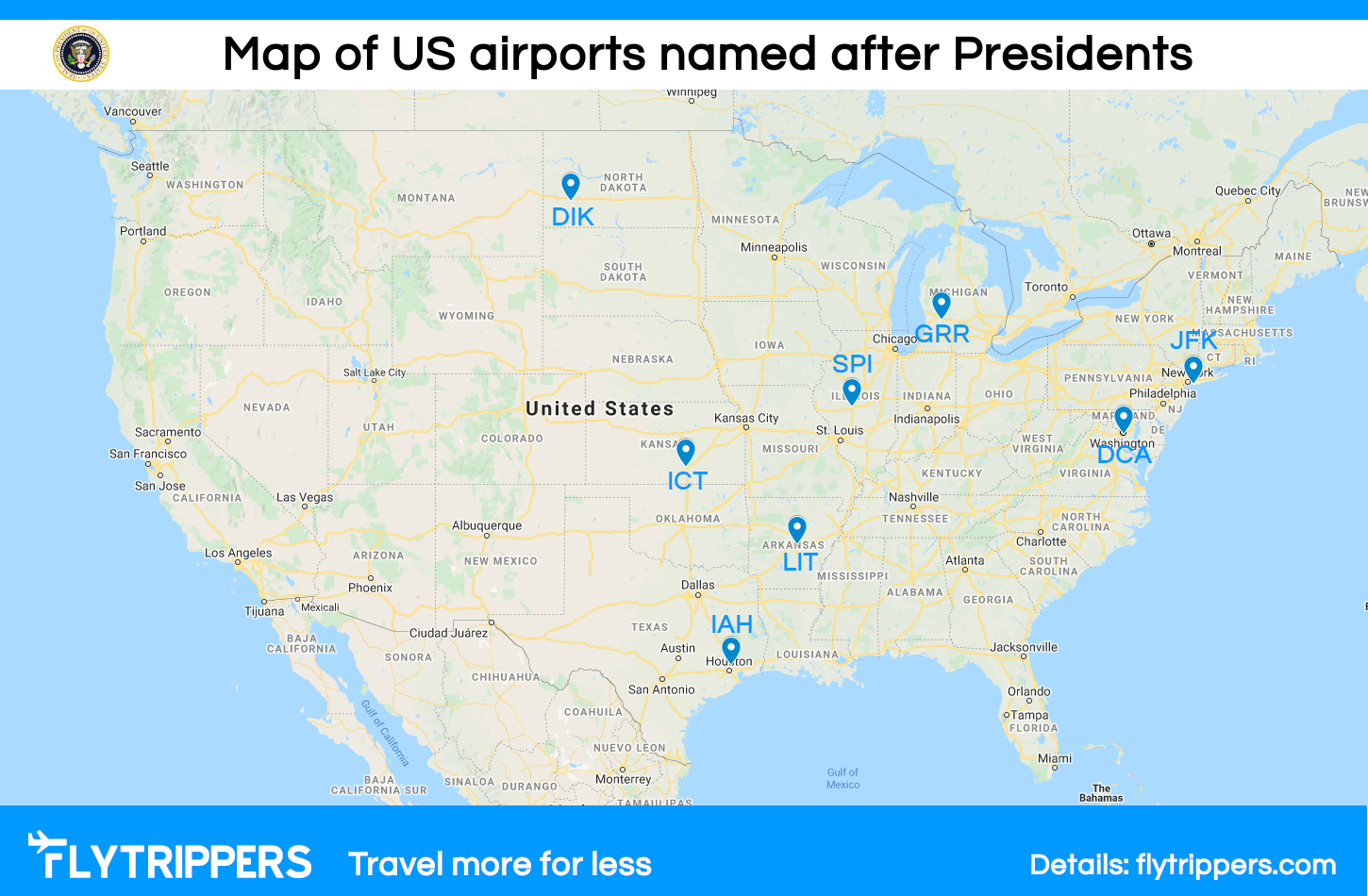 Some quirky trivia: just 18% of US Presidents have an airport named after them, but 67% of Presidents who were assassinated or survived an assassination attempt have an airport named after them.
The least busy US airport named after a President is the one in North Dakota, which only has service to one destination (Springfield has 3).
The busiest US airports named after Presidents are obviously New York's JFK Airport (6th in the US), Houston's IAH (17th in the US), and Washington's DCA (30th in the US).
Ironically, all 3 of those cities have at least one other major airport… and all 3 of those are also named after politicians (just not Presidents):
New York's LaGuardia (LGA) is named after a NYC Mayor
Houston's Hobby (HOU) is named after a Texas Governor
Washington's Dulles (IAD) is named after a Secretary of State & Senator
Canadian airports named after Prime Ministers
Yes, politicians love naming airports (and plenty of other things) after politicians. Canada is no different.
In fact, 2 of our 3 busiest airports are named after Prime Ministers, so we even beat the US on this front (but not on the COVID-19 vaccination rate though… President Biden said that all Americans will be vaccinated by the end of May, giving them a beautiful almost-normal summer… but our leader has failed miserably).
And while #4 could have joined the list of Canadian airports named after Prime Ministers (a few years back, petitions circulated to honor Stephen Harper by renaming Calgary's airport after him but they were unsuccessful—at least for now), this week's airport naming drama is centered around the first one on the following list.
So first, here are Canada's 4 airports named after Prime Ministers, again in the reverse order of their term:
Montréal-Trudeau Airport (YUL) – Montréal, Québec
Toronto-Pearson Airport (YYZ) – Toronto, Ontario
Saskatoon John G. Diefenbaker Airport (YXE) – Saskatoon, Saskatchewan
Ottawa Macdonald-Cartier Airport (YOW) – Ottawa, Ontario
Those airports rank 3rd, 1st, 13th, and 6th in Canada respectively in terms of passenger numbers.
Here they are on a map: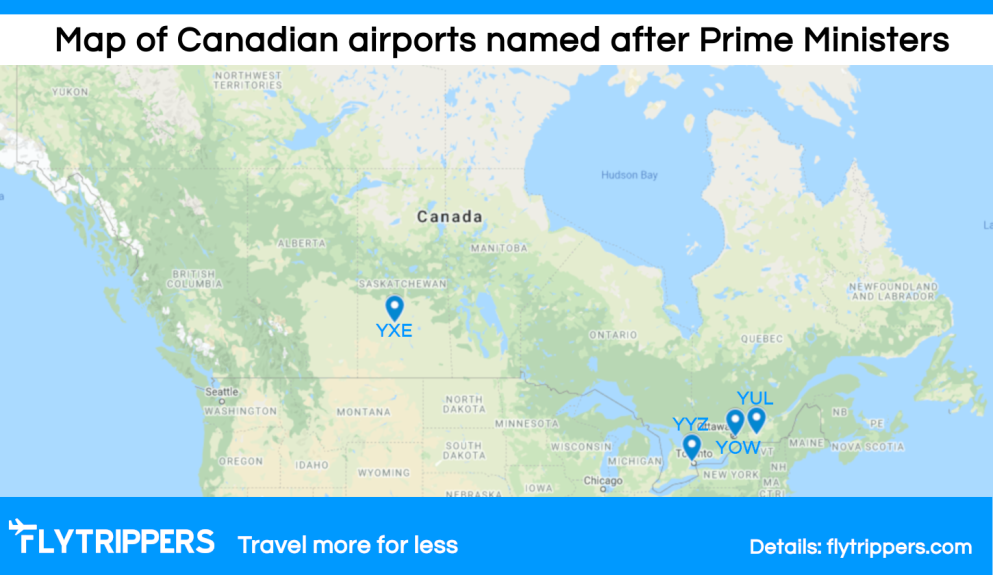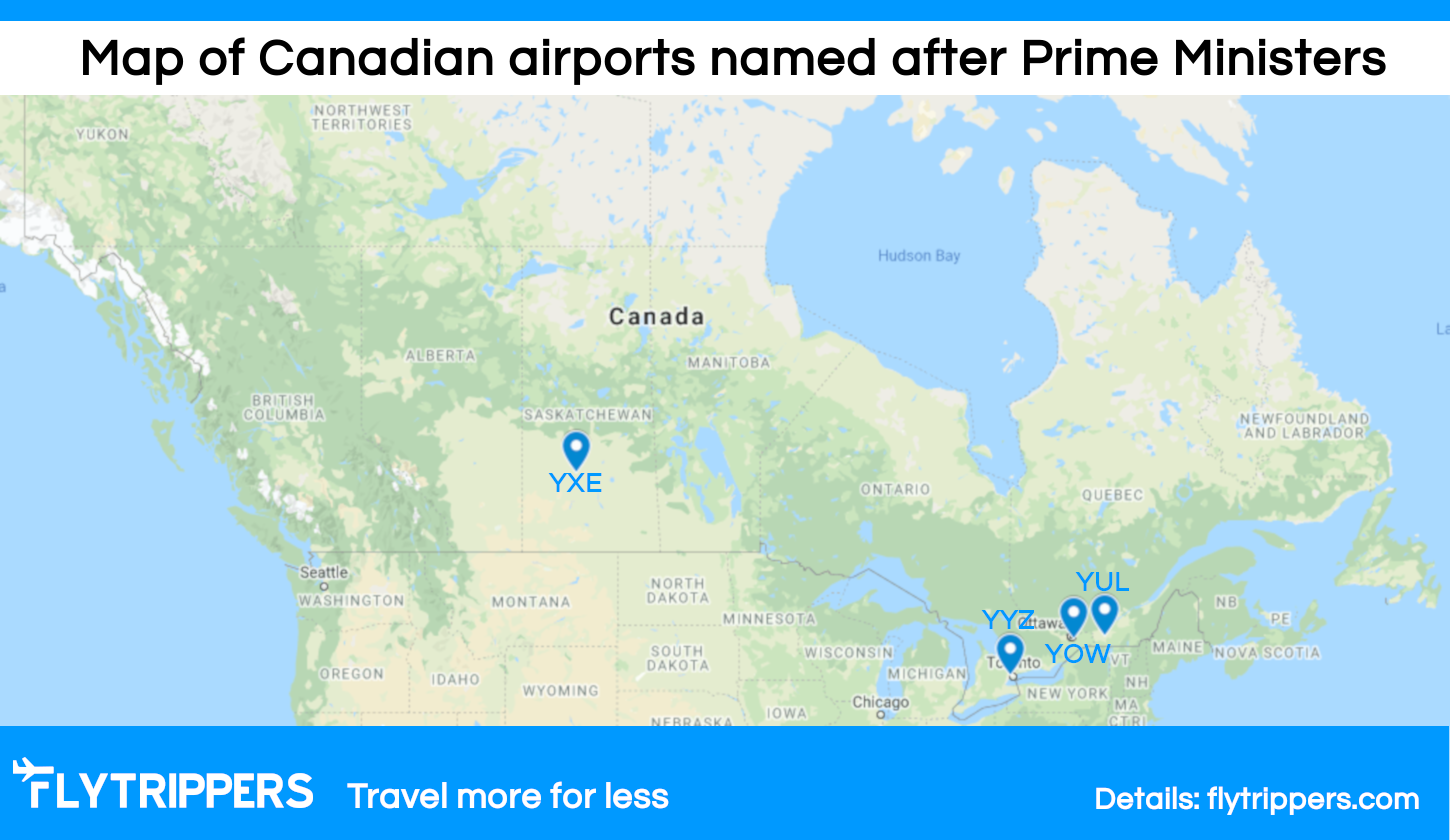 Now, a petition calling for Montreal's airport to be renamed for former Québec Premier René Lévesque has been circulating in the last few days, in part fueled by the reports of the elder Trudeau's alleged attempts to undermine the sovereigntist movement some 40+ years ago…
I'm sure the initiators are enjoying the spotlight but let's be realistic: airports are under federal jurisdiction and in case you hadn't heard, Trudeau's son is now the Prime Minister. There's literally no chance this will happen.
By the way, plenty of other airports in Canada are named after politicians:
Winnipeg's James Armstrong Richardson (YWG) is named after a federal minister (ranked 7th)
Halifax's Stanfield (YHZ) is named after a Premier of Nova Scotia (ranked 8th)
Québec City's Jean-Lesage (YQB) is named after a Premier of Québec (ranked 12th)
Hamilton's John C. Munro (YHM) is named after a federal minister (ranked 18th)
Moncton's Roméo LeBlanc (YQM) is named after a governor general & federal minister (ranked 20th)
So in the Top 20 airports in Canada:
10 just have their city in their name
9 are named for politicians
1 is named for someone who is not a politician
That last one is Toronto's Billy Bishop Airport (YTZ), which was renamed from Toronto City Centre Airport in 2009 to honor a World War I flying ace and World War II Air Marshal. In the US, Chicago's O'Hare Airport (ORD), ranked 6th busiest airport in the world, is similarly named for an air force pilot.
Want to get more content for Canadian travelers?
Summary
Las Vegas is renaming its international airport from one Democratic US Senator to another, so former President Trump's wish to get a US airport named after him will have to wait.
What do you think of airports named after politicians? Tell us in the comments below.
Explore awesome destinations: travel inspiration
Learn pro tricks: travel tips
Discover free travel: travel rewards
Featured image: Las Vegas' soon-to-be Harry Reid International Airport (photo credit: Craig Butz)
Advertiser Disclosure: In the interest of transparency, Flytrippers may receive a commission on links featured in this post, at no cost to you. Thank you for using our links to support us for free, we appreciate it! You allow us to keep finding the best travel deals for free and to keep offering interesting content for free. Since we care deeply about our mission to help travelers and our reputation and credibility prevail over everything, we will NEVER recommend a product or service that we do not believe in or that we do not use ourselves, and we will never give any third-party any control whatsoever on our content. For more information on our advertiser disclosure, click here.
Share this post to help us help more people travel more for less: