The travel-related news stories never seem to stop these days. So we wanted to do a quick roundup post with a short summary of 11 stories that might be of interest to Canadian travelers. While some only affect those traveling now (or soon), others are very useful for all travelers regardless of when they'll be ready to travel again (especially the last one).
Here are the 11 stories.
The US also going to require a negative test to enter
The United States will also soon require proof of a negative test for all passengers flying to the country. This will take effect on January 26th, so Canadians flying to the US, which has always been allowed with no restrictions, will need to plan for this extra step.
But some of them who have an address in Florida will apparently be vaccinated a lot quicker than by staying here…
For those not following this in detail (or those distracted by things like blaming travelers maybe), the US has administered 3.71 doses per 100 people while Canada has done less than a third of that, at 1.22 only.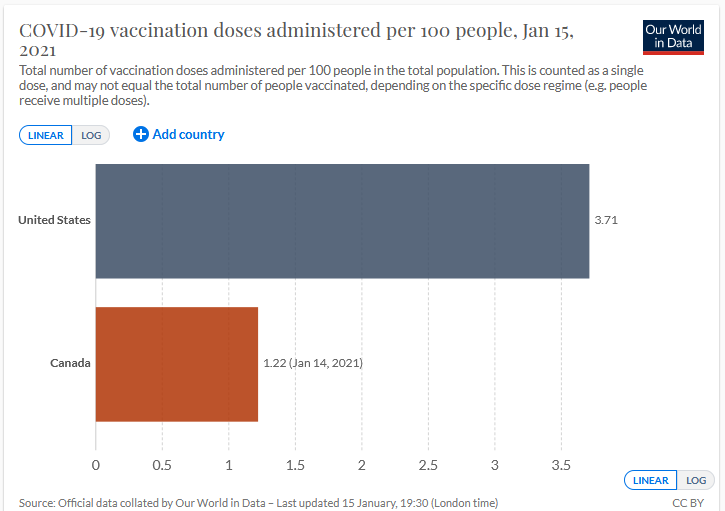 That will likely kill a lot more people than travelers and would deserve a lot more attention than a few idiot vacationers in an all-inclusive who certainly don't represent the majority of travelers.
Air Canada & WestJet announce nearly 3,000 layoffs and many flight cancelations
After already laying off tens of thousands of employees, this week Canada's two largest airlines have each announced further cuts in the 4 figures each. And in addition to the many routes cut already, both will be adding to that list too.
This is nothing surprising: travel restrictions have consequences.
The negative effects for travelers and communities will undoubtedly be felt for years, not to mention how many people in the travel industry are suffering. Not just airline employees, but their many subcontractors and airport workers. Not to mention hotels, attractions, and even restaurants and shops who also often depend a lot on travelers.
They're certainly not the only ones affected during this pandemic. But it's still fascinating how some officials are complaining about their cities losing air service, all the while telling everyone that traveling is evil.
You can't have your cake and eat it too. Airlines have to cut routes and employees if there are no passengers; they're losing millions. Not to mention they're directly competing with airlines who have gotten billions in bailouts from their respective governments…
What else are they supposed to do?
Air Canada's purchase of Air Transat
Update: the government has approved the transaction, but the February 15th deadline passed so both parties can terminate the purchase agreement. The likelihood of the acquisition seems to have gone down somewhat, with many openly calling for Transat to at least find a Plan B.
Speaking of the many files where the now-former Transport Minister Marc Garneau's inaction was very evident, the long-awaited decision about whether or not to approve Air Canada's purchase of Air Transat (Canada's 4th-largest airline) is reportedly coming soon (although he said that before being transferred out of that portfolio in a cabinet shuffle this week).
The Competition Bureau of Canada's assessment was that the merger "will result in a substantial lessening of competition", but that was before the pandemic. The situation has changed quite a bit since, and so has the price offered by Air Canada (down 74% to just $190 million).
Quebec media mogul (and former PQ leader) Pierre-Karl Péladeau has asked the government to block the transaction, offering once again to buy Transat himself (his attempts back in 2019 were categorically rejected by Transat).
Péladeau's Journal de Montréal news outlet was arguably the most vocal in generating outrage aimed at travelers this holiday season, so you won't be surprised to hear that Transat still seems to have no interest, even though he offered an amount 20% higher than Air Canada did.
Ultra low-cost carrier Norwegian exits long-distance market
Many many people confuse low-cost carriers with ultra low-cost carriers, but they're completely different business models.
And many many people wrongly think that ultra low-cost carriers (ULCCs) aren't profitable when it's the contrary: low-cost carriers have a much harder time, because they're stuck in the middle without being able to offer the ultra-low prices of ULCCs and without being able to offer the premium experience and services of legacy airlines.
Pre-pandemic, ULCCs were the fastest-growing segment in global aviation and were very profitable. Ryanair is Europe's biggest airline in terms of passenger numbers and Wizz Air is still growing extremely rapidly. In the US, Spirit and Frontier were doing very well, as was Air Asia on the other side of the world (and many many other ULCCs everywhere).
In fact, contrary to popular belief, no ULCC has ever gone out of business in the world… except long-distance ULCCs, as the business model that is very proven and very efficient works well for short-distance flights, and has worked well for a long time. But it is quite new for it to be tried to long-distance flights, where economics (and every other aspect) is very different.
Norwegian, along with WOW air, was one of the first to try and make the ULCC model work on long-distance flights. Sadly, the pandemic will have ended that dream. Norwegian announced they will now only focus on European flights.
I believe it's likely only a matter of time before someone else gives transatlantic ULCC flights a try, as it's too big of an opportunity. And as consumers, we can only hope for this to happen sooner than later, to reduce prices.
Travelers won't get the $1,000 benefit
You might have heard of this but unsurprisingly, the federal government has confirmed that those who travel for leisure will not be eligible to the $1,000 quarantine benefit that we talked about at the beginning of the month.
Makes sense.
Canada's UK flight ban lifted
This is old news at this point, but for what it's worth, Canada's UK flight ban (the only flight ban we've ever had since the beginning of the pandemic) has ended on January 7th. Canada no longer has any flight ban of any kind.
And again, even if flights from the UK were banned, that did not change who was allowed (or not allowed) to enter Canada at all. Flight bans and entry restrictions are two completely separate things.
Despite the flight ban, Canadians who were in the UK could simply transit via another country and then enter Canada (Canadians are always allowed to enter Canada). Essential travelers from the UK could do the same (but there is an entry restriction on all non-essential foreign travelers).
Exemptions have ended for the new testing requirement
Since January 7th (after almost all those who traveled during the holidays were already back), Canada now requires proof of a negative COVID-19 test performed at most 72 hours before every flight to Canada.
Since this requirement was haphazardly introduced in the middle of the holidays after 9 months of inaction by the government, everything was rushed and it was obviously very disorganized. So they added an exemption for those traveling from South American and the Caribbean: they were allowed 96 hours instead of 72 hours.
That ended in January, so now everyone has the same 72-hour rule.
December passenger numbers in Canada
Speaking of the disproportionately intense travel-shaming that we've recently seen in Canada (that was not backed by any evidence or data), the official air passenger numbers for the month of December have been published by the Canadian Air Transport Security Authority (CATSA).
Here is a quick graph with the passenger numbers in Canada every month for the past 6 months.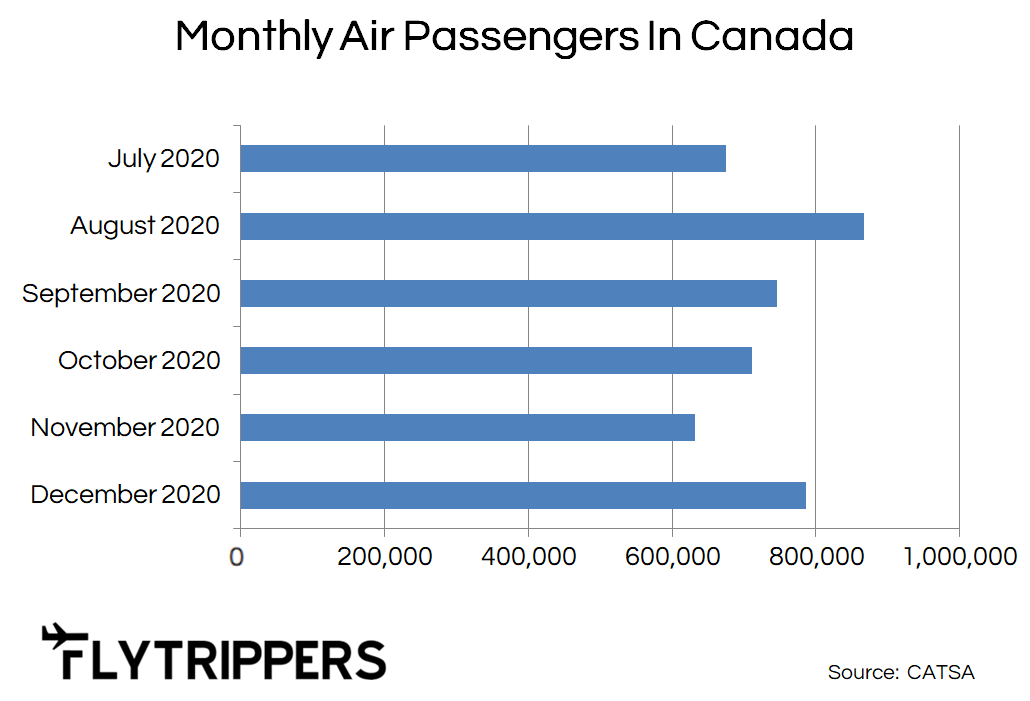 As you can see, while December was a bit higher than the Fall months, it didn't even match the numbers from August and it's not like it doubled or anything, not at all.
These numbers include domestic flights, not just international flights… and as we've said in the past: not only does international travel represent just 1.8% of all infections in Canada (based on government data), there is also no evidence of a big enough spike in travel to justify everyone focusing on the 1.8% instead of the 98.2% of infections caused by community transmission (and caused by the vast majority of Canadians who aren't traveling).
Again, we're not saying that means you should travel or that 1.8% is not too much already… we're just saying it's good to be rational and not react impulsively and emotively.
But most importantly we're saying that thinking that travelers are a major cause of COVID-19 transmission in 2021 is factually completely wrong.
And no, it's not because no one is traveling (you see those hundreds of thousands of passengers every month, and over 7 million people entered Canada since April): it's because travelers are objectively just nowhere near as high a risk as everyone who is not following the rules right here without traveling.
Free testing program launched by Ontario Government at Toronto-Pearson
This news is now obsolete with Canada's COVID-19 international travel rules newly implemented.
Recently, the Ontario Government launched a free testing program for international arrivals in Canada's busiest airport (YYZ).
To be clear, this is not like Canada's COVID-19 testing pilot project in Alberta that allows you to skip the 14-day quarantine completely if you test negative (results from that pilot show that 1.48% of travelers test positive on arrival by the way, which is lower than the percentage of the total population of Canada that has tested positive already).
This is a voluntary test that does not affect the quarantine and simply aims to gather more data to make decisions based on evidence and science (instead of making improvised decisions based on news headlines as we saw during the holidays for example).
WestJet & Air Canada plan to start Boeing 737 MAX flights
We've shared a separate article about the Boeing 737 MAX's return to Canada planned for late January, but I wanted to add it here to once again reiterate that it's nothing to worry about.
There has been no official confirmation yet, but it should not be long before the new Transport Minister gives his approval for the Boeing 737 MAX to fly in Canada and both of our largest airlines should have them back in the air shortly thereafter like they've done in the US and Brazil (and what they'll do soon in Europe).
Increased welcome bonus on one of Canada's best cards
We'll soon have a lot more details, but here's a teaser for those who want to spend the most lucrative 5 minutes of reading of their weekend.
The American Express Cobalt Card is one of the best credit cards in Canada and for the first time since its launch, since Thursday it has an increased welcome bonus offer.
So it's literally the best time to get it: it's the best offer ever seen for this card, and this card is one of the best cards.
The welcome bonus alone is worth ≈ $706 and there is no minimum income required. But I'll get back to the welcome bonus in a minute, because this is actually one of the very few cards that are even worth getting even without the welcome bonus.
The Cobalt Card is one of the best cards for travelers who want a simple travel credit but also for those who want to get higher outsized value with Marriott points.
We'll repeat it, there's no such thing as a "best" card because:
that assumes that having just one card is a good strategy, which couldn't be further from the truth
the "best" card depends on the welcome bonus offers (welcome bonuses are the key to earning more rewards) and welcome bonus offers constantly change
the "best" card offers also depend on the type of traveler you are
Our redesigned card ranking will soon better help you choose and understand.
In the meantime, as a travel rewards expert, my Cobalt Card is the one I use the most (when I'm not unlocking the many welcome bonuses I get every year).
It earns 5X the points on food (and a lot of other purchases with the gift card pro tip) which is just phenomenal. That's 5% towards an easy travel credit that can be applied to any expense if you want something very easy, but you can also transfer the points to Marriott for a lot more value (you'll earn 6 Marriott points per dollar!!!). My Cobalt Card is how I earn most of my Marriott points.
It is especially great for those who can spend more every month (its welcome bonus is unique in Canada, with a monthly minimum spend the first year instead of just in the first 3 months like all other cards).
If you spend $500 per month the first year, you'll get a 30,000 points bonus. Assuming that you spend that in the many grocery stores that accept Amex cards (that's just $115 per week), you'll earn another 30,000 points with the 5X earn rate.
That's the regular welcome bonus offer. It gives you an easy $600 travel credit or 72,000 Marriott points (12 free nights in Marriott Category 1 hotels in various interesting destinations).
That alone is an amazing welcome bonus! After deducting the $120 fee, you get hundreds in free travel (a reminder that blindly avoiding fees is not logical: what matters is the net value).
With the new increased welcome bonus, you can get another 15,000 points if you spend $3,000 total in the first 3 months, so just an extra $1,500 in spending. That would give you 76,500 Amex Select points for an easy $765 travel credit. Or 91,000 Marriott points (15 free nights in Marriott Category 1 hotels).
These points won't expire and now is the time to earn them so you can use them when you're ready to travel (and avoid doing like almost everyone and being caught off guard without having taken action and then wondering why you have to pay full price for your trips).
We'll have an updated review of the American Express Cobalt Card soon, including a video presentation if you are interested.
You can also check out 6 other offers worth over $276 each if you prefer other options, we tell you which is best for each traveler.
Want to get more content for Canadian travelers?
Summary
These 11 travel-related news stories might be of interest to Canadian travelers.
What do you think of these stories? Tell us in the comments below.
Explore awesome destinations: travel inspiration
Learn pro tricks: travel tips
Discover free travel: travel rewards
Featured image: AC planes at YYZ (photo credit: Quintin Soloviev)

Advertiser Disclosure: In the interest of transparency, Flytrippers may receive a commission on links featured in this post, at no cost to you. Thank you for using our links to support us for free, we appreciate it! You allow us to keep finding the best travel deals for free and to keep offering interesting content for free. Since we care deeply about our mission to help travelers and our reputation and credibility prevail over everything, we will NEVER recommend a product or service that we do not believe in or that we do not use ourselves, and we will never give any third-party any control whatsoever on our content. For more information on our advertiser disclosure, click here.
Share this post to help us help more people travel more for less: