Brazil is without a doubt a common destination for travelers from around the world. But, as a Brazilian, I often feel there are a lot of spots that get ignored when it's time to pick a place to visit in this admittedly huge country.
Considering all pandemic restrictions are basically gone in Brazil (for vaccinated travelers) and the fact that spring is beginning here (that being, less touristy than our summer season and your summer season), you could find coming across a good deal to travel to Brazil might not be as hard as initially thought.
You Canadians are lucky to have travel rewards (don't take it for granted — we don't have a lot of that in Brazil), as those of you who took advantage of the recent deals can get 7 one-way reward flights across Brazil (consider the Amex Cobalt Card to still get 6 flights now and make sure not to miss the next increased deals by signing up for the special travel rewards newsletter for free).
Those points make seeing many destinations within the country much cheaper!
But even then, choosing a destination to visit among so many possibilities can be a tad overwhelming.
So, with that in mind, here is a Brazilian's top 9 picks among destinations in Brazil you don't hear about that often, and one you might hear about a bit too much (but for good reason!) as a bonus.
1. The Peninsula of Maraú (Bahia)
The peninsula of Maraú is located on the coast of the state of Bahia, some 200 kilometers south of the state's famous capital city, Salvador (not to be confused with San Salvador, the capital of El Salvador in Central America).
While Salvador is a fairly known destination for tourists, the peninsula is just now starting to get some buzz.
The region offers incredible beaches, clear blue water, natural pools, and a gorgeous sunset. Also worth mentioning, you can rent a quad and drive it along the Taipu de Fora Trail, hire a Speedboat Tour of Camamu Bay, or rest under the sun on the gorgeous and almost private Algodões Beach.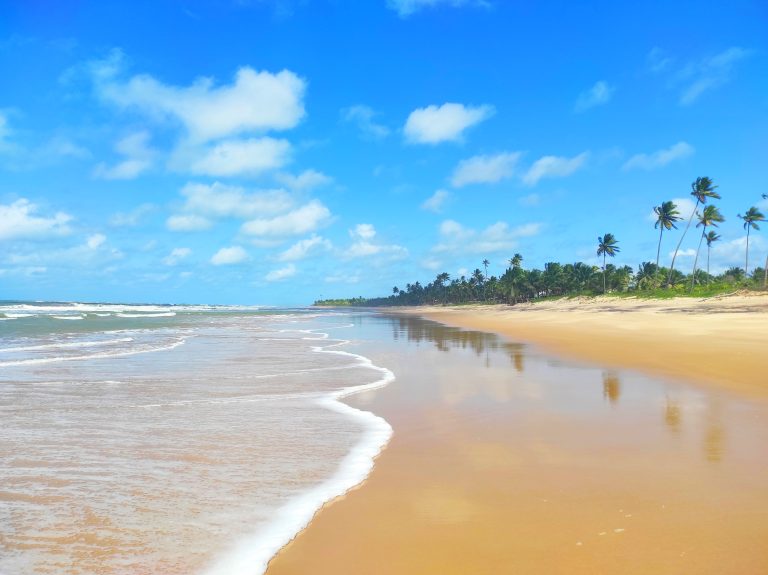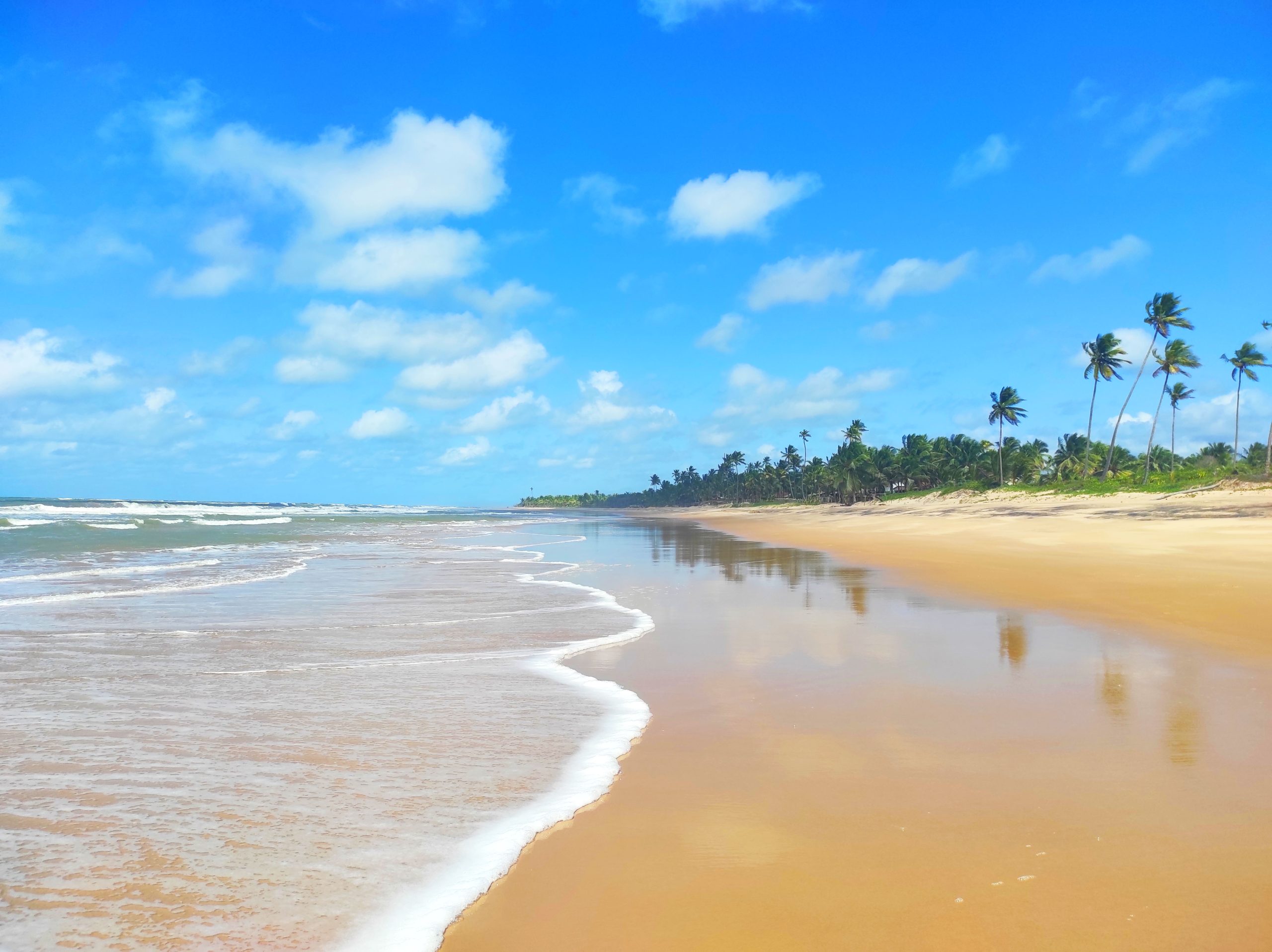 But my all-time favorite activity on the peninsula has to be kayaking or stand-up paddling in Cassange Lake and Beach.
The lake runs through almost all of the peninsula, parallel to the coast, its naturally dark and warm water offering one of the most striking visuals in the area — especially when the sun is setting.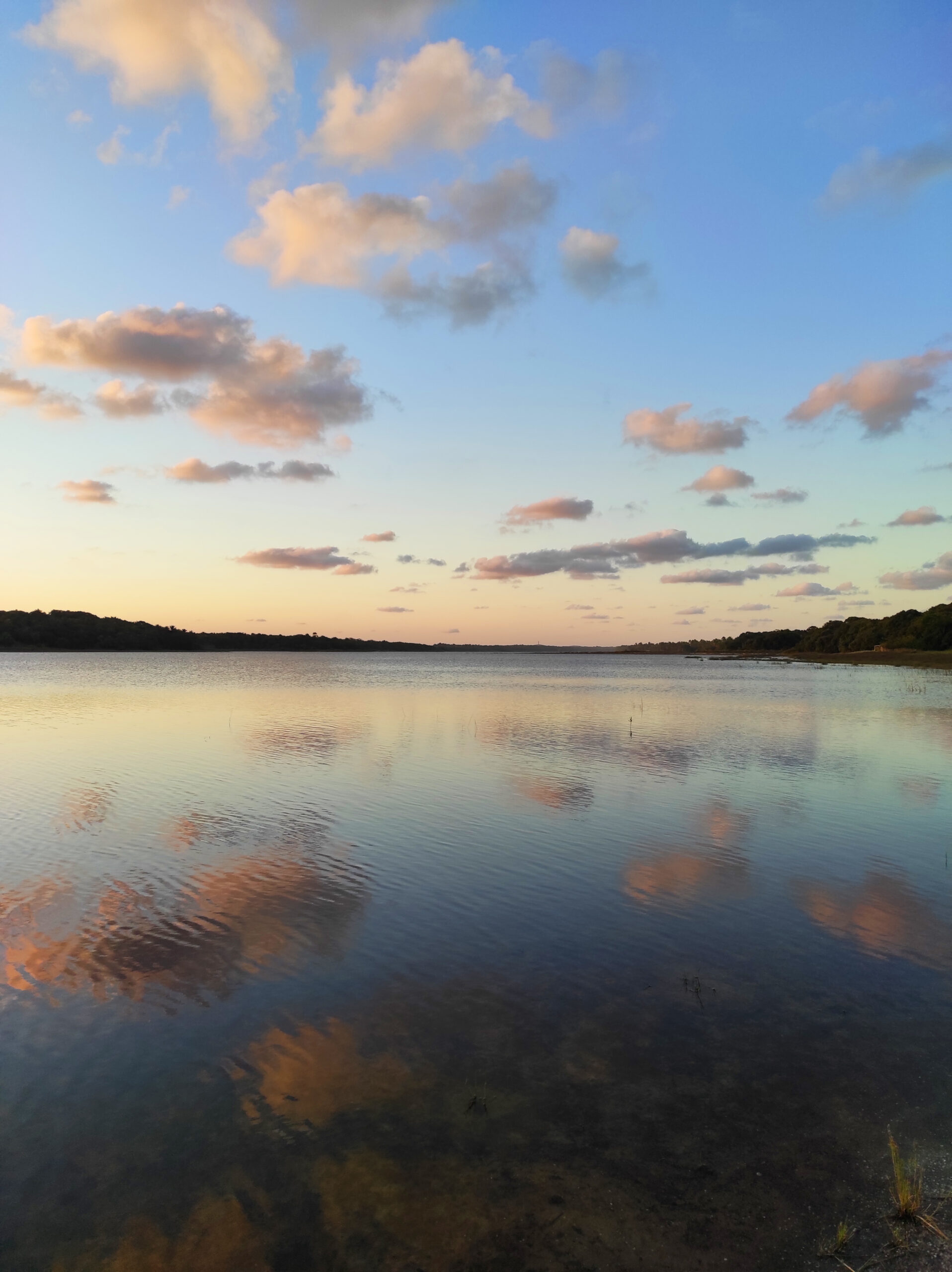 And if you even need any more reasons to consider it, the state of Bahia has one of the most interesting cuisines in Brazil. Rest assured, you'll eat well. And even better: it will be at a really moderate price.
2. Lençóis Maranhenses National Park (Maranhão)
If I ask you to think of a landscape in Brazil, I'm entirely convinced a desert won't be the first thing on your mind. But here's the beauty of a country the size of a continent: you really get all possible scenery in one place.
The Lençóis Maranhenses (which roughly translates to "Maranhão's Blankets," given its sand shape that reminds you of a blanket in the wind) is a national park located in the Maranhão state in northeastern Brazil.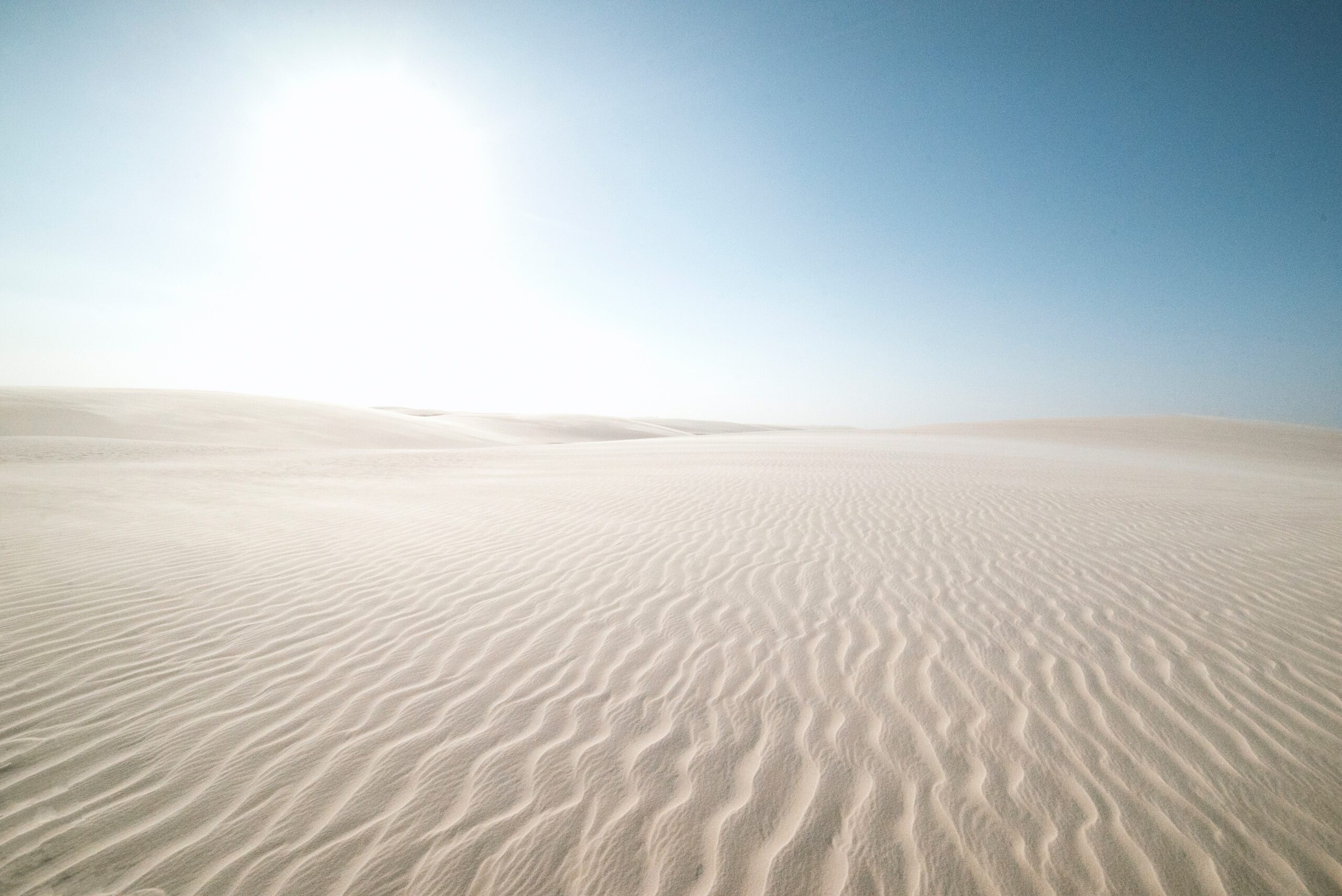 With the help of local guides, you can go on a multi-day expedition to explore the kilometers of sand and swim in the naturally formed lakes.
It's absolutely gorgeous, and one of Brazil's best preserved natural tourist attractions.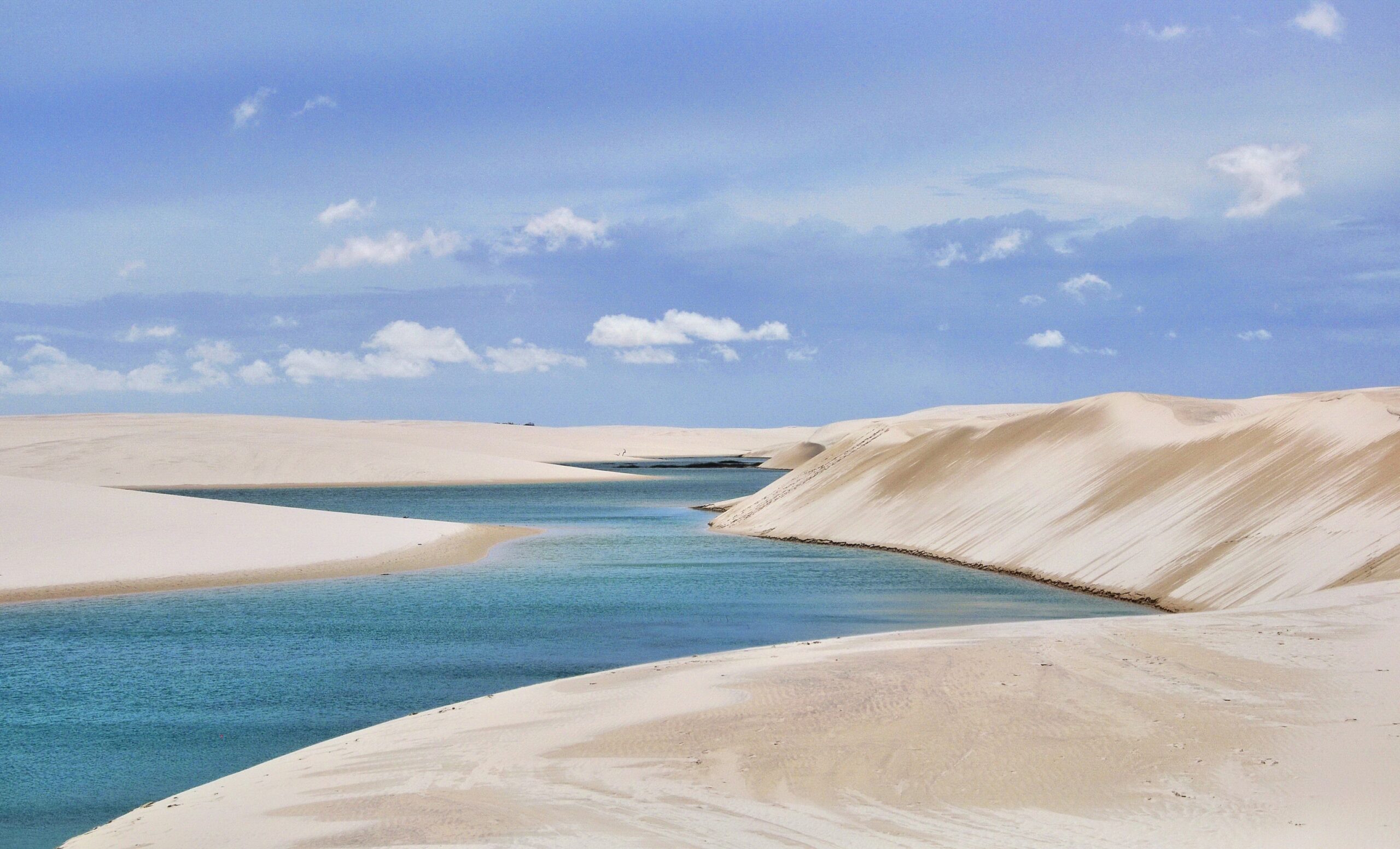 3. The Archipelago of Fernando de Noronha (Pernambuco)
Fernando de Noronha is a volcanic archipelago 350 kilometers off the coast of Pernambuco, a state in northeast Brazil. It's also one of UNESCO's World Heritage Sites since 2001, being home to many endangered species and a high population of spinner dolphins.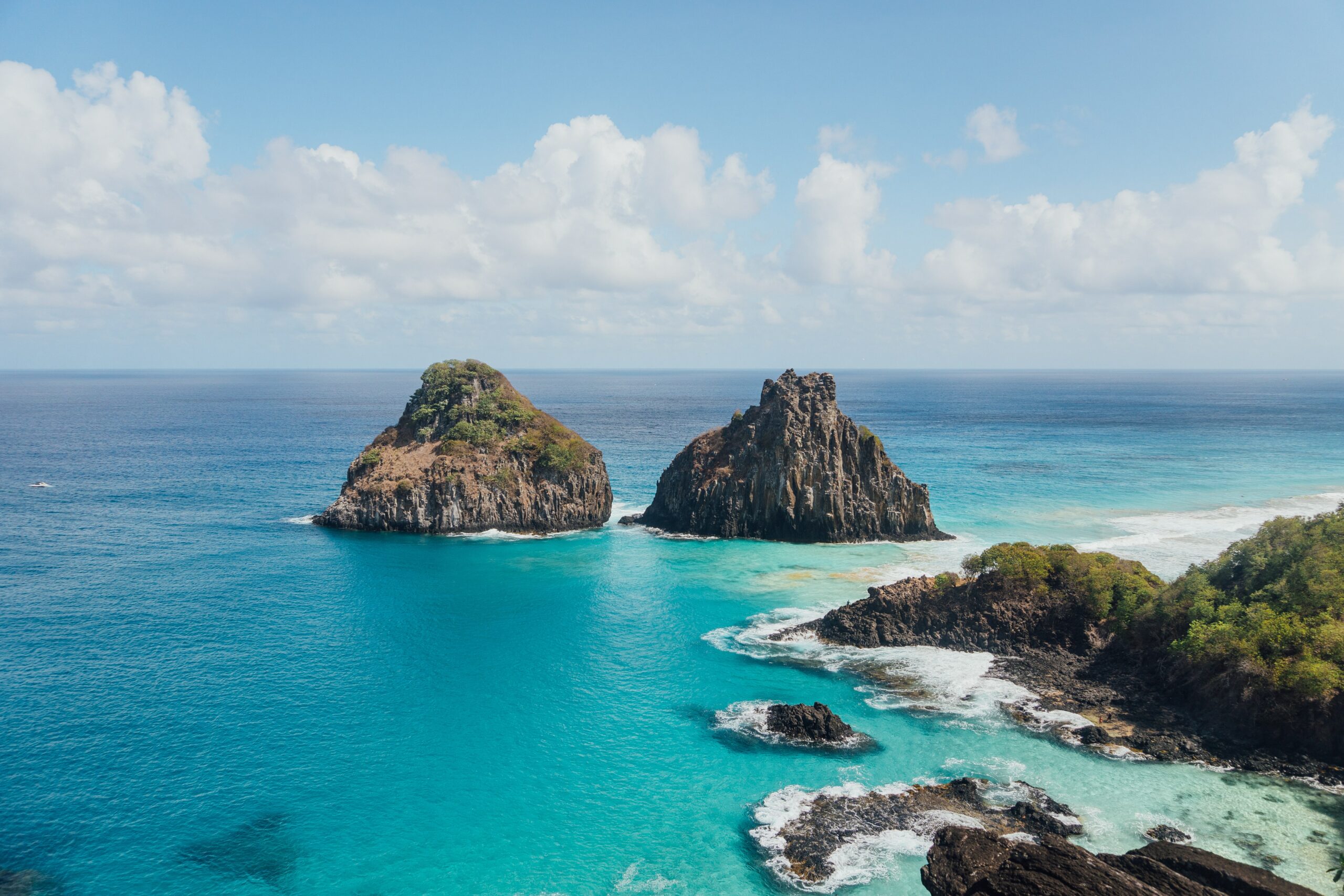 Because of its isolated location and limited infrastructure (mostly for conservation reasons), it's not that easy to get a flight to the archipelago's airport (FEN). There are only 3 daily routes that leave the cities of either Recife (REC), in Pernambuco, Natal (NAT), in Rio Grande do Norte, or Campinas (VCP), in São Paulo.
So if you want to get to know Fernando de Noronha, there's really no way around it: a lot of planning is required.
It's so worth it though! The archipelago is mainly promoted for recreational diving (the visibility underwater can reach up to a shocking 50 meters), but you can also swim with dolphins among many other activities. It's a perfect destination for a relaxing getaway and I really couldn't recommend it more.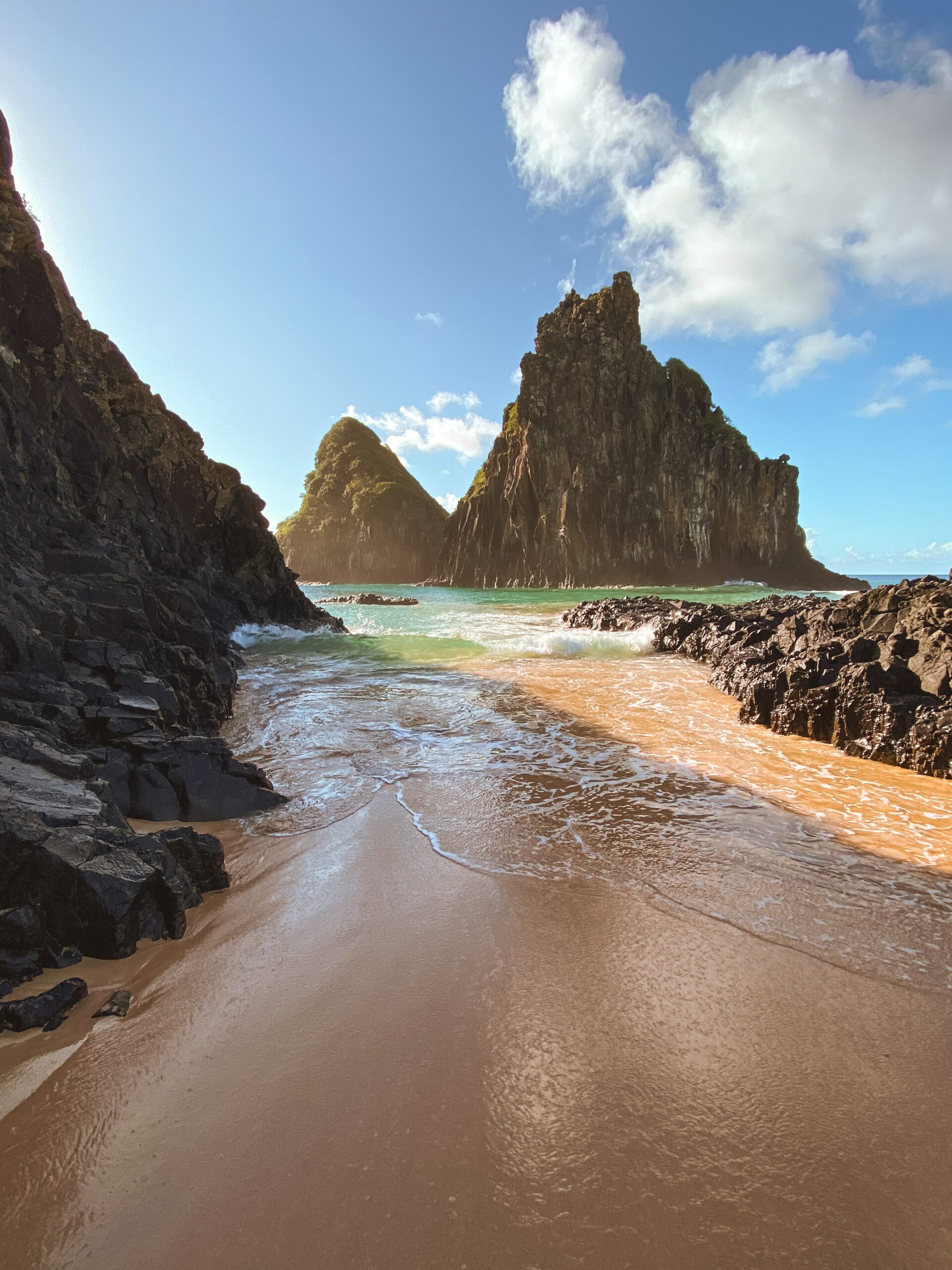 4. Jalapão State Park (Tocantins)
Jalapão State Park is pretty much an oasis located in the state of Tocantins, in the middle of the Brazilian Cerrado, South America's largest savannah. The state park is home to the Fervedouros, a kind of natural karst spring that allows visitors to swim in clear waters and experience a very unique phenomenon.
The science of it all is very convoluted, but the outcome is simple: inside a Fervedouro, the water pushes you up at a rhythmic pace that allows you to float at all times, even in freshwater. It's a crazy feeling of stepping into nothing and never going under, and I loved every second of it.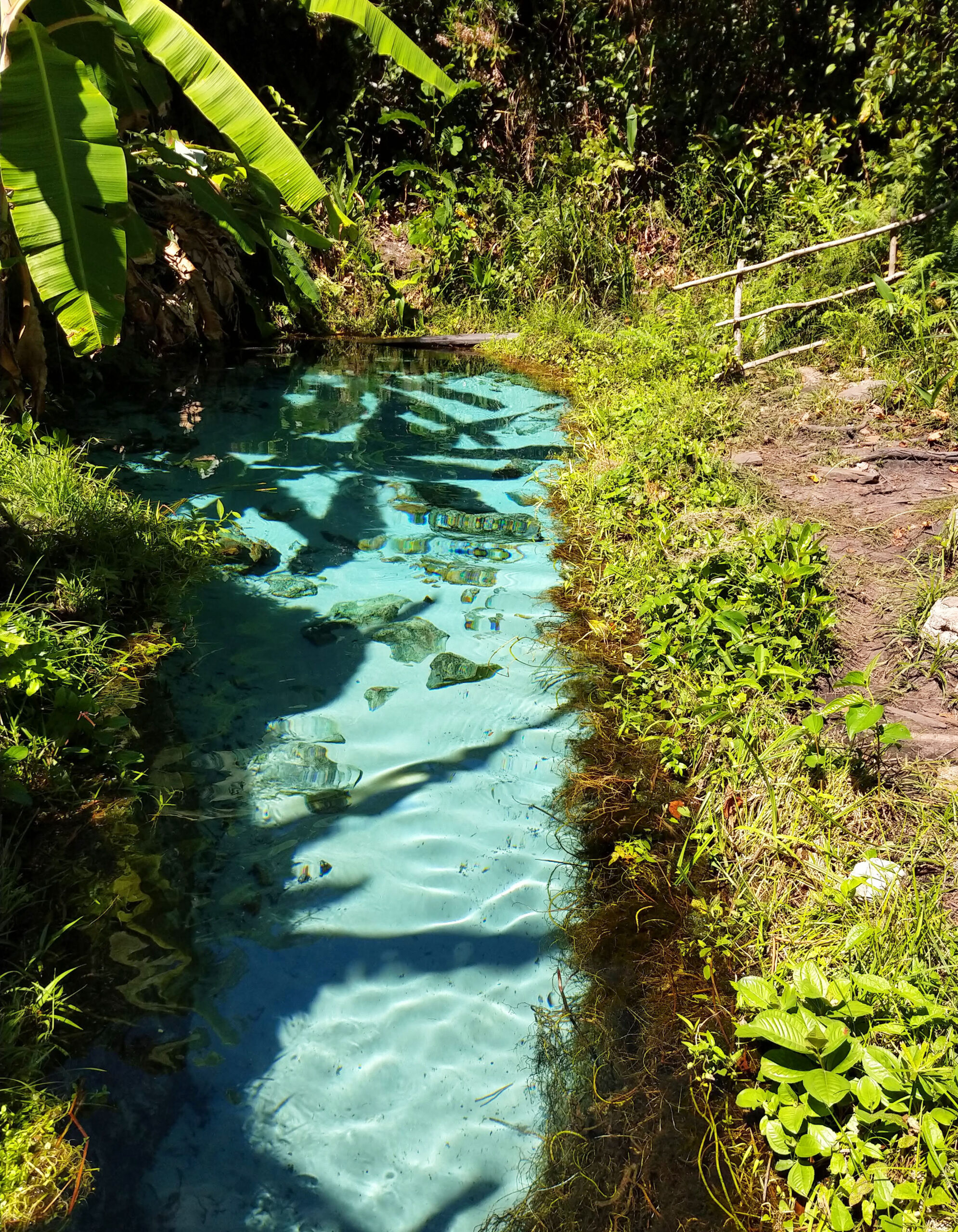 There are many options for local guides that will take you to see not only the Fervedouros, but also gorgeous scenery such as natural springs, waterfalls, interestingly shaped rocks, and even sand dunes — in the latter two, you are also welcome to watch gorgeous sunsets.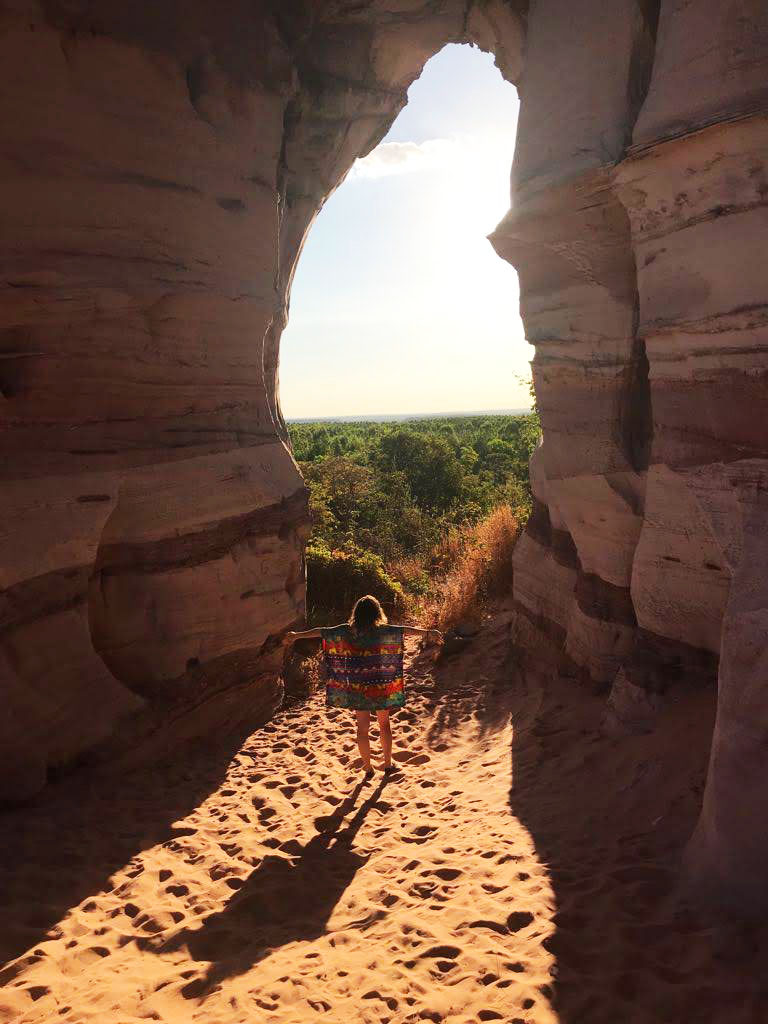 Also worth mentioning, Jalapão is the only place in the world where you can find beautiful jewelry and decorative objects made of Golden Grass (Capim Dourado, in Portuguese), a unique wild plant with a natural golden metallic color.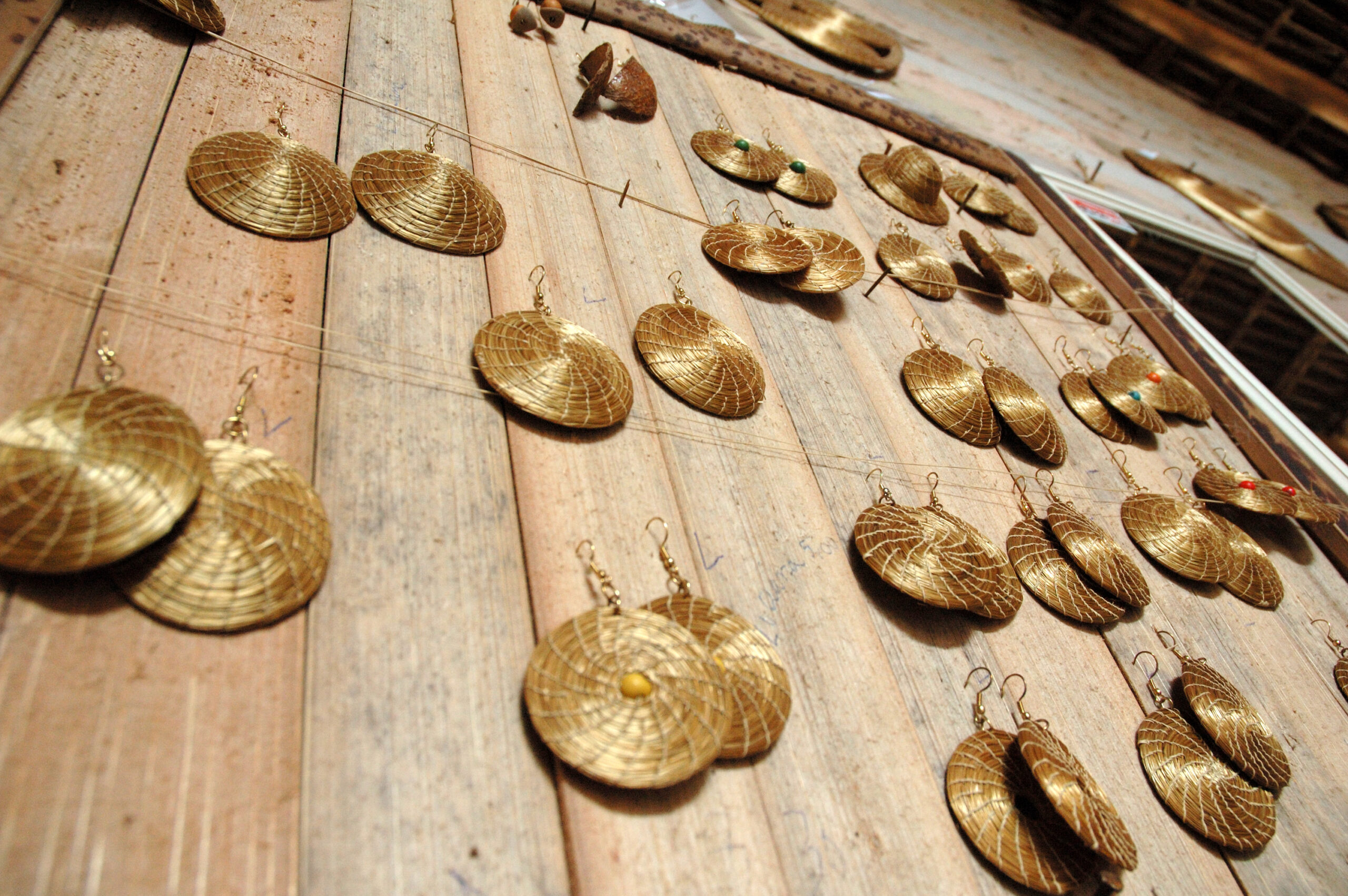 5. Manaus (Amazonas)
I don't think anyone can hear of Brazil without thinking of the Amazon Rainforest and the city built right in the middle of it, Manaus.
From the rest of Brazil, you can only get to the Amazonas state's capital by boat or plane, the latter option offering one of the most beautiful landing views as the plane flies above a huge extent of the Amazon Rainforest in order to reach the city.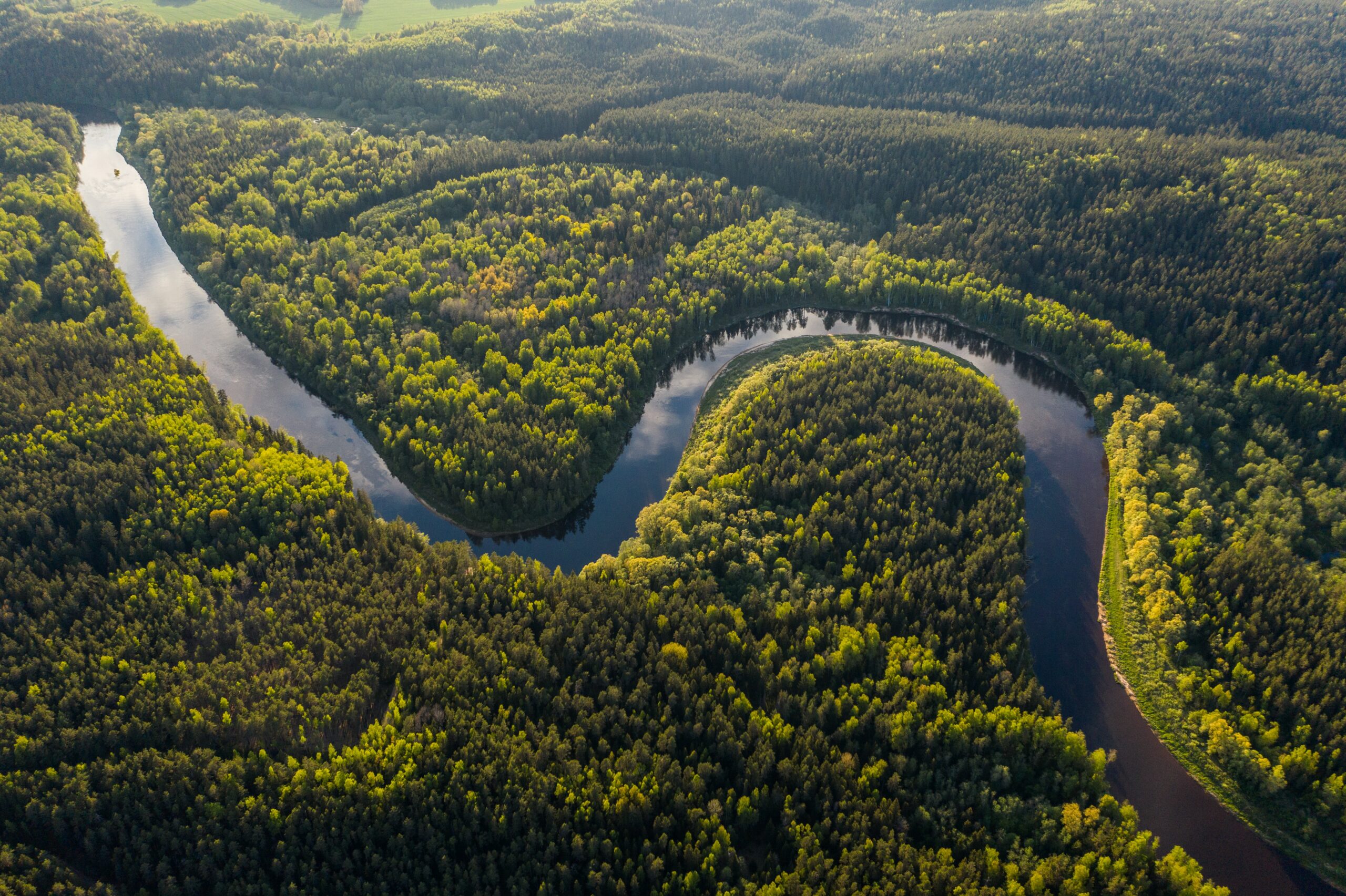 There is a lot you can do in the Amazon Rainforest, everything is new (even for a Brazilian).
You can go on boat tours on the Amazon River, swim with the pink botos (a species of pink dolphins that lives only in fresh waters), see the meeting of the Negro and Solimões rivers (the famous Meeting of Waters where the different-colored rivers don't mix and where the Amazon River begins), take day tours through the rainforest, or simply enjoy the amazing buildings in the city.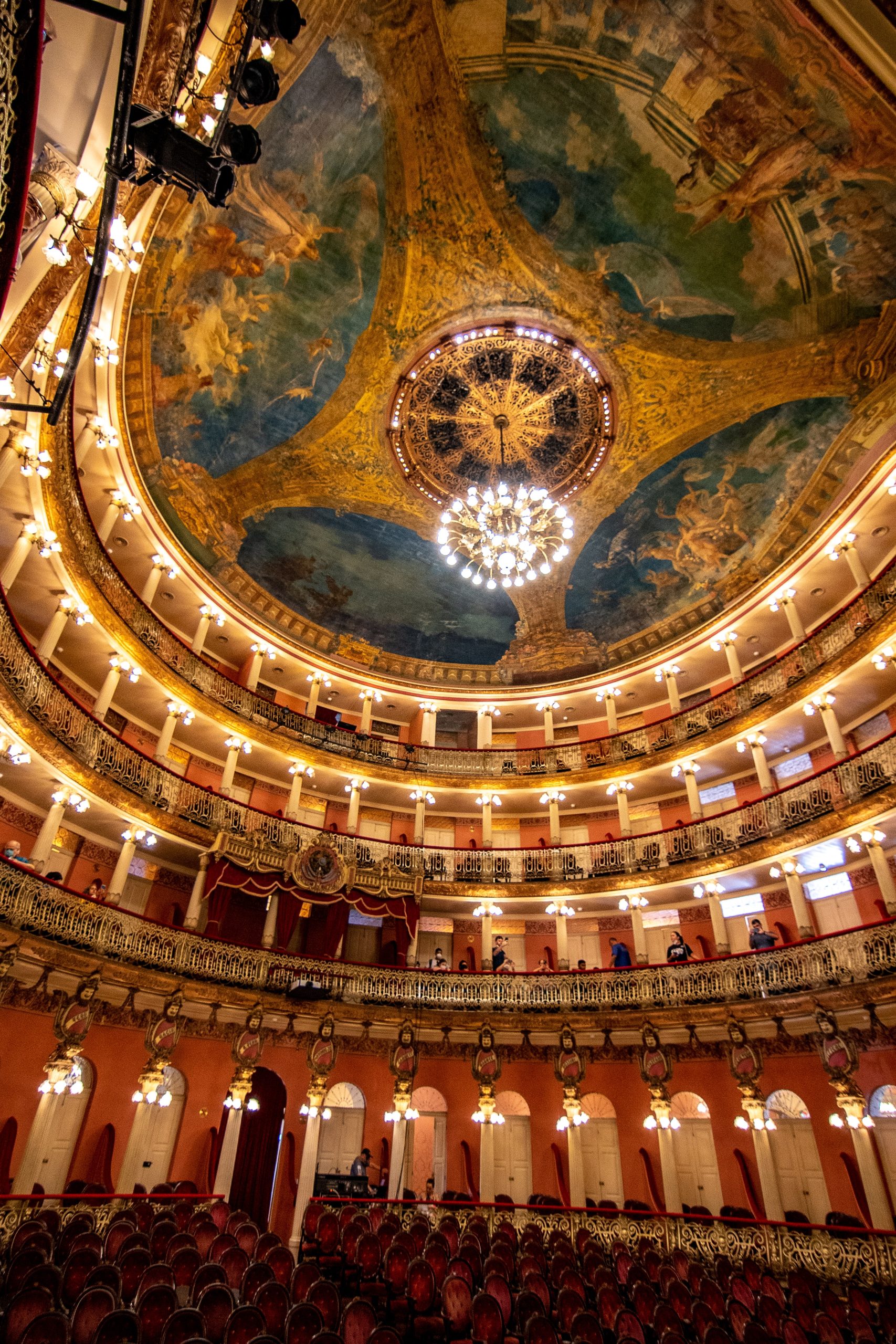 Also, if you're into gastronomic experiences, there's a lot of different and delicious food you can try.
I particularly enjoy the local freshwater fish, along with Tacacá (a type of soup) and sugar cane juice.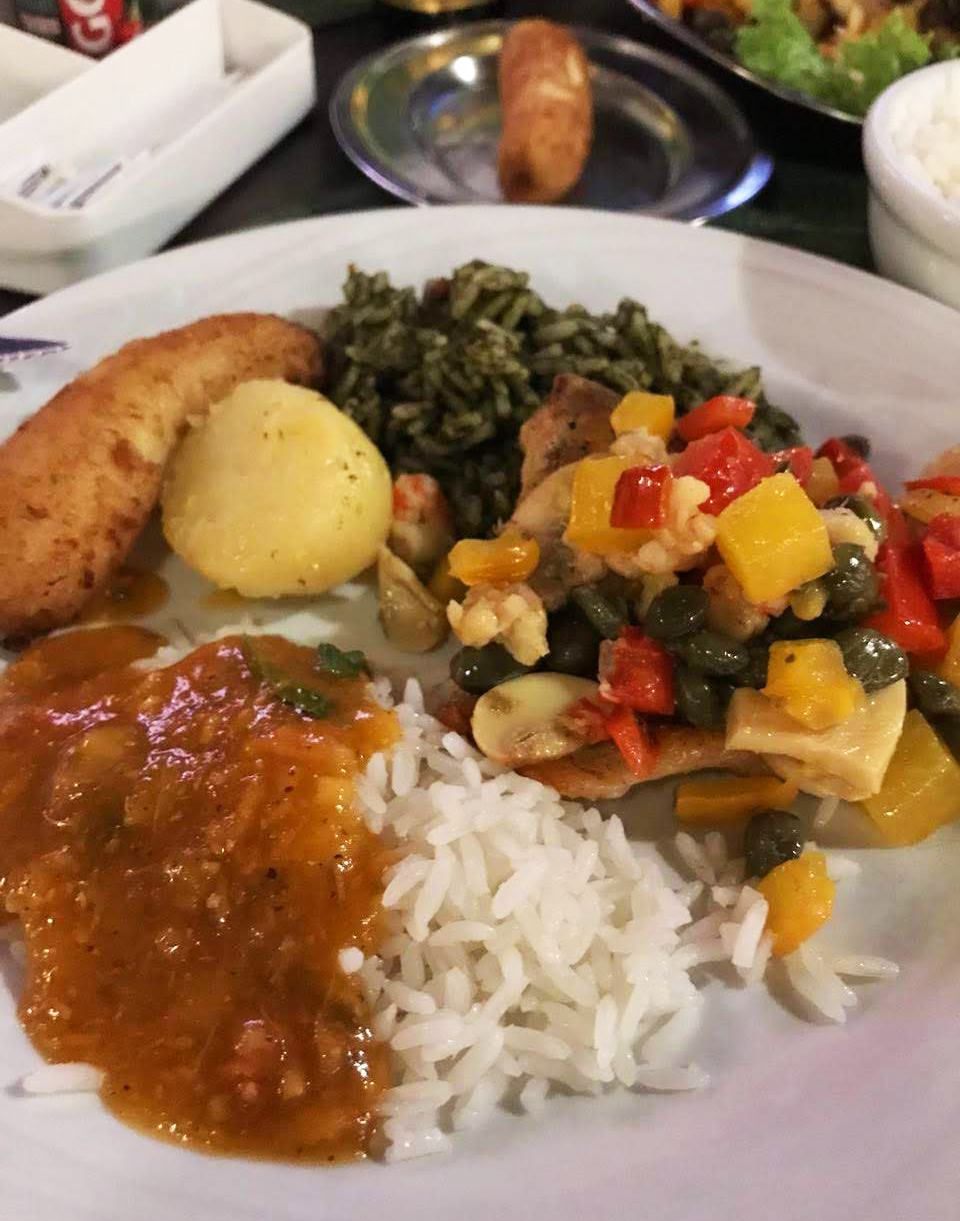 Honorable mention: Presidente Figueiredo
About 100 kilometers from the Amazonas state capital is the lesser-known, but equally impressive, town of Presidente Figueiredo.
The city is called by locals "The Land of Waterfalls" and for good reason. There, you can find an extensive number of waterfalls, but also take part in activities such as hiking, visiting caves, and going on boat rides on Balbina Lake.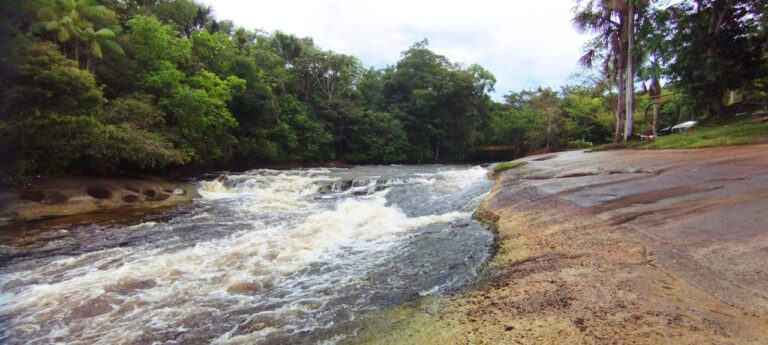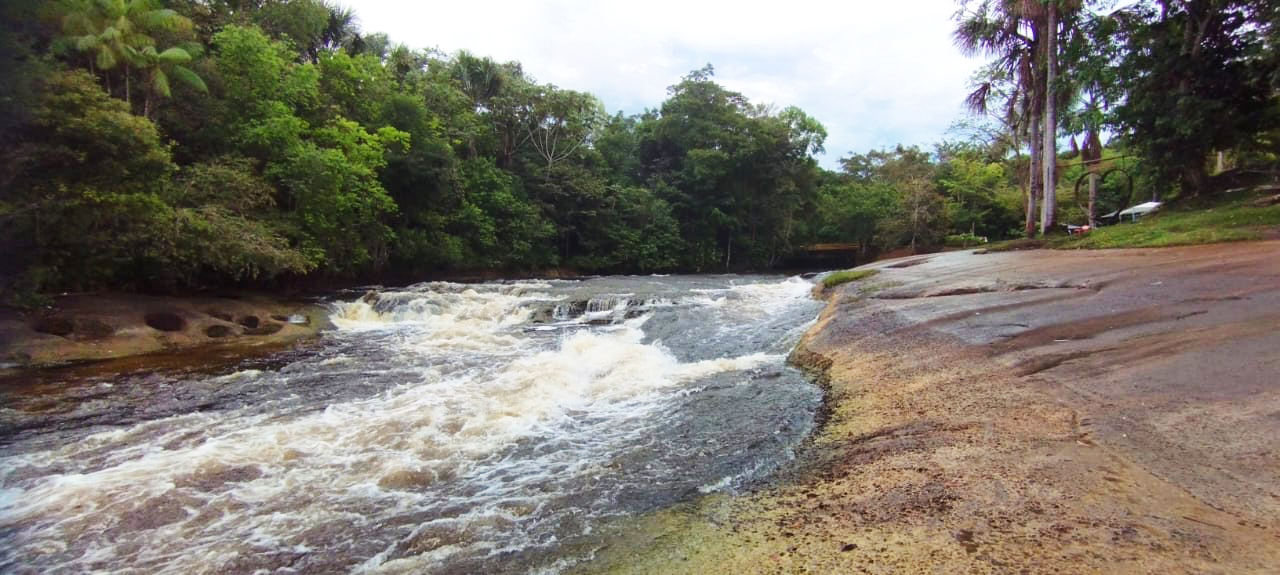 You can either rent a car and drive from Manaus or hire a local guide if you're not feeling that adventurous. Either way, the experience is sure to be one to remember.
6. Pantanal (Mato Grosso/Mato Grosso do Sul)
Known as the largest freshwater wetland in the world, the Pantanal extends through Bolivia, Brazil, and Paraguay — and in Brazil, it takes up a massive part of the states of Mato Grosso and Mato Grosso do Sul.
So you can get an idea of the sheer size of it, the Pantanal is larger than 29 US states and at least 9 European countries.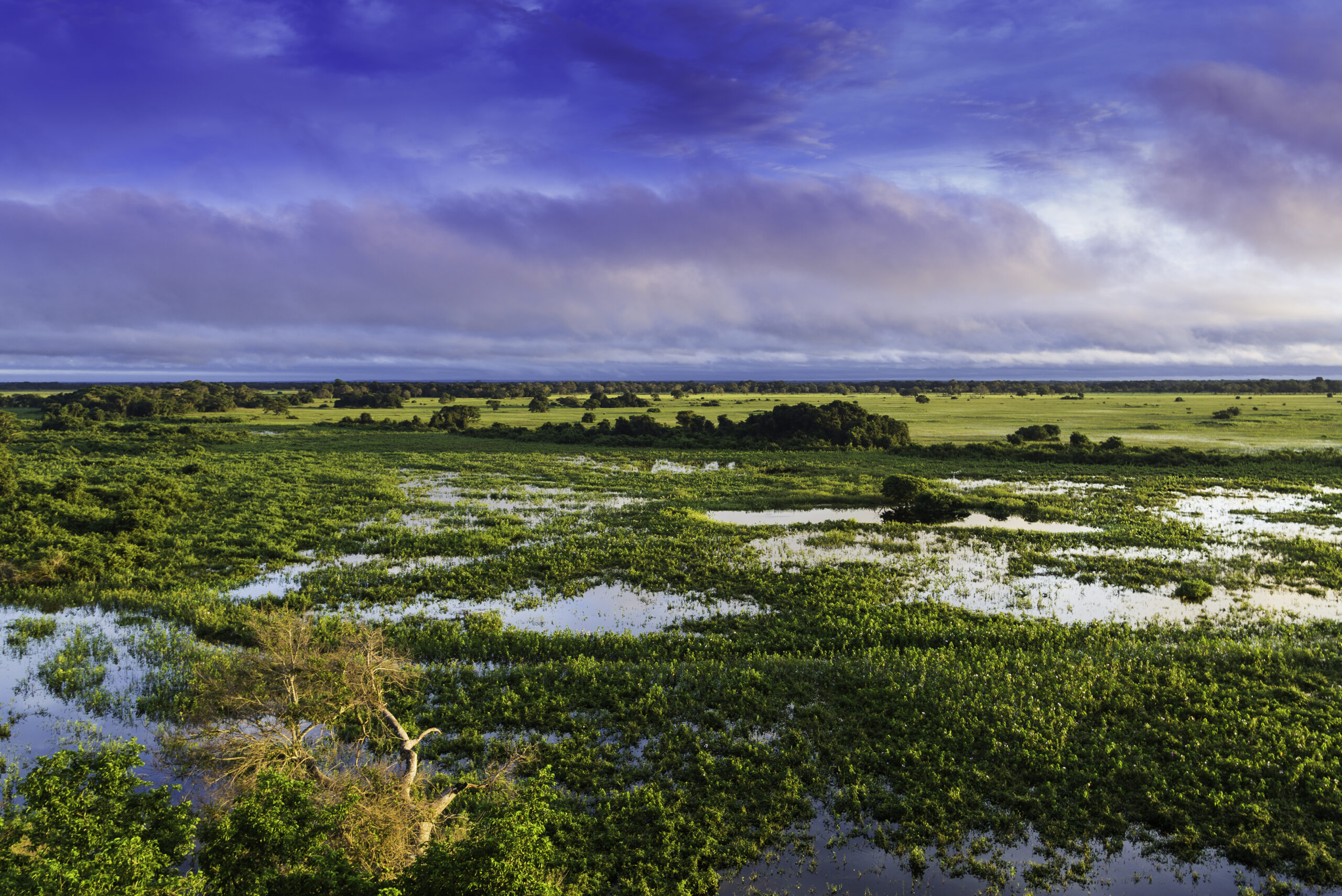 The Pantanal Conservation Area is part of UNESCO's World Heritage list and home to a wide diversity of wildlife.
So it's not surprising that its most prominent tourist attractions are the many tour options to explore the wetlands, seek out jaguars, and possibly spot one of the famous anacondas (called Sucuris here in Brazil).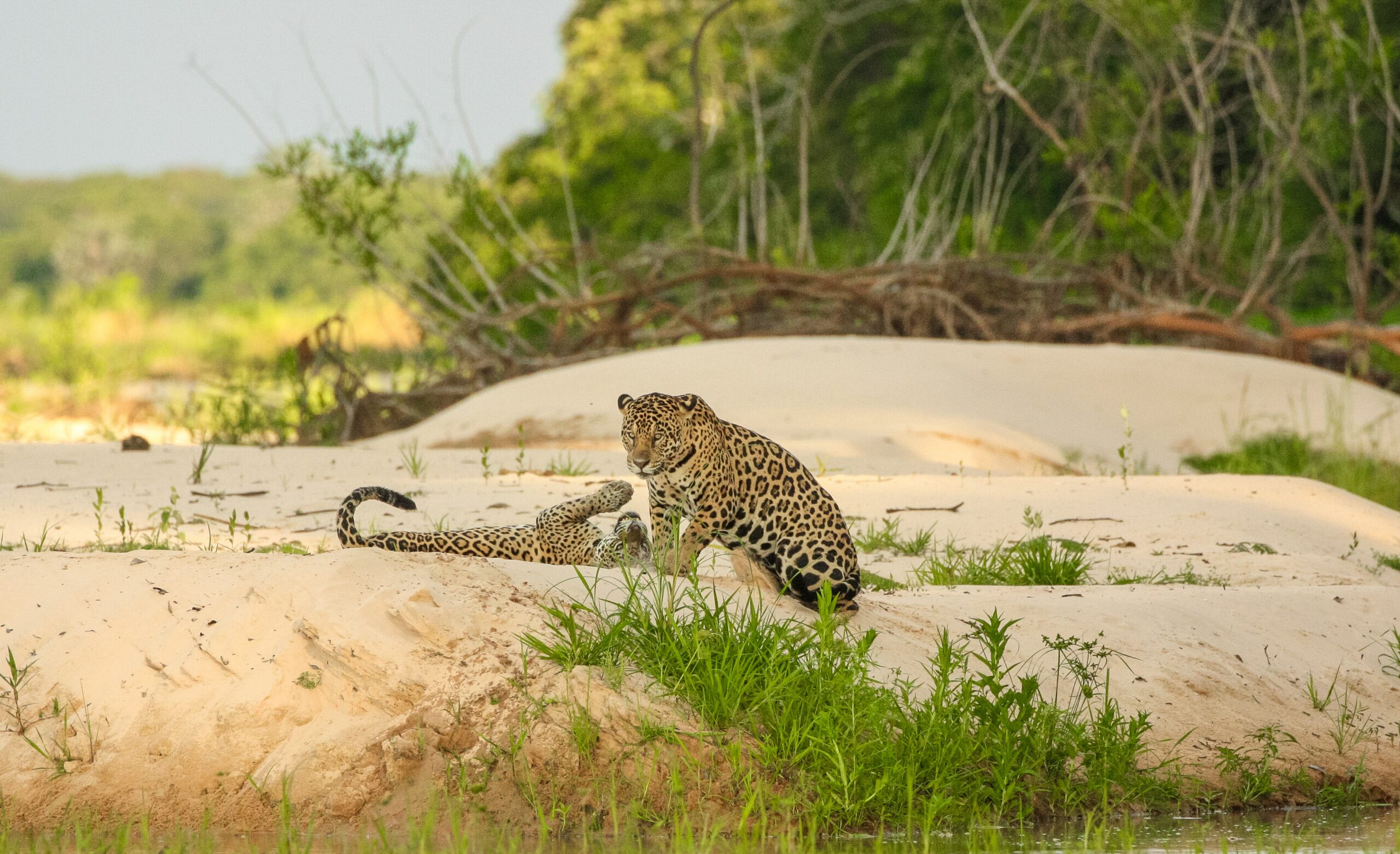 This one is a bit of a cheat though, because I've been there only once and at a very young age. But the Pantanal scenery is so impressive that it's been stuck in my mind to this day and I'm planning to go back there very soon.
7. Gramado (Rio Grande do Sul)
Taking a break from all the sunny landscape, Gramado is a small tourist city located in the southern (and believe it or not, cold) Brazilian state of Rio Grande do Sul.
Initially colonized by Azorean descendants, Gramado welcomed a contingent of German and Italian immigrants in the late 19th century, which shaped up what is now a very unique culture in the south of Brazil.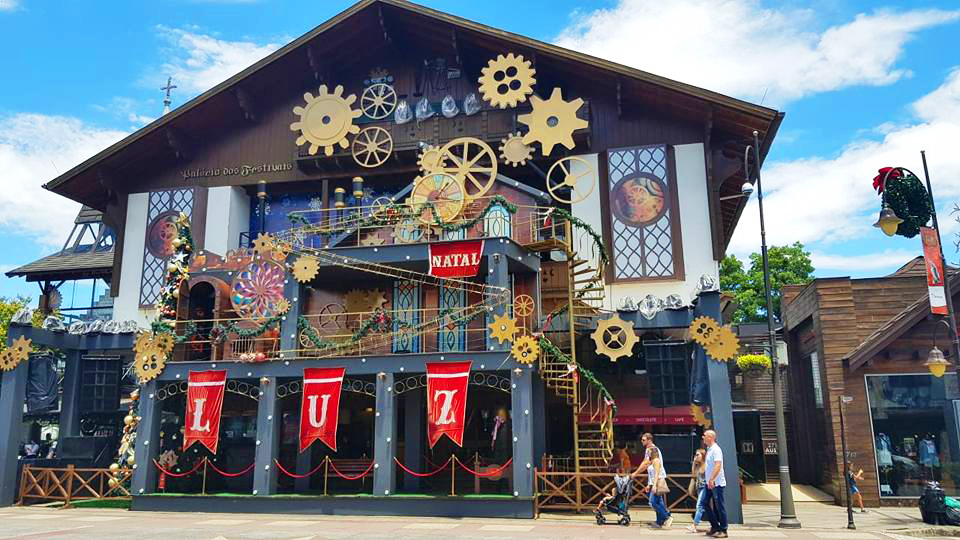 The city's tourist attractions include chocolatier tours, wine tasting, and artisan shops, and it's also famous for its annual Christmas Lights display.
Also, you get to enjoy some nice gastronomic experiences — the continental breakfast being a delicious option to taste a bit of everything the city has to offer in terms of food.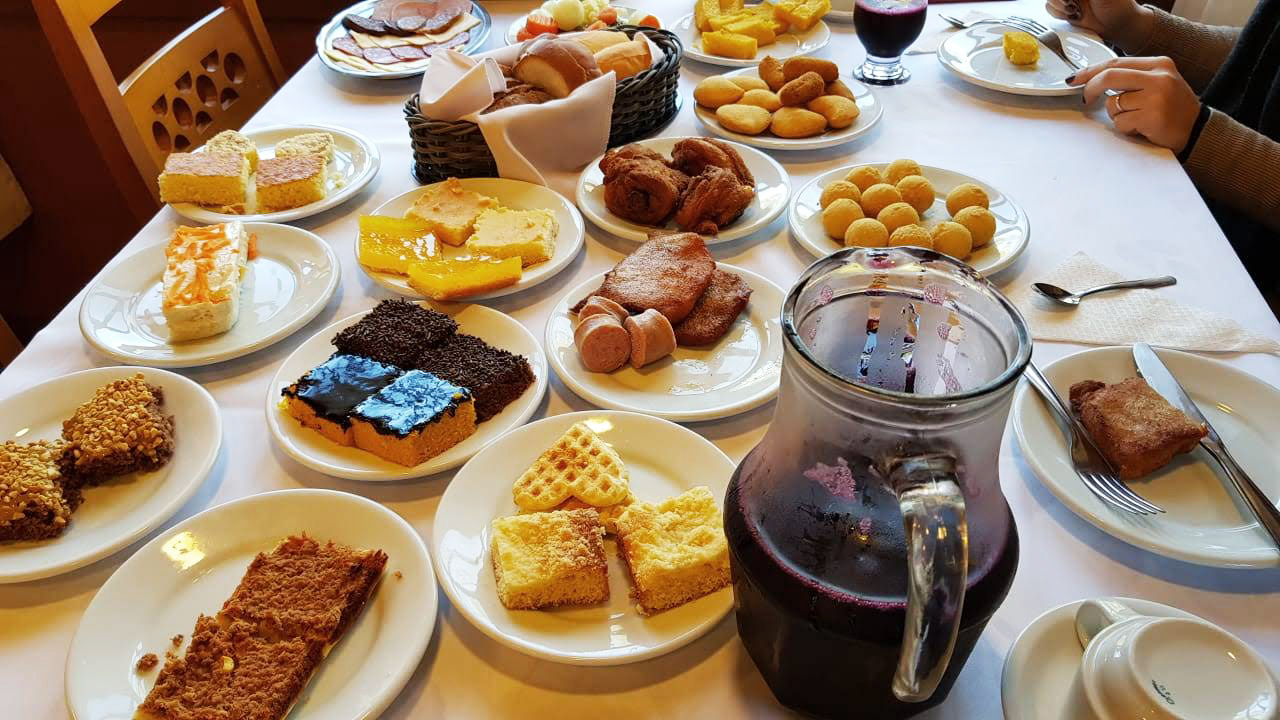 But honestly (and that probably applies to most places on this list), just walking around Gramado is a fascinating activity in itself. The city has beautiful Bavarian-inspired architecture and in the spring, you can see the hydrangea fields bloom.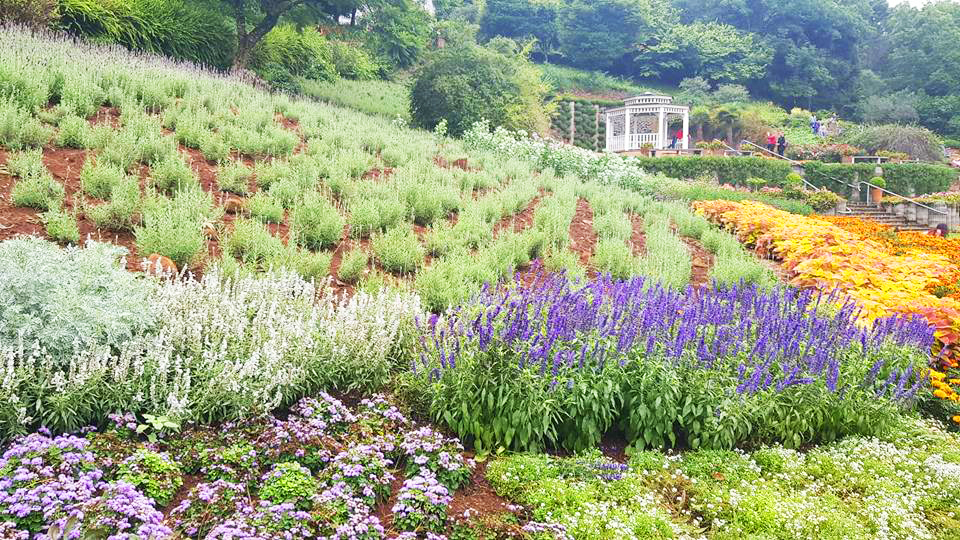 And if you're interested in the movie industry like myself, Gramado is also known for hosting the biggest film festival in Brazil, the Gramado International Film Festival, since 1973.
8. Ouro Preto (Minas Gerais)
Located in the southeastern state of Minas Gerais, the historic town of Ouro Preto (Black Gold, in English) was the main source of minerals during Brazil's golden age back in the 18th century.
Even though the city currently doesn't hold the same influence, a lot of its architecture remains as testimony to its old prosperity and, for that reason, Ouro Preto is currently listed as a UNESCO World Heritage Site.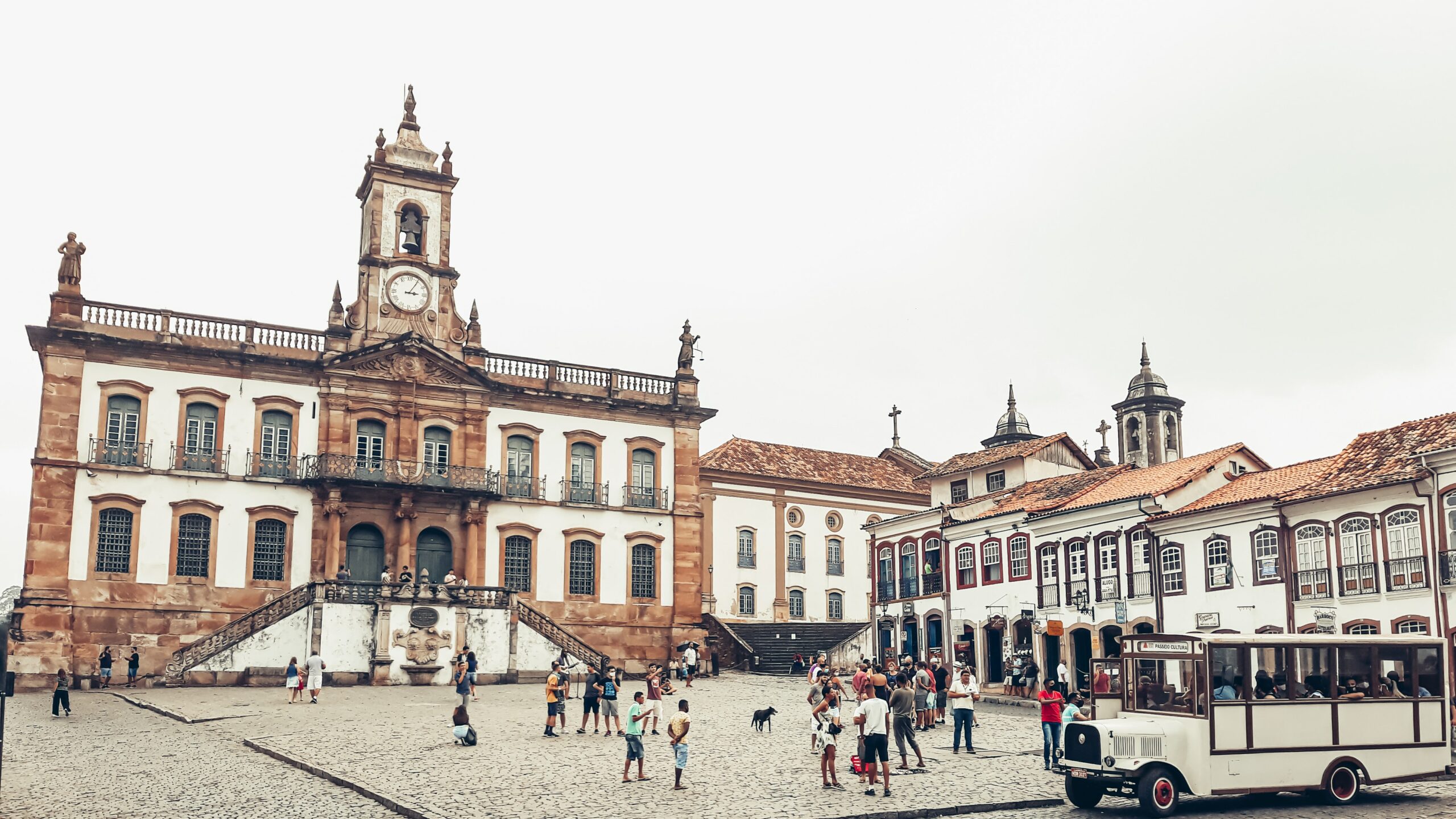 To me, walking around Ouro Preto is like visiting an open-air museum — the constructions designed by the baroque Brazilian architect and sculptor Antônio Francisco Lisboa (known in Brazil by his nickname, Aleijadinho) are especially fascinating.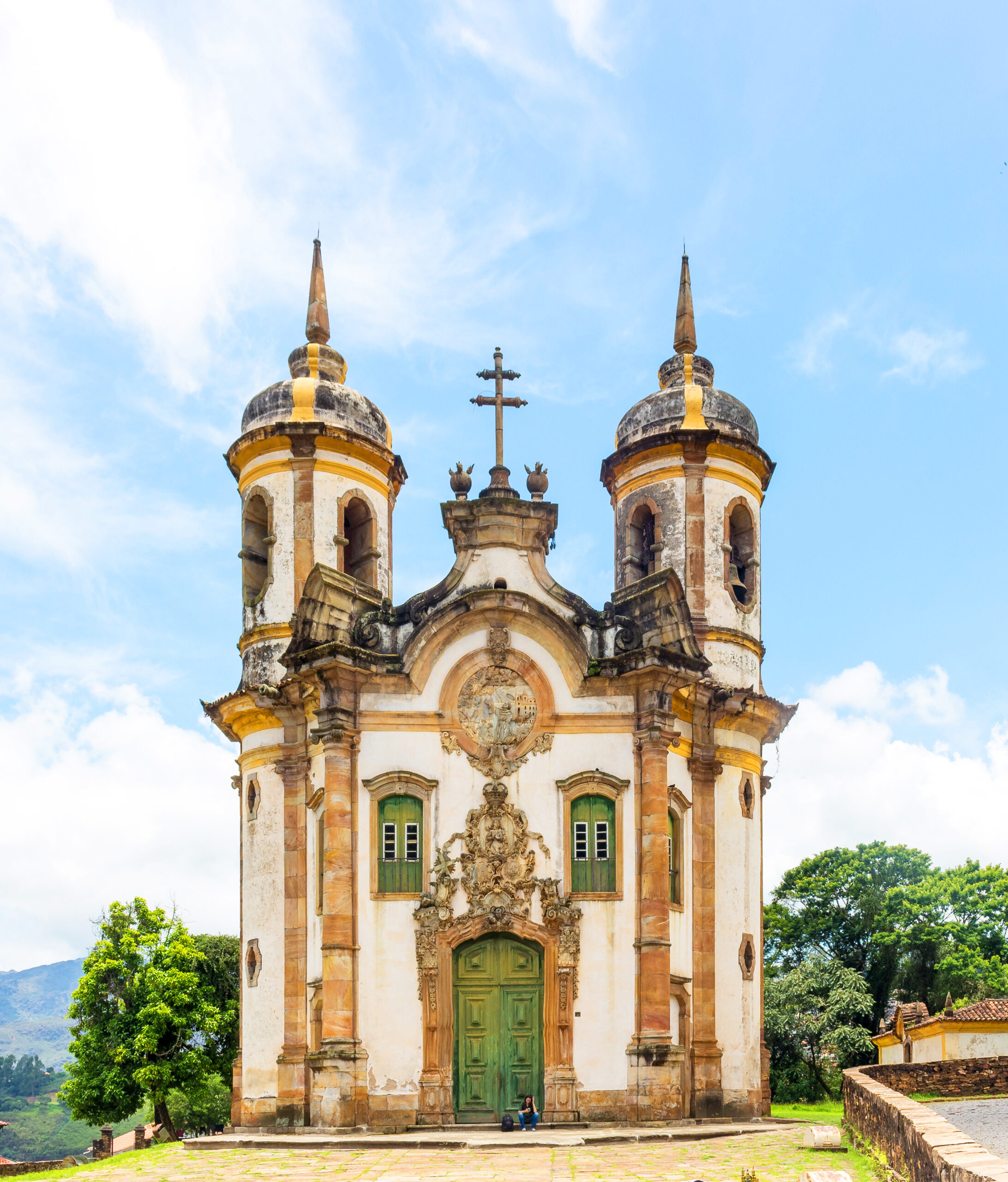 You can also take a quick trip to the neighboring city of Mariana by train and enjoy the beautiful scenery. The railway will also take you through the famous Curva do Paredão (Big Wall Curve, in English), a tunnel on the edge of a hill that will either give you chills or inspire you, depending on your feelings towards heights.
Also, the entire state of Minas Gerais has a very famous cuisine, being the proud creators of the Brazilian dish Pão de Queijo (cheese bread, in English). So be sure to try that if you're ever around.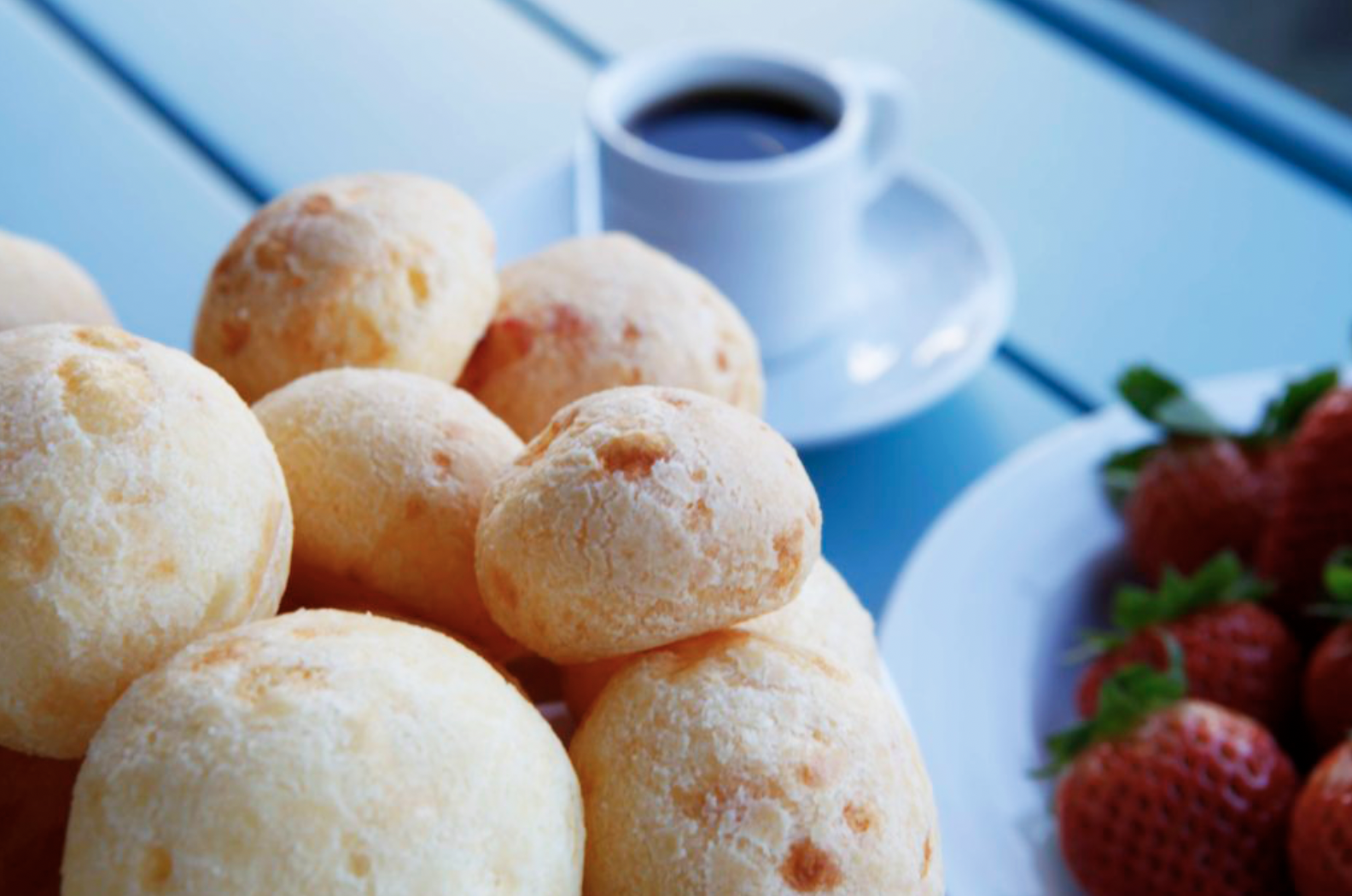 9. Arraial do Cabo (Rio de Janeiro)
Known as the "Brazilian Caribbean," the municipality of Arraial do Cabo is only a couple of hours from the state's capital, Rio de Janeiro. As the nickname suggests, the small village is surrounded by clear blue water and white sand.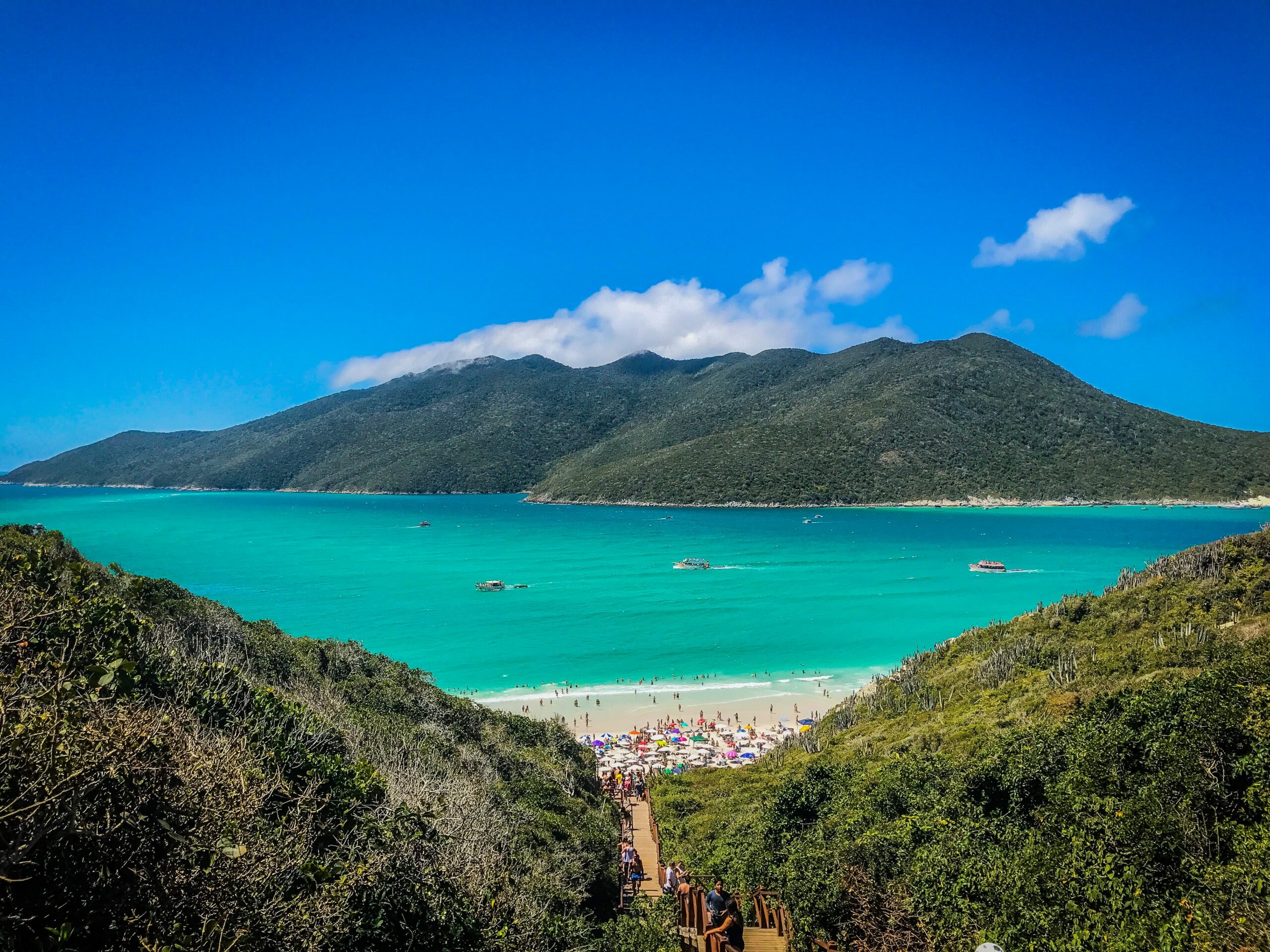 There are many activities to do in Arraial do Cabo. The city is famous for its local guides and boat tours, but you can also try scuba diving or choose one of the many beaches to rest under the sun.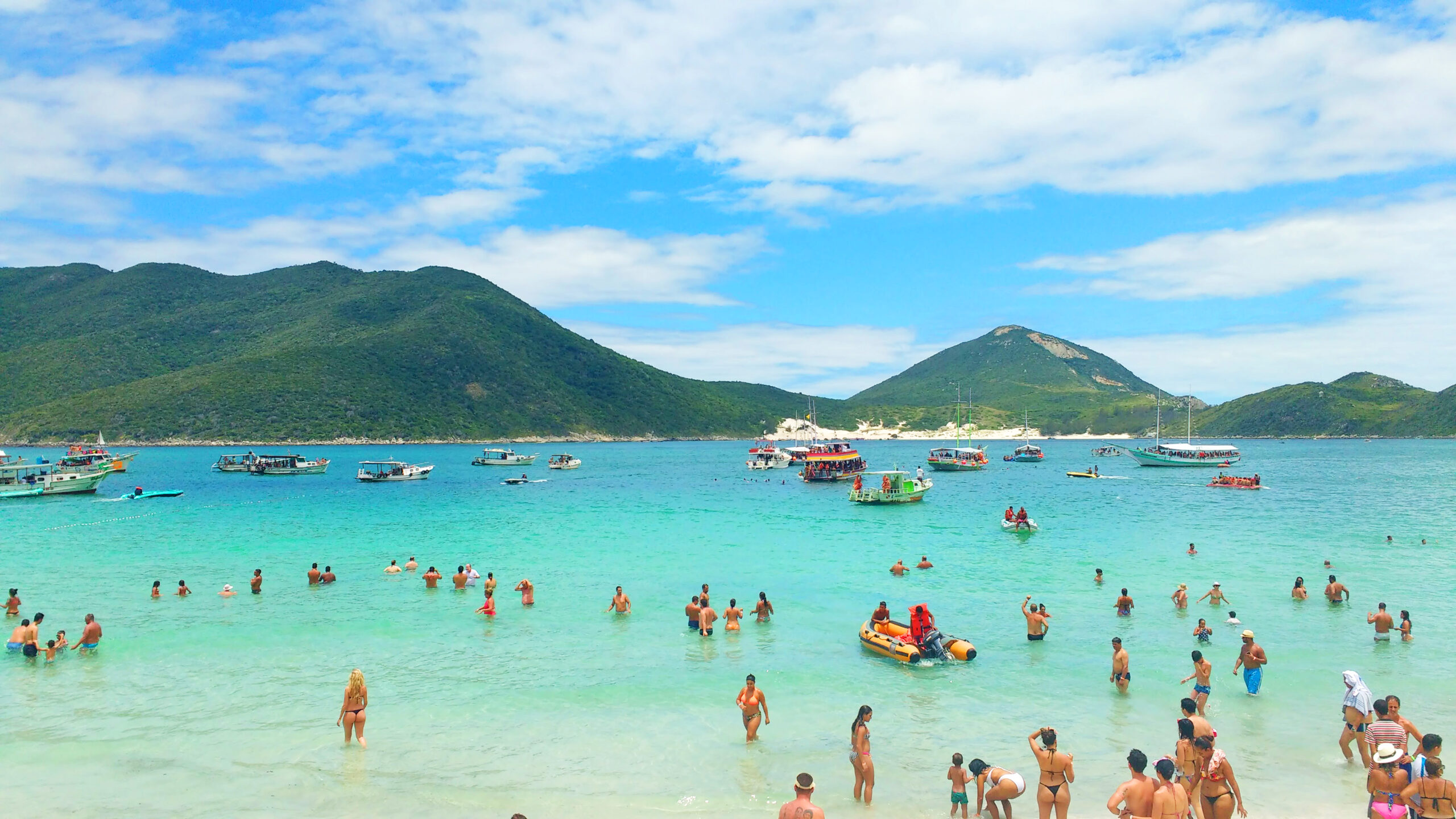 I'm not going to lie though, this one gets packed with tourists. Though not known abroad, Arraial is a very popular destination among locals. If you wish to avoid crowds, the best call would be to try and visit the city on a weekday.
Bonus: Rio de Janeiro (Rio de Janeiro)
Look, I considered if I should have the city of Rio de Janeiro in this list at all since it's such a known destination when thinking of Brazil, but honestly, it is so for a reason.
I've been living in Rio for the best part of the last 10 years and every day I'm surprised by how pretty this city is.
It's the most beautiful city in the world (don't fact-check me on that 😅).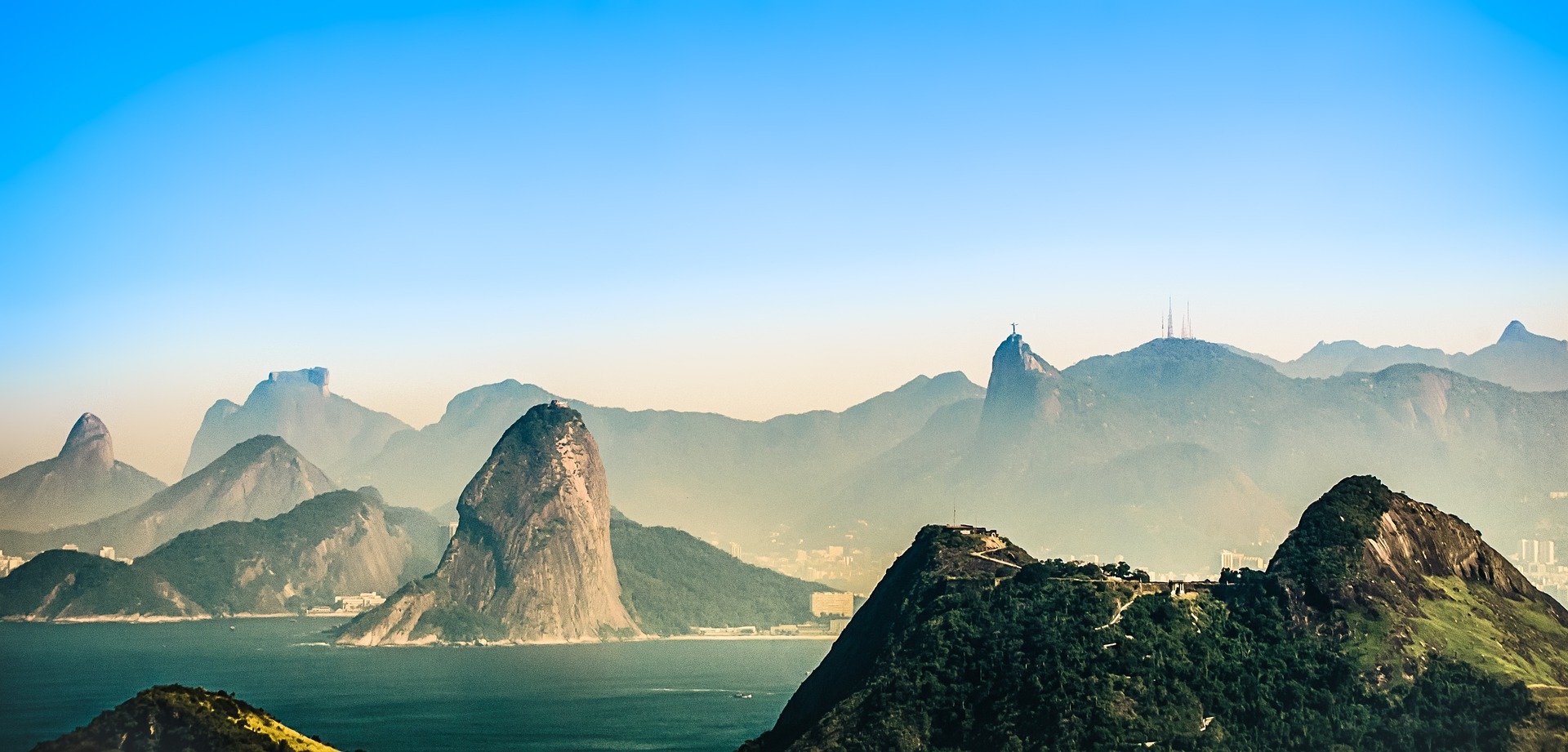 I can promise you a separate post just on my Rio tips as a local, sign up for Flytrippers' free newsletter to receive them.
There's a lot to do in Rio; you can go up the Sugar Loaf by cable car, or take a train up the Corcovado mountain to see the Redeemer Statue. Or, if you're feeling adventurous, you can do one of the many hiking trails available around the city.
Not a fan of heights? You can just as easily enjoy the scenery by walking around the decorated sidewalk (called Calçadão in Brazil) by the Leme, Copacabana, and Ipanema beaches — while drinking some coconut water straight from the fruit as a bonus and finishing your day watching the sunset at the Arpoador Rock.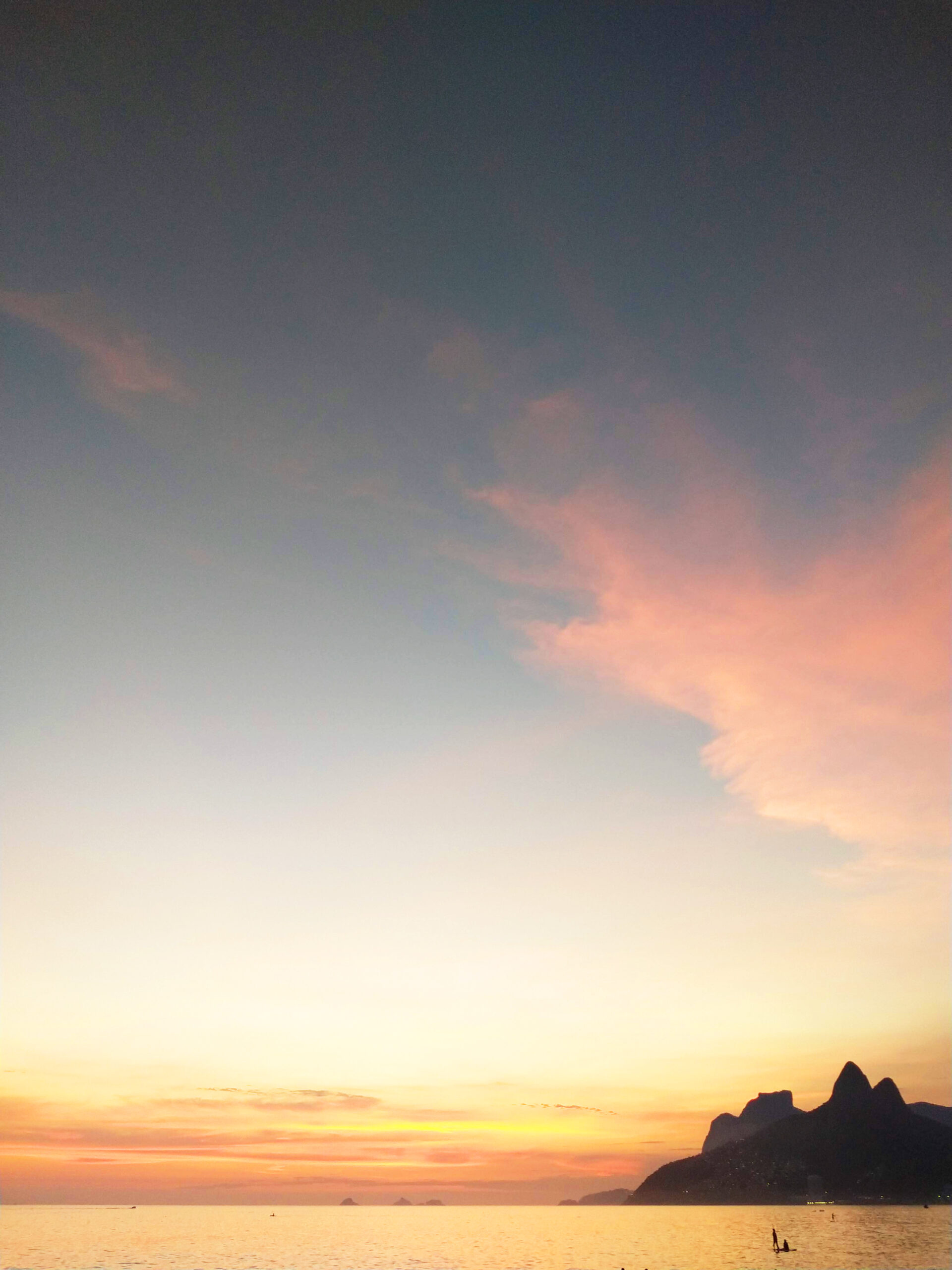 And if you want to experience one of Brazilians' biggest passions, you can also watch a soccer game.
The Journalist Mário Filho Stadium, known as the Maracanã, has a max capacity of over 75,000 people and, if you're into sports like me, to watch a game there is truly an amazing experience.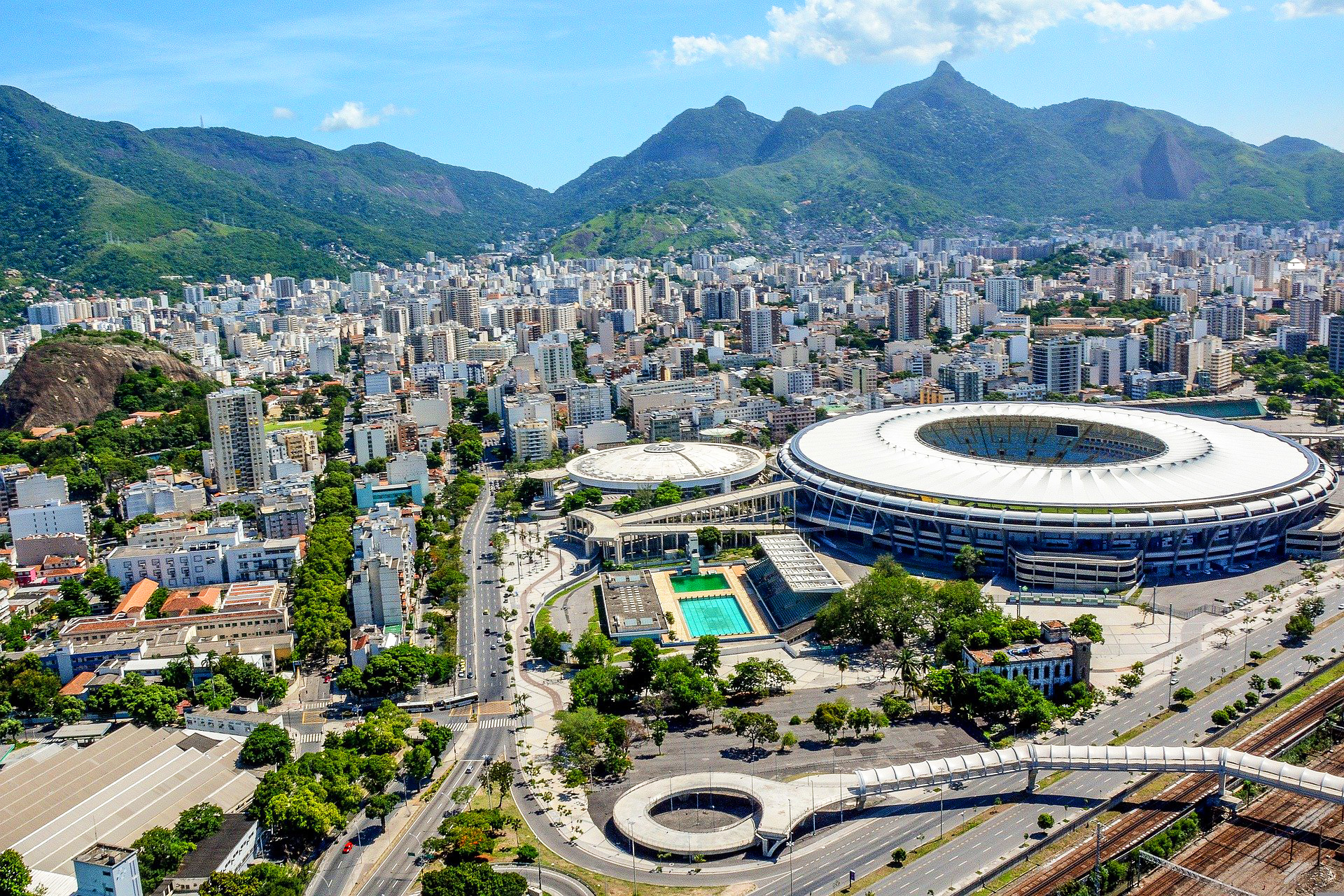 Rio is also a city of bars and open-air parties, especially exciting during its most popular festival, the Carnival.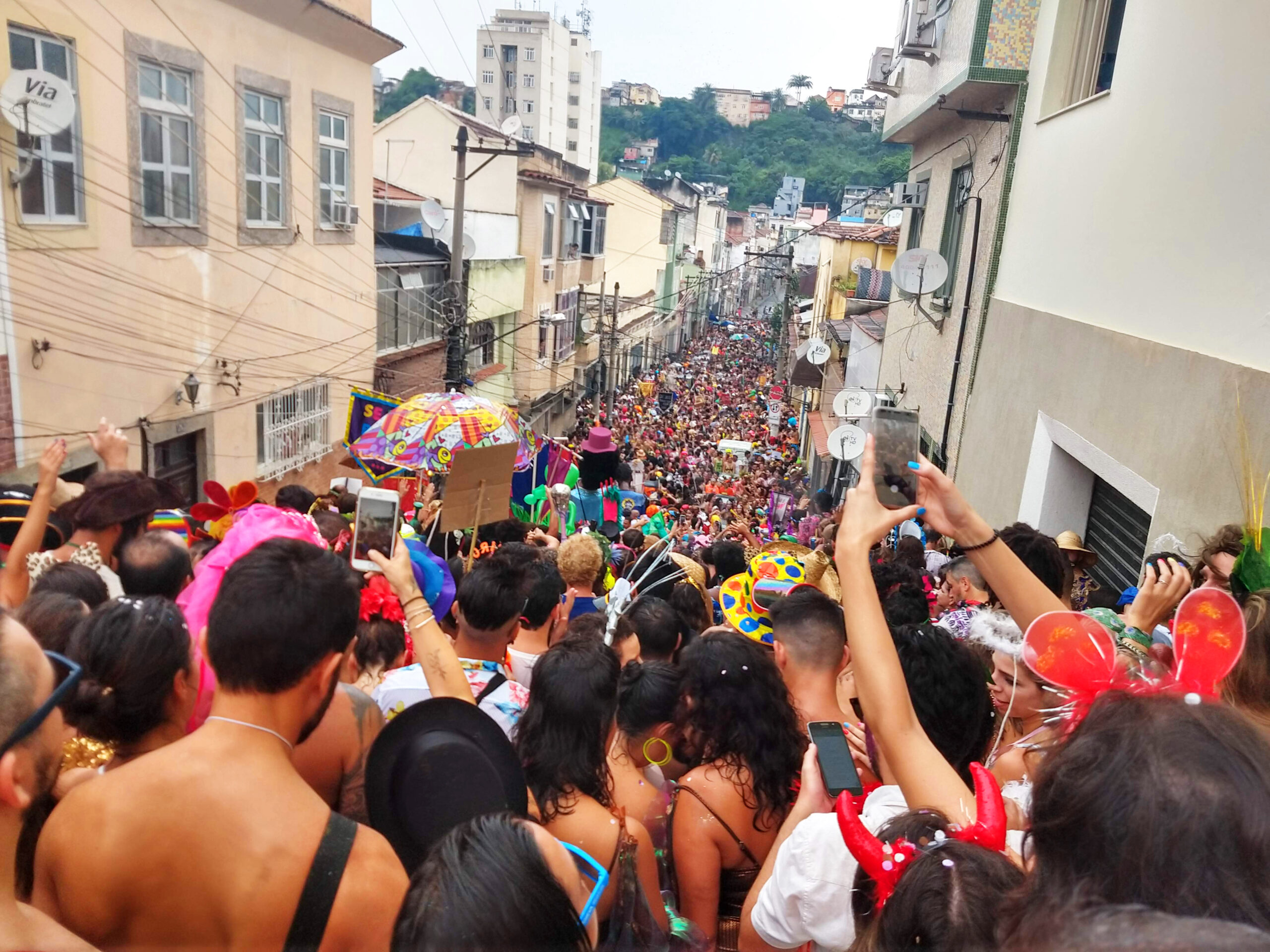 So, it's the perfect place to try out some finger food and a cold beer (we only have it cold, no exceptions!), while listening to some Samba or Bossa Nova music.
Want more content about the world's most inspiring destinations?
Summary
Brazil is such a huge country that choosing a spot to go to might be a bit tricky, so hopefully this short list of my 9 favorite lesser-known destinations (and a bonus one) can help. And there are so many more spots not included! I'm sure if you decide to visit, there's somewhere in Brazil just for you.
What would you like to know about Brazil? Tell us in the comments below.
See the deals we spot: Cheap flights
Explore awesome destinations: Travel inspiration
Learn pro tricks: Travel tips
Discover free travel: Travel rewards
Featured image: The Lençóis Maranhenses National Park (photo credit: Roi Dimor)
Share this post to help us help more people travel more for less: