Air Canada is obviously by far the largest airline in the country and it's worth checking out their summer schedule announcement since all of us who are eager to travel as soon as possible are looking for good news on that front. And their schedule is encouraging, even for those who prefer flying with other airlines than our national flag-carrier.
But beware of some of the headlines you might have seen elsewhere about this schedule…
I'll explain a few important facts and why this is very positive news, based on both the announcement and their comments when I reached out to them. But there has also been a lot of other updates from Air Canada and we'll cover the main ones Sunday (including about refunds and the future competitive landscape, sign up for free).
Summer schedule announced
Air Canada's announcement is very interesting, even if you don't want to pay the higher fares they usually offer. Many will maybe even have another new reason to choose competitors over Air Canada and other Canadian airlines, but I'll talk more about that at the end.
Why is the schedule encouraging for all travelers? There are a lot of international flights on that schedule. A lot. Either Air Canada knows something we don't, or they're overly optimistic.
Because there are important warnings to understand about international travel.
Two important warnings
I want to clarify a few things to make you a pro traveler.
First, I've seen news outlets cover this summer schedule announcement with headlines like "you might be able to travel internationally". That's a bit misleading. Air Canada offering international flights has nothing to do with whether you can travel internationally. It's completely unrelated.
This is extremely important: entry restrictions imposed by most countries are the only thing that determines whether you can travel or not. The fact flights are offered is irrelevant if the countries don't let you in.
Of course you "might" be able to travel… if the countries re-open. That has nothing to do with Air Canada or any other airline, because many international flights ARE already available and always have been.
Air Canada has never stopped flying Montreal-Paris, Toronto-London, Vancouver-Hong Kong, and plenty of other international routes. That doesn't mean you are allowed to enter those countries (you aren't). For many travelers, this is confusing and seems contradictory (that's understandable), and those headlines certainly don't help.
And a second warning: some of those same outlets are misleading and saying "Air Canada will start flying to all these destinations in June". No. Like I just said, many of those routes have been operated all along during the lockdown. They are not all new routes. Some are being added, yes, but not all of them are new.
It might seem like a minor detail, but it isn't. And I hate fake news and I want to make sure everyone knows the actual facts.
In short:
just because an airline flies there does not mean you are allowed to enter the country
entry restrictions are the only thing that determines if you can travel and are unrelated to flights
many of the routes in the summer schedule have been operated all along
We'll very soon have a lot more about what you need to know about starting to travel again, as it seems like things are going pretty quickly in terms of reopening. Travel is awesome, but while it's not quite time to travel yet, hopefully, it will be very soon.
But yes, even though the above is important… this schedule has me so excited, even if I don't fly Air Canada long-haul.
Why this schedule is encouraging
Even though flying there doesn't mean that the countries will reopen… it does mean Air Canada is betting a lot of money on the fact that the countries will reopen. That has to mean something. We've seen good news after good news in terms of countries reopening to travelers, well, reopening to those from their neighboring countries at least (we'll cover that Saturday).
There are two issues here in Canada: the government is supposed to keep the border closure and "do not travel" advisory in effect until June 30th. Many travelers are hoping it ends at that moment, but the government isn't really giving that impression as of now. At least until this schedule announcement.
Could Air Canada be privy to insider knowledge about the government's intentions regarding those two issues? It's definitely in the realm of possibilities since they've been working so closely together to keep travelers from getting refunds (see next point—I can't help talking about it).
You know, I always give my true opinion with no filters and I have to commend Air Canada for their response to the coronavirus on absolutely every front apart from the refunds, and I'm confident that if they are proposing this schedule, there's clearly reason for optimism.
Or Air Canada could very well be just taking a chance too, or trying to force the government's hand. We'll see. But in all cases, I believe it's very positive.
By the way, about those two issues: advisories aren't binding and the border closure doesn't apply to Canadians. And I'll repeat: the only actual restrictions for us are those other countries impose for entry. That doesn't mean you should travel: but you can. That is a fact.
But often there is some form of reciprocity in terms of border closures: if Canada reopens to Europeans, Europe is more likely to reopen to Canadians. So Canada's border closure is still relevant even if absolutely does not stop you from traveling in and of itself.
Given that as of now, very few Canadians would even consider traveling internationally, I asked Air Canada if their summer schedule was dependent on government restrictions changing or if it was set in stone, to try to get a sense of what their view is on the topic.
Here is their answer (emphasis is mine):
Increasingly we are seeing countries around the world relax travel restrictions so we are responding to this. While giving customers many options for travel, the summer schedule we have put in place is prudent, being less than half of last year's in terms of number of destinations served. We were mindful of the health and safety of our customers and our employees when we built it, and we are confident in our ability to deliver it.
Last week, I shared initial thoughts about why I was personally cautiously optimistic about when we can travel, and this news just makes me more optimistic.
The international flights (current and new)
Air Canada currently flies to many international airports as I just said, in case you want the data, in total, they will be operating just 97 routes, compared to 220 last summer.
Here are the international destinations that will continue to be operated according to Air Canada.
From Toronto (YYZ)
Frankfurt (FRA)
London (LHR)
Zurich (ZRH)
Tokyo (HND)
Tel Aviv (TLV)
From Montreal (YUL)
Paris (CDG)
Brussels (BRU)
Frankfurt (FRA)
London (LHR)
From Vancouver (YVR)
Hong Kong (HKG)
Seoul (ICN)
Tokyo (NRT)
London (LHR)
If you're a visual person here is a map of those: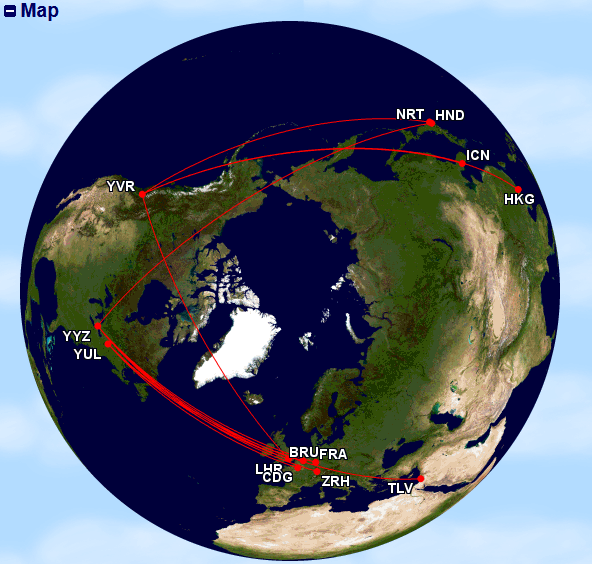 And here are the additional routes announced for June and early July.
From Toronto (YYZ)
Amsterdam (AMS)
Rome (FCO)
Athens (ATH)
Lisbon (LIS)
Munich (MUC)
From Montreal (YUL)
Rome (FCO)
Athens (ATH)
Geneva (GVA)
From Calgary (YYC)
From Vancouver (YVR)
*this one is marked as "subject to government approval"
Here is a map of those: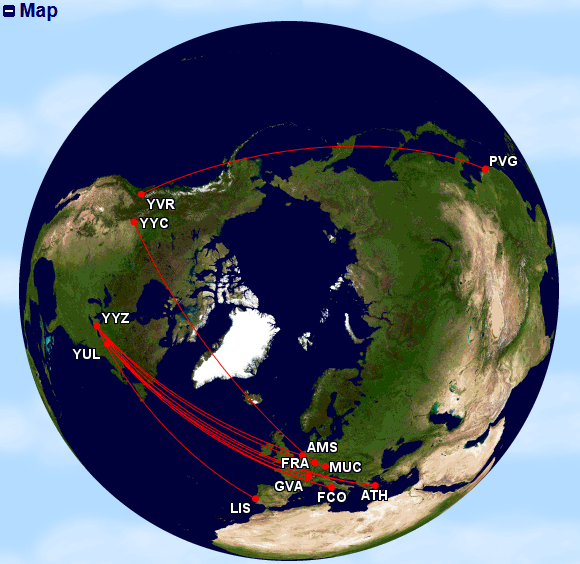 Air Canada has also resumed flying to the US this week, with 6 destinations (down from 53). Again another good example (sorry for repeating): no, the Canada-US border has not reopened yet, but yes there are now many flights. Two completely separate things.
They also announced "tentative plans to resume more US service on June 22". For your info, June 21 is the day the Canada-USA border closure is supposed to end (although it has been extended twice already).
Finally, some Caribbean and South American destinations will resume in July. As I said, we'll soon cover where you are allowed to go when it's time to travel again (hopefully very soon), because obviously searching for flights is useless if you aren't allowed to enter. And then we'll help you find the cheapest flights to get everywhere if you are interested.
The refunds scam's other impact
Here's just a teaser about what I mentioned earlier about why some will likely be choosing airlines other than our Canadian airlines. By the way, many clearly don't mind paying a premium, but as a budget-traveler, I definitely recommend you always choose the cheapest carrier. That's one of the ways I was able to go on 12 international trips in 2019.
I won't repeat everything about why airlines owe you a refund if they cancel your flight, and keep an eye out for our long-awaited ultimate guide to getting a refund very soon. We'll cover this in great detail. Quebec's National Assembly has just voted a motion in favor of refunds, unlike Ontario's position against consumers.
The thing is, not only is it wrong and unfair (and in some cases illegal) for Canadian airlines not to refund you… it could be very misguided for their future business. Many customers won't appreciate how they've been treated, sure…
But most importantly, many of them might just decide to book with US or EU airlines for more protection. Especially if the price is similar or cheaper (and maybe even if it isn't; to protect their investment). Many have told us they would, and without agreeing or disagreeing, the logic is not unreasonable.
Here are the plain facts:
if a US or EU airline cancels your flight, they'll refund you (maybe not quickly, but they will)
if a Canadian airline cancels your flight, they won't refund you (they just won't, the government is backing them)
Even if we do start traveling again soon, there is some level of uncertainty that likely won't go away for a while… and if you prefer a refund over a lousy voucher (which you definitely should), maybe this will be a factor you'll value more than others in choosing an airline.
So it might not be the best move for Canadian airlines to refuse refunds like they are, for their future business outlook.
Some would say treating your customers so badly itself is a bad move. But obviously, Canadian airlines are counting on their customers to be captive enough because of our uncompetitive aviation sector in Canada. And they're probably hoping that most people will still choose to fly them, or that the "support local" feeling will be stronger than the desire to not reward businesses that have treated you unfairly. Or stronger than the desire to get more protections on your next bookings.
And they might be right.
I'll have a separate post about why vouchers are lousy (yes, even Air Canada's new improved vouchers) and also about why the new voucher-to-Aeroplan conversion option is not a great option for most (yes, even if I am a rewards points addict: the key with points, at least with variable-value points specifically, is that you need to understand that not all uses are necessarily good).
Want to get more content to be ready to travel?
Summary
Air Canada has announced its revised summer schedule and it includes many international destinations. While that alone does not mean you can travel, it is encouraging that with the information they have, they are confident enough that restrictions will be lifted for Canadian travelers!
What do you think of international travel this summer? Tell us in the comments below.
Explore awesome destinations: travel inspiration
Learn pro tricks: travel tips
Discover free travel: travel rewards
Featured image: Amsterdam (photo credit: Adrien Olichon)
Advertiser Disclosure: In the interest of transparency, Flytrippers may receive a commission on links featured in this post, at no cost to you. Thank you for using our links to support us for free, we appreciate it! You allow us to keep finding the best travel deals for free and to keep offering interesting content for free. Since we care deeply about our mission to help travelers and our reputation and credibility prevail over everything, we will NEVER recommend a product or service that we do not believe in or that we do not use ourselves, and we will never give any third-party any control whatsoever on our content. For more information on our advertiser disclosure, click here.
Share this post to help us help more people travel more for less: