Here's everything you need to know about the American Express Platinum's amazing airport lounge benefits, one that includes over 1,200 lounges in 130 countries. I guarantee you will never want to go back to life without this amazing perk!
For Canadians, having an American Express Platinum Card is by far the best way to gain unlimited free access to airport lounges (and in almost all cases, you get to bring one guest for free too, sometimes two).
And if you've ever had the chance to experience what it's like in airport lounges, you know how incredible these relaxing oases are… and how they enhance the travel experience immensely. I won't go into all the details once again (you have them in that previous link) but in a nutshell: free food, free drinks, premium wi-fi, comfortable seating, a quiet atmosphere and sometimes other interesting perks.
I had never set foot in an airport lounge before getting the Platinum Card (as I am more of a budget-traveler than a luxury traveler), but since I got a taste of the lounge life, I can't even begin to tell you how amazing (and addictive) lounge access is. And since I travel so much, I doubt I'll ever be able to go back to life before airport lounges.
But it can be a bit hard to understand the Canadian Lounge Benefit that comes with the American Express Platinum card at first, so here's what you need to know so you can make the most of it.
We also have an article to show you specifically which Canadian airports have lounges since that's where you usually spend the most time (in addition to the aforementioned article that shows you many pictures of what it's like in airport lounges in general).
Here's an overview of what the American Express Lounge Collection includes.
Priority Pass Membership
This is the key benefit and the main perk of the AMEX Lounge Collection. Your Platinum Card comes with a complimentary membership with Priority Pass, the world's largest network of independent lounges with over 1,200 lounges in 130 countries (and more are added regularly).
You get unlimited free access for you and one guest, all you need is your Priority Pass card (physical or virtual on the app), government ID and a valid boarding pass on any airline, even in economy… and even if it's a $9 flight on Ryanair (true story).
Really: I've often consumed food and drinks worth more than the actual price of my flight in these lounges. And if there is more than one lounge in a given airport, you can visit them all (I visited all 11 in Singapore-Changi Airport, just for fun). It's all free.
As a network of independent lounges, there are obviously different standards in terms of lounges and experiences. Most of the lounges are amazing, some are even exceptional and some are well, a little less exceptional. But even those are still 10 times better than being at the crowded gates, that's for sure (and they are very rare I can assure you).
Most have hot food, although some have only snacks. Most have a full bar, although some have only a few options. Most are really quiet, although some are a bit more crowded. You get the point: it varies. But overall it is an amazing network of lounges.
As of August 2019, Priority Pass airport restaurants are no longer included in the benefit, unfortunately: just the lounges and non-restaurant airport experiences (like Minute Suites). In addition to the Platinum Card, I therefore now make sure to include one of the other credit cards with lounge access yearly in my card application cycles, to make sure I can use the restaurants too.
You can check out the Priority Pass website for the list of lounges. You'll need to activate your membership upon reception of your Platinum Card, as it isn't automatic.
American Express Centurion Lounges
In addition to the many options from the Priority Pass network, you can also access the AMEX Centurion Lounges.
This is the flagship AMEX lounge network. Like airlines who operate their own lounges for their top customers, American Express does the same: they have a network of 11 amazing Centurion Lounges in key airports, with 4 more opening soon (plus an additional 13 AMEX non-Centurion lounges).
You get free unlimited access for you and 2 guests, even more generous than the 1 guest with Priority Pass. All you need to do to enter is present your Platinum Card, government ID and a boarding pass (again, any ticket). It's not part of Priority Pass, since Priority Pass is open to anyone who purchases a membership: Centurion Lounges are for Platinum Card (and invite-only Centurion Card) members only.
These are really the gold standard in terms of lounges (or rather the Platinum standard I should say): expansive hot food buffet, full-service bar, high-speed Wi-Fi, workspaces and stunning modern design. Some lounges, for example my favorite in Miami (MIA), even offers complimentary 15-minute massages. AMEX personnel on-location can help you with any travel needs as well.
Here is the map of all Centurion Lounges: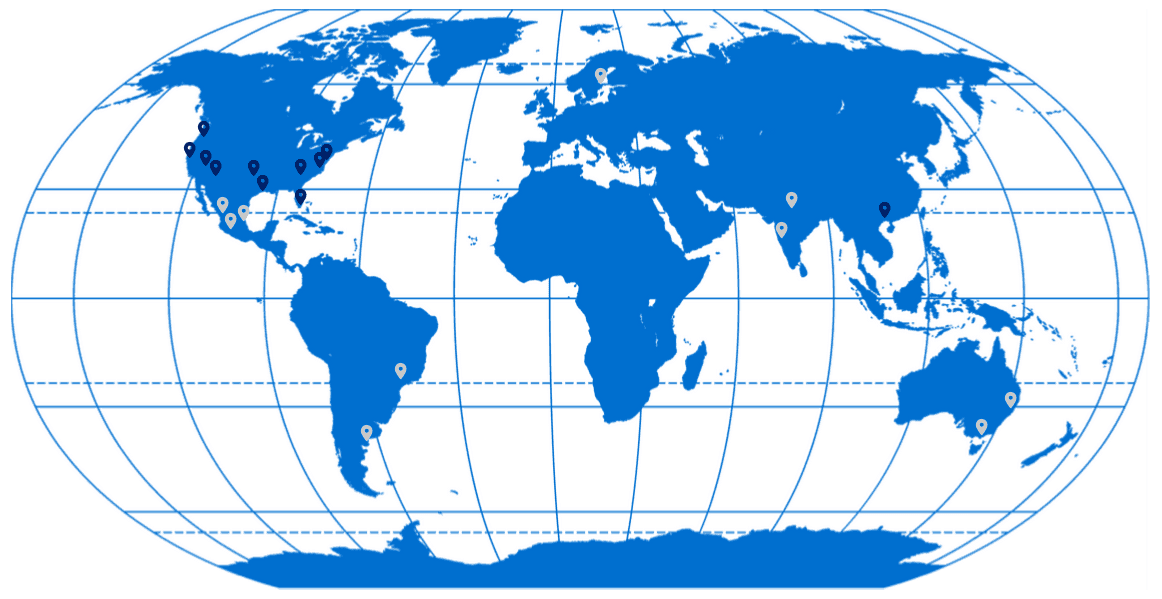 For those who prefer to read, here are all the airports with Centurion Lounges:
Charlotte (CLT)
Miami (MIA)
Hong Kong (HKG)
Houston-Bush (IAH)
Dallas-Fort Worth (DFW)
New York – LaGuardia (LGA)
Philadelphia (PHL)
Phoenix (PHX)
Las Vegas (LAS)
San Francisco (SFO)
Seattle (SEA)
Coming soon (I'm passing through 3 of those airports in 2020, I hope they'll be ready):
Denver (DEN)
London-Heathrow (LHR)
Los Angeles (LAX)
New York (JFK)
The additional 13 American Express international lounges aren't Centurion Lounges per se, but are almost just as nice (well, the one I tried in Mexico City was at least).
These are located in:
Mexico City (MEX) – 3 lounges
Monterrey (MTY) – 2 lounges
Toluca (TLC)
São Paulo (GRU)
Buenos Aires (EZE)
Stockholm (ARN)
Delhi (DEL)
Mumbai (BOM)
Sydney (SYD)
Melbourne (MEL)
With the rising popularity of the American Express Platinum Card, some say that during peak times the Centurion Lounges are sometimes a bit crowded and a little less relaxing than most of the lounges you can access through Priority Pass.
Honestly, I've been to 7 of them personally (including some many different times) and it was never too worrying. The good thing is they've taken measures to reduce crowding (since March 2019) and have renovated and expanded many of them as well. The restrictions are relatively simple: you can only enter the lounge 3 hours before a flight (unless connecting) and can no longer use the lounge on arrival (unless connecting).
In all cases, whenever I am in an airport that has a Centurion Lounge, that's the first place I head to, regardless of whether there is a Priority Pass lounge available or not.
You can head to the AMEX website to read more about the Centurion Lounges and the international AMEX lounges.
Canadian Lounge Benefit
The Canadian lounges in this "network" are all also part of Priority Pass. So why am I adding a section just for these?
Well, Priority Pass limits you to 1 guest. Through the Canadian Lounge Benefit, some of the Canadian lounges allow you to bring your kids in for free. The details are in our article about the Canadian Priority Pass lounges.
A great perk when traveling within Canada with kids. The key here is to present your American Express Platinum Card when checking in to the lounge, not your Priority Pass card, to check in through the Canadian Lounge Benefit and not Priority Pass, if you need the extra guesting privileges.
Delta Sky Club Lounges
While the Priority Pass network is very extensive, if traveling within the US on Delta Air Lines, you also have access to Delta Sky Club Lounges.
There are two very important things about this perk that are unlike all the other lounges the AMEX Platinum card gives you access to:
you must be traveling on a Delta boarding pass specifically
you do not have guesting privileges for Delta lounges
Delta Sky Clubs are otherwise reserved for the airline's elite fliers, so needless to say they are usually pretty swanky. The quality can vary quite a bit, but the best Sky Clubs are amazing (for example this one below in Seattle was among the best lounges I've ever been to, and the one in SFO was very nice too).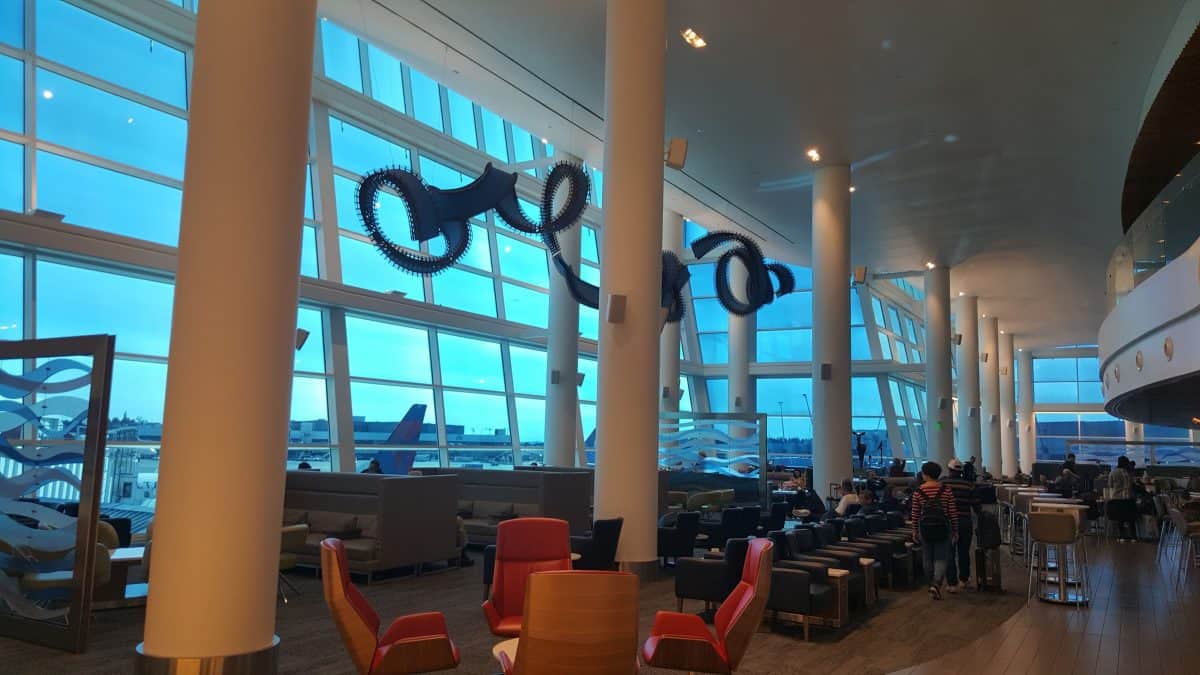 There are over 50 Delta Sky Clubs in total, with a whopping 9 at Delta's mega-hub in Atlanta (ATL) alone. All of them are in the US, except for one in Tokyo, Japan (NRT) and one in Santiago, Chile (SCL).
You can see all locations and read more about Delta Sky Clubs on Delta's website.
Escape Lounges and Airspace Lounges
Finally, this is an oft-forgotten part of the American Express Lounge Benefit. Granted, there aren't many of these, so it's not as useful. They allow you to bring 2 guests.
It's not listed in Priority Pass since it's not part of Priority Pass, but these small lounge networks still grant you free access directly by virtue of having the Platinum Card. I almost missed out myself after my free Priority Pass funded restaurant meal in Cleveland this fall.
That Airspace Lounge was nice, but unlike other lounges, food and beverages weren't unlimited. On the other hand, the Escape Lounge I visited was nothing short of exceptional.
Escape Lounges are in only 10 airports in the US and the UK:
East Midlands (EMA)
Greenville-Spartanburg (GSP)
Hartford-Bradley (BDL)
London-Stanstead (STN)
Manchester (MAN)
Minneapolis-Saint Paul (MSP)
Oakland (OAK)
Ontario (ONT)
Providence (PVD)
Reno-Tahoe (RNO)
Airspace Lounges are in only 2 airports in the US:
Cleveland (CLE)
San Diego (SAN)
Lufthansa Lounges
Until October 2019 (it might be extended as it was the first time this partnership was announced), if you are flying on a Lufthansa Group flight (Lufthansa, Austrian, SWISS) you can access the Lufthansa lounges in Frankfurt (FRA) and Munich (MUC) with your Platinum Card directly.
As with the Delta benefit, you do not have guesting privileges but you can purchase a guest pass. I've experienced one of these during my layover last summer and as you'd expect from a lounge that is meant for the airline's elite customers, it's pretty swanky.
There are multiple locations depending on the terminals, you can see details on the promotional website.
Virgin Australia Lounges
Unofficial perk: this isn't listed anywhere (not even on Virgin Australia's website) and I haven't had the chance to try it out, but some members in Platinum Card Facebook groups have mentioned that the Virgin Australia airline lounges are accessible to Platinum cardmembers.
It's unclear if that is restricted to only Australian cardmembers, but it seems that is not the case. One thing for sure, Virgin Australia lounge access comes with the same restrictions as with Delta and Lufthansa: you have to be flying on Virgin Australia and you have no guesting privileges.
They are in most major Australian airports, with 12 locations in total.
Non-Airport Lounges
There are a number of non-airport "lounges" that you should at least know about in case you are heading in these destinations. This is very specific, but if you happen to bet here, it's a nice perk (and very little-known one at that). These also aren't listed anywhere, so it's quite mysterious.
First of all, there are pop-up Platinum Houses that are an amazing perk. These are set up during a few major events like during Art Basel in Miami or during Coachella in California. I very much enjoyed my Platinum House experience in Miami, I will be going back specifically for this next year too.
Finally, there are lounges in places where you wouldn't expect: in Universal Studios Orlando, concert venues, sporting venues, train stations, convention centers and even one in a shopping center. Again, there are very few of these so it's definitely not something all will be able to take advantage of, but it's good to know that they exist.
You can read more about these in our article about AMEX Platinum benefits.
Bottom Line
Airport lounge access is by far the best perk of the American Express Platinum. It makes traveling so much more enjoyable and there are many options located in almost all major airports, so you can make the most of your Platinum Card.
Here are more articles about lounges that you might like:
Priority Pass Free Airport Restaurants (Lounge Alternatives)
Have any questions about airport lounges? Ask us in the comments!
Help us spread the word about our flight deals and travel tips by sharing this article and most importantly bookmark Flytrippers so we can help you navigate the world of low-cost travel!
Advertiser Disclosure:
All offers described on the Flytrippers website are subject to the financial institutions' latest terms and conditions that can be found on their website.
Offers from financial institutions change quickly; it is your responsibility to ensure the accuracy of these offers on their website when applying for a card. Flytrippers will not accept any responsibility for the accuracy of the offers or the result of your actions.
Financial institutions and partners are not responsible for maintaining or monitoring the accuracy of information on this website. For full details and current product information click on the provided links to proceed to product website. All the information was independently collected by Flytrippers and not provided by financial institutions.
Some links on this page are affiliate links that may allow Flytrippers to earn a commission. Thank you for using our links and encouraging us at no additional cost to you.
Flytrippers' website does not contain all available credit card offers or all available credit card companies on the market. Flytrippers never shares an offer if it is not considered advantageous for certain travelers, at its sole discretion.
No author on Flytrippers' website is a financial advisor, a financial planner, a legal professional or a tax professional and no author on Flytrippers' website can in any way be considered as such.
All articles and pages on Flytrippers' website are merely personal opinions of a general nature and are for informational purposes only and should not be considered as advice for specific situations. It is your responsibility to perform your own personal research to make sure that Travel Hacking is appropriate for your own situation.
The opinions expressed on Flytrippers' website are those of the authors only and have not been provided, approved, endorsed or ratified by any third party mentioned on the site.
You can learn more about our terms of use here.
Share this post to help us help more people travel more for less: