We've talked about this several times since the pandemic began: all flights booked with Aeroplan points can be changed for free. This policy also allows you to cancel your flight for free thanks to our pro tip. But after many months, that's about to change, another sign that the pandemic is over!
July 5 is when the generous change policy ends for good, so if you want to take advantage of it, book as many flights as possible before that date.
Aeroplan's special change policy
Many travelers find the change and cancellation policies to be very confusing (they often mix up the reservation date, the change date, and the flight date).
So, I'll try to summarize Aeroplan change policy for you in a very simple way depending on when you make the change:
Until July 5:

You can change any reservation an

unlimited number of times

for free

It works

no matter when

the reservation was made and when the flight would be

Starting July 6:

You'll be able to change any reservation for free

once

as long as it was

made on July 5 at the latest

, regardless of the flight or change date

You

won't be able

to get a free change for a reservation

made on or after July 6

(the new change policy will apply)
And any change with Aeroplan means you can also get a free cancellation and refund too; I'll get to that in 30 seconds.
So it may be worth booking Aeroplan flights to take advantage of that flexibility. You can check out the best uses of Aeroplan points to see some specific examples while you await our new ultimate guide to the Aeroplan program coming this weekend.
But just to be clear, July 5 really marks the end of the generous change policy (strangely enough, there doesn't seem to be any specific time though, so to be safe, I'd assume it's 11:59 PM, Eastern time).
Basically, any flights you buy on or after July 6 (so if you book on or after July 6) are going to be governed by Aeroplan's new change policy (which has also been changed by the way — I'll get to that in a bit). Anything you book before that will still be changeable once, regardless of when the flight or change occurs.
How to turn a free change into a free refund
You can use your free change to change your flight for one that's in a superior fare class. The higher fare classes always include free refunds at all times!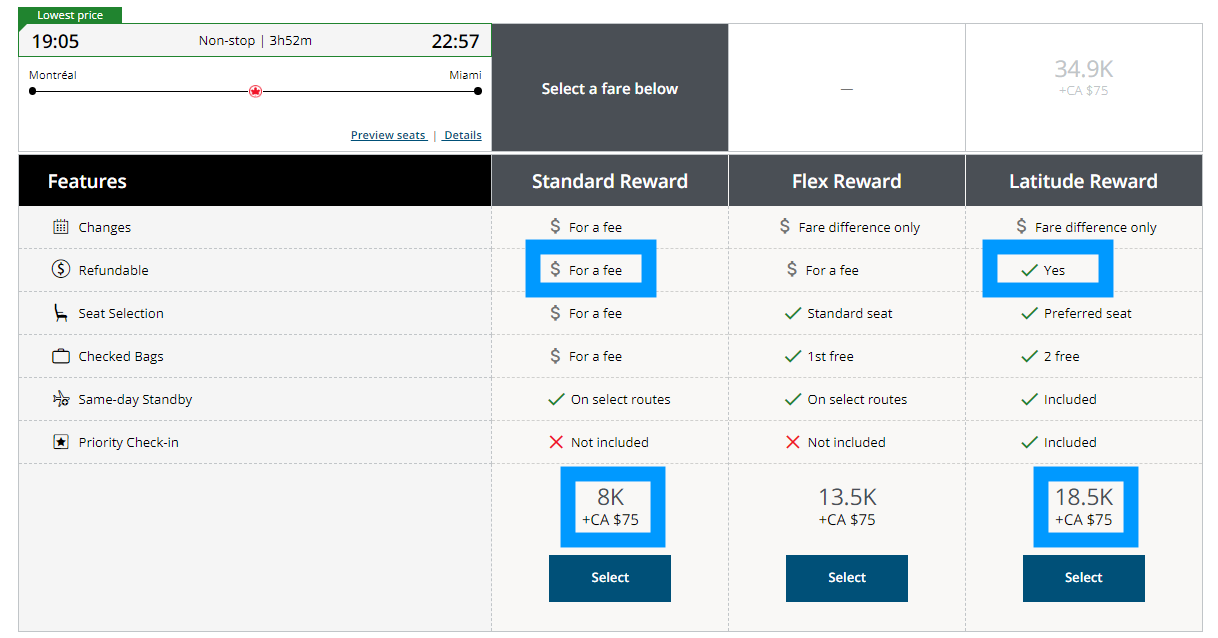 It's going to cost you more points upfront (the superior fare class cost more, of course), so you'll need to have some points left over to take advantage of this pro tip. That said, there's really no reason to run out of Aeroplan points with all the crazy offers right now frankly (see news item #9 in this update).
Then you give Aeroplan a call, get refunded, and enjoy the benefits of your superior fare ticket! That's what I did myself in May.
In the world of travel rewards, it can pay to push the envelope like this! It's a "loophole" that Air Canada would obviously prefer you didn't know about, but you're still following the rules: you can change your ticket for free (including for a higher fare class) and you can get a refund for the higher fare class tickets (no matter if the ticket was initially refundable or not).
However, they could still close the "loophole" eventually (for flights with cash, the conditions explicitly state that the tip doesn't work, yet the same "loophole" should technically exist). So it's not completely risk-free. But they've been allowing it for several months; it's such a tiny percentage of people who know about this trick that it's probably not worth it for them to worry about it.
Otherwise, at the very least, you'll still get a free change! I guess you'll just keep traveling. So the risk is almost non-existent.
Advantage of booking flights on a speculative basis
If you have trips planned and set in stone, it isn't a speculative booking and you should book them before July 5, obviously.
(Especially since the date coincides with the offer we mentioned in today's update if you have the American Express Aeroplan Card, American Express Aeroplan Reserve Card or American Express Aeroplan Business Reserve Card.)
But if you're not 100% sure, it might be worth it to make sure you have some flexibility to change your reservations by booking before July 5!
As a reminder, the Aeroplan program is unusual because the pricing system is completely different depending on whether you book on partner airlines or on Air Canada directly.
So booking in advance allows you to:
ensure you have the best seat availability (with the pricing system on partner airlines, prices are fixed, but available seats are limited)

ensure you have the best price (with Air Canada's pricing system, prices are variable, but all seats are available)
Once again, our ultimate guide to the Aeroplan program coming this weekend will help you understand how to maximize the easiest points to earn in Canada!
New Aeroplan change policy as of July 5
In November 2020, the Aeroplan program was revamped from the ground up, as you probably know.
So they had announced a new ticket change policy as well. It never got implemented, since there was this special policy during the pandemic.
As of July 5, the regular policy goes into effect, but Aeroplan has announced some minor changes.
Change policy for standard economy fare class:
Change policy for other economy fare classes:
Want to receive all the news and offers in the world of travel rewards?
Summary
Aeroplan's generous change policy, which was in effect during the pandemic, will end on July 5. So if you want a little more flexibility, you can make your reservations between now and then and you'll be able to change your reservation once if needed, regardless of when you fly or when you make the change. As of July 6, Aeroplan's new regular change policy will apply, and it's a lot less flexible.
What would you like to know on the Aeroplan program? Tell us in the comments below.
See the deals we spot: Cheap flights
Explore awesome destinations: Travel inspiration
Learn pro tricks: Travel tips
Discover free travel: Travel rewards
Featured image: Central Park, New York (photo credit: Harry Gillen)
Advertiser Disclosure: In the interest of transparency, Flytrippers may receive a commission on links featured in this post, at no cost to you. Thank you for using our links to support us for free, we appreciate it! You allow us to keep finding the best travel deals for free and to keep offering interesting content for free. Since we care deeply about our mission to help travelers and our reputation and credibility prevail over everything, we will NEVER recommend a product or service that we do not believe in or that we do not use ourselves, and we will never give any third-party any control whatsoever on our content. For more information on our advertiser disclosure, click here.
Share this post to help us help more people travel more for less: