Air Canada currently has a promo to buy Aeroplan points with a 100% bonus, which seems nice… but even a nice bonus doesn't mean that it's a good price. Flytrippers rarely recommends buying any type of points, even if Aeroplan is the best airline rewards program. Even with these bonuses offered frequently, the prices don't often make it worthwhile.
Card welcome bonuses are what will give you a lot of points for free very easily, and we'll cover the strategy element for Aeroplan specifically in our free webinar on the Aeroplan program this Thursday night.
(You can get 47,500 points completely free with the TD Aeroplan Visa Infinite Card thanks to its new offer since January 4; you can get 53,000 points for $120 with the American Express Aeroplan Card that has no minimum income; you can get 60,000 points for $156 with the American Express Cobalt Card that earns 5 pts/$ almost everywhere; etc.)
So yeah, the short version is that it's not so wise to buy Aeroplan points, especially if you're a travel rewards beginner.
But it can be worth it in certain very specific situations: Aeroplan points are variable-value rewards with literally unlimited value after all!
Here are the details about the promo to buy Aeroplan points.
Basics of the promo to buy Aeroplan points
Air Canada allows you to buy Aeroplan points (like most airlines and hotel chains).
First, if it's not often recommended to buy Aeroplan points even with a 100% bonus, imagine how bad it is to buy Aeroplan points without a bonus! The regular price is just terrible, avoid that.
But Air Canada offers promos from time to time, like this one with a 100% bonus (the 2nd-best bonus ever offered).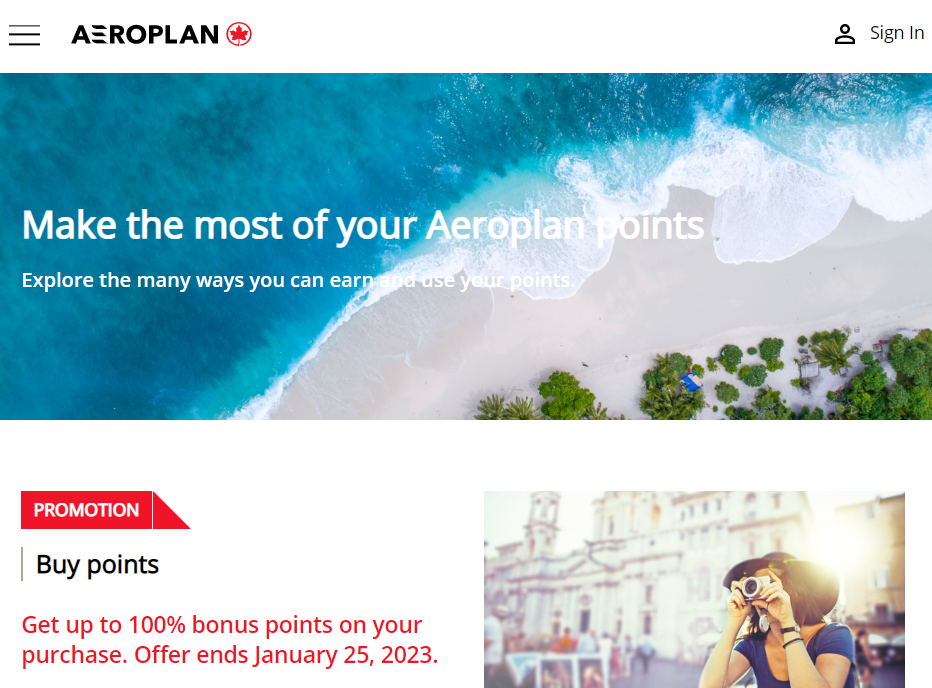 Here are the highlights of the current promo to buy Aeroplan points:
You must buy on the official site to buy Aeroplan points
You must buy Aeroplan points before January 25th at 11:59 PM (PST)
You get a 100% bonus if you buy at least 80,000 points

You pay the equivalent of 2¢/pt (varies slightly by province)

You get a 60% bonus if you buy 35,000 to 70,000 points

You pay the equivalent of 2.5¢/pt (varies slightly by province)

You get a 50% bonus if you buy less than 35,000 points

You pay the equivalent of 2.7¢/pt (varies slightly by province)
And here are the general rules to buy Aeroplan points that always apply:
You can buy only 1,000,000 points per account per year
You can buy 250,000 points per individual transaction (doubled to 500k)
You can pool your partner's points into your account
You can save the taxes to reduce the above prices by using a US credit card
Your purchase will be processed by Points.com
Your purchase will not code as an Air Canada or travel purchase
The point purchases are billed in Canadian dollars
The point purchases are never refundable
The minimum you can buy is 2,000 points
To avoid the 2.5% fee that almost all Canadian cards will charge, you should pay with a card with no foreign transaction fee. When you buy Aeroplan points, it's done through Points.com, so it will not code as a travel purchase or as an Air Canada purchase. That means you will not get the multiplier earn rate that many cards have on those categories.
So ideally, use a card that has a good base earn rate like the HSBC World Elite Mastercard that earns 3 points per dollar (although that's changing on February 1st, don't miss our post next week).
Math for this promo to buy Aeroplan points
I'll use 100% for the example since you most definitely should not buy Aeroplan points with a bonus of just 50% or 60%.
With this promo, the price Aeroplan is offering is 1.75¢ per point, but you have to add Canadian taxes if you pay with a Canadian card and that rate varies a bit depending on whether you live in a province with high taxes or a province with very high taxes).
(This is completely stupid, because you'll be taxed twice: when buying the Aeroplan points AND when using them for reward flights. It's like if you'd have to pay taxes when buying gift cards — buying gift cards is one of the pro tips in the world of travel rewards by the way. That tax would make no sense, yet the government taxes points!)
Anyway, for most provinces, with the 100% promo and the taxes, the cost is 2.0¢ per point.
Our Flytrippers Valuation of Aeroplan points is just ≈ 1.5¢ per point, so you can see why it's not an amazing deal. You're paying 33% more than our theoretical valuation.
Our Flytrippers Valuation is a conservative and general valuation, as usual. If you've learned the basics of variable-value rewards, you know that you can certainly get way more than 1.5¢ per point in value, so it can be a great deal in some instances (see next section for concrete examples).
But you need to do the math and make sure you will use the points well, because if not, you're literally throwing money away for nothing.
That's why you should rarely buy points speculatively, in other words, you should only buy points if you have a specific redemption in mind and have done the math… or if you are an expert and know you'll get more than the cost of your points in value from your redemptions because you have in the past.
Concrete examples of why to buy Aeroplan points
As a reminder, Aeroplan points will give you the most value if you are flexible or if you normally buy flights that are very expensive in cash. They will give you a variable discount on flights on Air Canada or on 40+ airline partners (often the best use)!
I strongly encourage you to attend our free webinar on the Aeroplan program if you want to know the basics of Canada's best airline rewards program, and a must-have points currency for any Canadian travel rewards enthusiast. You'll also be the first to get our ultimate guide to the Aeroplan program.
So one of the main reasons to buy Aeroplan points is to fly in premium cabins (business class or first class).
Just to be very clear, if you get a ton of Aeroplan points without paying for them thanks to welcome bonuses, there are plenty of good uses of Aeroplan points for travelers who want to travel more or for less (which means in economy class). I have used my Aeroplan points that way for 10+ years, I've gotten dozens and dozens of reward flights, because I want to travel more.
But since you're paying a lot of money per point by buying Aeroplan points directly, you need to get more value out of your points obviously, to make it profitable.
And the best mathematical use of travel rewards (i.e. that saves you the most money) is with premium cabin travel. Because those flights have insane prices in cash. Obviously, NEVER pay for business class flights with cash, it's pretty much the least savvy thing you can do in the whole travel world.
It's okay not to know this, the world of travel rewards is very much unknown. But now that you do know, don't do this anymore considering how much you can save on this with travel rewards.
For example, buying 70,000 points would cost you $1400 at 2¢/pt (just because I want to use an example I already have the screenshots for; you'd obviously have enough for a roundtrip, with points it's just double the price for a roundtrip).
That would give you a one-way flight in business class from Vienna to Montreal on Austrian Airlines.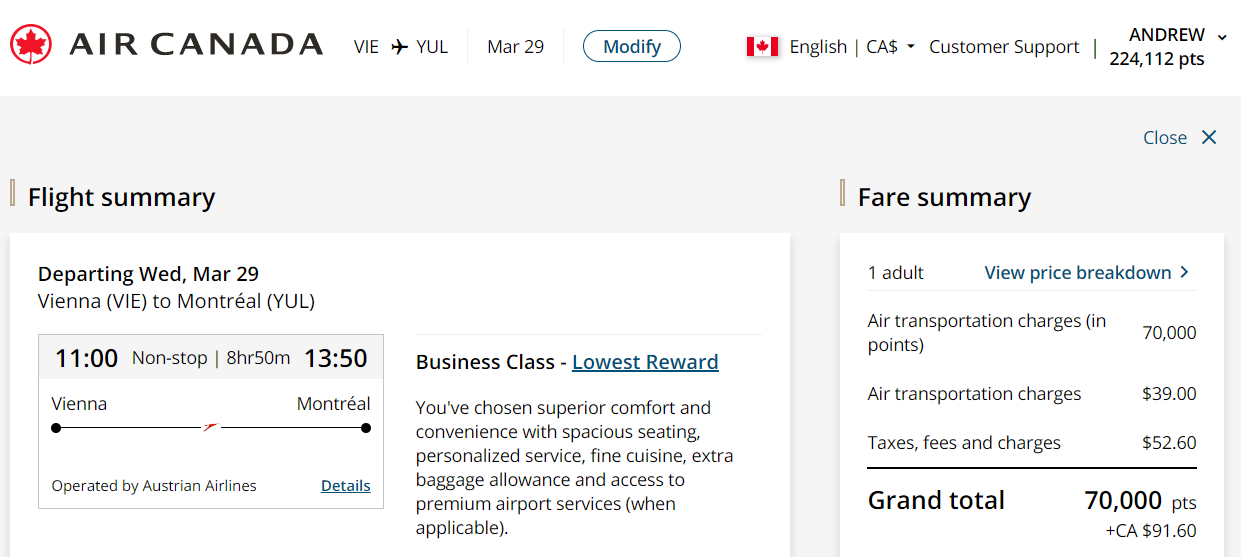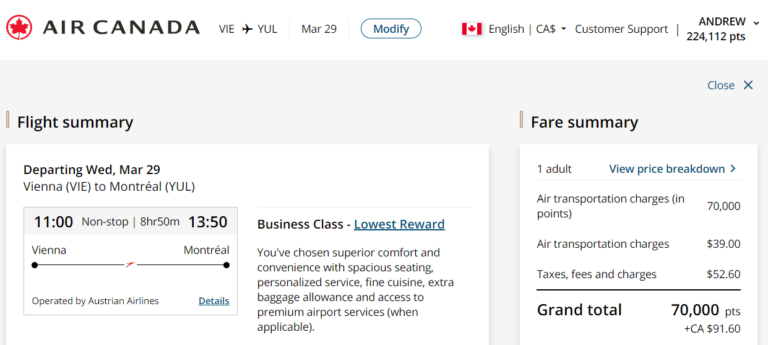 The price in cash?
It is an insane amount of $6406 for the same price.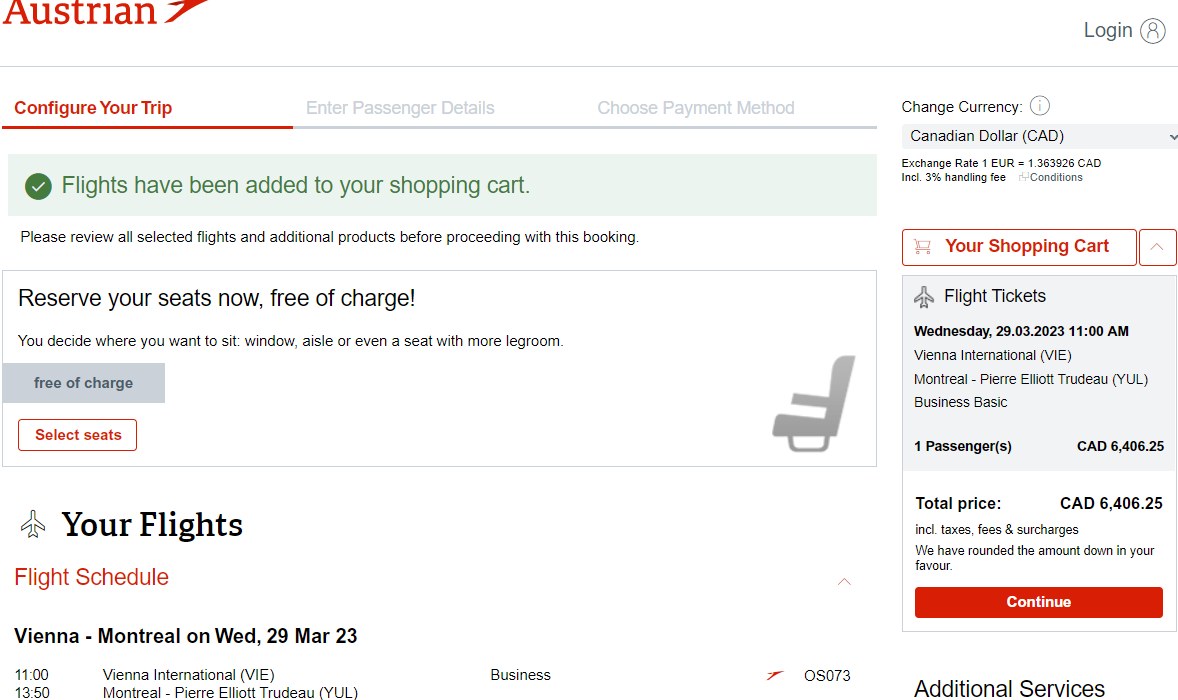 So you pay $1492 ($1400 to buy Aeroplan points + $92 in taxes on the reward flight) instead of $6406. You "save" $4914. I put the word in quotation marks because you're saving that only if you were really going to pay that amount with cash obviously.
But then again, to get a lot of points, you could just get premium cards too. For example, the American Express Aeroplan Reserve Card or the TD Aeroplan Visa Infinite Privilege Card which give you 100,000 points and more, and on top of that, you're going to get great benefits like unlimited access to Air Canada airport lounges and lots of other benefits on Air Canada for all your Air Canada and Star Alliance flights for the full year of your welcome bonus.
Anyway, this is an extreme example, but it's just so you understand: Aeroplan points have unlimited value!
They are variable-value rewards, so the value varies depending on how you use them. If you use them well, they can be worth more than the price they charge to buy Aeroplan points, even if that price isn't great. It all depends!
Is it worth it to pay such a huge amount of money upfront? Not unless you're 100% sure you'll use them well!
A 100% bonus sounds great. Just like a fee sounds bad.
But that number alone is not relevant without looking at the rest, in this case the regular price. If I sell you something that is way too expensive, even if I give you 50% off for example, it's still not worth it!
You must always look at all variables of an equation in the world of travel rewards. You must always do the math for everything related to travel rewards. We say it often, but it's because it really is the key!
There are 3 other very basic examples that are important:
The annual fee for a card alone is irrelevant without looking at the welcome bonus that comes with it
The fees that sometimes have to be paid for a rewards flight alone are not relevant without looking at the money saved with the points
The activation fees of a prepaid credit card alone are not relevant without looking at the bonus points earned
It's vital to know how to do the math.
Want to get more content about Aeroplan and free travel?
Summary
Air Canada's promo to buy Aeroplan points is a great example of the need to always do the math for everything related to travel rewards points. It's a good bonus offered for point purchases, but it's still a bad idea for a vast majority of travelers. Only those with a specific (and profitable) redemption in mind should take advantage of this.
Have any questions about why to buy Aeroplan points? Ask us in the comments below.
See the deals we spot: Cheap flights
Explore awesome destinations: Travel inspiration
Learn pro tricks: Travel tips
Discover free travel: Travel rewards
Featured image: ANA business class cabin (photo credit: ANA)
Share this post to help us help more people travel more for less: