As if you needed more reasons to visit beautiful Greece, a new attraction just opened on the popular island of Santorini. The Sky Dome is a transparent dome located at the highest point on the island, offering incredible views. It might be the best place to watch a sunset over the Aegean Sea.
Greece has already reopened to Canadian travelers very recently, so at the very least you should avoid the very worst mistake many travelers make and make sure to keep your options open by not booking anything non-refundable in Canada, as we told you in our post about when international travel will be simpler.
Also, book your time off from work as late in the summer as possible if you can: I can personally attest that I was very happy to have done that last summer and be able to go island-hopping in Greece for the first time.
Beats literally any destination in Canada of course, because international travel is always better to discover new cultures. I can still taste the €3 gyros…
Most developed countries are reopening to travel already and removing restrictions, we can at least hope Canada will do the same this summer as the Prime Minister teased recently: but do more than just hoping, and make sure you don't make a decision that will keep you from going abroad if it happens.
Santorini Sky Dome basics
Located 2,000 feet above sea level, the Santorini Sky Dome can be booked in 2-hour blocks to be even more physically-distanced than on the rest of this gorgeous outdoor paradise that is the Greek islands.
Not only can you watch the Greek sunset over the sea, but it's a pretty nice spot for stargazing too.
And you'll be protected from the breeze.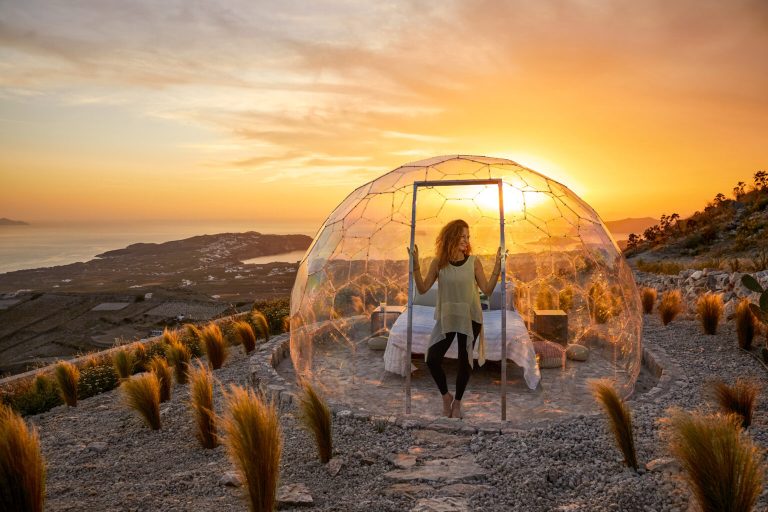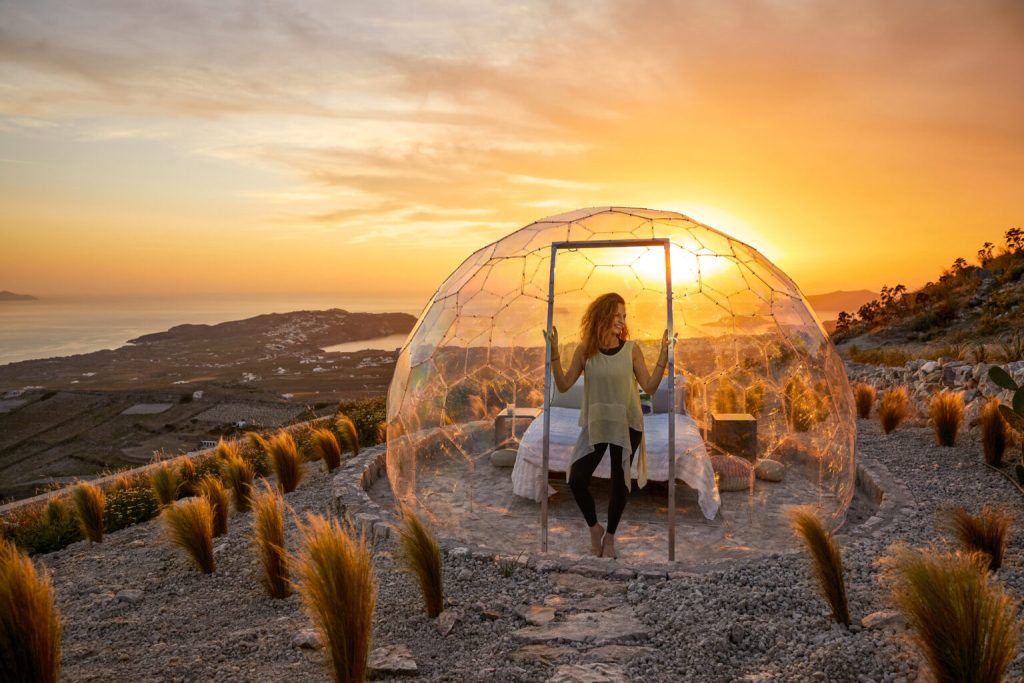 The Sky Dome is part of the Santorini Sky complex of luxury villas, all offering great views.
(For a price.)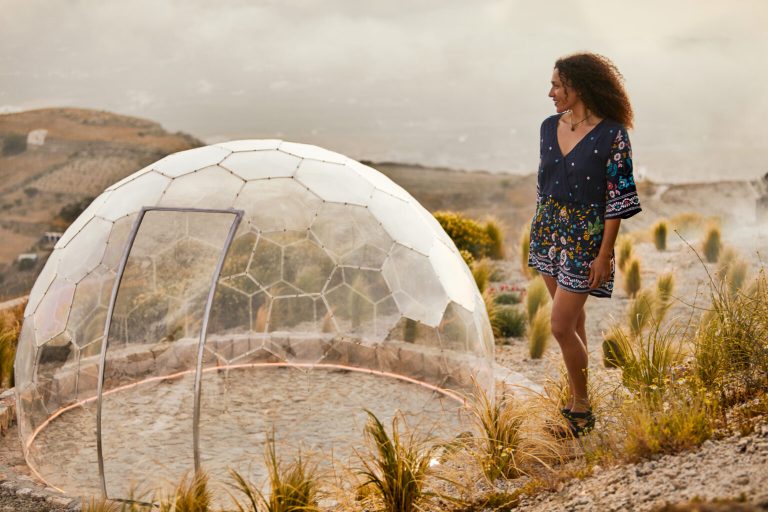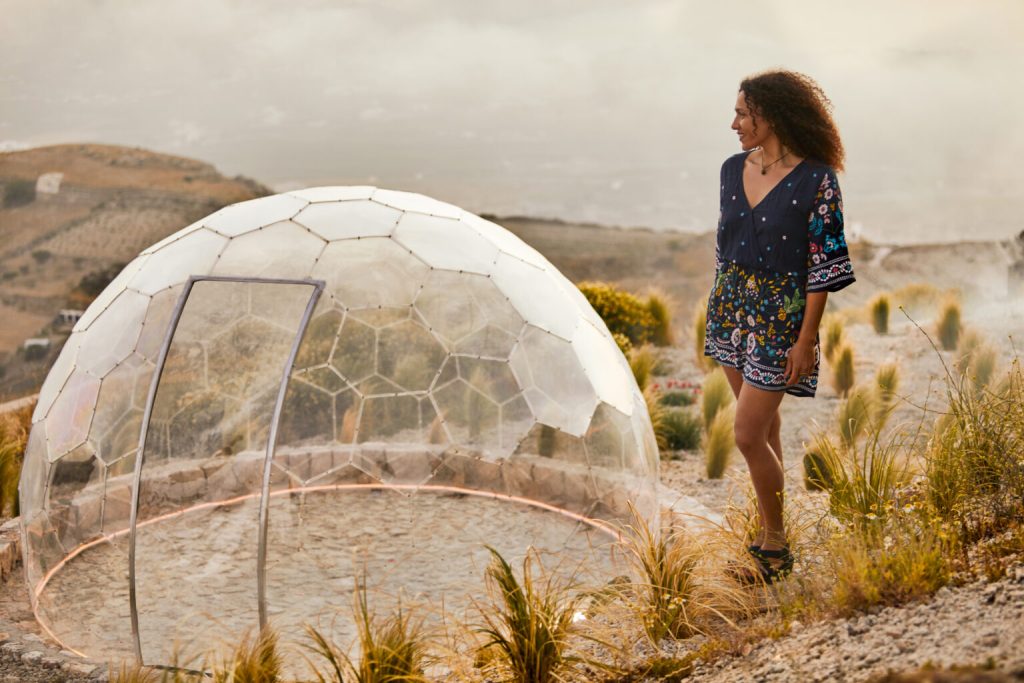 And as you saw in the cover image above, the dome has colorful mood lighting that can be controlled from your mobile phone, powered by solar lighting.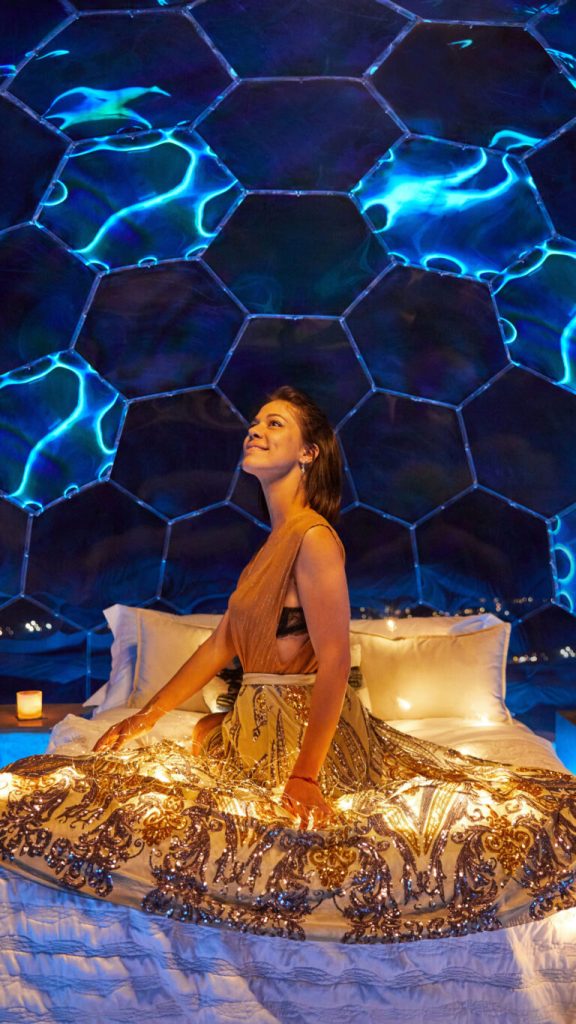 Santorini Sky Dome pricing
The Santorini Sky Dome can be booked online and prices start at €100 (≈ C$150) for 2 hours, fittingly pretty expensive for the most expensive of all Greek islands.
If you want a more budget-friendly island in the Cyclades, we found Ios to be surprisingly decent in terms of pricing last summer—at least for Greece.
Nobody will confuse it with any one of the 40 countries where you can get by with just C$30 per day, like where I am right now in Uzbekistan with $2 meals, $1 taxis, and $5 lodging…
But Ios is the most backpacker-friendly and was certainly beautiful too.
But then again, even in Santorini, there are plenty of easy-to-find spots for a beautiful sunset view completely free.
Santorini Sky Dome location
Santorini (Thira) is arguably the most touristy island (that's why it's the most pricey, it's simple: if you want to travel more, stop going to only the most touristy places as much as you can—and as a bonus it'll be more authentic too!).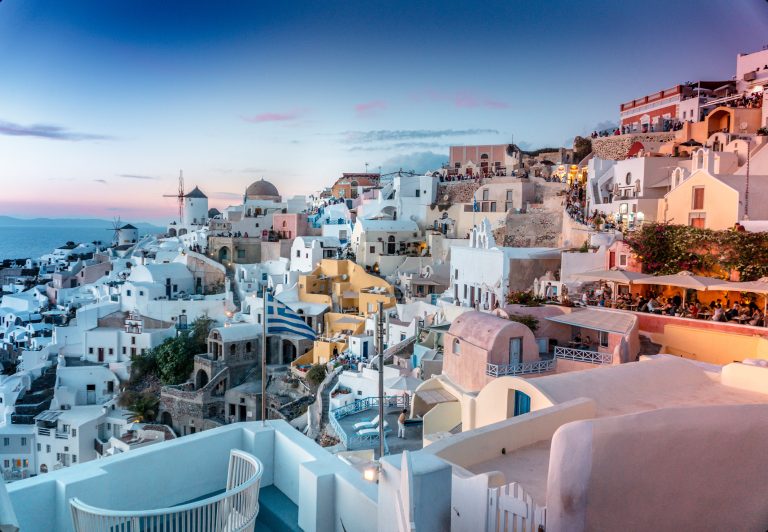 It's the one known for the volcanic black sand beaches, the cliffside white buildings, and the amazing sunsets.
Now there is an even better spot to watch those sunsets if you prefer spending money on more quality experiences instead of traveling more often, as I recently broke down with the deal for 21 free nights in Bali vs. just 5 free nights in an overwater villa in the Maldives.
The Santorini Sky Dome is located in the central part of the island, farther away from the popular village of Oia but closer to the Santorini Airport (JTR).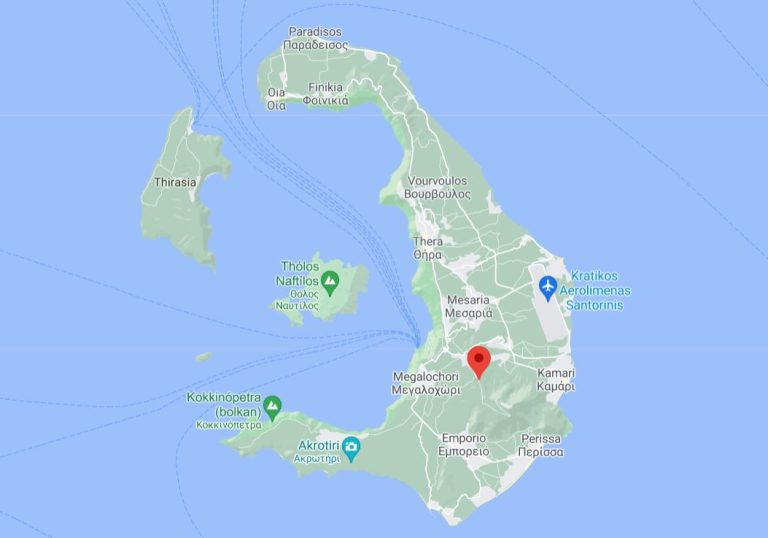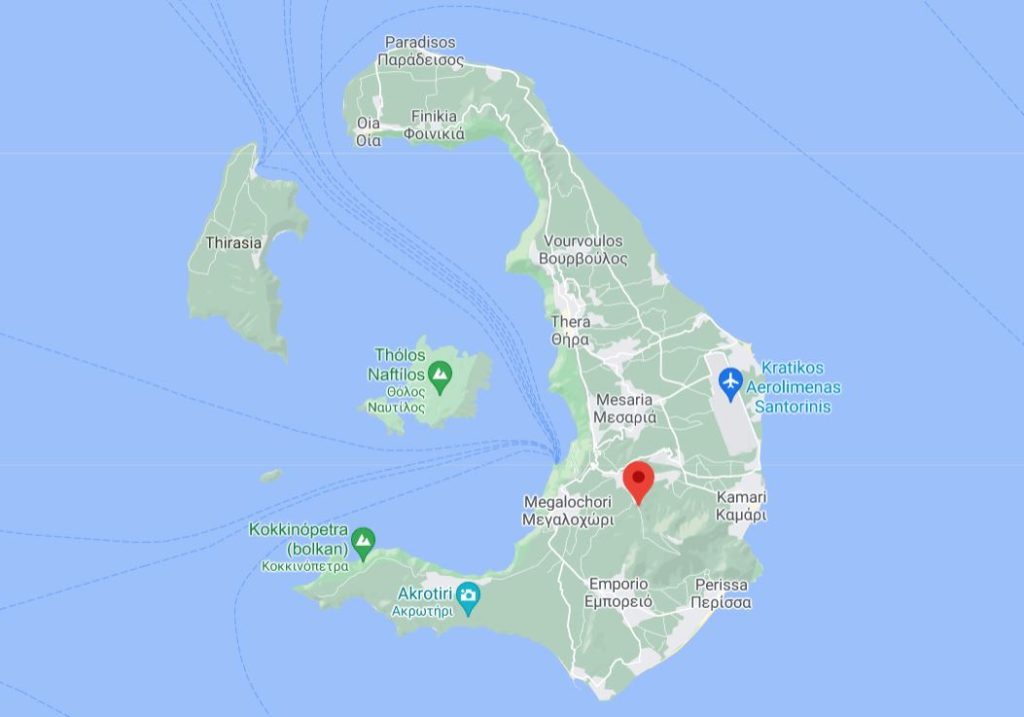 As for Santorini itself, it's easily accessible by plane from Athens (ATH) via that airport (most often it's cheaper to buy separate tickets, as is the case for most of Europe).
Or for the classic experience, via ferry (we loved our 4 ferry rides last summer).
Want to get more content to discover awesome destinations?
Summary
The Santorini Sky Dome looks like a pretty cool spot to visit if you're in the Greek islands and want to splurge.
What do you think of going to Greece this summer? Tell us in the comments below.
Explore awesome destinations: travel inspiration
Learn pro tricks: travel tips
Discover free travel: travel rewards
Featured image: Sky Dome (photo credit: Santorini Sky)
Advertiser Disclosure: In the interest of transparency, Flytrippers may receive a commission on links featured in this post, at no cost to you. Thank you for using our links to support us for free, we appreciate it! You allow us to keep finding the best travel deals for free and to keep offering interesting content for free. Since we care deeply about our mission to help travelers and our reputation and credibility prevail over everything, we will NEVER recommend a product or service that we do not believe in or that we do not use ourselves, and we will never give any third-party any control whatsoever on our content. For more information on our advertiser disclosure, click here.
Share this post to help us help more people travel more for less: