One of the great things about traveling is that it helps us better understand the world we live in. But another way to better understand the world we live in is through maps.
Since most of you can't travel more than a few times a year (despite the very low prices we spot for you on our cheap flight deals page), maps are often a much cheaper option: a map will have to do for today.
So here's a cool one to see 2 parts of the world with roughly the same population… but vastly different sizes.
Population Density Comparison Map
A world map is great to see continents and boundaries, but the biggest issue with it is that it doesn't convey how incredibly different population density is around the globe.
It shows land (and poorly) but it doesn't show people. Poorly because traditional maps exaggerate the size of many countries, especially Canada, which is much smaller than it looks.
A while back, we had already shared a map that shows that many places take up a lot of room, but aren't very highly-populated.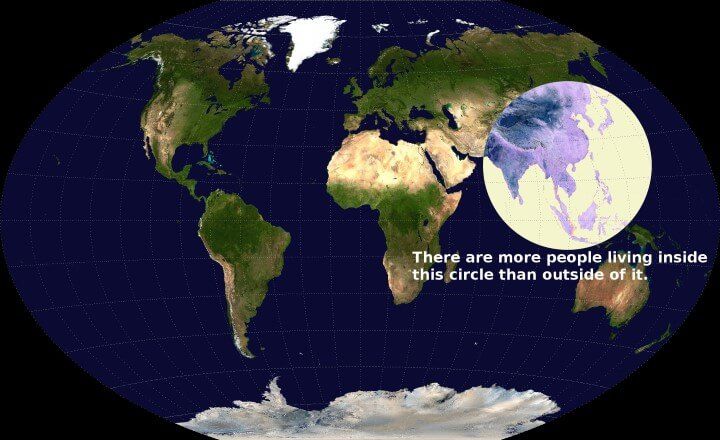 This new one is even more striking and extreme.
The red area has as many inhabitants as all the blue areas combined.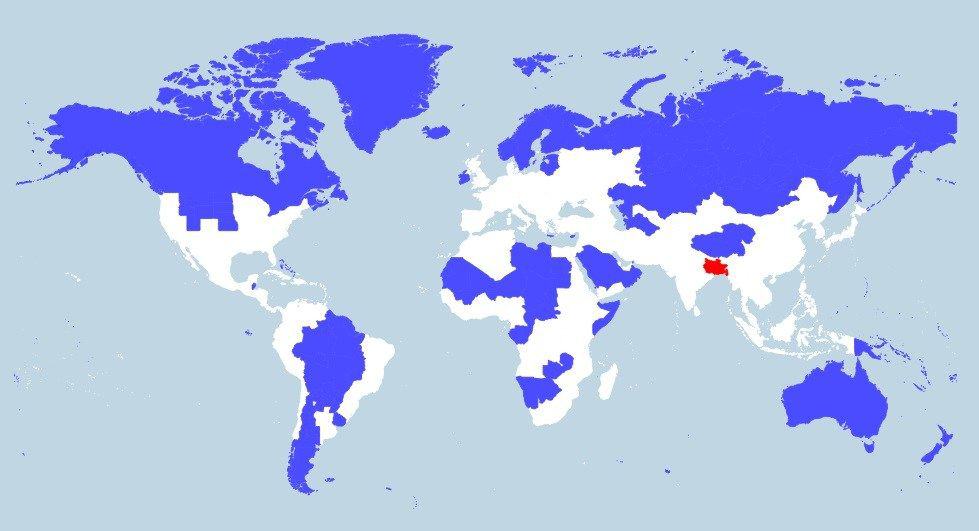 To be honest, it's nothing very surprising. The blue areas are well-known to be very sparsely populated and the red area is the most densely populated spot on Earth.
But many who commented on this map on Metrocosm (and even moreso on reddit where a smilar one was originally posted) said they found it very impressive to see the incredible size difference between the 2 colored areas. So we figured we'd share it with you.
Both areas contain approximately 5% of the world population (~400 million people). However, the area and population density are quite different.
Regions Included
The blue areas include huge swathes of the world, including many major countries in their entirety: Canada, Ireland, Australia, New Zealand… and 40 other countries.
It also contains sizeable regions in the US, Russia, Brazil, and many more.
Here is the full list of the countries and territories that make up both sections.
In red
Bangladesh
West Bengal (India)
Bihar (India)
Jharkhand (India)
In blue
Canada
Alaska
8 Western US States
The Bahamas
Belize
Suriname
Guyana
French Guiana (France)
9 Brazilian States
17 Argentinian Provinces
3 Chilean Provinces
Bolivia
Paraguay
Uruguay
Falkland Islands (UK)
Galapagos (Ecuador)
Greenland (Denmark)
Iceland
Ireland
Norway
Sweden
Finland
Estonia
Latvia
Lithuania
Cyprus
Corsica (France)
Crete (Greece)
Svalbard (Norway)
4 Russian States
Kazakhstan
Turkmenistan
Mongolia
Tibet and Qinghai (China)
Saudi Arabia
Oman
Libya
Western Sahara
New Valley Governatorate (Egypt)
6 Sudanese States
Mali
Niger
Chad
Mauritania
Somalia
Central African Republic
Congo
Gabon
Namibia
Zambia
Botswana
Australia
New Zealand
Papua New Guinea
Fiji
Vanuatu
Kiribati
Palau
Micronesia
Solomon Islands
Other Oceania territories
Antarctica
Summary
This impressive map shows that many places in the world are pretty much empty, but also that India and Bangladesh are extremely densely populated.
Are you surprised by how huge the blue area is? Tell us in the comments below.
Help us spread the word about our flight deals and travel tips by sharing this article and most importantly bookmark Flytrippers so we can help you navigate the world of low-cost travel!
Cover image: custom map cover (photo credit: Metrocosm)
Advertiser Disclosure: Flytrippers receives a commission on links featured in this blog post. We appreciate if you use them, especially given it never costs you anything more to do so, and we thank you for supporting the site and making it possible for us to keep finding the best travel deals and content for you. In the interest of transparency, know that we will NEVER recommend a product or service we do not believe in or that we do not use ourselves, as our reputation and credibility is worth far more than any commission. This principle is an essential and non-negotiable part of all our partnerships: we will never give any third-party any control whatsoever on our content. For more information on our advertiser disclosure, click here.
Share this post to help us help more people travel more for less: