Recently, I discovered my new favorite travel item of 2019: the Unbound Merino shirt. I am not exaggerating when I say that I probably won't ever wear anything else while traveling (or almost). The shirt has made my trips so much better, and I really mean it.
The Unbound Merino shirt is designed by travelers, for travelers.
It's perfect for serious travelers because it can be worn "for weeks" without being washed. I was skeptical too, but I tried it and it's true. In fact, I had heard so many good things about the shirt (how comfortable it was, how good it looked, etc.) that it seemed too good to be true.
But now I get it: it really is amazing. And I'm confident you'll feel the same way if you try it. It might change the way you travel (it did for me).
As travelers who are firmly on #teamcarryononly, it might be the best travel item we've ever found. We've always traveled light, but now we can travel even lighter (or travel light much more easily), thanks to the 4 Unbound Merino shirts both of us Flytrippers co-founders now each have.
You might not get it in time for Christmas but since I love the shirt so much, I just thought about sharing my experience as it is a great gift idea. It's really the ideal gift for those who travel a lot, and it's definitely worth waiting 5-7 business days to receive it.
The shirt is especially for men, as there are a lot of options I'll tell you about (and we tend to care less about wearing something different every day), but there is also a basic model for women too.
I'll go over a few reasons why I fell in love with this shirt, something I never thought was possible given how little I care about clothing or even pointless material possessions in general.
You can (really) wear it for weeks
The Unbound Merino shirt's best feature certainly is the fact you can wear it every single day and it won't smell bad. That's apparently the beauty of Merino wool. I had never tried this type of garment so I was admittedly very skeptical.
For my test, I went to the extreme and wore it almost every single day of my 3-week trip in September (in Southern Africa to take advantage of the free hotel nights deal). During my first week, in the warmer Victoria Falls area further north, most days the temperature was over 30°C.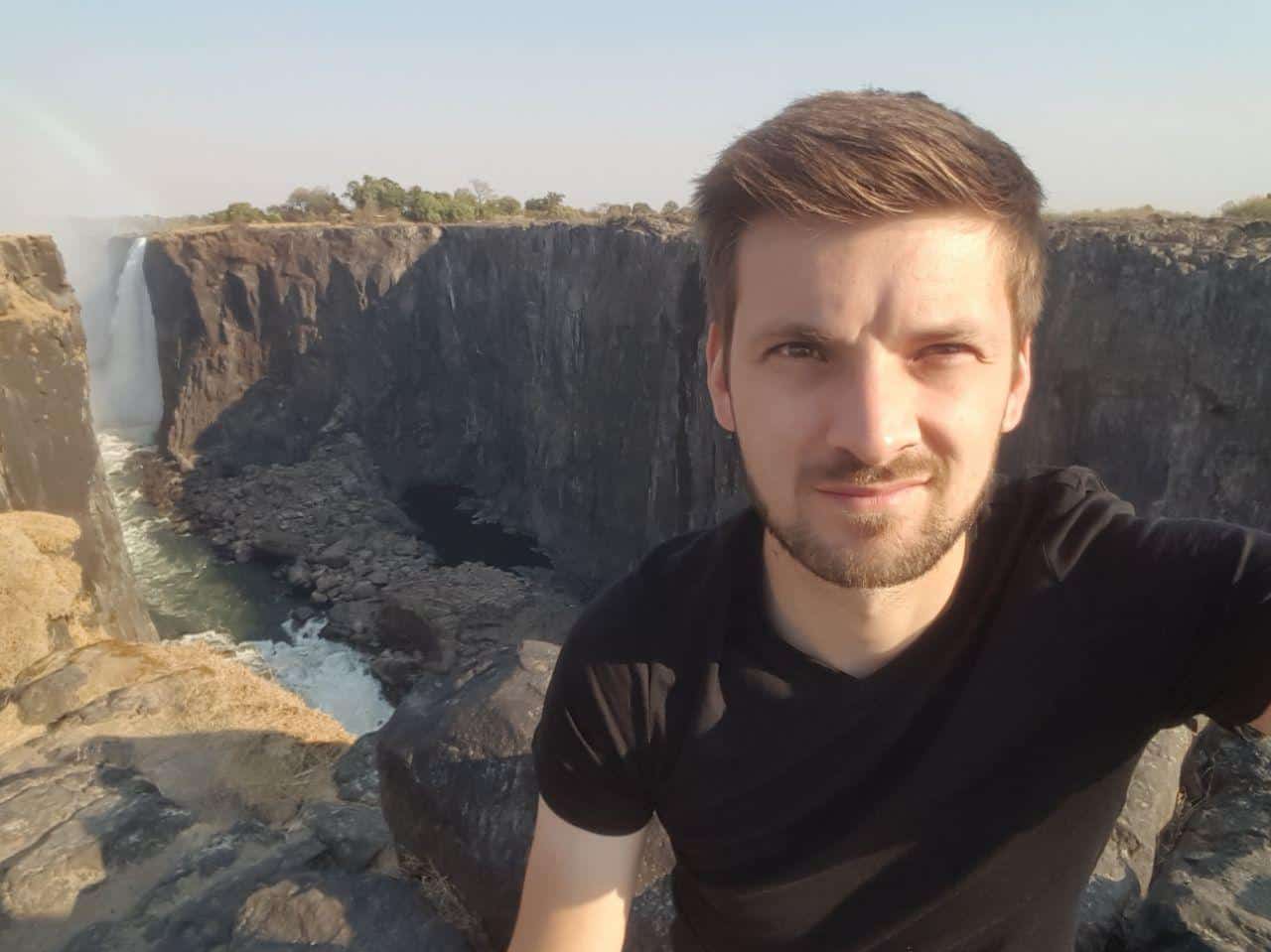 It was hot. And the result? The shirt never smelled bad and I didn't need to wash it once during the trip.
All I did was air it out every night and make sure I was clean. No, for real: that's all you need to do according to Unbound. If you shower every day and air out your shirt, the fabric is designed to not absorb sweat and be odor-free.
It really works, I was pleasantly surprised (and impressed).
They say you can wear it for weeks, and my 3 international trips this fall have all been for 3 weeks so I didn't try it for longer. But it has held up perfectly for 3 weeks and even if that was the maximum amount of time, that's still pretty damn good!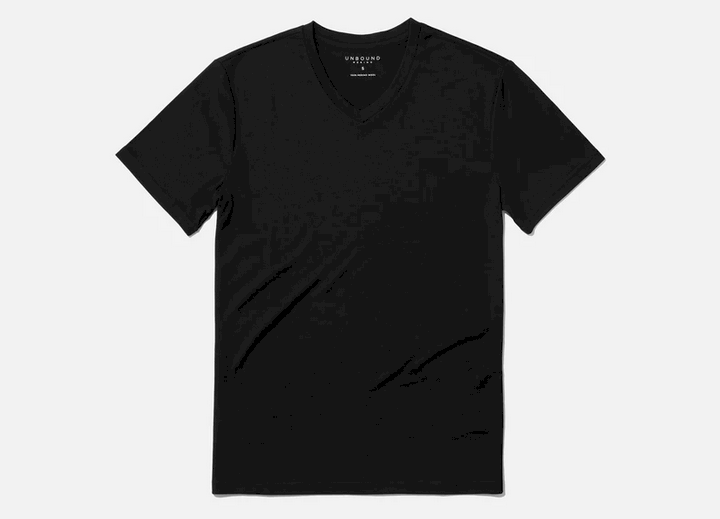 It makes it even easier to travel light
That's why the Unbound Merino shirt is the perfect shirt for serious travelers. Traveling is better when you travel light; that's not debatable. And this shirt makes it even easier to be a minimalist on your next trip.
If you haven't tried traveling light yet and think it's too hard, this shirt can be the best tool to help you learn to travel light. Surely you can fit everything into a carry-on if you only need a shirt or two for your entire trip.
I've been on dozens of trips in the past 3 years, I've been to 60 countries now and I've been on over 300 flights in my life. I have never checked a bag, ever. Whether it was for a 2-day trip or a 2-month trip. Flytrippers' other co-founder Kevin has been gone for over a year with a carry-on only (and that was before getting the Unbound Merino shirts; they'll make his life even easier now).
That means you can travel with a carry-on only no matter the length of a trip if you want to, and anyone who says you can't just isn't trying hard enough. And there's a reason no one who's ever tried #teamcarryon has ever gone back to bulky luggage.
So it's not like I personally needed this shirt to be able to travel light. But the room saved in my backpack by only having fewer shirts (I still carry a dress shirt and a sports shirt) allows me to bring more underwear and more of the rest and skip laundry entirely, at least for my trips up to 2 weeks (like my last one and many of my trips). That's amazing and so much more fun.
Alternatively, it also gives me the option of reducing my bag size even further. For longer trips, I usually travel with a regular backpack and a smaller one as a "personal item" that fits under the seat in front of me (at least now that WOW air is gone and all long-haul airlines offer two bags for free) but I might now go back to just one bag for even more convenience, as I barely have to bring any shirts now.
In short, less clutter is better for your everyday life, but it's especially better for you when you travel. You can concentrate on the great life experiences and not worry about stupid stuff like what to wear.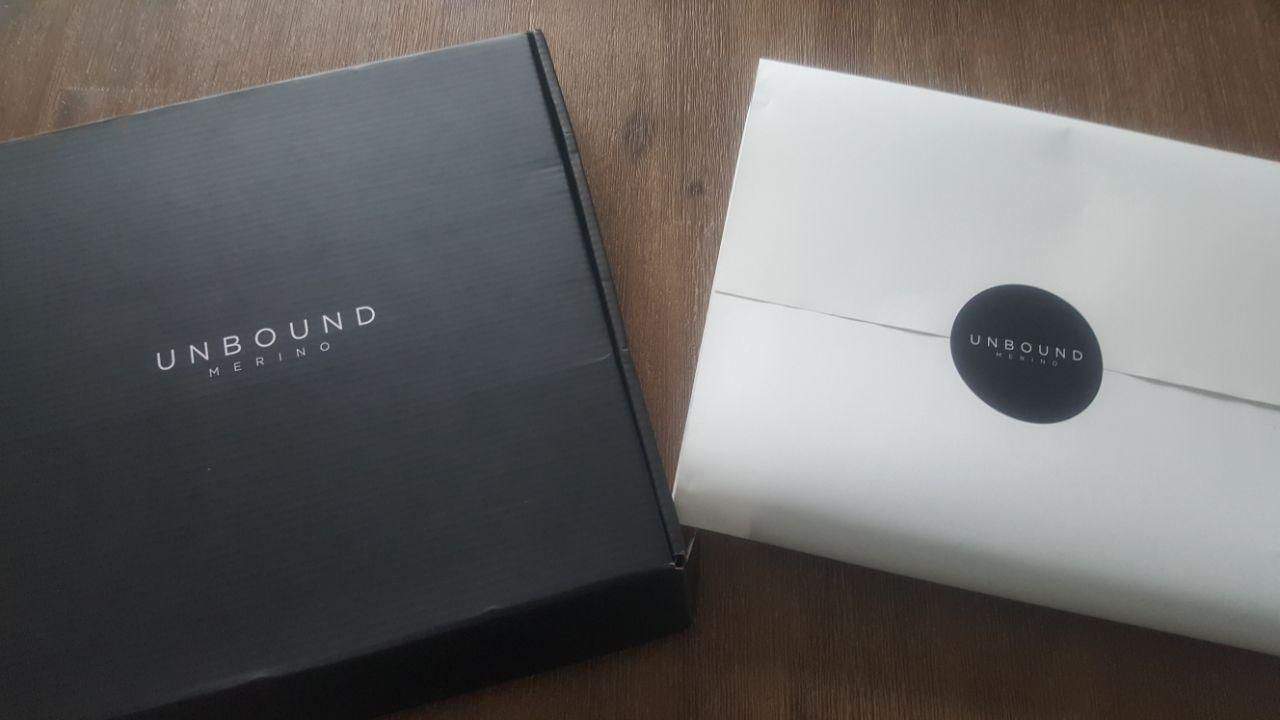 The fit, the feel and the look are great
This was the other element I was skeptical about. I had read that merino wool worked great, but that it didn't always look great because of how the fabric had to be made to maximize its efficiency. I honestly don't care that much for aesthetics, but I was hoping to at least feel good wearing the shirt.
Boy did it exceed my expectations. Not only does it feel good, it feels amazing. I'm genuinely happy to wear it every single day.
That's in fact why Unbound Merino has been such a popular brand since its launch: it has focused on making a shirt that also looks and feels great. Merino wool had long been popular as a functional hiking or adventure garment, but the Unbound Merino shirt is truly a stylish casual everyday shirt.
Merino wool is known for being insulated but breathable and while I'm certainly not a clothing expert, I've worn it for about 8 weeks cumulatively over my last 3 trips and I've always felt comfortable. It's very lightweight and I've got nothing bad to say about the fit, feel and look.
A common issue with traveling light is that your clothing can often become wrinkled (I'll share my own great tip to fix that soon, subscribe now for free to never miss a thing) but Unbound Merino shirts apparently don't wrinkle.
I've worn mine more often than I've had it in my backpack, to be honest, but indeed it hasn't wrinkled. I'll be able to tell you more in March when I go to Sri Lanka with more than one shirt, now that I got my 3-pack for Christmas.
The main criticism about the shirt
I got just one to try it first, and it was everything everyone else said it would be, and then some. So I then got an extra 3-pack, because I don't ever want to wear anything else or worry about laundry on my trips.
But the main criticism I got about the shirt isn't from me, but rather from my girlfriend. A few days after returning from my Southern Africa solo trip, we went on a 3-week trip to Spain together (again, to take advantage of the 17 free nights deal).
She was a bit tired of seeing me with the same shirt every day, so that's the main issue. I ordered 2 different colors (and another black one, because I really loved my black one) and now at least I can add in a little variety so I don't always have the same shirt every day. Well, not the same color I mean.
The 3-packs offer slight savings, but if you want you can buy just one first to make sure you like it. That said, Unbound offers refunds and exchanges for any reason within 90 days.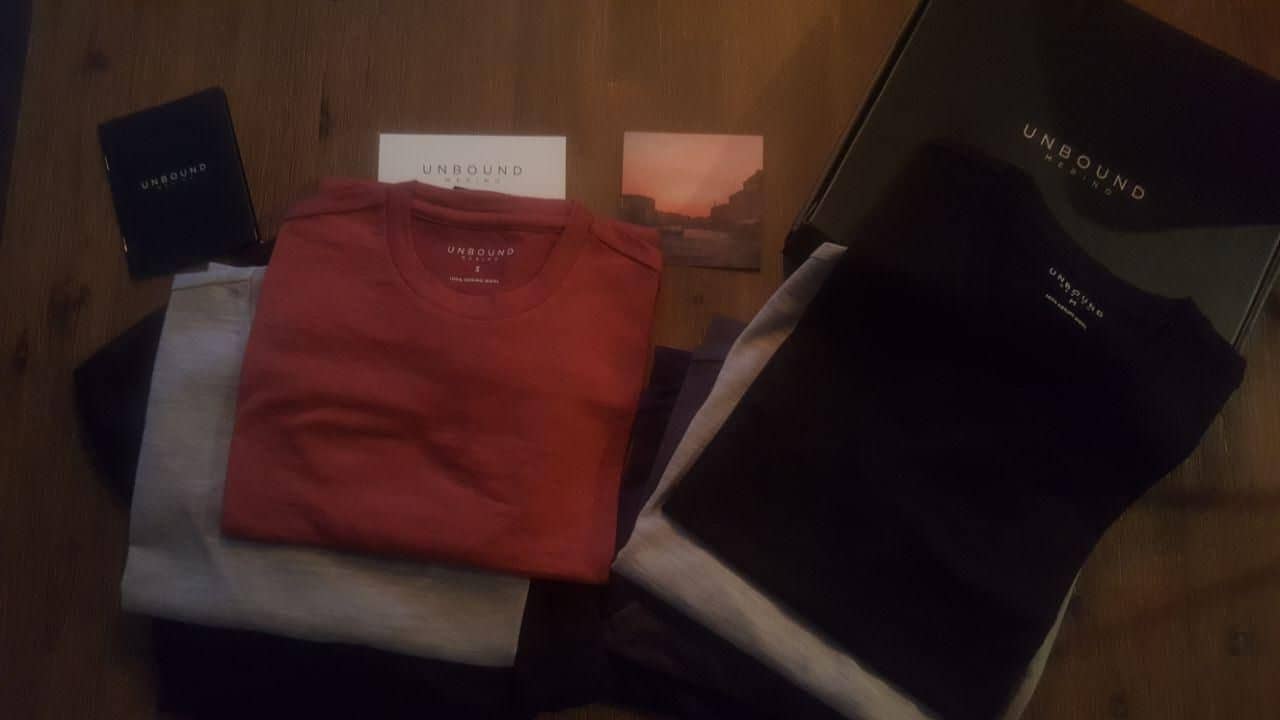 Available options
On the Unbound Merino website, you'll see that there are both regular crew neck shirts (like the pic above from their website) or V-neck shirts (like the one in my own pics above). In fact, you can even have it in a long sleeve or a tank top.
You can choose from black, charcoal, light grey, white, navy blue or red. There are also socks, underwear and dress shirts available; I've only tried the short sleeve shirt.
For women, you only have one choice for now: a short sleeve V-neck shirt.
The shirt's durability
The Unbound Merino shirt is supposed to be built to last, as a premium clothing item. Especially one from a company that has minimalism and everything of the sort as a core value.
As I said, I've only worn it about 8 weeks… but it's still as good as new. I've followed the special washing instructions and haven't worn it at home (I'm cheap and want to "keep it" for my travels to prolong its lifespan). But so far so good.
This shirt is also the perfect response to the problem of fast-fashion and its effect on the environment, which is a lot worse than the aviation industry as we talked about last week.
If it was more affordable, I'd definitely buy more and wear them every day at home, but I still have so many shirts that are still good so… I'll wear them at home a bit now that I have 3 more, but I'll still keep them mostly for during my trips since that's where they're especially useful.
I do travel one-third of the year though, so I'll be wearing them plenty!
Pricing and final thoughts
At US$65 (C$85), it's a bit pricey for a shirt, at least for someone who keeps all his money for travel and investments like me.
I don't think I've ever bought a shirt that expensive in my life (those who do that regularly and who wonder how I was able to go on 12 international trips in 2019: there's a part of your answer?—my other best tips are coming to help you in your 2020 resolution to travel more).
But that's why it's perfect for a gift (either for someone you know who loves to travel, or for yourself): it's something you might not have tried at that price but will definitely use if you have. Those are usually the best gifts.
As I said in my post about the 25 gift ideas under $25 for those who love to travel, I'll rarely recommend expensive things. Unless they're really worth it. Like I said, I'm cheap. But I think this shirt is worth it.
For me, the fact I don't need to wash this shirt, its nice fit and comfort… I think it's worth the price if you want to make your trips more convenient.
We often get readers who don't understand that in travel (or in life in general in fact) you almost always have to choose between something being more convenient or more affordable.
Many believe in the myth that travel is expensive because they always make choices that lead to travel being convenient. Travel is cheap when you stop wanting it to be convenient.
But in this case, traveling light will be more affordable, and it is also more convenient in many ways: no waiting in line at the counter when you fly out and no waiting for a bag at the carousel.
Usually, people are willing to pay hundreds more to save a few minutes, but then they go and pay more money (bag fees) to waste time and wait at the carousel (while I'm on my way to explore a city within minutes from getting off the plane).
Usually, people are willing to pay hundreds more to save a few minutes, but then they go and waste precious time off choosing an outfit instead of exploring a city.
So this shirt will not only make your trip more affordable, it will make it more convenient because you can stop worrying about what to wear.
Nobody really cares about what you wear anyway (and as I said in the article about the fashion industry polluting more than the aviation industry, personally, I think those who care more about what you wear than what you say should probably be avoided in life).
This shirt is stylish and you'll look as good as you need to look, so wear it all trip long and focus on experiencing new things in a new place!
Unbound Merino also has a very interesting post about how minimalism (and avoiding the well-known phenomenon of "decision fatigue" associated with choosing your clothes) actually leads to increased productivity. Couldn't agree more.
Don't want to miss our upcoming best travel tips?
Summary
The Unbound Merino shirt has exceeded my expectations. It really is the perfect shirt for serious travelers who want to travel even lighter, or make traveling light even easier. While it is a bit expensive, at least for a budget-traveler like me, I think it's worth the price given how it's changed my own trips and made them better.