The calendar will soon turn to December and Christmas is just around the corner. Everyone knows that there is one thing that a lot of people love: traveling. And since many couldn't travel as much as they would have liked this year, there are simply no better gifts than travel items for future travel. Here are our recommendations for you to offer to the travelers in your life, to put on your own wishlist… or to get from you to you!
We've listed 25 travel items under $25 to stay within your budget and to buy through Amazon to rack up rewards (via the Aeroplan eStore or Rakuten), since 2 great tips to have more money for travel once you're ready to travel again are to spend less and to double-up your free rewards in 1 click with online shopping portals (Amazon is on the Aeroplan eStore, AIR MILES Shops, and Rakuten).
My personal favorites are #2, #3, #6, #11 and all 5 bonus suggestions over $25 we added at the end, because we think they are worth the higher price.
---
Maybe you miss traveling right now, I know I do and I just got back... So maybe scratching off this map of where you've been might help you wait for whenever you're ready to travel: I recently bought a corkboard world map for similar purposes.
---
A great deal for an absolute must-have item. I never travel without my portable charger, that way I know I always have my smartphone available for calls and data wherever I go in the world (thanks to cheap local SIM cards of course, not the scam that Canadian providers' roaming packages are).
---
Everyone needs a little bag to carry around every day during their travels! You should definitely have one. That's what a daypack is and it's very useful. If there is only one must-have item on this list, it's this one. This daypack is foldable, water-resistant … and comes in many different colors! It really does not take up much space (it fits in the small bag on the right-hand side of the image when you don't need it)! I have it myself (this brand exactly), and despite my many many trips it is still going strong, it is quite durable! I had it with me on each of my 12 international trips in 2019 and I used it every single day!
---
I wanted to share this option that is a little bigger (35L instead of 20L) even if it's 2 quarters over our $25 limit. Honestly, if that size had existed last year when I bought mine, I might have bought this one, who knows. Another option to get organized while traveling!
---
A less glamorous gift… but still so useful. If you're tired of looking for your chargers, headphones, and all those little items… you're not the only one. So it makes for a great gift for any traveler.
---
A great discount. And these are so useful. I was skeptical myself, but since I started using them, they've made my life much simpler. These packing cubes allow you to better organize your suitcase or your backpack! It's not necessarily just the space savings, but above all the convenience of having all your things well separated and easy to find.
---
A very basic item, but one I've found myself getting used to. To the point where I now always use it on my long flights. It doesn't take up much space.
---
This new type of neck pillows are pretty popular on Amazon. It's actually a copy of the premium (and even more popular) TRTL pillow, which is $40 (the original). However, I have not tried it myself, because I travel too light to be weighed down for 3 weeks by something that I'd use for just a few hours.
---
Many people absolutely need this type of pillow to be able to sleep on a plane, so here is the most common model! A classic. Offer this gift so that your loved ones avoid paying twice this price if they wait to buy it at the airport because they didn't plan ahead (preparation is the key to traveling for less as I explained in great detail).
---
A set with 8 pieces, including several pretty useful small containers. The kind of thing we don't often buy for ourselves… but will definitely be used if received as a gift! There is also this toiletry bag that you can hang open which is really nice.
---
Once again, an essential item for everyone who travels internationally! Great affordable stocking stuffer for travelers. This is the one that Flytrippers' other co-founder Kevin has and he finds it very practical with its 4 USB ports.
---
A convenient item for a lot of situations, it makes a perfect gift that is going to get used for sure. Small and takes up very little space. Perfect for the beach or anywhere outdoors.
---
Not necessary for those who only stay in hotels, but for backpackers and all others, it is a must. As it is made of microfiber, it dries quickly. In fact, for everyone who goes to the beach, it is very useful too (and it does not take much space). It is a pack of 2, with a small bag to carry them.
---
An essential. To take beautiful photos for Instagram, every traveler needs to know how to find beautiful backgrounds… but most importantly, how to use a selfie-stick!
---
We're cheating, as this one is $2 more than $25 we promised, but if you like to take selfies, do it with this tripod (and do it safely, so you don't join the hundreds who've died while taking selfies).
---
Very convenient travel guides that are highly rated… and of course there are many other types of books on specific destinations that will please many travelers! We don't often pay for books ourselves since all the information is available online for free, but it is a very pleasant gift to receive!
---
Losing your keys, passport case, or cell phone while traveling is quite a hassle. This Bluetooth tracking tool will locate the item precisely. Perfect for those who love tech stuff!
---
Another gift more practical than fancy, but useful in any traveler's kit, especially for travelers who sometimes stay in hostels to travel more!
---
A passport case doesn't have to be ugly! This one is rather classy… and extremely convenient to stay organized on a trip! Several colors are available! And if you prefer, this standard one is a safe bet too!
---
These are theoretically made for produce, but many travel pros use them to protect whatever they bring on their trips. These bags are amongst the best-sellers in the travel category in fact.
---
Rain is inconvenient at home and it's even worse when traveling. Especially when you are not prepared. So this little gift will be very useful for travelers. Another item that is more practical than fancy, but it could complement another gift very well!
---
It's a super-thin RFID security pouch with bonus RFID sleeves. Comes in a few other colors. Another wallet that is $3 more comes with a US$250 theft protection if what's in it gets stolen (not sure how it works though). Still, that's pretty awesome! Also available in 3 other colors.
---
For those who travel with a traditional suitcase and want to protect it, this covers it (and makes it easier to spot when it's time to waste time at the baggage carousel). Comes in many sizes and colors.
---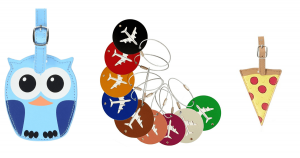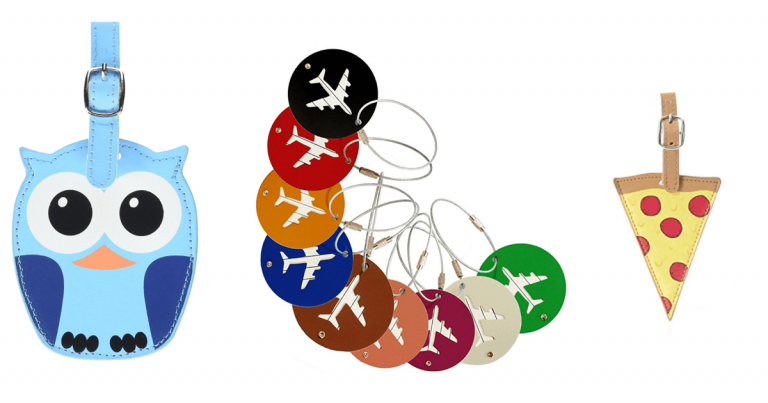 Tags are a necessity for those traveling with luggage. But they do not need to be boring or cliché like a Canadian flag (although the flag is very convenient, no one wants to be mistaken for an American when traveling). There are plenty of options, from pizzas to owls… or more standard options too, if you want a gift that can fit the recipient's personality.
---
Traveling light is the way to go, but even with just a backpack/carry-on, some airlines have stricter weight rules to keep in mind.
---
Before even getting to the 5 items that are over $25, Flytrippers likes to give you more for your money so we have a tradition of always giving a bonus listing in all our "Top X" posts. Here it is, a small practical gadget to take better pictures with a cell phone because not everyone wants to explore the world with an expensive (and bulky) camera.
---
5 additional items that aren't under $25
As mentioned, we are budget-travel enthusiasts and we always want to help you save money, because it's saving money that allows you to travel more often (which is something most people say they want to do).
So we believe that these ideas above are perfect because they are very original gifts for travelers… and very inexpensive so you'll still keep your hard-earned money to spend on more experiences instead of material possessions (that will make you happier, it's scientifically proven).
But here are 5 more items that we think are still worth it despite not being under $25.
---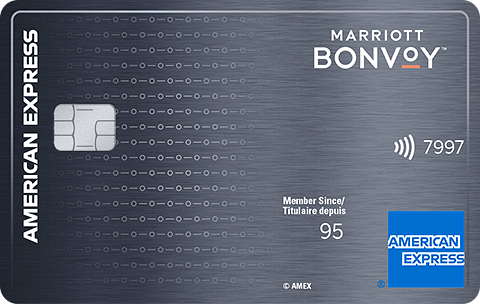 Okay, we cheated a little once again, just for the first item on this list. This card costs $120, but gives you a welcome bonus of ≈ $477 in free hotel nights (or even a lot more).
That gives you ≈ $357 net in free travel with the Welcome Bonus alone. And then each year, you'll get a certificate for a free luxury night worth 2 times more than $120, or even 4 times more if you use it well (like for an overwater bungalow in Fiji like Kevin did).
You obviously can't offer it as a gift, but you can talk to your loved ones and help them discover the world of travel rewards, that would be the best and most lucrative gift for them. It will give them hundreds of dollars in free travel every year if they learn about it. Hard to beat that in terms of awesome gifts (our upcoming new section and beginners' course will help learn all about this for free).
I selected this card because it is the one that literally all travelers should have, regardless of their income (as long as you have good credit). It will give you 17 free nights in specific hotels if you and your travel buddy get it, or 8 nights if you travel solo. Amazing deal.
And it gives you free insurance coverage so you won't have to complain that the airline won't pay for your hotel or meals during a weather delay (it's normal that they don't, they don't owe you anything because they can't control the weather… and it's inevitable that a weather delay will happen to you if you travel somewhat often). This card will give you $500 for meals and a hotel. And car rental insurance.
But there are also 6 other amazing offers currently that all give you hundreds of dollars with the welcome bonus alone (the best one gives you over $700!!!).
Best credit card offers - December 2020
You can see our ranking of the best credit cards in Canada for November and again, our upcoming course will help you understand this complex but lucrative world.
---
If you want to try backpacking, or you know someone who wants to, this bag is perfect. Or even for those who already have a backpack that may be a little worn out. Sure, there are $300 bags, and they may be great, but this one does the trick.
This is the Amazon brand. Sorry to tell you that most people do not care one bit if your bag has a well-known logo on it or not. This one has great reviews and is perfect because it is very affordable (it leaves you more money for actual travel). It is made of a material that repels water, has very good back support and lots of very useful compartments. There are 2 sizes available: 65L or 75L.
---
One of the best deals by far, these noise-canceling headphones are the ones I have myself. There's a reason why you see so many frequent fliers with these onboard planes: they really are great to eliminate the noise.
A 33% discount is pretty good. I basically never spend big amounts on material things, this was one of the only exceptions in the last years. These Bose headphones are amazing and I wouldn't fly without them, and I recommend them even if you don't average 70+ flights a year like I do.
---
Flytrippers' other co-founder Kevin has this model and he is very satisfied. Cheaper than a real GoPro like this one at $529 and perfect for capturing great travel memories without necessarily being a professional videographer.
---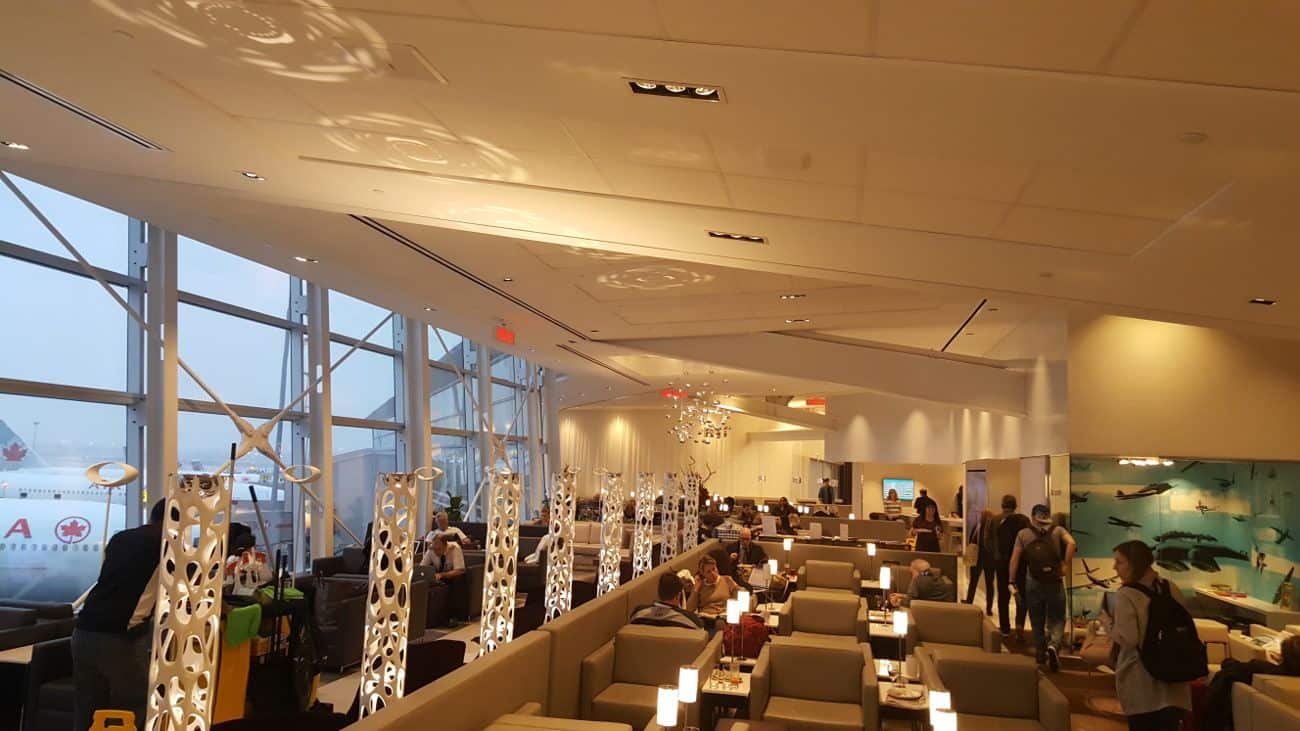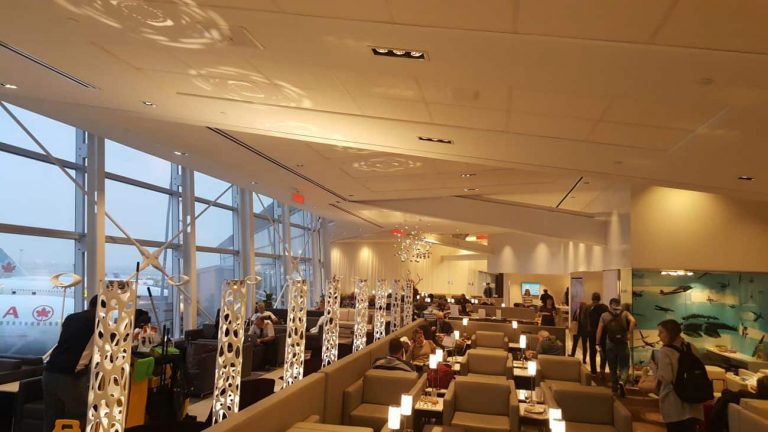 Christmas gifts are great to spoil your loved ones. And nothing is better than an airport lounge to spoil a traveler. Airport lounges make all trips infinitely better. You can read the detailed article on how it is inside airport lounges but to summarize: it's pretty awesome.
There is an interesting discount on Priority Pass memberships, a network of more than 1,300 lounges all over the world…. but you should NOT buy it.
It would make an original gift that would definitely be appreciated by those who travel often, but at the risk of repeating myself, it is better to get them to learn about travel rewards because some credit cards give free lounge access (in addition to hundreds of dollars in free travel simply by getting the card of course).
Talk to the person you want to spoil and his gift will be learning that travel rewards cards can make their airport experience better for free (and you can buy them a different gift).
If you do want to pay for the membership and offer it as a gift instead of getting one of the many cards who offer it for lounge passes dorfree (most require income of $60k), you can take advantage of the current highest-ever 40% discount and buy the membership for US$59. But the member still needs to pay the discounted US$32 per visit, which is why the cards are so much more interesting.
---
Don't miss any of our great travel tips:
Summary
Here are some gift ideas for travelers! And with all 25 being under $25, you will not break the bank to please the travelers in your life (or to spoil yourself).
Do you have great Christmas gift ideas for travelers to suggest? Tell us in the comments!
Help us spread the word about our flight deals and travel tips by sharing this article and most importantly bookmark Flytrippers so we can help you navigate the world of low-cost travel!
Advertiser Disclosure: Flytrippers receives a commission on links featured in this blog post. We appreciate if you use them, especially given it never costs you anything more to do so, and we thank you for supporting the site and making it possible for us to keep finding the best travel deals and content for you. In the interest of transparency, know that we will NEVER recommend a product or service we do not believe in or that we do not use ourselves, as our reputation and credibility is worth far more than any commission. This principle is an essential and non-negotiable part of all our partnerships: we will never give any third-party any control whatsoever on our content. For more information on our advertiser disclosure, click here.
Disclaimer: Flytrippers does not give financial advice. You should ensure the world of travel rewards fits your personal situation and obtain professional advice if you so desire. Flytrippers may receive a commission for referrals, however, our policy is to only recommend products or services we really believe in (and have ourselves). To read more about our disclaimer, click here.