Our comprehensive ultimate guide to airport lounges will soon be ready, but in the meantime, I've just returned from a special event where Air Canada unveiled its new and unique lounge concept at Toronto-Bishop Airport (YTZ), and their VP also shared a teaser about several new lounge updates (all across the country).
Here's a reminder of the basics about lounges, a first look at the new and unique concept, and some news about the future.
Basics of airport lounge access in Canada
First, let me be clear for those new to airport lounges: it's very easy for almost all Canadian travelers to access airport lounges for free to be paid to access airport lounges!
(Thanks to welcome bonuses and thanks to the fact having more cards also improves your credit score if you follow the 3 rules, as explained in our new one-page travel rewards basics summary infographic!)
You can read about how to set up your strategy concretely if free access to airport lounges is a priority for you (or even if you want to just start by trying it).
Basics of airport lounge types in Canada
Canada's 46 airport lounges are all somewhat similar, with greater comfort and complimentary food and beverages. But in terms of access methods, there are 2 main types of airport lounges in Canada: Air Canada lounges and the others.
It's the 22 non-Air Canada airport lounges that are the easiest to access for free, year after year, with the right strategy.
These are the lounges that are part of the various memberships:
DragonPass (Visa Airport Companion and Mastercard Travel Pass)
Priority Pass
Plaza Premium
Amex Global Lounge Collection
Until yesterday, 19 of Air Canada's lounges in Canada were accessible for free, but they are the most exclusive. Almost everyone can access them for free for 2 years (or 4 years with a travel buddy), but not year after year infinitely (unless your income is higher), unlike the other lounges.
That's because only premium Aeroplan cards give access to Air Canada lounges. It makes sense that these lounges are the hardest to access given that Air Canada is the country's dominant airline, with the largest lounge network, and a large number of travelers who already have free access through business class travel or elite status.
But now, there is a 20th Air Canada lounge in Canada… and it is accessible to all!
You can see the infographic showing all the airport lounges in Canada and how to access them in the same introductory article (it was just updated as Plaza Premium lounges are now once again accessible with a Priority Pass membership).
But also, you can read about the different types of access while you wait for our ultimate guide.
Introduction to Air Canada's new lounge concept
For the first time ever, an Air Canada lounge is part of DragonPass and Priority Pass! So it's accessible with just about any credit card that has free access to airport lounges!
And it's gorgeous!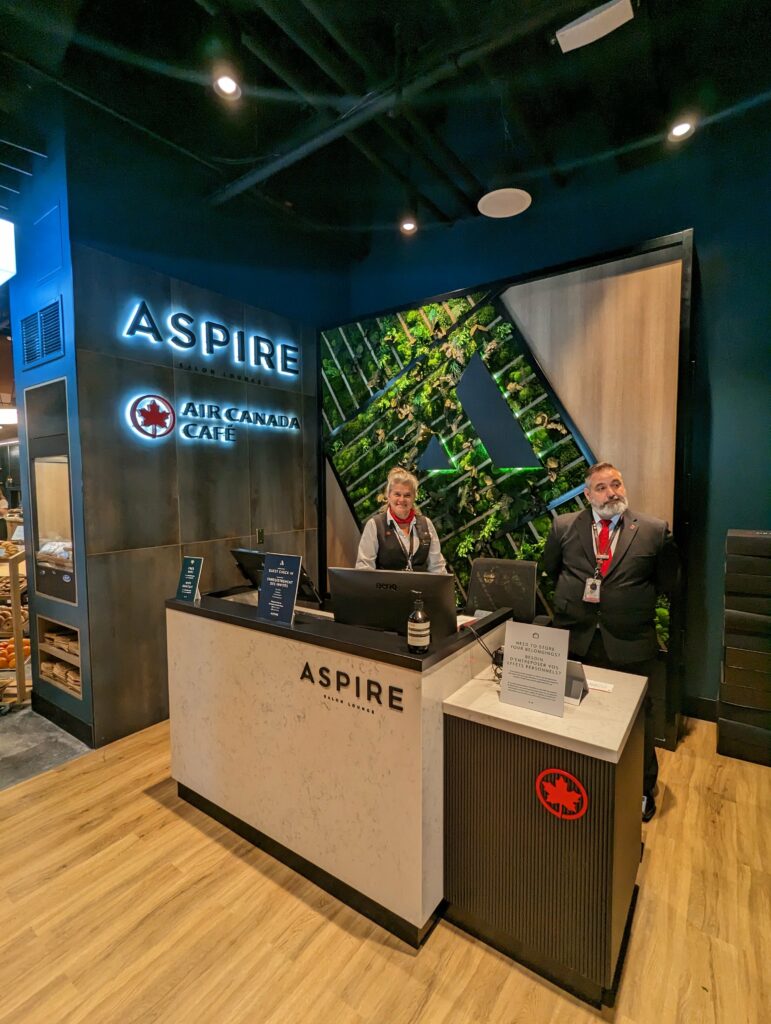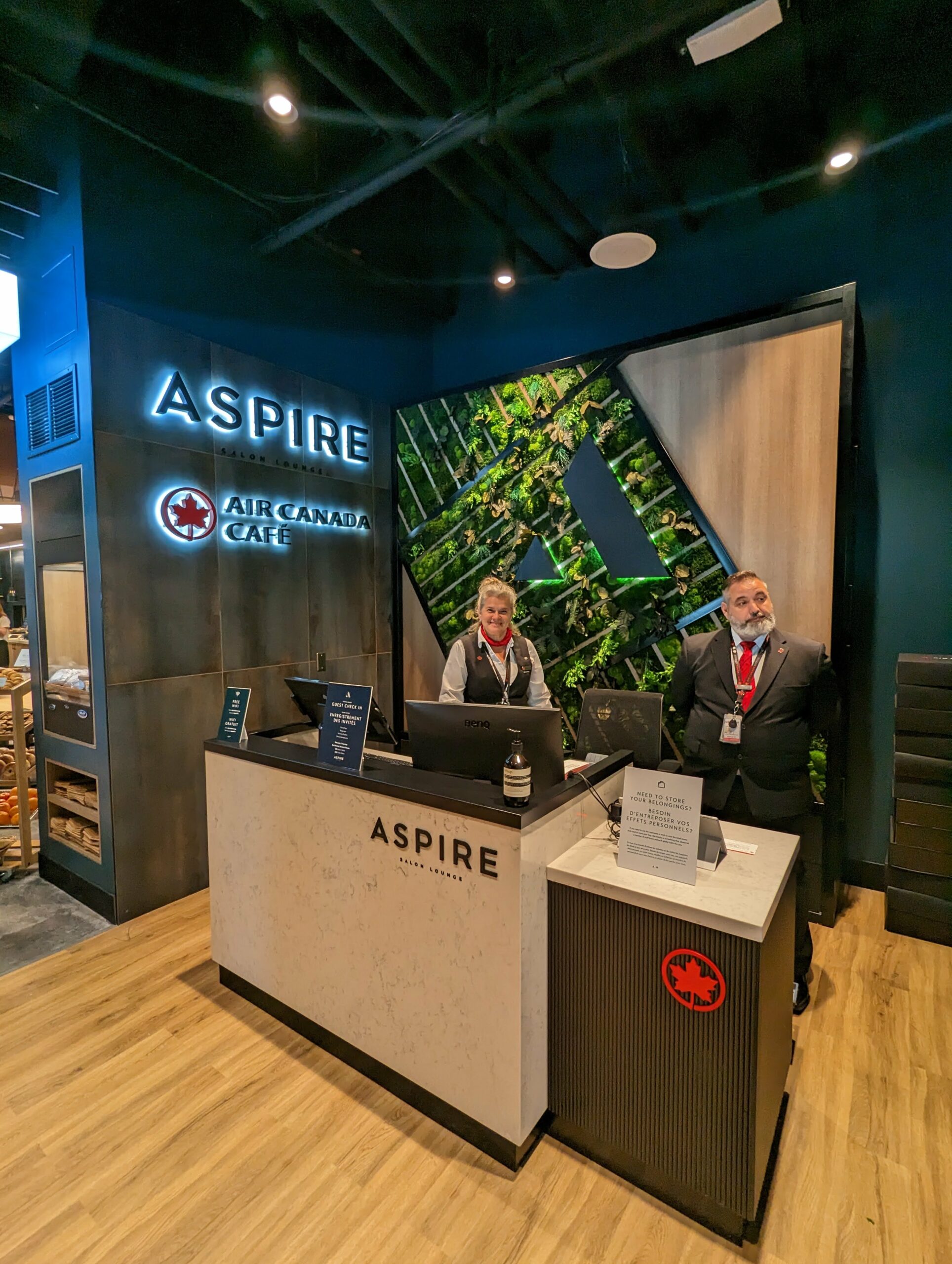 It's interesting to look at even if you never travel to Toronto, because it's a new design style, a new lounge visual signature, and really a new Air Canada lounge offering model that's sure to inspire the next ones to come (including 1 in a few weeks' time; details in the last section below).
And because there could be more like it! And because it's an Air Canada Café and not an Air Canada Maple Leaf Lounge, another relatively new concept you may not have had a chance to try yet. I'll explain it all below.
The official name is the Aspire | Air Canada Café lounge.
Flytrippers was at the official media unveiling and it's a really beautiful lounge. It's a big improvement on the old lounge template, on just about every respect.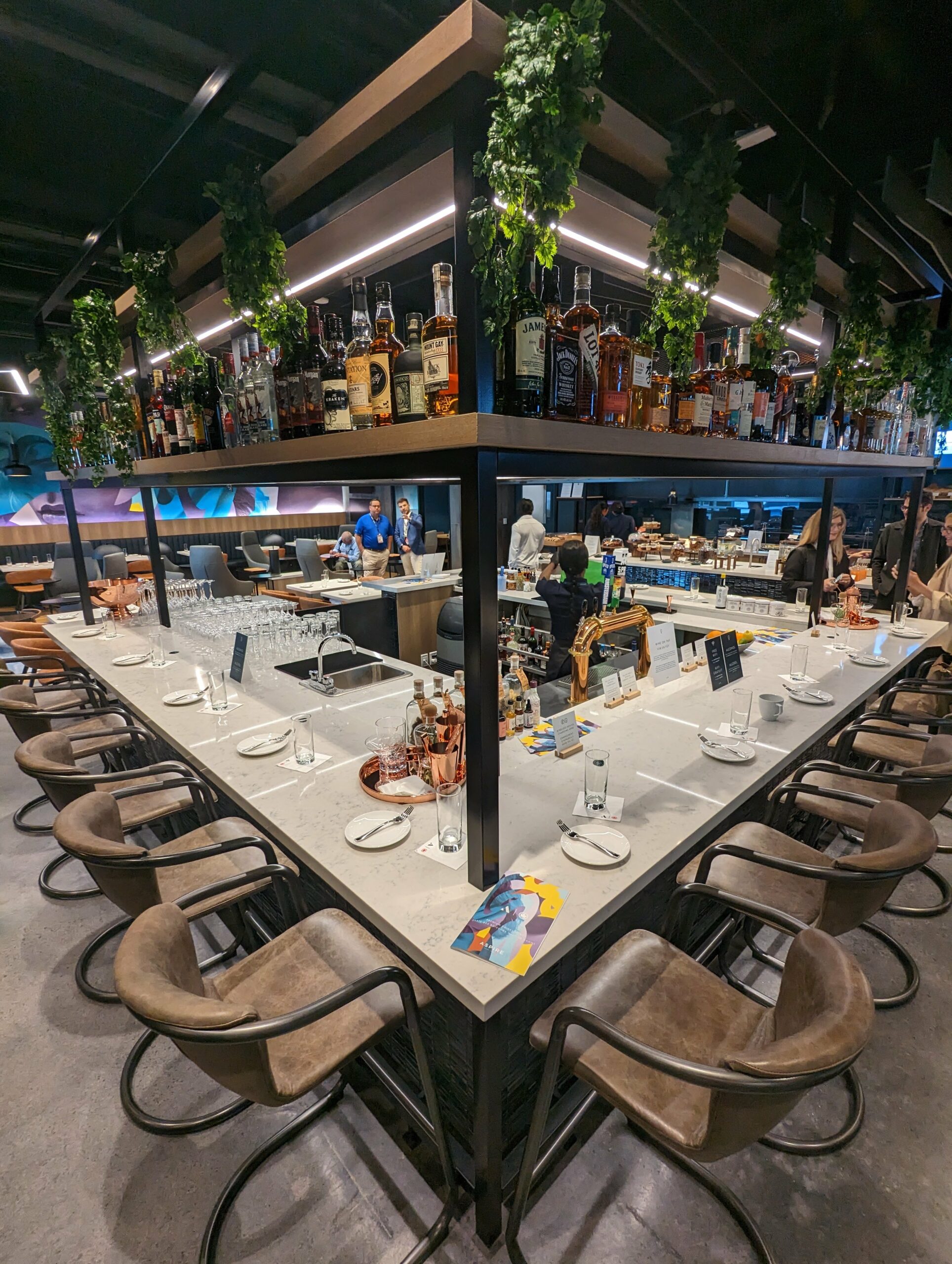 It's a brand-new collaboration between Air Canada and Aspire, the premium airport lounge brand of Swissport (a diversified airport services company).
They already have 3 Aspire lounges in Calgary (YYC) and Ottawa (YOW) and they also operate 2 of the 6 airport lounges in Montréal (YUL), the National Bank and Desjardins lounges.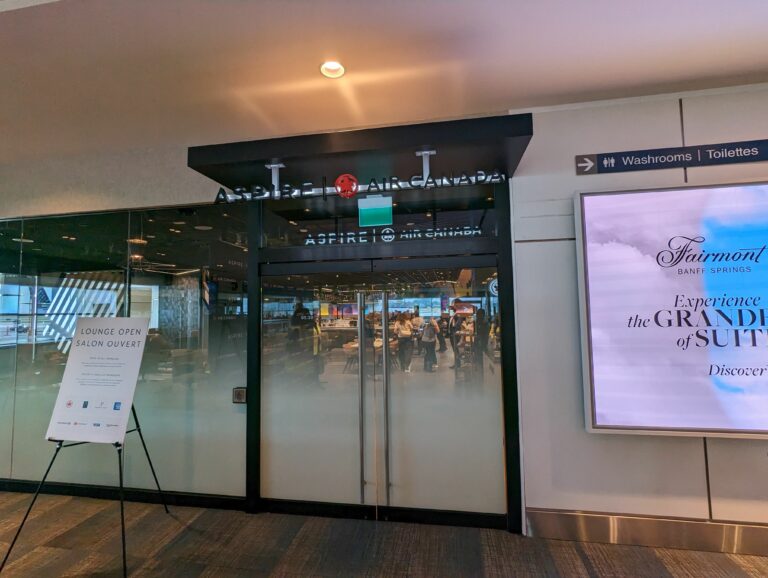 In short, the first lounge in this brand-new Air Canada concept opened this morning at Toronto's Billy Bishop airport (YTZ), the downtown airport that's very popular with those visiting the city (formerly known as City Centre airport, Toronto Island airport, or Toronto-City).
It's infinitely better than Toronto-Pearson Airport (YYZ), especially now that there's a lounge at Bishop (there was none)!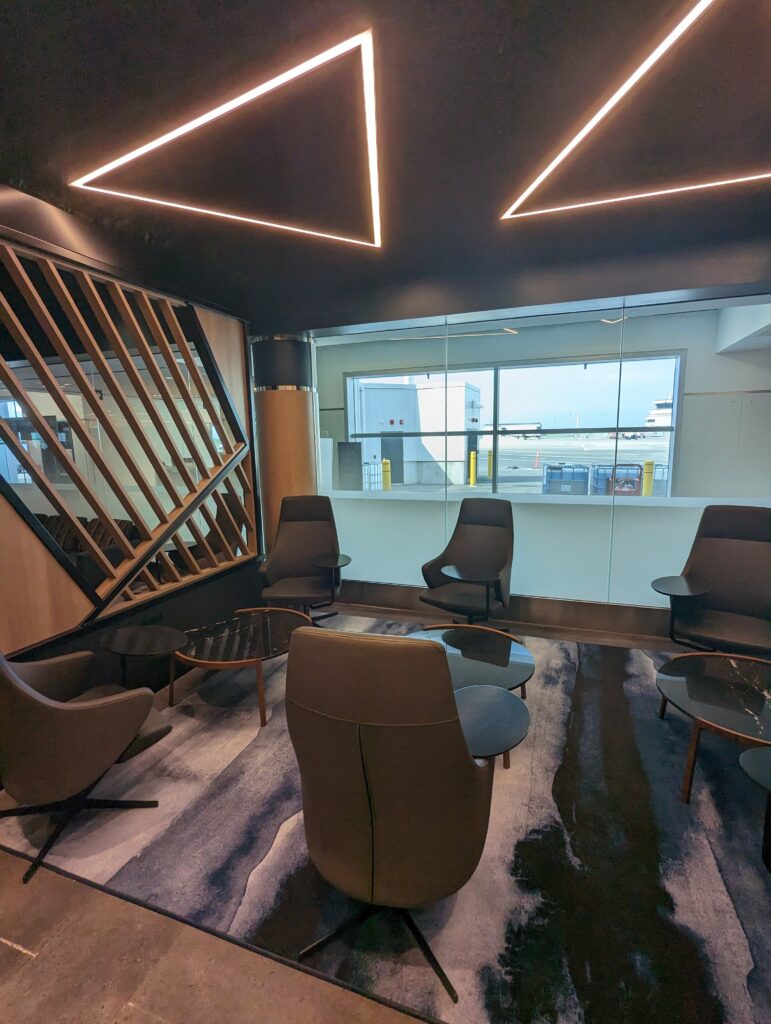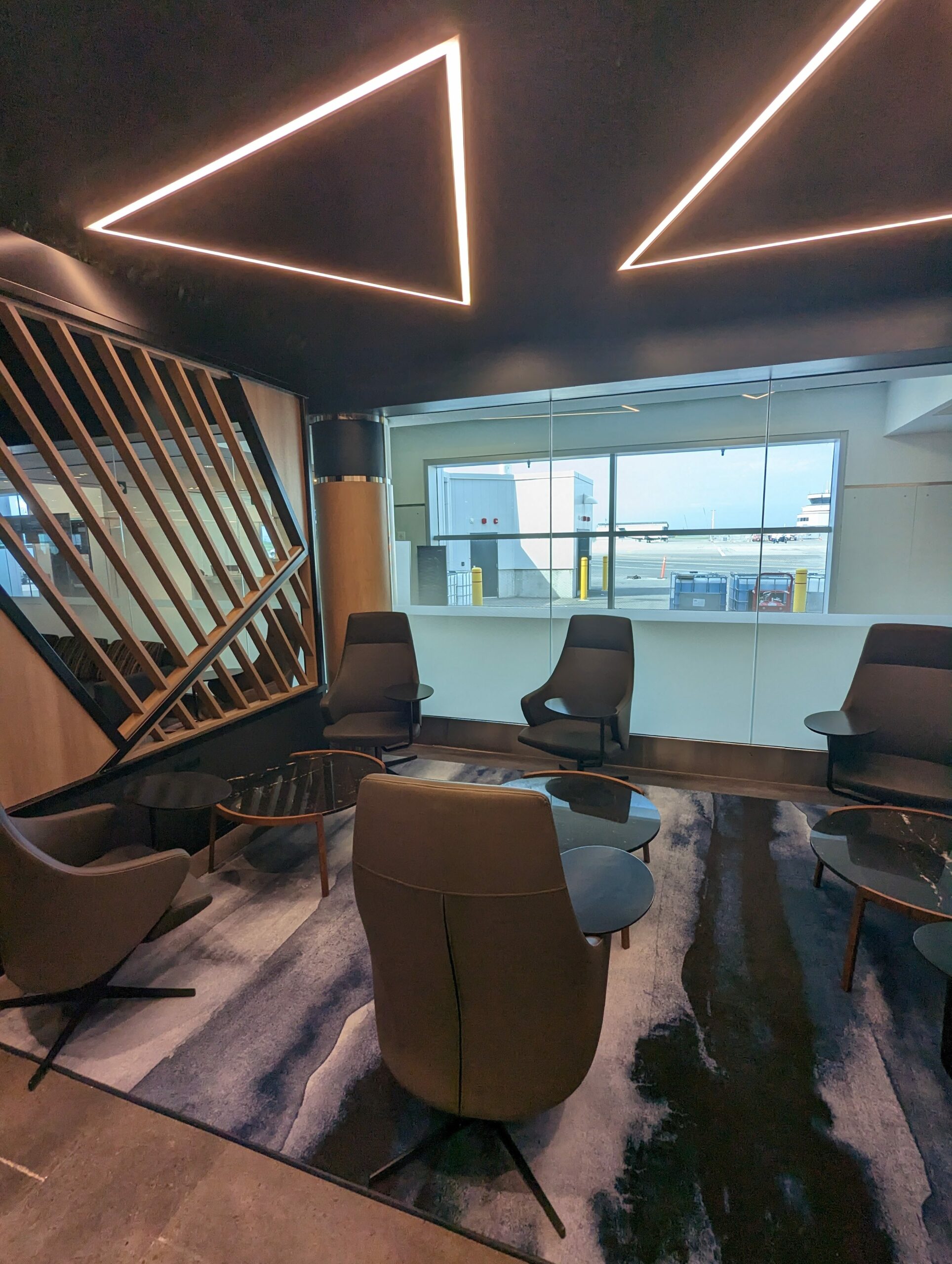 Air Canada's new aesthetic for its airport lounges is truly sublime.
I'll be doing a detailed review soon, along with my reviews of the several other Air Canada lounges I've visited, but I want to share some photos with you right away before talking about access rules again.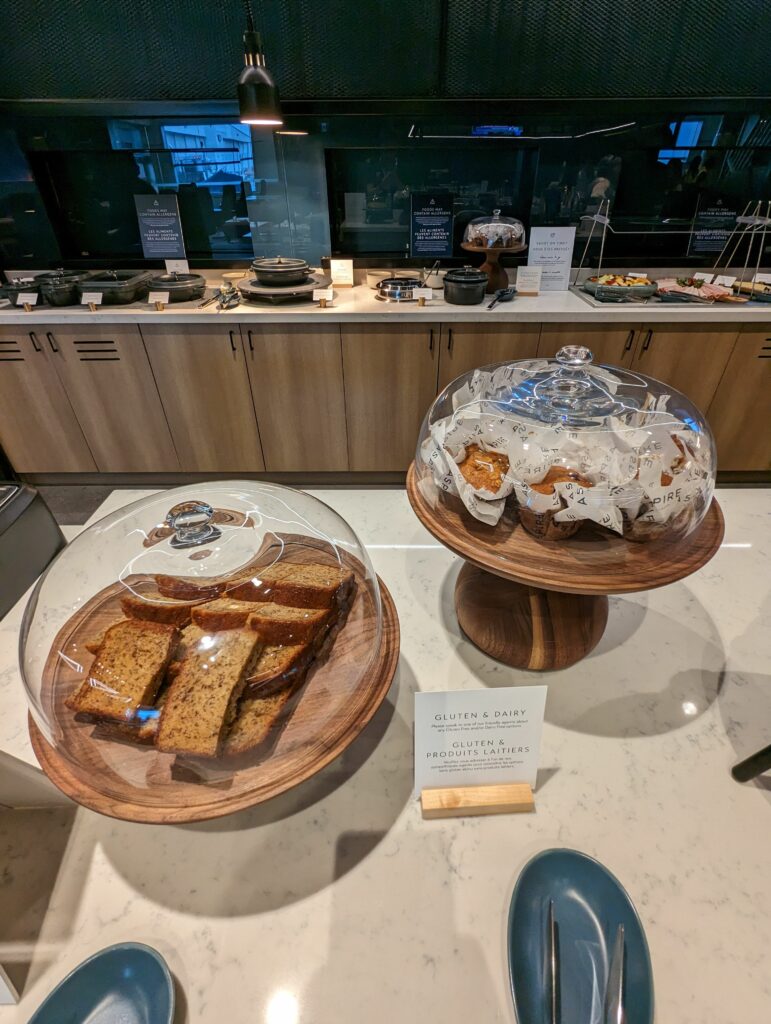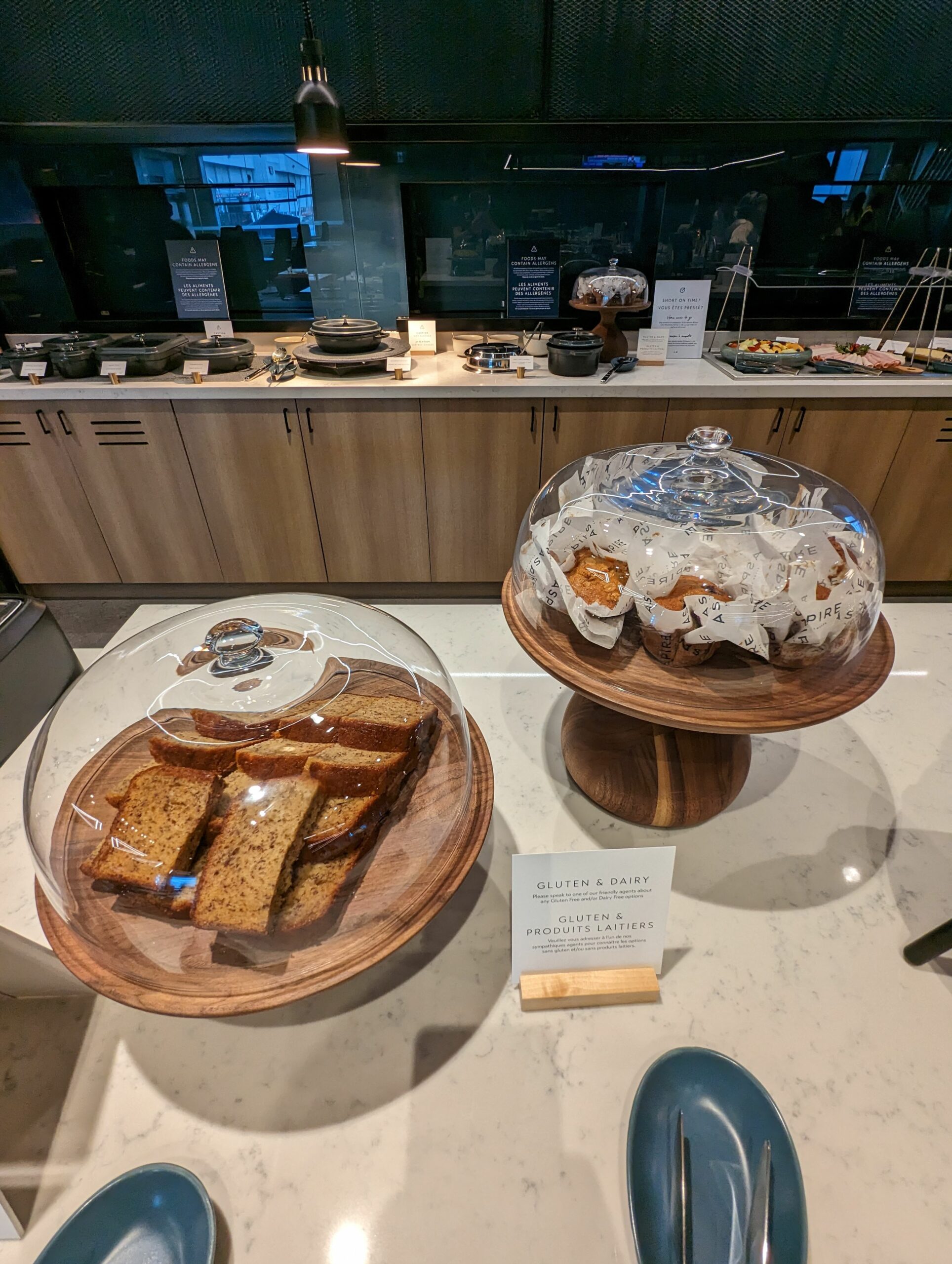 The central bar is the focal point of the 4,000 sq. ft. lounge. The selection of beverages is really abundant. Snacks are also available directly from the bar.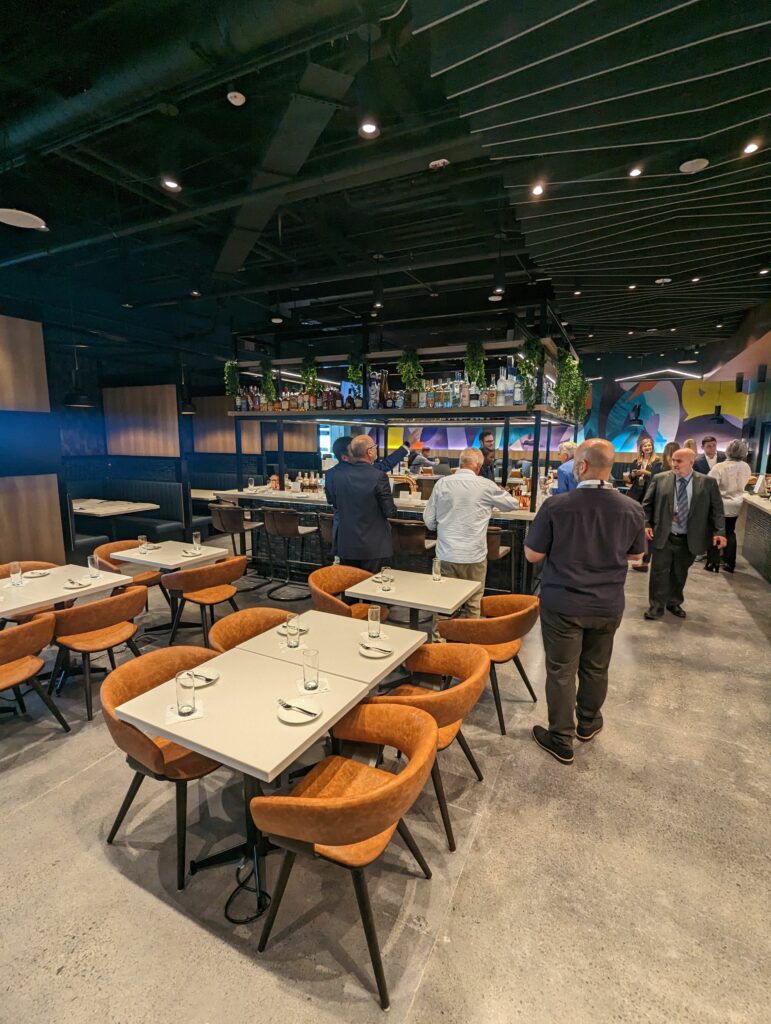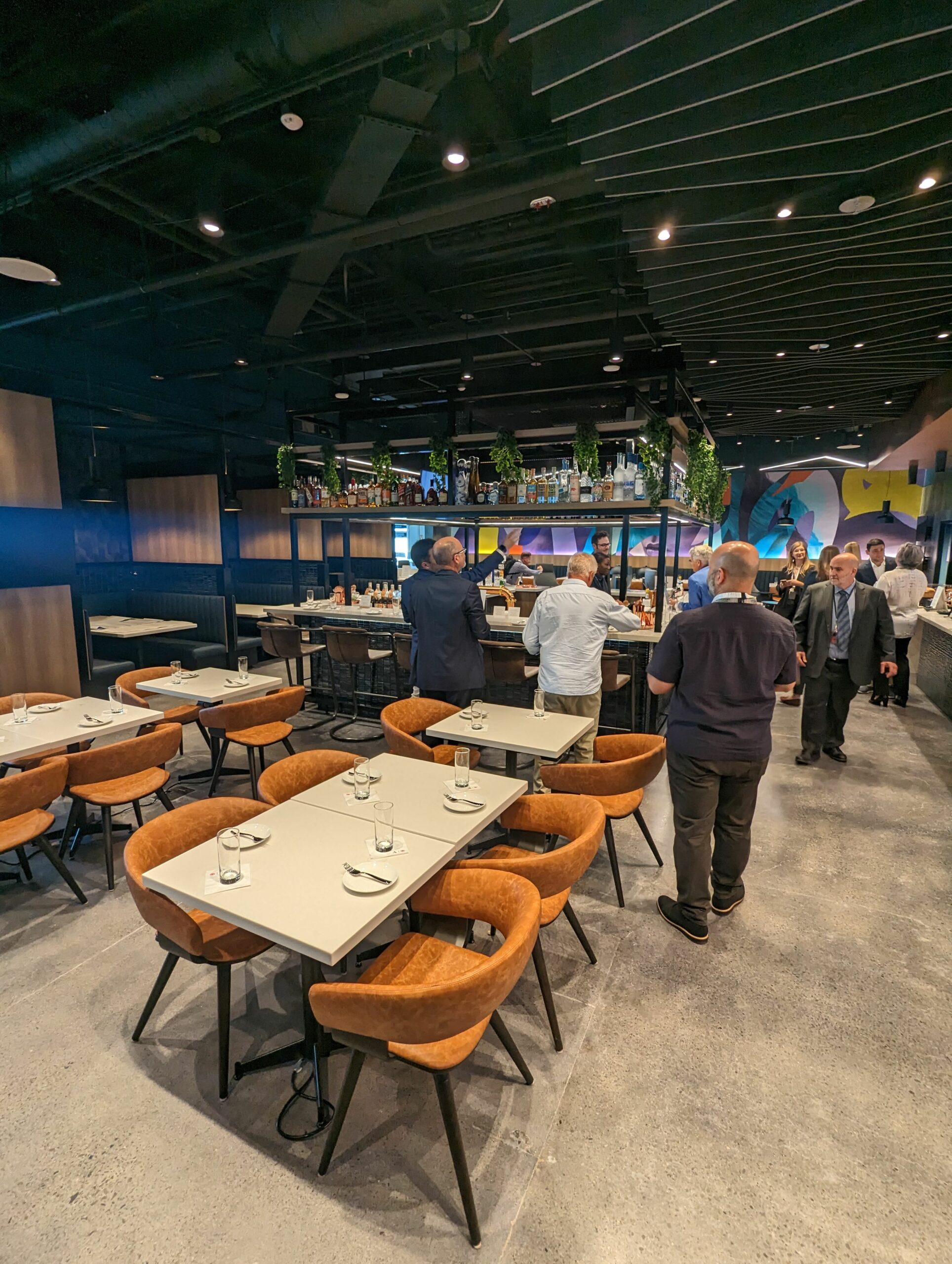 Speaking of food, the more upscale chef-inspired selection stands out compared to many North American lounges.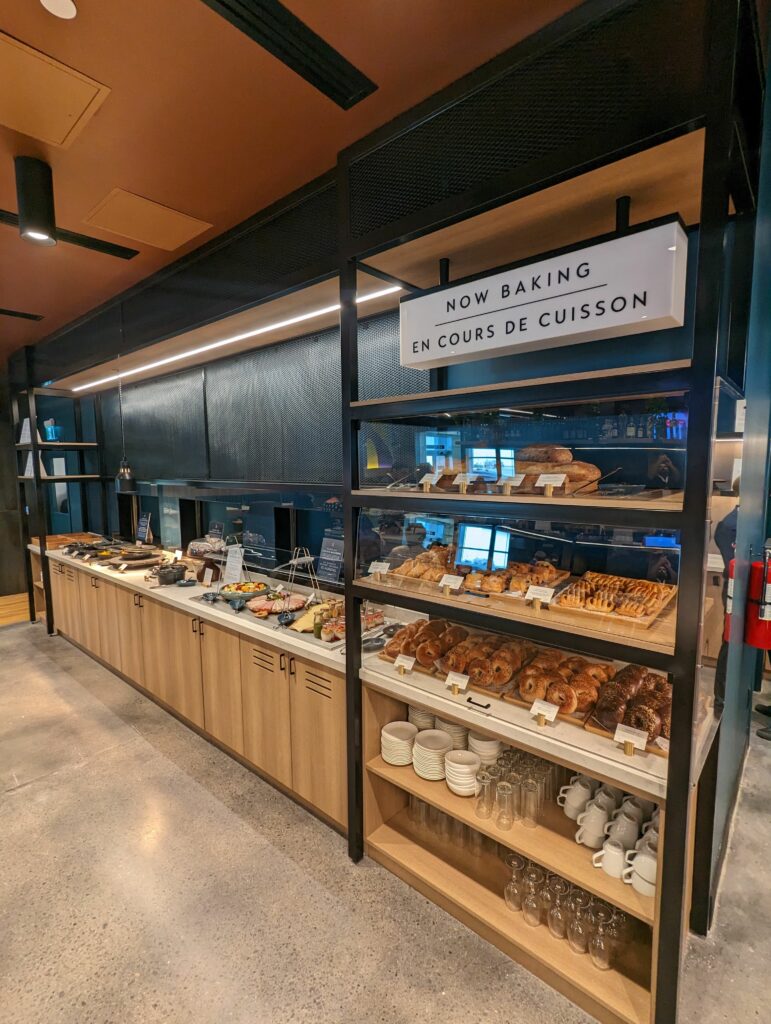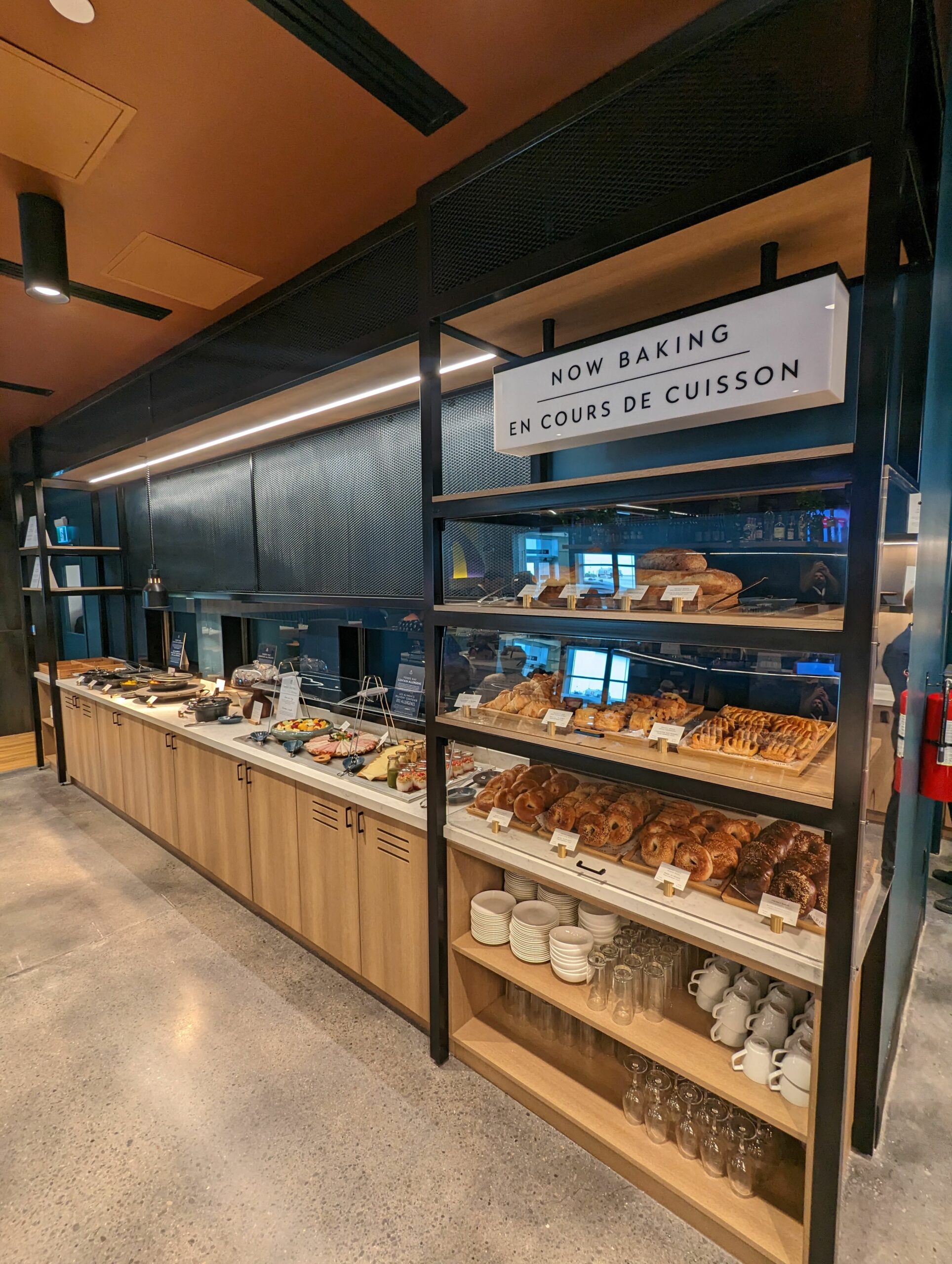 For breakfast, there was bacon, turkey sausage, eggs, hash browns, tomatoes, and beans.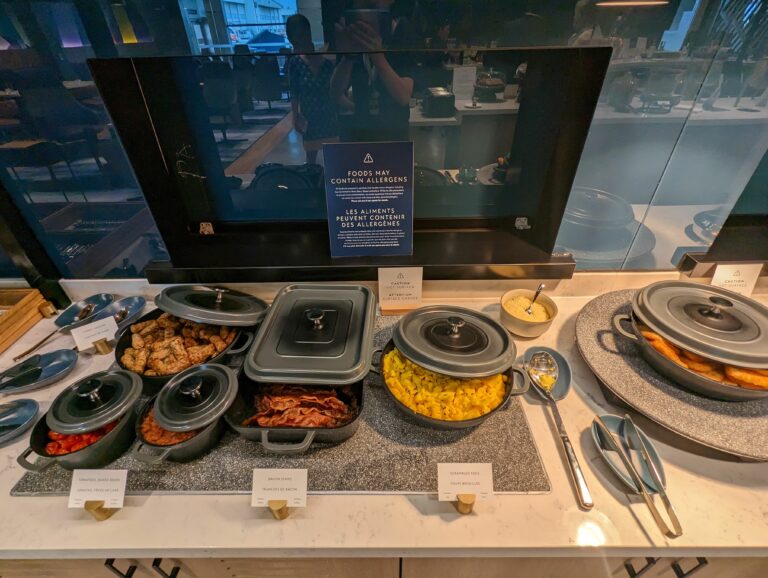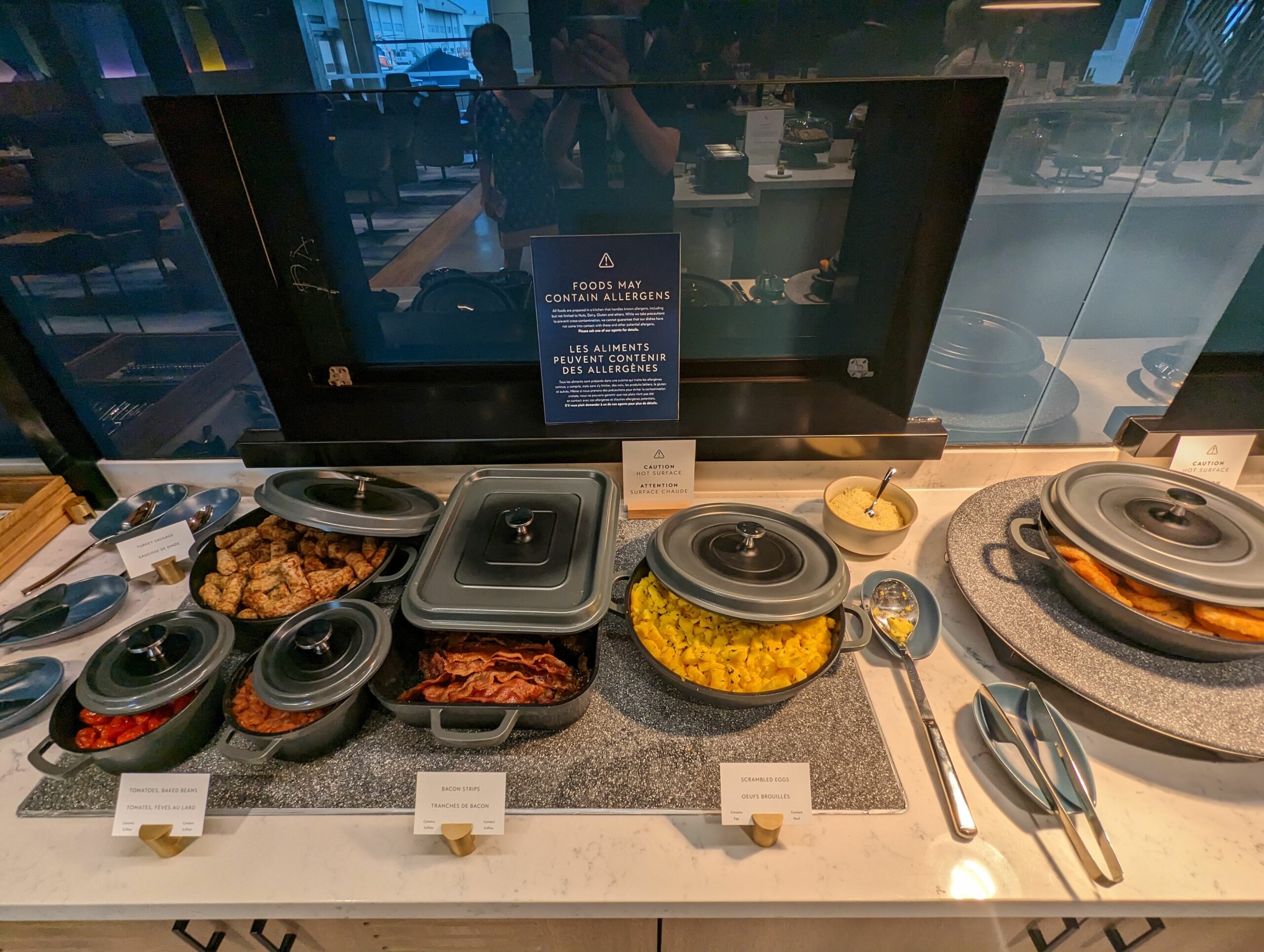 There was also fresh bread and a variety of pastries, and viennoiseries.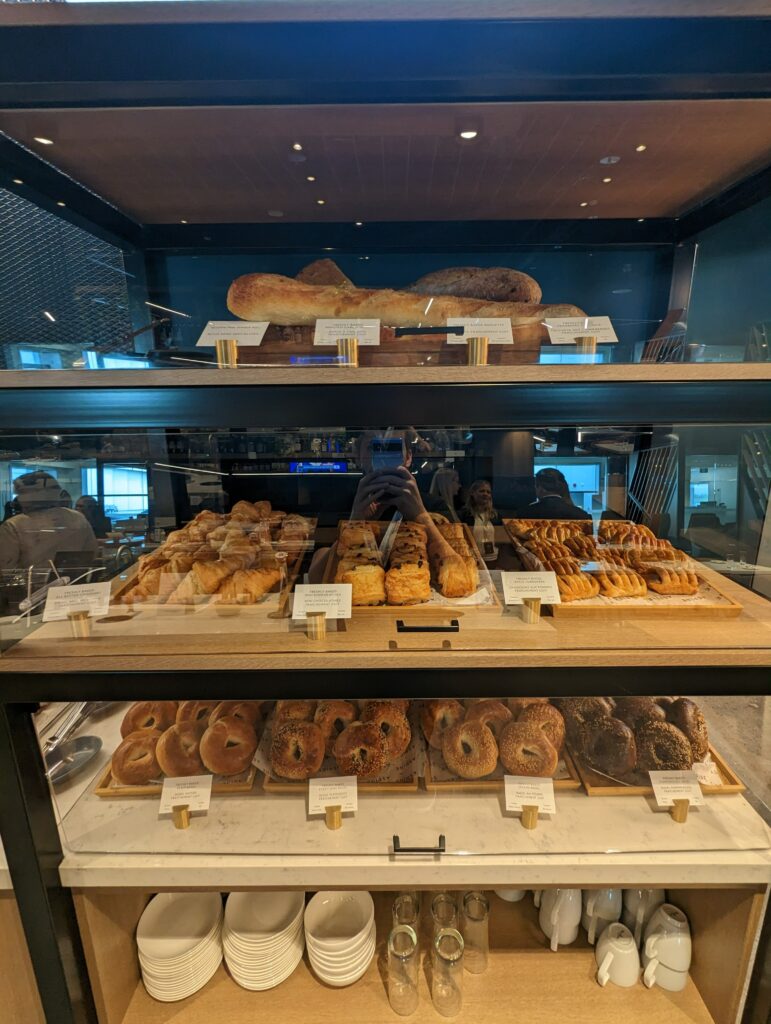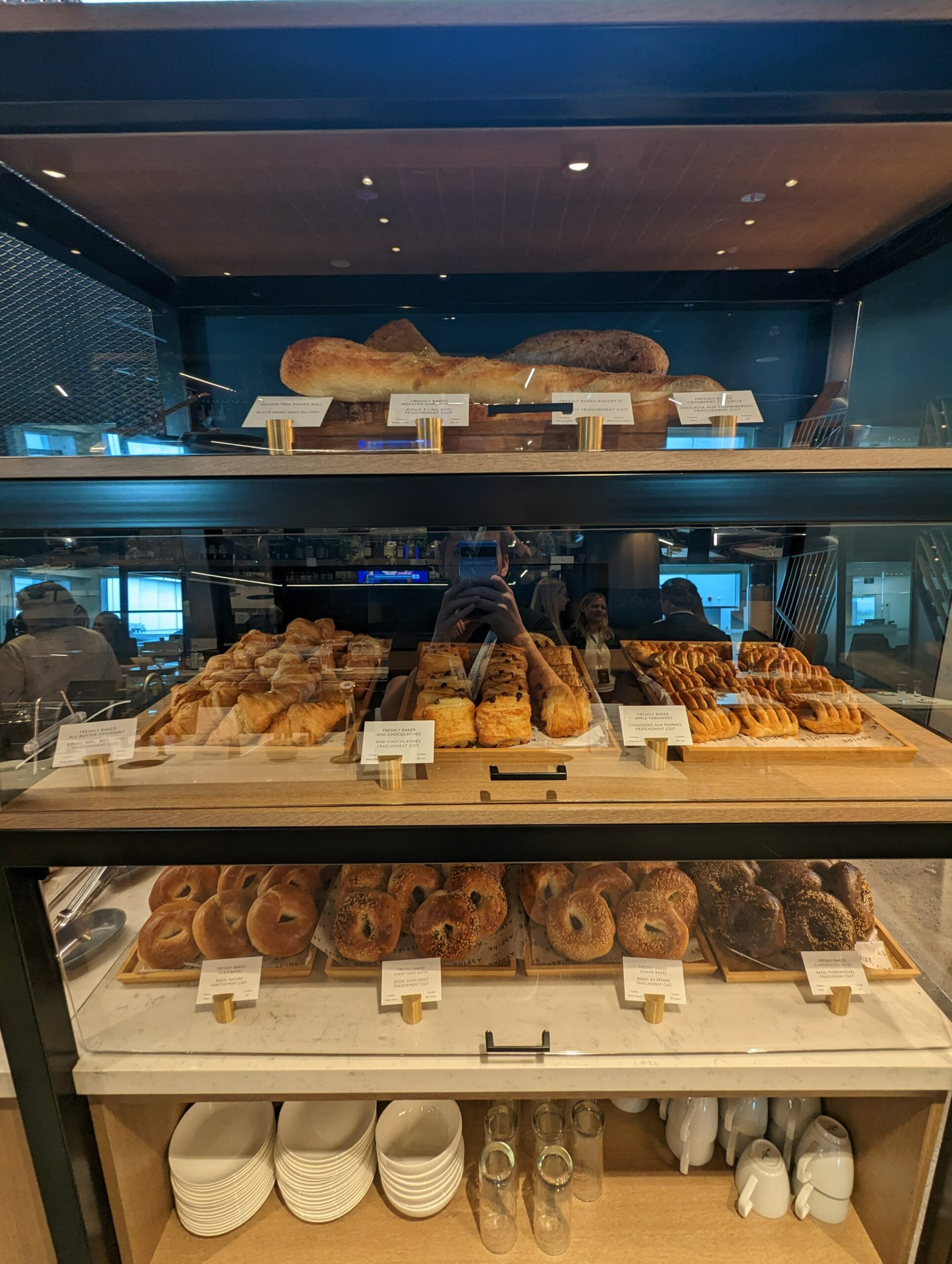 By the way, the sign you may have noticed above lights up to tell you when it's been freshly made!
The Aspire | Air Canada Café lounge has its own kitchen right in the lounge, which often results in better food. Everything is homemade, even the snacks!
Also, directly at the entrance, there's a display of fruit, cookies, bagels, and more in a takeaway section made expressly for this purpose, complete with to-go bags. There are breakfast sandwiches and other pre-packaged items right next to it too.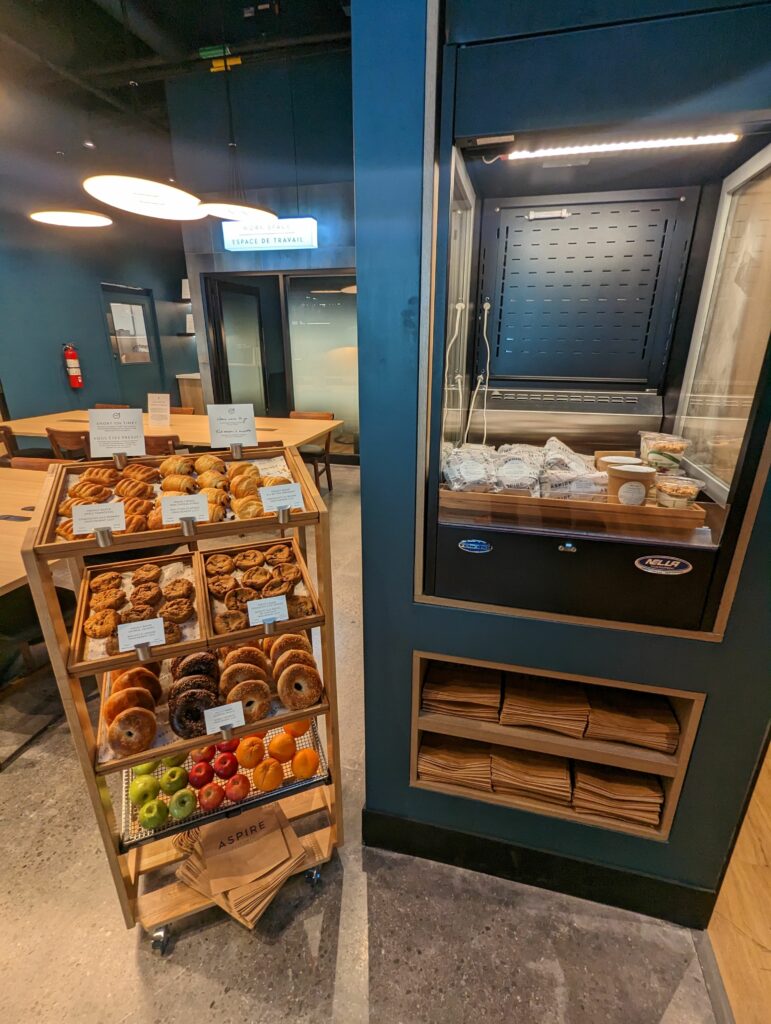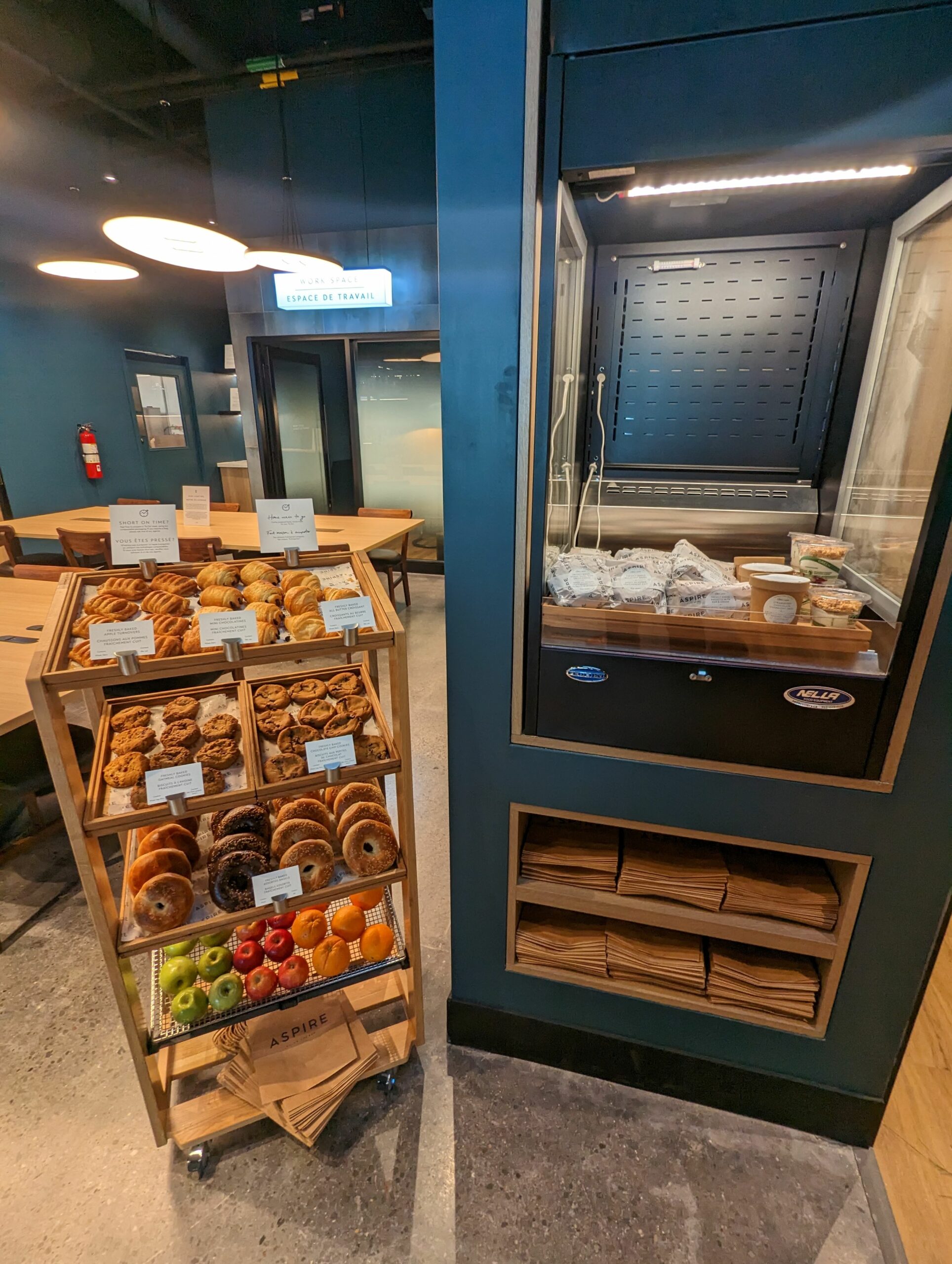 In the main food section too there's a corner that has everything needed to encourage you to take food to go.
(That's what the word "Café" in the lounge's name is about; I'll get back to that below!)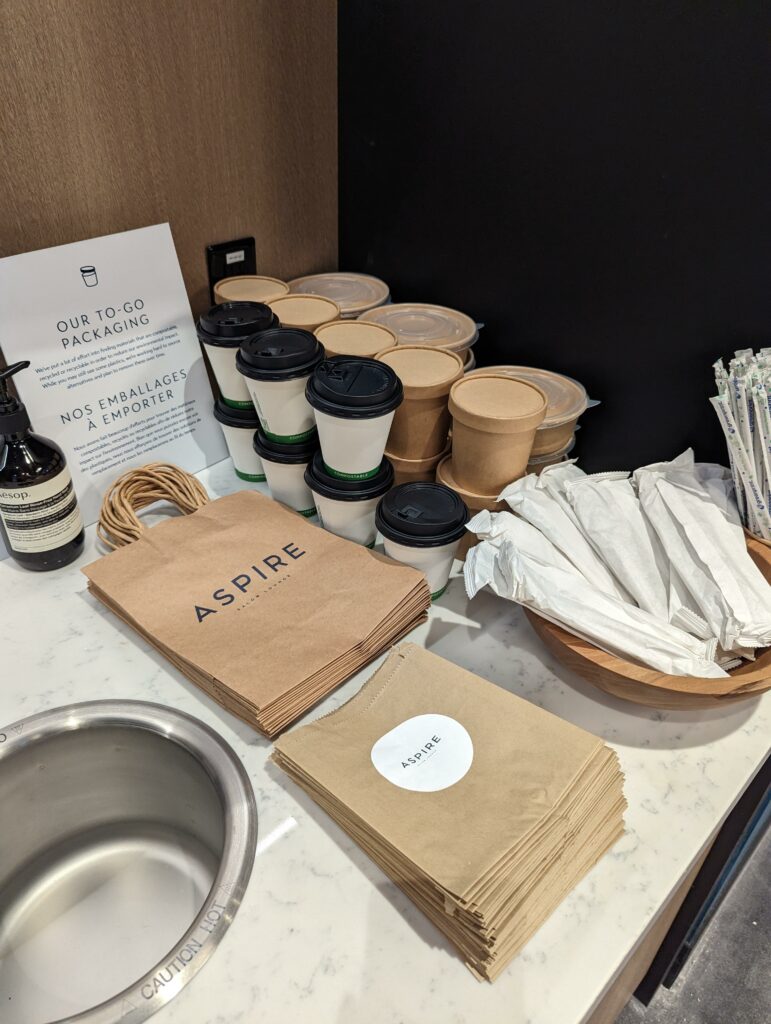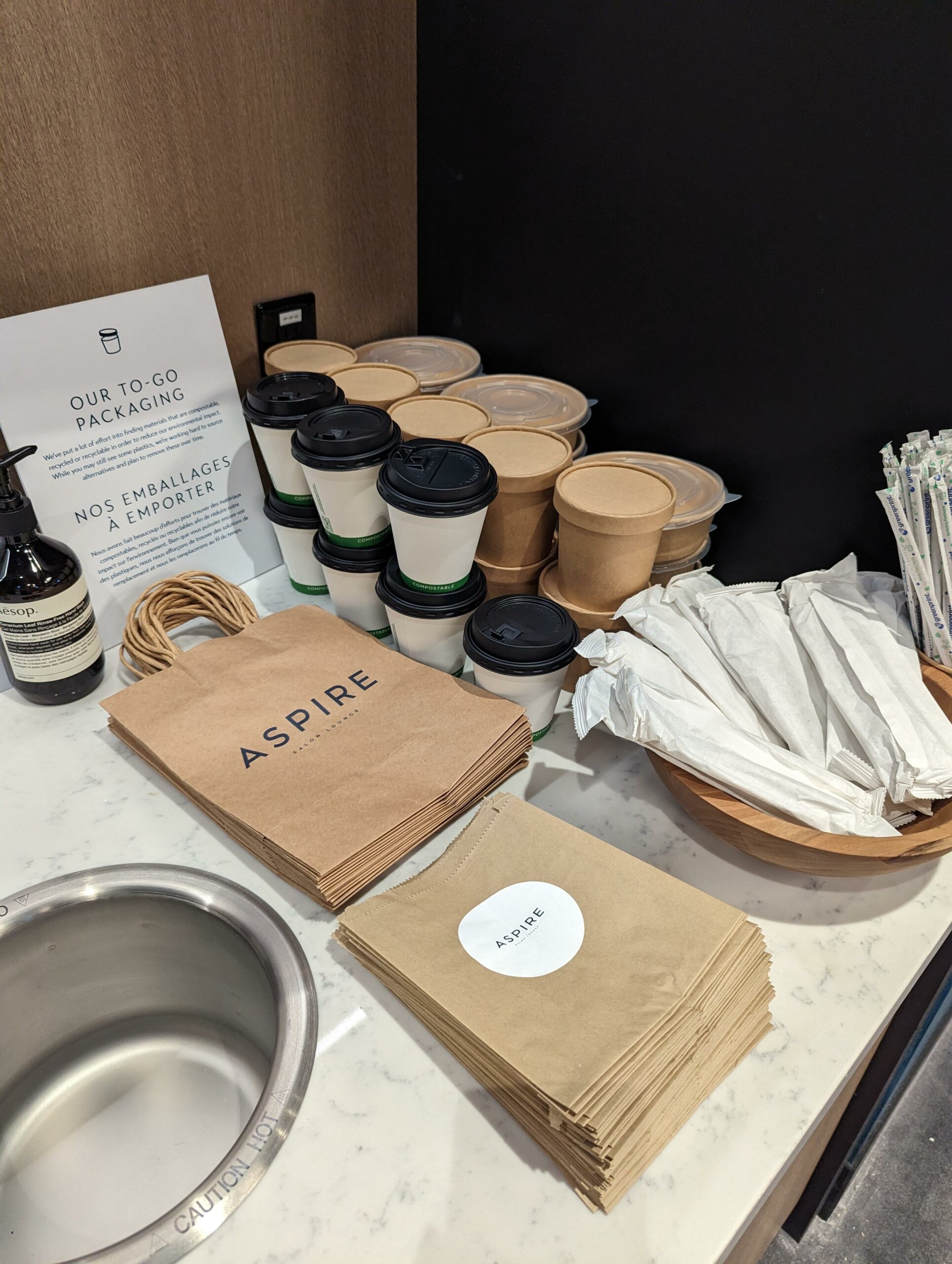 There are cookies and brownies that I find very delicious as a sweet tooth.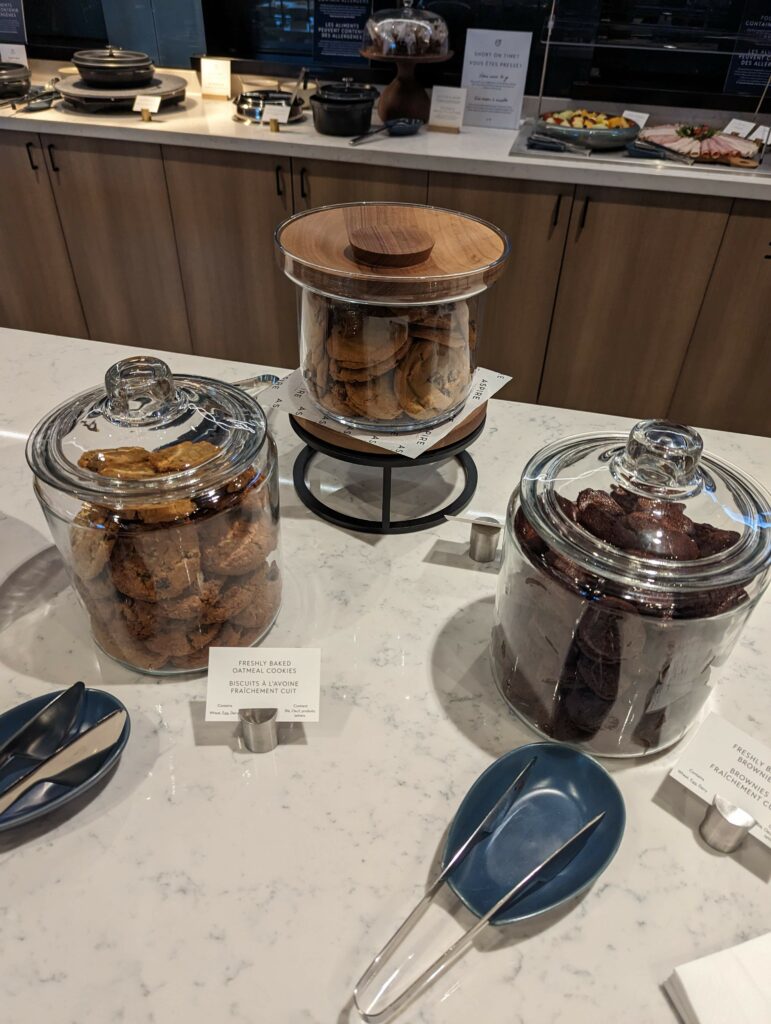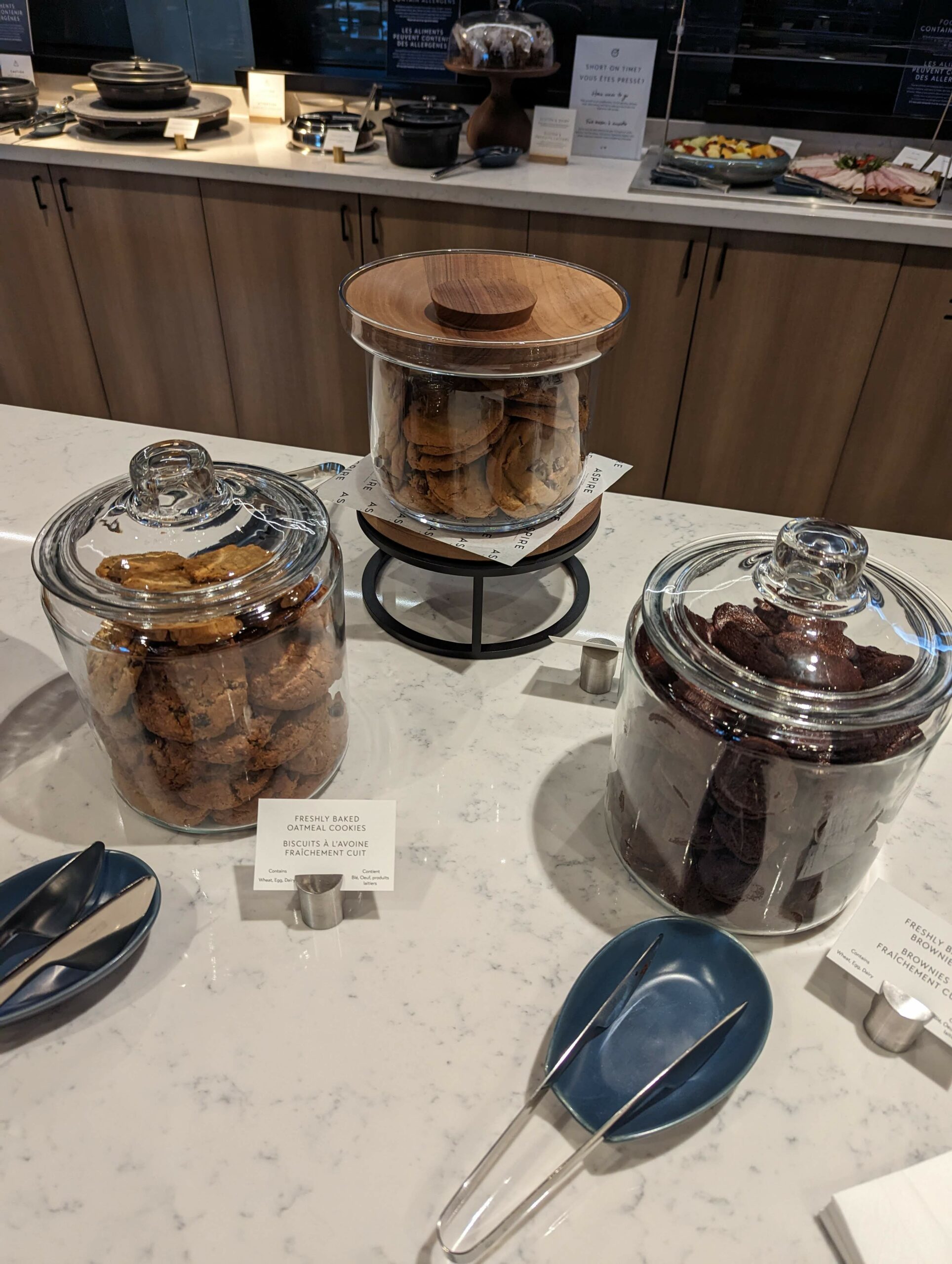 There's also oatmeal and muffins if you want something a little healthier.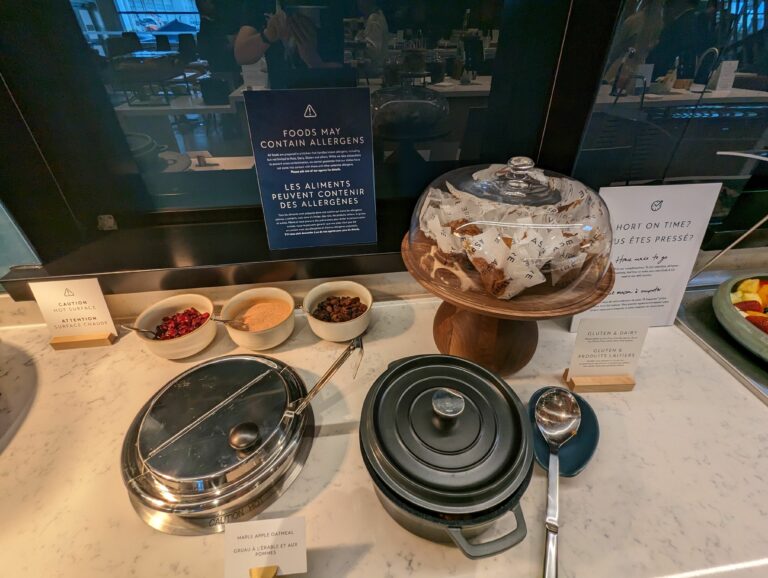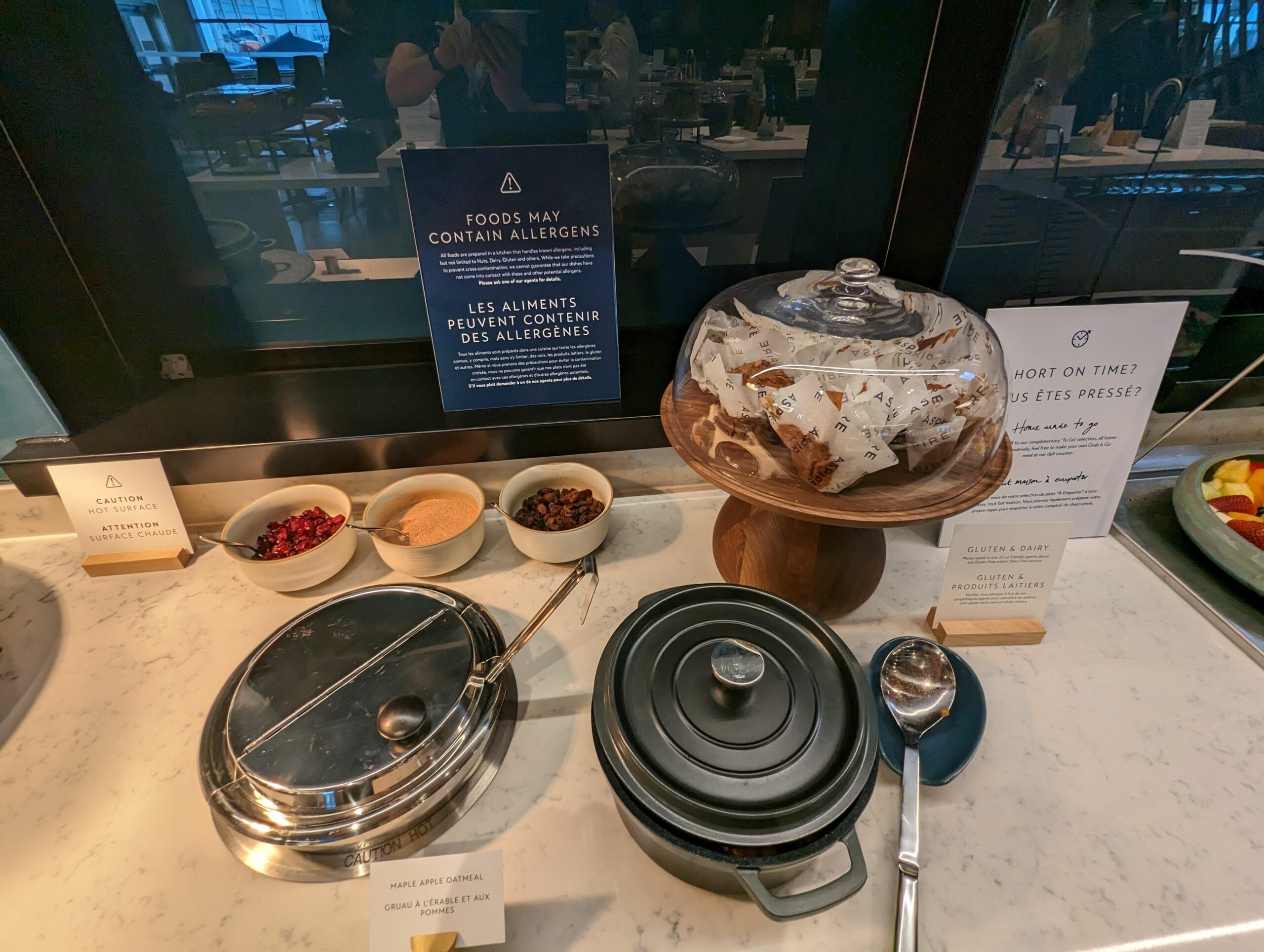 You can find the cold food that is typically offered in most lounges.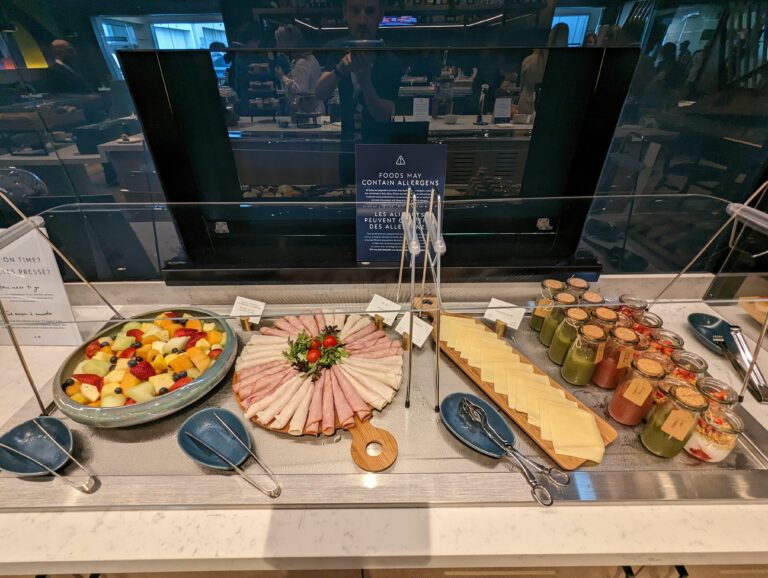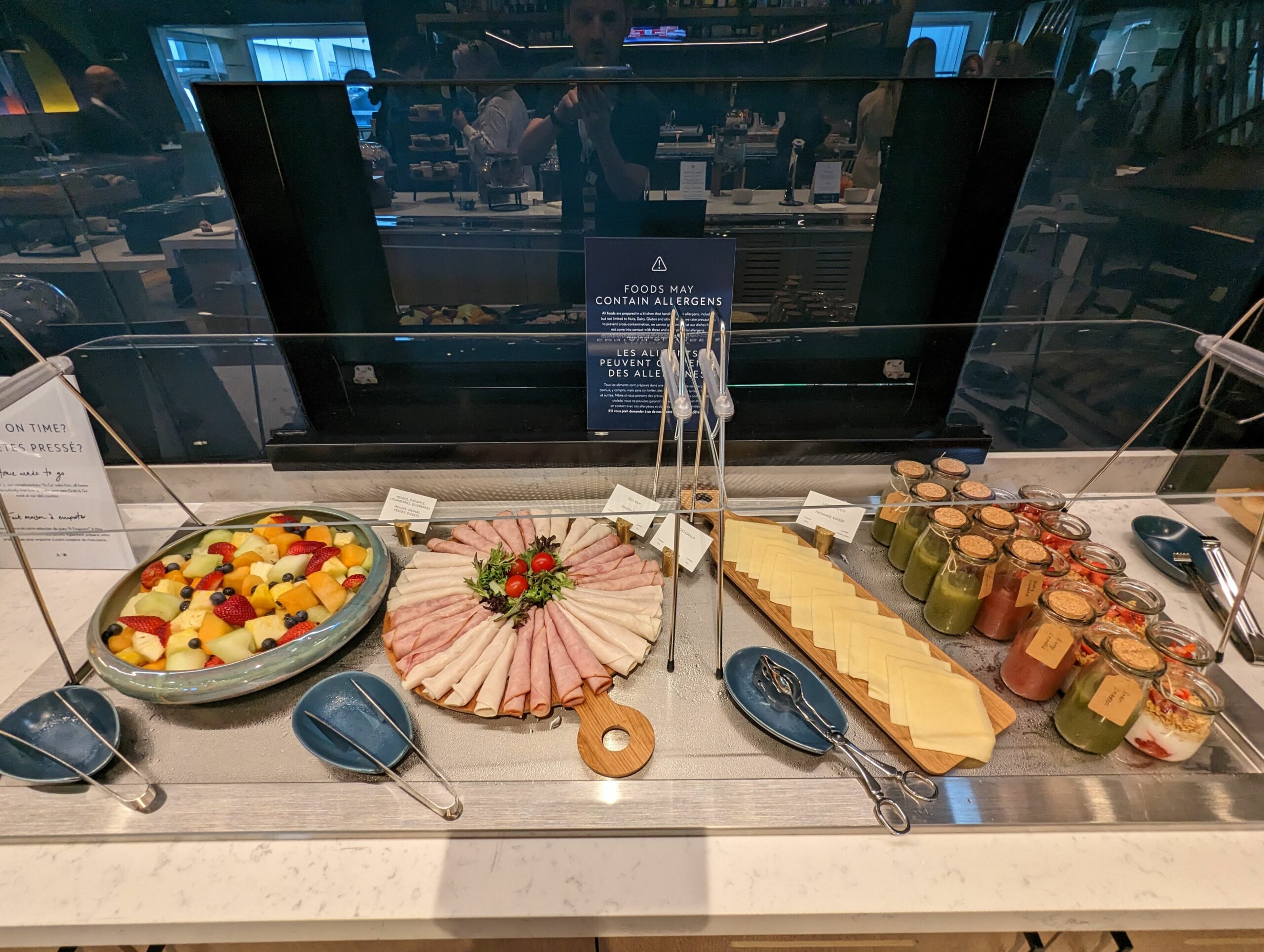 But homemade smoothies aren't as common! There were also fresh juices on the main island opposite the main food spread.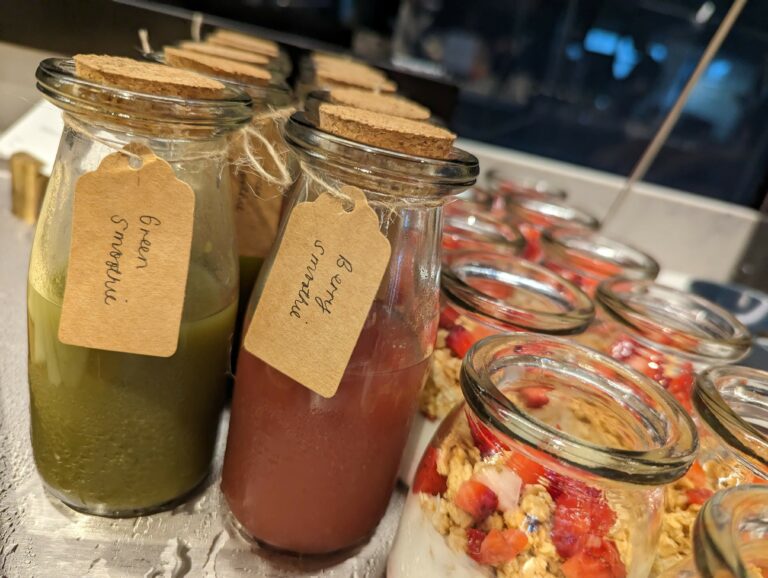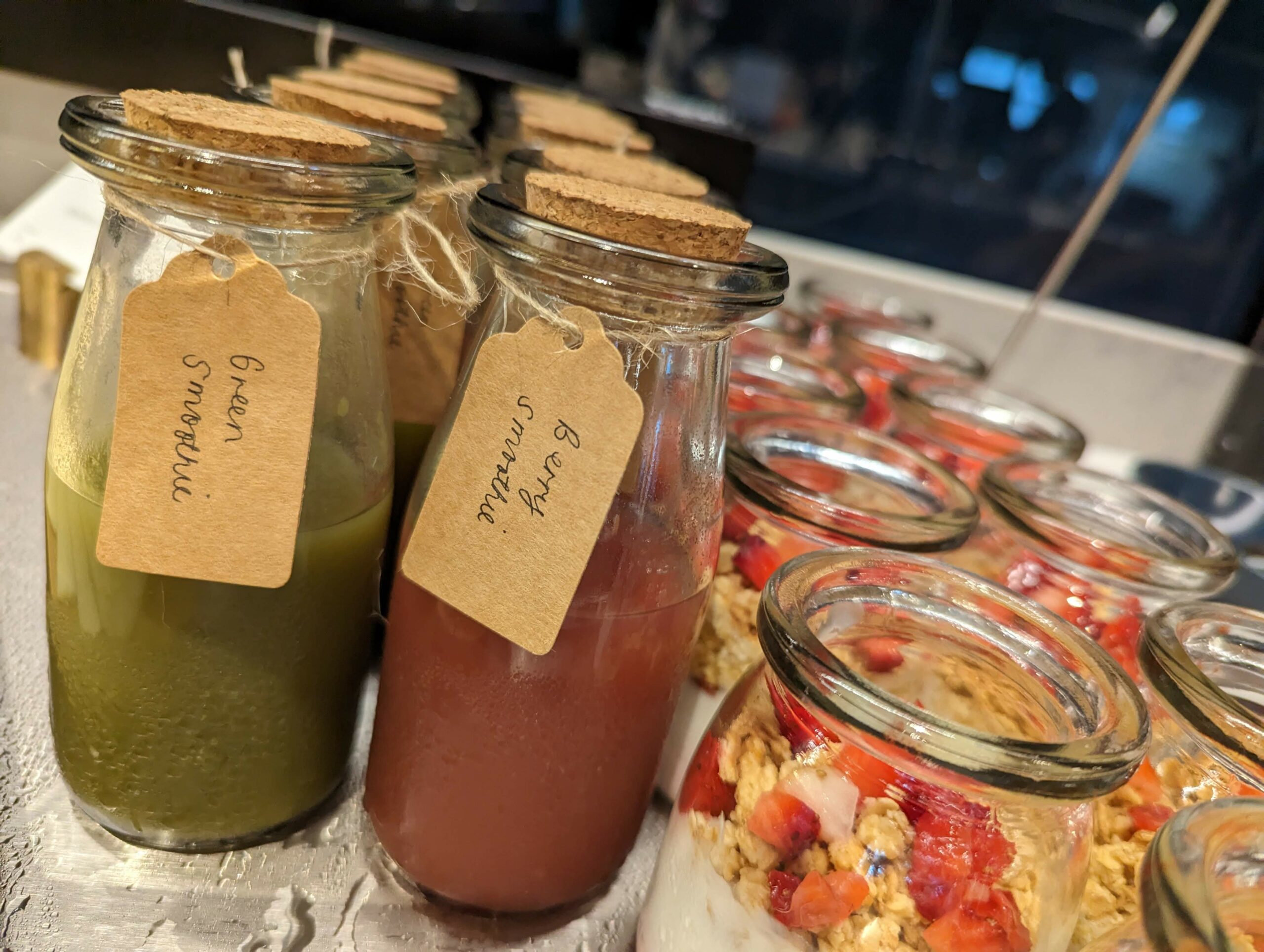 There's also a separate cereal bar.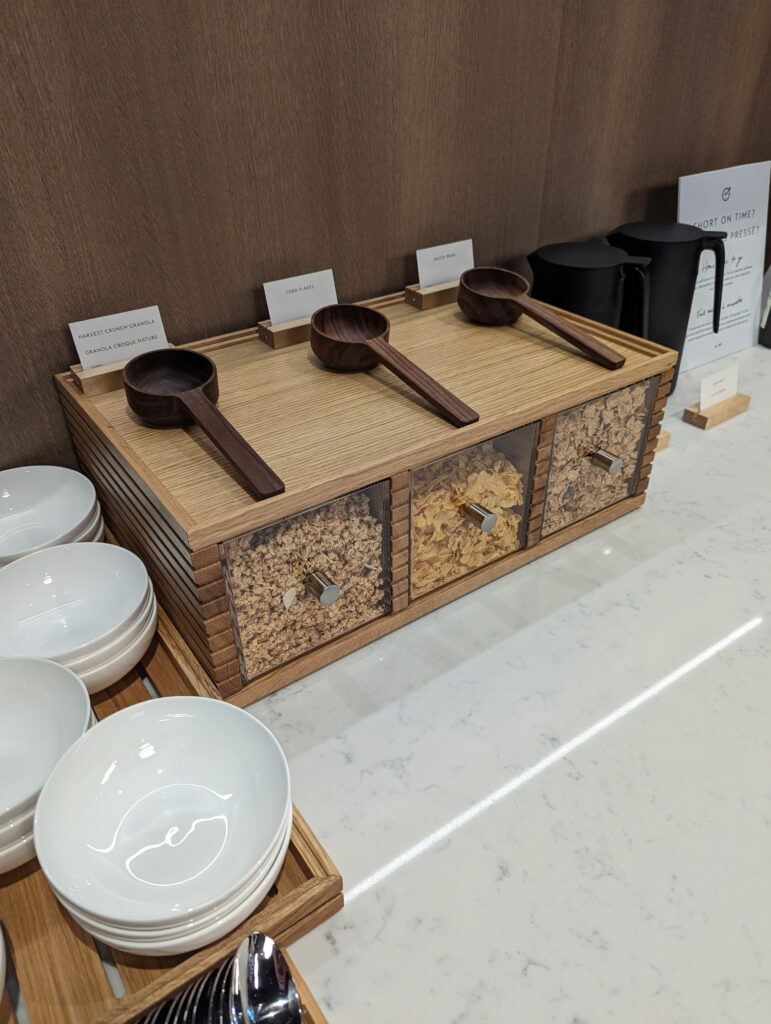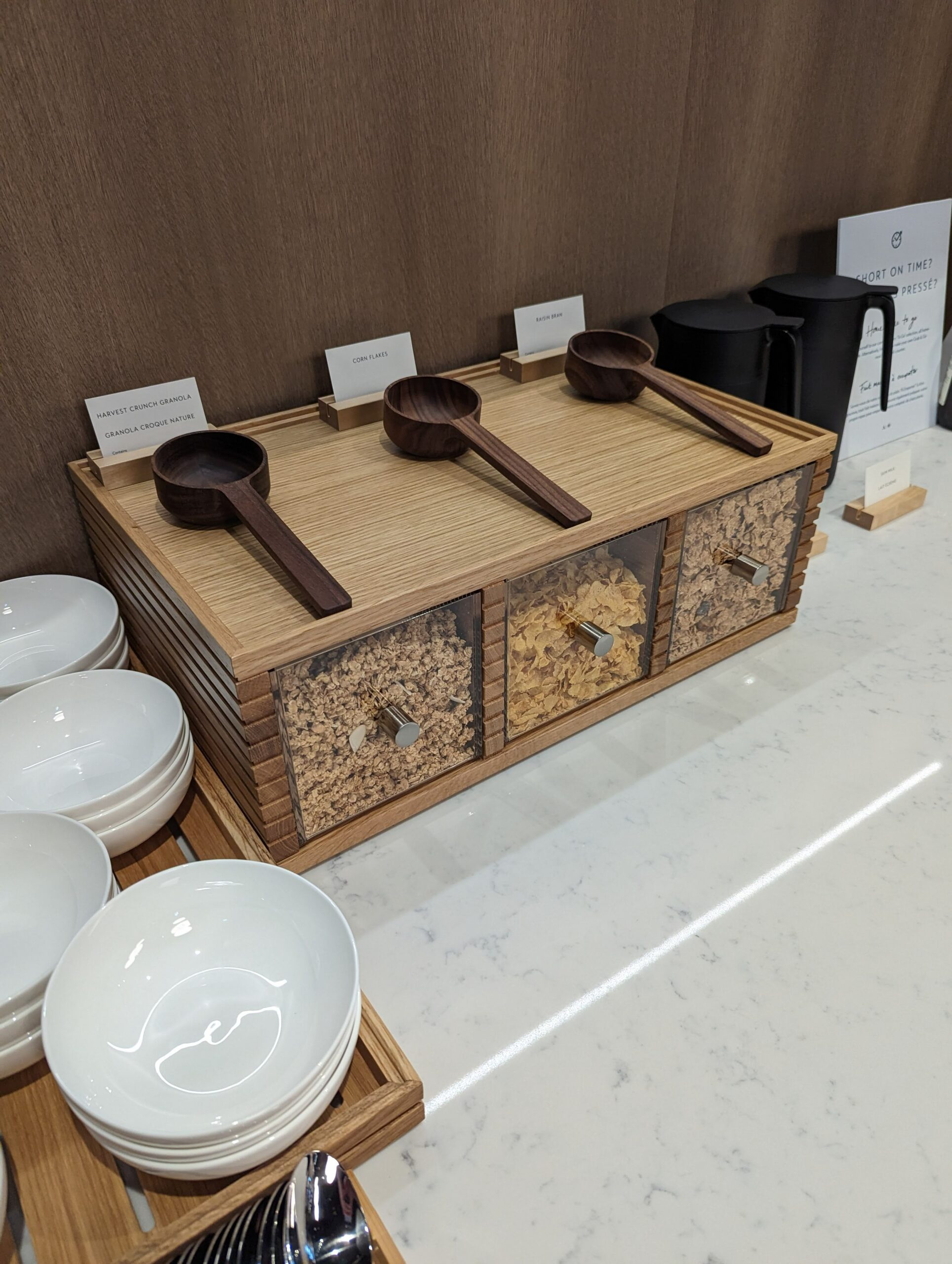 Finally, there's another extra counter that will surely be used to relieve congestion in the main section.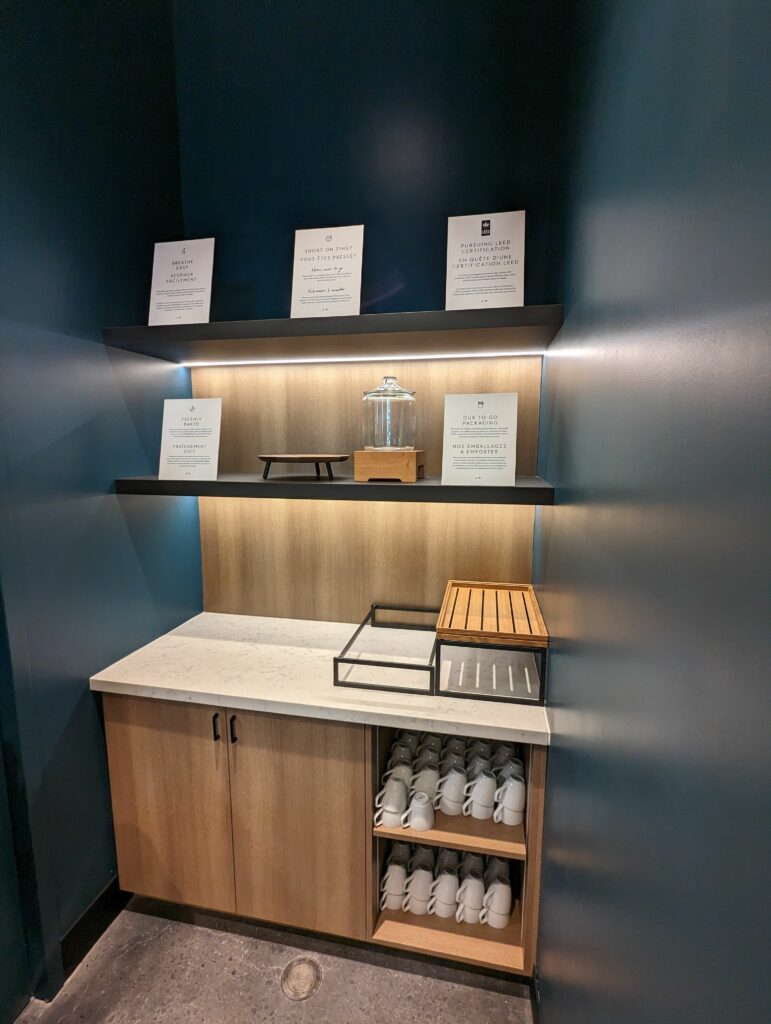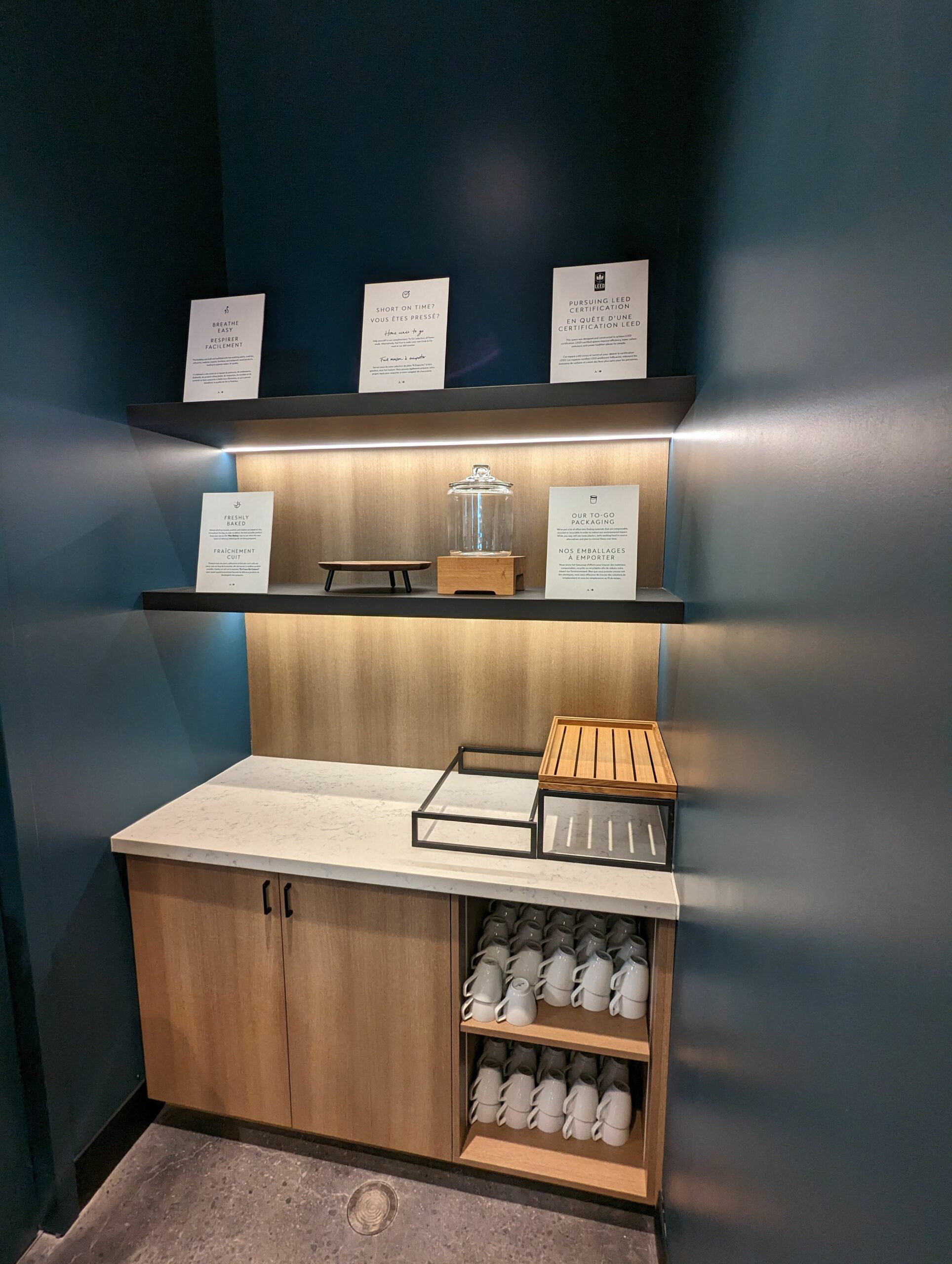 Everything was, frankly, very good.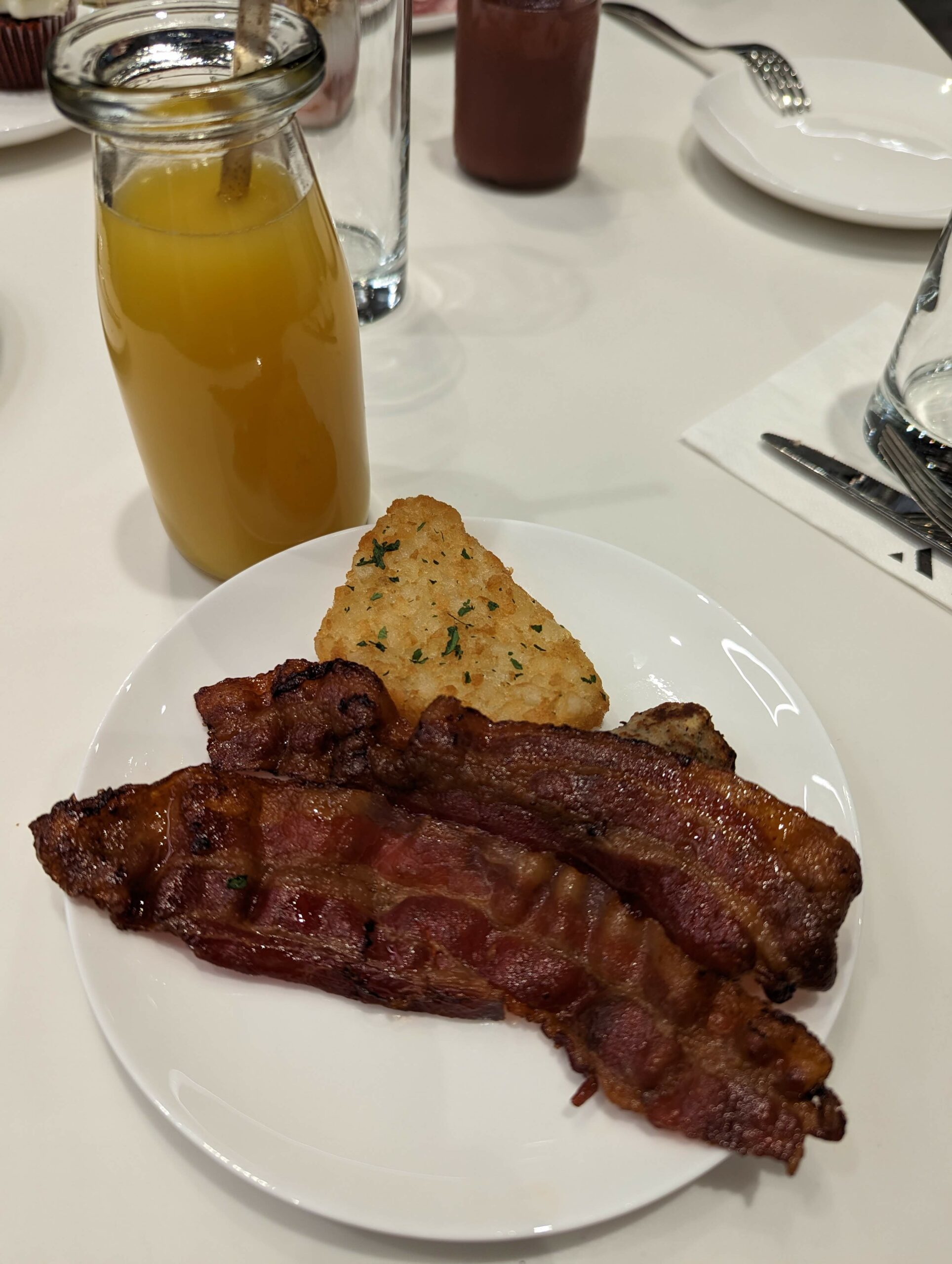 Even the coffee is local.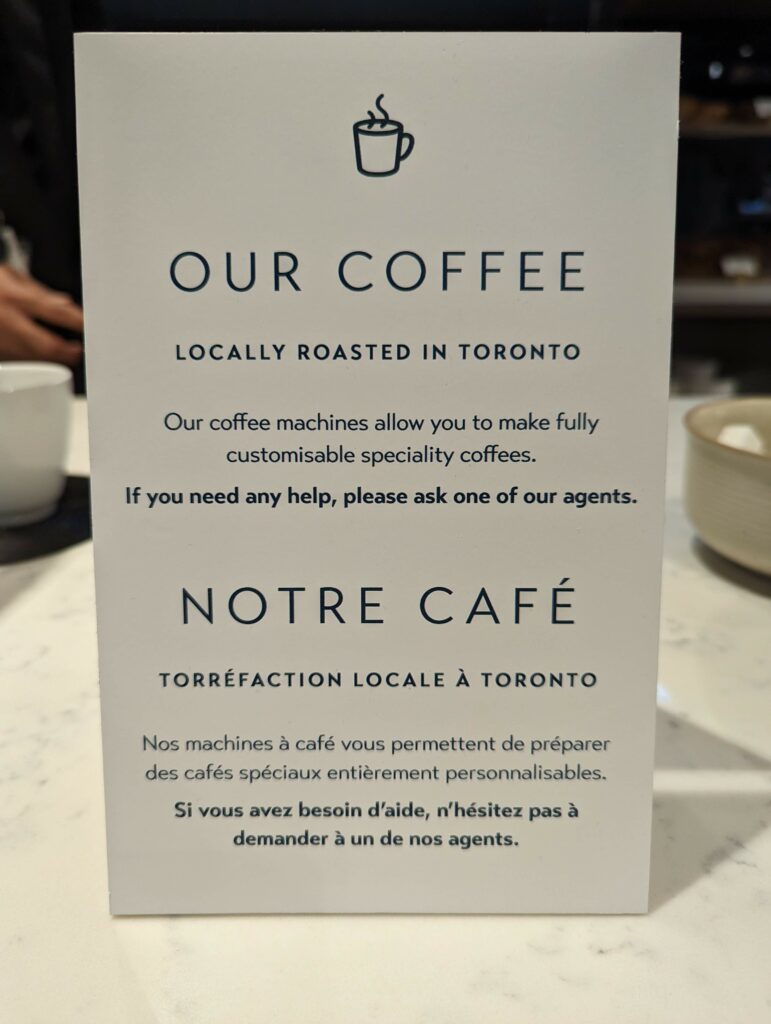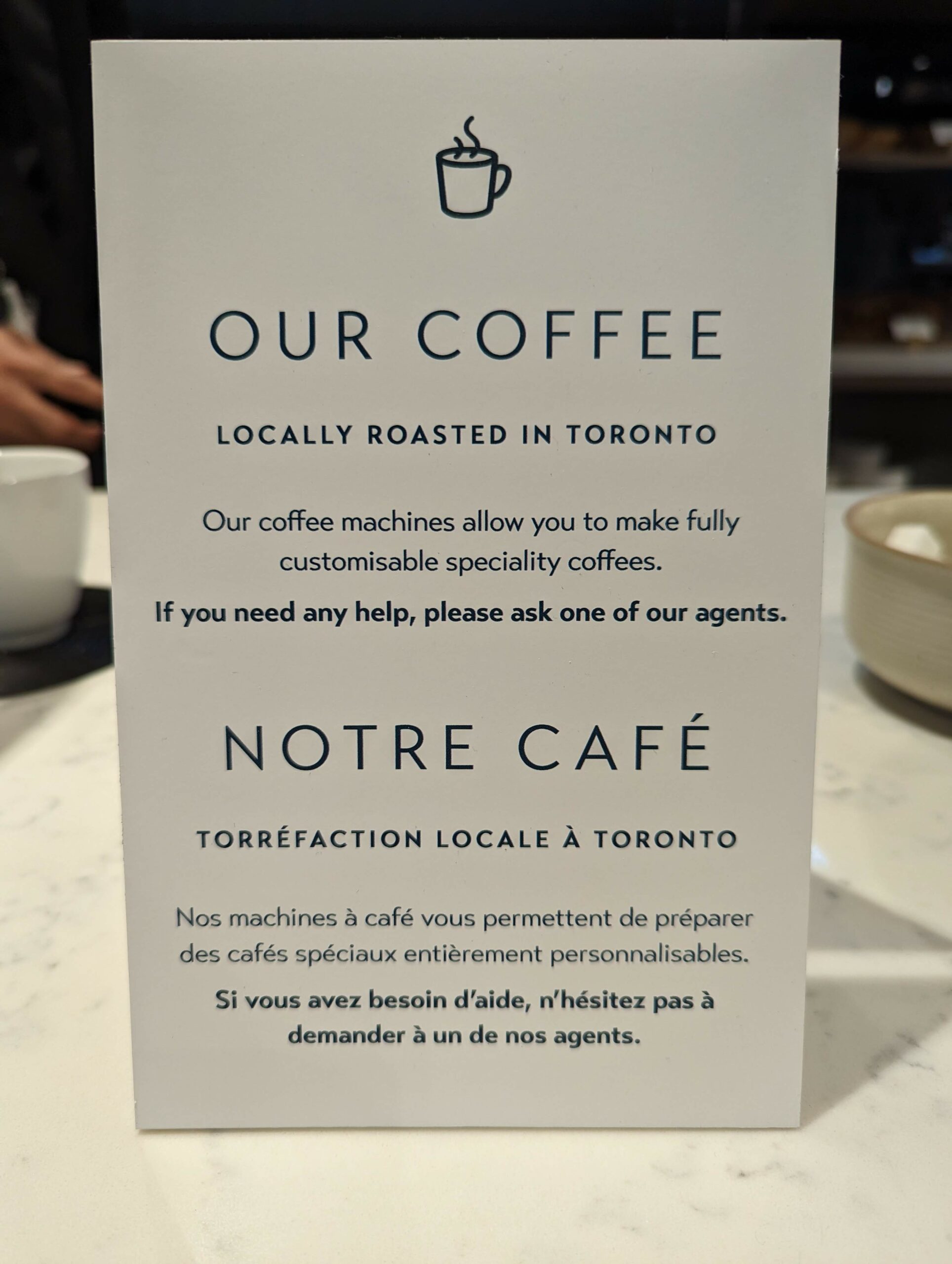 The machine is worth several thousand dollars and allows you to fully customize your specialty coffee via a tablet.
For example, I don't drink any caffeine, but I sacrificed myself to test everything for you. So I made a cappucino with fewer grams of coffee than the basic recipe suggested. You can adjust everything in just a few clicks.
In terms of alcohol, it's available from 11am only. Like most independent lounges, some premium brands aren't included free of charge, but there's plenty of choice in the free options to be honest.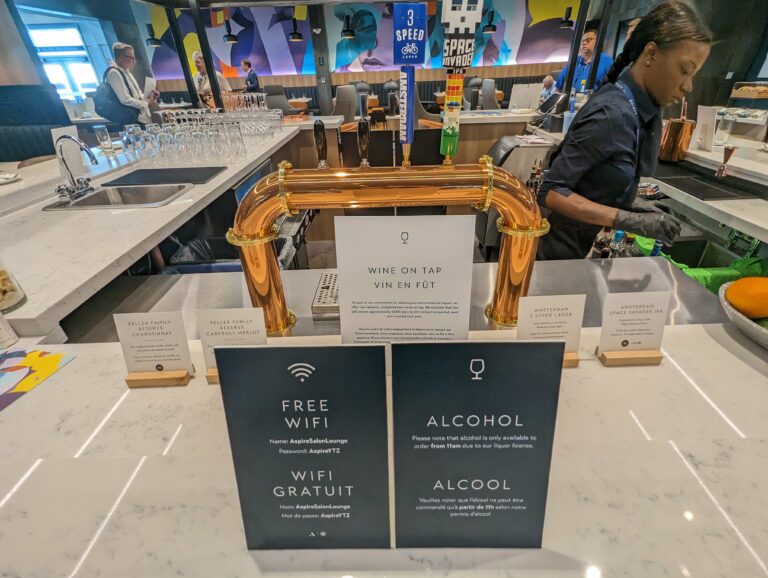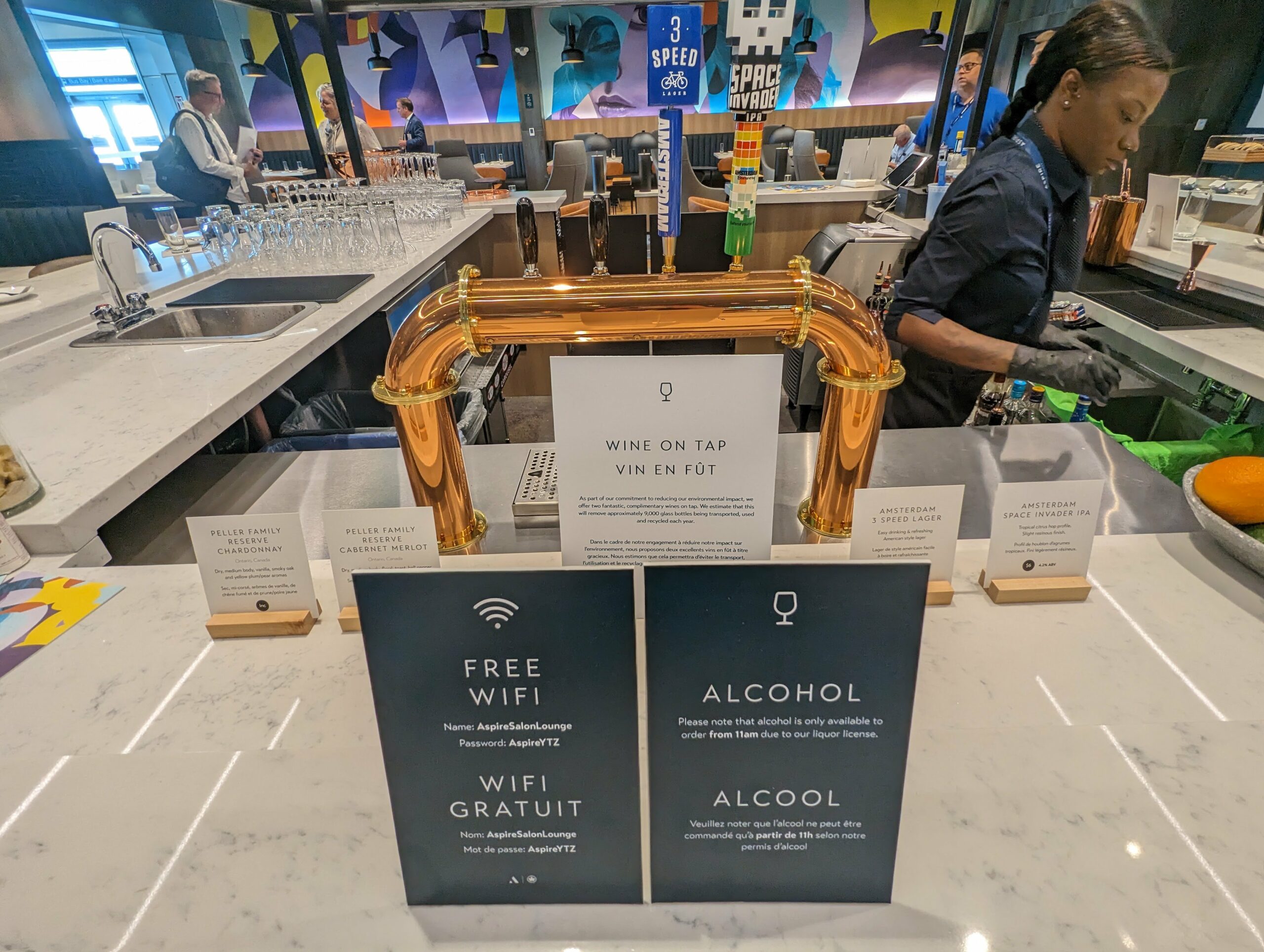 To eat, there are real tables in front of and behind the bar, and the seats are very comfortable.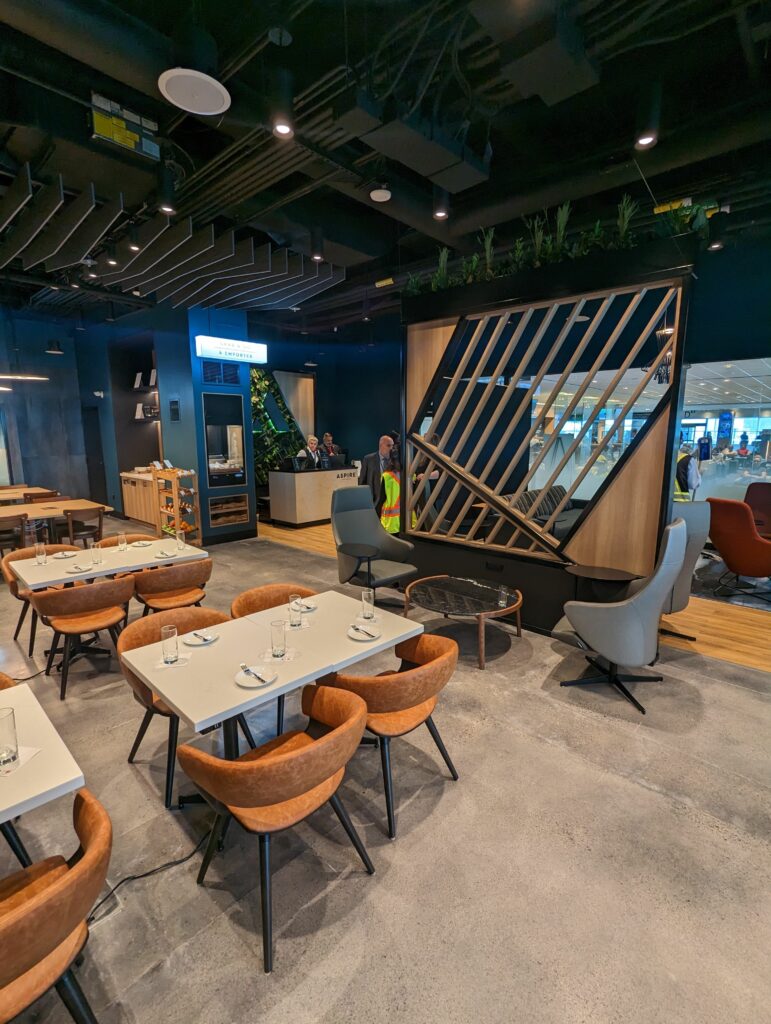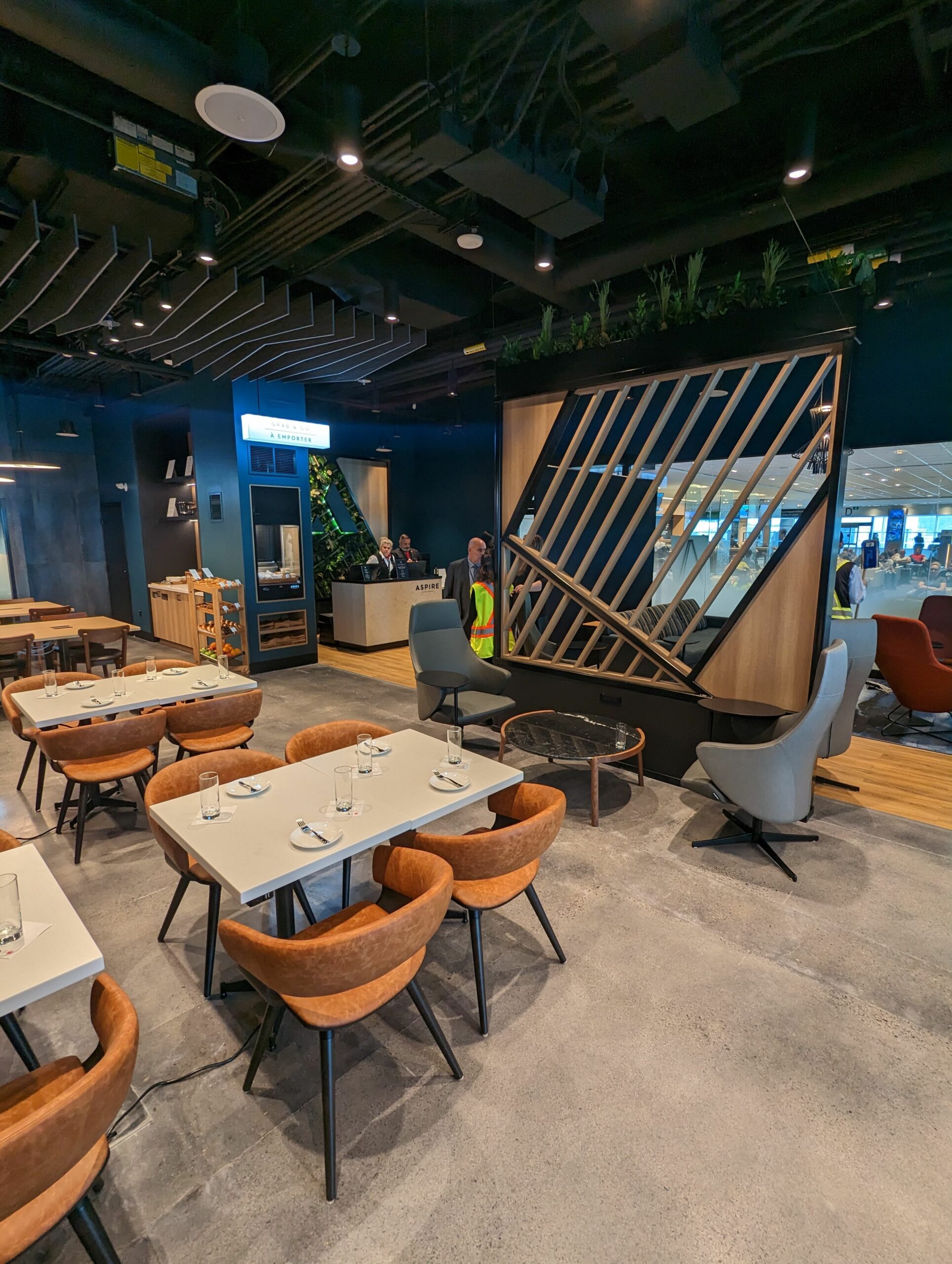 What's a little more unique is that it's got a few booth seats on one side.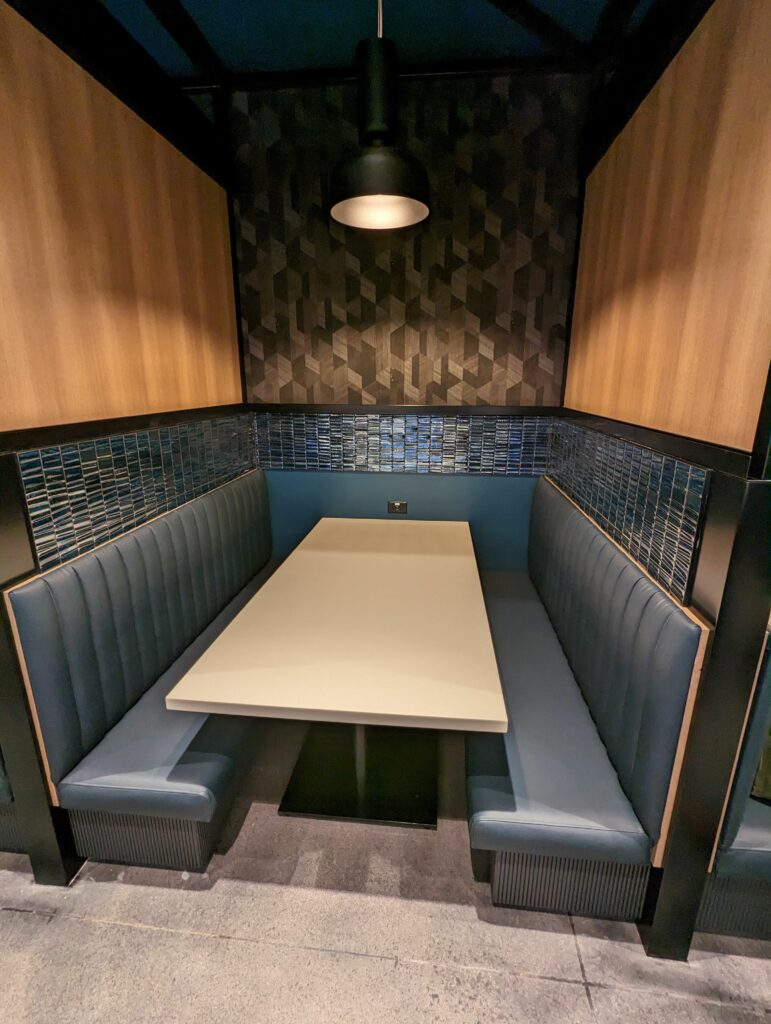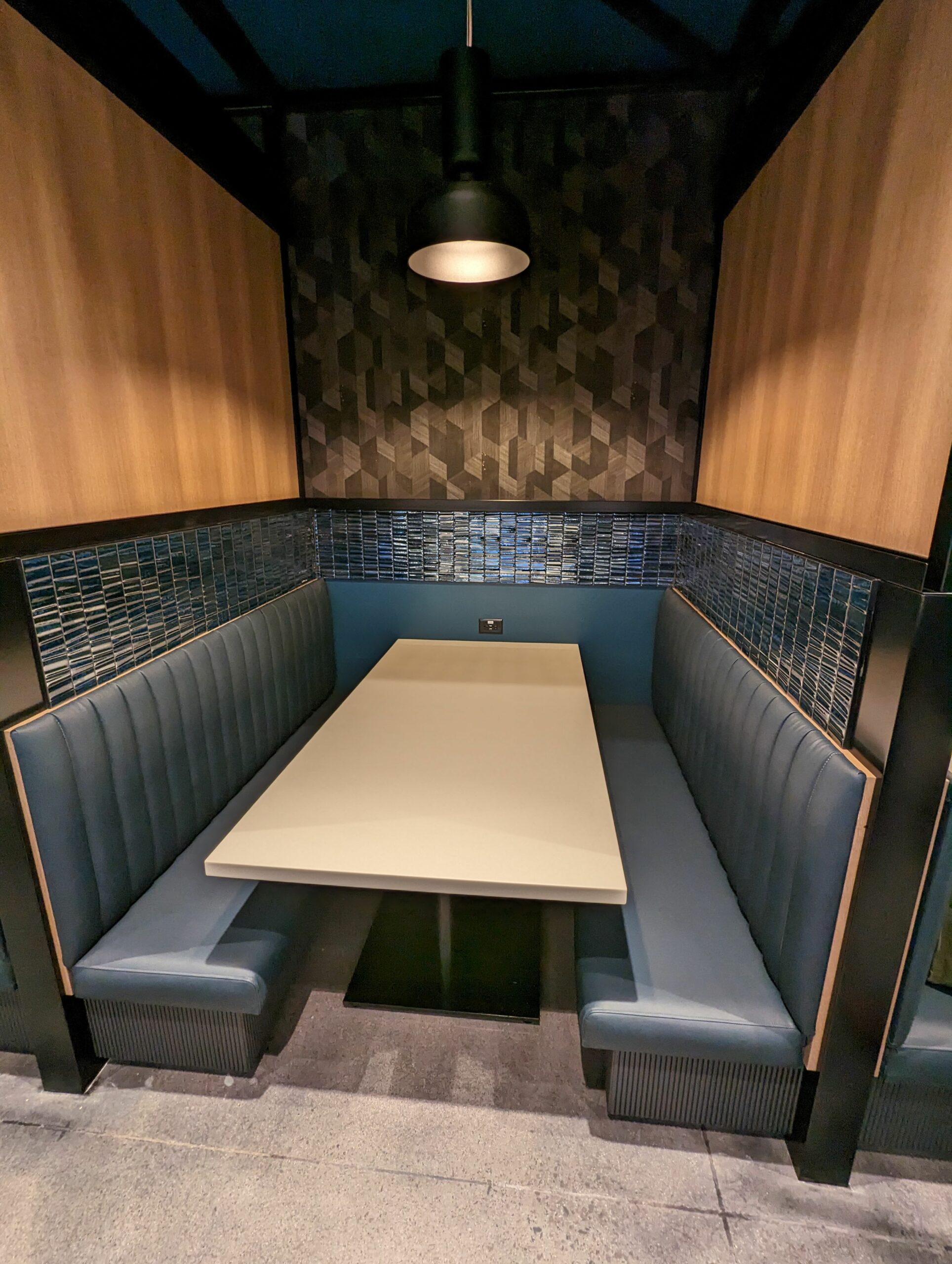 Like most lounges, there are various types of comfortable places to sit and relax before your flight. In all, the lounge has 133 seats, which sounds decent for a small airport like this.
At the front, there are red armchairs and a sofa.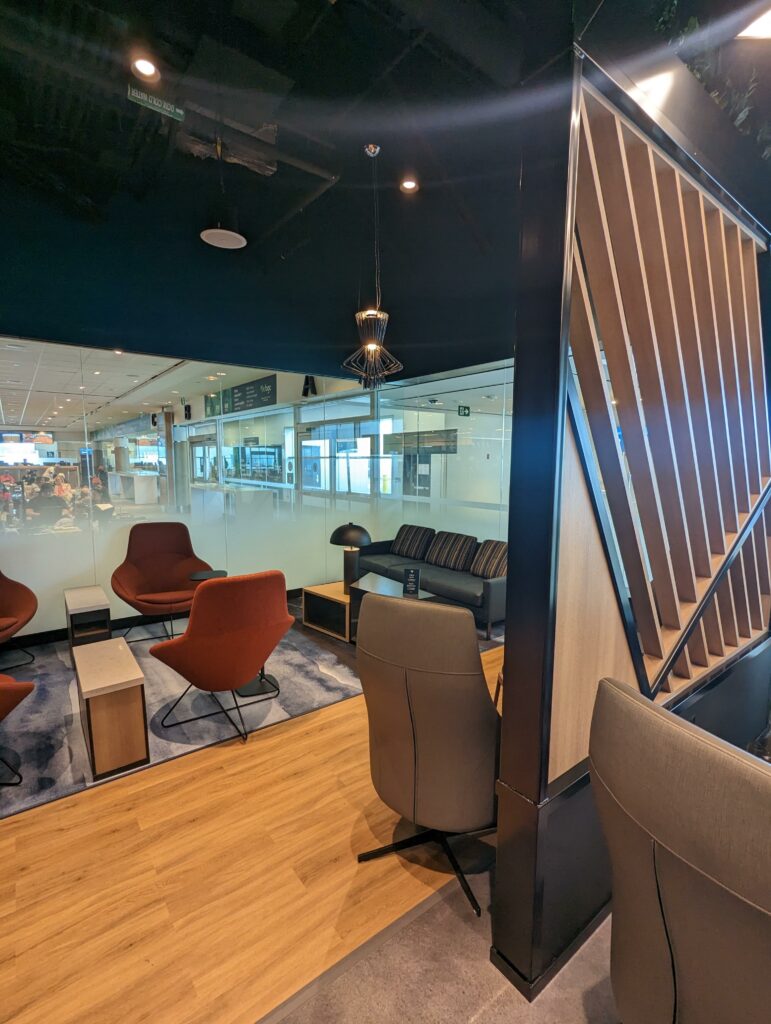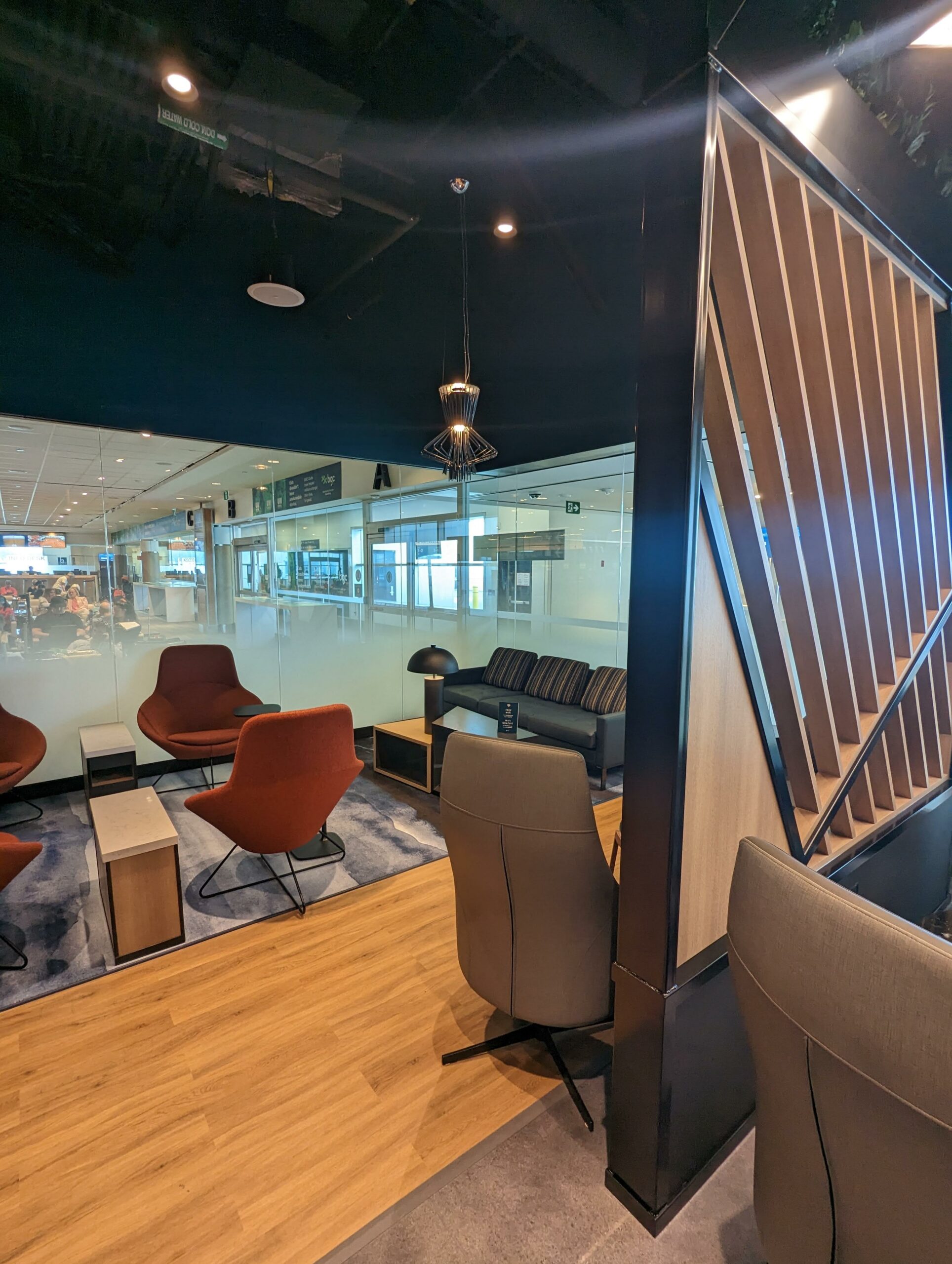 And then there's mostly the comfortable gray armchair model that's available on all sides of the lounge, including in a small, somewhat partitioned section.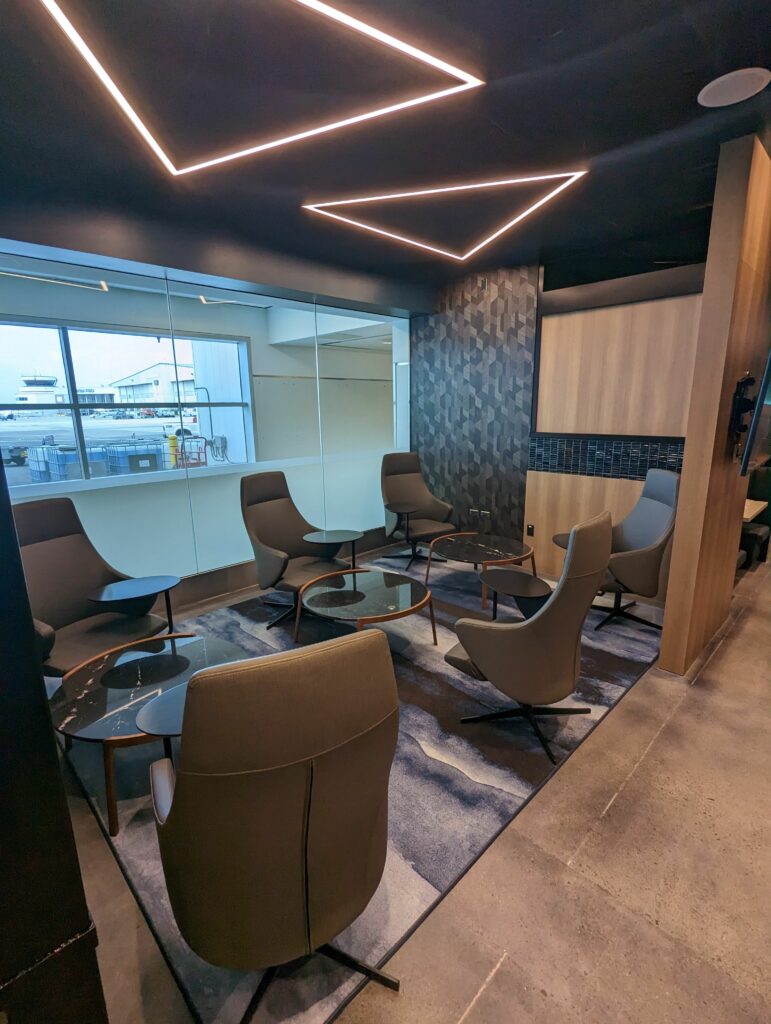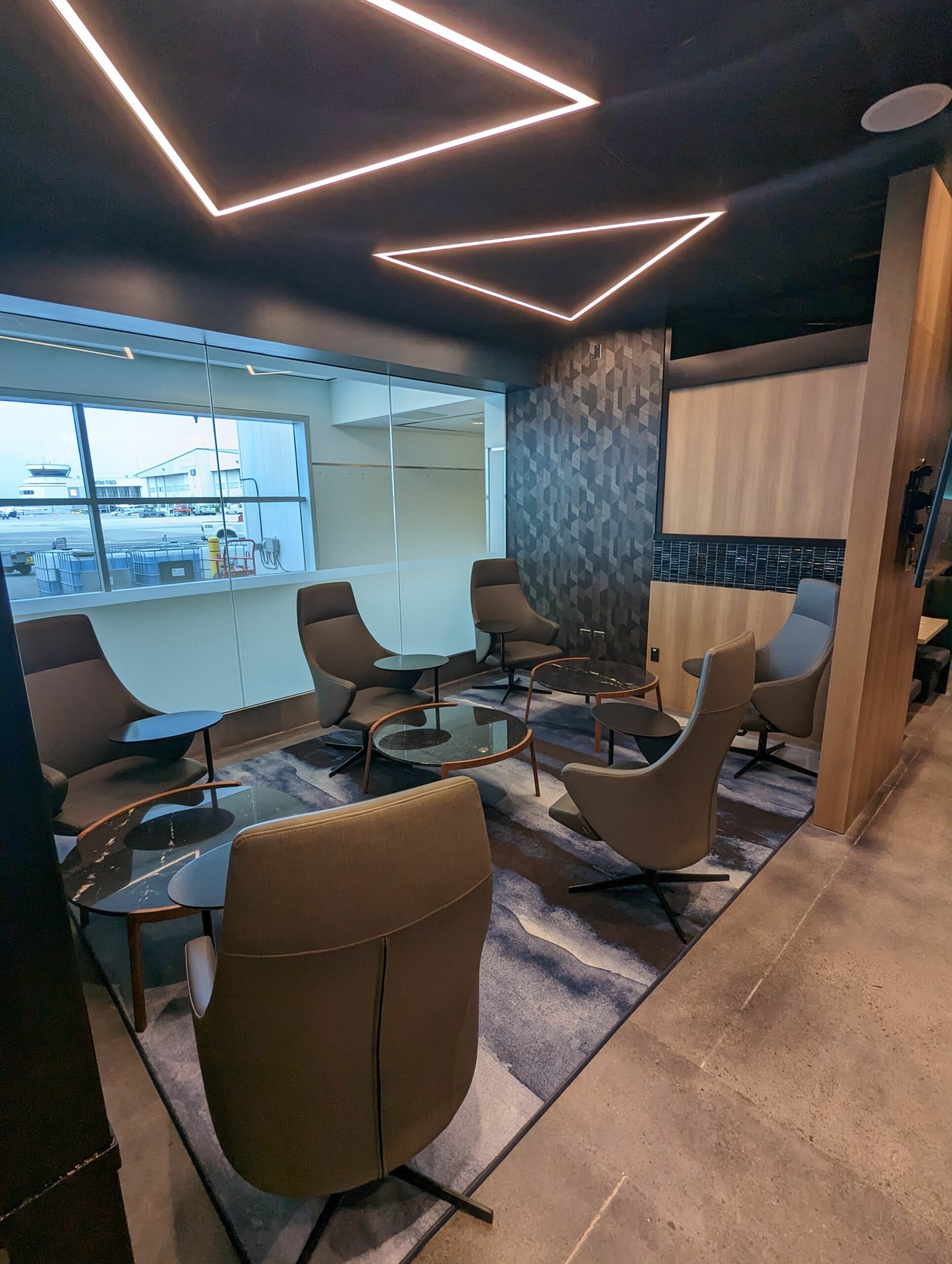 For those who want to be productive when traveling like us (and like many business people who prefer to land directly downtown), there are tables with outlets that can be used as desks to be more comfortable.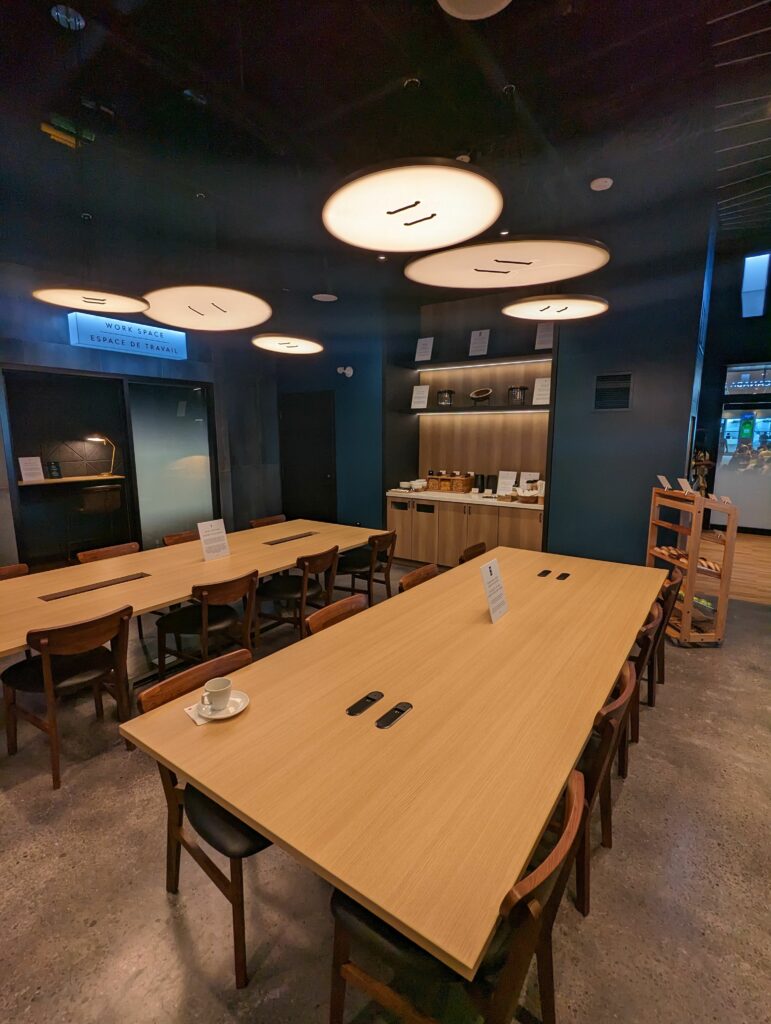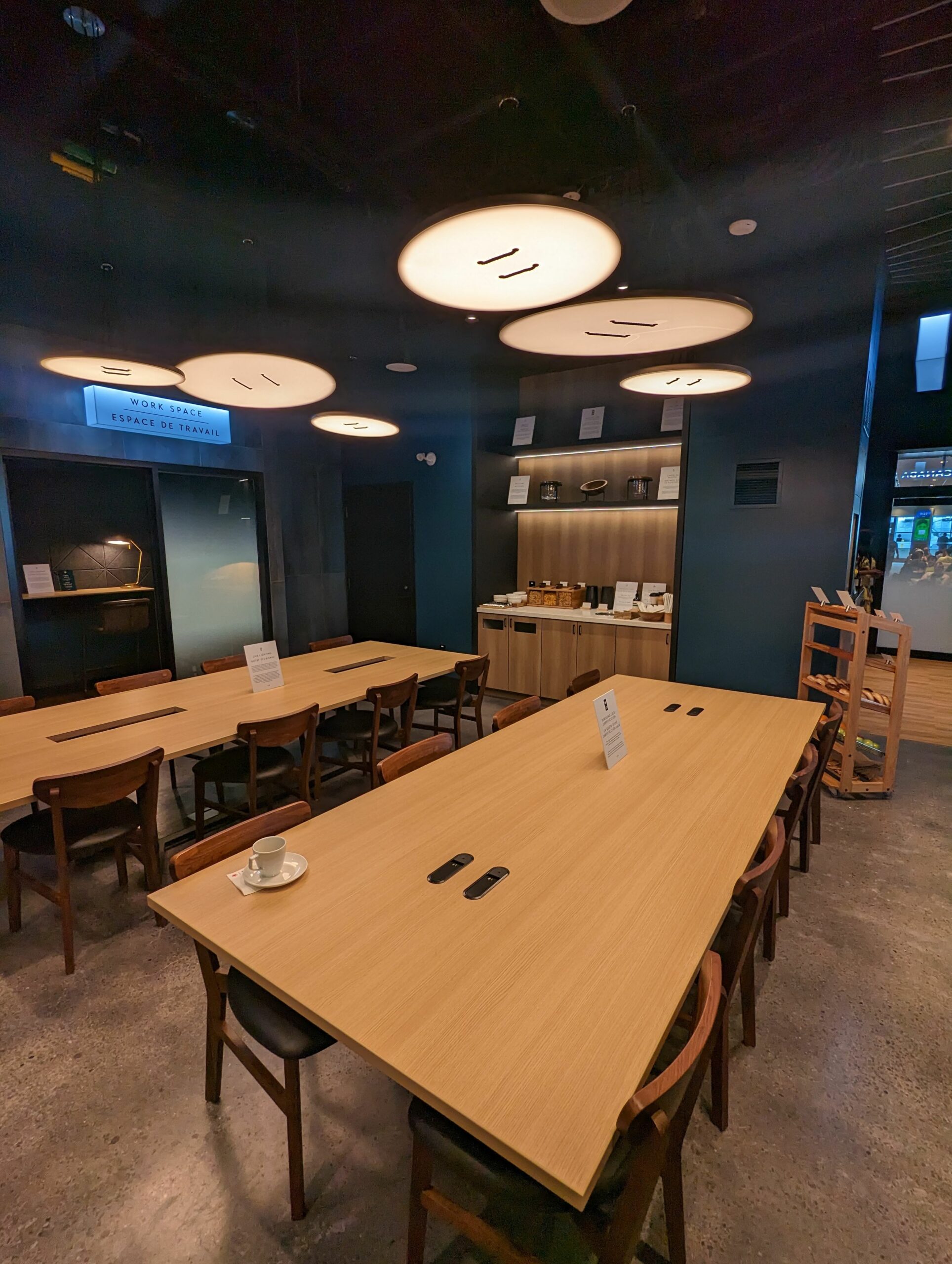 There's also a closed office available for privacy (or to take calls ideally to avoid disturbing everyone in the lounge).
I imagine it's going to be very popular as there's just 1 of them.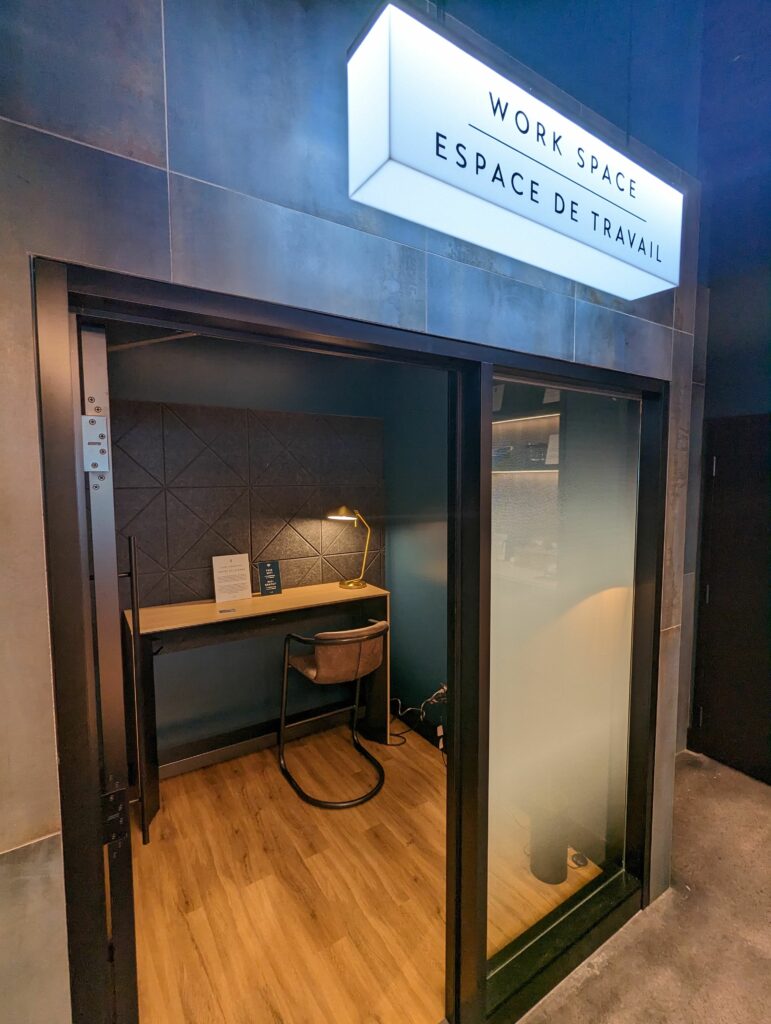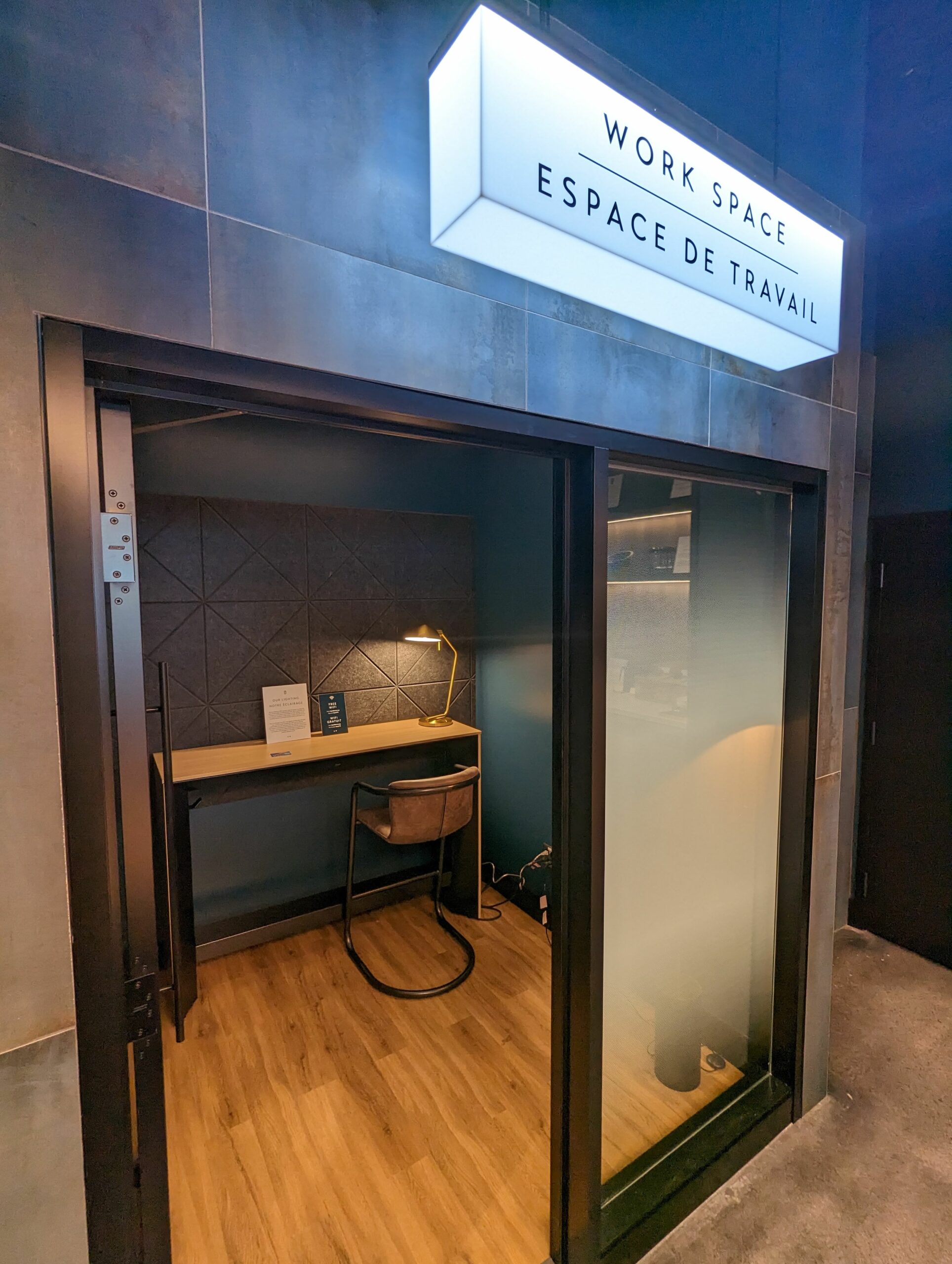 A meeting room is also available at the back.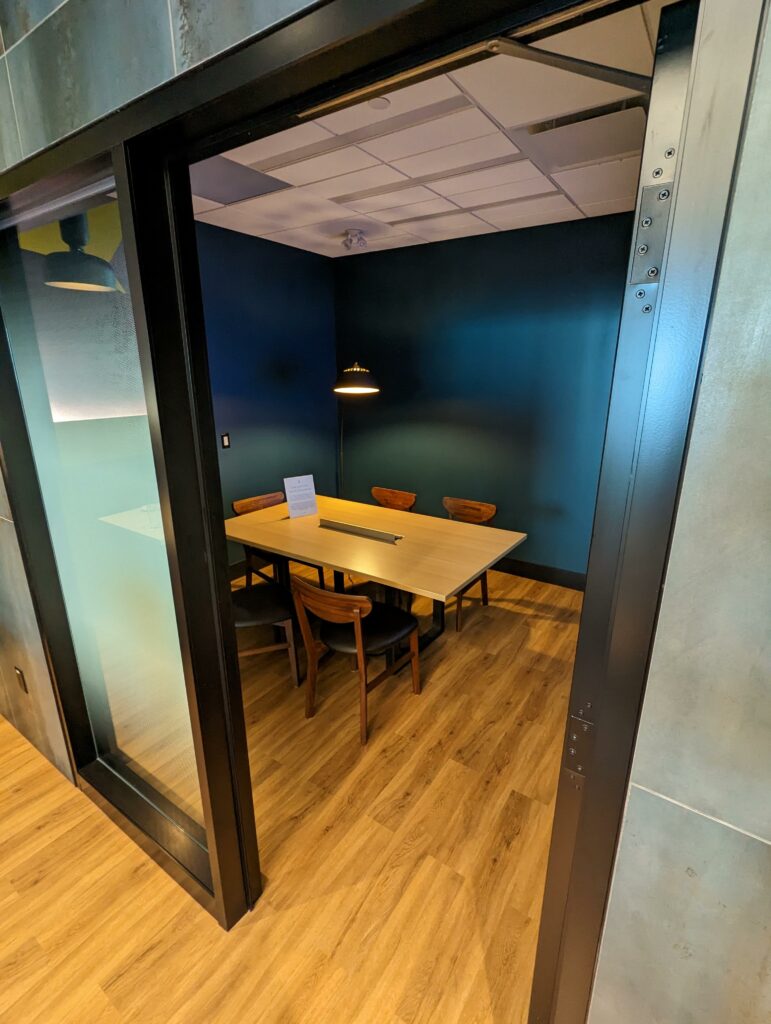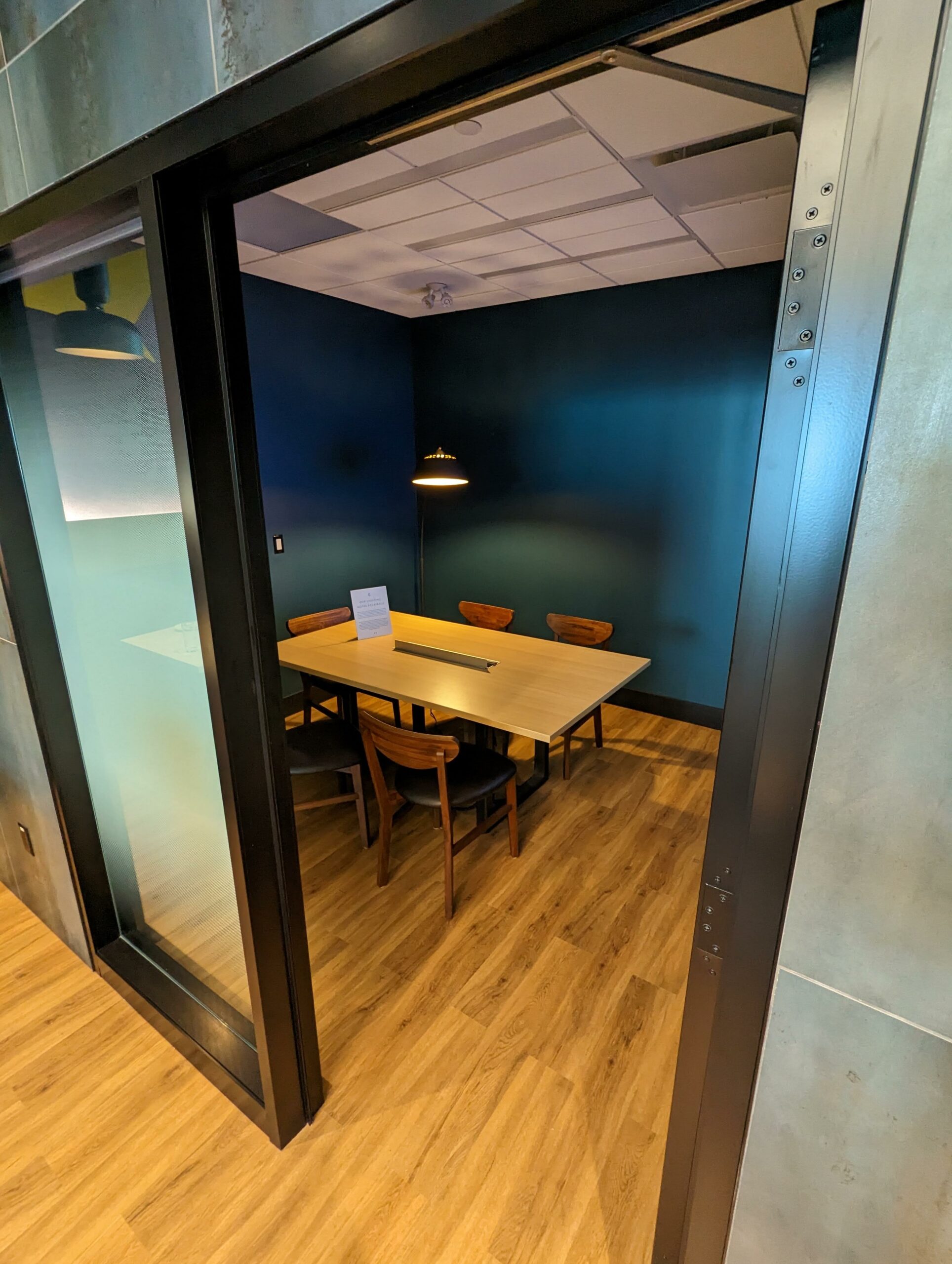 Of course, as with almost all lounges, a quality Wi-Fi network is available.
There are outlets everywhere, since it's a brand-new lounge (at almost every seat), but there are even wireless chargers that let you simply put your cell phone down on the bar counter.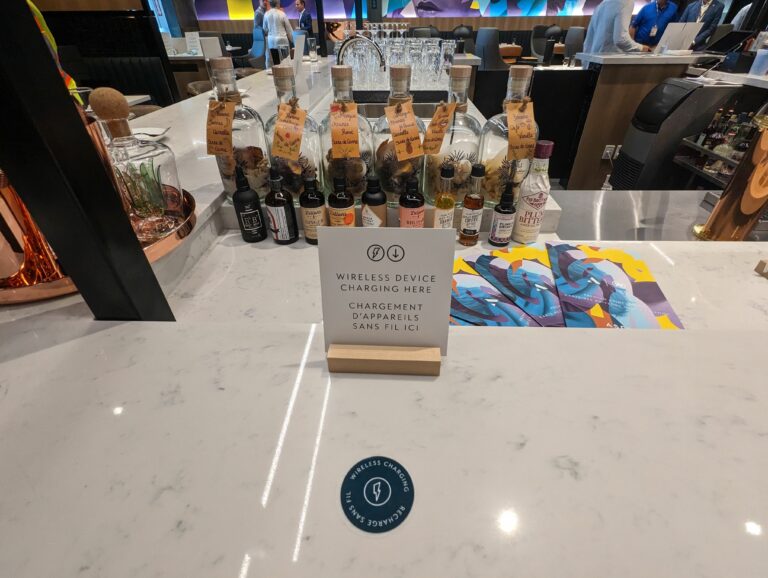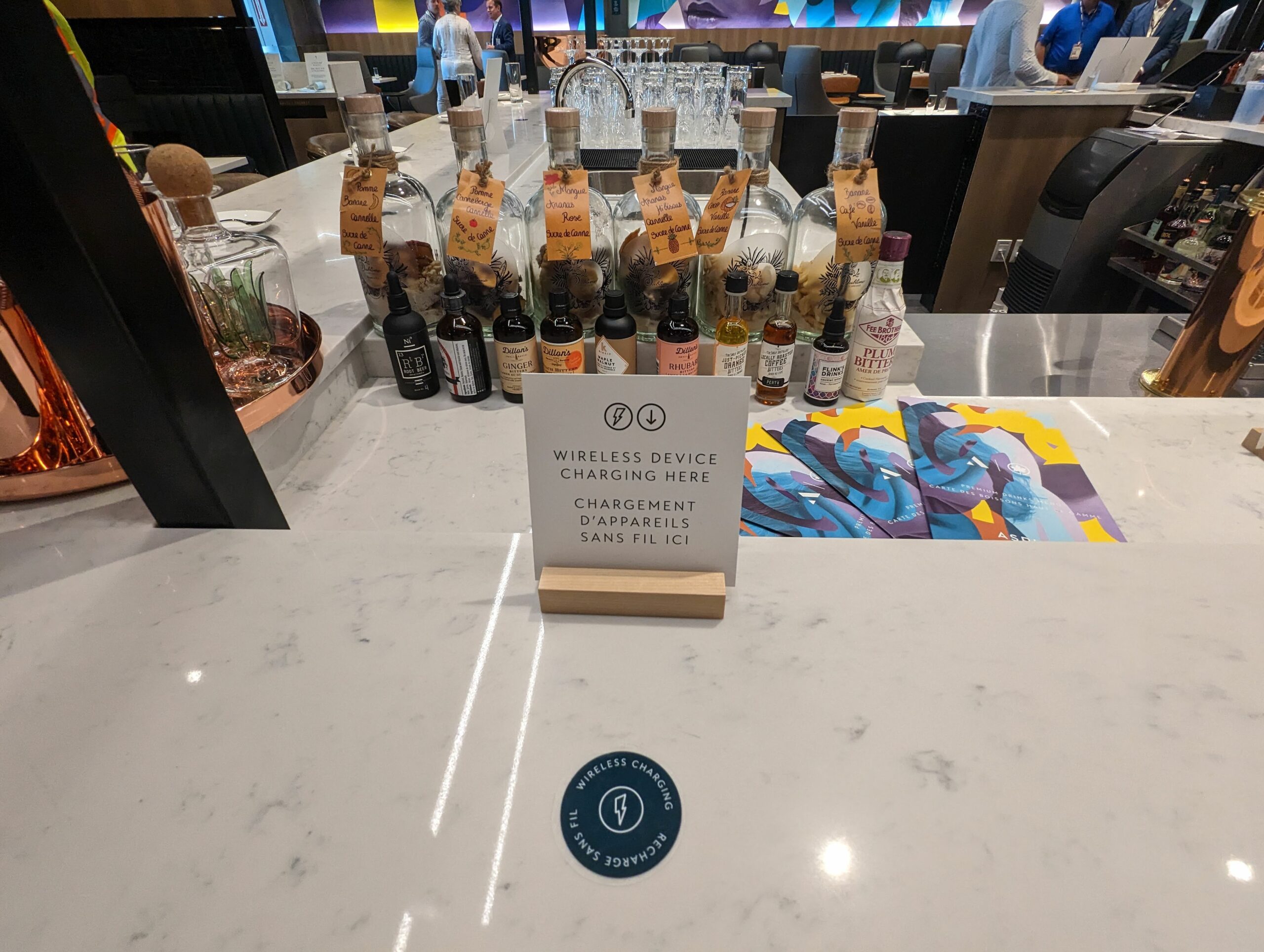 The lounge is very pretty and they've still managed to get some natural light in despite the constraints of such a small terminal.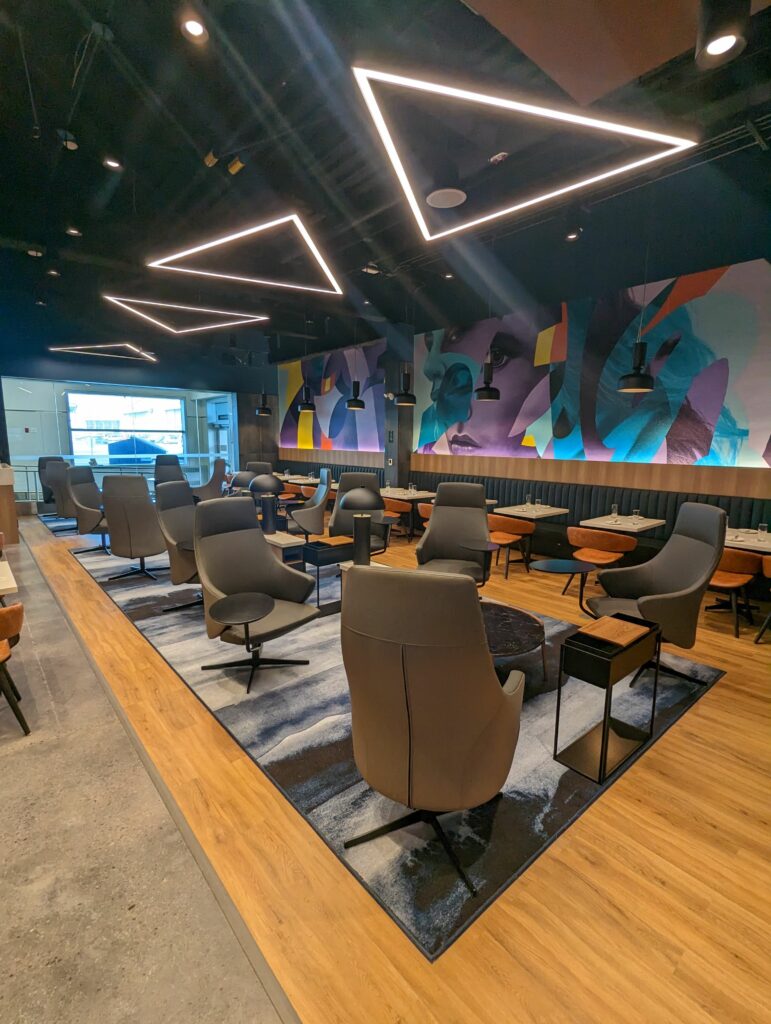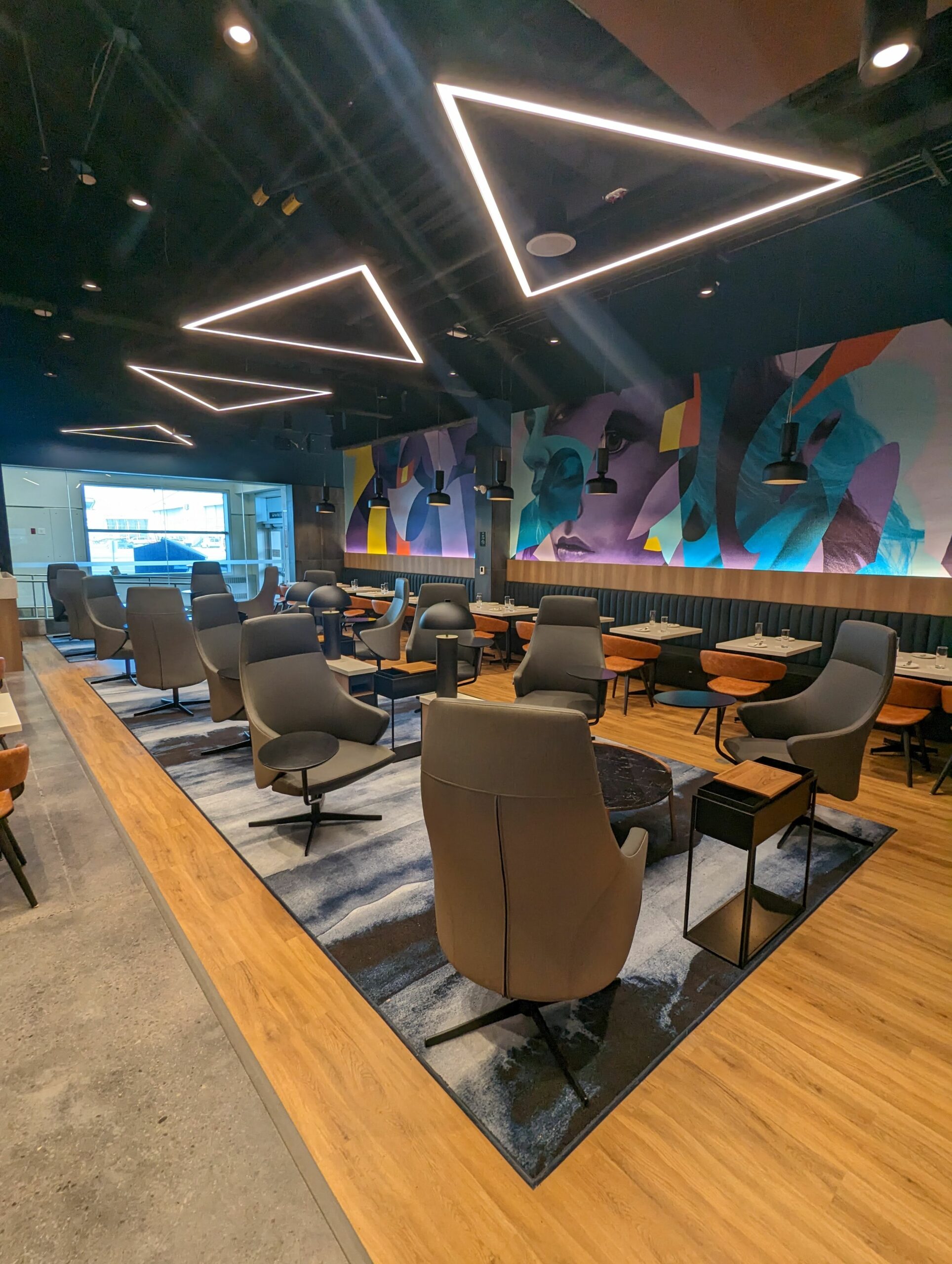 The lounge itself has no restrooms, something quite rare. Probably due to space constraints, to maximize seating in the lounge. The restrooms are right outside, and the staff can keep your stuff for you.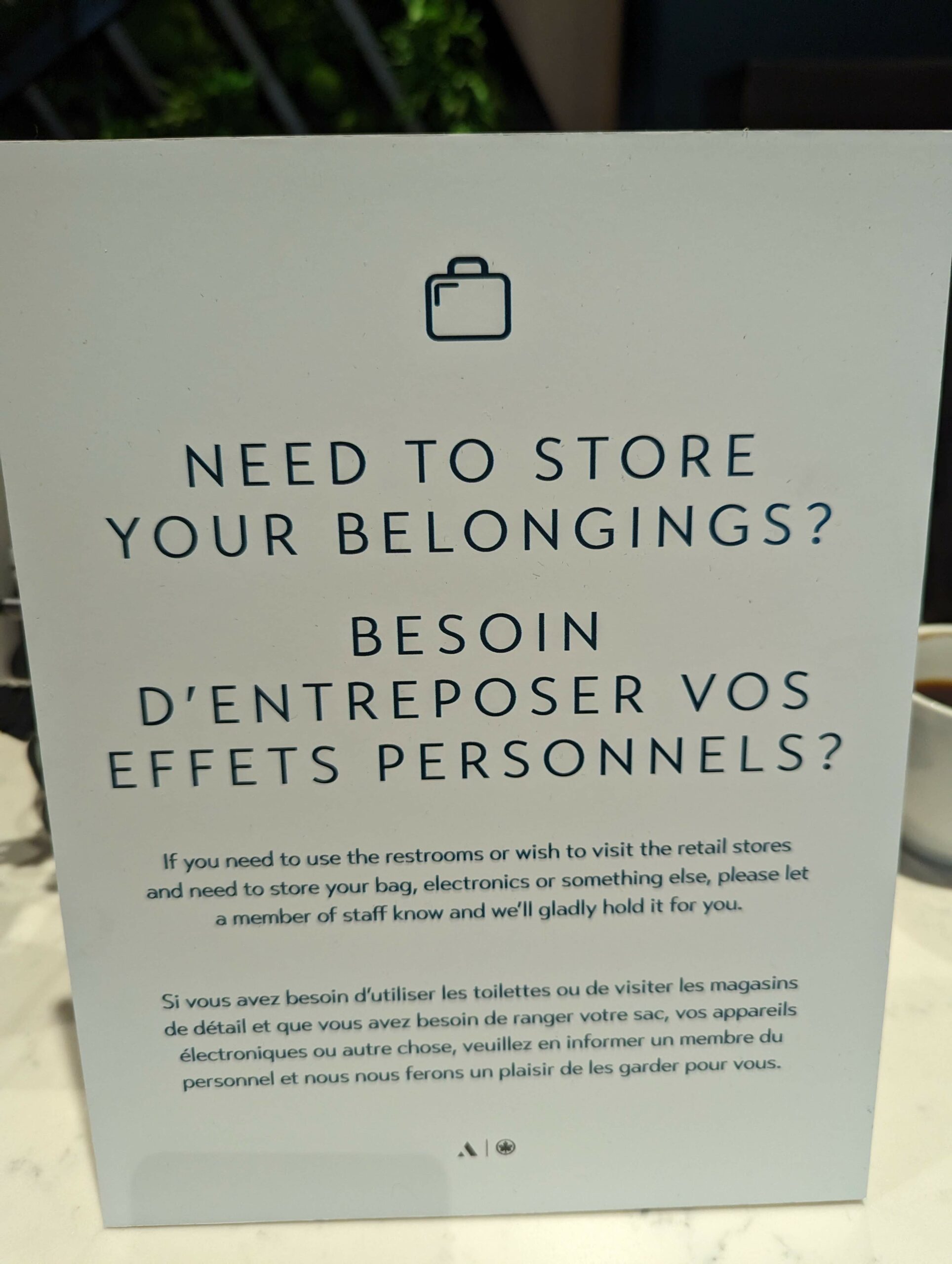 For those interested, the lounge has been designed to achieve LEED certification in terms of sustainability.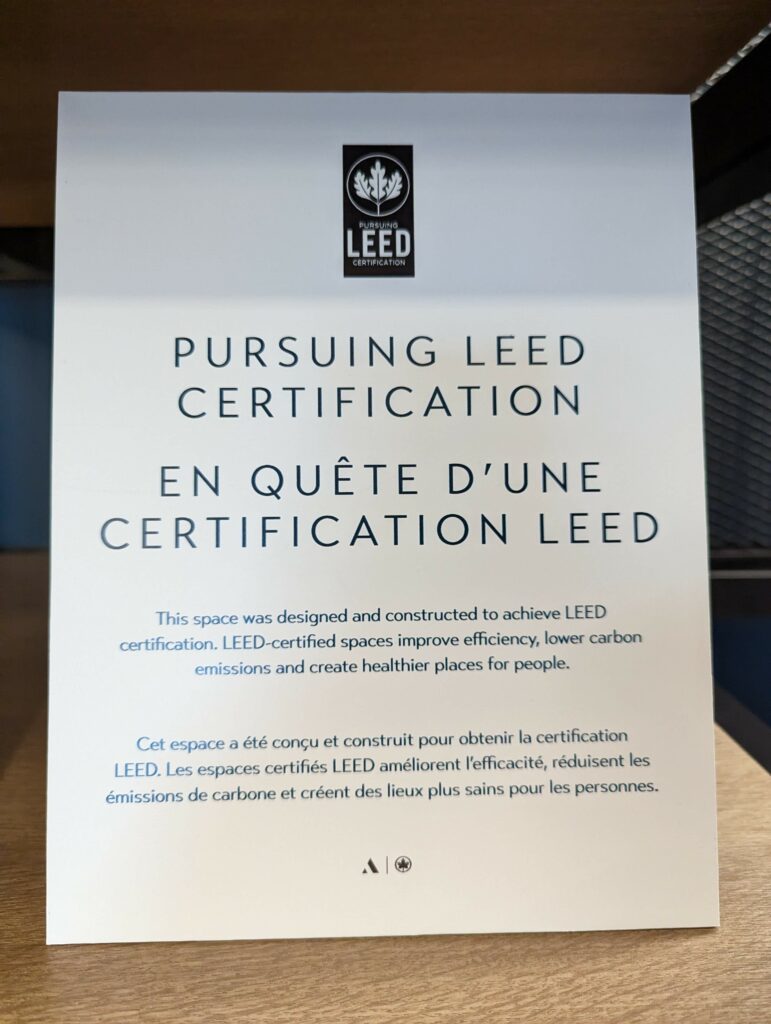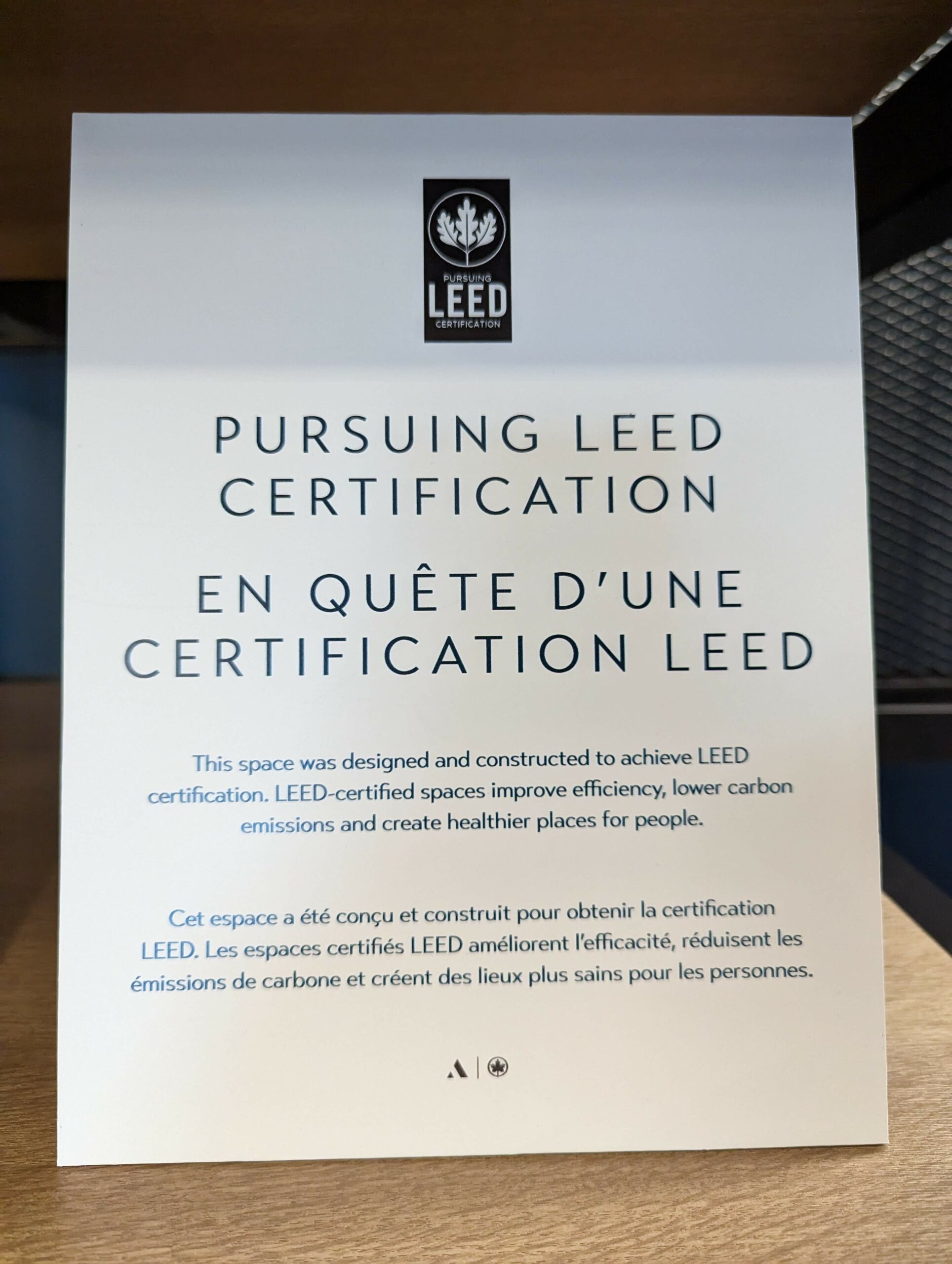 What's unique about the latest concept is really the collaboration with Aspire. All the other Air Canada lounges are stand-alone. But in such a small airport, where there aren't enough passengers to justify an independent Air Canada lounge, this innovation makes it possible to offer one.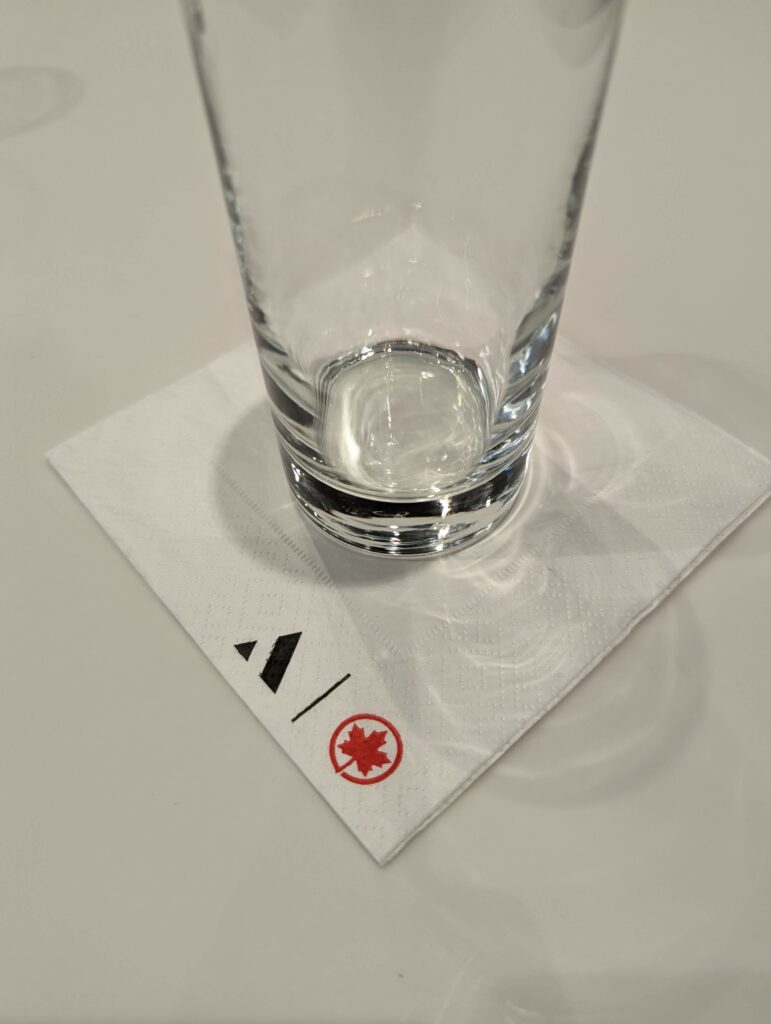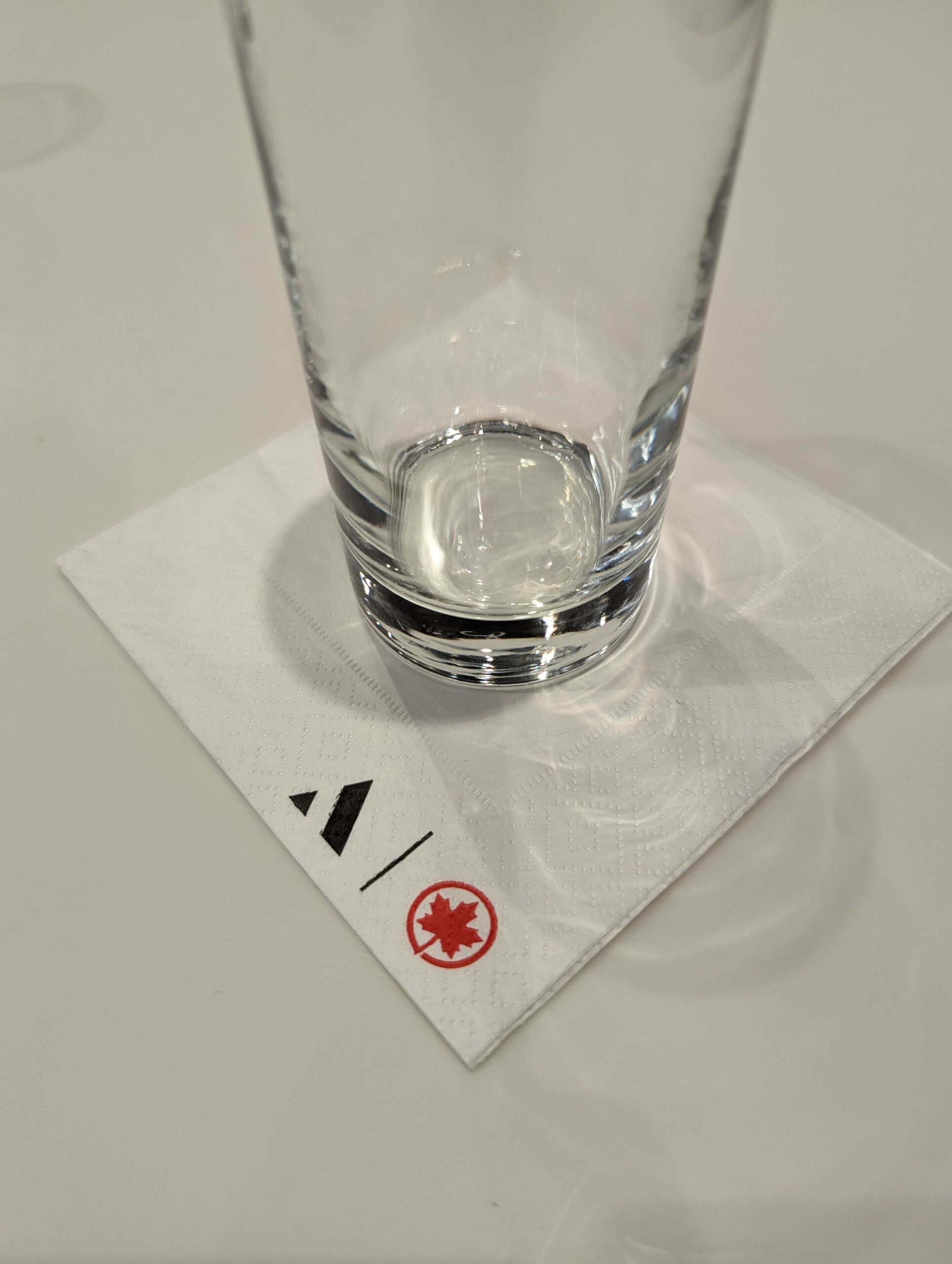 It's a test, and more lounges like this could be on the way, according to what Air Canada's VP told me.
He didn't mention locations, but we could think of the transborder terminal (USA) in the country's capital, which sadly has no lounges at all. Aspire already has its own independent lounge on the domestic and international side, so opening a 2nd one there would be much more economical than starting a brand new one in an airport where they don't have one.
Time will tell. In any case, it can only be good news! More lounge is always positive!
Access to the new Aspire | Air Canada Café lounge
In terms of access, there are 3 distinct options (which I explain just below):
Lounge memberships
Payment

Not recommended obviously

Based on normal Air Canada lounge access rules

So only for those flying Air Canada
It was so new that the sign hadn't even been installed in the front of the lounge yet on opening day!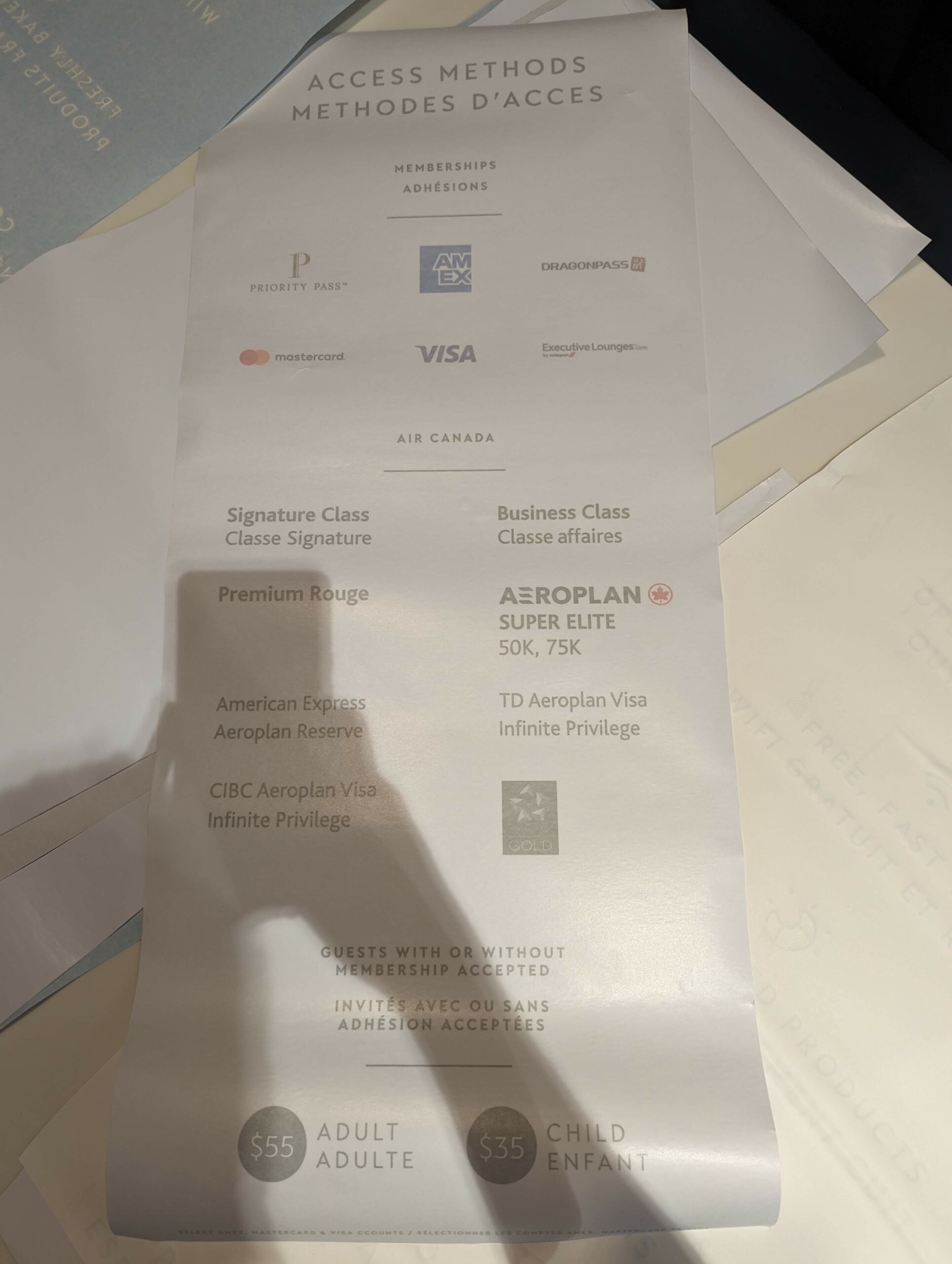 Memberships
As mentioned, the lounge is part of DragonPass and Priority Pass (and even of the Amex Global Lounge Collection directly).
Many good credit cards give you access for free, with the best right now being the CIBC Aventura Visa Infinite Card and the CIBC Aventura Gold Visa Card that give you a free welcome bonus of $513 (the simplest points to use) and 4 DragonPass passes.
For those who travel a lot, the American Express Platinum Card is by far the best. It gives you unlimited access to Priority Pass (and more), along with 1 free guest. The current welcome bonus gives you ≈ $814 in net value.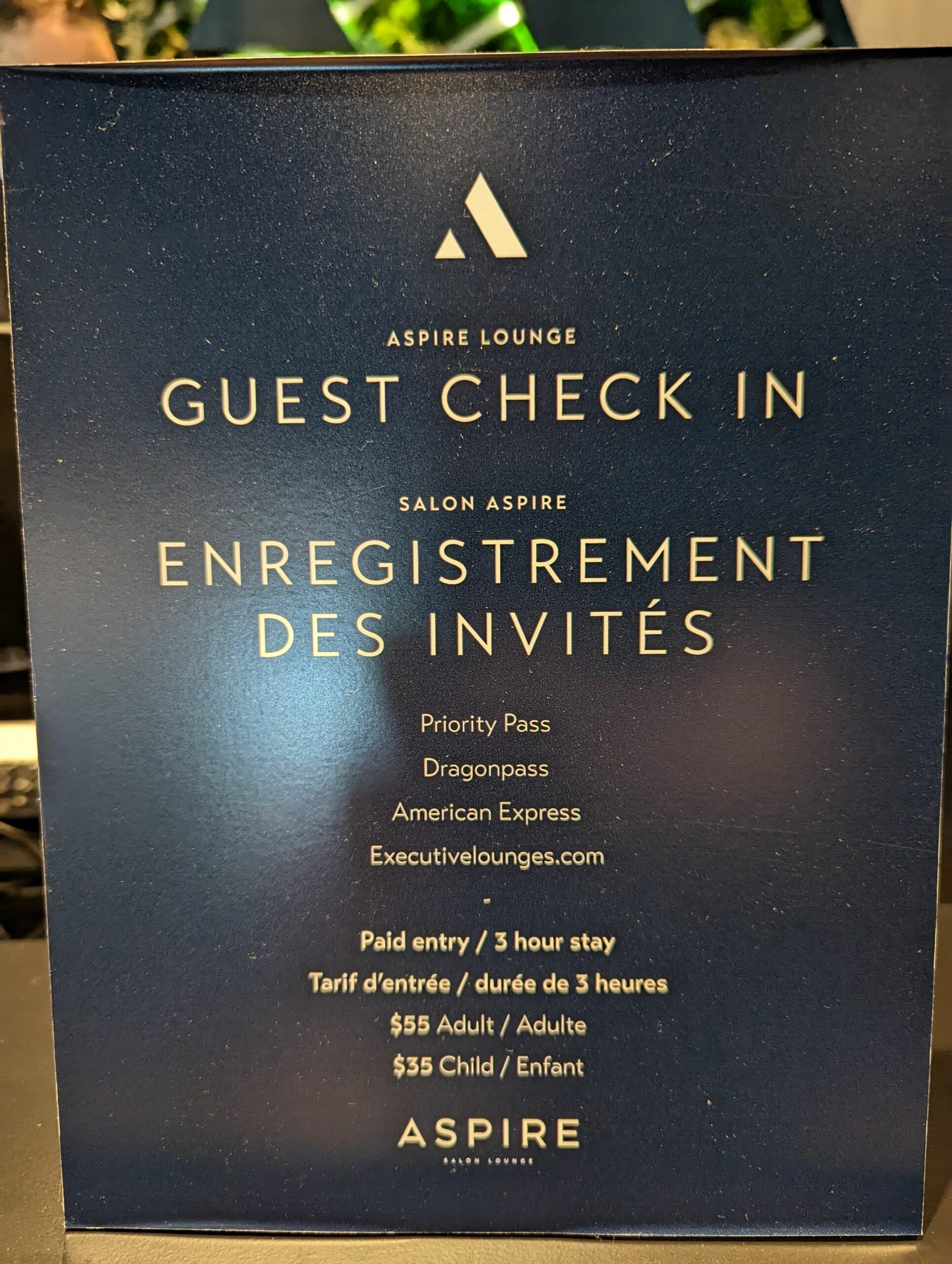 Payment
You can also pay $55 for access ($35 for kids), but it's really not savvy to do that in almost any situation, considering the number of cards that give you free access.
If you're unfortunately going to do that, at least buy from the Aspire website to save $5.
Air Canada
Of course, there's also the possibility of entering under normal Air Canada lounge access rules.
It's for eligible travelers flying on Air Canada only (it usually works with Star Alliance airlines too, but none are present at Bishop airport):
Cardholders of Aeroplan premium cards
Premium cabin passengers*

Signature Class
Business Class
Premium Rouge class

Elite members at higher levels

Aeroplan 50K, 75K and Super Elite
Star Alliance Gold
*By law, the only planes permitted to land at the Bishop airport are turboprops and Air Canada's turboprops don't have a premium cabin, so exceptionally lounge access is offered to those who are connecting to a flight in a premium cabin!
Air Canada airport lounge basics
Before talking about the new Air Canada lounges, it's worth explaining the different types of lounges, including the specificity of Air Canada Café lounges.
It can be a little confusing because there are now 5 different types of Air Canada lounges in Canada (I've given you the total number of lounges of each type too):
Air Canada Maple Leaf Lounge (22)
Air Canada Maple Leaf Express Lounge (1)
Air Canada Café lounge (1)
Aspire | Air Canada Café lounge (1)
Air Canada Signature Suite lounge (2)
Air Canada Maple Leaf Lounge
It's the typical Air Canada lounge, by far the most common. They're very nice.
There are 18 locations in Canada and 4 abroad (5 in a few weeks; I'll be at the unveiling in San Francisco and you'll be able to see the new design in real time by following my personal account on Instagram).
Air Canada Maple Leaf Express Lounge
It's a smaller lounge, but not much different otherwise. There's just 1 at Toronto-Pearson (YYZ), in the transborder terminal (flights to the USA).
It had just opened in 2019 to offer a smaller type of lounge, but I have a feeling it's something that's not going to be expanded as it might be replaced by the new Air Canada Café lounge model launched since then. To be continued.
Air Canada Café lounge
It's smaller, too, but the model is really different. There's also just 1 at Toronto-Pearson (YYZ), in the domestic terminal. I love this lounge and it's almost always the one I choose when I pass through this airport.
The main difference is that it's designed to spend less time there and to offer more to-go food and beverages
Not so long ago, airport lounges wanted to do everything they could to keep you from taking their food to go, because the cost of that food was their concern. Now, it's quite the opposite because lounges are fuller than ever (since they're so easy to access for free), because crowds are their concern.
And Air Canada Café lounges set themselves apart with high-end specialty coffees prepared by a barista, of course, as you'd expect with a name like that.
There's plenty of takeaway food and beverage options for travelers in a hurry, so it's a great concept. You can stay and eat/drink inside too like any lounge of course though. There's even alcohol in the evening now too.
Aspire | Air Canada Café lounge
It's the same concept as the Air Canada Café lounge (but a bit more like a normal, complete lounge), except that it's in partnership with Aspire as explained above.
So just to be clear, the Air Canada Café lounge at Toronto-Pearson (YYZ) is a truly independent lounge, not in partnership with a third-party lounge operator. It's just the brand new one at Toronto-Bishop (YTZ) which is a partnership for now.
Air Canada Signature Suite lounge
Air Canada Signature Suite lounges are the most upscale lounges. They're the only ones with very different access rules.
It's a recent trend to have lounges that are even nicer than regular lounges. It's because airport lounges are now so easy to access, as you now know… and when everyone's a VIP, no one's a VIP.
So Air Canada has done what many airlines have done, and now has lounges that are even more exclusive than its normal airport lounges. Sometimes called first class lounges, premium lounges, or international lounges.
There are just 2 Air Canada Suite Signature lounges (for now) in Toronto (YYZ) and Vancouver (YVR), but these are never included when we talk about the Air Canada lounge network, because these are the only ones where access is really very restricted.
No way to get in with a credit card. It's the cream of the crop of lounges. You have to spend a lot of cash (or a lot of points) on a long-distance business class flight to get access.
Not spending a lot of money on flights is precisely why I'm personally interested in travel rewards, so I haven't been able to test these lounges. But I did get to try out the American Airlines version of a similar level (the AA Flagship Lounge in Miami) and it's true that it's a really superior experience compared to normal lounges.
Air Canada will be investing many millions over the next 3 years to open new airport lounges and renovate existing ones.
I can confirm that 5 more new Air Canada lounges will open, including one in 2 weeks as I mentioned. I can't wait to see the unveiling of the Maple Leaf Lounge in San Francisco (SFO), because it's sure to give a good idea of the future look of lounges in Canada.
Here's a list of what's to come:
New Maple Leaf Loungein San Francisco (June 2023)
Renovation of the domestic Maple Leaf Lounge in Montreal (2024)
New domestic Air Canada Café lounge in Montreal (2024)
Renovation of the domestic Maple Leaf Lounge in Vancouver (2024)
New domestic Air Canada Café lounge in Vancouver (2025)
There's a very good chance that Montreal will also get its own high-end Signature Suite lounge (it's the only one of the 3 major hubs that doesn't yet), but it's not yet confirmed.
I'll know more about all this in 2 weeks' time in San Francisco, so stay tuned!
Want to get more content to learn how to earn free travel?
Summary
Air Canada's new airport lounge concept has been launched at Toronto-Bishop Airport (YTZ). It's beautiful and unique because it's the only Air Canada lounge in Canada that is accessible with airport lounge memberships such as Priority Pass, DragonPass and Amex Global Lounge Collection.
What would you like to know about airport lounges? Tell us in the comments below.
See the deals we spot: Cheap flights
Explore awesome destinations: Travel inspiration
Learn pro tricks: Travel tips
Discover free travel: Travel rewards
Featured image: Aspire | Air Canada Café Lounge at Toronto-Bishop (photo credit: Andrew D'Amours/Flytrippers)
Share this post to help us help more people travel more for less: