Air Canada has just announced an amazing promotion for its Aeroplan rewards program. It's actually their best miles redemption offer ever: you get 50% back on all flights in Canada and the US! Credit where credit is due: Air Canada has really been innovative with Aeroplan during this pandemic.
This is a limited-time promo, so it's only for those who already have Aeroplan Miles (or have American Express Points that can be transferred to Aeroplan, those from the Gold or Platinum cards—not the Cobalt points). Which is why it's good to have a stash of points at all times!
If you want all our tips to earn a lot of Aeroplan Miles without flying, our ultimate guide to the program and our cheat sheet with what you must absolutely do before the program is relaunched in the fall… sign up for free to get our travel rewards points newsletter that will give you access to all that content in the coming months.
And it's a promo for those who want to travel in the coming months (which should certainly be possible and responsible) and thankfully you can book absolutely risk-free. In my case, I can't stand it anymore; I am so looking forward to traveling again.

Here's a detailed analysis of the promo.
I will assume you know the basics about Aeroplan Miles, but if not, I've included a few helpful reminders throughout to help you. And you can read our introduction guide to Aeroplan to know more about the program than ≈ 95% of travelers!
Aeroplan 50% back promo
Flight prices with Aeroplan Miles are fixed and are the same from any airport in a region (even in small towns) to any airport in a region.
This 50% off promo means prices are extremely appealing:
3,750 miles for short-haul flights (7,500 roundtrip)
6,250 miles for everywhere else in Canada and the US (12,500 roundtrip)
That is truly incredibly cheap, but also, one of Aeroplan's best features is a free stopover with any roundtrip, which gives you 2 destinations for that same price! Air Canada has confirmed to me that this is allowed with the promo as well.
I'll get back to this with concrete examples of how much value you can get (how much you can save) and with the short-haul vs. long-haul details.
But first, there are 6 main conditions for this 50% back offer:
for flights booked before July 1st
for flights from July 1 to October 15
for flights on Air Canada metal only
for flights in Canada and the US only
you pay full price and get 50% back within 3 weeks
for the price of flights only
I'll detail each point after for those who really want all the info, but here's the short version:
1. You have less than 2 weeks, but there is no risk to book (if you already have the miles): Aeroplan allows free refunds for all bookings until August 31st, for any reason whatsoever.
2. While it isn't quite time to travel now, we honestly believe it will be soon. And anyway, I'll repeat: zero risks if you book.
3. Usually, you should avoid using your Aeroplan Miles for flights operated by Air Canada, because of their surcharges. But in this case, it's an excellent deal with the 50% off. But it's only on Air Canada.
4. This doesn't apply to overseas destinations, but it still gives you tons of possibilities.
5. The promo is that you pay the full price, and they'll give you back 50% of the miles. So it's not an instant rebate so you are limited to only booking what you can afford at the full price with your current stash of miles.
6. You should never use your miles to pay for taxes/surcharges anyway, it's a terrible use. At any time. This promo excludes this bad use, so you will only get 50% back on the actual price of the flight. If you choose to pay for taxes/surcharges with miles despite the poor value, you won't get 50% back on that portion.
Finally, they also add another condition, which is that this only applies to new bookings. But obviously, since cancelations are free… if you already have a Canada or US flight booked with Aeroplan (before October 15th), cancel it now to rebook it at half the price (maybe they'll delay the refund to keep you from rebooking, but in that case, the worst-case scenario is you just rebook at the same price as before if you have to).
Here's each condition in more detail, or you can skip to the great redemption examples directly.
1. For flights booked before July 1st
The whole question around when we'll be able to travel is the next point. But regardless, whatever you book during the promo can be canceled for free until August 31st. You'll get back all your Aeroplan Miles and all the taxes/surcharges, there's no catch. You can even do it online in a few clicks. And if Aeroplan does what they did in March and June, that deadline could even be extended further.
So no risks if you already have miles. If you need to transfer AMEX Points to Aeroplan, then you should evaluate whether the 50% back is worth the risk of having points invested into the Aeroplan program in case you need to cancel. If you're like me, most of your (non-Cobalt) AMEX Points should already be used to transfer to Aeroplan anyway, so it should be worth it in many cases… if you want to travel soon.
In short, booking flights in the current conditions is somewhat risky if paying in cash, but that is not the case with Aeroplan thanks to this flexible cancelation policy.
For example, booking flights to Vancouver in July or August with cash could be a bit risky since travel is not recommended yet. But with miles… you can get a refund for whatever reason. If you want to take advantage of the deal to visit California in September since the situation might be better then, booking a flight with cash would again be considered risky by most. But with miles… if in late August you reevaluate the situation and don't think the trip will be possible, you can simply get a refund.
So you can book without a worry and without risk, but you need to do so quickly to get the 50% back.
2. For flights from July 1 to October 15
I won't repeat everything about why we're cautiously optimistic that travel will soon be possible and also why it makes no sense to rule out traveling this summer if you are itching to travel, since those posts cover our initial reflections on those topics.
I will soon share another post to update my personal outlook on summer travel based on the most recent facts. And we'll have a lot more content to help you decide when you should travel. Which, hopefully, will be in July.
But whenever it is time to travel, you need to be prepared to be ready to take advantage of it. We're very confident that travel will be possible before October 15 for those who want to, especially within Canada. That could really be possible as soon as July.
3. For flights on Air Canada metal only
One of the most important things to understand about Aeroplan Miles, is that you need to avoid surcharges by flying United (and other partner airlines for non-US destinations) and not Air Canada. During normal times at least.
But this promo is only for flights operated by Air Canada / Air Canada Express / Air Canada Rouge (referred to as Air Canada metal in the rewards world). So unlike usual, you should make sure that your US itinerary found on Aeroplan's search engine does not include any other airline (it's much easier than usual because there a lot more Air Canada options than non-Air Canada options).
With the promo reducing the cost of miles in half, flying Air Canada is a very good deal despite the surcharges, as you'll see below. Finally, those who took advantage of the elite status shortcut we told you about recently get a surcharge waiver for all US and Canada flights.
4. For flights in Canada and the US only
With this promo, Air Canada is concentrating on two destinations that currently are open to Canadians: Canada and the US. Ironically, some provinces currently have restrictions even though it's in our country, while the US does not have any for Canadians arriving by plane.
It's very likely that travel restrictions within Canada will be lifted at some point this summer, but you should consider that in your choice of destination. Maybe book two to have a plan B in case one isn't open, if you have enough miles. Then you can cancel the one you don't need.
As a reminder, entry restrictions imposed by destinations are the only thing that determines whether you CAN travel somewhere (even if there are many other factors to determine if you SHOULD travel).
They are complex and constantly changing, so while international travel will likely be realistic at some point this summer, you have to understand that it will require booking a little more last-minute than we'd usually recommend. We have to wait and see, as I am doing for my August 3rd Europe flight. We'll soon have a guide on which countries are reopening.
5. You pay full price and get 50% back within 3 weeks of your flights

Pretty straightforward: you are limited to booking only what you are able to afford at the full price.
6. For the price of flights only
Nothing much to add. Don't pay for taxes or taxes/surcharges with Miles. Not when there isn't a promo, not when there is a promo.
The basics you absolutely need to understand
Here are a few lines as a refresher, about the basics everyone should understand (you can skip to the actual examples if you're already an expert).
Normally, good deals with Aeroplan Miles in Canada and the US are when you use them for flights that are expensive when paid in cash and when you fly United to avoid surcharges (you can read the 10 best uses of Aeroplan Miles).
All destinations cost the same amount in Miles:
one price for neighboring provinces/states (short-haul)
one price for the rest of North America (Alaska included, Hawaii excluded)
So the value of your miles—what determines whether a redemption is good or not—depends on the cash price of a flight… since the price in miles is the same. The value of a mile/point is how much money you save. And how much you save depends on the cash price: you get the logic. You can read more about the value of Aeroplan Miles if you want.
With this promo, all destinations are a great deal and are a great redemption, since they're 50% off. So it's more a question of where you want to travel to before October 15th.
But as a fan of maximizing everything and being strategic, I would recommend choosing destinations that are normally expensive. For example, I always find flights to Miami around $200-$250 roundtrip, and that's why I go a few times a year. I would therefore not use this miles deal to go there, it's a lot smarter to pay $200-$250 in cash and keep the miles for somewhere that is usually more expensive. To maximize them.
In short, even if every destination is the same cost in miles, the value of your miles varies and certain redemptions are better: it depends on the cash price. That's really the key to variable-value points like Aeroplan Miles.
That happens to be why deals on flights paid with rewards points are extremely rare, unlike the frequent deals on flights paid with cash. That's normal: "deals" are inherent with points and are there all year long, depending on each flight's cash price.
Best redemptions with this promo
Our Flytrippers valuation of Aeroplan Miles is ≈ 1.5¢ per point. That means that normally, for Canada and the US, roundtrip flights paid with miles require miles worth ≈ $225 (short-haul) or ≈ $375 (all other destinations), although this is before taxes (and before surcharges too with Air Canada only).
With this promo, it's the equivalent of only ≈ $113 or ≈ $188 roundtrip (before taxes and surcharges), which is simply fantastic.
Here are examples.
Canada (long-haul)
Long-haul flights cost 25,000 miles roundtrip normally, so 12,500 roundtrip with the deal.
Many travelers want to prioritize trips within Canada in the short-term, if only for the insurance aspect… even if the travel advisory was to be lifted and non-coronavirus insurance would be available for the US.
The most popular destinations for most in Central and Eastern Canada are obviously British Columbia and Alberta, for the very different and stunning Pacific and Rocky Mountain landscapes.
For example, a flight from Toronto (YYZ) to Vancouver (YVR) costs 12,500 roundtrip (miles worth ≈ $188) and $166 in taxes and surcharges, the equivalent of $354 total roundtrip.

That's pretty great for peak July, especially knowing it's fully refundable. And these are direct flights for those who are picky about that; they're all the same price with miles.
That ticket costs $575 in cash!!!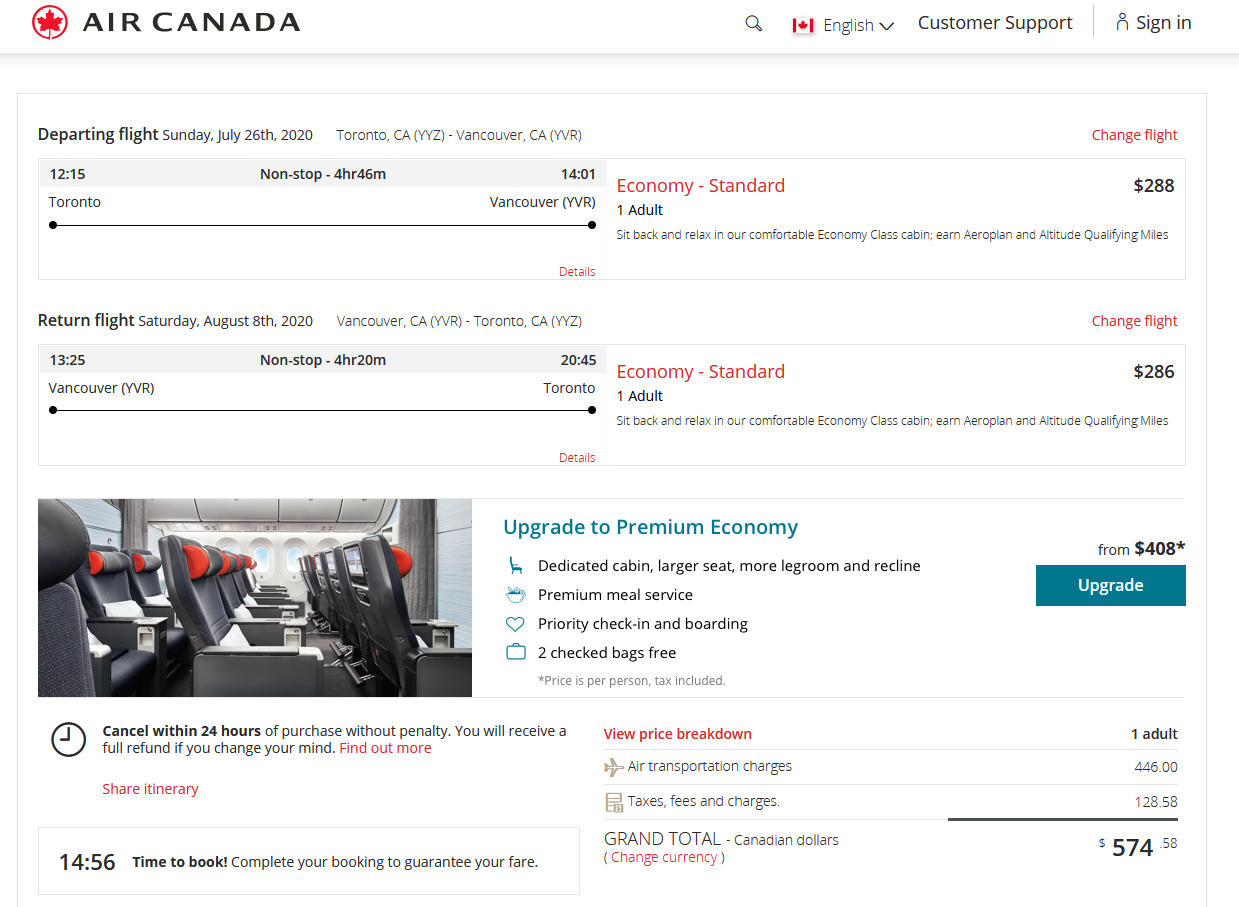 That redemption gives you a value of 3.3¢ per point!!! That's amazing, it's more than 2 times more than the "value" of the miles. I've recently explained this aspect of variable-value points in greater detail: they are better than fixed-value points because they are the only points that can give you outsized value.
So this is an excellent deal to explore Canada. It's the same price to fly to Calgary (YYC) to be close to Banff, or to Edmonton (YEG) to be close to Jasper.
But as mentioned, one of Aeroplan's great features is the free stopover you can always add to any roundtrip for the same amount of miles. So why choose between the Pacific and the Rockies? Visit both on the same trip for just a few extra airport taxes.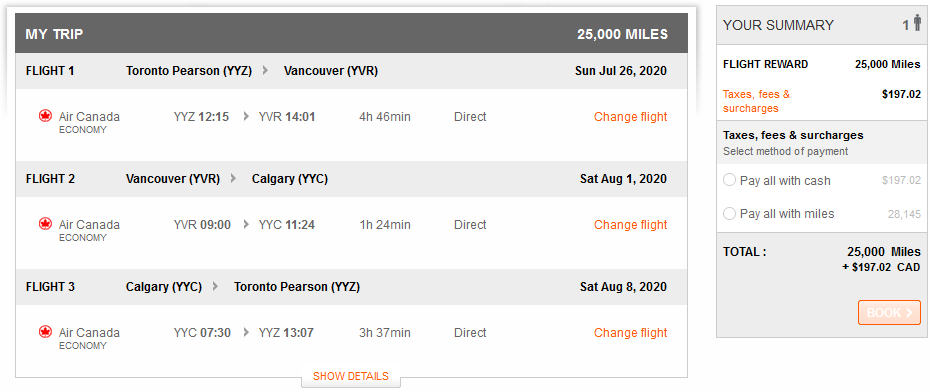 This ticket would cost $729 in cash!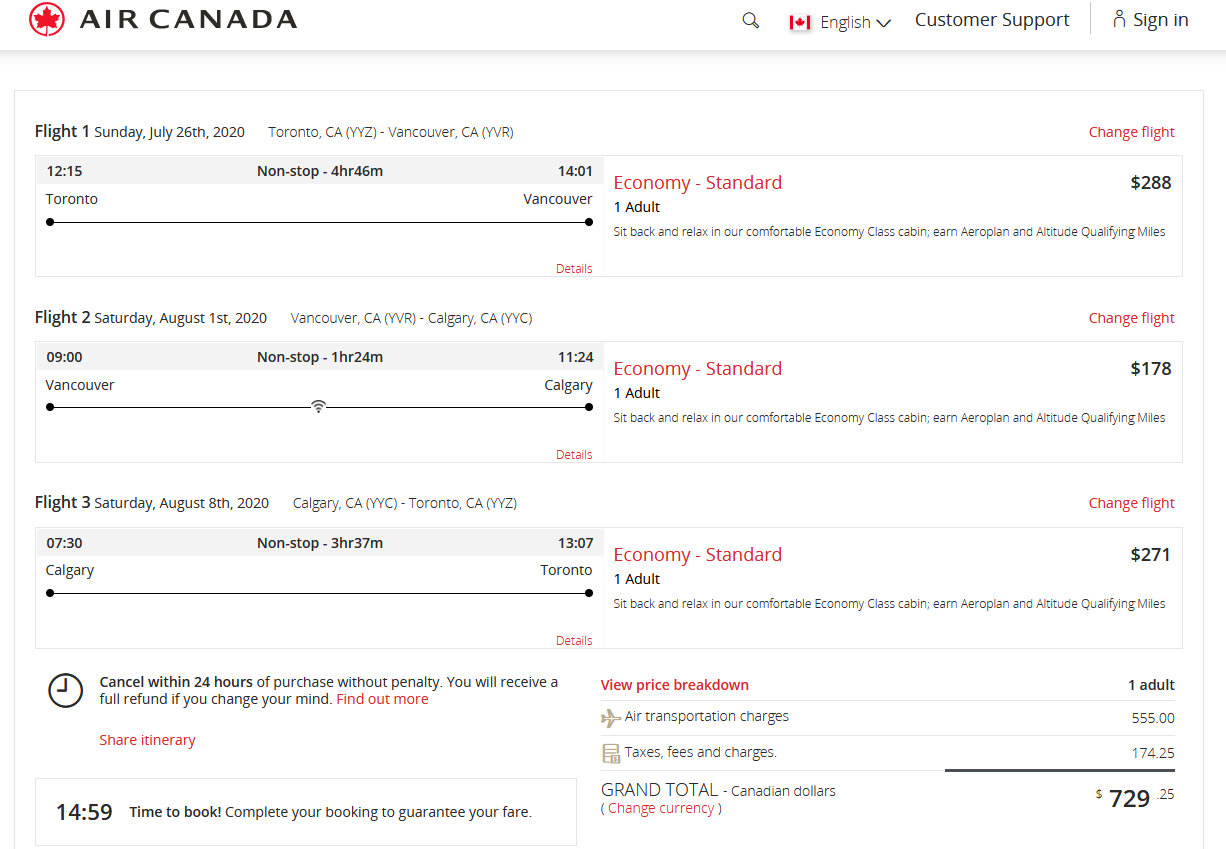 That gives you a value of 4.3¢ per point, even better!!! Nearly 3 times the value of the miles!!!
As I said, if you are like me and are addicted to maximizing and addicted to good deals, you could even consider destinations where cash tickets are a lot more expensive so you can "save" more.
It's the perfect time to choose a smaller or more remote city, like flying directly to Victoria (YYJ) or Nanaimo (YCD) if you want to visit beautiful Vancouver Island and want to avoid the ferry, at least in one direction. You can always fly into one city and fly out of another (although that means you no longer get a free stopover).
Even better, why not choose off-the-beaten-path destinations like the Yukon (YXY) or the Northwest Territories (YZF) that are rarely discounted in cash, but cost the same amount in miles. The territories are currently closed to travelers, but I'm strongly considering booking for as far out as possible (early October) to maximize the odds of them having reopened.
You could combine both the Pacific and the North with the stopover, for example, this itinerary that is still the same price.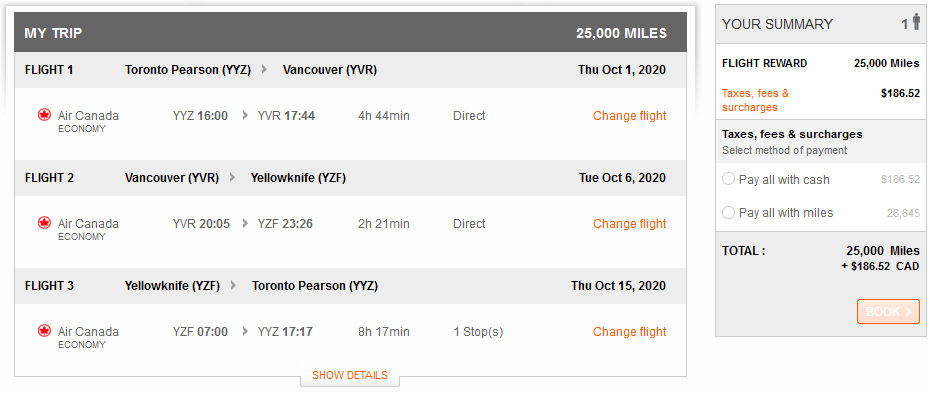 That ticket would cost $797 in cash!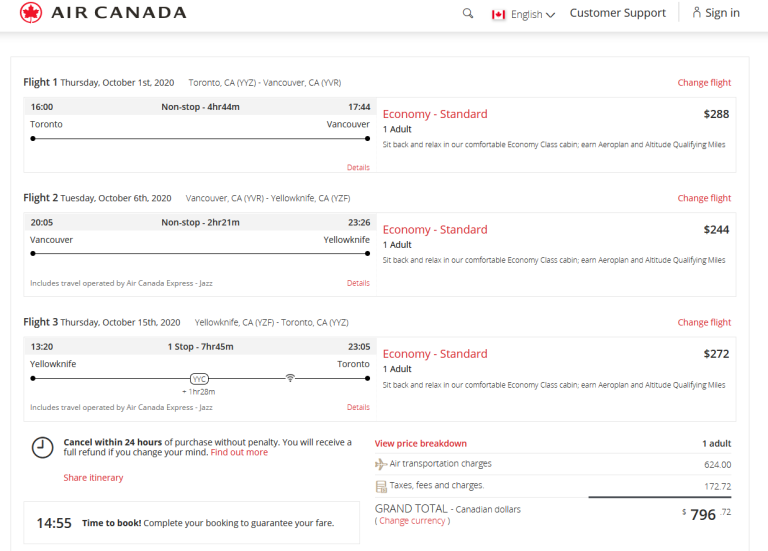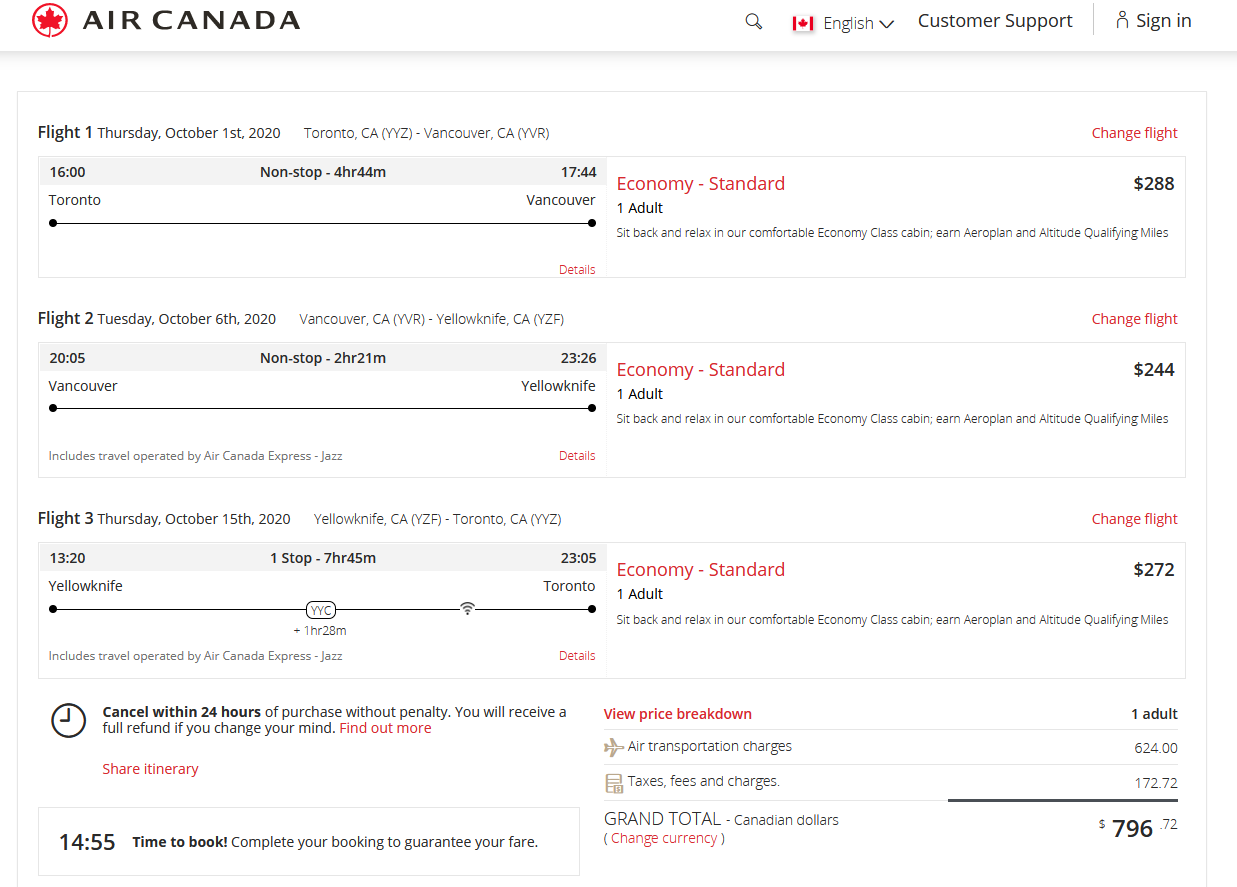 That's a value of 4.9¢ per point!!!
Don't want to choose just one of those two territories? Go see both, it's the best time to do so at 50% off! And social distancing is easy with those wide-open spaces up there. It's the same price, and taxes are even lower than just going out West actually!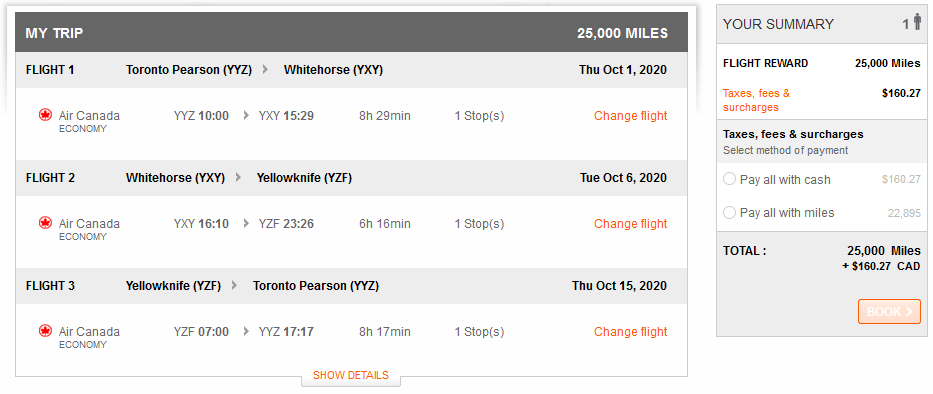 That would cost $865 in cash.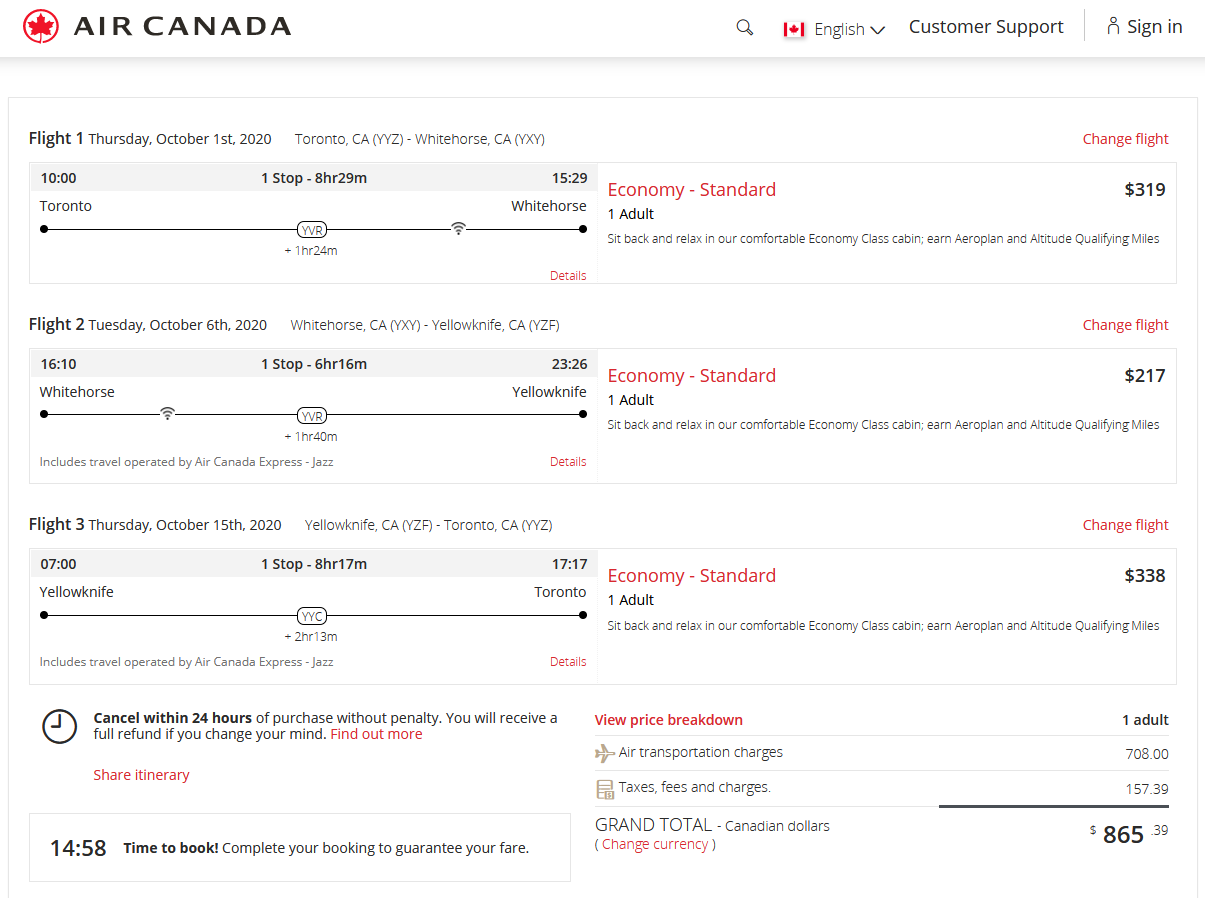 So that's a whopping value of 5.6¢ per point and an epic trip to two unique destinations!
Compare that to the way most people use their Aeroplan Miles, getting about 1¢ per point or barely more, because they're not using them right! Almost 6 times more value!!!
Canada (short-haul)
Long-haul flights cost 15,000 miles roundtrip normally, so 7,500 roundtrip with the deal.
This pricing applies to flights in neighboring provinces (and states). Perfect for those who want a shorter flight.
Here's what "short-haul" represents depending on where in Canada you live: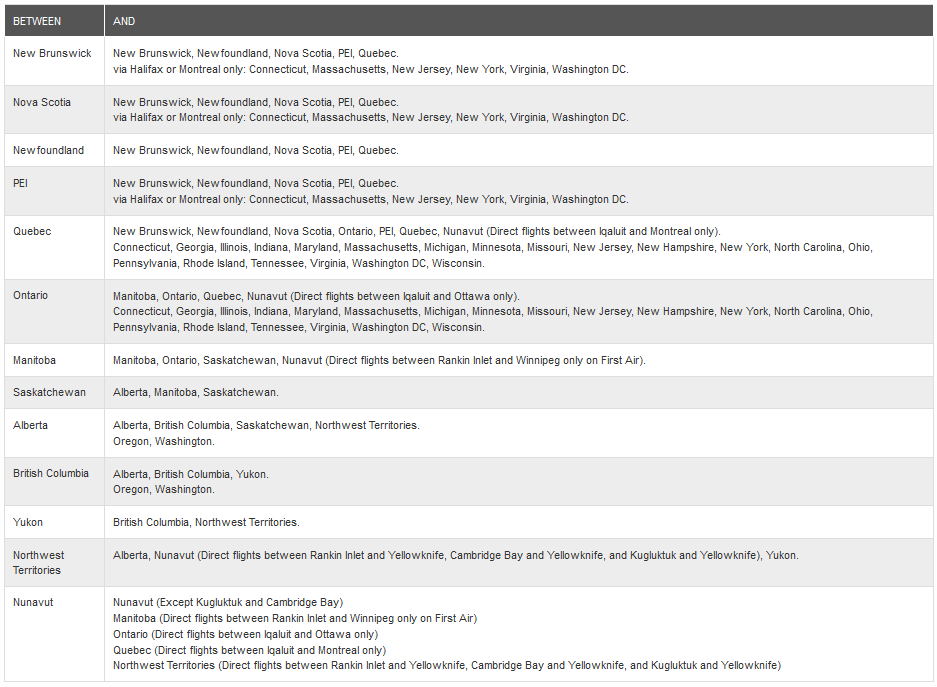 Special flights that are in parentheses are excluded since they are not operated by Air Canada, so ignore those. But you still have a lot of options. For example, for me in Quebec (and everyone else in the Atlantic province as well), all the Atlantic provinces are short-haul, even though these seem likely to remain closed to travelers.
You probably get the point now, so I'll just show you one example to go to Northern Newfoundland, which would be very far to drive to.
You could pay $490 in cash.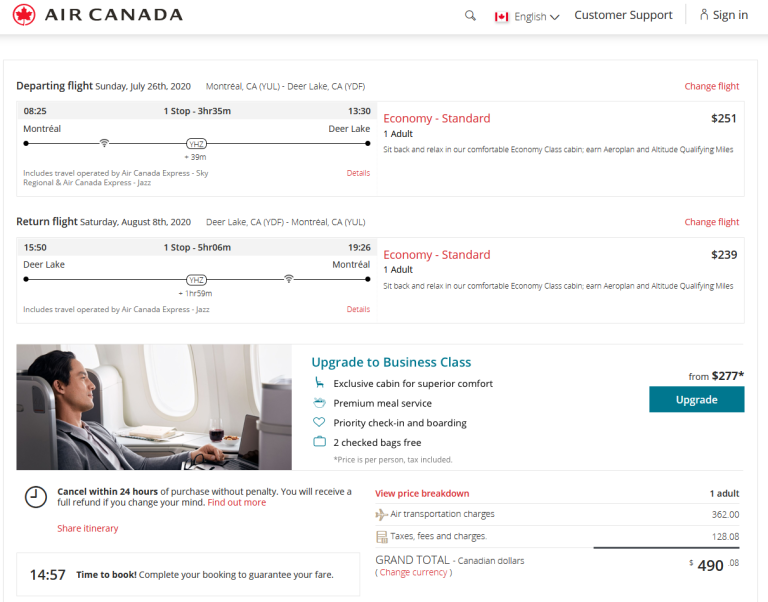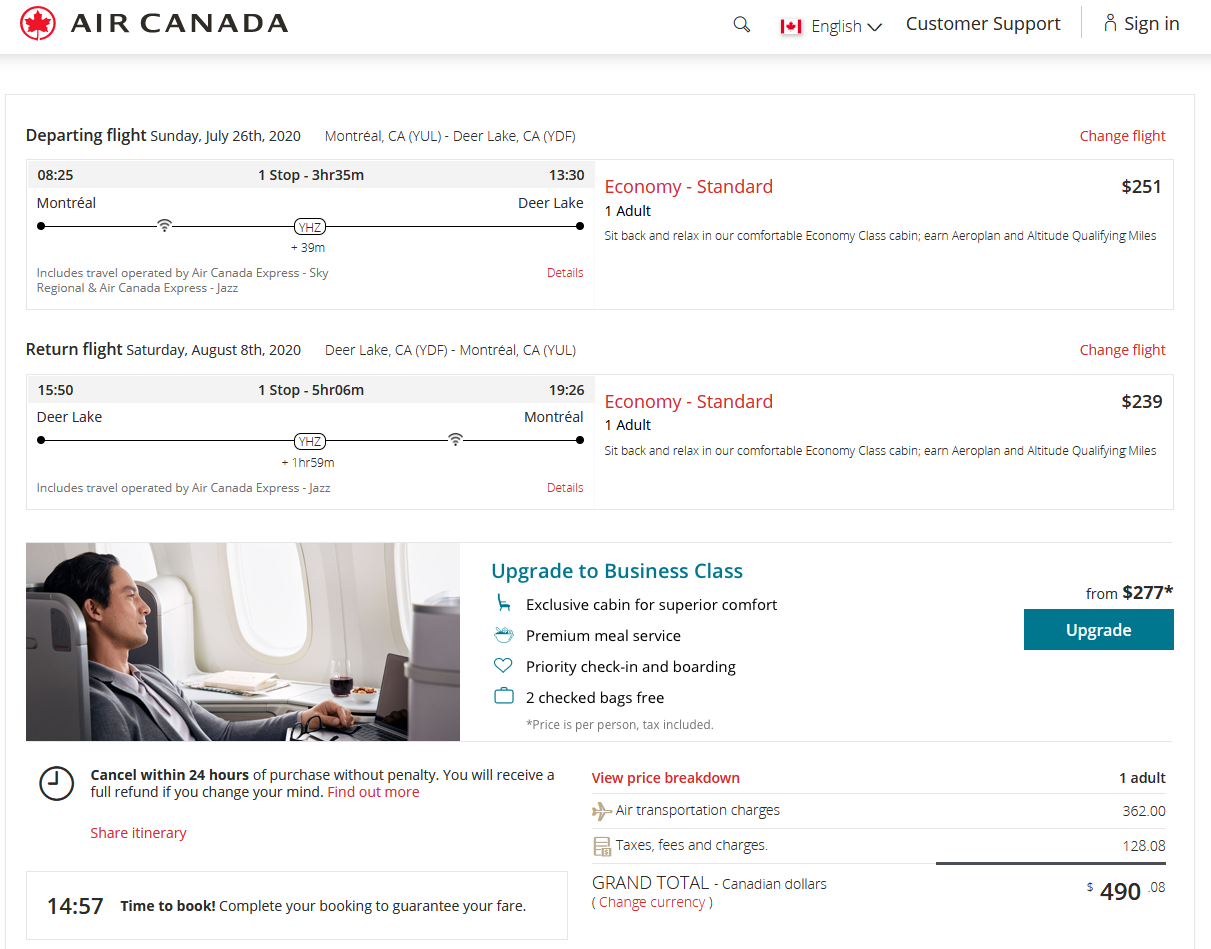 But with miles, it would be the equivalent of just $283 roundtrip: miles worth ≈ $113 (7,500 miles roundtrip) and $170 taxes and surcharges. That gives you a good value of 4.3¢ per point.

USA (short-haul and long-haul)
It's the same thing as the previous section, except this is where you need to make sure you aren't booking an itinerary that includes United flights (the opposite of what you should normally do). Keep in mind that the list of US airports served by Air Canada is quite limited currently.
For the summer, the currently confirmed US airports are:
Washington (IAD or DCA)
Chicago (ORD)
New York (LGA or EWR)
Boston (BOS)
Los Angeles (LAX)
San Francisco (SFO)
Las Vegas (LAS)
Seattle (SEA)
Dallas (DFW)
Houston (IAH)
Fort Lauderdale (FLL)
Orlando (MCO)
Depending on where you live, these will cost 7,500 or 12,500 miles roundtrip and about $150 in taxes and surcharges.
More cities are tentatively on the schedule for September and October, but these could be canceled if restrictions aren't lifted, so your flights could be canceled. So there's an opportunity cost of not using those miles on a "confirmed" destination and risking the possibility of missing out on the deal altogether.

Why Air Canada is offering this promo
As I said, deals with rewards points are very rare. It's not surprising that Air Canada wants to start filling up their planes and this is certainly a very interesting incentive.
Air Canada's CEO, along with 100 other Canadian travel industry leaders, is pushing hard for travel restrictions to be eased, sending an open letter to the Prime Minister and Premiers, and promoting the #TimeToTravel hashtag for the past week.
While we don't think it's quite time yet, we do agree that it will be time very soon (we'll tell you why in detail soon, but the obvious answer is everything else is restarting to reopen). And we especially agree with their request that our governments should at least start planning the reopening.
Almost every other country has established a clear plan to reopen to travel safely, or at least has started preparations. Not Canada. Failing to plan is planning to fail.
Even if the travel industry employs 12% of Canada's workforce, on this issue, our government has seemed passive, silent, and uninterested. Just as it has been about helping travelers get the refunds they are entitled to (although in that case, the airlines are pretty happy of course). We'll soon have a detailed guide to help you get your refund by the way.
Air Canada refunds and conversion to Aeroplan Miles option
I've already talked about how the option of converting your Air Canada travel credit into Aeroplan Miles is not necessarily a good move, even though we love points.
It's always about the math with rewards points, and for most travelers that option just doesn't make sense. Since there is no guarantee that you would get your Miles in time to take advantage of the 50% back, this promo doesn't really change anything, unfortunately.
Aeroplan's initiatives during the pandemic
Apart from the obvious travel credit debacle, I can only commend how Air Canada has been proactive to offer interesting initiatives while we weren't able to travel.
Their 6-week "Travel at Home" campaign included:
a sale for miles at a very low price
a shortcut to elite status
many opportunities to earn from home
They've provided insights and data about their campaign:
5.5 billion Aeroplan Miles have been earned
5,000 members have taken the elite shortcut
That's a lot of miles. At our Flytrippers valuation of 1.5¢ per point, that's over $8 billion. Finally, 5,000 new elite members is not as many as I would have expected.
Other insights they've shared include the fact that 3.5 million flight searches were performed on their websites during the 6-week campaign, which they consider a sign that travelers are definitely itching to get back to travel.
Is that your case? This is your last chance to tell us by participating in our short 4-minute survey so we can know where you stand in terms of future travel!
Want to get more Aeroplan tips?
Summary
Getting 50% back on all flights within Canada and the US is an incredible promotion. If you have Aeroplan Miles, you should definitely take advantage: it is risk-free.
Have any questions about Aeroplan? Tell us in the comments below.
Explore awesome destinations: travel inspiration
Learn pro tricks: travel tips
Discover free travel: travel rewards
Featured image: Squamish (photo credit: Jack Nagz)
Advertiser Disclosure: In the interest of transparency, Flytrippers may receive a commission on links featured in this post, at no cost to you. Thank you for using our links to support us for free, we appreciate it! You allow us to keep finding the best travel deals for free and to keep offering interesting content for free. Since we care deeply about our mission to help travelers and our reputation and credibility prevail over everything, we will NEVER recommend a product or service that we do not believe in or that we do not use ourselves, and we will never give any third-party any control whatsoever on our content. For more information on our advertiser disclosure, click here.
Share this post to help us help more people travel more for less: