Amazon Prime Day 2020 is currently live, and it's only today and tomorrow. By now, most Canadians know about the annual Amazon Prime Day sales event: it's a great time to score deals on many items. But as your go-to travel resource, Flytrippers will of course mostly focus on the deals on travel items that can be found during this year's Prime Day.
We'll look at the best deals, but we've included info on Prime Day at the beginning if you are new to this. And at the end, we also have a pro tip about doubling up your rewards to earn more free travel… and a section about how you can support Flytrippers for free year-round.
What is Amazon Prime and Amazon Prime Day

Amazon is the world's leading e-commerce website, in case you don't know them.
You can order just about anything, often at the same low price as in stores, and you don't even have to leave your home (always great for those who hate wasting time shopping; even better during a pandemic-induced lockdown). Shipping is usually free with minimum orders of C$35 (and I've found it's pretty quick, even during the pandemic).
And even better; shipping is always free if you're an Amazon Prime member, which is the premium membership level at $7.99 per month (or less if you pay for a year upfront).
But keep in mind that you can subscribe for free for a 30-day trial period.
Amazon Prime Day is a day of great savings on all kinds of products and it is only for Amazon Prime members, so with that 30-day trial, you get in on the action for free.
So you can become a Prime member free for a month, set a reminder on your calendar in 29 days, and then you can take advantage of today's deals, with free shipping to almost anywhere in Canada. It's all 100% free as long as you cancel online in a few clicks in 29 days.
But for what it's worth, US bank JPMorgan Chase independently valued the Amazon Prime membership at US$785 and called it the "best deal in shopping".
Even though we don't have all the US features here in Canada, and even though we at Flytrippers don't like those types of valuations that assume everyone values every feature at full value (that's why our valuations in our credit card rankings only include the actual value of the welcome bonus, for example)…
… it's very safe to say that for many, the $7.99 monthly fee is worth it.
Regardless: the free 30-day trial will give you plenty of time to decide.
Here is what Amazon Prime includes:
free 2-day shipping
Amazon Prime Video streaming
Amazon Music streaming
free unlimited photo storage
This special Amazon Prime Day has been around for a few years and has become a pop culture phenomenon, with millions awaiting these deals. Sales are expected to reach $10 billion this year, which is more than the total annual GDP of nearly 25% of the world's countries.
At Flytrippers, we've been using Amazon for years (with the pro tip below), for anything from electronics to groceries. And with Prime Day, it's the best of the year to discover Amazon.
Best deals on travel items during Amazon Prime Day 2020
Since we like to help you save money (so you can travel more), here are our recommendations for Amazon Prime Day, with some deals providing savings of over 50%.
Most of these are affordable, but I'll start with the most expensive.
Bose QuietComfort 35 Wireless Headphones ($269.00, was $399.00—33% off)
One of the best deals by far, these noise-canceling headphones are the ones I have myself. There's a reason why you see so many frequent fliers with these onboard planes: they really are great to eliminate the noise. I basically never spend big amounts on material things, this was one of the only exceptions in the last years. These Bose headphones are amazing and I wouldn't fly without them, and I recommend them even if you don't average 70+ flights a year.
Sony XB900N ($168.00, was $348.00—52% off)
If you don't want to spend as much, these headphones are also highly-rated.
Sony WH-CH710N ($128.00, was $249.99—49% off)
Finally, these are another option. At just $128, they're really affordable.
10,000 mAh Portable Charger ($17.99, was $32.99—45% off)
Like a few items, the rebate doesn't appear right away: if you read closely it says there is a $15 discount if you're a Prime member, making it a great deal for an absolute must-have item. I never travel without my portable charger, that way I know I always have my smartphone available for calls and data wherever I go in the world (thanks to cheap local SIM cards).
Scratch Map ($21.59, was $26.99—20% off)
Maybe you miss traveling right now, I know I do and I just got back in August. So maybe scratching off this map of where you've been might help you wait for whenever you're ready to travel: I recently bought a corkboard world map for similar purposes. The $5.40 discount on this item applies once you are logged in as a Prime member.
Waterproof Daypack ($23.99, was $29.99—20% off)
This is the very daypack I have, and it's probably the travel item I use the most. Every single day when I'm traveling, or almost. And this is useful even at home, for whatever activity you do. Available in 13 colors.
Packing Cubes ($16.79, was $23.99—30% off)
This kit includes 3 medium packing cubes and 1 smaller one, available in many colors. I had never used packing cubes until a few years ago, and since then I always pack my clothes with these. It helps keep my backpack neatly organized and it's easier to get something without having to empty it entirely. I think it also uses space more efficiently. This is another one where the Prime discount applies once you're logged in only.
Portable Scale ($9.26, was $13.23—30% off)
Traveling light is the way to go, but even with just a backpack/carry-on some airlines have stricter weight rules to keep in mind. The discounted price for this one appears only once you're logged in as a Prime member (30% off).
Water Filter ($18.19, was $25.99—30% off)
For those who venture out into nature, this is a must.
Sleep Mask & Ear Plugs ($10.99, was $13.99—21% off)
A very basic item, but one I've found myself getting used to. To the point where I now always use it on my long flights. It doesn't take up much space.
Wireless Earbuds ($48.99, was $79.99—39% off)
Okay, one last option for music/podcasts or noise-cancelation: some might prefer these smaller earbuds instead of the full-size headsets.
Selfie Stick & Tripod ($32.99, was $39.99—18% off)
If you like to take selfies, do it with this tripod (and do it safely, so you don't join the hundreds who've died while taking selfies).

Kindle Reader ($104.99, was $139.99—25% off)
To read as much as you want all over the world, a reader like this is a lot more convenient than carrying 50 different books. Not to mention better for the environment. That's one way to compensate for the miles flown!

SanDisk 64GB Memory Card ($22.49, was $29.99—25% off)
If you are a photography enthusiast, your trips probably generate a ton of pictures, so having an extra memory card is always useful.
Travel Containers ($11.99, was $15.99—25% off)
Being on #teamcarryon means that these little bottles are important. Another one that requires you to log in as a Prime member to get the $4 discount.

RFID Blocking Wallet ($11.17, was $15.95—30% off)
Another one that is not necessarily just for travel, this genuine leather wallet is useful for all of us who earn thousands of dollars in free travel thanks to credit cards!
Acer Portable Monitor ($168.56, was $196.99—14% off)
This portable monitor is something to consider for a productivity boost. If you're lucky enough to work remotely like us (for some, maybe it's a rare upside of this pandemic), you're probably considering traveling the world while working (to discover new places and live in affordable countries, as Flytrippers' other co-founder Kevin has done for the better part of the last 3 years).
6-Pack Reusable Face Masks ($7.92, was $12.99—39% off)
No mask, no travel. Those are the facts. Some might not like those facts and find it unpleasant to travel with a mask; I on the other hand find it unpleasant not to travel. Had a great time in Greece and Turkey this summer with my masks. This 39% discount is another that applies only once logged in as a Prime member.
Echo Show 8 ($89.99, was $169.99—47% off)
Amazon's personal assistant is not a travel item, but you can ask Alexa some basic travel planning questions at least! You can even get your flight status and other info, with the Air Canada Alexa Skill for example. The Echo 8 has a screen and is a great deal if you were looking for this type of product.

Other deals during Amazon Prime Day 2020
There are tons of different items that are significantly discounted, including many that have nothing to do with travel but that might save you a couple of dollars so you can have more money to travel (whenever you are ready to travel).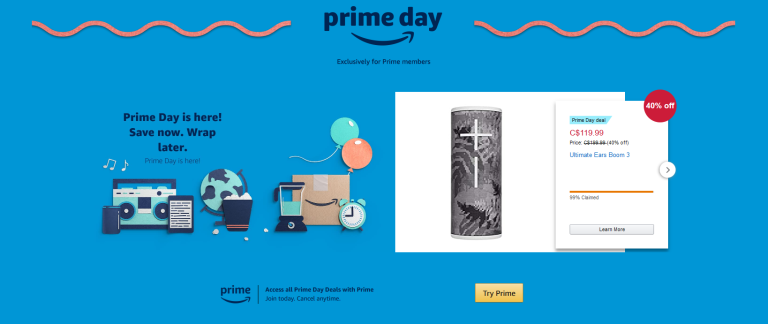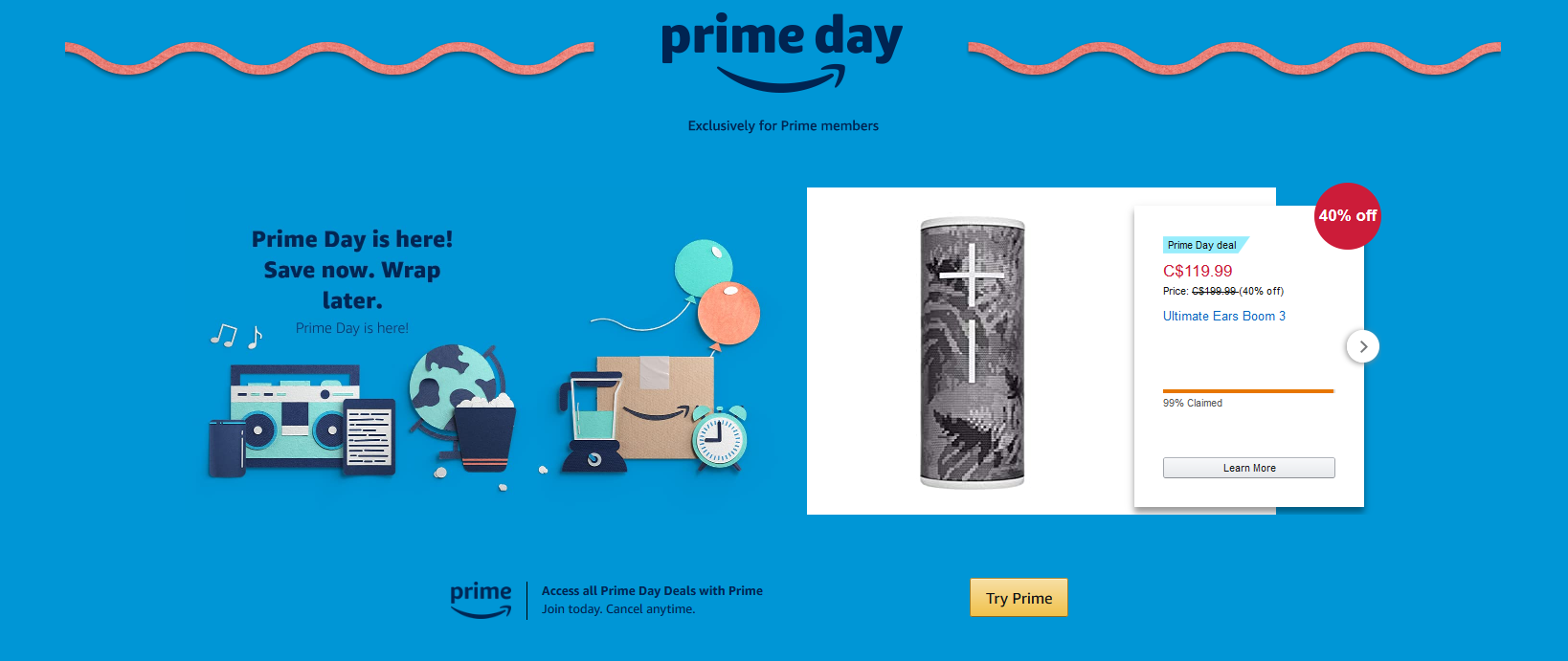 Browse all Amazon Prime deals now.
Here is another great Amazon deal that doesn't require you to become an Amazon Prime member: a 3-month subscription to Amazon Music Unlimited is only $0.99 for a limited time. Pretty cheap.
Pro tip to double up your rewards on Amazon purchases
Savvy Canadian travelers know that it's easy to earn $1,000 in free travel each and every year thanks to travel rewards, as I've been doing myself for over a decade. The most important thing to understand is that credit card welcome bonuses are the way to achieve this (it's not with the regular earning rate on everyday purchases).
(For example, the Marriott Bonvoy Card's welcome bonus gives you 8 free nights in some countries, which easily worth $500. To reach that with everyday spending would require at least $25,000 in spending… but you get it immediately after unlocking the welcome bonus with just an easy-to-reach $1,500 minimum spend in the first 3 months. That's over 15 times faster…)
But you should also maximize that regular earning rate on everyday purchases, of course.
And this pro tip will help you do so for Amazon purchases—and purchases at countless other retailers.
Here's how can you easily double up (or triple up) your rewards: by buying Amazon Gift Cards at your grocery store before ordering on Amazon.
In short, many cards have "category multipliers" or "category bonuses", which are essentially an improved earn rate on certain categories of purchases. The one that is the most valuable is the grocery category. Why? Well, many cards have exceptional grocery category bonuses, like my American Express Cobalt Card that earns 6 Marriott points per dollar on groceries (or 5 AMEX points per dollar)!!!
Amazon purchases are rarely in a category multiplier, so you would earn the basic rate, often just 1% or 2%. By buying the gift card, you can get the grocery store earn rate at Amazon… and at any other retailer that sells gift cards in grocery stores (there are dozens).
The one thing to be aware of is about retail protections that come with credit cards. Most good credit cards will double your warranty (up to an extra year) on most items purchased with your card and will replace it if it is broken or stolen in the first 90 day (another great benefit of taking the time to learn about travel rewards credit cards, as if getting $1,000 free each year wasn't a good enough reason).
But if you pay with a gift card, you won't get that insurance coverage. So I use this trick on Amazon and everywhere else only for purchases for which I don't mind not getting those retail protections.
You can read more about the gift card trick.
How to support Flytrippers for free year-round
Amazon is a Flytrippers partner, so buying anything on Amazon via our links gives us a commission, without costing you a single dollar more!
Thank you all for supporting us and allowing us to keep working hard on spotting great flight deals and sharing travel tips for you (and keeping all our content free so that more Canadians can travel more for less)!
You can use our Amazon link for all your Amazon purchases, no matter if it has anything to do with travel or not, all year long. You can easily find it by using any link in our travel accessories section in the resources tab of our top menu.
We appreciate it! If you're going to buy anyway, this way a small portion will support your local Canadian travel resource.
And really, it's the same price for you, and Amazon really is convenient. We honestly don't just promote it for the commissions, but also because we use it very often ourselves and believe it's a great website to save time and money: many items are at the same price as in stores (or cheaper, especially today) and shipped directly to your home.
If you want to travel more, saving money all the time is important. And since so many travelers tell us the reason they can't travel more is because they lack time (and not money)… well it's more coherent to stop wasting time shopping in stores and use that time to plan your trips better or free up every single long weekend for a trip.
Other Travel Essentials
Here are a few of our favorite items available at a good price on Amazon. These are items that we use ourselves… but aren't discounted for Prime Day.
Universal Adapter ($15.99)
Bigger 30L Daypack ($25.99)
Microfiber Travel Towel ($11.99)
Portable 1TB External Hard Drive ($64.99)
Want to get more deals for Canadian travelers?
Summary
Amazon Prime Day has great deals this year for Canadians, once again. Whether it is on travel items or anything else, Flytrippers thanks you for using its Amazon link all year long!
What do you think of Amazon Prime Day? Tell us in the comments below.
Explore awesome destinations: travel inspiration
Learn pro tricks: travel tips
Discover free travel: travel rewards
Featured image: Prime Air B737 (photo credit: Matti Blume)
Advertiser Disclosure: In the interest of transparency, Flytrippers may receive a commission on links featured in this post, at no cost to you. Thank you for using our links to support us for free, we appreciate it! You allow us to keep finding the best travel deals for free and to keep offering interesting content for free. Since we care deeply about our mission to help travelers and our reputation and credibility prevail over everything, we will NEVER recommend a product or service that we do not believe in or that we do not use ourselves, and we will never give any third-party any control whatsoever on our content. For more information on our advertiser disclosure, click here.
Share this post to help us help more people travel more for less: