For something different, it's time to look beyond the big banks. There's a relatively new and unmatched product available in Canada: Brim Mastercard. And it is perfect for travelers, so we wanted to take a look at these innovative cards that offer 0% FX fees (those fees are an extra 2.5% you pay with almost all other Canadian cards).
As a full-time traveler and digital nomad whose expenses are primarily in foreign currencies, this is the main reason I got a Brim Mastercard as soon as the card launched a few years ago.
But the card also has many other benefits like its uniquely-rewarding points program; here's our Flytrippers take on the Brim cards.
Overview of the Brim cards
Our detailed editorial card reviews always start with a to-the-point section that summarizes the best elements of the card and which type of traveler should consider the card, according to Flytrippers.
Highlights of the Brim cards
Here are the 6 main reasons why we recommend the Brim Mastercards:
The 0% foreign transaction fees
The $0 annual fee
The $0 minimum spend
The easy rewards and special bonus partner offers
The premium insurances (Brim World Elite)
The other card benefits
Who should consider the Brim cards
Here is the simple answer:
Almost everyone who makes foreign currency purchases
We've rarely had just one at-large bullet like that, but the fact is the Brim Mastercards and their 0% FX fees are a pretty good deal for travelers.

6 reasons to get a Brim card
First, there are 2 very interesting Brim products, and they mostly share the most important benefits, like having no foreign transaction fees:
The premium Brim World Elite Mastercard is by far the best of the 2 options if you earn $80,000 per year.
And if not, the Brim Mastercard is a must-have. It is one of the only no-annual-fee cards that won't charge you a foreign transaction fee, so it's an incredibly simple way to avoid that fee.
Let's start with that feature.
1. The 0% foreign transaction fees
This is pretty straightforward: saving at least 2.5% on all foreign transactions is significant. It's our favorite feature of both Brim Mastercards.
To put this into perspective, if you're an average traveler who spends $5,000 a year in foreign currencies, you're paying $125 in foreign transaction fees when you spend abroad (or online in another currency).
0% FX fees alone is enough to justify having this card for almost all travelers, especially given the following 2 points.
Just make sure to always do the math based on your personal situation and read our upcoming post about credit card strategies related to foreign transaction fees.
2. The $0 annual fee
The Brim Mastercard is the only no FX fees, no annual fee card available in all Canadian provinces.
Usually, we avoid no annual fee cards due to the extreme lack of value. Brim is an exception to this. On top of charging no annual fee, you'll get a ton of value from the FX fees savings (and possibly from the unique rewards program too).
And it is also good for your credit score to have cards open for a long time, so with no annual fee, this one can be in your wallet forever.
As for the Brim World Elite Mastercard, it currently has a special offer: the annual fee is waived the first year (normally $199).
So, as you might know if you've learned the credit card strategy basics, it's an opportunity to evaluate how much value the card gives you for free, and this version is a lot more rewarding than the no annual fee Brim.
The reason no annual fee cards often lack value is that there is often no welcome bonus. Although Brim does not provide a welcome bonus in the traditional sense, you can get "first-time bonus offers" ($200 on the Brim Mastercard and $500 on the Brim World Elite Mastercard).
But you have to spend an unspecified amount at many of the various partner retailers to unlock it. It's hard for us to attribute any valuation to that bonus, as it will really depend on whether or not you shop with the many different partners included in the bonus offers. If you do, points can add up very quickly and you might get a decent amount of free travel out of it, but it's harder to reach than a simple welcome bonus.
Brim's take on this is that they don't need to provide traditional welcome bonuses as the features, rewards, and platform speak for themselves.
3. The $0 minimum spend
No welcome bonus means no minimum spend requirement to reach.
That means that for most credit card strategies, there is simply no reason not to have a no FX fee card in your wallet.
4. The easy rewards and special bonus partner offers
Brim Rewards points are easy to earn, use—and understand. It is a major benefit of the Brim Mastercards for many.
First, the earning part.
We've told you before about how online shopping portals give you bonus rewards, and what is unique with Brim is that the shopping portal is built into your card directly.
With Brim Rewards, you aren't limited to earning just 2% or 3% in set categories. You'll earn up to 30% back in points for some specific retailers. You'll find offers with Sunwing, Avis, Budget, Apple, Indigo, Lululemon, and even double the points on your subscription services.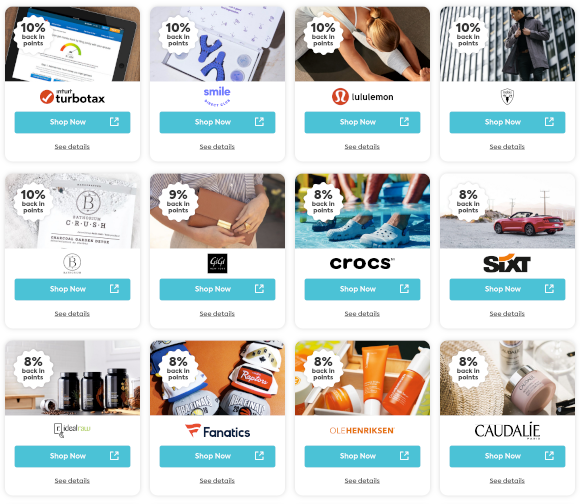 Those bonuses and accelerated earn rates make your savings multiply very quickly. They're uncapped and you don't need to do the extra step of going through a shopping portal. Brim continues to add more offers all the time, covering every type of spend.
The base earn rate on the Brim World Elite Mastercard is a flat 2% everywhere (up to $25,000 in annual spending), which is a good earn rate considering it applies to any purchase.
And while the no-annual-fee Brim Mastercard's flat 1% itself might not seem very high… combining that with a 3% rate (or higher) at a participating Brim Rewards partner is definitely very competitive, especially for a no-annual-fee card.
Finally, the redeeming portion.
The Brim Rewards program is extremely easy to understand – you know exactly what you're getting and redeeming. Brim Rewards points are simple fixed-value rewards and therefore are always worth 1¢/pt. In other words, 100 points are equal to $1 upon redemption. Always.
Once you earn points, you can redeem them towards any transaction or as cashback towards your statement balance. You can find the best market value for your flight or new bike and apply your points to that.
You're not limited to a specific airline, hotel chain, or booking website to redeem your points. These are what we call "eraser" fixed-value points as they erase your purchase, and they're literally the simplest type of points you can have.
While that means there's no potential for outsized value and unlimited value like with variable-value rewards, it's infinitely more convenient for those who don't want to learn about more complicated points.
5. The insurances
Although the no-fee Brim Mastercard doesn't have premium insurances like the Brim World Elite card, there's still a great offering.
Brim offers mobile device protector insurance which is an excellent benefit for a no annual fee card. And unique insurances like event protector insurance. The card is a great option for those who want the traditional insurance coverage for purchases (1-year extended warranty and 90-day purchase protection).
The Brim World Elite Mastercard has all that and excellent premium travel insurance coverage too. Among the best in Canada, in fact.
There's every type of travel insurance: medical travel insurance, trip cancelation insurance, trip interruption insurance, car rental insurance, flight delay insurance, baggage delay insurance, stolen/lost baggage insurance, and hotel burglary insurance.
The Brim World Elite Mastercard really stands out compared to the no-annual-fee card thanks to its premium insurance offering and the additional rewards we've mentioned in the previous section.
You can read our article about the types of credit card insurance coverage.
6. The other card benefits
The previous benefits should be a good enough reason to get the card, but it also has a few other benefits worth mentioning:
The free Boingo Global Wi-Fi
The innovative app (and fintech company behind it)
The payment installment plan
The free Boingo Global Wi-Fi
You also get free access to Boingo's Global Wi-Fi network as a Brim cardmember, meaning you can access over 1 million Wi-Fi hotspots around the world for free.
Many public hotspots are managed by Boingo, including in airports, so that is a nice benefit that I've used many times upon landing before I have the chance to get a local SIM card.
The most interesting of these hotspots would theoretically be on flights. Most airlines charge for Wi-Fi access in the air, but you would get free access on those who subcontract Boingo to provide their Wi-Fi.
Unfortunately, there doesn't seem to be many participating airlines. In about 2 years (and 75+ flights on 35+ airlines, including on some that are on the list provided by Boingo), I haven't had the chance to use it even once on a plane personally. But if you end up on a participating aircraft this is a great benefit for sure.
The innovative app (and fintech company behind it)
Brim is a financial institution built from the ground up using the latest technology – this is a huge advantage. They are mobile-first, unlike the big banks.
The Brim app is very intuitive and allows you to manage every aspect of your Brim account – from payments to Brim Rewards redemptions – anytime, on the go.
You can also instantly lock your card on the app, or even disable online or foreign purchases but continue to use it normally in person. With the shift to even more online spending today, some might appreciate this feature for peace of mind knowing that no one else is using their card.
In short, for those like us who enjoy technology, innovation, and simply a great customer experience, it's another reason why we're for this Canadian fintech company.
It's cool to support brands that are innovative and that bring about progress (and one that we perceive could maybe help finally eliminate cash entirely, it's so archaic).
Not only are we supporting a great company, but the Brim Mastercards definitely provide great value for us travelers too – whether we're out exploring the world or shopping online in the current environment.
The Brim Mastercard has a payment installment plan
Brim also offers flexible payment options, directly on the card. That said, Flytrippers still strongly recommends not using a credit card to pay for anything that you can't pay off in full at the end of the month.
Carrying a balance on any credit card is not a good strategy because the interest rates on any credit card will negate the rewards. It's the #1 rule of maximizing travel rewards (or rewards in general).
So again, you may or may not ever need Brim Installment Pay, but it shows how forward-thinking Brim is in its platform and offerings. If you use this feature, you will know your available installment limit before making a transaction, so it's very transparent in that sense.
Want to be the first to get our travel rewards beginners course and all our content?
Summary
The Brim Mastercard and Brim World Elite Mastercard are great options if you want to save on foreign transaction fees and prefer an easy rewards program. I have it myself and use it every day that I travel! You really can't go wrong with the no annual fee option, but the Brim World Elite Mastercard offers more earning potential and exclusive rewards.
Have any questions about the Brim offer? Tell us in the comments below.
Explore awesome destinations: travel inspiration
Learn pro tricks: travel tips
Discover free travel: travel rewards
Featured image: Venice (photo credit: canmandawe)
Advertiser Disclosure: In the interest of transparency, Flytrippers may receive a commission on links featured in this post, at no cost to you. Thank you for using our links to support us for free, we appreciate it! You allow us to keep finding the best travel deals for free and to keep offering interesting content for free. Since we care deeply about our mission to help travelers and our reputation and credibility prevail over everything, we will NEVER recommend a product or service that we do not believe in or that we do not use ourselves, and we will never give any third-party any control whatsoever on our content. For more information on our advertiser disclosure, click here.
The views and opinions expressed in this blog are purely our own. Redemption values evoked are also Flytrippers' own and solely based on our own points valuation estimates as described. All offers described on the Flytrippers website are subject to the financial institutions' latest terms and conditions that can be found on their website.
Offers from financial institutions change quickly; it is your responsibility to ensure the accuracy of these offers on their website when applying for a card. Flytrippers will not accept any responsibility for the accuracy of the offers or the result of your actions.
Brim is not responsible for maintaining or monitoring the accuracy of information on this website. For full details and current product information click on the provided links to proceed to product website. All the information was independently collected by Flytrippers and not provided by financial institutions.
Flytrippers' website does not contain all available credit card offers or all available credit card companies on the market. Flytrippers never shares an offer if it is not considered advantageous for certain travelers, at its sole discretion.
No author on Flytrippers' website is a financial advisor, a financial planner, a legal professional, or a tax professional and no author on Flytrippers' website can in any way be considered as such.
All articles and pages on Flytrippers' website are merely personal opinions of a general nature and are for informational purposes only and should not be considered as advice for specific situations. It is your responsibility to perform your own personal research to make sure that travel rewards points are appropriate for your own situation.
The opinions expressed on Flytrippers' website are those of the authors only and have not been provided, approved, endorsed, or ratified by any third party mentioned on the site.
You can learn more about our terms of use here.
Share this post to help us help more people travel more for less: