Taking a few days to visit the beautiful Mediterranean island of Cyprus was one of the highlights of my trip to Lebanon in 2019 (although I enjoyed Lebanon even more) and I wanted to show you the sights I explored around the island by sharing my itinerary.
This Cyprus itinerary is a good first post about my experience visiting the country during one of my 12 international trips in 2019.
I'll just focus on what I saw on this Mediterranean island and give you a good introduction to what it's like since it's not the most well-known destination. So I'll leave out the logistics of my trip and do a separate post about that if you are interested to keep this one shorter too.
Cyprus basics
You can skip to the next section if you know about t Cyprus already.
While technically in Asia, Cyprus is usually considered part of Europe due to its history. Europe/Asia borders are all pretty arbitrary anyway.
Cyprus is part of the European Union, and part of the eurozone (which means the euro is their currency). It's the southeasternmost country in the EU.
It is a very developed country (Cyprus' human development index is actually higher than Greece's). It is located in the far eastern part of the Mediterranean Sea, just off the coast of central Türkiye.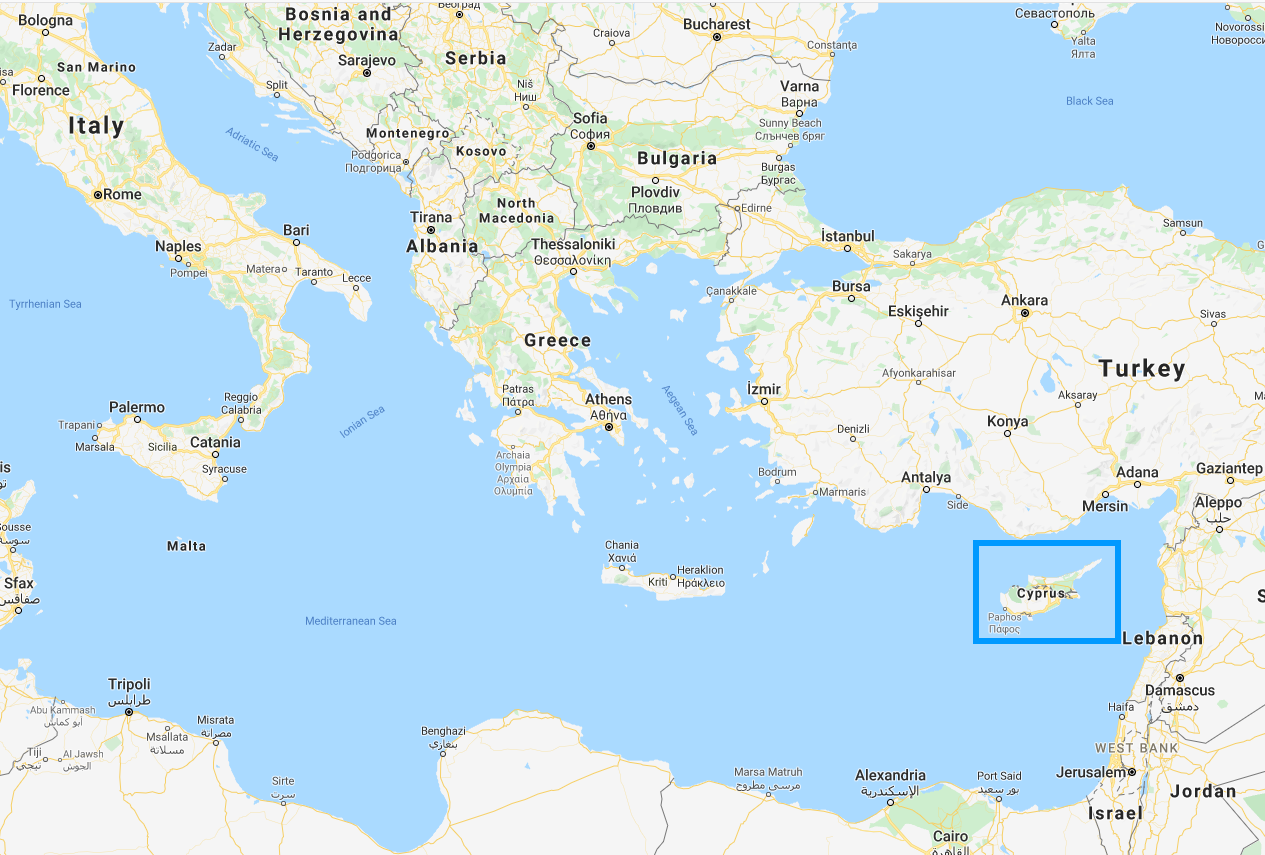 The most important thing to know about Cyprus is that the island is divided in two. The name Cyprus usually refers only to the main southern portion, where Greek Cypriots live.
The northern portion is a de facto sovereign state (which means it is independently governed and has control over the territory), the Turkish Republic of Northern Cyprus (TRNC).
Only Türkiye recognizes the TRNC. The island has been peaceful for decades, but the political situation remains unresolved.
Most people live in Cyprus proper, where Greek is the official language. The historical bonds between Cyprus and Greece are very strong, and the Greek Cypriot territory is where most travelers go to.
While I haven't been to Greece yet (hopefully later this summer), those who've been to both places say that it definitely feels like a Greek island: not very surprising since Cypriots are ethnically Greek and the island is somewhat of a continuation of the many Greek islands further west.
My Cyprus trip
I promised I'd give my impressions of the country, so let's start with that.
I very much enjoyed the island, but as someone who isn't a "vacationer" kind of traveler, it wasn't my favorite destination either. Even though at least there's obviously a lot more historical architecture than places like the Caribbean, it does have a very "resorty touristy" feel in many places, which is why it's not among my preferred countries. But it was still very beautiful.
And I know many people love beaches and relaxing, so in that case, I think Cyprus is an amazing destination since you can also do a lot more too.
If you're more of a traveler than a vacationer, one issue is that if you are solo, there are absolutely no efficient ways to get around the island without a car, which is another thing I don't particularly enjoy in a country. I love roadtrips, but as a budget-traveler, renting a car solo is not very budget-friendly and you can't meet locals like you could in the regular transport.
That said, my rental car only cost €15 per day total, so even if that's enough for all of my daily (non-lodging) travel expenses in many countries, it wasn't too bad (and it would've been cheaper if I had picked a manual transmission, as it always is in Europe). Thankfully there are quite a few hostels in Cyprus for affordable lodging.
Anyway, I'll leave that for a potential logistics post, but I chose Cyprus because Lebanon has only one neighbor accessible over land, and my initial plan for an even more unique side trip to Syria was thwarted.
I know many fellow country collectors who've been recently and said it was much safer than you'd expect (not that I doubted it), so that was not the issue: with their current situation, the visa costs were over $500, way too much for a cheap traveler like me. I would rather spend that $500 for over 2 weeks all expenses paid in a cheap country.
So basically, I flew in to Cyprus from Beirut, and then I rented a car to explore the island.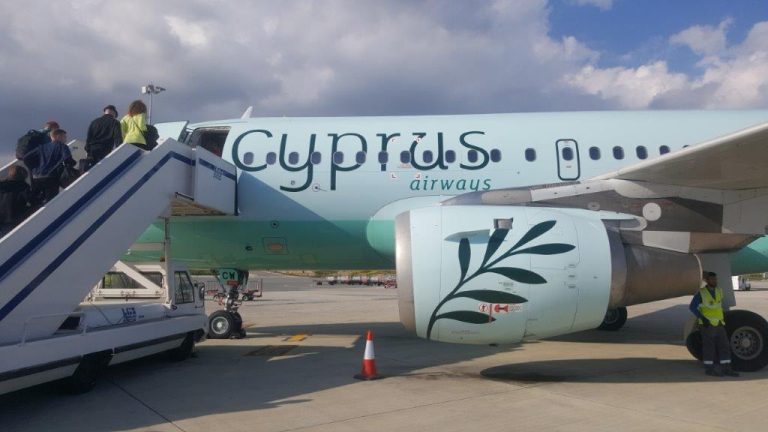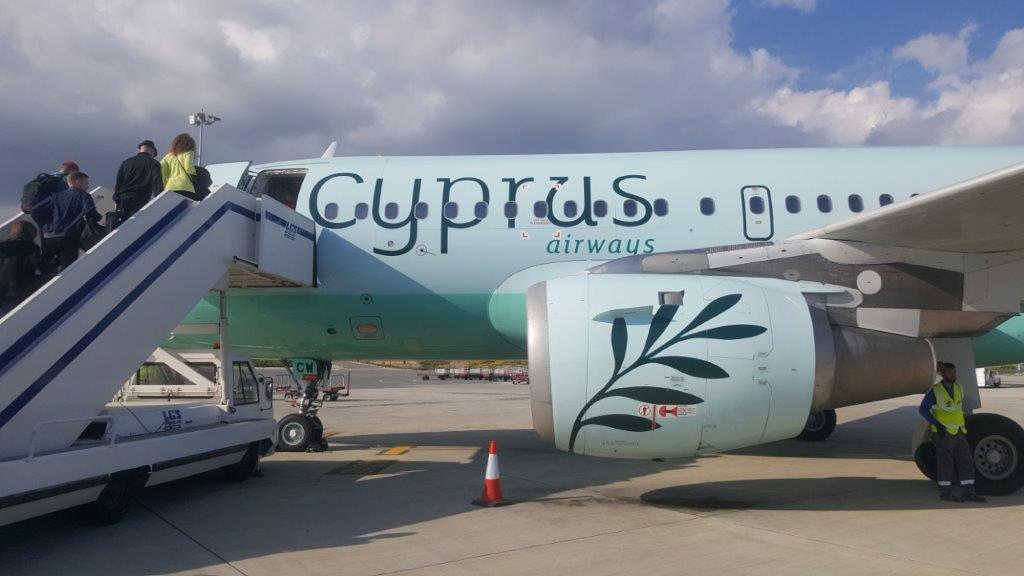 Here are 17 stops I made along the way.
1. Larnaca
I arrived late at night, so I picked a hostel in the city closest to the airport, Larnaca (which is the third-largest urban area in the country).
As I woke up I enjoyed the typically-Mediterranean city view. Like Airbnbs, hostels often allow you to stay in neighborhoods where the locals also live, which makes for an authentic experience.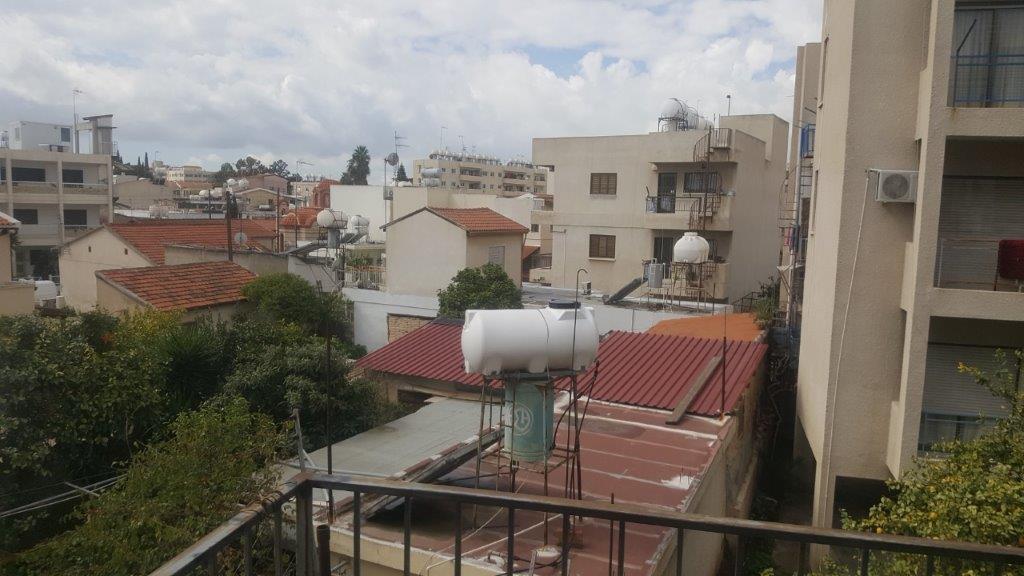 In case you are wondering, the rooftop water tanks are a common sight in this part of the world, both to increase water pressure and to use solar energy to heat water for free.
The city of Larnaca is known for its seafront area, so I spent the morning working from a nice exterior terrace with a great view, and checked out the city by walking around to get my first feel of life in Cyprus.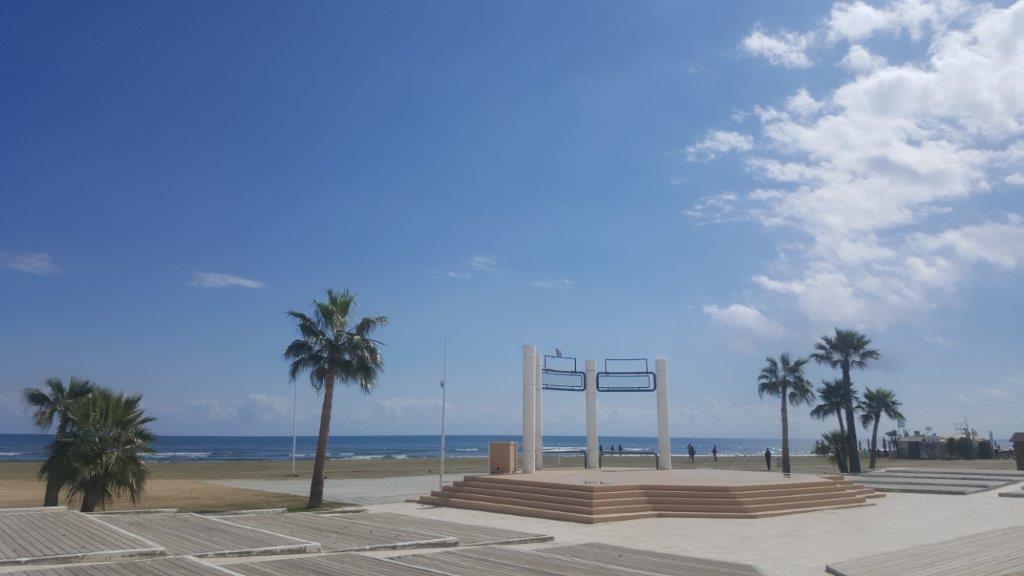 2. Stavrovouni Monastery
I love going to the lesser-known spots, so I decided to first head for the Stavrovouni monastery at the top of some hill not too far from Larnaca.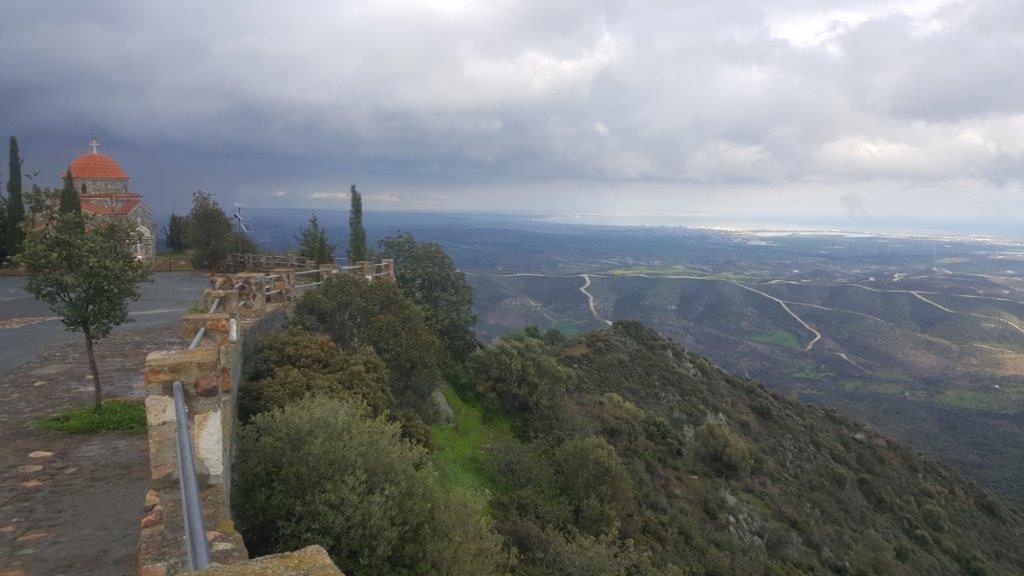 I know the Greek region of Meteora is known for its "hanging" monasteries (high in the mountains), and I really felt like this was as close as I could get to that without going to actual Greece.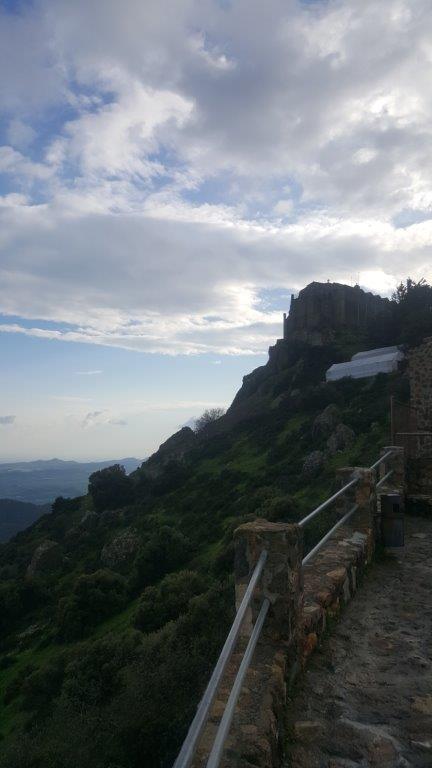 The view from above was amazing.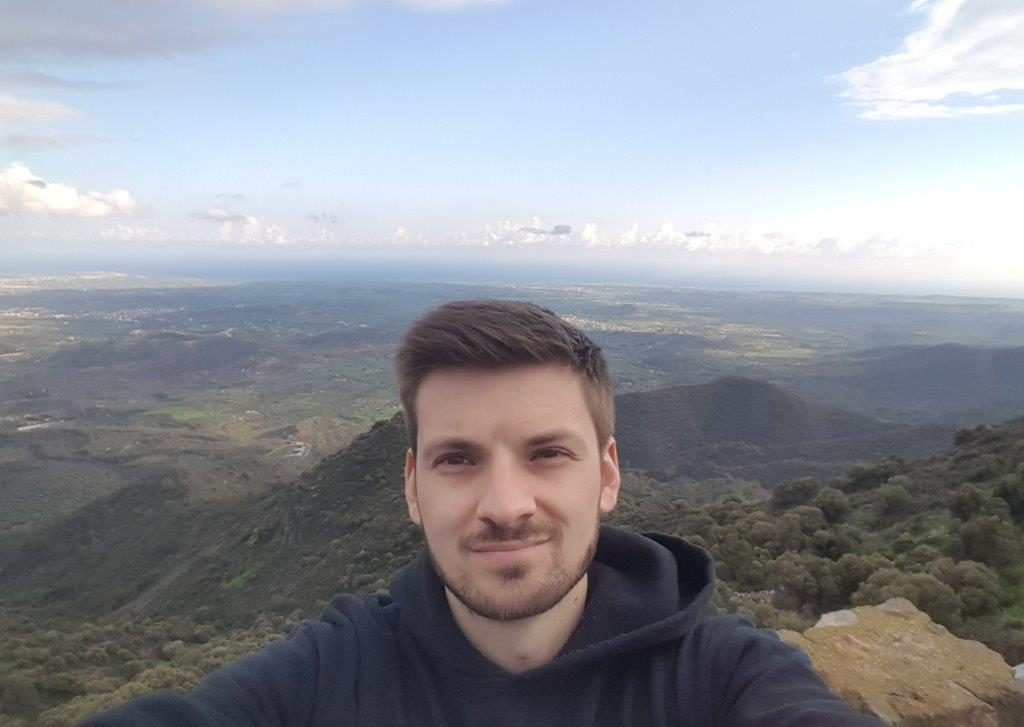 The drive to get there was pretty fun too, with winding roads, as you can see from this view.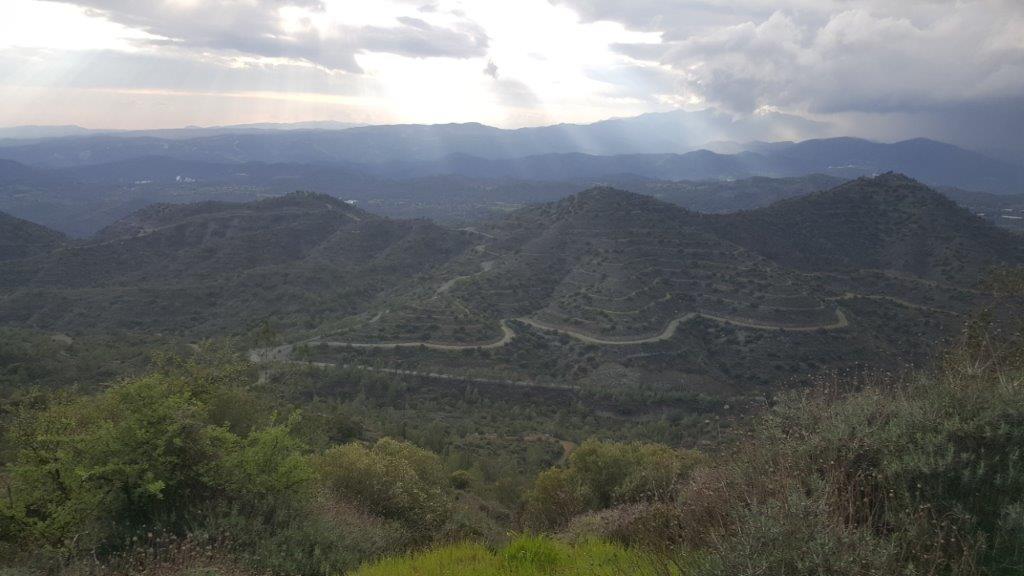 I didn't have the best horsepower for these curves and hills, but I always choose the cheapest rental car (making traveling for less a priority is how I get to travel as much).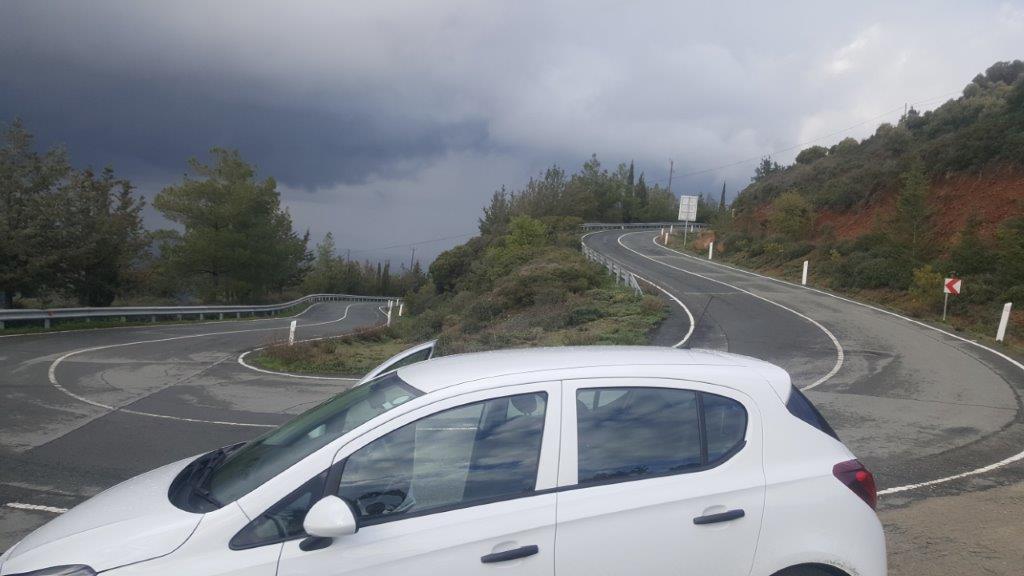 I was caught a bit off-guard with one of my rare travel mistakes, with Cyprus driving on the wrong side of the road (but I'll say more about that in the logistics post).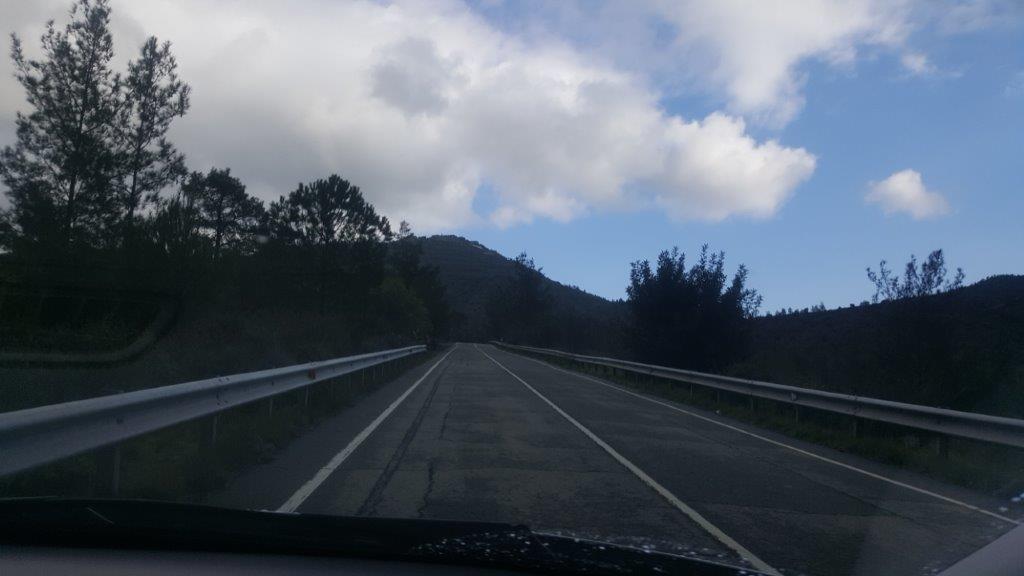 3. Petra tou Romiou Viewpoint
I read that the best spot for sunsets was at Petra tou Romiou so I made sure to be there on time, driving all the way across the island's length and enjoying the landscapes along the way.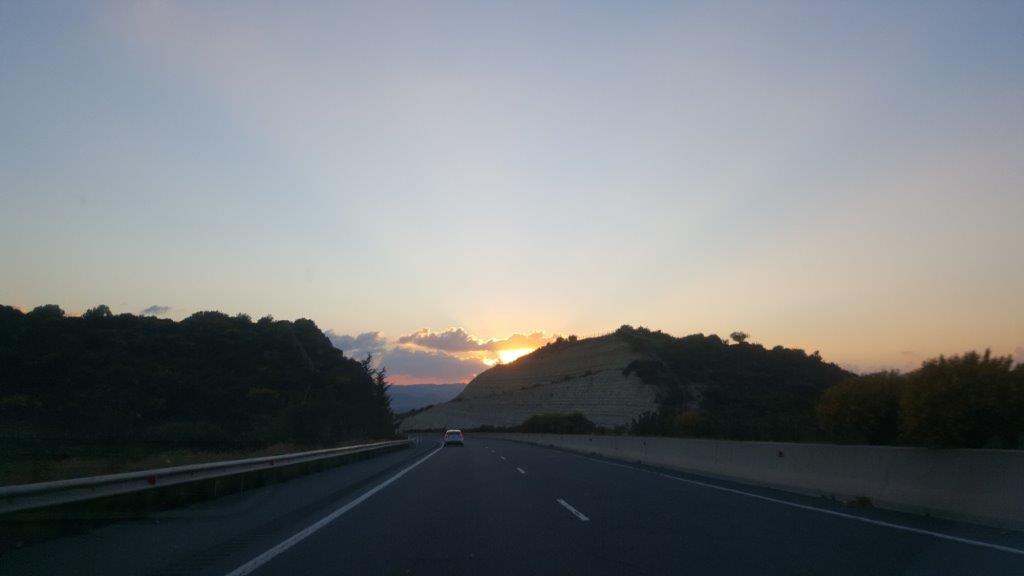 And the sunset view didn't disappoint. I'm not the biggest fan of beaches as I said, but I do love ocean views.
4. Kolossi Castle
After an evening in Limassol, the country's second-largest city, I headed to the Kolossi Castle just outside of the city, as I love architecture and history.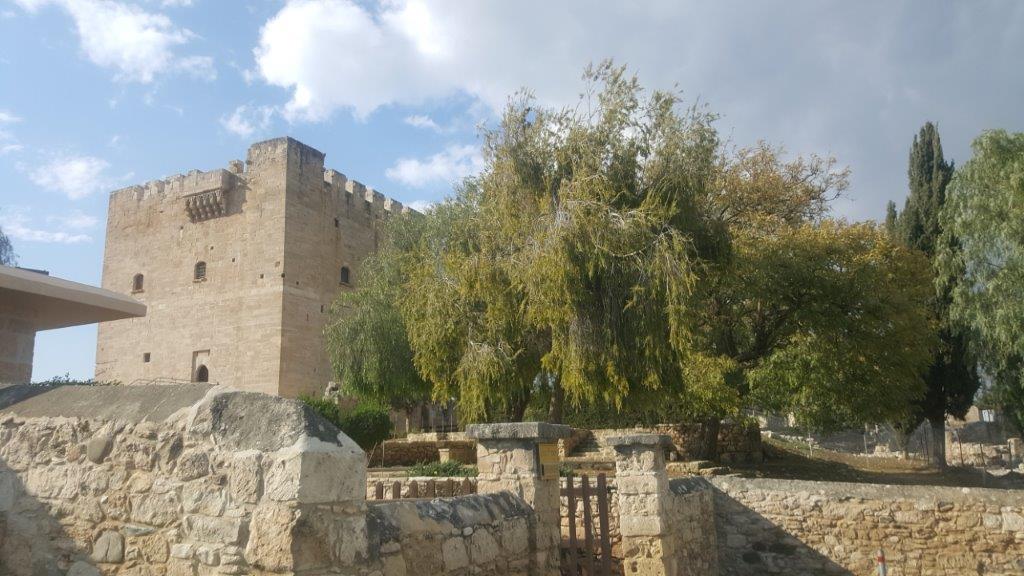 But what I found even more interesting, not just because I am a country collector, but just as someone who loves geography quirks like this: the area where the castle stands is actually surrounded by the United Kingdom on three sides.
5. Akrotiri, UK
Yes, the UK. A British Overseas Territory to be more specific. There are no borders or anything, but the UK kept 2 small portions of Cyprus after the country gained its independence. The one near Limassol is called Akrotiri, while the other one is in the Eastern part of the island (see full map in #14).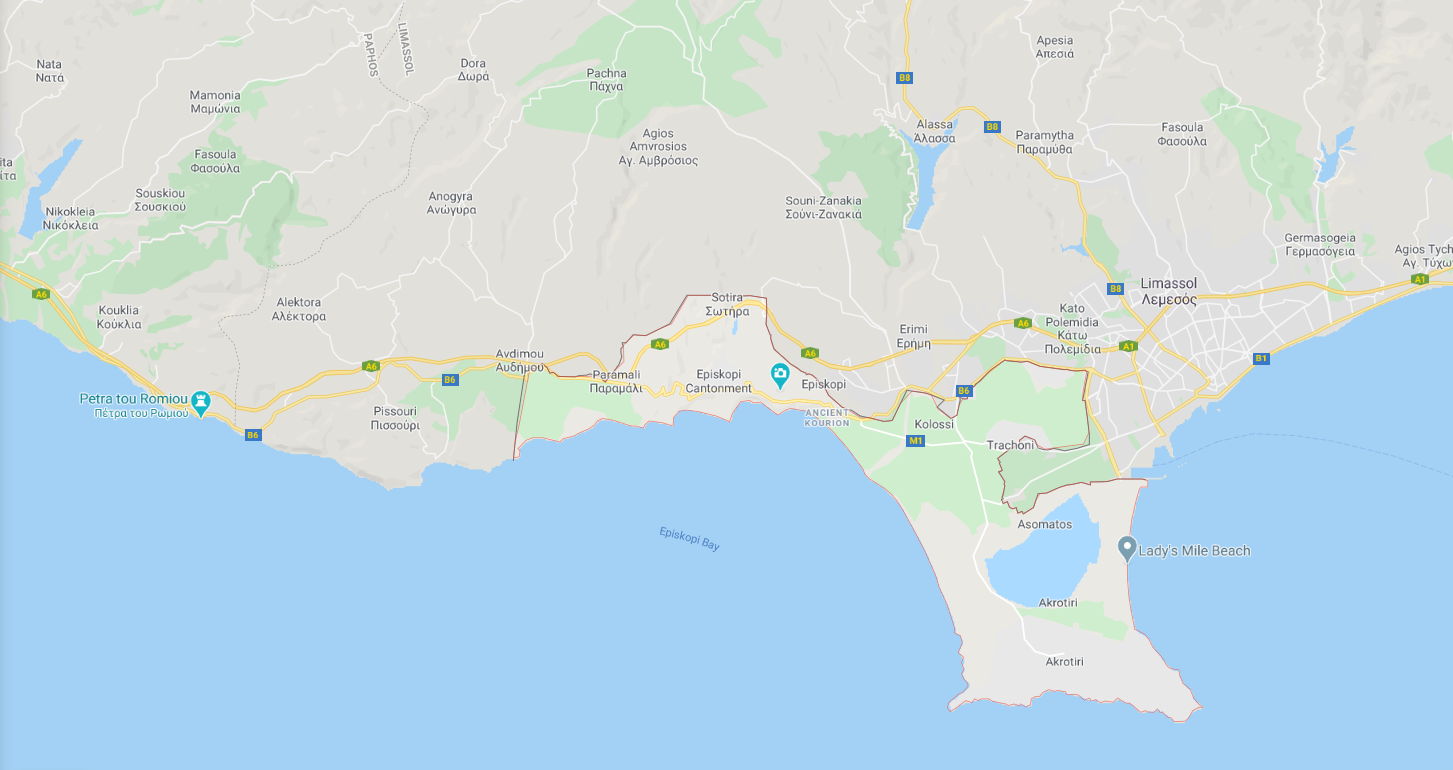 This was actually my first time being in the UK, but there wasn't anything very British about it.
I purposely stopped for a nice view of a British beach on Cyprus, but Cyprus' main highway goes right through the UK portion with no indication at all. So you could go through a new country without even knowing. I am not sure what will happen with this with Brexit though.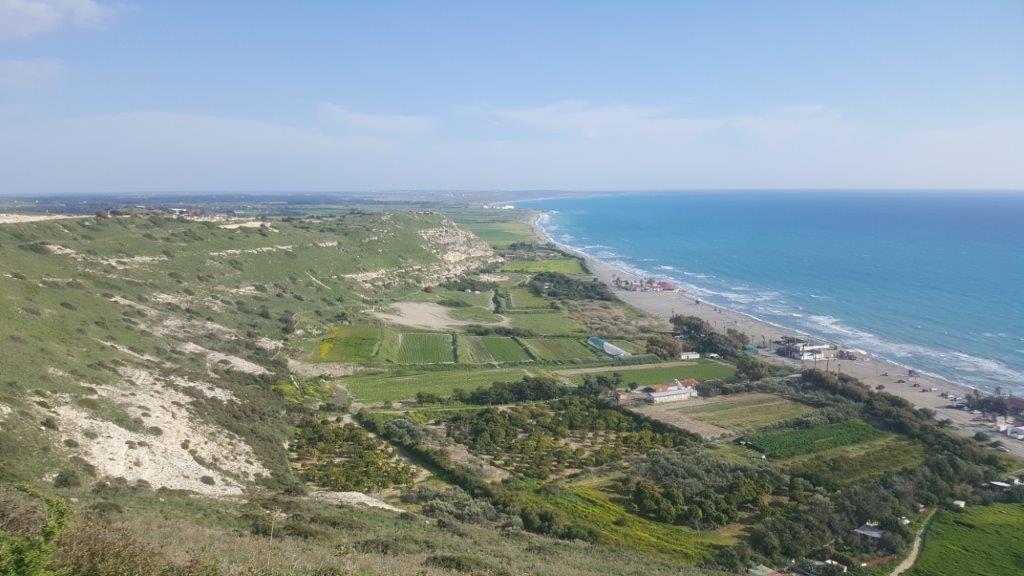 It's hard to dislike views with blue water like that.
6. Aphrodite's Rock
Speaking of great oceanfront spots, as you would expect from an island, Cyprus has many of them.
This hidden beach is actually the same spot from my earlier sunset shot, and it had a cool tunnel entrance to reach it.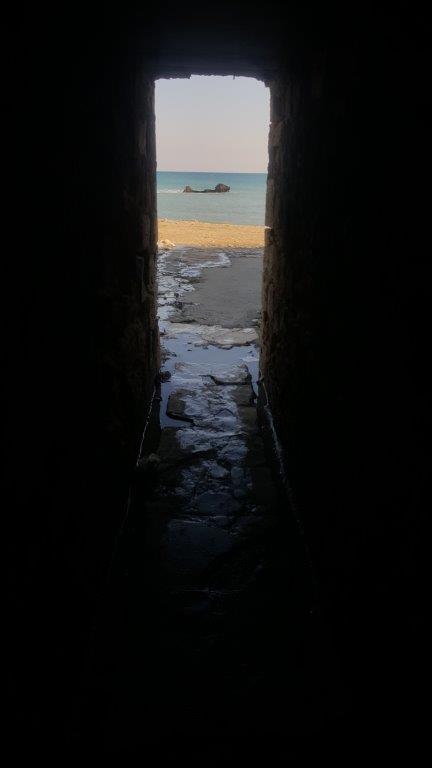 And the nice rocks in the sea were pretty cool as well.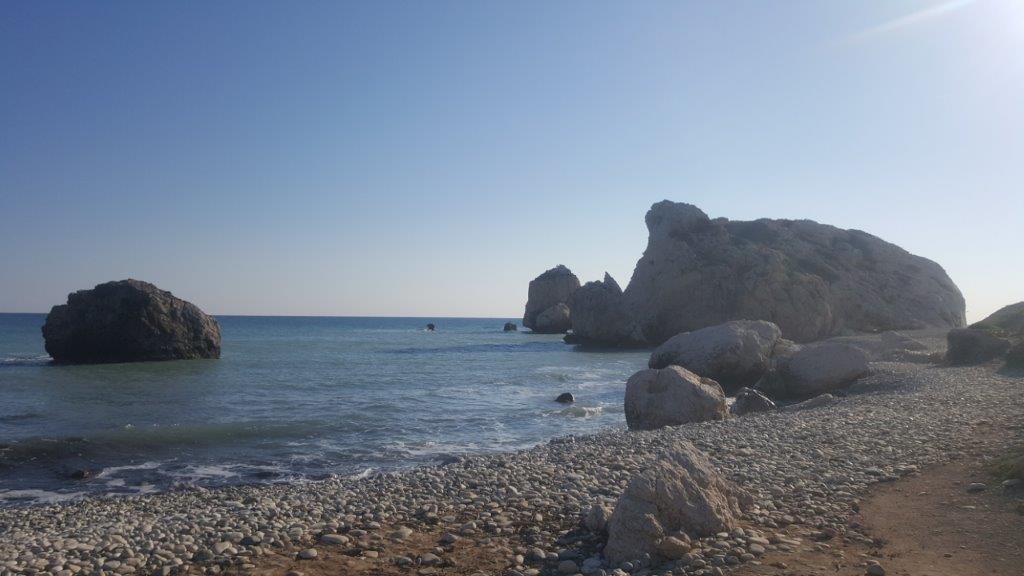 7. White River Beach
This ocean viewpoint was also pretty nice.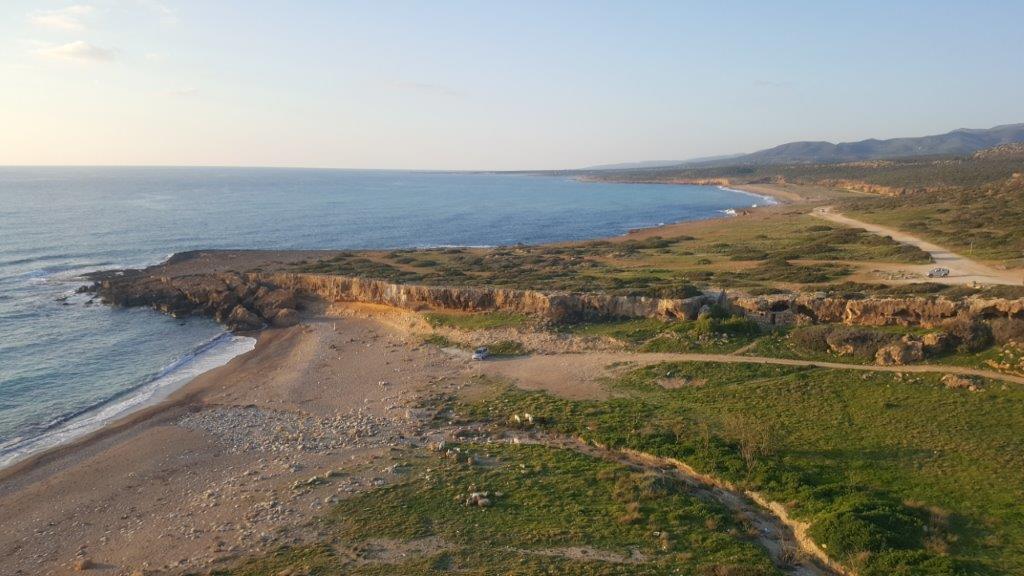 That's as far along the West Coast I got, and it required driving down a somewhat remote unpaved road. The river's water even flows over the road at one point (just a bit).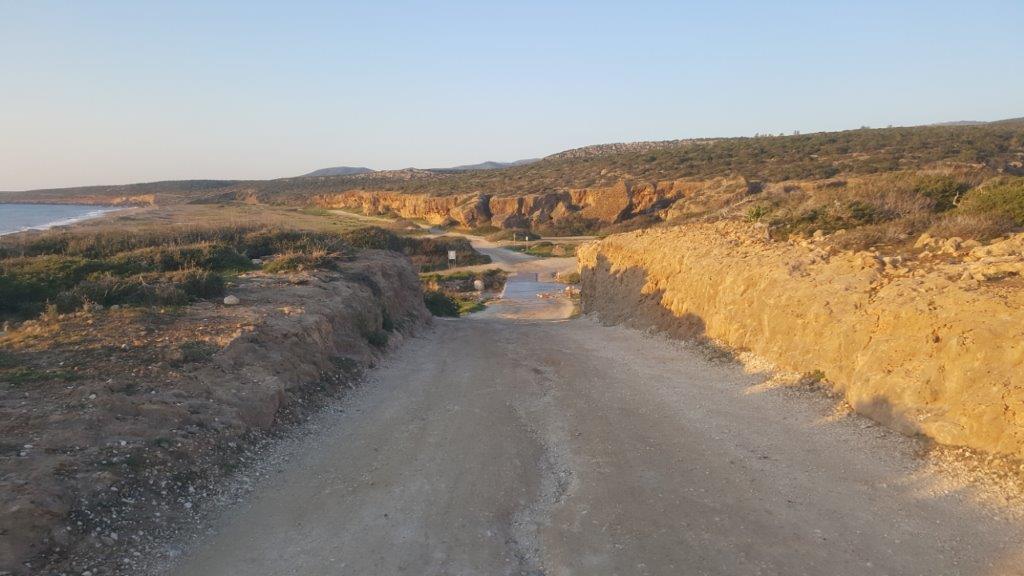 8. Paphos
Another spot for a nice sunset was in a park on the main road just north of Paphos, with the palm trees in the forefront. I didn't explore much of that city, as apart from historic ruins, it's more of a tourist town more than anything else.
9. Kouris Reservoir
Heading north from Limassol, I also went inland. I first stopped at a nice reservoir. This is the view from Saint Nicholas Church, with mountains all around.
Cyprus is a lot more varied than I expected for such a small island, and there were many more mountains in this central part of the island.
10. Millomeris Waterfall
I went on a short hike to the pretty remote Millomeris Waterfalls, which were well worth the detour for a bit of quiet nature time.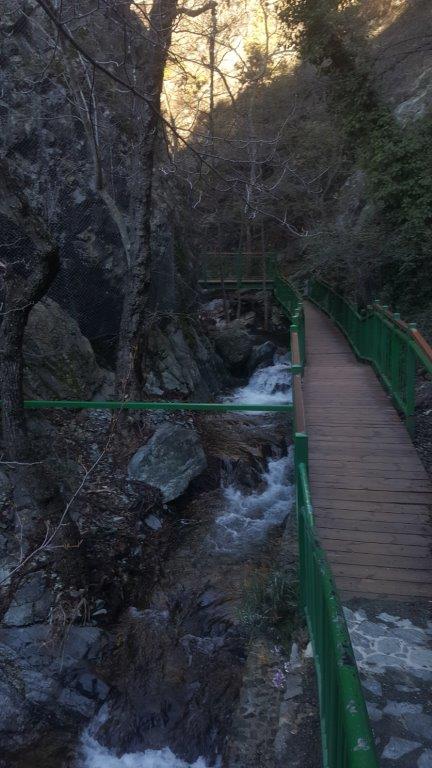 I didn't see anyone else for a few hours during this little excursion. And it was a very remote road, a lot to ask for my tiny car, the ones Europeans love.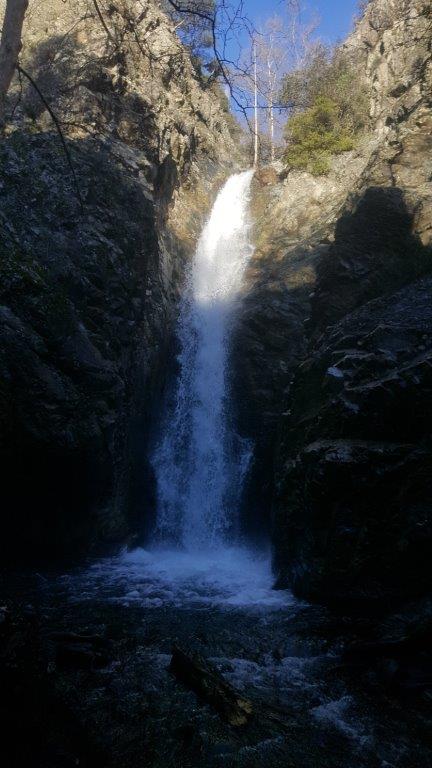 11. Mount Olympos
Cyprus is not just about beaches and coasts, with very nice mountain scenery as well. You'd think you were suddenly in a completely different place.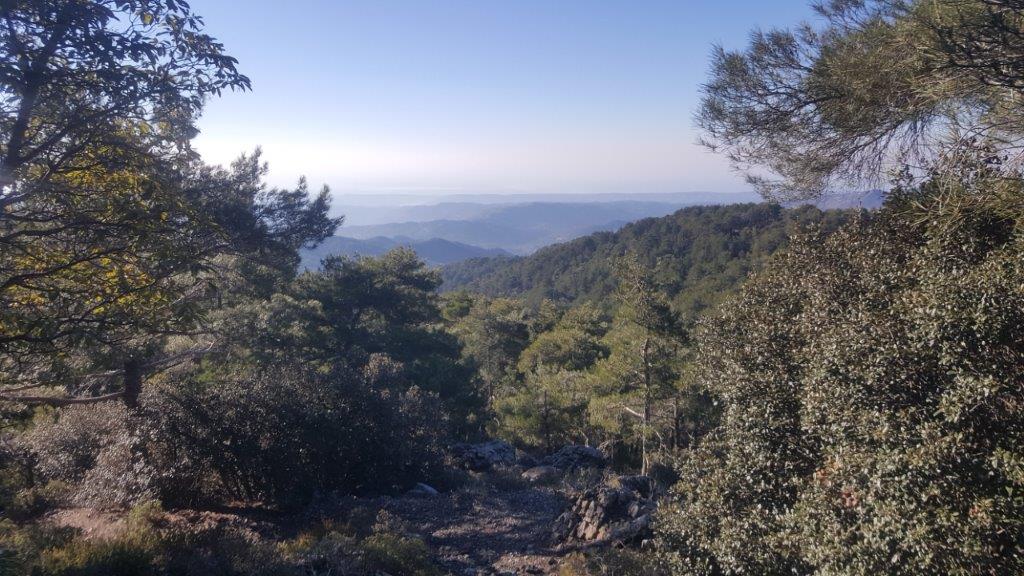 Heading towards Troodos, near Mount Olympus (which is the highest point in the country), imagine my surprise seeing a lot of snow after having just been on the seaside promenade in Limassol, a mere 50 kilometers away, where the temperature was 17 °C that day.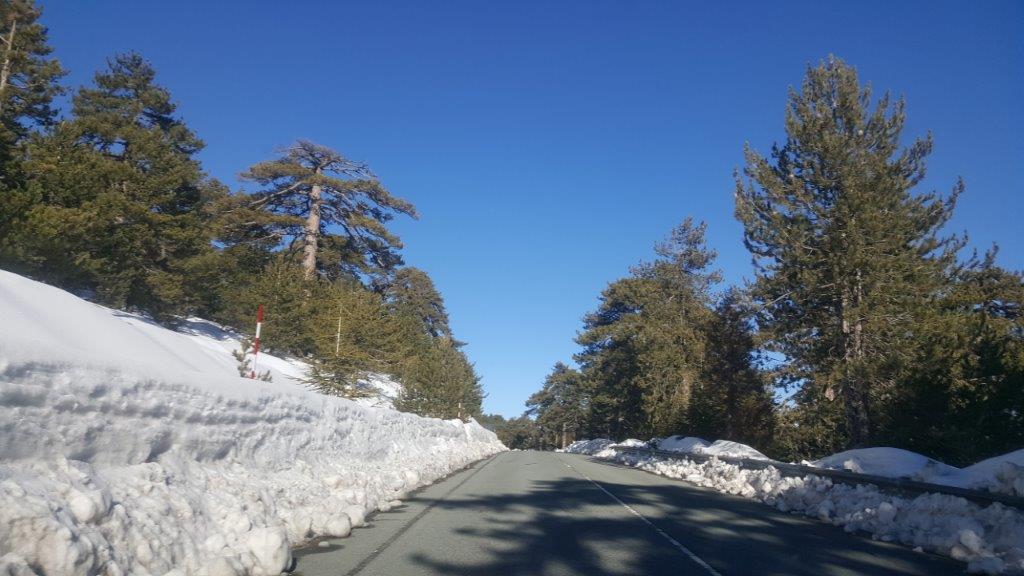 The roads all over the island were in great condition by the way, but in the mountains, I had to avoid these rocks that had probably fallen recently.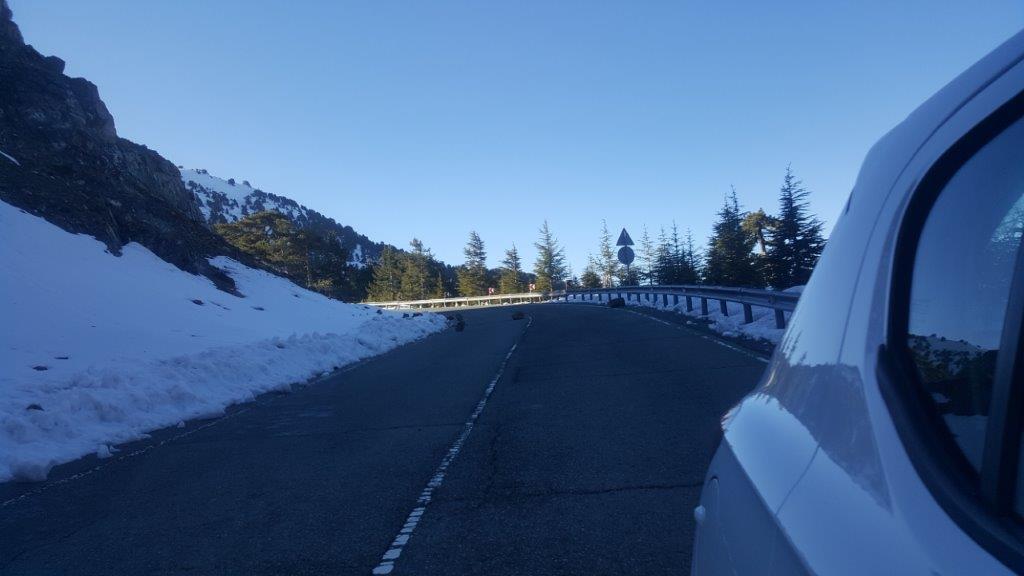 12. Prodromos Reservoir
I went on another very short hike to get a glimpse of the Prodromos Reservoir, hidden among the trees.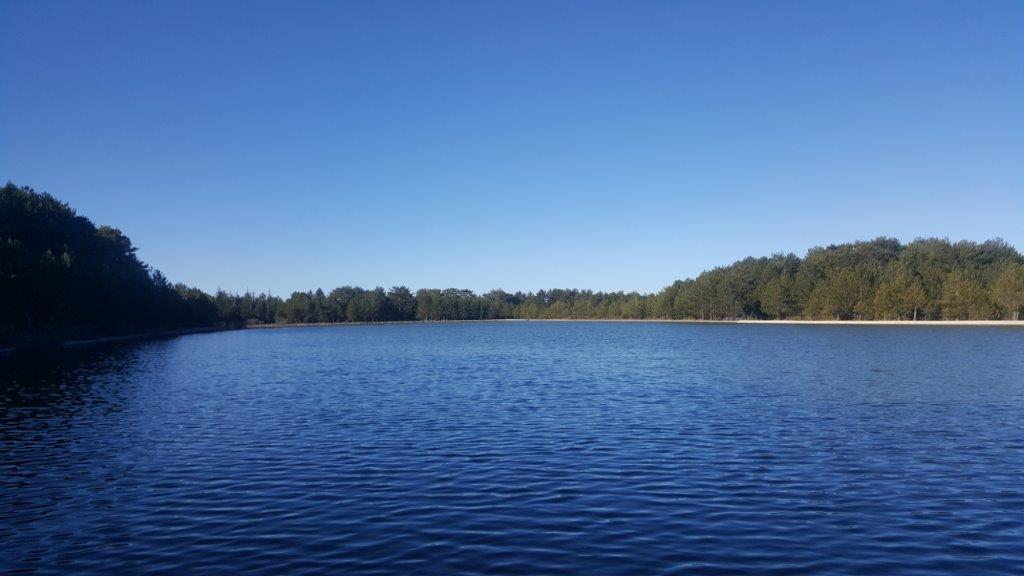 It looked a lot better from the drone pictures I had seen.
But it was a nice break to stretch my legs during the roadtrip and enjoy the fresh air.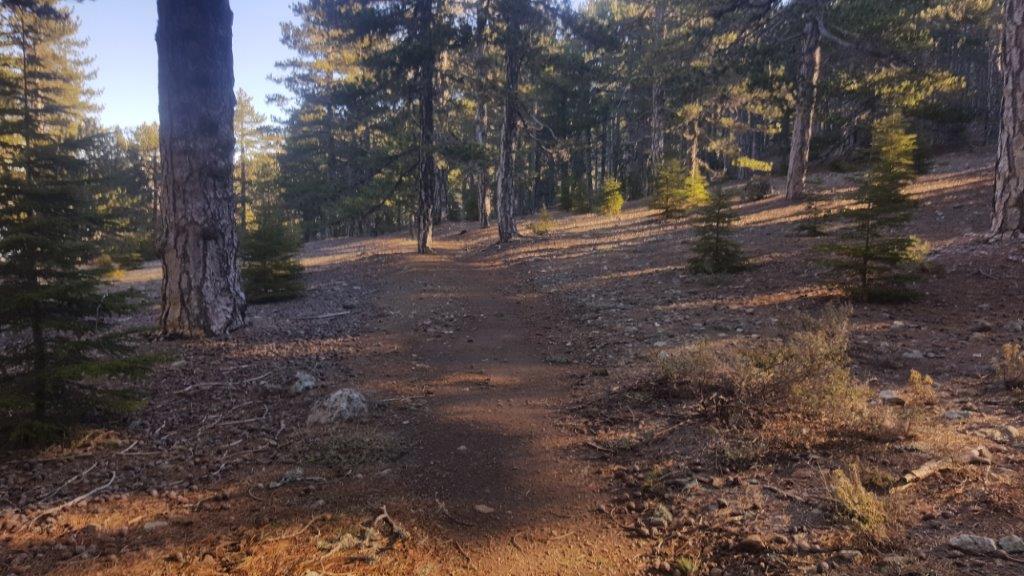 13. Kakopetria
I took this specific road to get a glimpse of the beautiful authentic white villages, like this one, Kakopetria.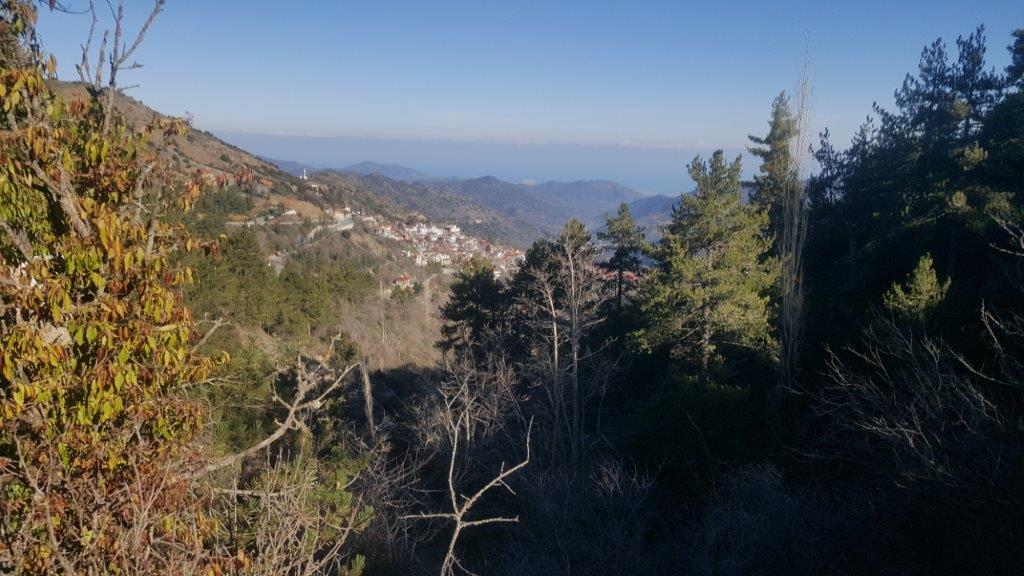 With the mountains in the backdrop, it was very beautiful and quite a change from the coastline.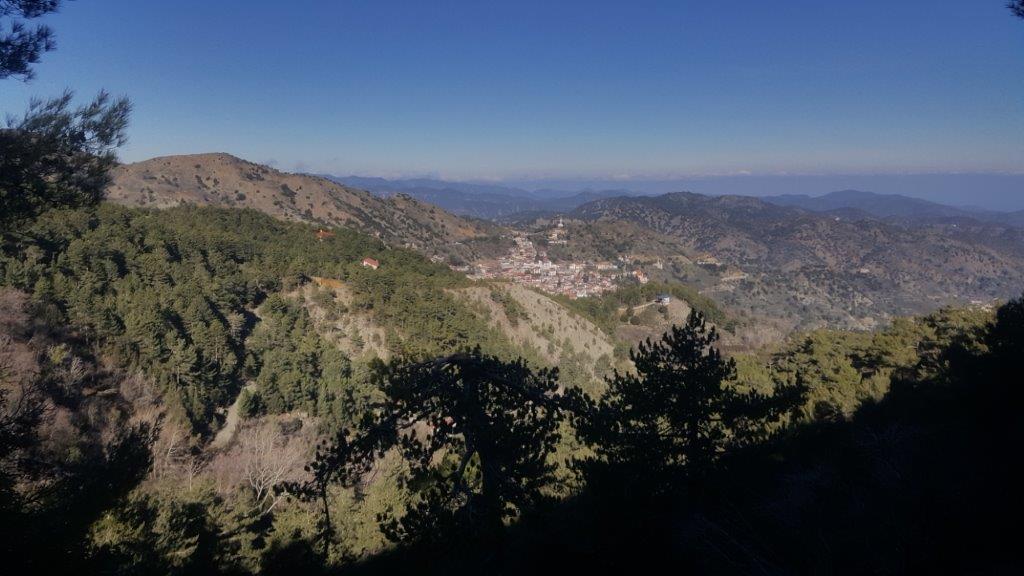 Seeing these smaller places were the pace of life is much slower is always a great part of exploring a new country.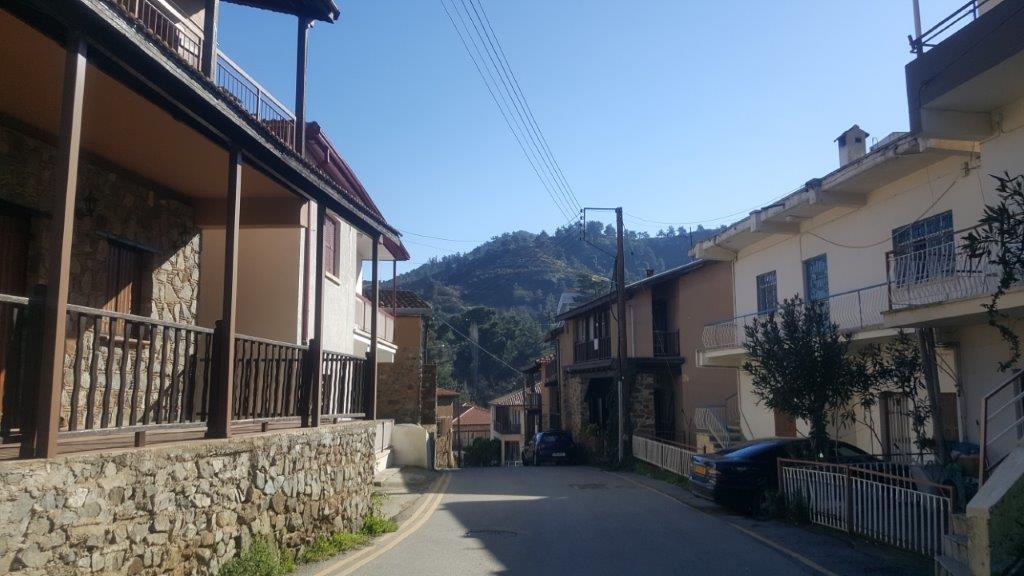 14. Nicosia (Greek side)
I then headed to Cyprus's divided capital city near the center of the country.
Nicosia is especially notable for the unique situation of being the city both governments consider their capital, with a United Nations-administered buffer zone dividing Greek Cyprus and Turkish Cyprus in the middle of the walled old town and across the entire length of the city (the entire length of the country actually). Many Canadian soldiers have served in Cyprus, by the way.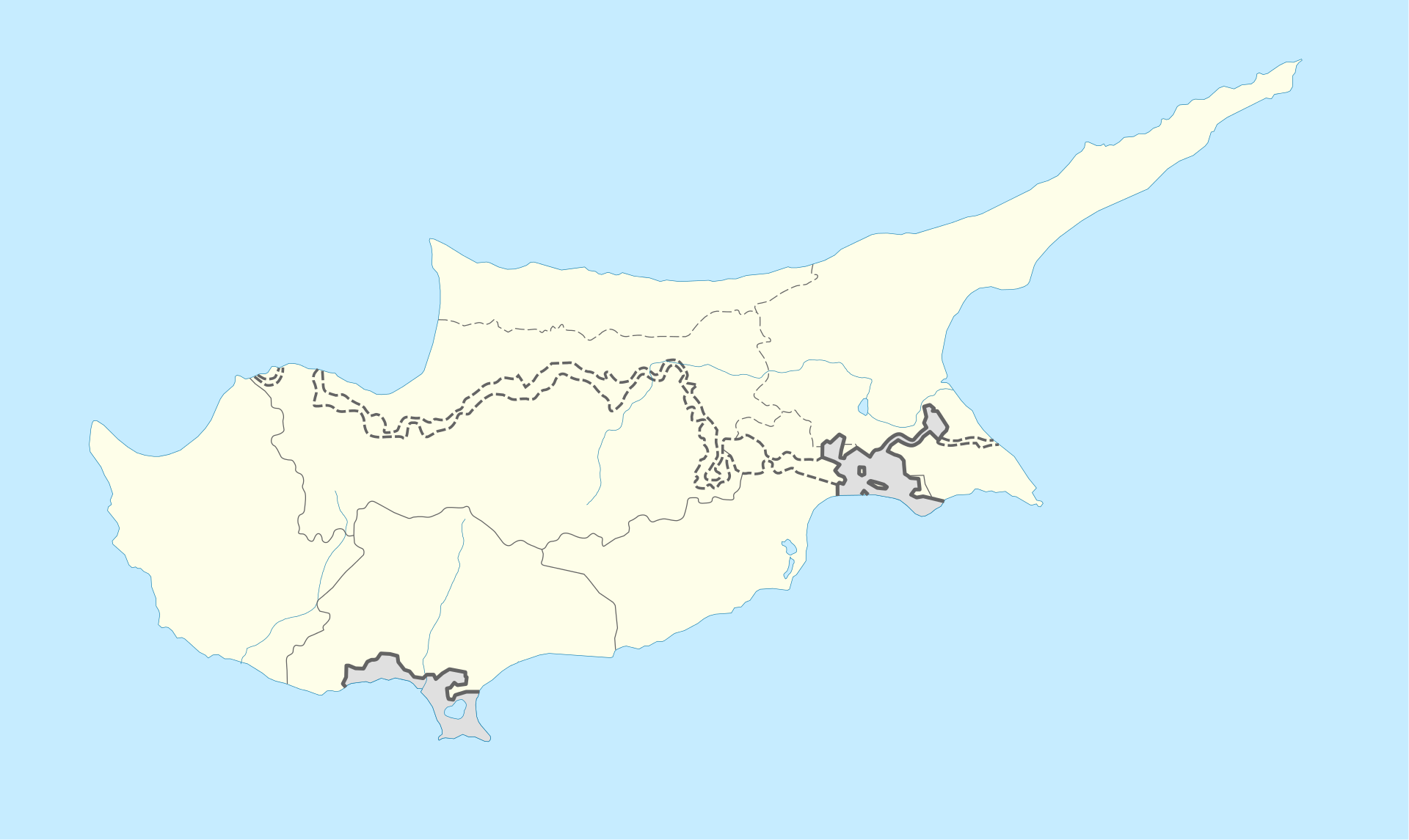 Despite being continuously-inhabited for over 4,000 years, you feel just like you are in any modern city in Europe…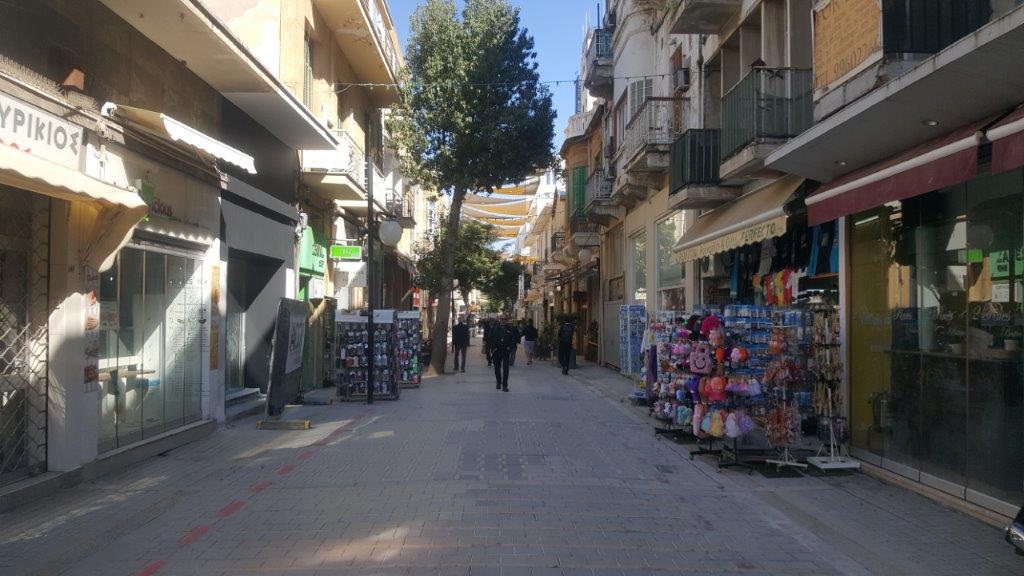 …and then suddenly at the end of the hip pedestrian streets, there is a UN checkpoint. I love unique experiences, and I had never crossed into an unrecognized country on foot before, so I headed towards the Turkish Republic of Northern Cyprus.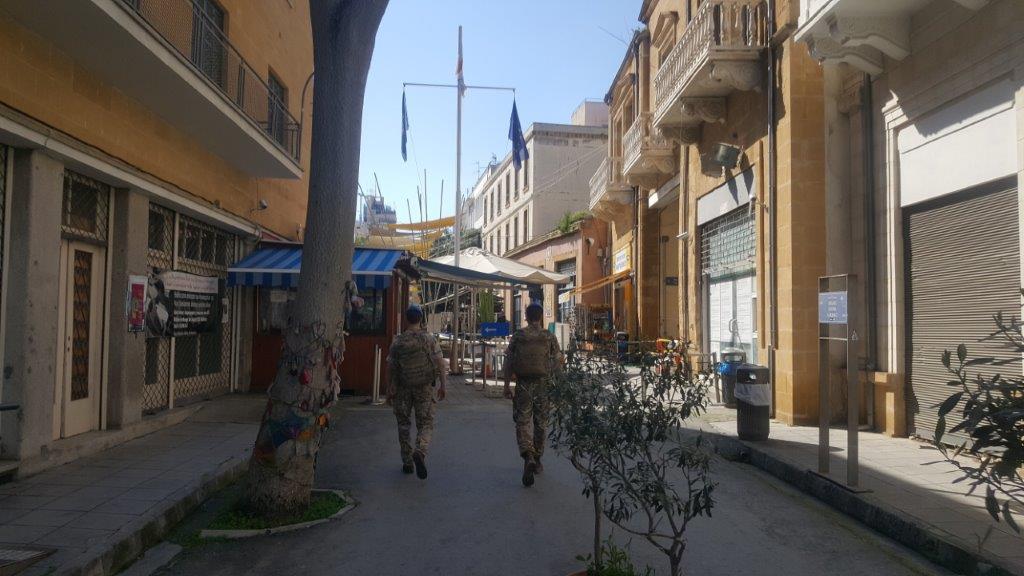 Overall, it would be hard to notice the city had anything special from almost anywhere away from the buffer zone.
Weirdly, some buildings still stand in the space between both sides of the checkpoint, abandoned for decades since nothing is happening in that slice of the city stuck between both territories.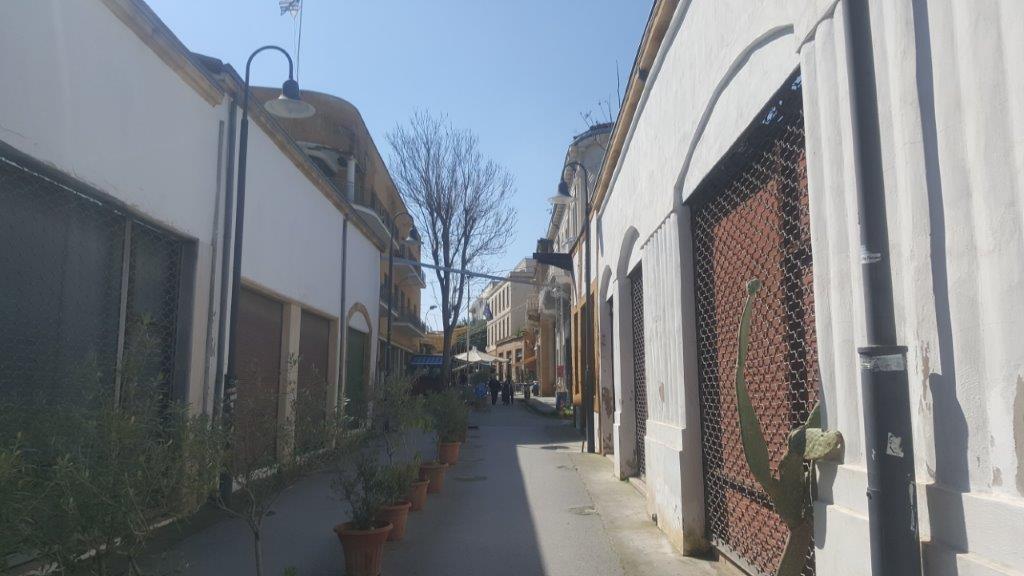 The situation has not evolved much in the past decades, but as this graffiti inside the buffer zone shows, many hold out hope for peace and for "One Cyprus".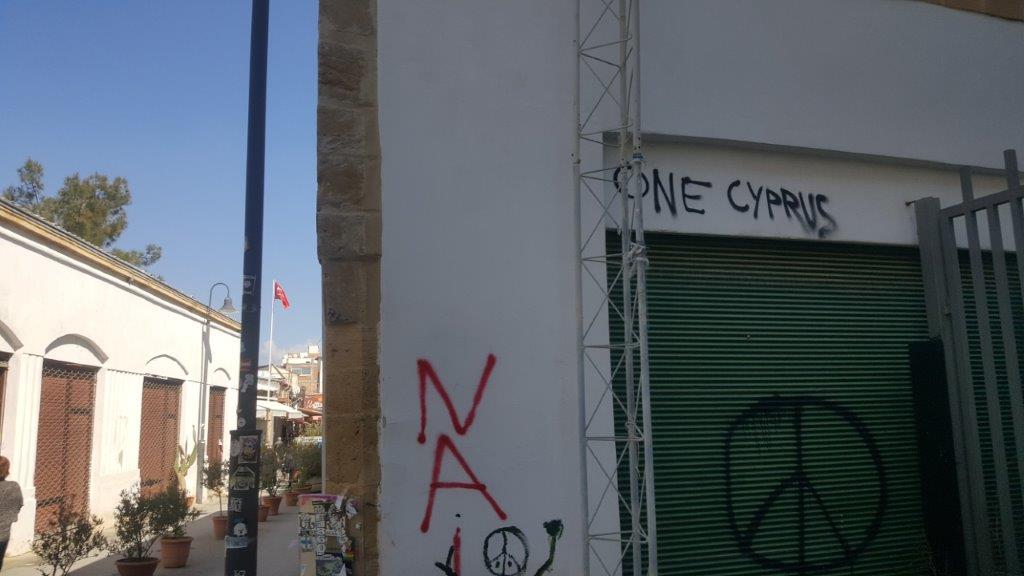 15. Nicosia (Turkish side)
The TRNC flag is basically a reverse of the Turkish flag with two red lines added, and flies next to it prominently in Nicosia (called Lefkoşa in Turkish). And the flags of Greece and Cyprus are sometimes being flown nearby in what seems like a response, a flag rivalry as a proxy for the rest.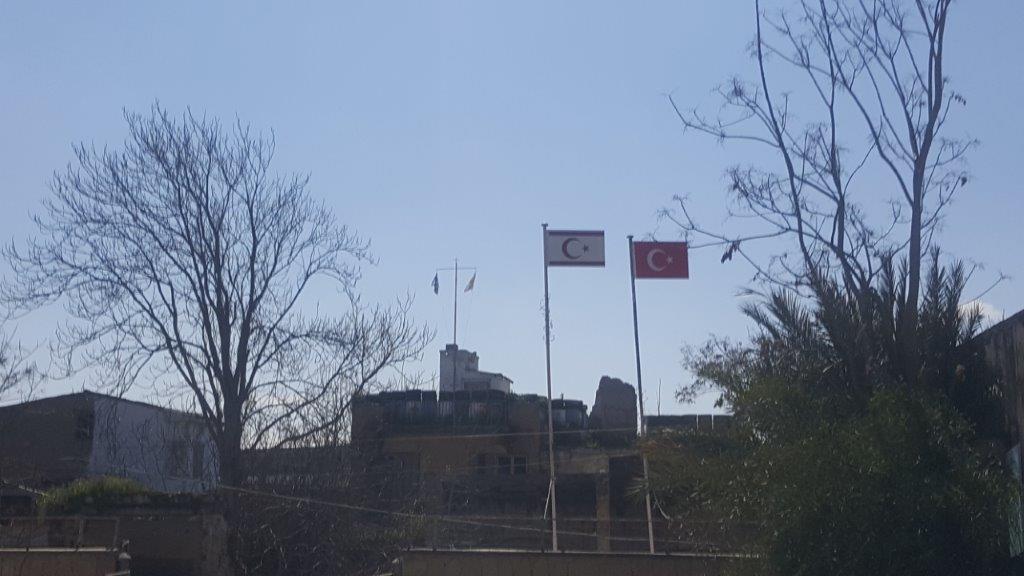 Türkiye is one of my favorite countries, and once you cross over to Cyprus's Turkish side, it really does feel very different, as you would expect… and it was almost like walking down Istanbul streets.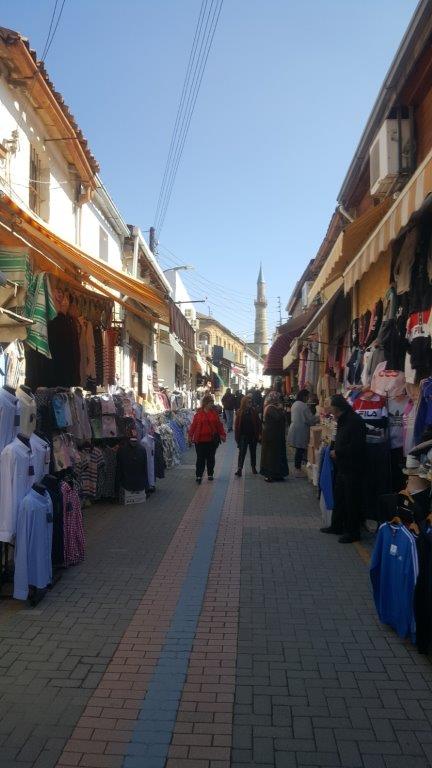 The massive mosque in the center of the city, Selimiye Camii, is a former cathedral that was converted… not unlike the beautiful 1,500-years-old Hagia Sophia in Istanbul.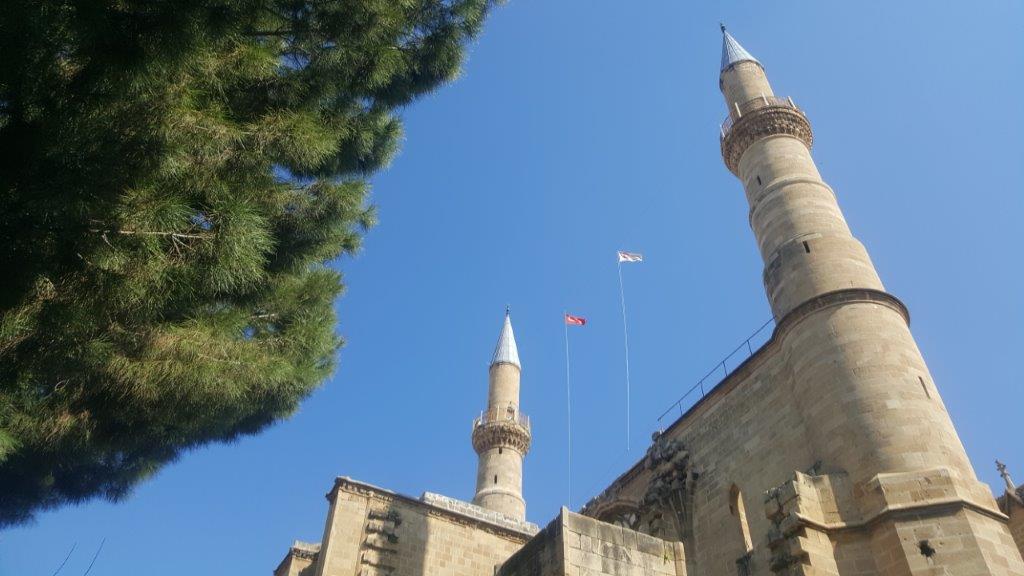 I walked around the Turkish part of the old town, but sadly didn't have time to explore anything else in the TRNC.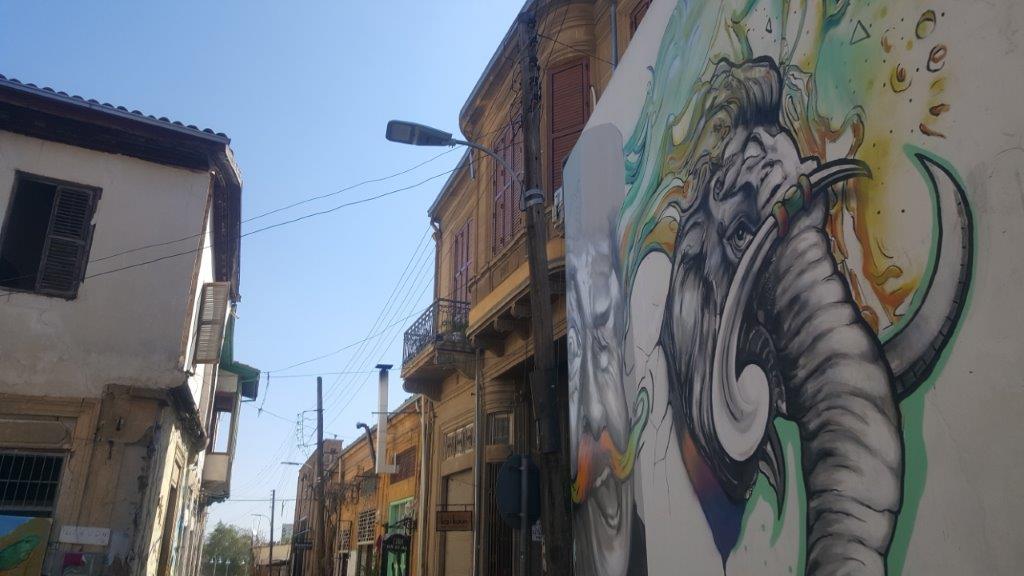 So I headed back to my parked car on the other side of the non-border border. By the way, the process is very seamless and I simply handed my passport as I would at any border.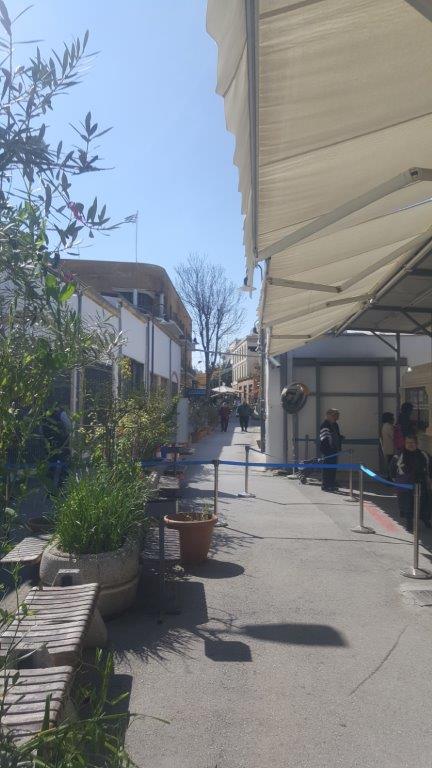 There are also some remnants of the decades-long conflict near the no-man zone.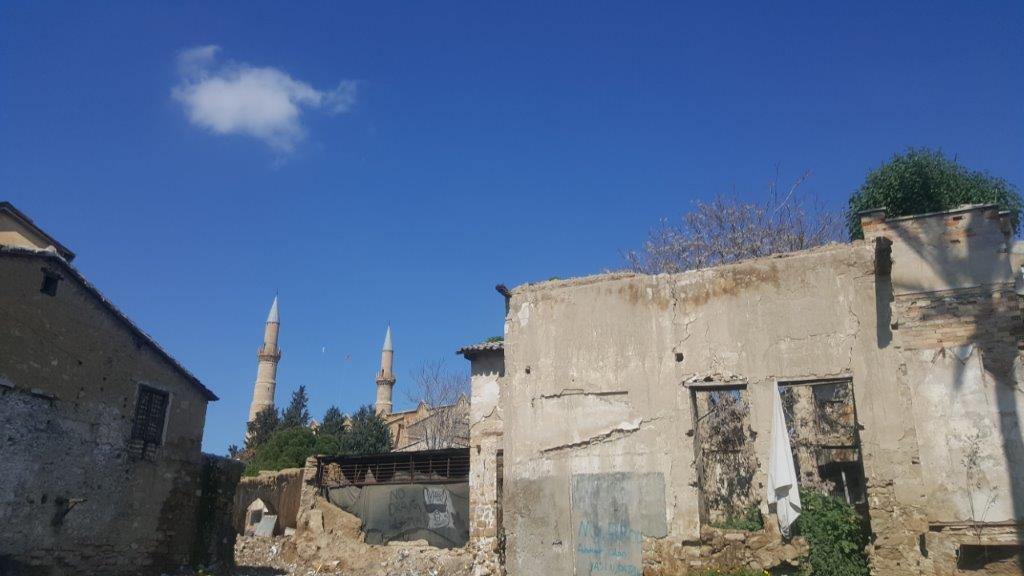 16. Cape Greco
Finally, I explored the southeasternmost corner of the country and went to see the famous Kamara Tou Koraka natural stone arch that would've been even prettier if not for the ugly towers in the background.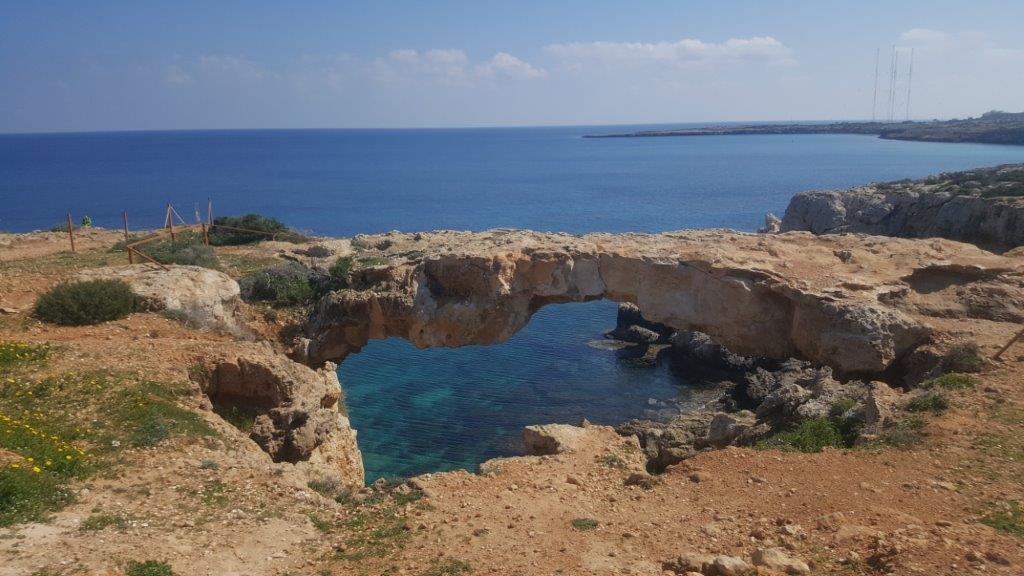 The water is beautiful, and most of the country's coastline is stunning actually. There are many many other great waterfront places you can visit.
If that's what you prefer, you'll have a ton of options that all looked pretty from the many pics that I had seen, but the few that I chose to see seemed to be the favorites since I wanted to visit the country's interior and cities as well, and I wanted to keep more time for Lebanon.
17. Hala Sultan Tekke and Larnaca Salt Lake
Finally, my last stop, right next to the airport, was the pretty Larnaca Salt Lake where the Hala Sultan Tekke mosque stands… a reminder that both Greeks and Turks used to live all over the island before it was split into two parts, displacing hundreds of thousands of Cypriots.
I took in the Cypriot air for the last time before flying back to Beirut.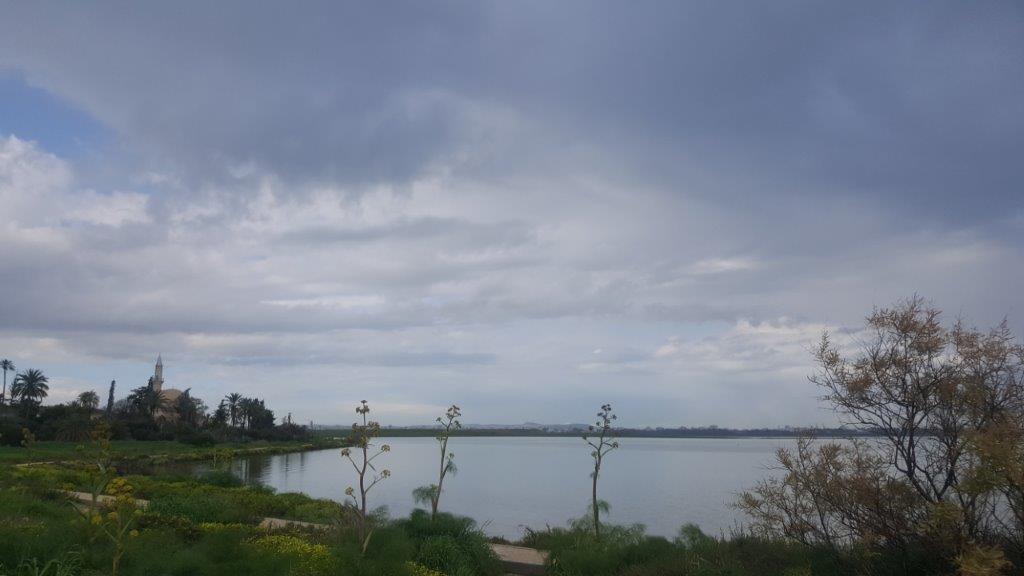 Lebanon was also an incredible experience, stay tuned for a post about that part of the trip as well. Including visiting places where our government advises against all travel, which unfortunately reinforced my sentiment that the prevailing thought among experienced travelers is very correct: these advisories are sometimes too alarmist, at least for experienced travelers.
Want to get more content to discover awesome destinations?
Summary
Cyprus is an amazing country that is worth exploring, and not just if you are on a mission to explore every country in the world.
What would you like to know about the logistics of visiting Cyprus? Tell us in the comments below.
See the deals we spot: Cheap flights
Explore awesome destinations: Travel inspiration
Learn pro tricks: Travel tips
Discover free travel: Travel rewards
Featured image: sunset in Cyprus (photo credit: Andrew D'Amours/Flytrippers)
Share this post to help us help more people travel more for less: