If you know a thing or two about long-distance business-class flights, you know that the holy grail—or even the basic expectation—is a lie-flat seat: a seat that lets you sleep at a 180-degree angle. Well, one airline is now offering a lie-flat economy class seat option to take advantage of the popularity of physical distancing during the pandemic.
Here are the details… and 4 reasons why you probably shouldn't pay for this.
Lufthansa's lie-flat economy seat
Lufthansa is Germany's flag carrier and considered a premium airline (although that's debated, to say the least).
Recently, they announced a new option for lie-flat economy class seats, which basically is just a full row of seats that come with a mattress, pillows, blankets, and a few other extras.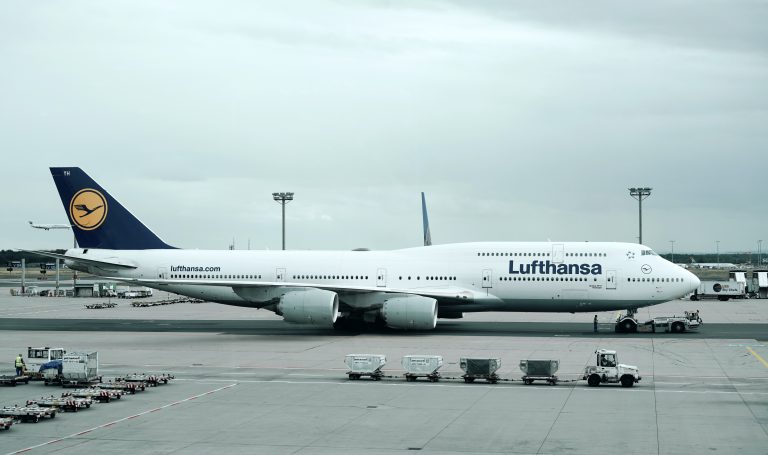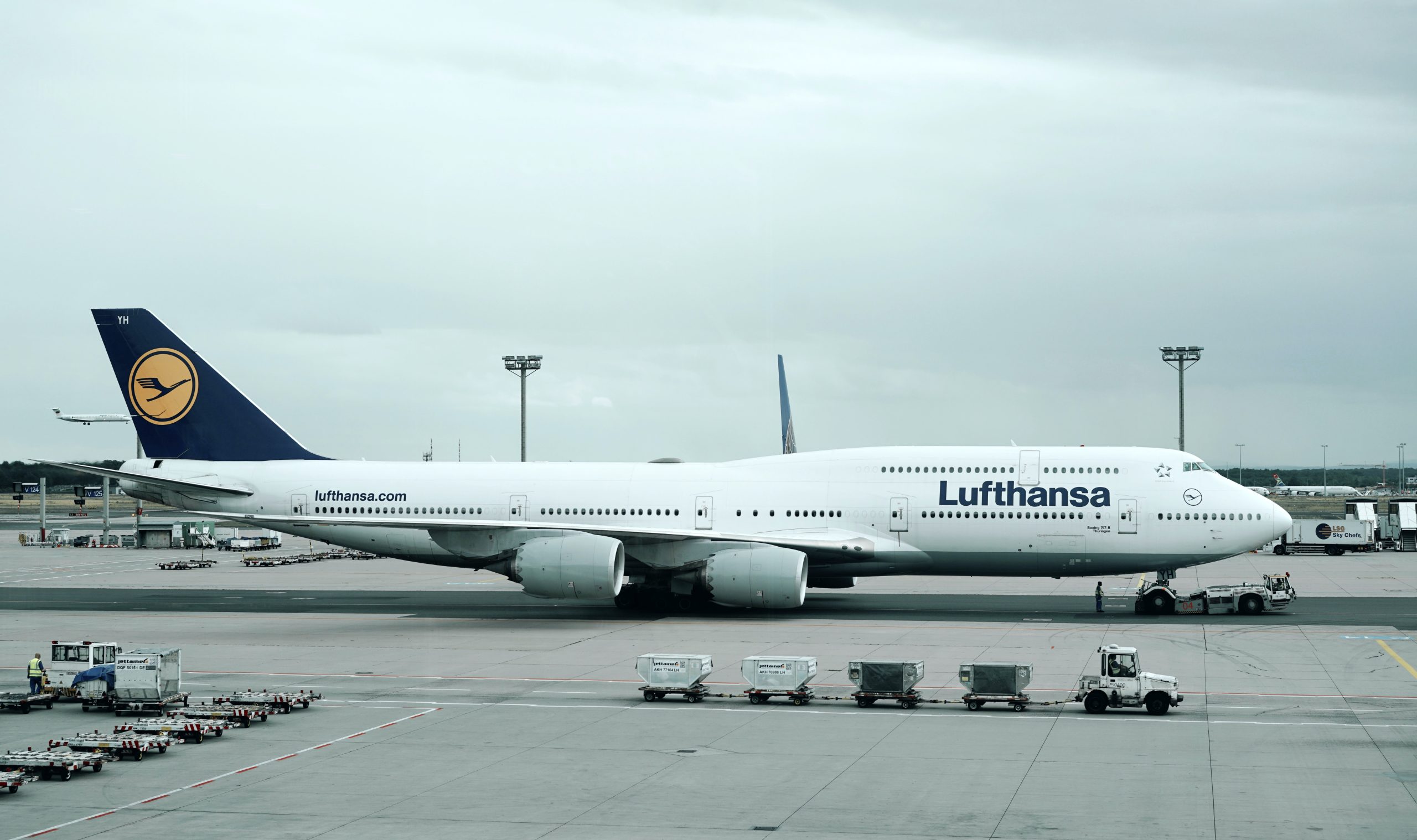 Lufthansa is charging €220 (≈ C$340) on top of the price of the economy seat (a price that obviously varies from day to day, as you know if you know the basics of airfare pricing).
For now, the "Sleeper's Row" is just a test and is only offered on flights from its hub in Frankfurt (FRA) to São Paulo, Brazil (GRU). That is a 6,000-mile flight… or a 12-hour flight if you prefer.
Is the lie-flat economy seat worth it?
We'd say no, for 4 reasons:
you would be paying an extra twice
you could probably get the same thing for free
you should save money to travel more often
you should never pay cash for premium cabin flights
Paying an extra twice
First, the issue is that Lufthansa is rarely the cheapest airline to begin with. So you'd be paying an extra twice: one extra to choose Lufthansa, and another extra for the lie-flat economy seat. I'll give you my own example from November in reason #3 below.
By the way, it's the same problem with a similar product that has been offered for years. Because no, this is not a new concept: Air New Zealand has offered a similar option called the "Economy Skycouch" since long before this pandemic… but they're also usually a very expensive airline.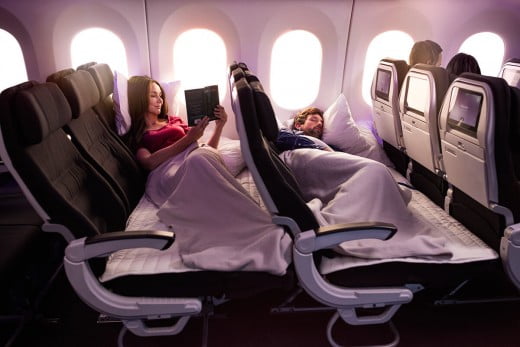 Getting it for free instead
Second, these days you might get a full row without paying.
While it's obviously a very small sample size, the 4 transatlantic flights I've been on since August were all extremely empty and each time I had a full row to myself… for free.
Just to be clear, the 20+ short-distance flights I took since late July were not all empty (which is fine, because the data is very clear about aircraft cabins being a very low-risk area for coronavirus transmission). But with the many complications around international travel currently, long-distance flights are probably almost all a lot emptier.
So I'm not about to pay extra for something like that. Although to be fair, I never do and that's why I took 12 international trips last year… it's not really hard to save money on travel if you really want to.
Saving money
That's the 3rd reason—and one we keep coming back to since we want to help you explore the world, especially with all the time lost since March.
It's fine not to want to travel more.
But if you care about traveling more—like almost everyone says they do—simply pick the cheapest airline and avoid extras. Always. It's not rocket science 😉
Not saying this to be mean or anything. But if you want to travel more, just make traveling more a priority. Make decisions that align with your goal of traveling more.
For example, my one-way from Montreal to London (via Lisbon) only cost me C$226 total in November. That's half the cost compared to flying Lufthansa in regular economy (or even less than half actually) and about 4 times less than flying Lufthansa's sleeper row.
Let's assume I just saved the $340 on the one-way flight… that alone is literally over 11 full days of total travel expenses for a country like Turkey! The total budget for 11 full days of travel!!!
See how easily you can add so many days of travel if you keep your money for when you're actually at your destination and choose affordable countries? And apart from being cheap, Turkey is also one of my favorite countries in the world, even after being to 62 of them. Other affordable destinations in Southeast Asia or Latin America are just as epic!
Premium cabin flights
Finally, the 4th reason is that premium cabin flights should always be purchased with points to save thousands of dollars (what we're talking about today is economy class, but with the extra cost it's more like a premium cabin).
So if you do want to experience the authentic business-class lie-flat seat (or first-class seats—not the same thing), please don't pay for those in cash! It just makes no sense.
Long-distance premium cabin flights are the most valuable use of travel rewards, as explained with this extreme example of an $8,000 saving on one flight.
Everyone should learn about travel rewards—there are currently 7 offers that each gives over $275 in free travel as a welcome bonus alone—but those who travel in business class should learn about this even more.
Lufthansa flights to Canada
In all cases, if you feel the desire to splurge on these lie-flat economy-class seats, we'll let you know if Lufthansa extends this pilot project to other long-distance lights, like those to its 3 Canadian destinations that are all still being served: Toronto (YYZ), Montreal (YUL), and Vancouver (YVR).
As of today, transiting in Germany is allowed (and has been for a while—but things can change quickly in the coronavirus era). But entering Germany is currently not allowed for Canadians.
This is a great opportunity to remind you that the fact that flights are offered between 2 countries has absolutely nothing to do with whether or not citizens can enter those countries. Completely unrelated things.
Want to get more content to learn to travel more for less?
Summary
Lufthansa is offering a new lie-flat economy seat for ≈ C$340 as a test, but it's probably not worth paying for that in the current situation.
What do you think of this new option? Tell us in the comments below.
Explore awesome destinations: travel inspiration
Learn pro tricks: travel tips
Discover free travel: travel rewards
Featured image: Lufthansa's lie-flat economy seat (photo credit: Lufthansa)
Advertiser Disclosure: In the interest of transparency, Flytrippers may receive a commission on links featured in this post, at no cost to you. Thank you for using our links to support us for free, we appreciate it! You allow us to keep finding the best travel deals for free and to keep offering interesting content for free. Since we care deeply about our mission to help travelers and our reputation and credibility prevail over everything, we will NEVER recommend a product or service that we do not believe in or that we do not use ourselves, and we will never give any third-party any control whatsoever on our content. For more information on our advertiser disclosure, click here.
Share this post to help us help more people travel more for less: