Here's a final reminder that the RBC Avion Rewards program is currently offering a 30% transfer bonus if you transfer your points to the British Airways Avios program through May 15 (tonight). This can be a great promo for those who want to maximize their free travel, if you can be a little flexible, of course.
The transfer bonus only works if you have an RBC Avion card, like the RBC Avion Visa Infinite Card that had a great welcome bonus until April 30th — now it gives you a net value of "just" ≈ $405, but without any minimum spending requirement.
(I say "just" because it's far from being the highest right now in our ranking of the best credit cards in Canada, as there are an incredible 15+ cards that give you $500+ in welcome bonuses right now, like $825 completely free with the TD First Class Travel Visa Infinite Card!)
To be clear, the lower-level RBC cards (like the RBC ION+ Visa Card and RBC ION Visa Card) don't offer the ability to transfer points to get more value (their welcome bonuses aren't very appealing anyway).
Basics of the HSBC transfer bonus
As a reminder, if you have RBC Avion cards, you can use your RBC Avion Rewards points in 3 ways:
As a simple travel credit on any travel expense so you can have more flexibility

Obviously worth a lot less

As a potentially more lucrative discount on certain expensive flights

With the RBC Avion award chart

As a potentially more lucrative discount on specific flights to get even more value

By transferring them to partner programs
The British Airways program, officially the British Airways Executive Club but always called British Airways Avios, is by far the most useful among the RBC Avion transfer partners.
Until May 15th at 11:59 PM (Pacific time), the 3rd option is even more profitable than usual: you get 30% more Avios points!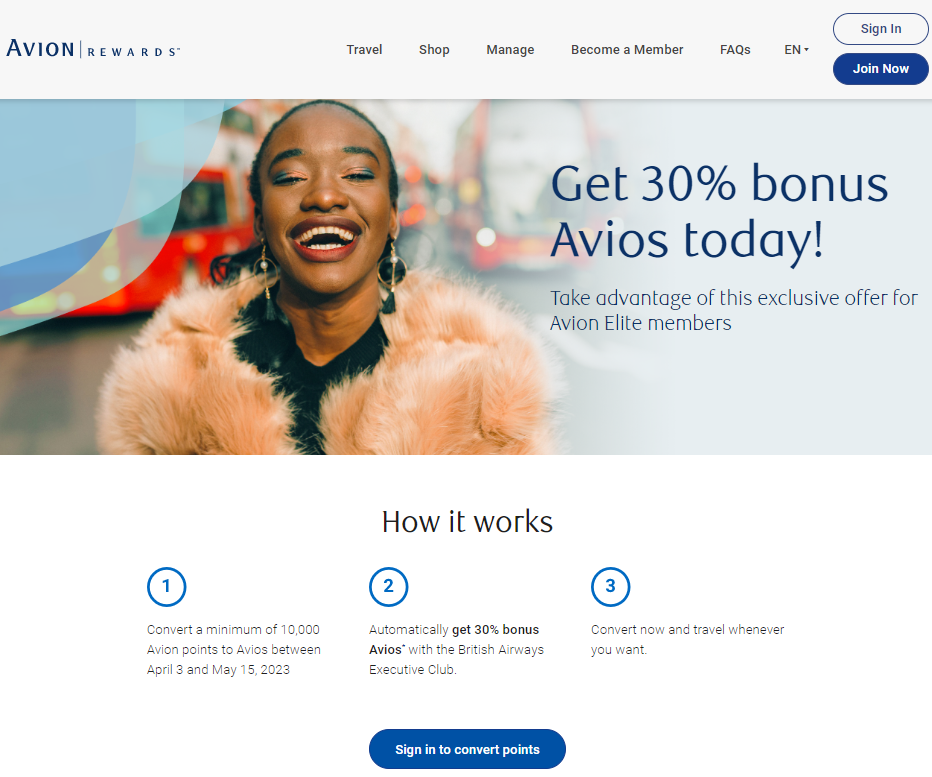 This is called a "transfer bonus" and bank rewards programs do this sometimes. RBC does this with Avios pretty much every year. Some years it's a 35% or 40% bonus, but if you plan on using Avios points in the next year, 30% is great!
It gives you even more free travel… completely for free!
For example, the current RBC Avion Visa Infinite Card welcome bonus is worth ≈ $405 in free travel. With this transfer bonus, that same welcome bonus would be worth ≈ $563!!! (It gives you 35,000 RBC Avion points, which would be worth 30% more!)
Ad it would give you $1000+ if you had taken advantage of the record offer that just ended. That's absolutely amazing for just one welcome bonus!
With this transfer bonus, instead of getting 10,000 Avios points if you transfer 10,000 RBC Avion points, you will get 13,000 Avios points. And you need to transfer a minimum of 10,000 points to take advantage of the transfer bonus in this case.
For example, you would get Toronto-Miami roundtrip flights for under 17,000 RBC Avion points with this transfer bonus (direct flights on American Airlines with less than $100 in taxes roundtrip). That is HALF of what you need with the RBC Avion Rewards chart.
But the Avios program is good for just some very specific routes. And Avios has limited availability obviously, like almost all airline programs! That's what makes it possible for them to offer fixed prices and therefore unlimited value!
So this transfer bonus is very interesting for those who know how to use Avios points or who want to learn (and are okay with being flexible)! But if you're not sure, it's best to not transfer, even when there's a transfer bonus.
Because don't forget that transfers are one-way and irreversible! So you have to be sure that you can make a good use of your points in the Avios program.
Basics of Avios points
Avios is in our cheat sheet of the 5 essential rewards programs for Canadian travelers: it's the 2nd best airline program (by far). That's why it's good to have already created your free account so you can be ready when there are interesting transfer bonuses like this one.
But you have to understand that Avios points really aren't for everyone either! They're much more niche than Aeroplan points (and the ways you can maximize your points really aren't as plenty as those for the Aeroplan program).
You can check out the 12 best redemptions with Avios points to make sure that this is a better option for your personal situation than keeping them in the RBC Avion Rewards program.
Avios has way fewer partner airlines than Aeroplan (and only foreign airlines), so seat availability is even more restricted. That's why you need to be more flexible than with simpler points, but also more flexible than with Aeroplan.
But it's not just the available seats: eligible routes are way more limited too since there are fewer partner airlines. And not just that: unlike with Aeroplan, it's often just direct flights that are good redemptions with Avios, so it's even more limitative. You really need to be flexible on everything.
And unlike Aeroplan (that allows you to redeem your points for any Air Canada flight even if the value is a lot lower), you simply do not have that option at all with Avios.
Also, if you want to travel in business class or first class, you can easily get 3¢ per Avios point, which is 3x more value than with your RBC Avion points!
Luxury seats are the best theoretical redemption for travel rewards (in the sense that mathematically you'll save a lot more since those seats are so expensive with cash) and only airline programs like Avios can provide you those incredible opportunities.
With the transfer bonus, you get a great discount on Avios points worth ≈ 1.5¢ per point! So 10,000 Avios points can easily save you $150.
But they can also save you a lot less; that's really the key, the most important thing to understand about the 2 different types of rewards redemptions.
When there's no maximum value — Avios points can provide value that is literally unlimited (it could be 4¢ per point; 4 times more than RBC Avion points used as simple redemptions) — there's obviously no minimum value either!
Deciding whether or not to transfer points
In short, Avios is very good for those:
Who are interested in the 12 best redemptions with Avios points
Who are at least somewhat flexible
Who are enough of a frequent traveler to be able to use them well (like us)
Want points with unlimited value
Who want to travel in premium cabins
Rewards that offer more lucrative redemption options (like Avios points) can obviously be much more valuable than rewards that offer only more simple redemption options, but it's much less flexible of course!
In travel as in everything else: the simpler it is, the less value you get! As passionate travelers and deals lovers who always want to maximize everything, we definitely very often transfer our RBC points to Avios.
If I had depleted my stash of Avios points, I'd definitely take advantage of this transfer bonus as I usually do. Why? I'm flexible, I travel a lot, and I love maximizing. But in this particular moment I have well over 100,000 Avios points already. So given my own travel plans for the year, I'll keep my RBC Avion points to have more flexibility in case I'd want to use the RBC Avion award chart or transfer to Asia Miles or even to AAdvantage (other partners).
That's why investing the time to establish your travel strategy is vital part of maximizing travel rewards. Our free webinar on the basics of travel rewards is this Wednesday at 9 PM Eastern by the way!
To be clear, many people prefer simplicity, and that's fine. You can still get a ton of travel rewards that way, if you do it the right way! But don't transfer your points if you don't want to put in any effort whatsoever.
But it's great to have the option to do both with hybrid and transferable points like RBC points and also American Express points or HSBC Rewards points.
How to transfer RBC Avion points
If you decide to transfer your RBC Avion points (or a portion of your RBC Avion points), it's pretty easy to transfer your points (just like most transfers are very simple; we wrote a detailed post about how to transfer American Express points to partners for example).
Obviously, you login to your RBC Avion Rewards account (top right corner).
Then you click on the aptly-named "Transfer" tab and then on "Convert Now" under the partner programs' logos.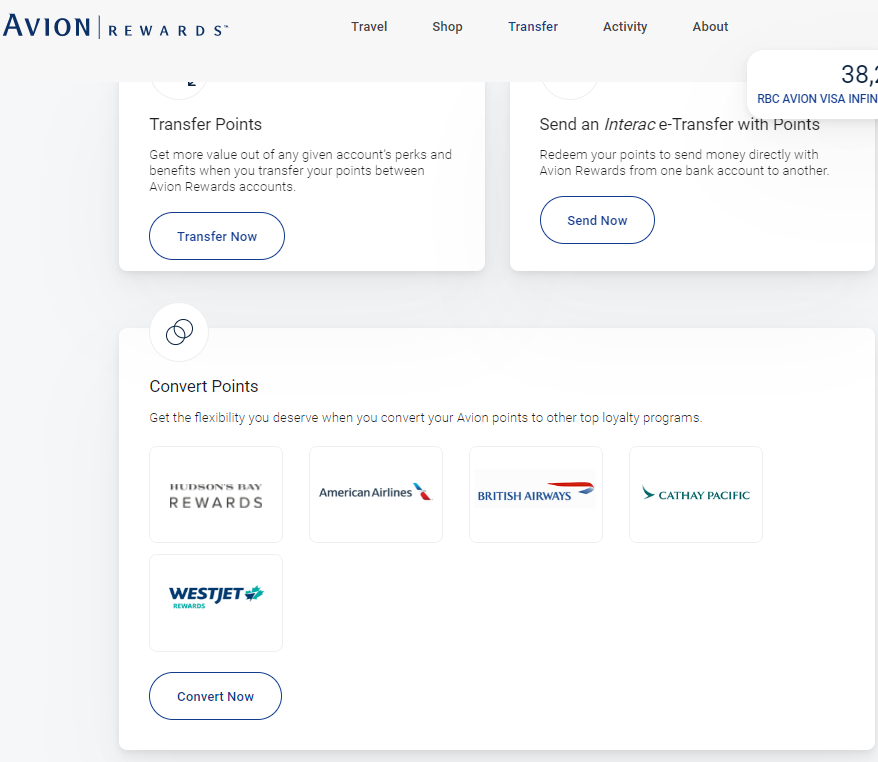 Then you input the amount of points you want to transfer and you click on "Calculate."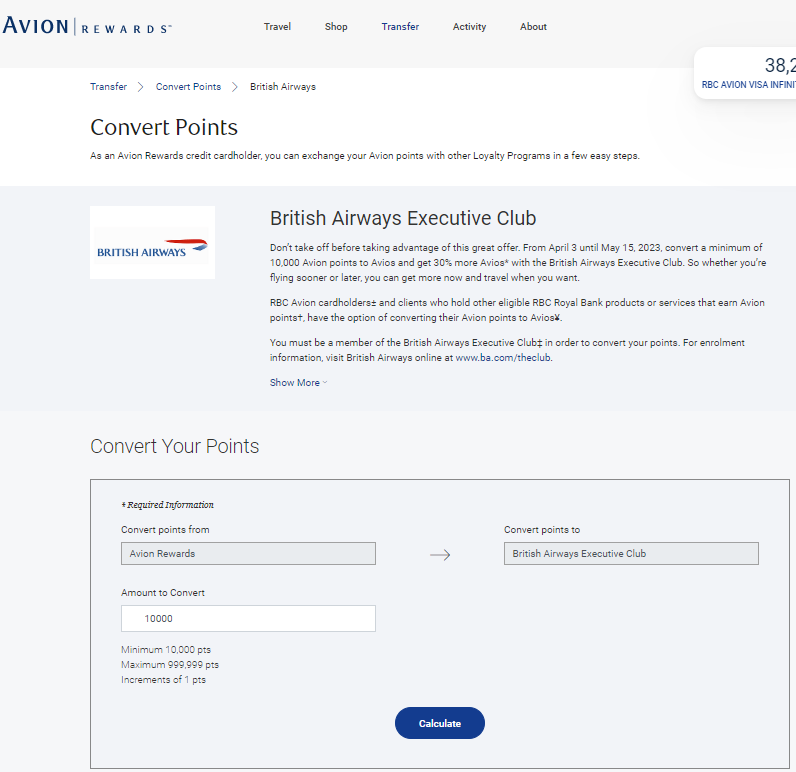 Then you enter your British Airways membership number and your email address and complete the form.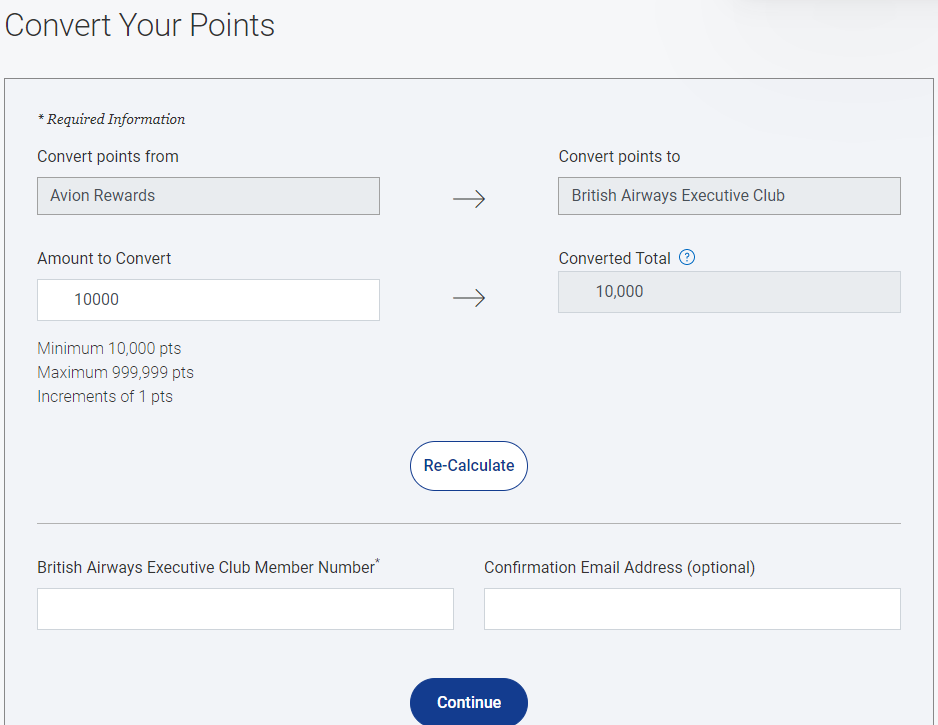 If you don't have a British Airways membership number yet because you hadn't yet followed our cheat sheet of the 5 essential rewards programs for Canadian travelers, first go create a free account easily on the British Airways website.
(We strongly recommend the 1Password tool, a must-have for travel rewards pros who want all their accounts easily organized and secured!)
Want to receive all news and promos about travel rewards?
Summary
For a (very) limited time, meaning until May 15th, you can get a 30% bonus if you transfer RBC Avion Rewards points to the British Airways Avios program. It's a great way to maximize your free travel, as long as you understand how it works!
What would you like to know about the RBC to Avios transfer bonus? Tell us in the comments below.
See the deals we spot: Cheap flights
Explore awesome destinations: Travel inspiration
Learn pro tricks: Travel tips
Discover free travel: Travel rewards
Featured image: Florida (photo credit: Bryan Goff)
Share this post to help us help more people travel more for less: