No matter how you call this place (Bora Bora, Tahiti or French Polynesia), we can all agree on one thing: it is absolutely heavenly. It is one of the most breathtaking destinations in the world. Here's a tip to get there at half price.
Unfortunately, deals to the South Pacific Islands are extremely rare and you'll almost never see this destination on our cheap flight deals page. This is the case for many destinations (such as many countries in Eastern Europe and Southeast Asia) but that doesn't mean that you should pay full price.
In case, you don't know what Bora Bora looks like, here is a beautiful video.

Bora Bora is THE dream destination for many. In Tahitian, the name is Pora pora mai te pora, which means "created by the gods". That gives you an idea. It is a place renown for its luxury resorts and where the water theme is very present, since it is just superb in this part of the world.
Anyway, it's beautiful, but it's also excessively expensive. From most Canadian airports, you should expect about $2,400 or more just for the flights.
But there is a useful tip to cut this price in half: we'll explain how, we'll give you examples of dates, we'll tell you how to find others and finally we'll also give you a quick disclaimer at the end.
Here is how to get to Bora-Bora / Tahiti / French Polynesia at a low price.
The Trick: Ultra Low-Cost Carriers
We always tell you that ultra low-cost carriers (ULCCs) are the best thing that has happened to the travel industry, because they allow you to fly for so much less than ever before.
They have long existed (not in Canada, but everywhere else) for short distance flights, but the greatest change has been the recent arrival of these airlines on long-haul flights. That is why we were able to go to Europe for $247 round-trip this winter for example (from Montreal and Toronto).
These ULCC flights are so cheap that it is often worth buying tickets separately to save hundreds of dollars. This is what we call the multi-ticket itinerary technique. I will not repeat everything, you can read the previous link, but to give just one example, when I went to Bulgaria, the flight was $1,250 round-trip when bought on a single ticket. Getting to exactly the same place cost me $350 roundtrip by buying separate tickets on ULCCs. Thanks to the multi-ticket itinerary technique and ultra low-cost carriers, I saved $900 on a single ticket.
It is therefore the same principle for French Polynesia. That's why it's interesting to know what long-distance ULCC routes exist around the world, because it allows you to save a lot of money by combining flights. I am preparing a cool infographic with an illustration of all these routes for those who want to explore the world at a low cost, subscribe to our free newsletter to be the first to get it.
Moreover, there are more and more of these long-distance ULCC routes, just last month WOW Air announced the start of flights to India, an incredible new route that will allow travelers in Toronto and Montreal to go to this part of the world with ULCCs for the first time, and therefore at a much cheaper price. Flights were priced at $598 round-trip at launch, as you can imagine, a price that low is almost unheard of. We can't wait for more!
The Trick To Saving Over $1,000 Per Ticket
Let's get back to French Polynesia. There is a very little-known ULCC called French Bee, which offers a flight between San Francisco and Papeete (Tahiti International Airport) at very low prices.
There are often dates for as little as US$593 roundtrip, which is $761 in Canadian Dollars, incredibly cheap. San Francisco is often accessible from most Canadian cities for about $450, which gives a total of about $1,200 instead of $2,400 or more when buying on a single ticket.
For a couple, that's over $2,000 in savings! You're welcome! Saving you money is what makes us happy. Plus, this itinerary allows you to spend a few days in San Francisco, an incredible city, and thus make it a 2-in-1 trip for free. Well not "free", because you actually save a thousand dollars per person AND get to visit a bonus city.
READ ALSO: Top 10 Photos That Will Make You Want To Go To San Francisco
Before giving you examples of dates and instructions, there is even a way to get to French Polynesia for C$784 roundtrip if you have 25,000 Aeroplan Miles and a US airport within driving distance of your home (Buffalo for Torontonians, Burlington for Montrealers, Seattle for Vancouverites, etc.).
That's because when leaving from the US, any roundtrip flight to the US will only cost you $14 thanks to Travel Hacking. We'll give you more details about this tip next week, but know that if you don't have Aeroplan Miles yet, there is a credit card that currently gives you 30,000 Aeroplan Miles for $150, a good deal if you use your miles wisely (the roundtrip to Tahiti would then cost you C$934).
Dates And How To Book
We've spotted several dates, but like all airline ticket prices, they change every day. These are ULCC prices for the San Francisco – Tahiti route that are often available, so there will always be others if you check back often. As always, all you need is to have some flexibility.
And be sure to read the important booking instructions about multi-ticket itineraries.
Let's take a look from November 15 to December 3, in a single ticket:

Ouch. $2,500. And all the dates are about that expensive by the way. This is from Montreal, but you'll find similar prices from Toronto, Ottawa, Halifax, Vancouver, Calgary, Edmonton or Winnipeg.
Now let's search for the San Francisco – Papeete roundtrip flights: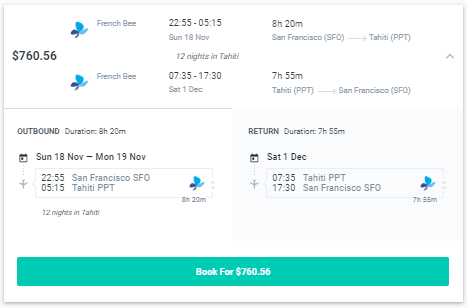 Only $761. Now let's add a Montreal-San Francisco roundtrip flight: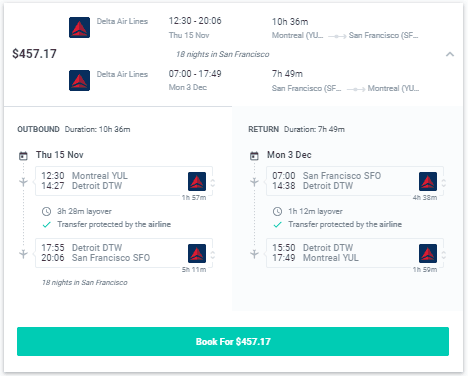 There you go. Add them up and $761 + $457 gives a round trip itinerary at $1,218 instead of $2,500. You literally get two tickets for the price of one.
For this specific route, enter the following details on this link: SFO-PPT from November 18 to December 1 and YUL-SFO from November 15 to December 3.
If you want to find all the dates by yourself, we have a tool for that and we have described in detail how to find the cheapest dates for a specific destination. Simply enter SFO – PPT and follow the instructions to see all the options. Check back often to find the best prices.
Once the dates have been found, check the price of flights from your city to San Francisco (SFO) or to Oakland (OAK). Or use Aeroplan Miles from a US airport to save even more!
A Quick Disclaimer
Yes, this tip allows you to fly to French Polynesia for $1,200 instead of $2,400, but that will not change the fact that once you're there, it's an expensive destination.
But that's an important thing to understand: our flights deals will always save you money on your flights (no matter where you're going). But about the cost once you're at your destination… if a place it's expensive, it will always be expensive: there aren't really any discounts or deals on that. We do however give you lots of tips to save on this blog, for example some have sent us messages about Airbnb being a cheaper and viable alternative in French Polynesia.
So, in all cases, you should at least save money on the part that can vary the most, the airfare, by following our deals and reading our tips.
But above all, if you want to be a budget traveler, start by choosing a destination where you can travel cheaply. For example, not French Polynesia. If you want extremely beautiful landscapes and affordable luxury, go to Thailand or Bali, it's super affordable to rent private villas and 5-star hotels at the same price as mediocre hotels in Canada. We'll soon have an article on how to travel luxuriously at a low price, don't miss it.
Just be aware that Bora Bora / Tahiti / French Polynesia… really isn't the destination to choose for low prices. On the other hand, it's apparently incredibly beautiful. It is a top-of-the-range destination, there's a reason it is highly prized!
Finally, know that Papeete Airport is not on the same island as Bora Bora itself. But this will always be the case, as there are no international flights directly to Bora Bora. So it's a moot point because whether you are paying $2,400 or $1,200, you will always land in Papeete… so you might as well pay half the price, right?
Here's a great tip to go to a dream destination at about half the price. Getting two tickets for the price of one isn't too bad right?
Help us spread the word about our flight deals and travel tips by sharing this article and most importantly bookmark Flytrippers so we can help you navigate the world of low-cost travel!
Advertiser Disclosure: Flytrippers receives a commission on links featured in this blog post. We appreciate if you use them, especially given it never costs you anything more to do so, and we thank you for supporting the site and making it possible for us to keep finding the best travel deals and content for you. In the interest of transparency, know that we will NEVER recommend a product or service we do not believe in or that we do not use ourselves, as our reputation and credibility is worth far more than any commission. This principle is an essential and non-negotiable part of all our partnerships: we will never give any third-party any control whatsoever on our content. For more information on our advertiser disclosure, click here.
Share this post to help us help more people travel more for less: