Everyone knows the Canadian North is sparsely populated… and pretty much empty. But seeing that visually on a map is still impressive.
Apart from our flight deals at 50% off and our travel tips, interesting maps often rank among our most popular content. There's just something about seeing something expressed in such a visual way that is hard to beat in terms of understanding the world around us. We'll have a lot more of these.
Since our recent map that showed Canada split into 4 evenly populated sections was such a hit, let's share this one that also shows how unequally distributed Canada's population is.
And since finding cheap flights is our thing, we'll also share a pro tip on how to save thousands on flights to the Arctic (yes, thousands), in case you want a unique off the beaten path destination.
The Map
This time, it's a map that shows all the roads in Canada… and yeah, they are pretty non-existent up North (click on image for full-sized map).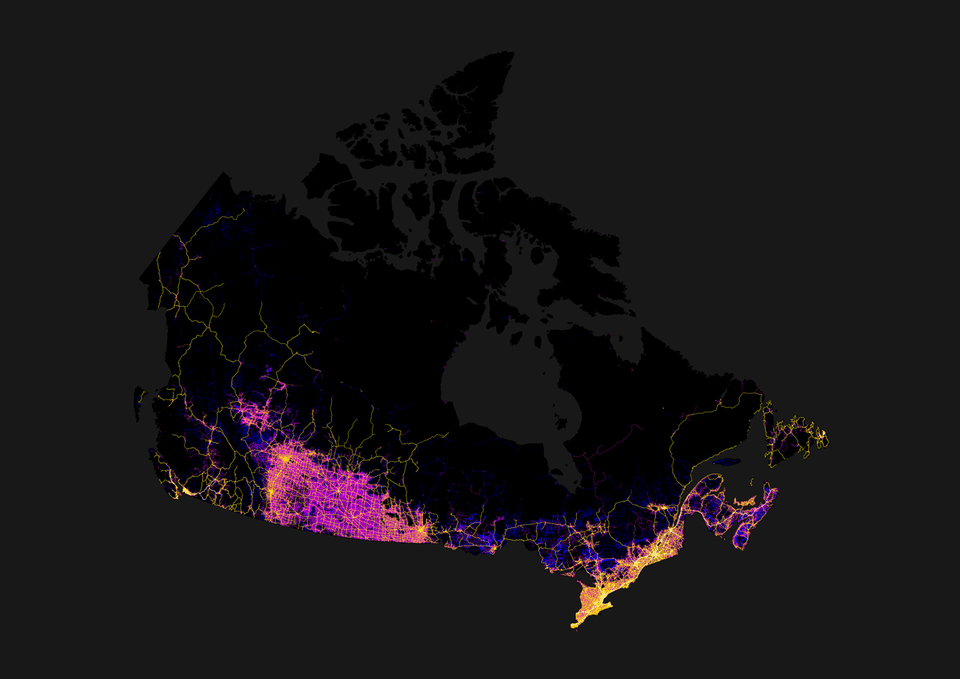 The southern parts of Ontario and Quebec are the brightest, unsurprisingly. And what the Prairies might lack in density, they make up for in the sheer size of the developed area served by many roads.
But it's up in the Canadian Arctic that this map gets really interesting. While there are a few main roads to connect the Yukon and Northwest Territories, it's a whole other story in Nunavut, Canada's largest territory.
It's the least-populated so it's not like it's surprising… but still, it's striking how there's really nothing going on up there. No roads whatsoever. It's completely isolated from the rest of the country… in fact even the cities within Nunavut aren't connected with each other.
Again, it's not that surprising since Nunavut has only 38,000 inhabitants (that's less than the capacity of many stadiums)… but it's still impressive to see it on a map.
Pro Tip To Visit The North For Cheap
Flights to the Arctic are very expensive. Like prohibitively expensive (because flight prices have nothing to do with the distance flown). But there is a trick that can save you a lot of money.
Take for example a flight to Iqaluit, the capital of Nunavut. A great destination for those who like unusual places to visit. Nature, the Midnight sun, the Northern Lights…
Flying to Iqaluit from Ottawa sell for over $1,600 at the regular price. From Montreal it's nearly $3,000. Now that's expensive. It's about the same from all other Canadian cities.
Considering we spot deals to Southeast Asia for $500 to $600 roundtrip, to Europe for $250 to $400 roundtrip or to Africa or Australia under $1,000 roundtrip, that's a steep amount to be spending to travel within your own country.
But there is a sweet spot within the Aeroplan program that allows you to fly from Ottawa to Iqaluit, that very same flight, for only 15,000 Miles and under $100 in cash instead of nearly $2,000. That's an insanely great value, and it's easy to get enough Miles thanks to travel hacking. This card gives you 30,000 Miles for $150 (no minimum income required) and this one gives you 15,000 Miles for $120.
From any other city, it'll cost you 25,000 Miles and around $200 in taxes, but that's still much cheaper than $1,600 or $3,000. Many other routes to the Arctic are available this way, but you'll need to book on the phone for this. We'll tell you more in our article on Aeroplan soon.
That's what travel hacking is all about. Finding great uses and using Points to save a lot of money on flights. We will be re-launching a very complete travel hacking section very soon (and something pretty cool for those who want to get in on the fun but don't know where to start) so stay tuned and subscribe to our free newsletter to make sure you don't miss a thing.
In the meantime, we do have an article to introduce you to travel hacking… and our complete guide on the Aeroplan program is coming soon.
This is another interesting map, stay tuned for many more this Fall. What do you think of how isolated the Canadian North is?
Help us spread the word about our flight deals and travel tips by sharing this article and most importantly bookmark Flytrippers so we can help you navigate the world of low-cost travel!
Advertiser Disclosure: Flytrippers receives a commission on links featured in this blog post. We appreciate if you use them, especially given it never costs you anything more to do so, and we thank you for supporting the site and making it possible for us to keep finding the best travel deals and content for you. In the interest of transparency, know that we will NEVER recommend a product or service we do not believe in or that we do not use ourselves, as our reputation and credibility is worth far more than any commission. This principle is an essential and non-negotiable part of all our partnerships: we will never give any third-party any control whatsoever on our content. For more information on our advertiser disclosure, click here.
Travel Hacking Disclaimer: Flytrippers does not give financial advice. You should ensure travel hacking fits your personal situation and obtain professional advice if you so desire. Flytrippers may receive a commission for referrals, however our policy is to only recommend products or services we really believe in (and have ourselves). To read more on our disclaimer, click here.
Featured image by u/AJgloe on Reddit
Share this post to help us help more people travel more for less: