Aeroplan is by far the best airline program for all Canadian travelers who want to maximize their free travel thanks to rewards (it's not even debatable). But it's even MORE true for those who want to travel in business class, to enjoy the ultimate luxury in aviation.
The increased offer on the TD Aeroplan Visa Infinite Card is the highest offer ever for Aeroplan points. It ends this Tuesday night (there's NO time limit to redeem the points, but the increased offer has a deadline).
It gives you enough points for a one-way ticket between Canada and Europe in business class, worth $2500! Quite a phenomenal deal if you like quality (or it gives you 13 short-distance economy flights if you prefer quantity, to travel more).
We don't often talk about more luxurious travel. But for those of you who enjoyed my business class teaser this summer, I want to reshare this concrete example to explain why you should take advantage of this great deal right away.
Paying $370 instead of $2500 is amazing. That's what the more valuable type of rewards are all about, with literally unlimited value!
Here are the details.
Business class with Aeroplan
If you're approved for the TD Aeroplan Visa Infinite Card by the end of the day on September 5 and you unlock the full welcome bonus (easy enough since you have 6 months to spend $5,000 and then another 6 months to add $2,500), you'll have 81,250 Aeroplan points.
It costs just 70,000 points and $92 to fly in business class in excessively luxurious lie-flat pod seats between Canada and Europe (one-way, I'll come back to your return flight in a minute).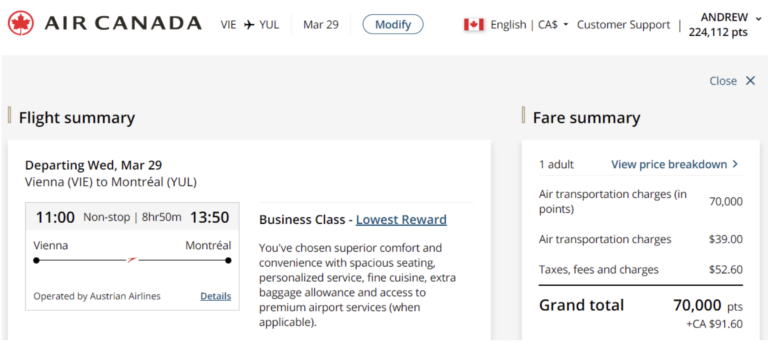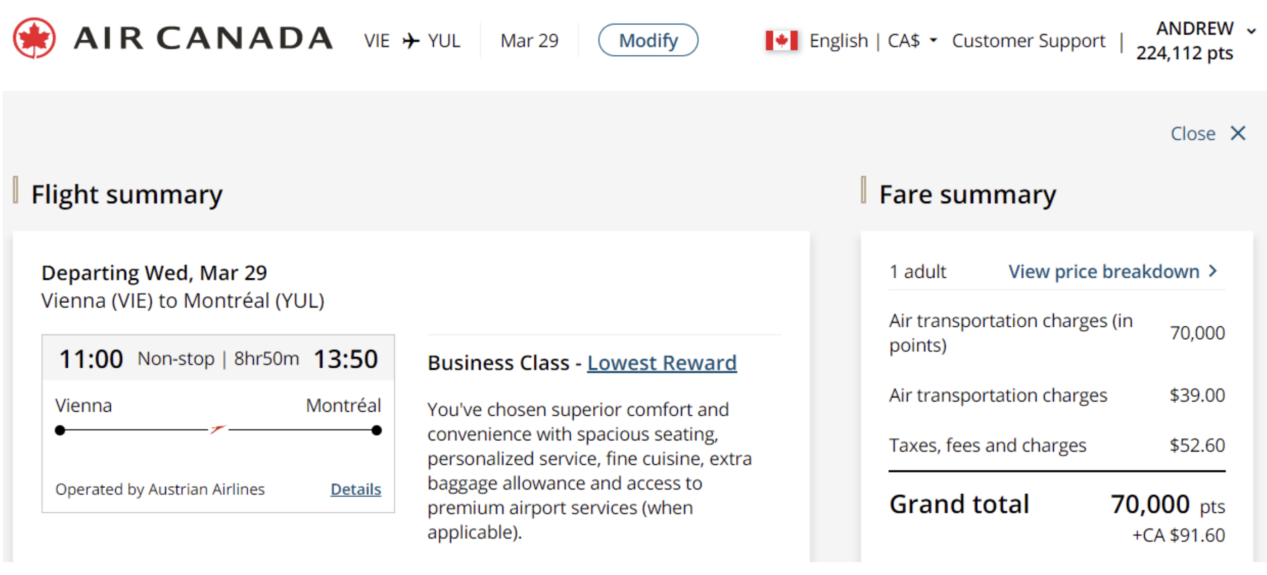 I chose a direct flight between Vienna (VIE) and Montreal (YUL) for this example, but it's the same price in Aeroplan points for anywhere in Europe too, if you prefer to go elsewhere and if you live in another city. As long as you redeem your Aeroplan points on the 40 partner airlines, not on Air Canada (if you live in smaller cities, it will usually add a few points to add an Air Canada flight, just like cash flights cost you more in a smaller city). And as long as you're flexible or can book in advance to find available seats. More on all that below.
Business class with cash
How much is that business class flight worth?
Of course it varies, but it's $6406 for the exact same flight above, if you pay in cash (the most terrible thing to do, it's SO much savvier to redeem points for this)!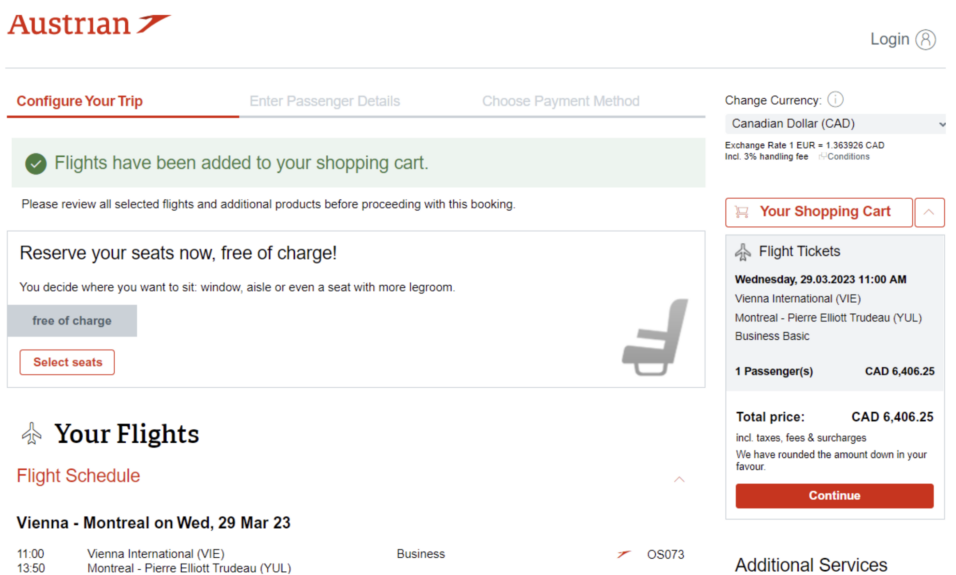 But okay… when you pay with cash, one-way flights are often more expensive for most long-distance flights (but NOT short-distance flights and NOT when you pay with airline points).
So I'll take the more realistic roundtrip price, which is $4918 on the cheapest dates (business class is expensive when you pay with cash)!
So a one-way ticket is still definitely worth at least $2459!
$370 instead of $2459
So with the TD Aeroplan Visa Infinite Card's record-high welcome bonus, for $370, you get a flight worth $2459.
(It's $370 because there's a $139 fee for the 1st year, a $139 fee another time since this current offer includes a renewal bonus, and the $92 taxes on the rewards flight!)
Pretty crazy, isn't it?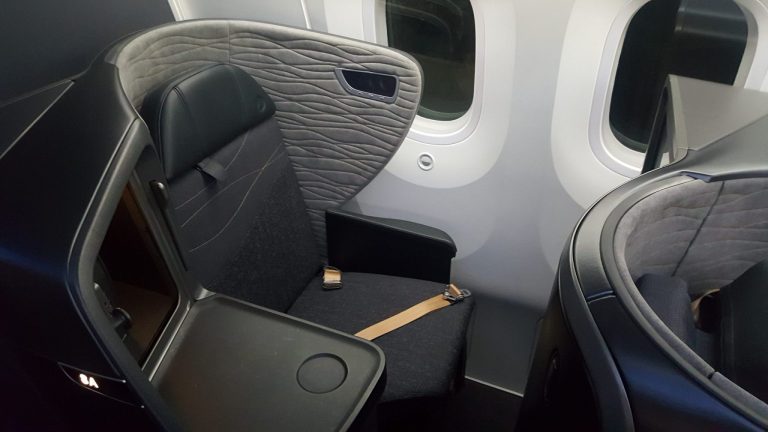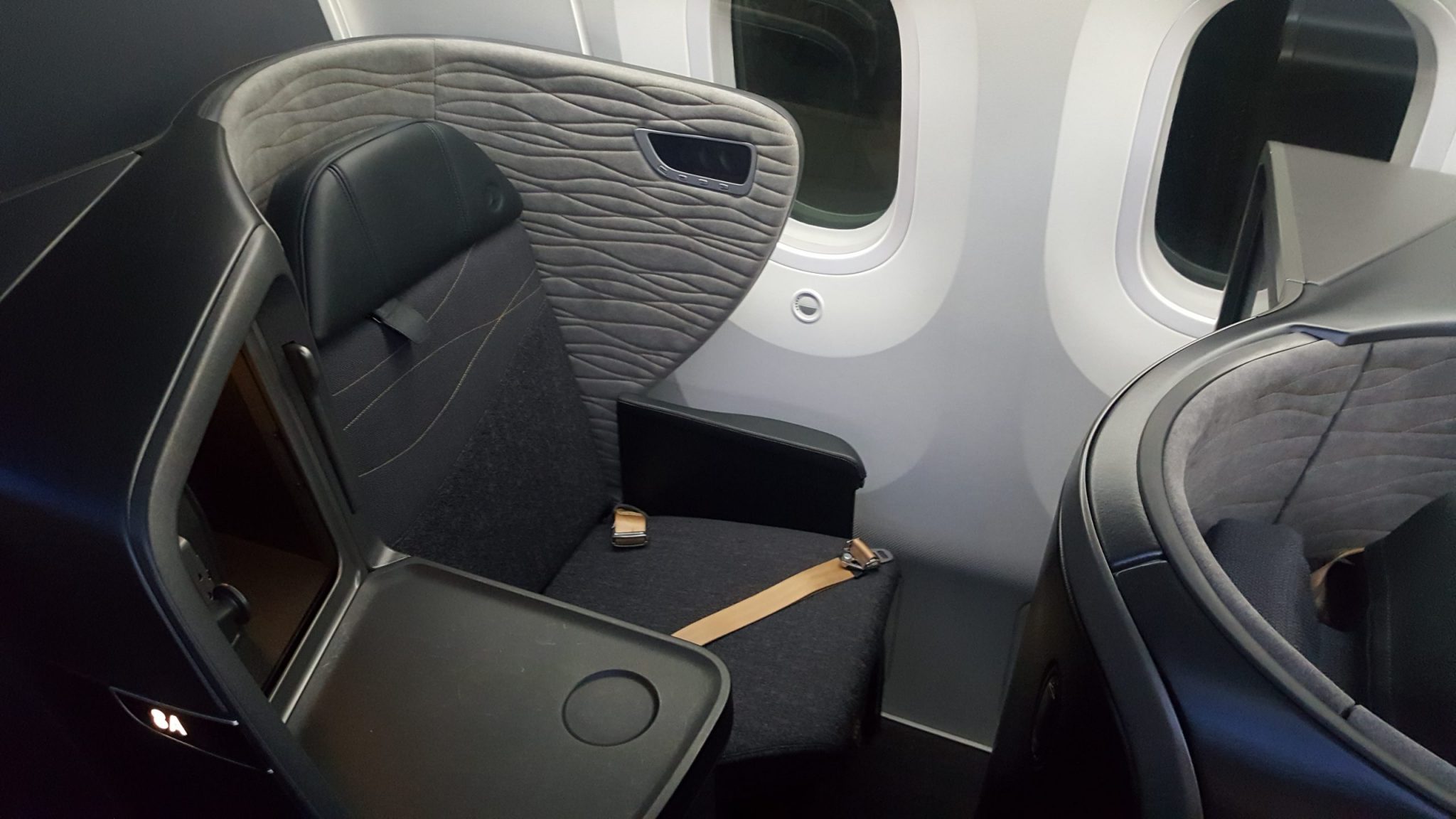 Our Flytrippers Valuation of Aeroplan points is ≈ 1.5¢ per point, but that's mostly for economy flights. With this example, you get a value of 3.4¢ per point, because you save $2367 ($2459 minus $92 in taxes) with just 70,000 points. Redemptions for business class always give a higher value, but you get fewer flights out of it obviously.
Other destinations in Europe… or Asia
But like I said, you have plenty of options!
From Toronto and Montreal for example, if you want to go to Greece, Switzerland, Italy, Czechia, Norway (and even Morocco, Egypt, or Turkey): it's always 70,000 Aeroplan points one-way for business class to that region, on partner airlines!
Price are distance-based.
From Vancouver, it's 75,000 points for a large portion of Asia for example. Business class to Asia from the Eastern part of Canada is just 87,500 points (it's very easy to rack up the points to top up the TD Aeroplan Visa Infinite Card's bonus). That's possibly the best deal right now, with cash prices being so high to Asia these days!
The price in points is always fixed on partner airlines, no matter the cash price. Which is how you can get unlimited value.
But what's for sure is that these long-distance business class flights are all worth thousands of dollars in cash.
Return flight
For your return flight, you can easily get another welcome bonus by then (and thus increase your credit score too, contrary to the so common and so false myth — as long as you follow the 3 simple rules).
It can also be in business class if you're motivated. Or if not, in economy it'll be even easier to rack up and let you keep some of your points for other trips while still splurging (in that case, I recommend the outbound in economy and the inbound in business class).
In short, we'll help you, it's really sooooo simple to get lots of points if you do it the right way.
Our Flytrippers readers have now earned over 2 million dollars just with welcome bonuses from the deals we've shared, so don't worry about the return flight!
Basics of Aeroplan points (and their unlimited value)
What you need to take away is that our Flytrippers Valuation of offers is always conservative. Especially if you want to fly business class.
For the TD Aeroplan Visa Infinite Card, our Flytrippers Valuation is ≈ $941 in net value for the increased welcome bonus (≈ $1219 in Aeroplan points minus a $139 fee twice). Even "just" that is pretty awesome.
But it can be so much more too: rewards of the more valuable type are so much better than bank points and the terrible cashback people unfortunately always use (which are rewards of the more simple type, therefore less valuable — with a fixed value that can never give you more).
The value of more valuable rewards is literally UNLIMITED!!! As you can see. Instead of our Flytrippers Valuation of ≈ $941, it gives you $2000+ in this example. About 2 times more!!! That's what the "≈" symbol stands for! It depends on how well you redeem your points! For Aeroplan, it's unlimited!
So again, the key is to understand that for reward flights on the 40+ Aeroplan partner airlines, the price in points for a flight is guaranteed and NEVER changes, regardless of the cash price. Hence the unlimited value!!!
(Aeroplan is the airline rewards program with the most partners in the entire world, by the way!)
To be able to offer guaranteed fixed prices, obviously the seats offered are necessarily limited! That's the flexibility that's required to be able to get an incredible deal.
For reward flights on Air Canada directly, it's different (and simpler), but a little less valuable. But it's still very valuable! You can redeem for any seat on any flight… but the price is not fixed obviously.
I explained the basics of travel rewards and Aeroplan in 15 minutes at the beginning of our latest live Q&A video.
(We also did a free webinar all about Aeroplan by popular demand: you can watch it before Tuesday if you want all the details on the best airline rewards program for Canadians!)
Otherwise, we'll be doing a live Q&A video about travel rewards in September, as we do every month.
Of course, you can also read the 18 good redemptions of Aeroplan points to see plenty of other concrete examples in the meantime.
Why take action now
As mentioned, the TD Aeroplan Visa Infinite Card deal is the highest ever for Aeroplan points.
And if you're like me (who's addicted to good deals and always maximizing everything), it's MORE than time you got interested in more valuable type of points — and Aeroplan points especially.
There's a reason why it's been my favorite among the many (many) programs I've used in the past 15 years.
There's a reason why it's the one that gave me the majority of my reward flights (many many dozens of them) on my way to the $25,000 in free travel milestone I've now reached with travel rewards!
There's a reason why it's one of the most popular programs among our Flytrippers readers who have now earned over 2 million dollars just with welcome bonuses!
I've only done 2 long-distance flights in a lie-flat business class seat out of my 400+ lifetime flights, because I'd rather redeem 80,000 points for 13 flights instead of for just 1.
I like to maximize quantity and travel more. You, on the other hand, may have different priorities.
The fact is you have plenty of options for unlimited value potential and you'll have plenty of time to decide what to do with them since there's no time limit to redeem these points.
However, the TD Aeroplan Visa Infinite Card deal is coming to an end very soon.
Want to get more content to learn how to earn free travel?
Summary
This concrete example shows you how you can get exceptional value with the TD Aeroplan Visa Infinite Card's increased welcome bonus. A business-class flight between Europe and Canada with just one bonus is phenomenal! That's the more valuable type of rewards, with unlimited value. It's ending soon, though.
What would you like to know about Aeroplan? Tell us in the comments below.
See the deals we spot: Cheap flights
Explore awesome destinations: Travel inspiration
Learn pro tricks: Travel tips
Discover free travel: Travel rewards
Featured image: Hallstatt, Austria (photo credit: Ivan Rohovchenko)
Share this post to help us help more people travel more for less: