Airport lounges are amazing and easy to access, but Air Canada lounges are more exclusive than the rest. The airline has just opened a brand new one, the Maple Leaf Lounge in San Francisco (SFO), and I was at the official inauguration for you.
There's a unique and awesome outdoor terrace, but everything else is also really gorgeous in terms of design and decor! Makes us look forward to the renovations of the Maple Leaf Lounges in Canada! The food is high-quality, and there are even showers to refresh.
Here are the details of the brand-new Air Canada Maple Leaf Lounge in San Francisco (SFO).
Air Canada Maple Leaf Lounge San Francisco (SFO) — Basics
San Francisco, in Northern California, is the 5th most populous metropolitan area in the United States and the technology capital of the world. It's also an extremely popular destination for almost all types of travelers. I really enjoyed my visit in 2017.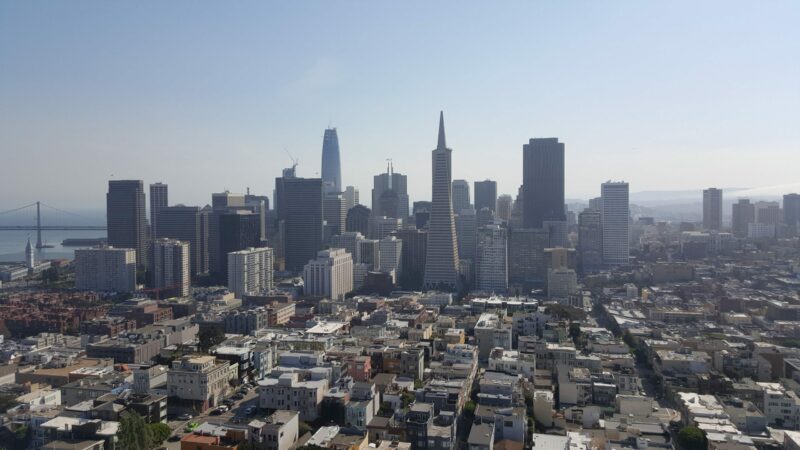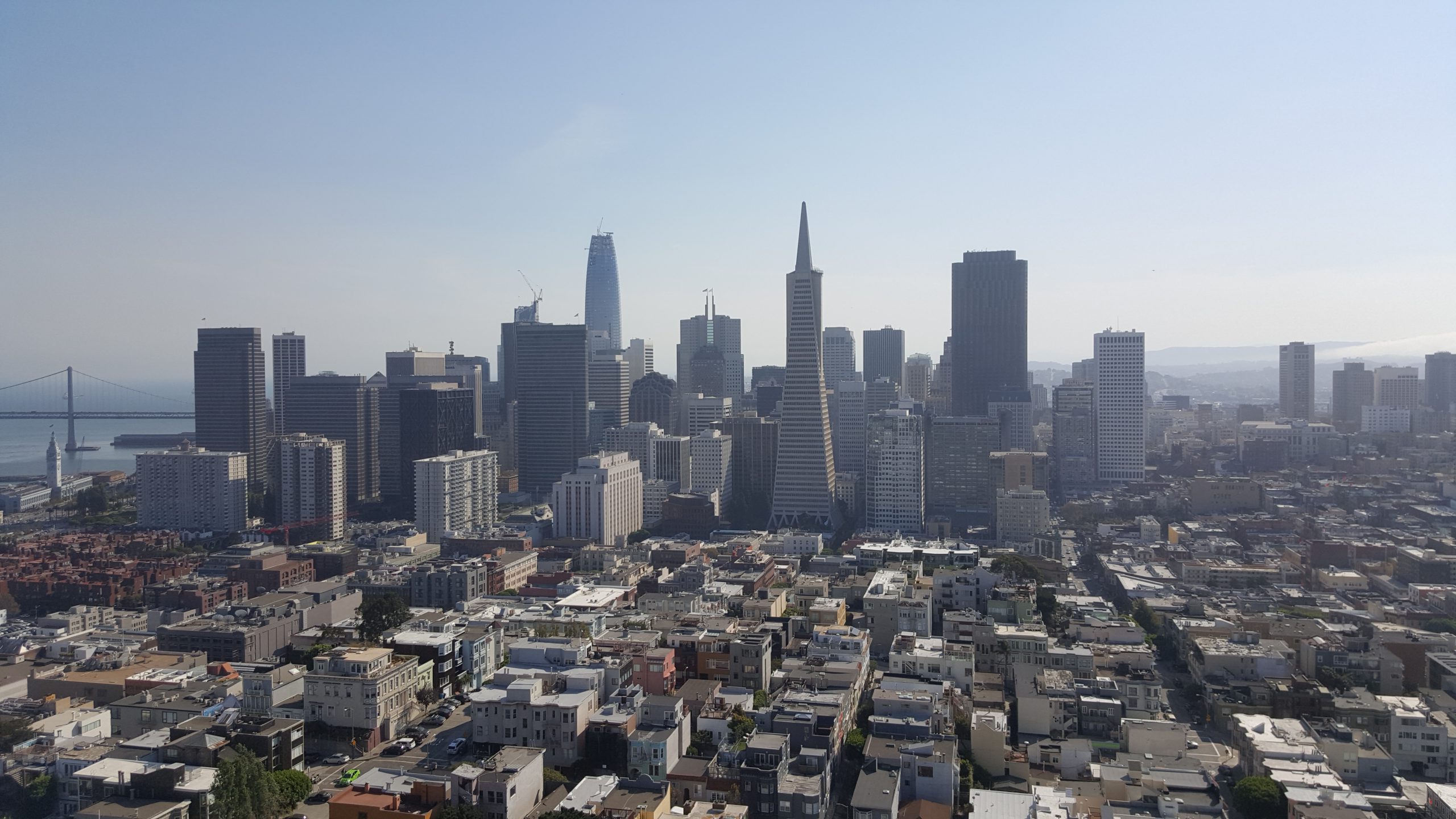 The San Francisco airport (SFO) is by far the busiest in the region (there's also OAK, SJC, and even STS a little further away). It's the 24th busiest airport in the world. It's a major hub, including for transpacific flights.
Air Canada, our national flag-carrier, has just opened its very first lounge at SFO (and its 28th in total, its 3rd in the USA, its 5th outside Canada, and its 1st with an outdoor terrace).
The lounge measures 8,168 square feet and seats 165 (135 indoors and 30 outdoors). It is open from 4.15 a.m. to 8.45 p.m.
As an important resource for airport lounges, Flytrippers was invited to the official launch party on Tuesday evening.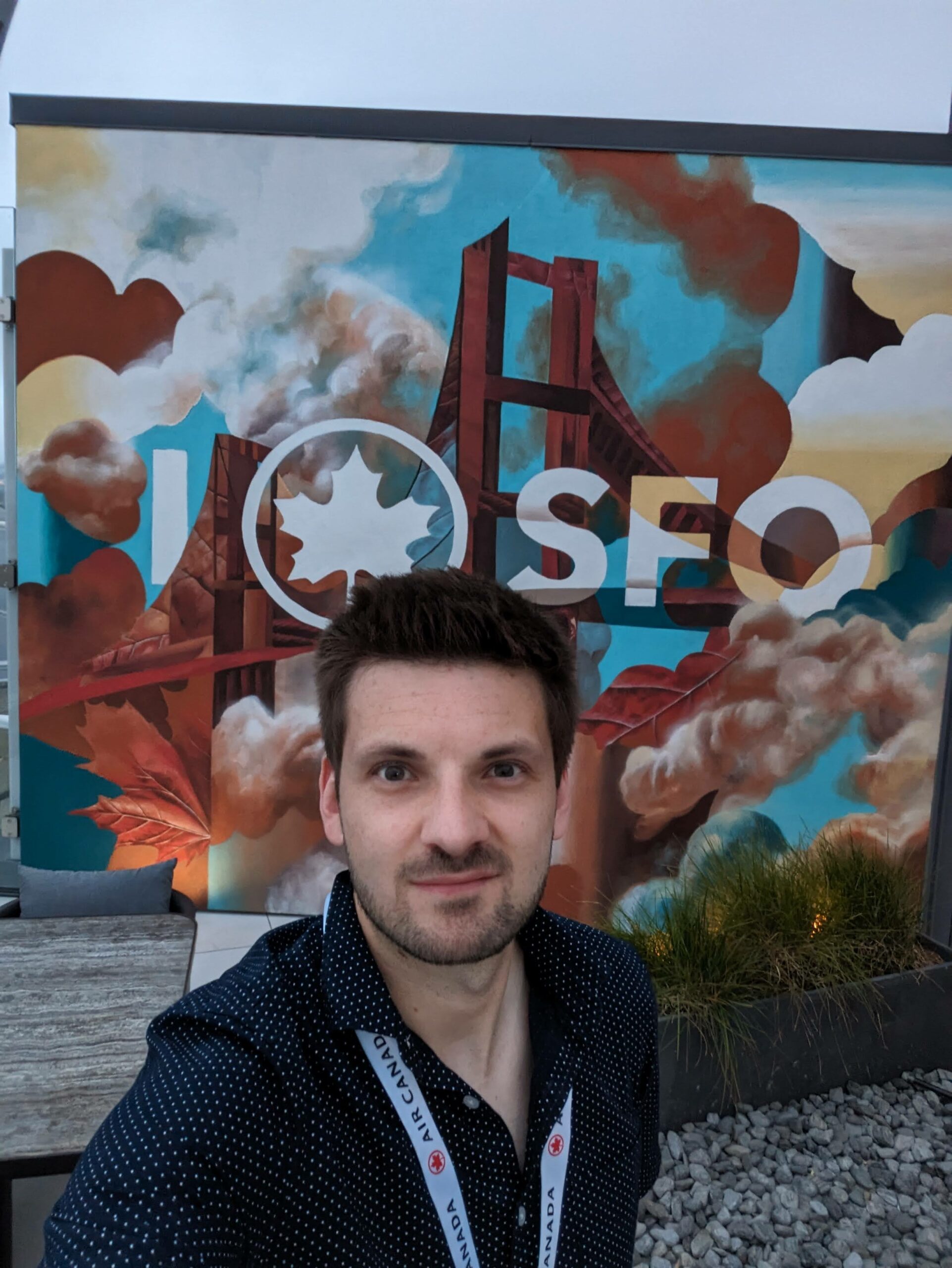 But I also got to try out the lounge the next morning before my flight back to Montréal for the more natural, normal experience. So I'm just showing you the lounge itself, but I've also added a section at the end about the behind-the-scenes experience!
Air Canada Maple Leaf Lounge San Francisco (SFO) — Access
There are 23 airport lounges in Canada (and 1200+ around the world) that almost all Canadian travelers can easily gain free access (or rather be paid to access) year after year. These are the lounges that are part of lounge networks, which is not the case for this one.
The Air Canada airport lounges are a little more exclusive and you can access them for free be paid to access them for just a few years, not infinitely like the other lounges.
There are 4 main ways to get free access to the Air Canada Maple Leaf Lounge in San Francisco (and the 20+ other Maple Leaf Lounges):
Having an Aeroplan premium credit card
Having a ticket in business class or first class
Having elite status

Aeroplan 50K, 75K, or Super Elite
Star Alliance Gold

Having a one-time pass

Benefit of certain corporate Aeroplan credit cards
Benefit of Aeroplan 25K or 35K elite status
Shareable benefit for elite members 50K and over
*Unlike all other cards that offer free access to airport lounges regardless of the airline, having a flight on Air Canada (or a Star Alliance partner) is always required to access Air Canada lounges, including if you have free access with Air Canada Aeroplan cards
Most people who don't want to spend a lot of money (or a lot of points) get access through Aeroplan premium credit cards and are therefore entitled to 1 free guest. You can access the lounge 3 hours before your flight if you're departing from San Francisco (no time limit during a connecting flight or a delayed flight situation).
For those with the other 17 Canadian credit cards that offer free access to airport lounges, the San Francisco airport isn't particularly well covered, with just 3 other lounges accessible:
Centurion Lounge (Amex Global Lounge Collection)
Air France / KLM Lounge (Priority Pass and DragonPass)
China Airlines Lounge (Priority Pass and DragonPass)
Air Canada Maple Leaf Lounge San Francisco (SFO) — Location and check-in
The lounge is located in Terminal 2 (where Air Canada operates), in the section leading to Terminal 3 (where Star Alliance partner United operates for domestic flights). So the lounge is accessible from Terminal 3 also, but no other SFO terminal is connected to Terminal 2 airside (post-security).
It's directly outside the security checkpoint, on the left.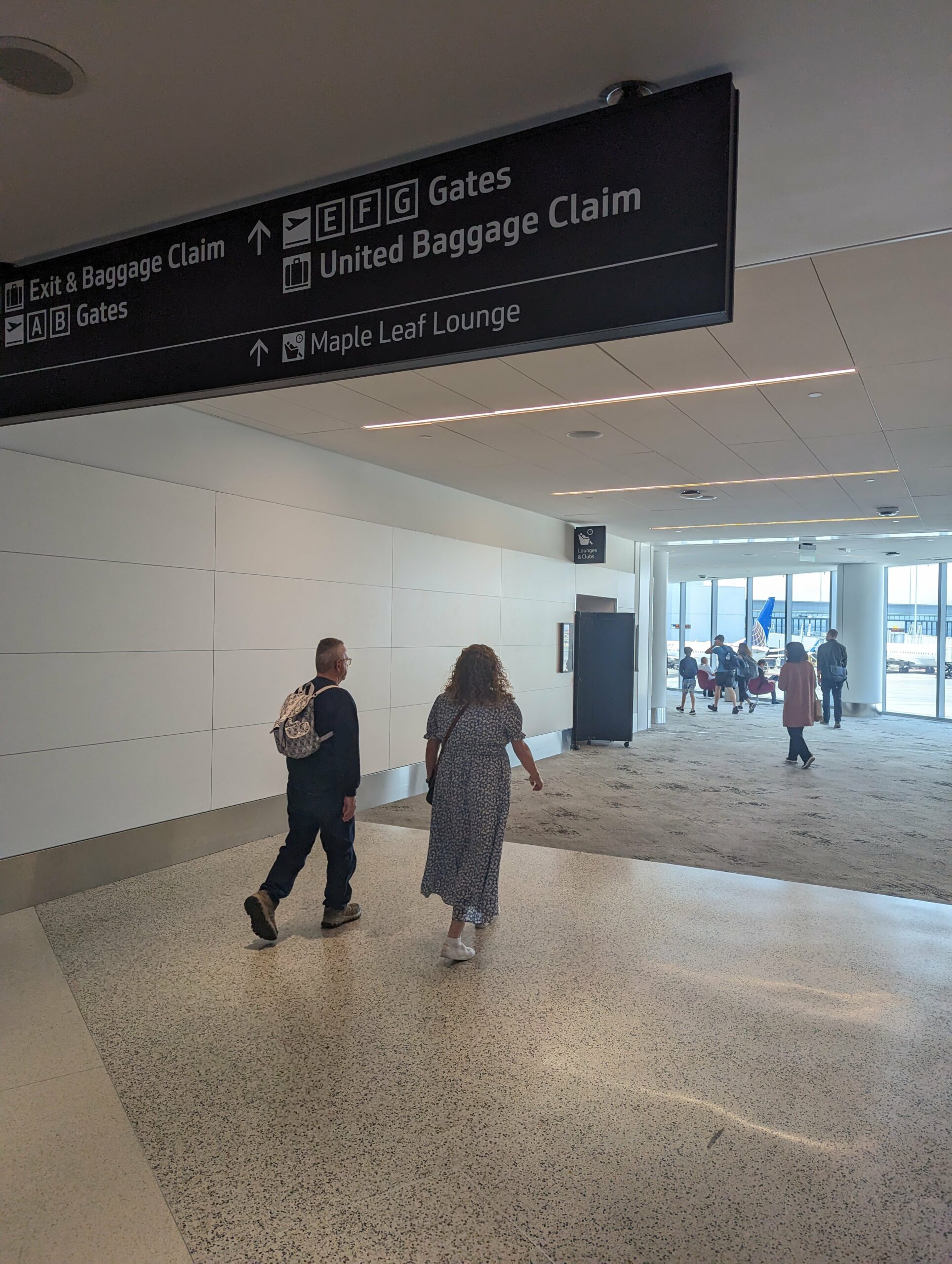 The lounge is well-indicated with another sign above and this plaque next to the entrance.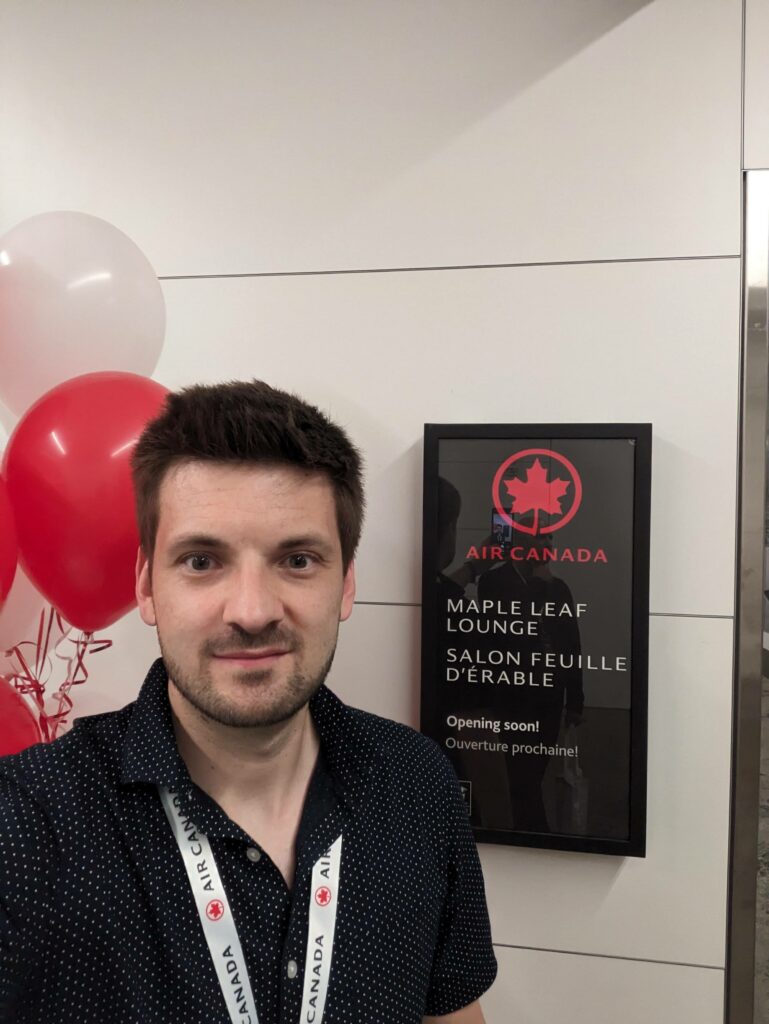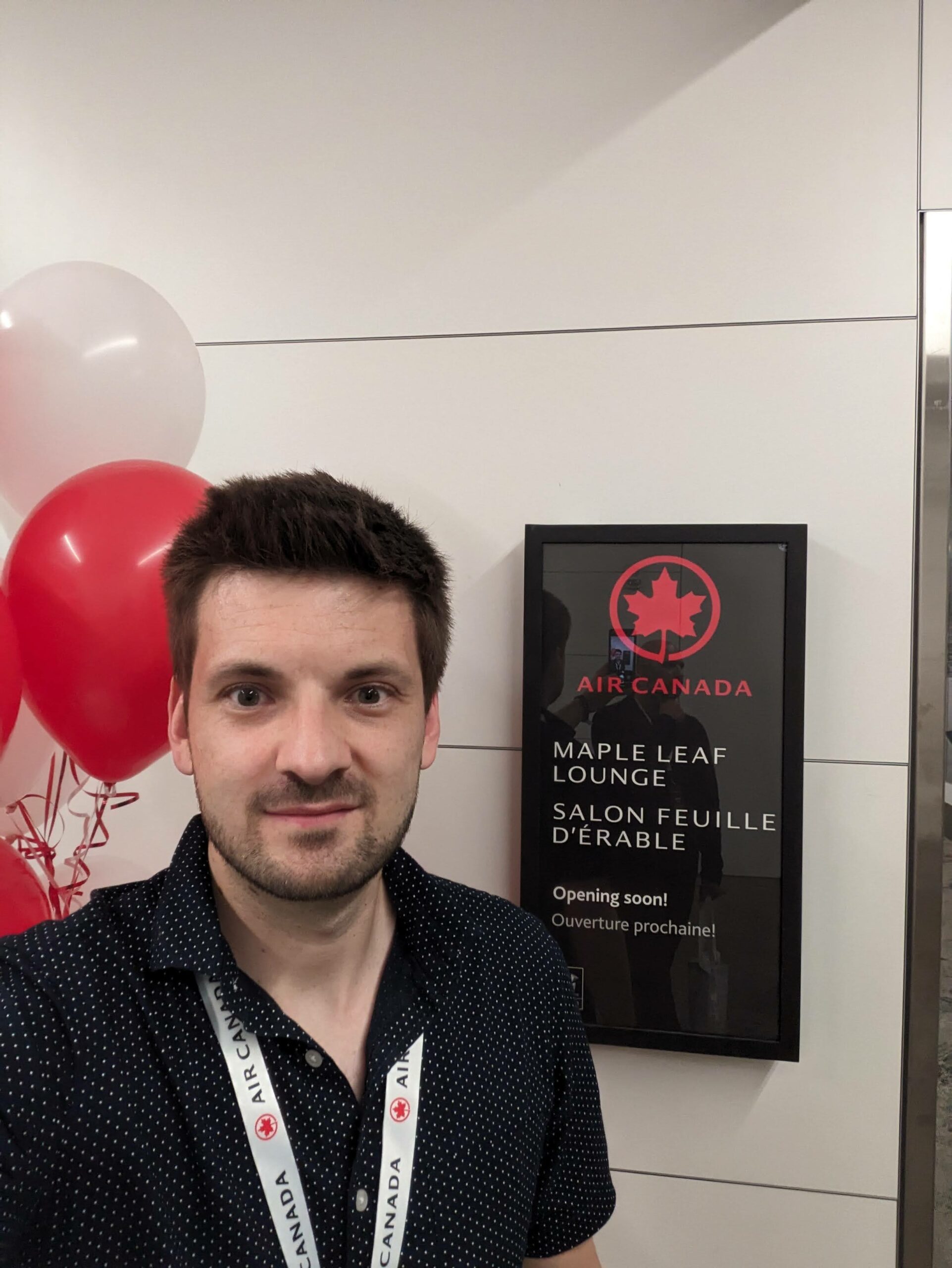 There's a corridor leading to the elevator.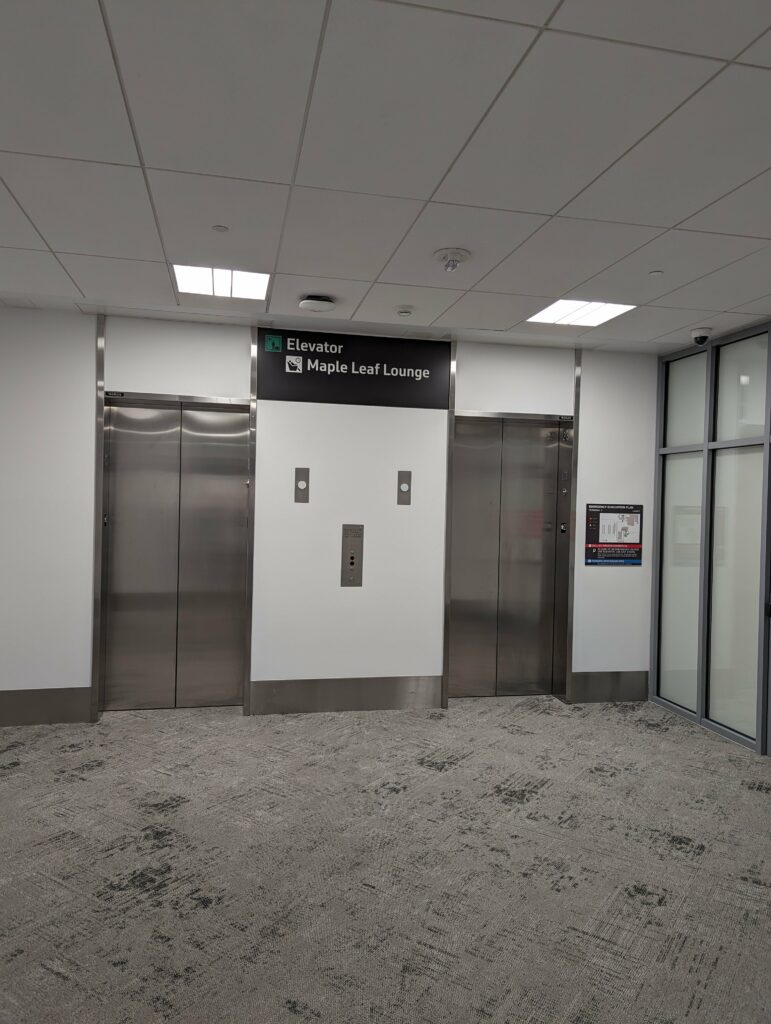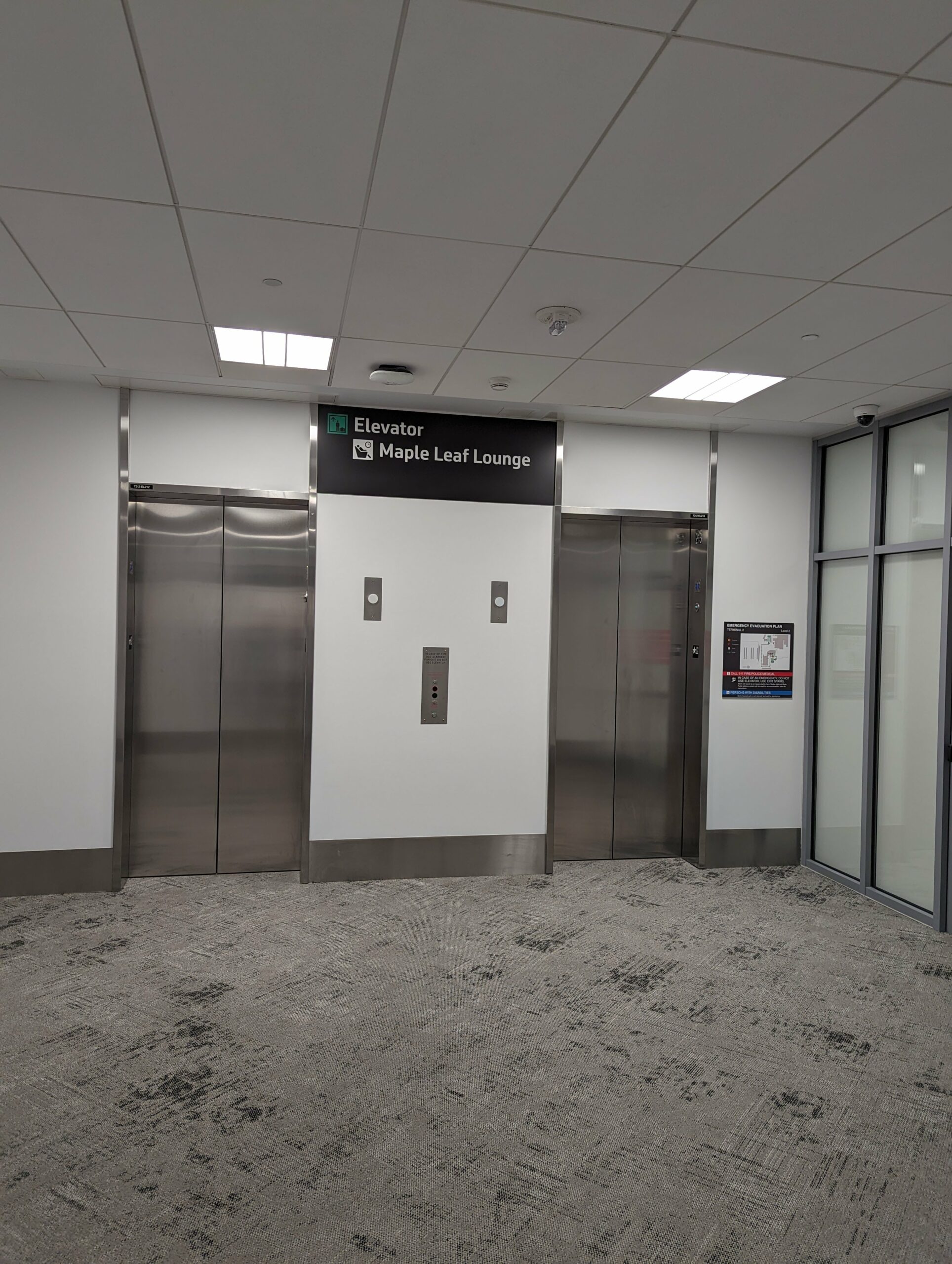 The lounge is 2 floors up.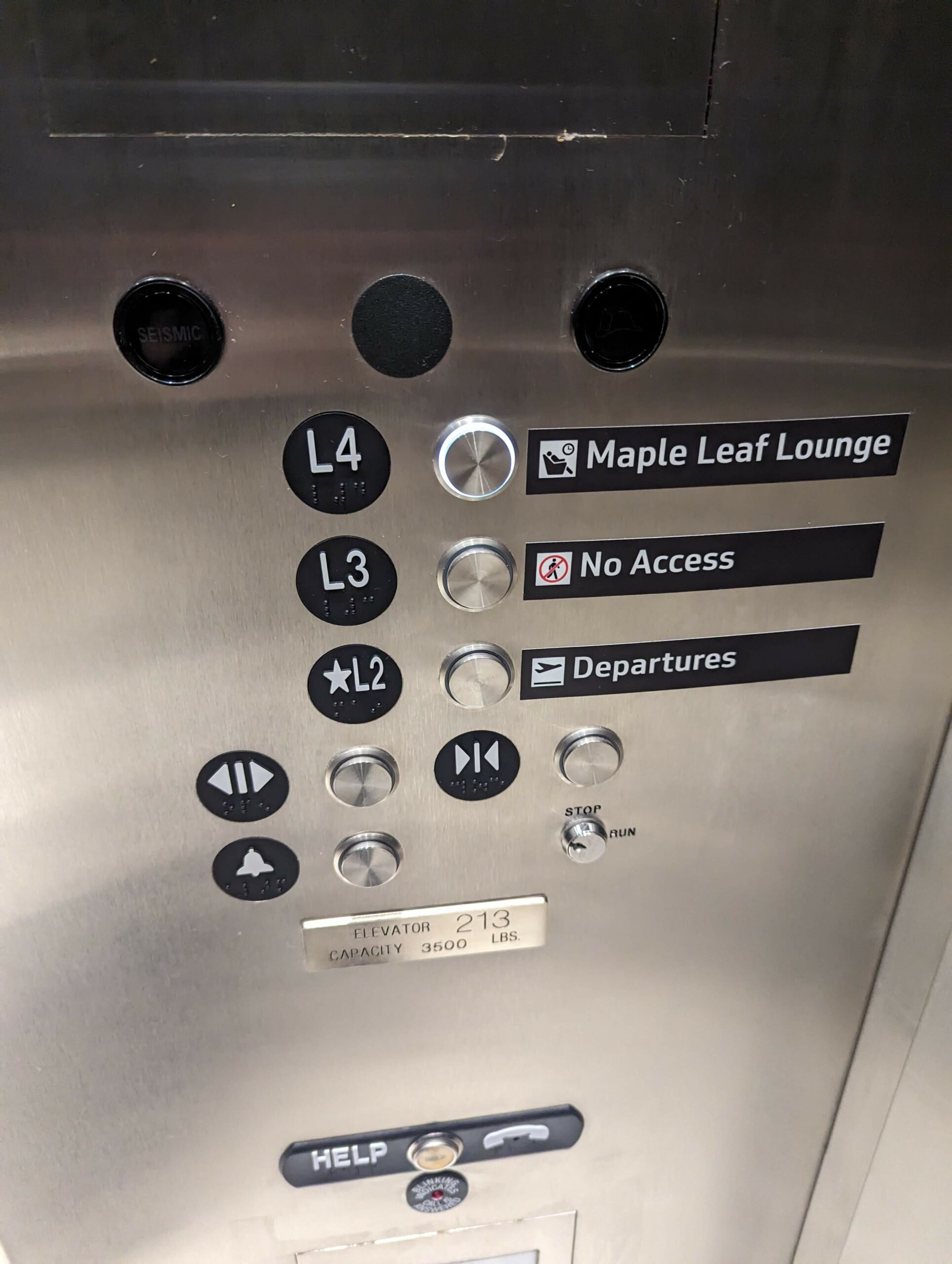 The lounge's entrance uses the ubiquitous black in the Air Canada brand color palette. It's chic right from the entrance.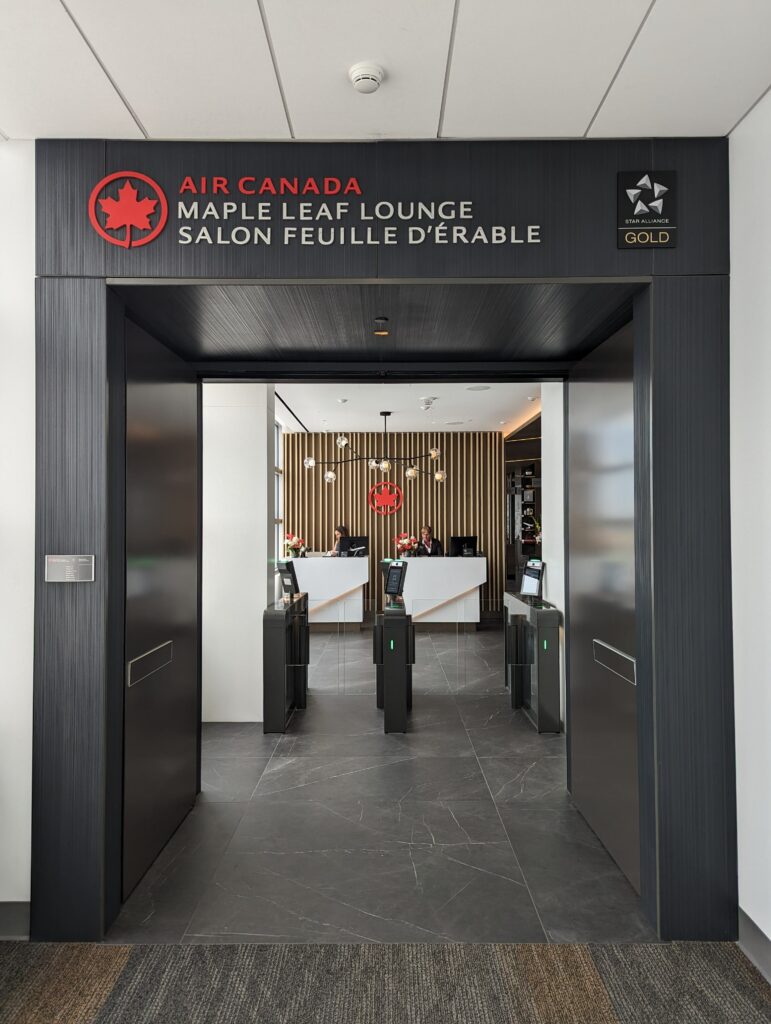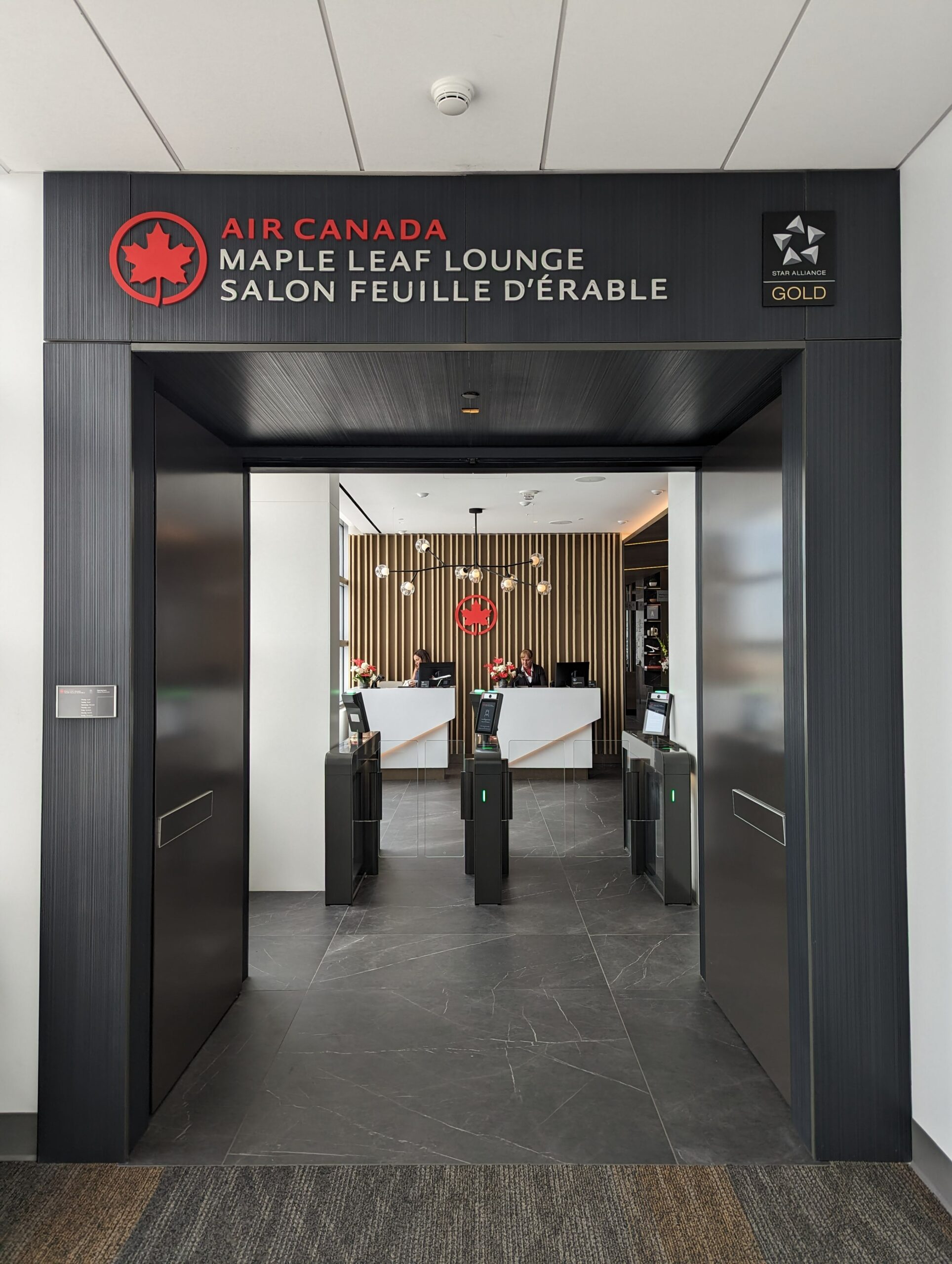 Access is fully automated, with either a biometric camera or a boarding pass scanner.
I tried biometrics and it didn't work, but I scanned my boarding pass on my cell phone and it did (I got the good welcome bonus from the Amex Aeroplan Reserve Card and my Aeroplan account is always linked to my flight reservations).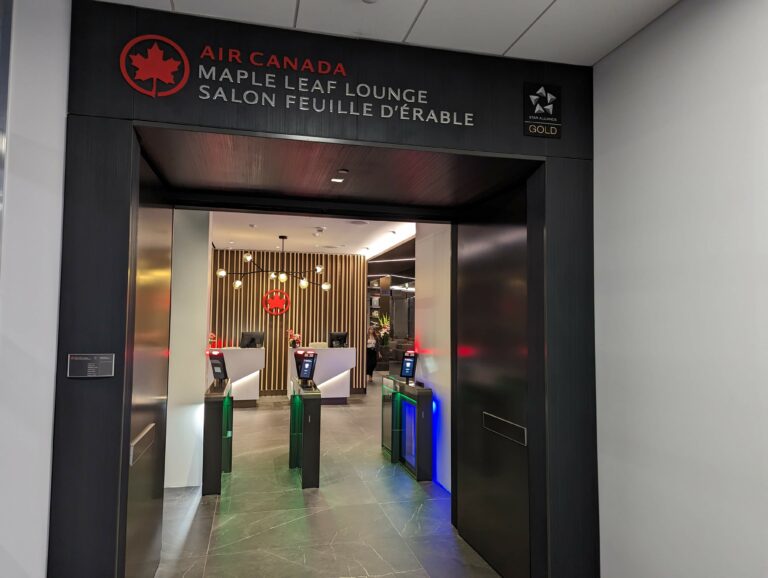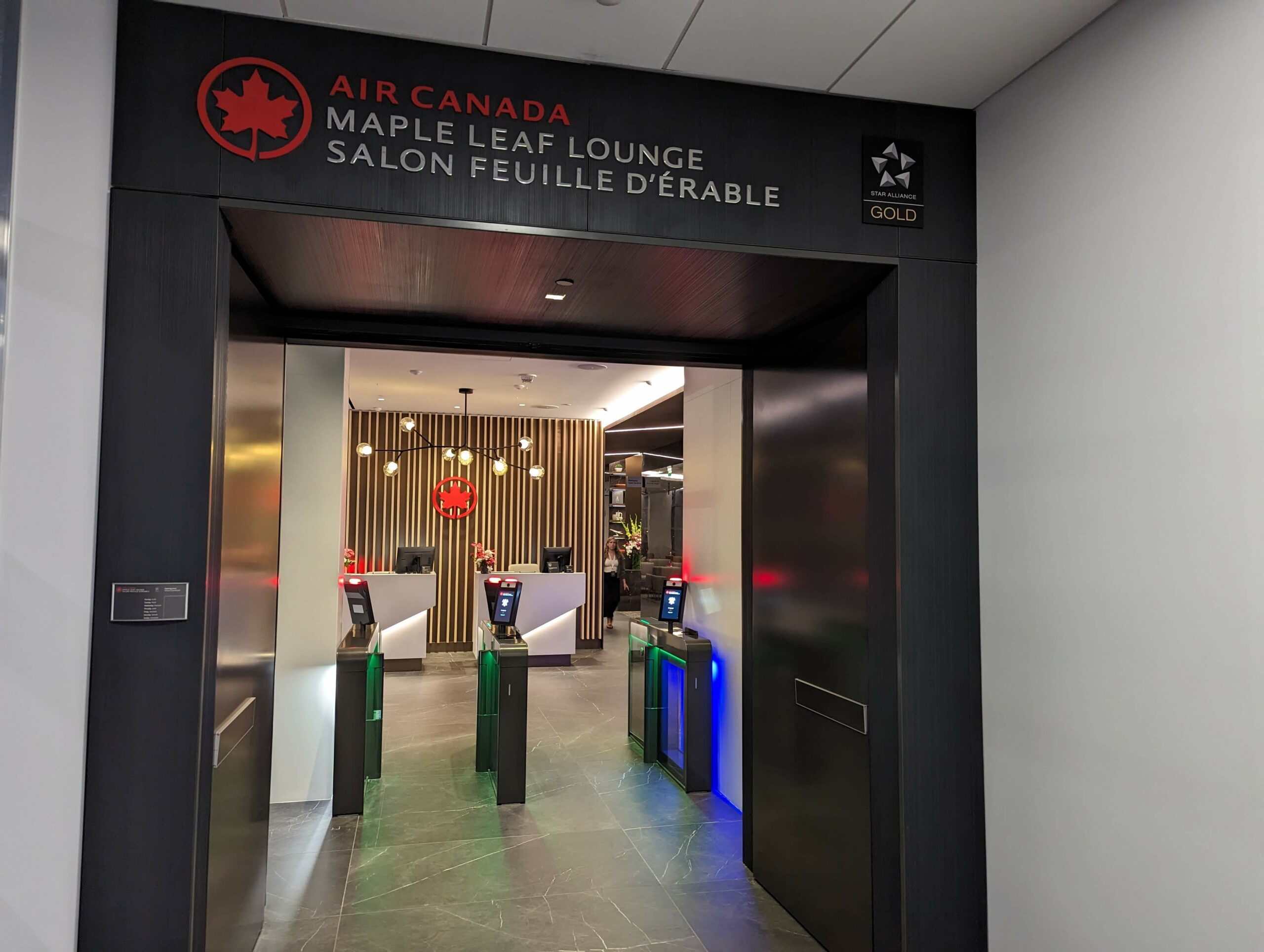 But there are staff at the counter at the entrance to help if you need it. And there was no waiting at all on Day 1, it was even quieter than at the inauguration event!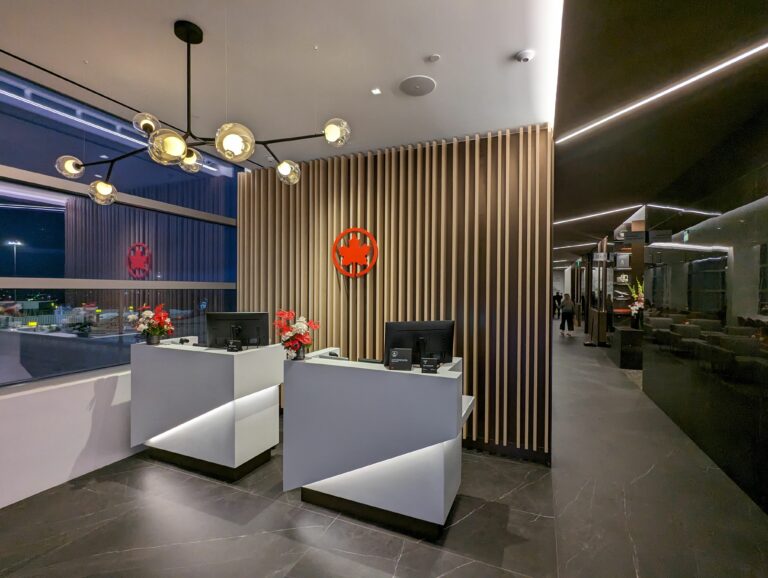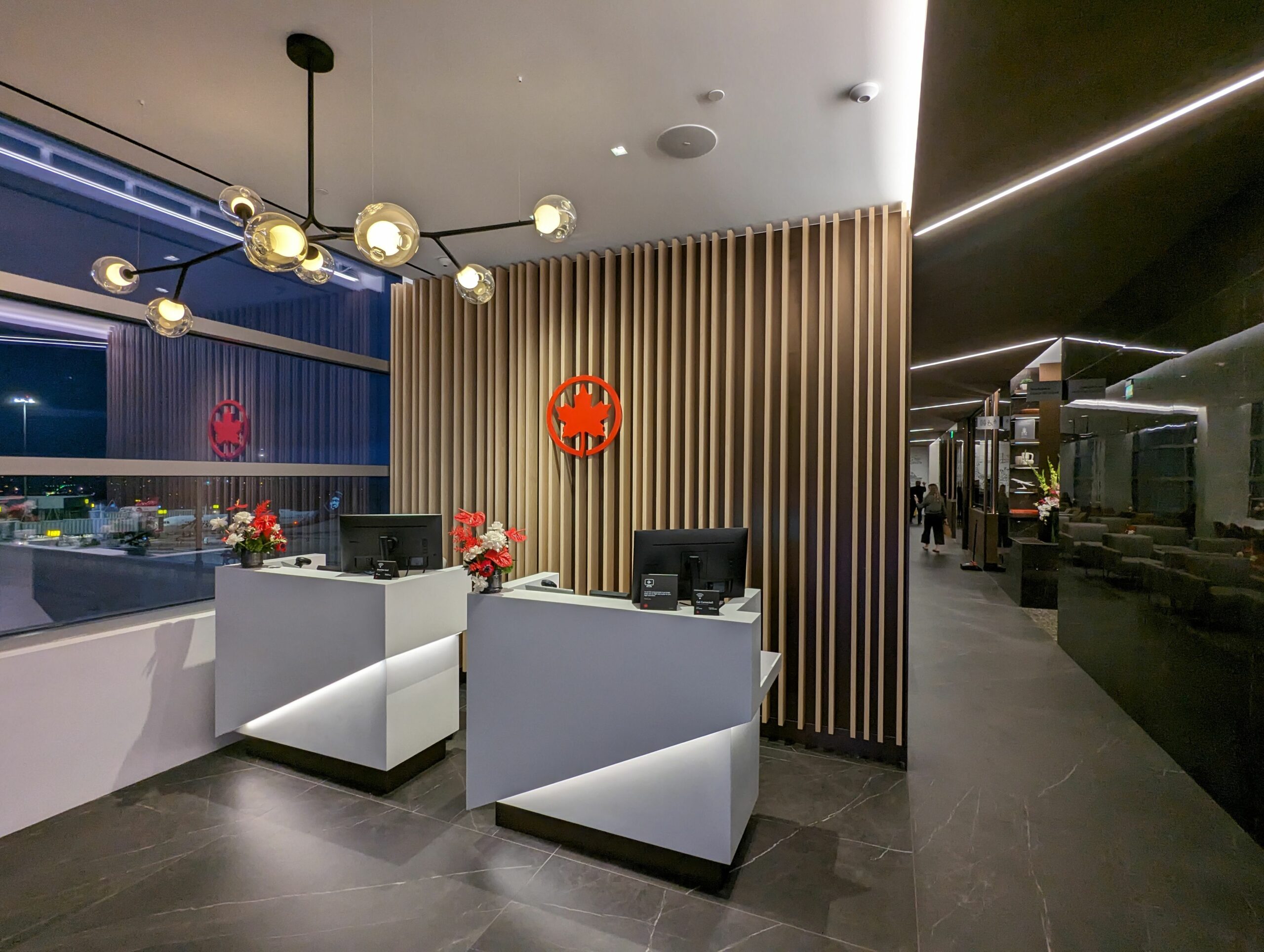 Air Canada Maple Leaf Lounge San Francisco (SFO) — Design and seating
The lounge is really configured as one very deep space with several separate sections. The style is modern and elegant with beautiful colors and materials.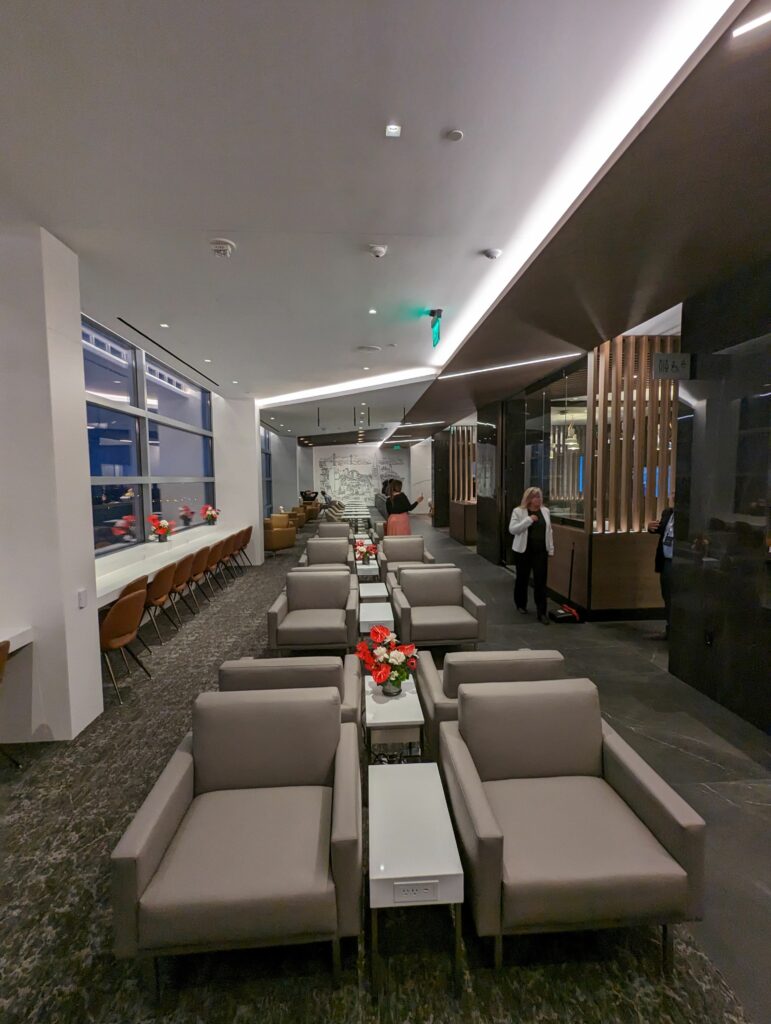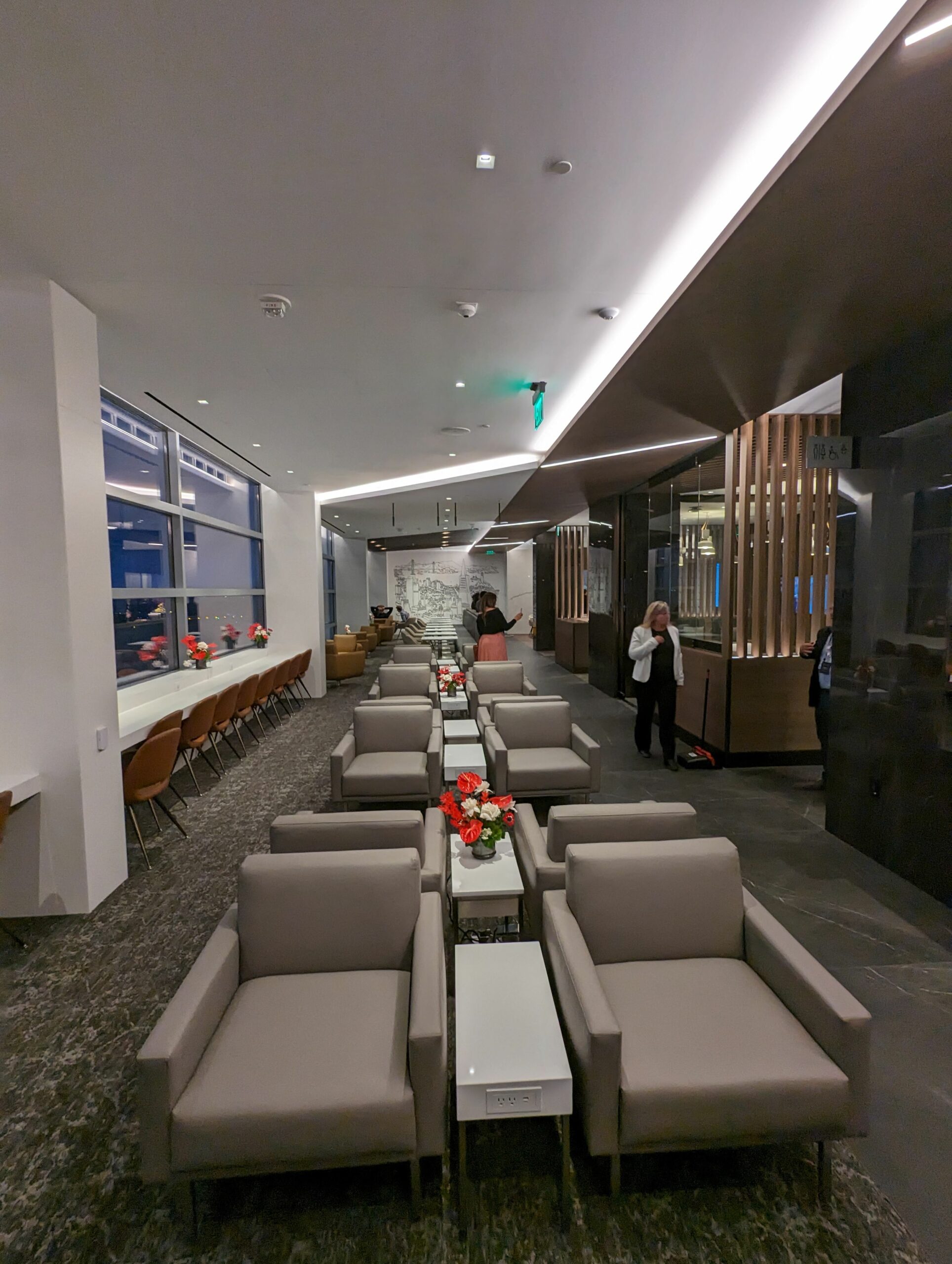 In the first part of the main section, comfortable armchairs are arranged in pairs facing each other.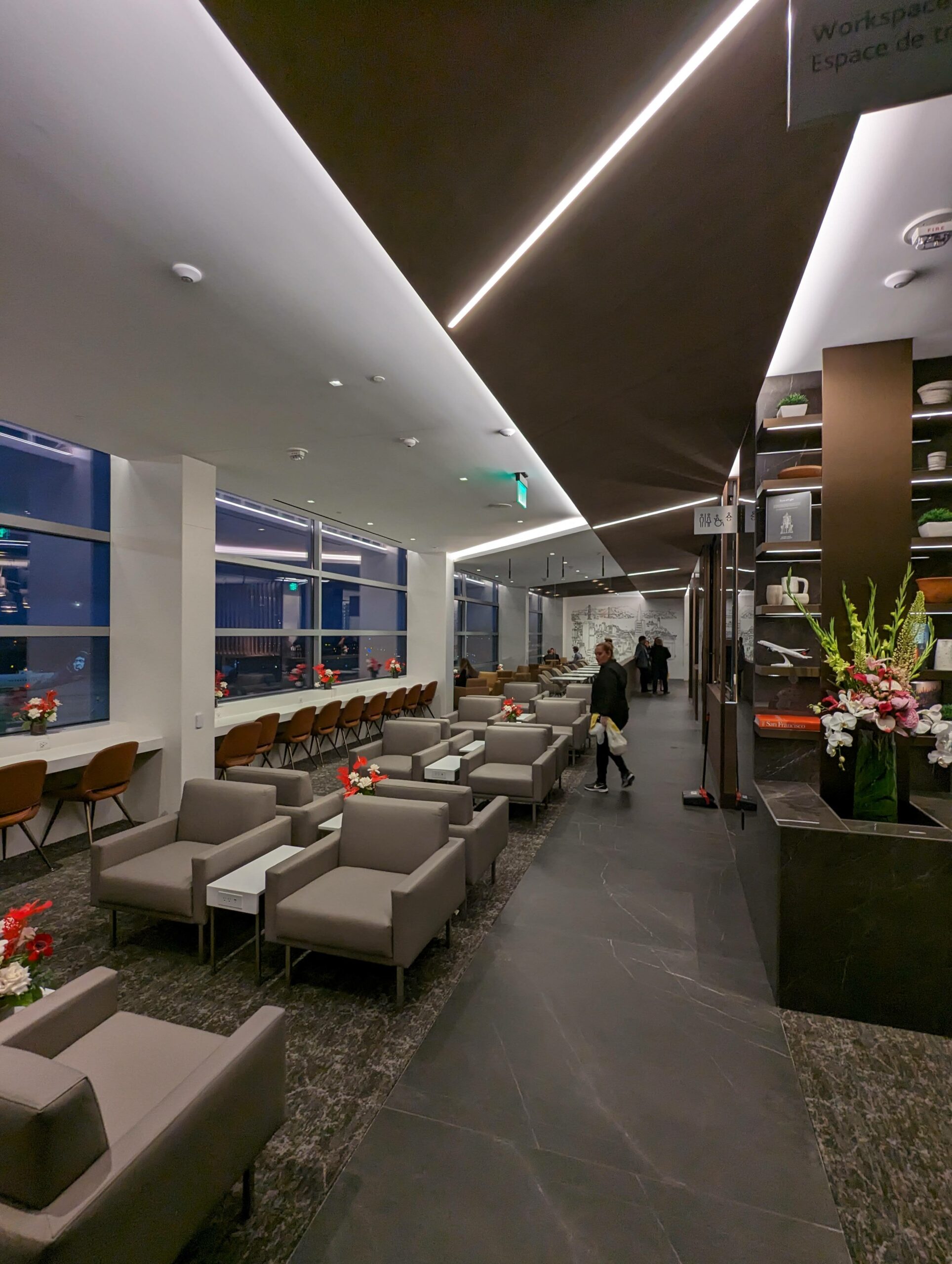 There are higher counters along the windows.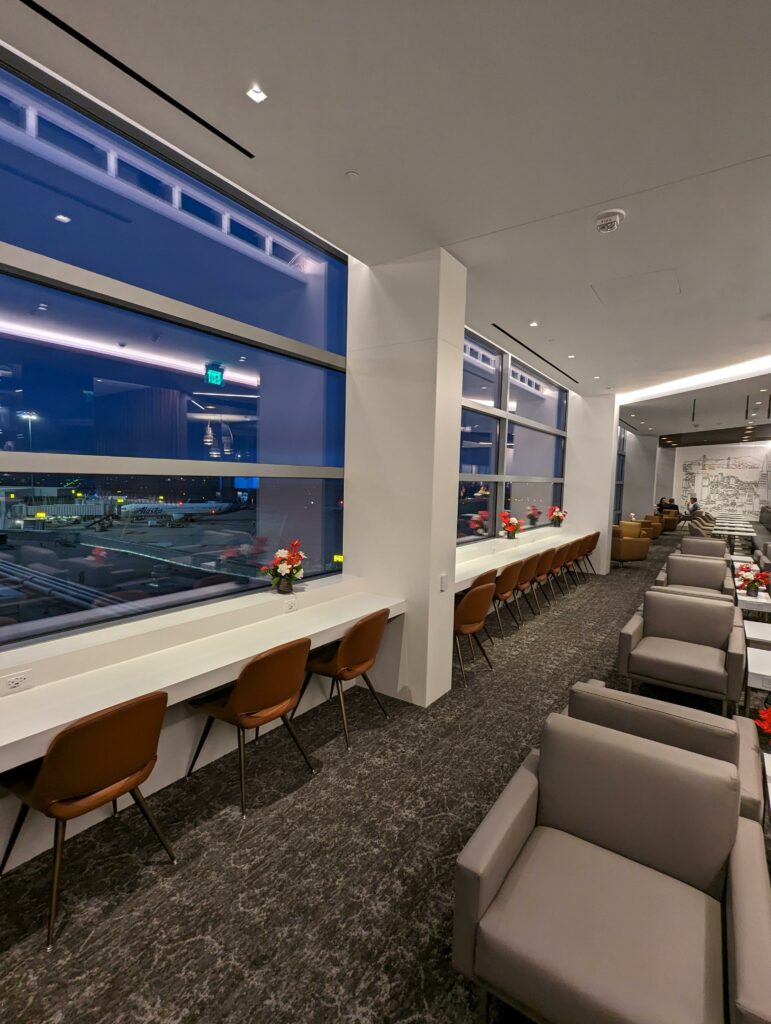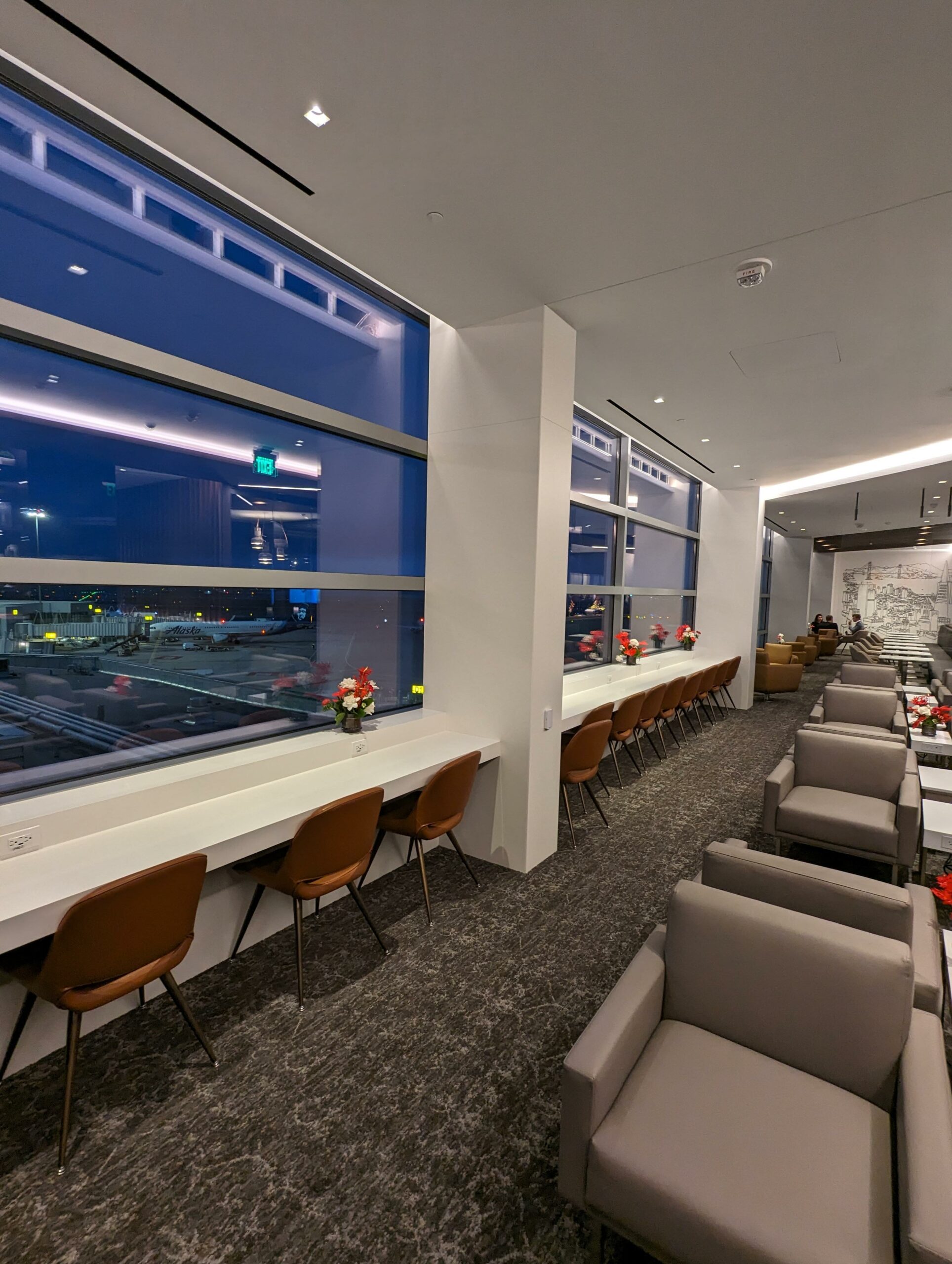 The large windows all along the main section let in natural light, so it's a very bright lounge.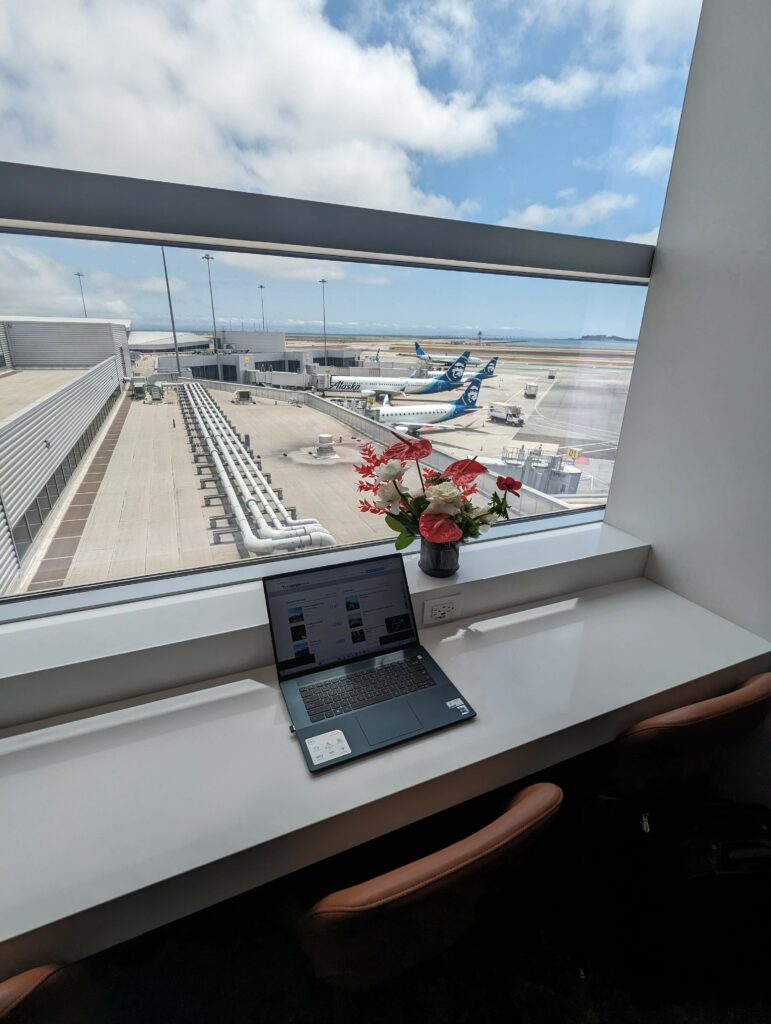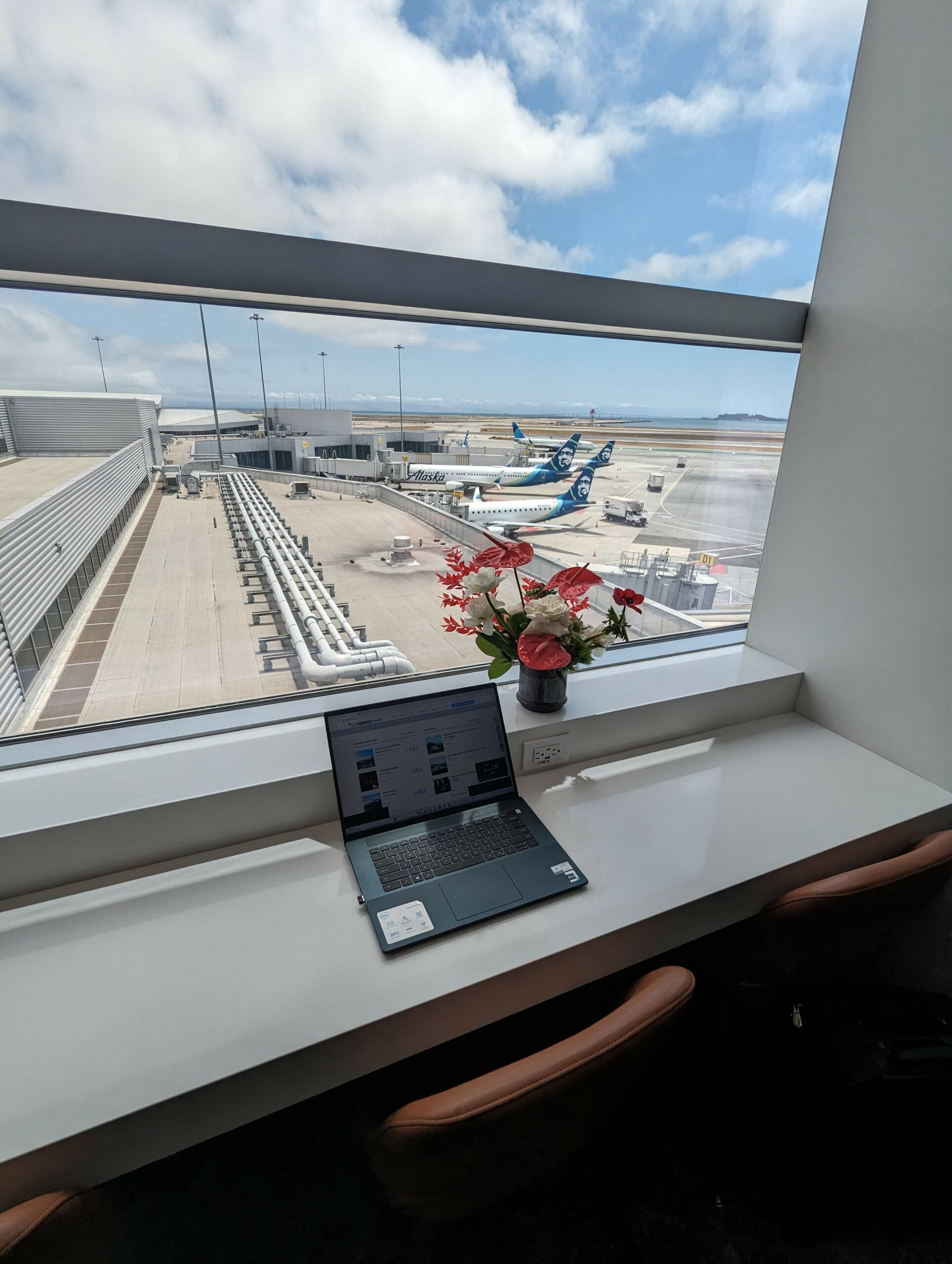 A little farther, there's a different model of armchair overlooking the tarmac.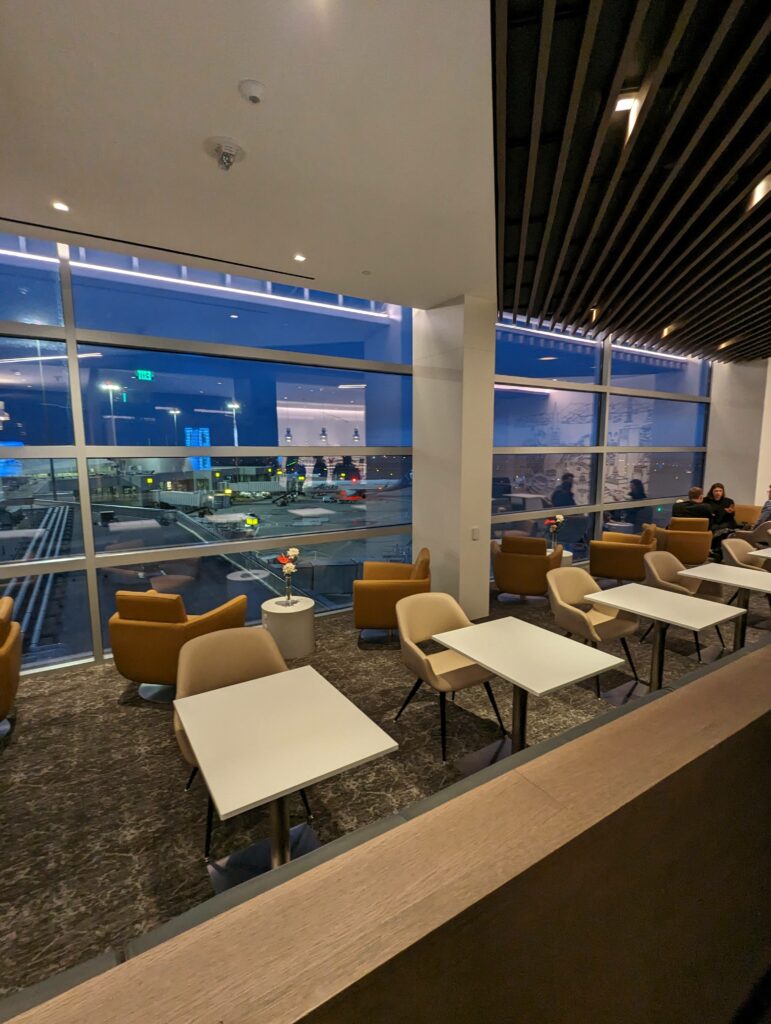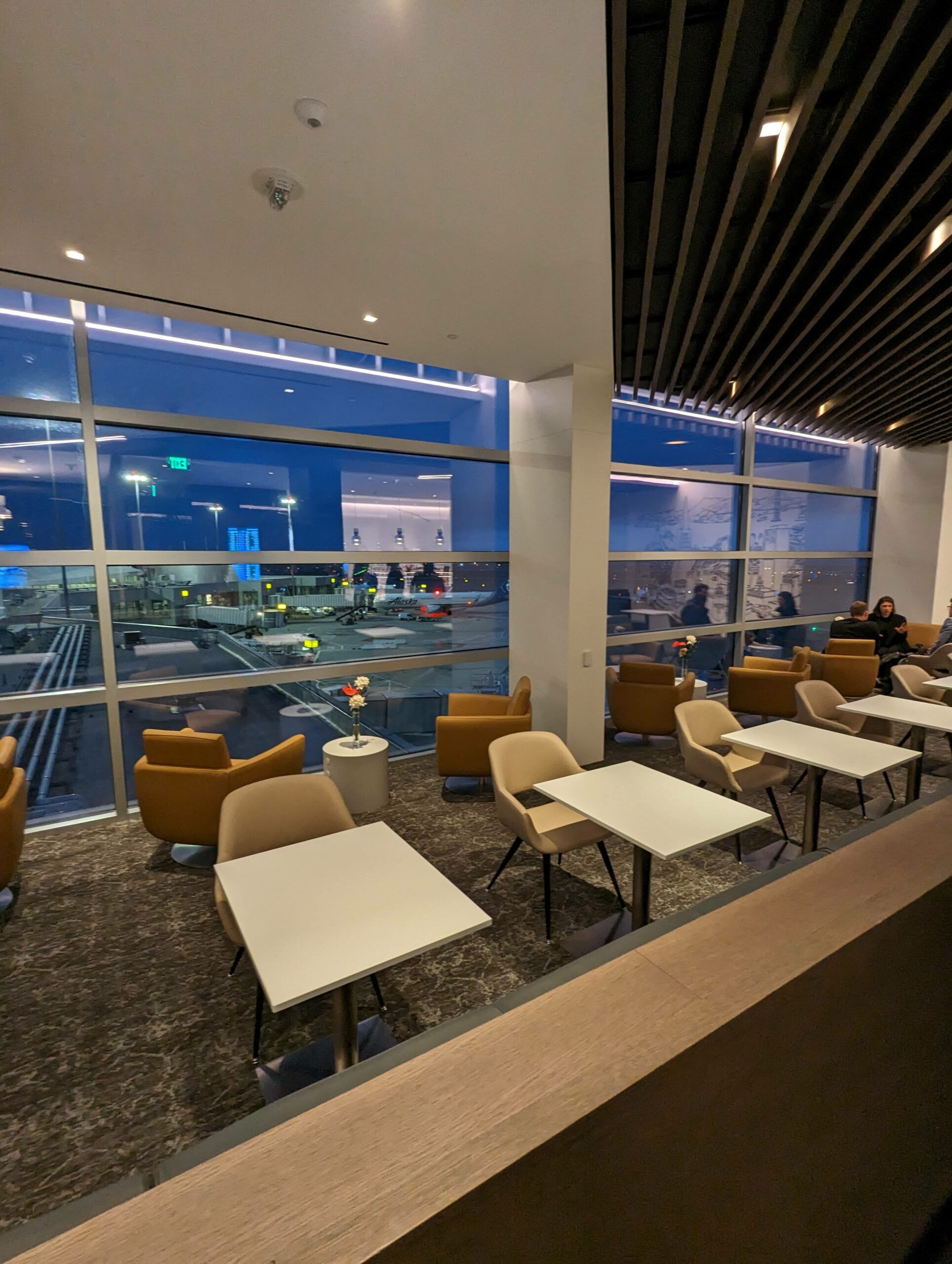 And there are tables with bench seating for more varied options.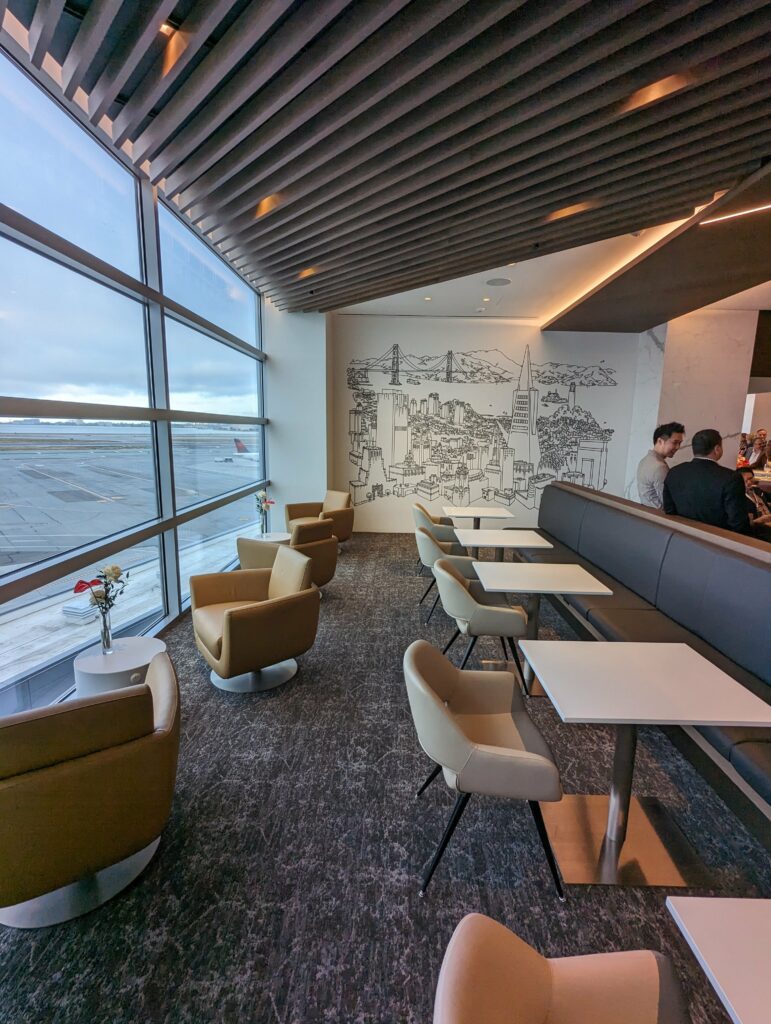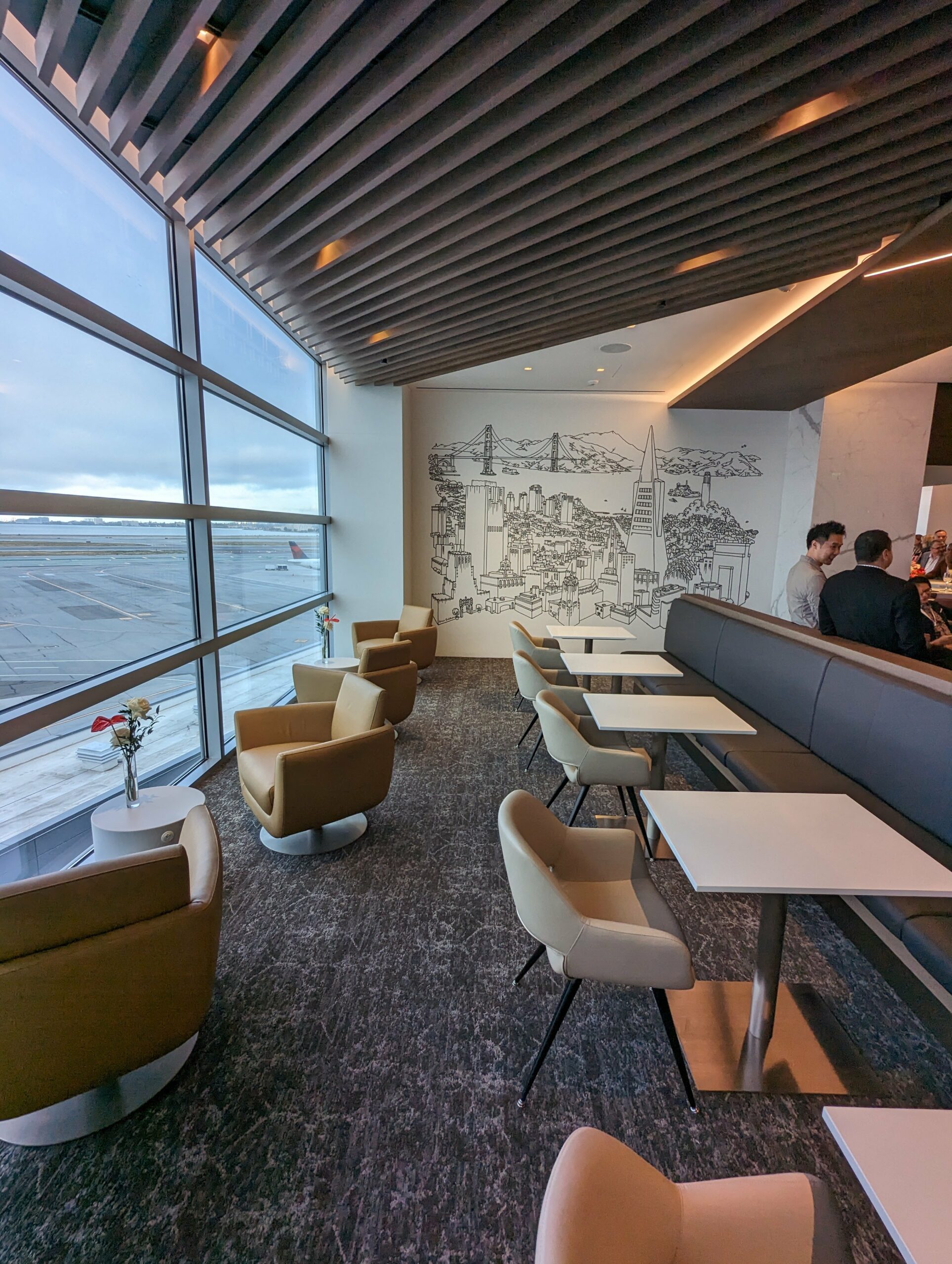 Art has been incorporated into the lounge design, from both Canadian and Californian artists. The stunning mural of the San Francisco skyline is the focal point of the main wall inside.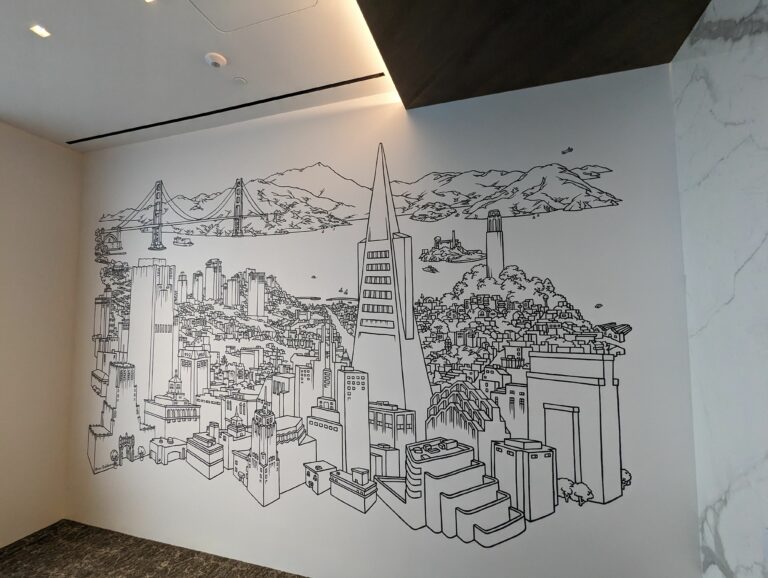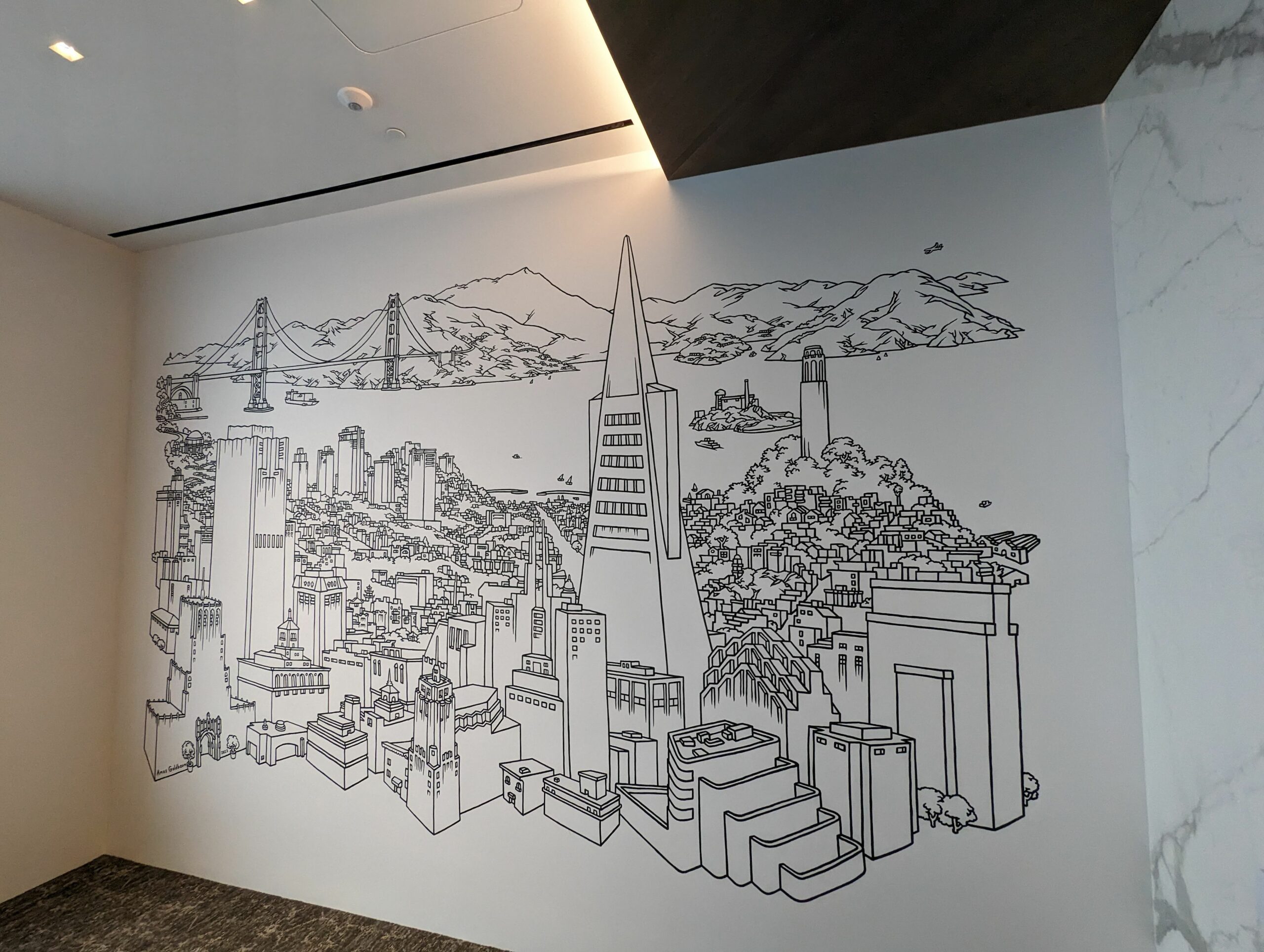 Nearly all seats have power outlets and USB outlets to keep your devices charged.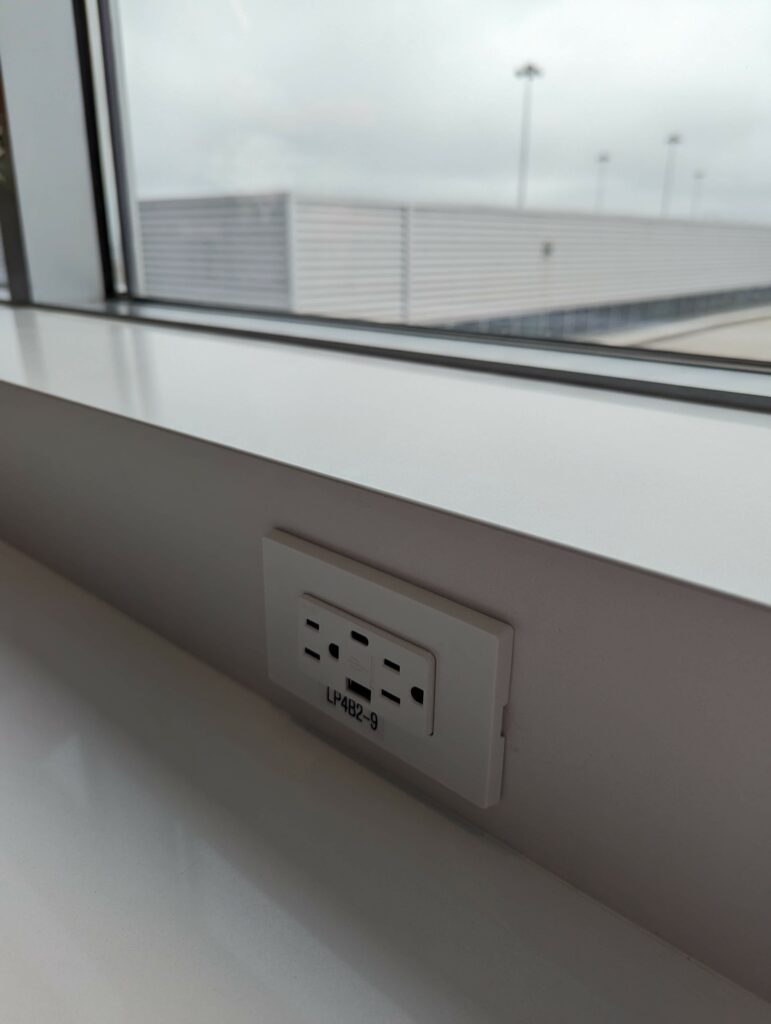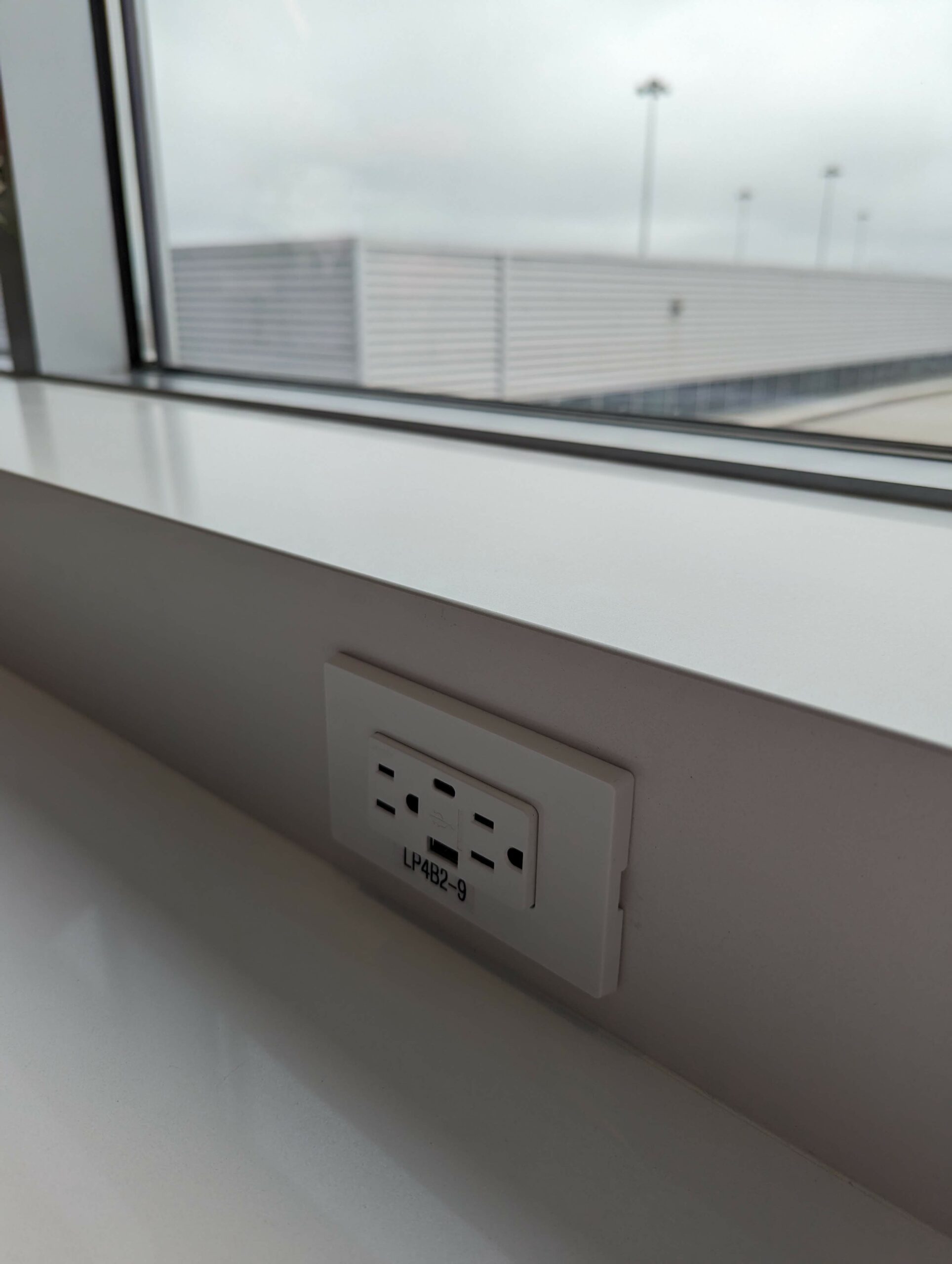 On the other side, there are more intimate sections with other types of seating and small tree-trunk tables.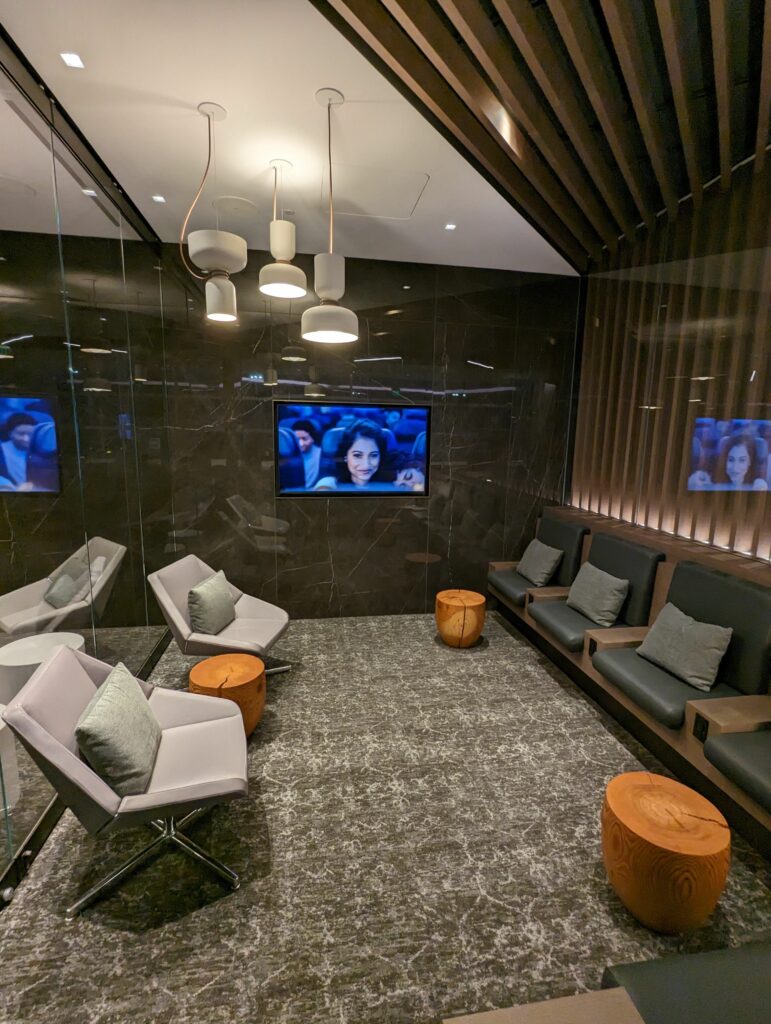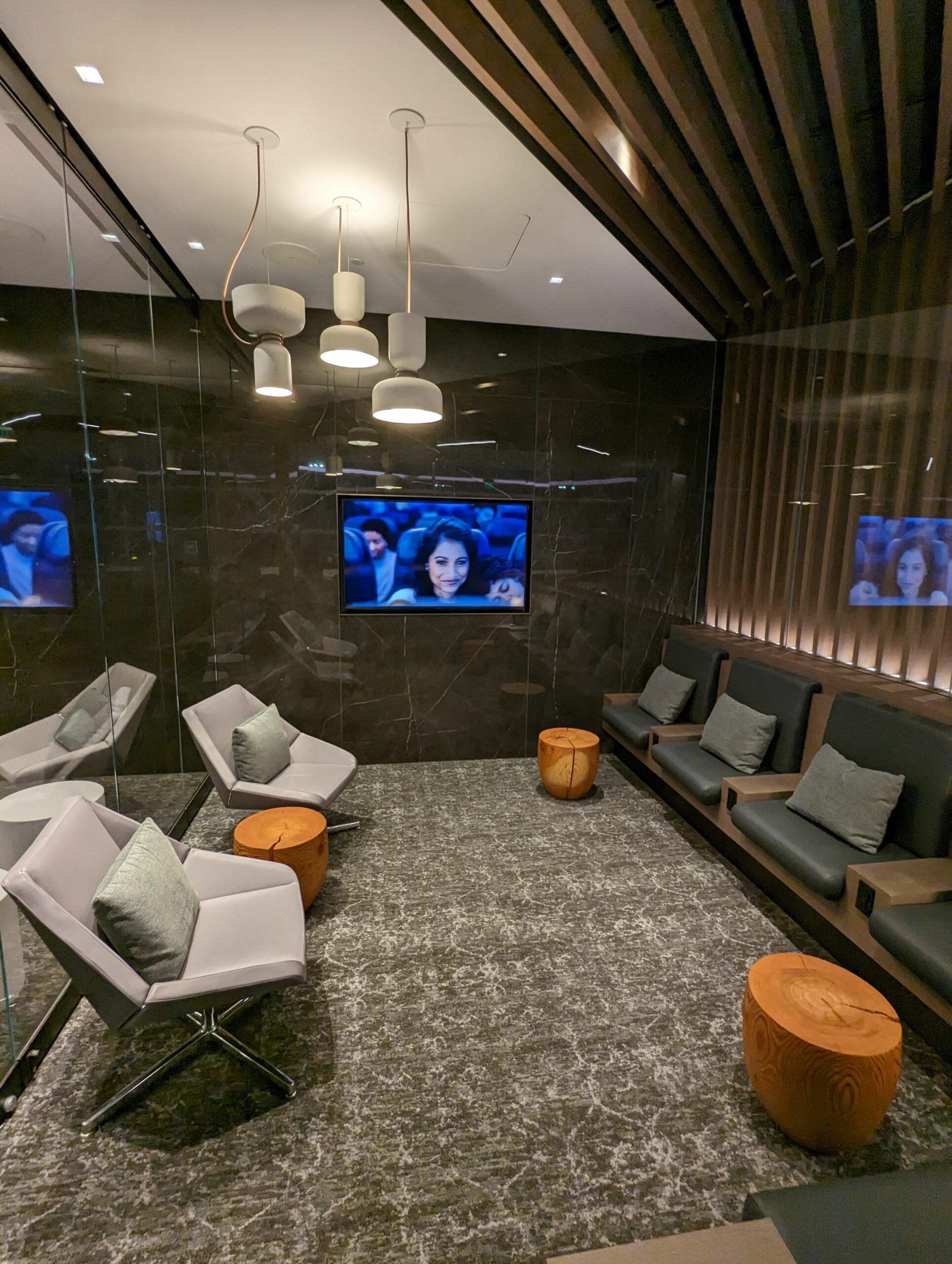 There are 2 of these sections that will apparently serve as VIP rooms, but they were open to all when I visited.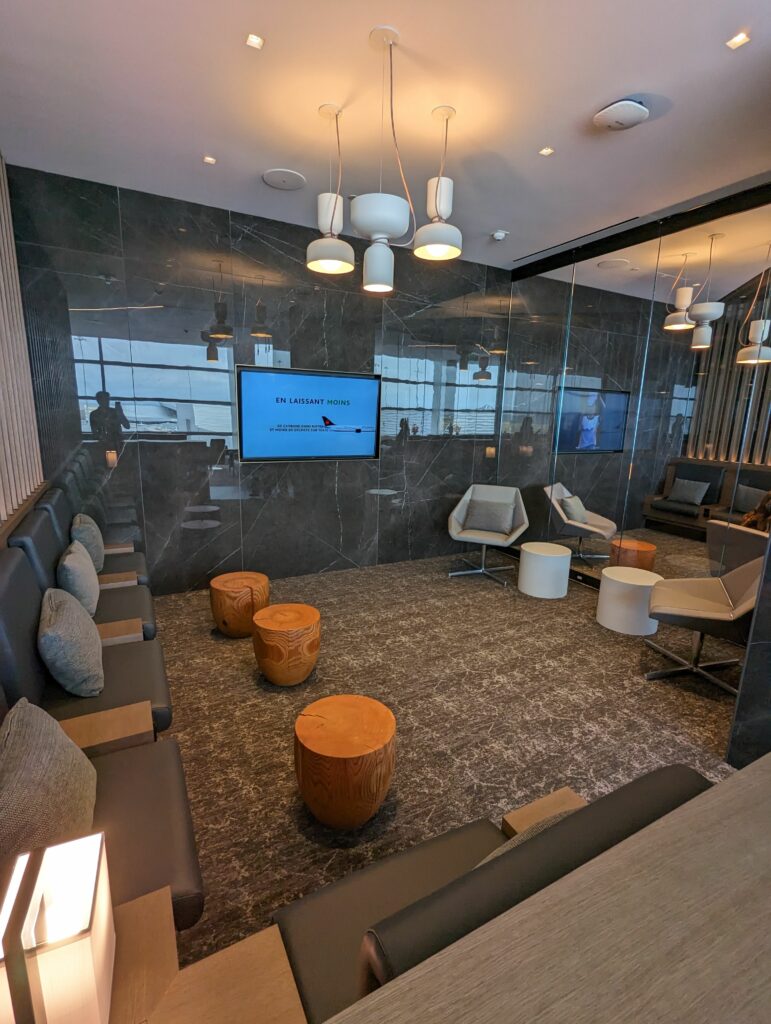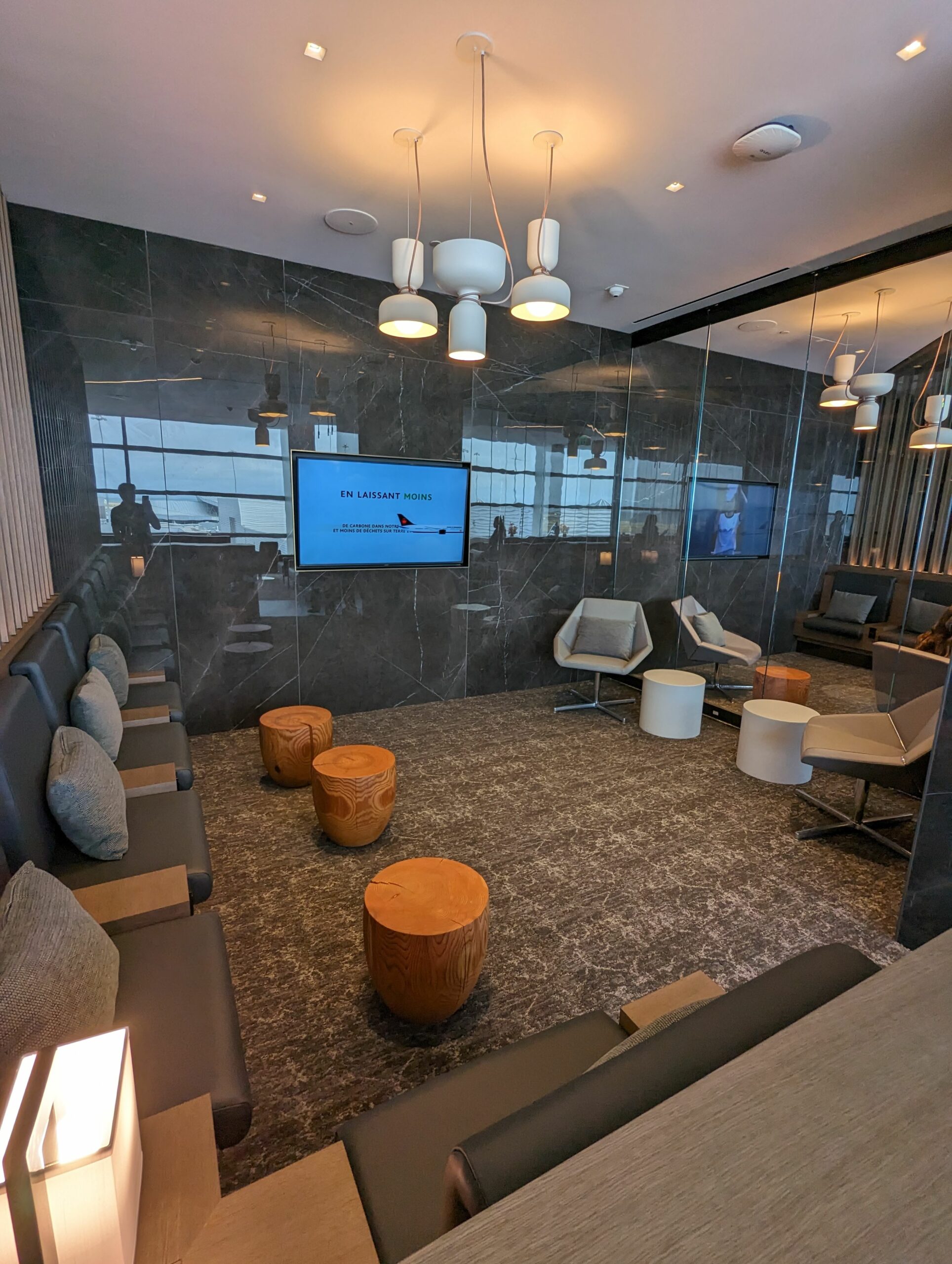 Then there's a section with several tables opposite the buffet (there are also stools at the bar that I'll show you in the food section).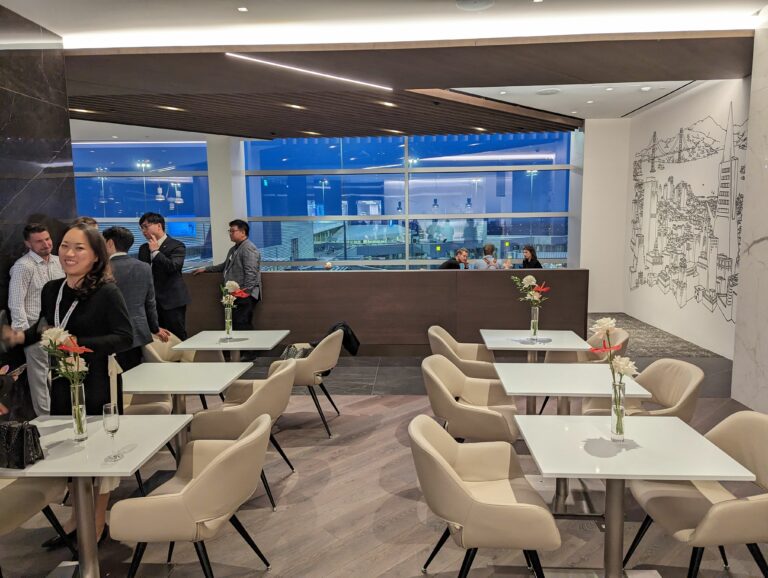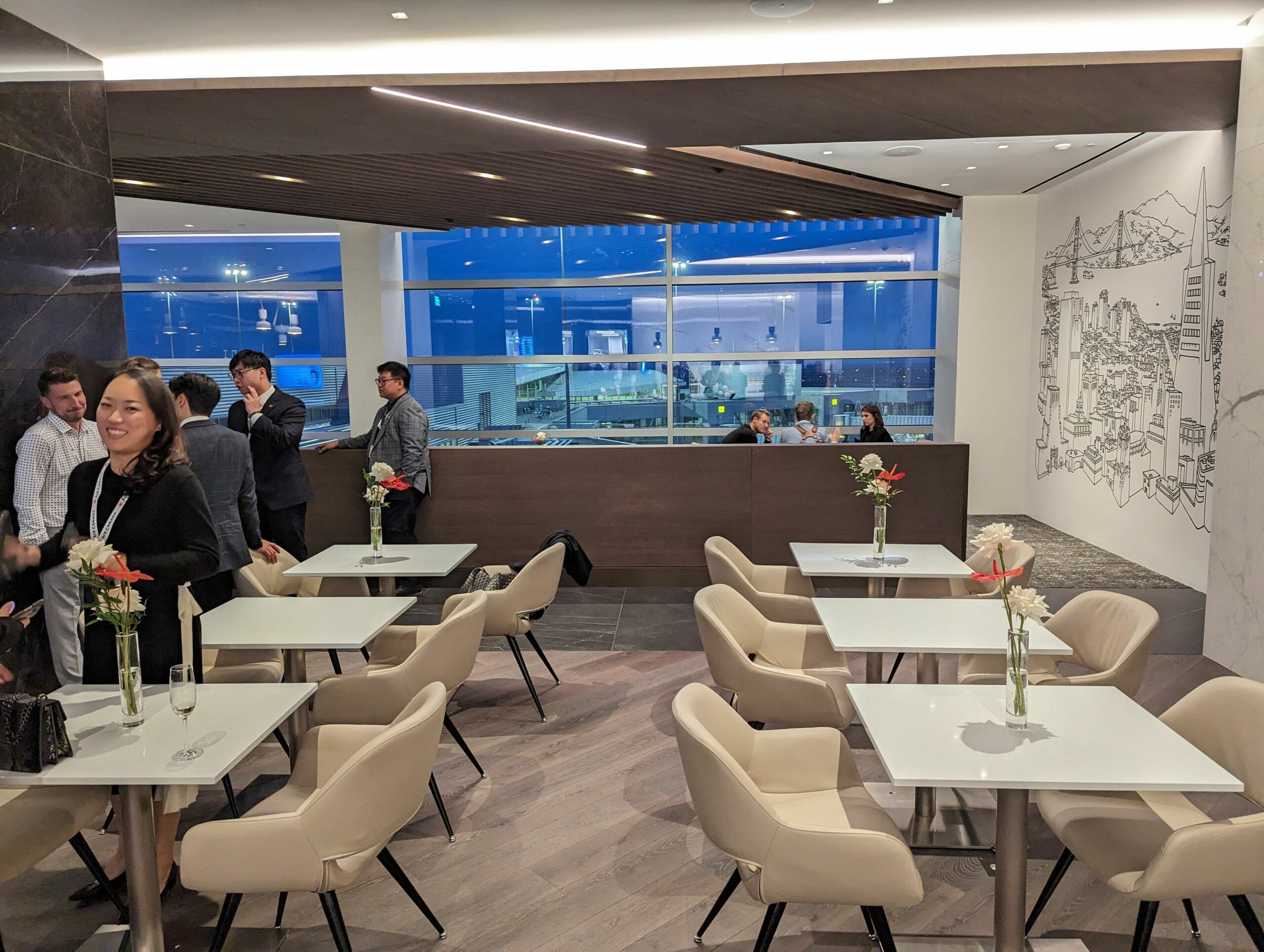 There's a screen for flight information if you don't have a mobile device to access the lounge's fast, free Wi-Fi network.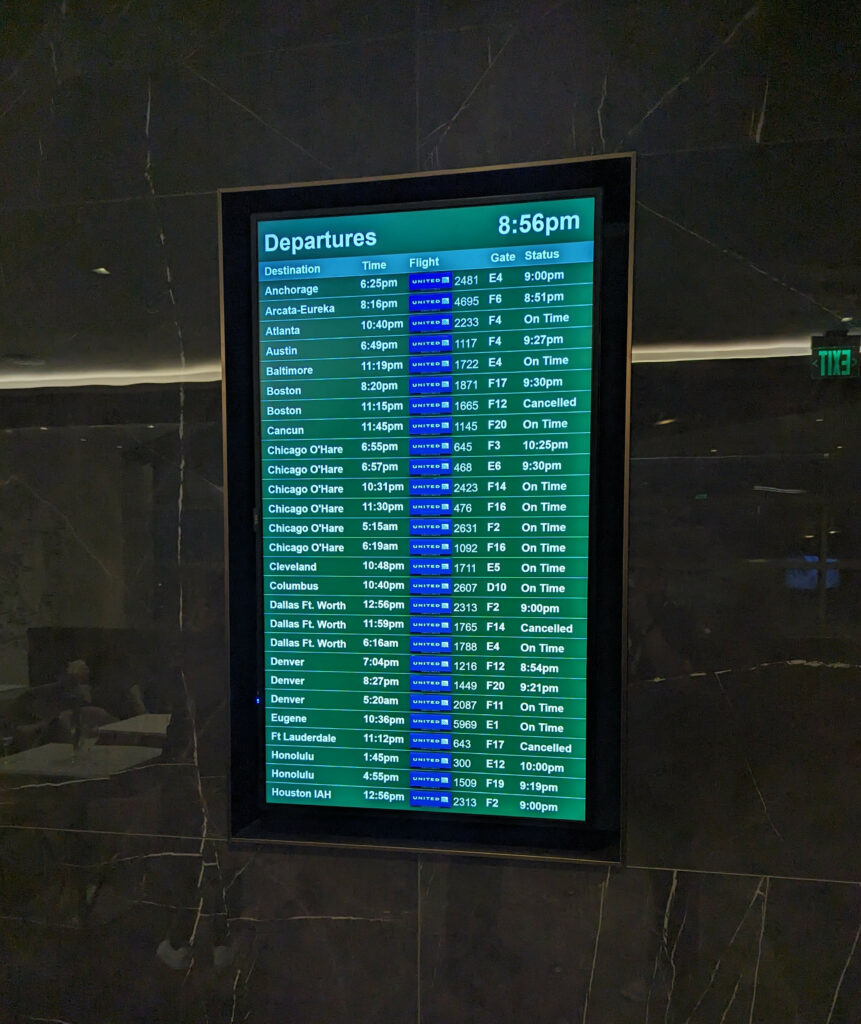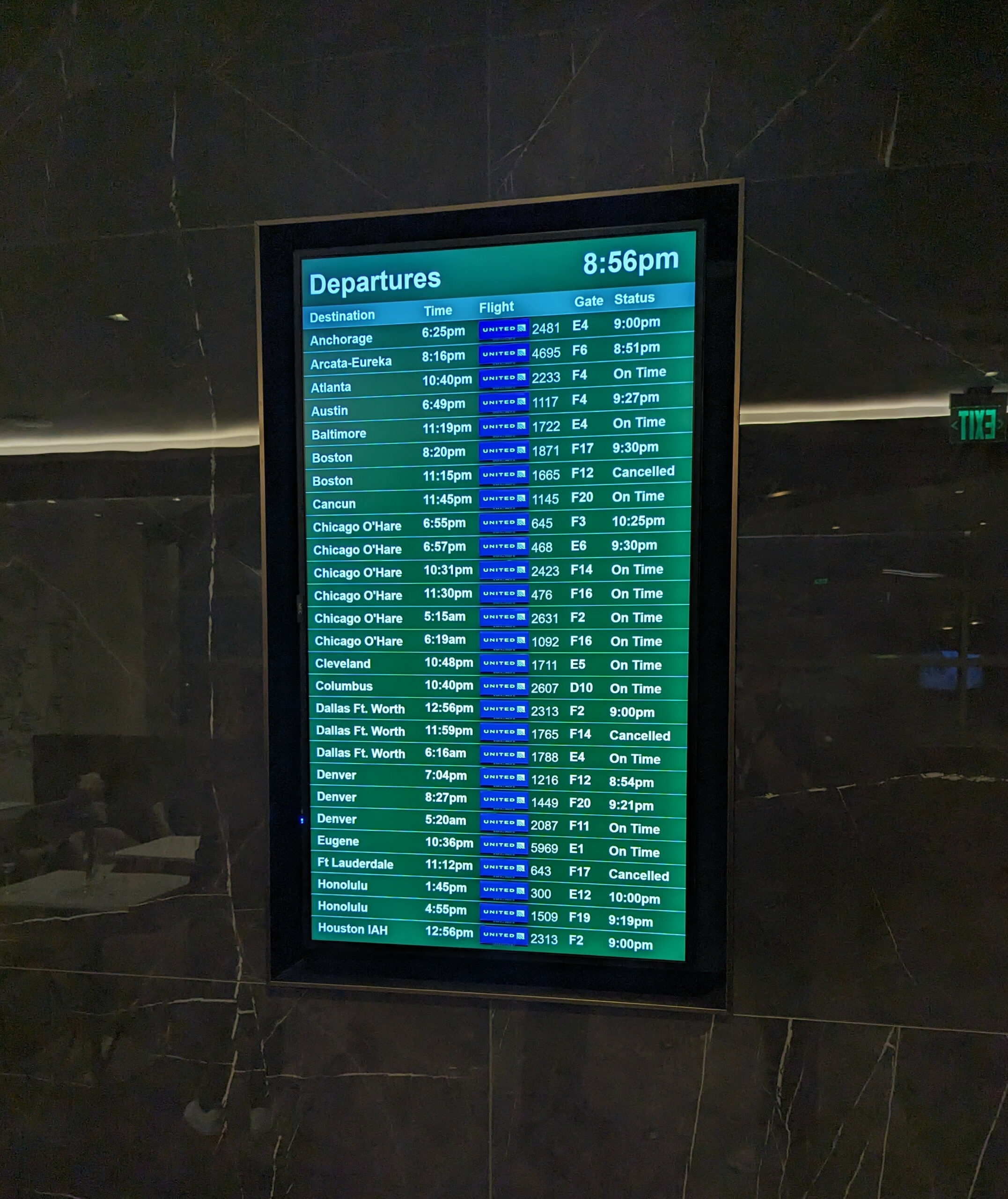 At the time of the event, there were only United flights, as you can see. That's what's causing a bit of concern about the lounge's crowdedness, because many United elite members who don't even have access to the United Club Lounges have access to this Air Canada Maple Leaf Lounge. Air Canada officials said they would monitor the situation.
Finally, behind the food area and facing the bar, there are a few more armchairs.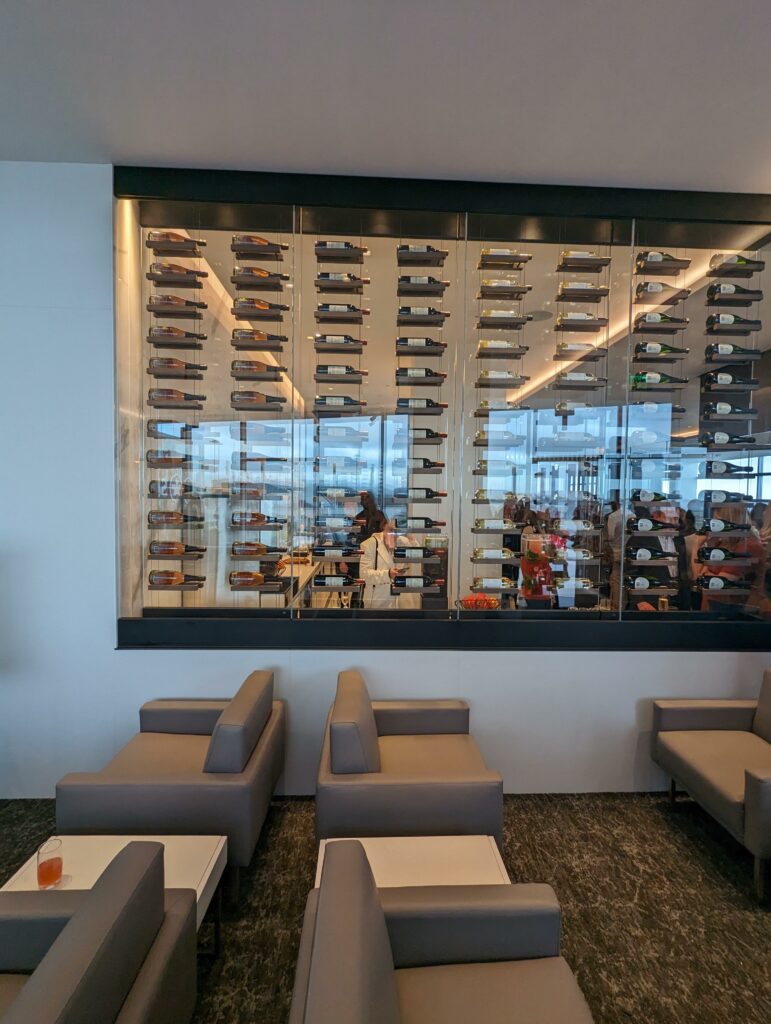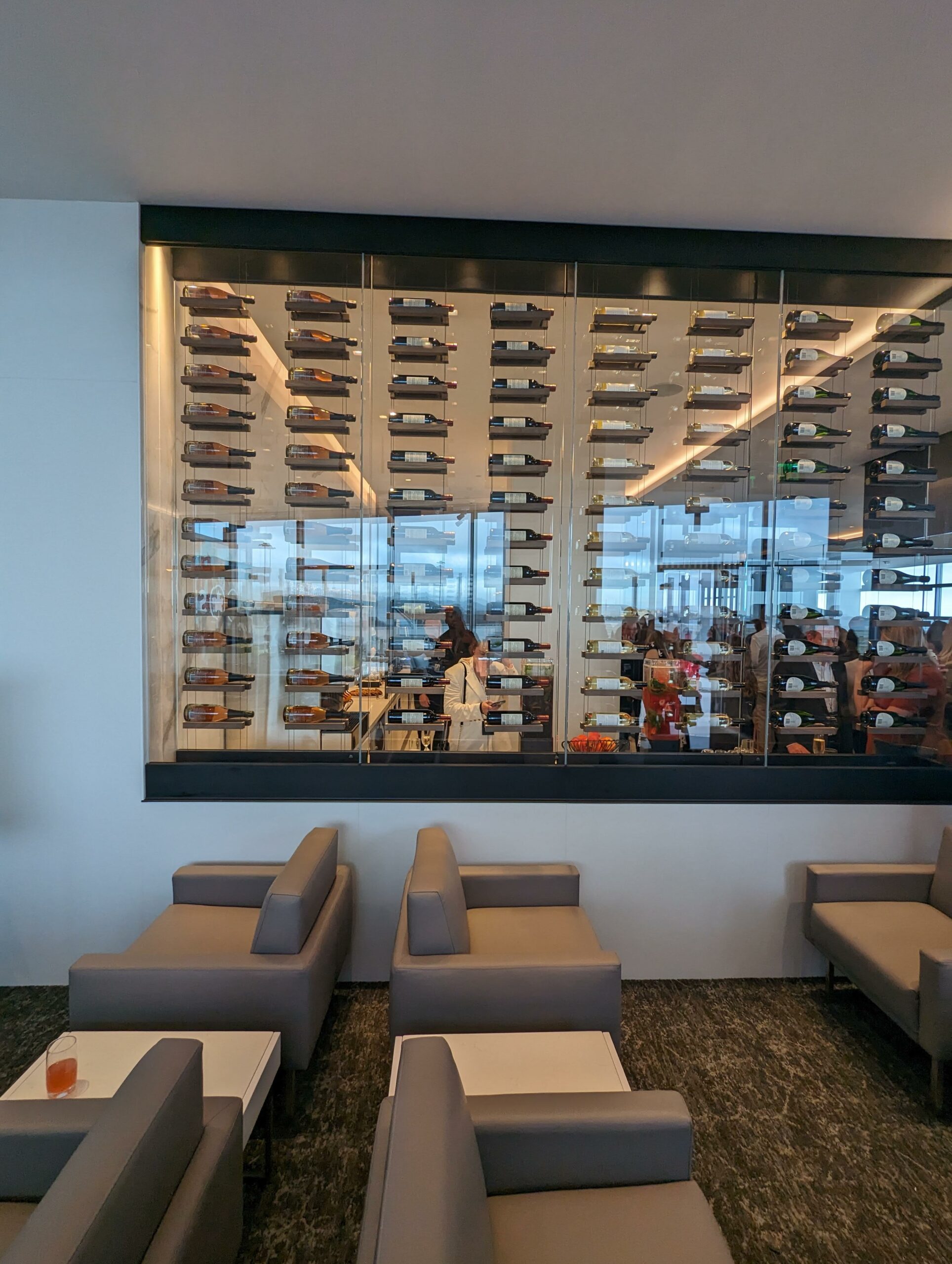 And opposite the beautiful terrace, there's a final section with comfortable seating and more large-format art on the wall.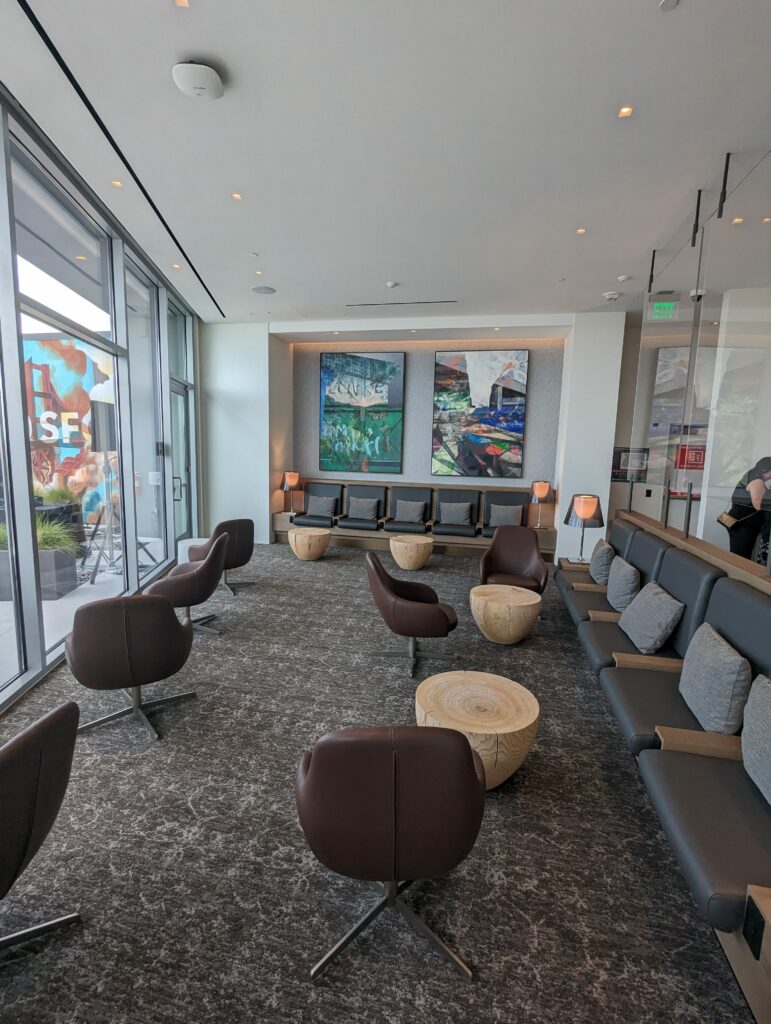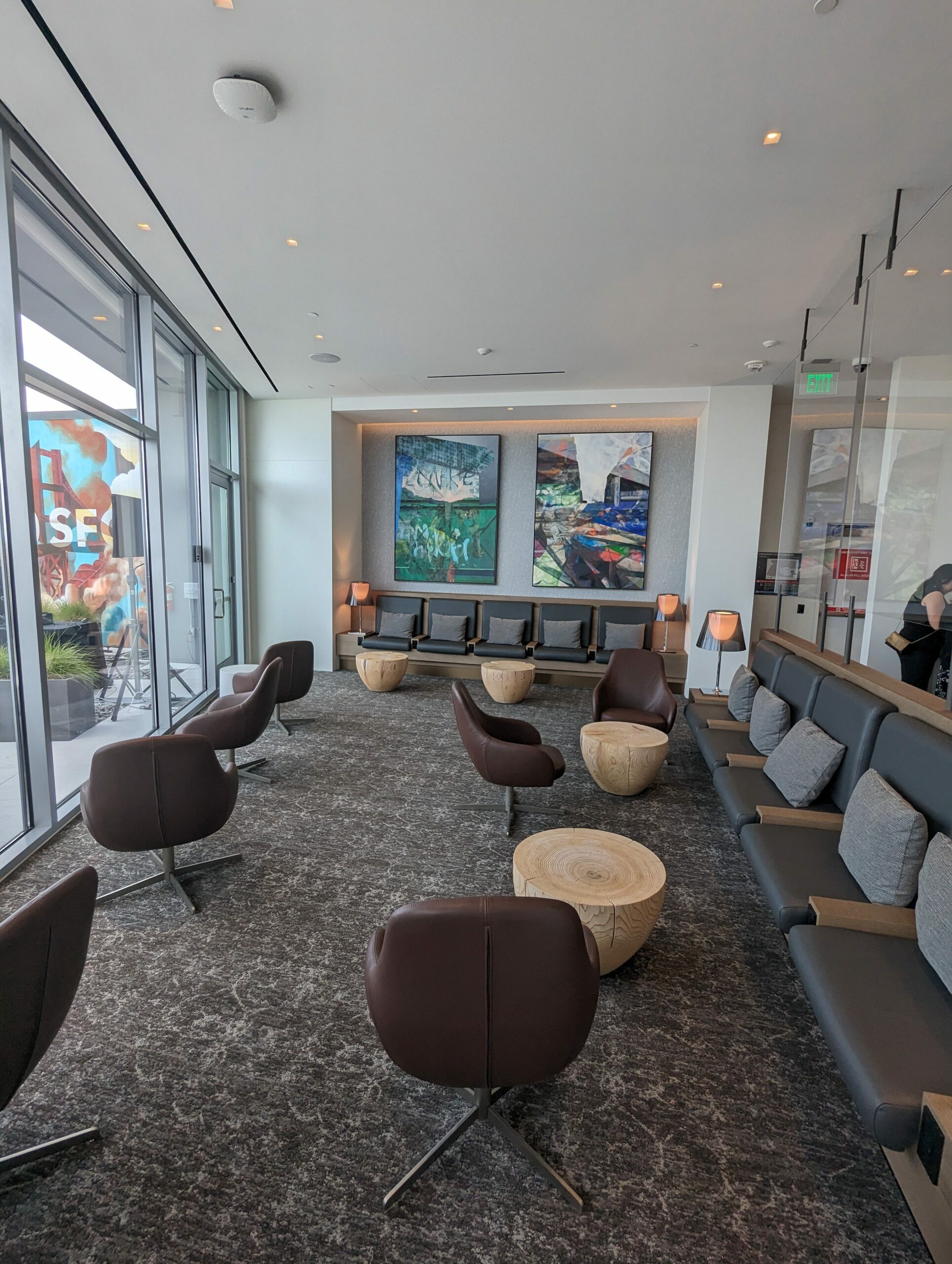 This place also offers great views without having to be outside in the cold (very cold even on June 28th… the expression "the coldest winters are San Francisco summers" doesn't exist for nothing).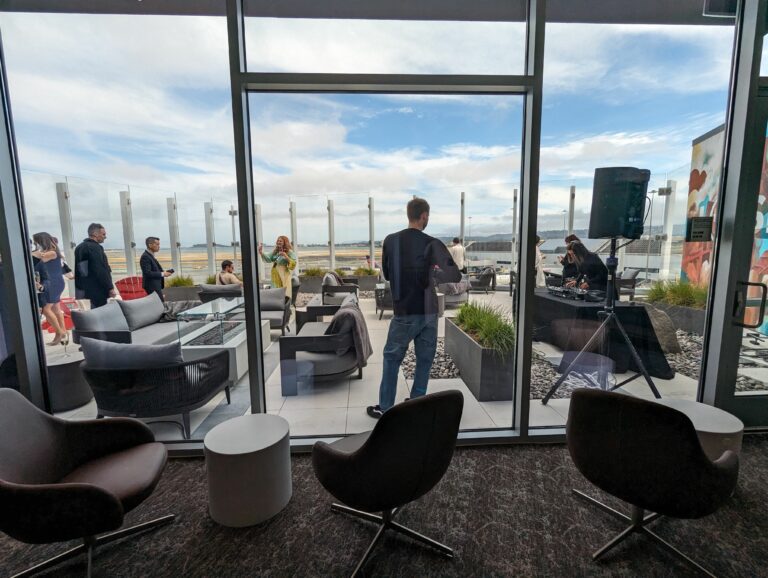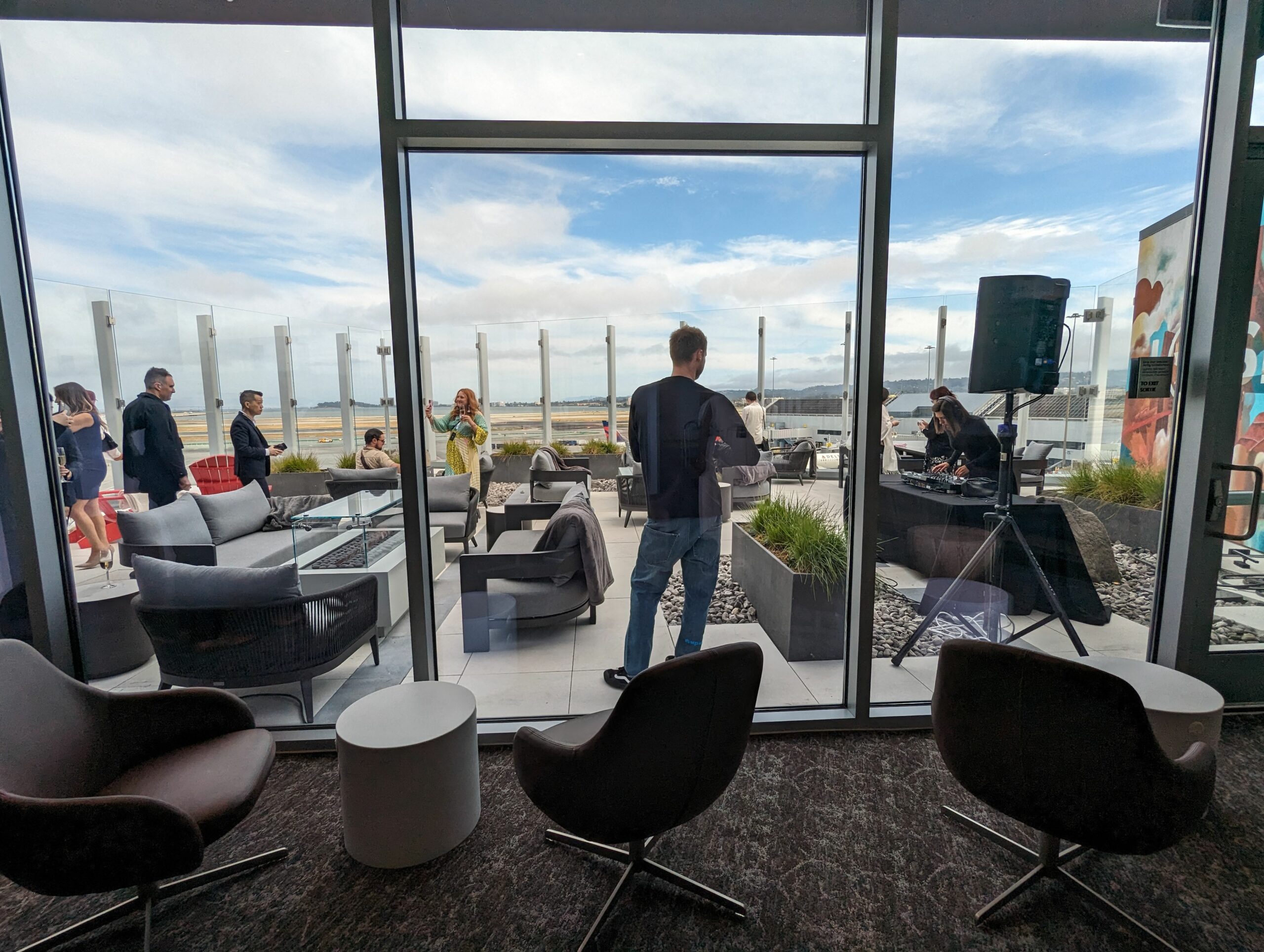 Air Canada Maple Leaf Lounge San Francisco (SFO) — Outdoor terrace
The terrace at the end of the lounge is definitely the main attraction!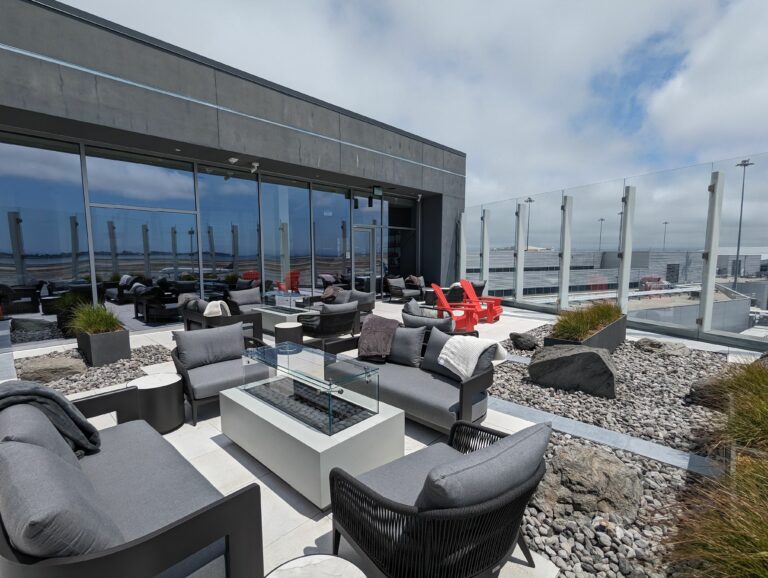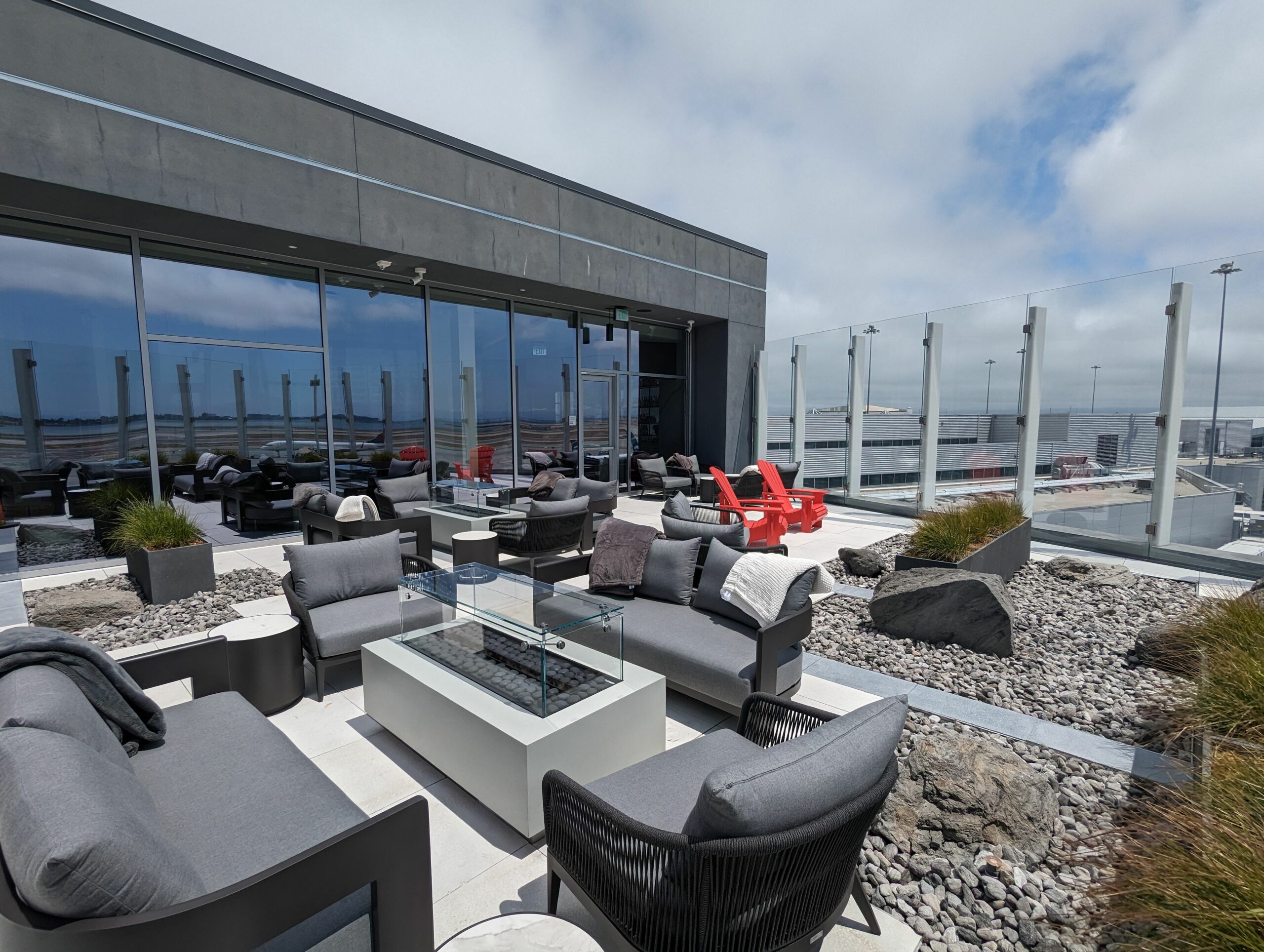 Airport lounges with outdoor terraces are extremely rare, and this space is really pretty.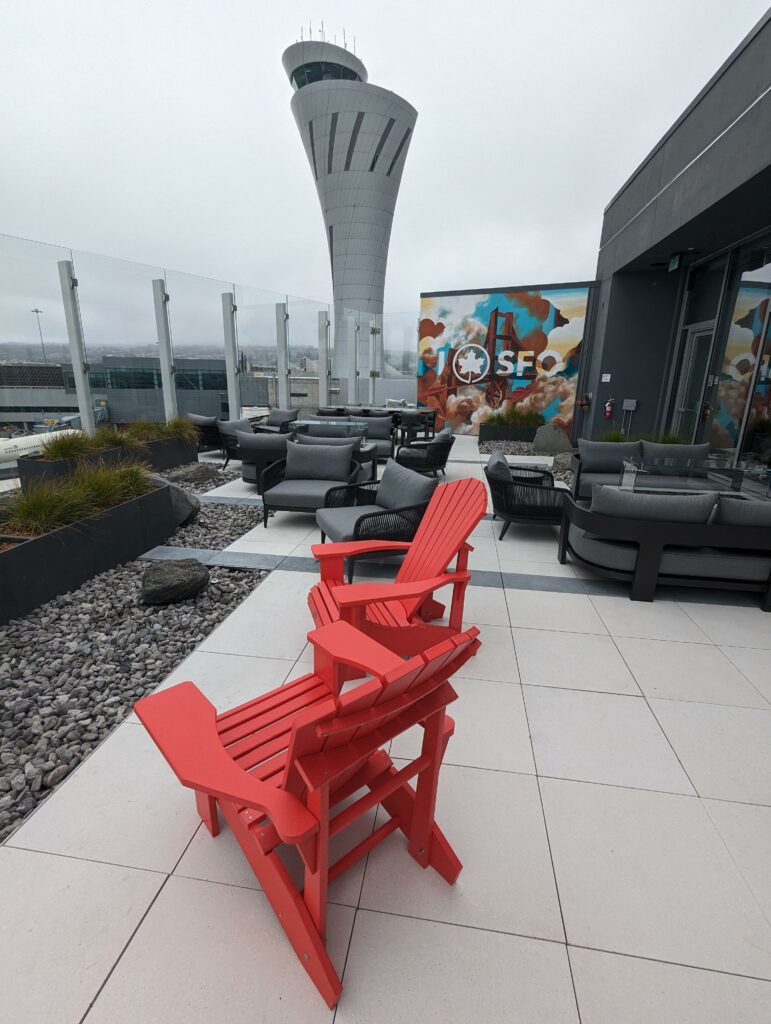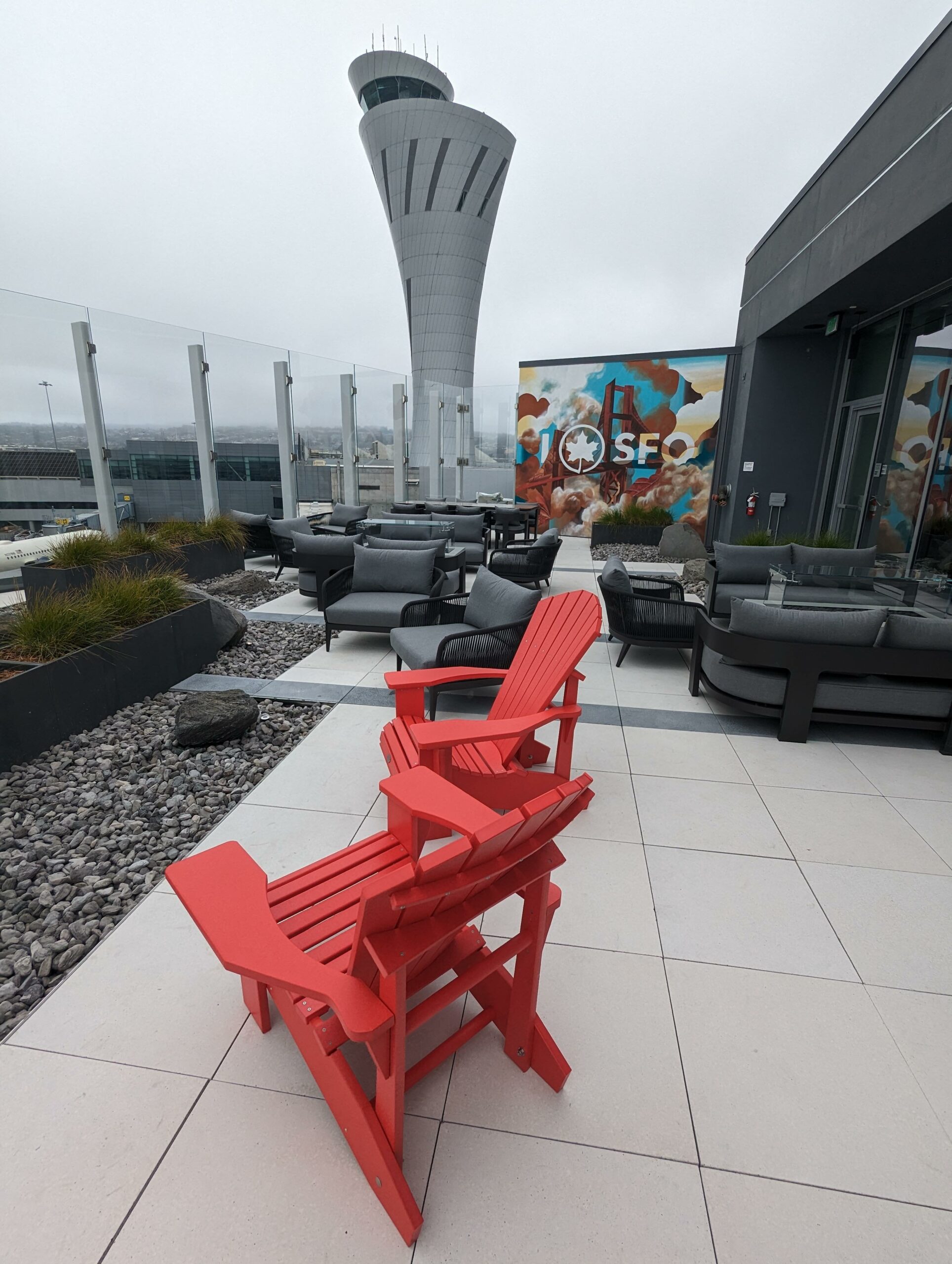 On one side there's the beautiful colorful mural with the Golden Gate Bridge and a table.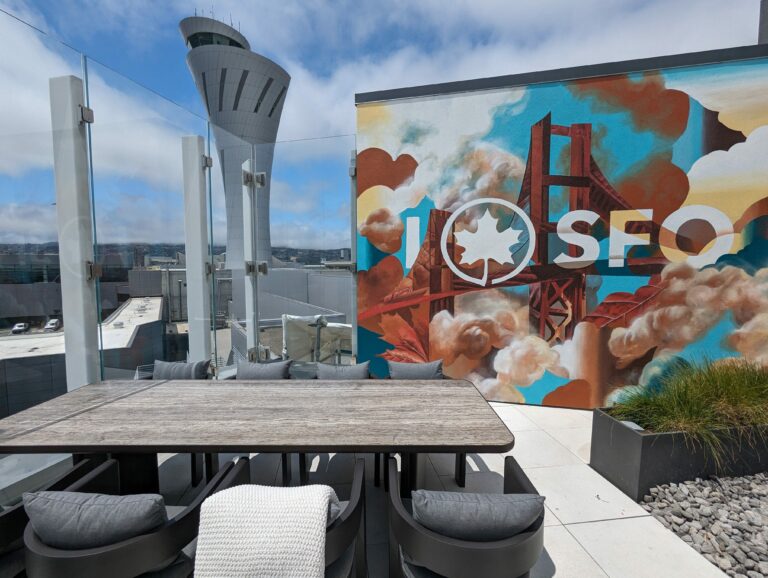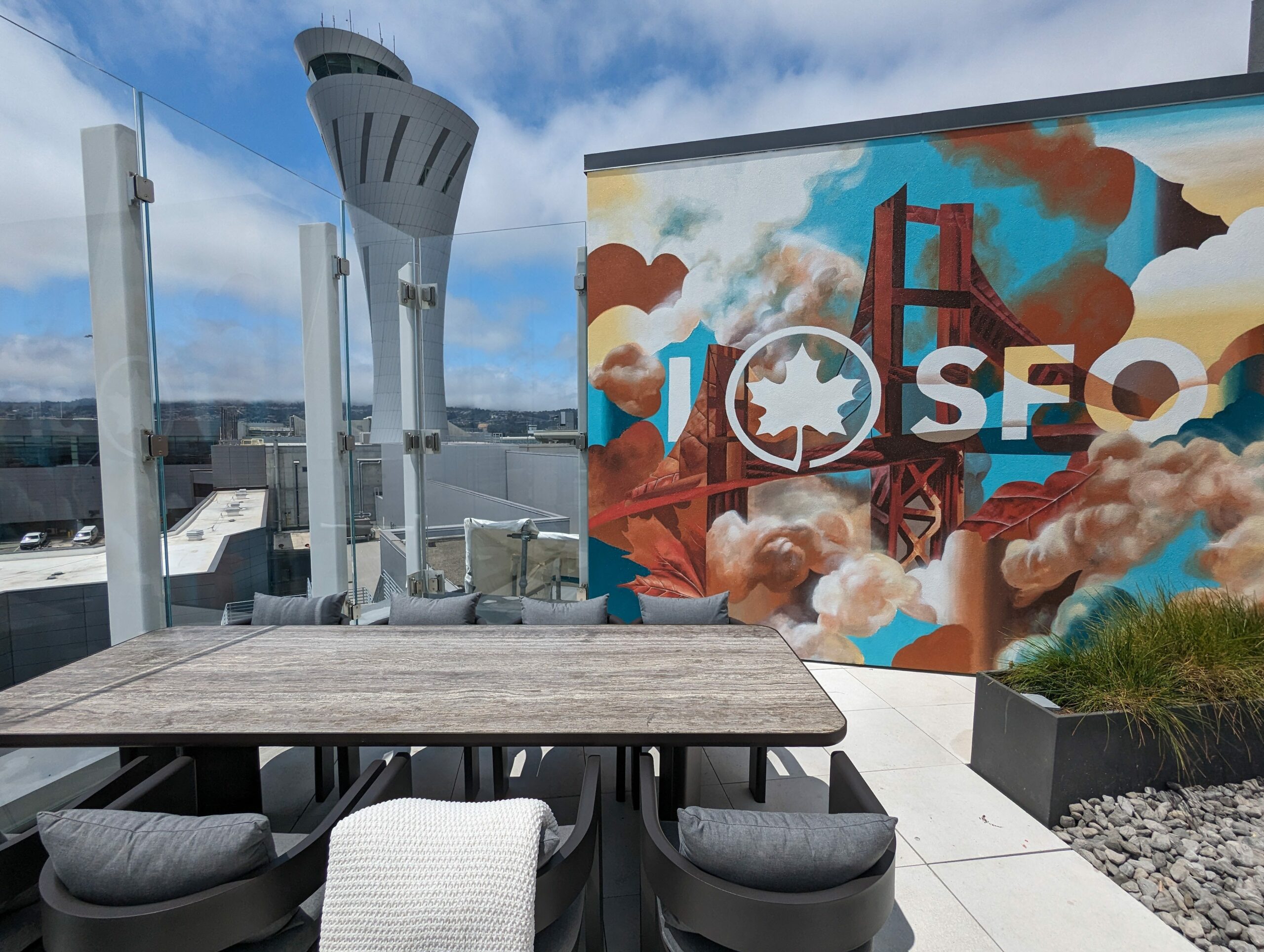 In addition to this table and the red Adirondack chairs (that's very Canadian), there's quite a variety of seating outside.
Like normal armchairs and even sofas.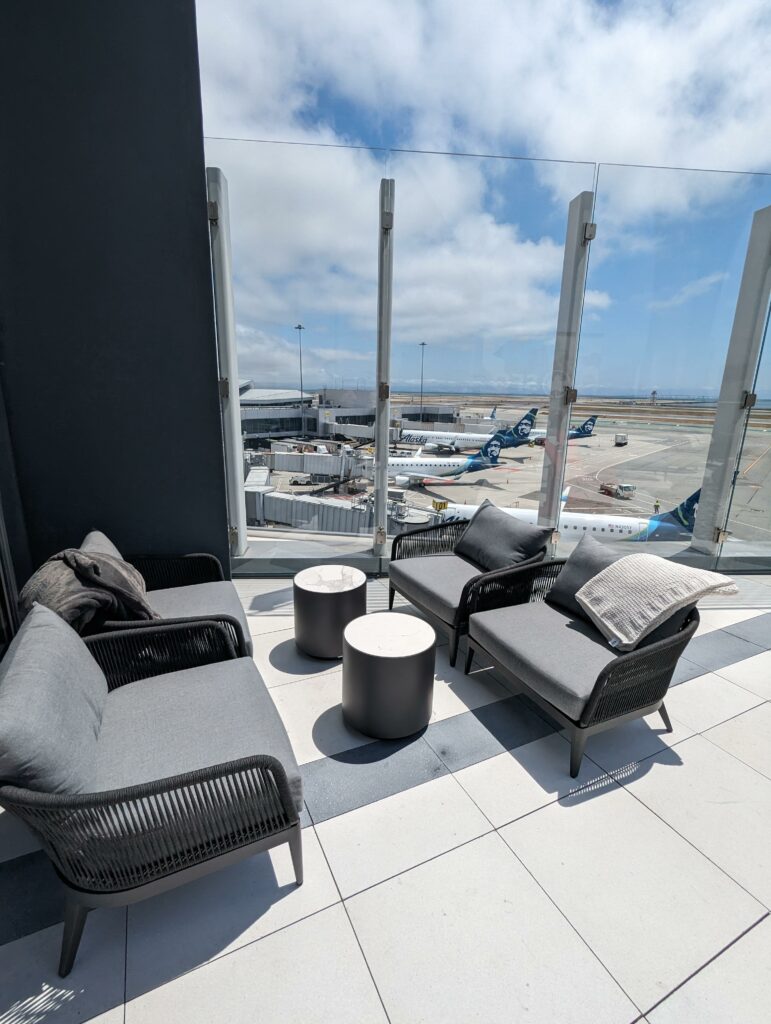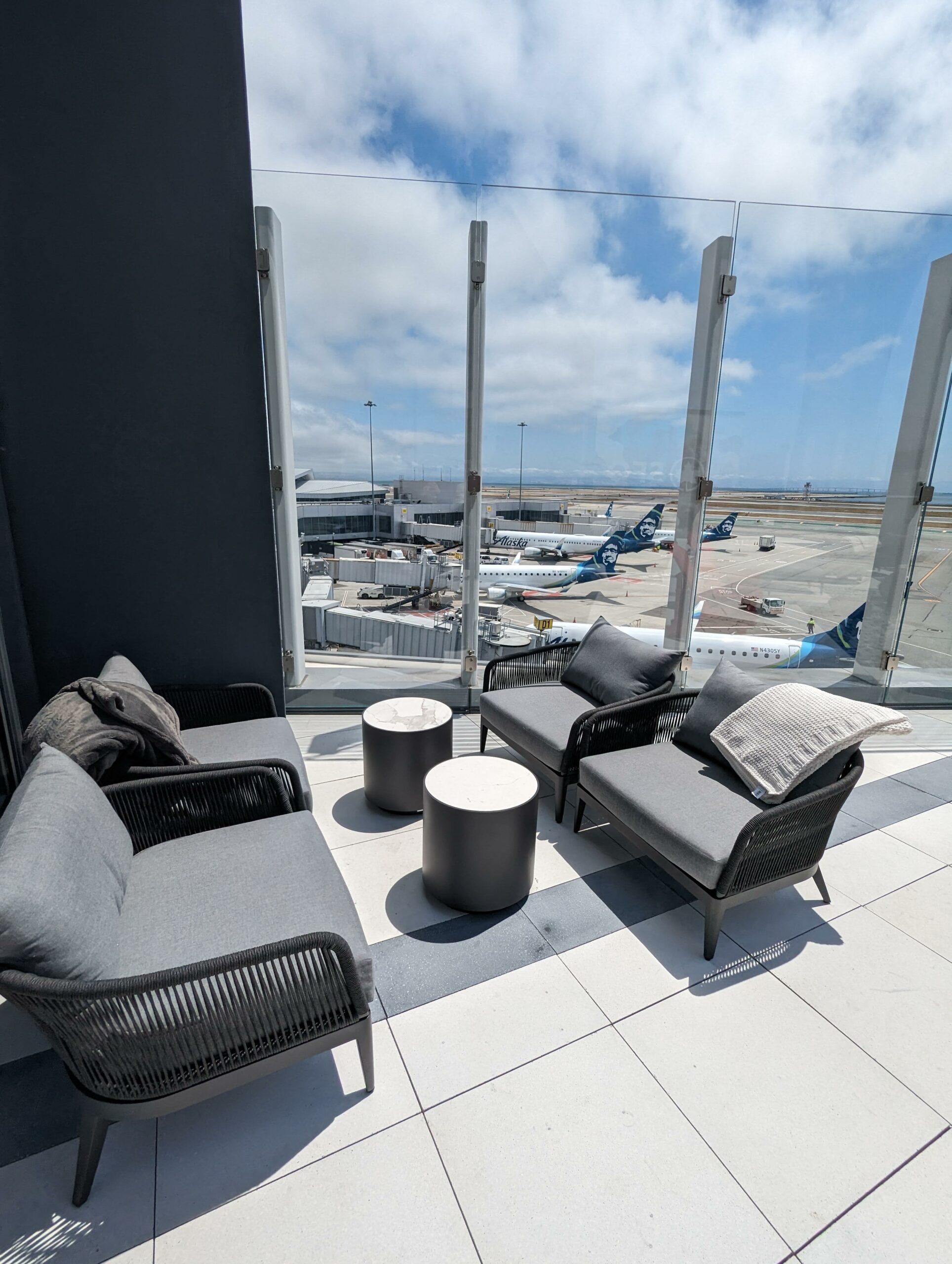 The Canadian-designed vapor fireplaces are for aesthetic purposes only, but heaters are going to be installed for the colder months.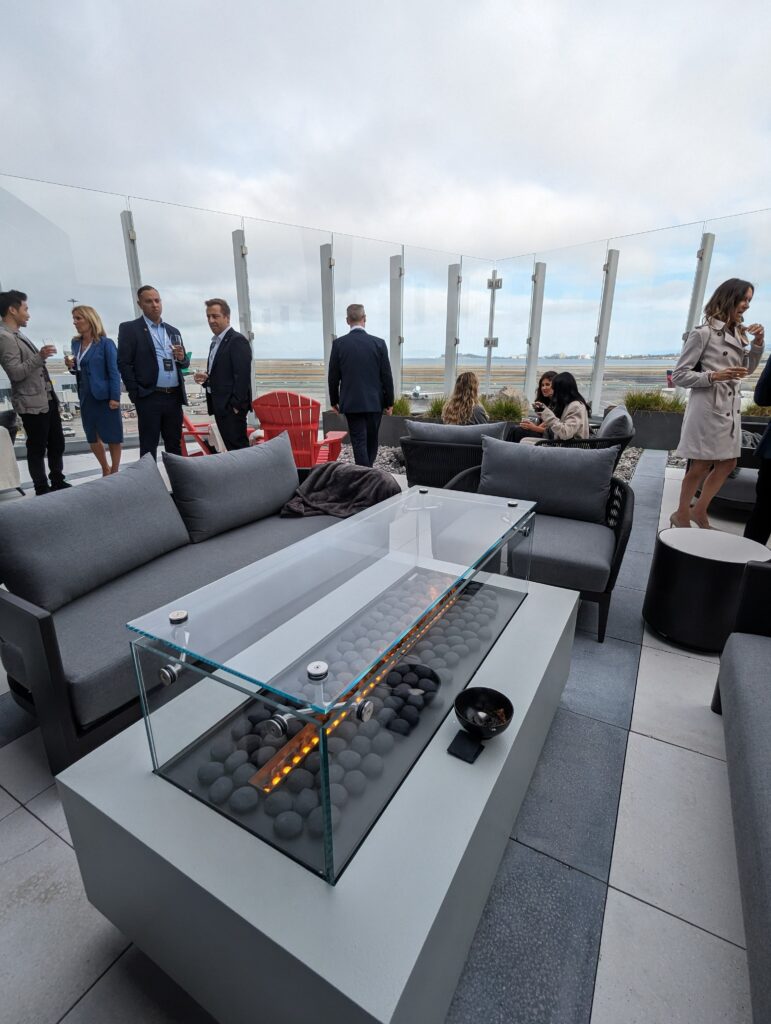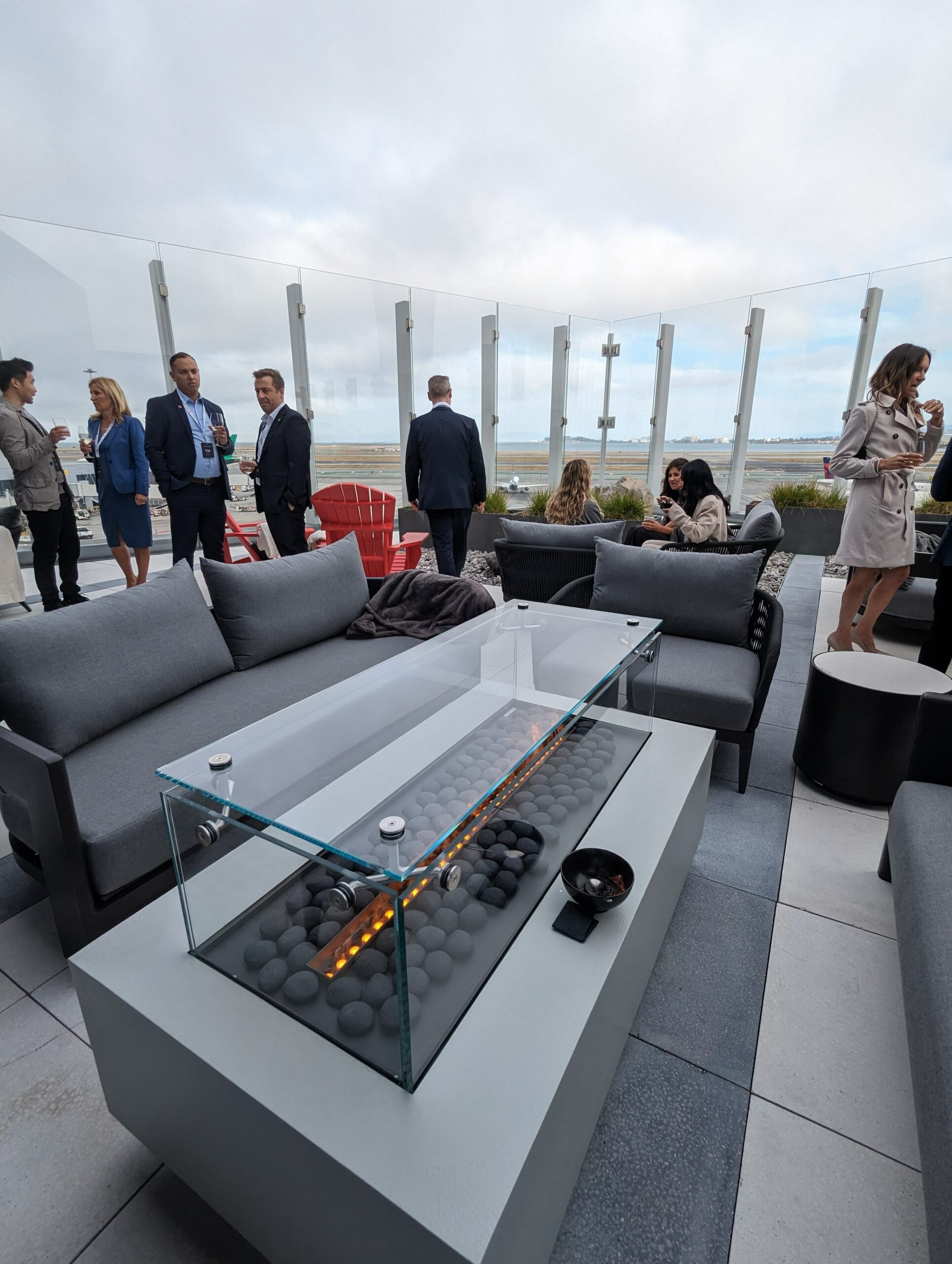 (The daily highs were 14-15 degrees Celsius on June 27th-28th, so those heaters might be good year-round; San Francisco's climate is truly terrible!)
You can even see the lounge and its 2 red chairs in the distance from the tarmac, depending on whether your flight takes off from the same runway as mine.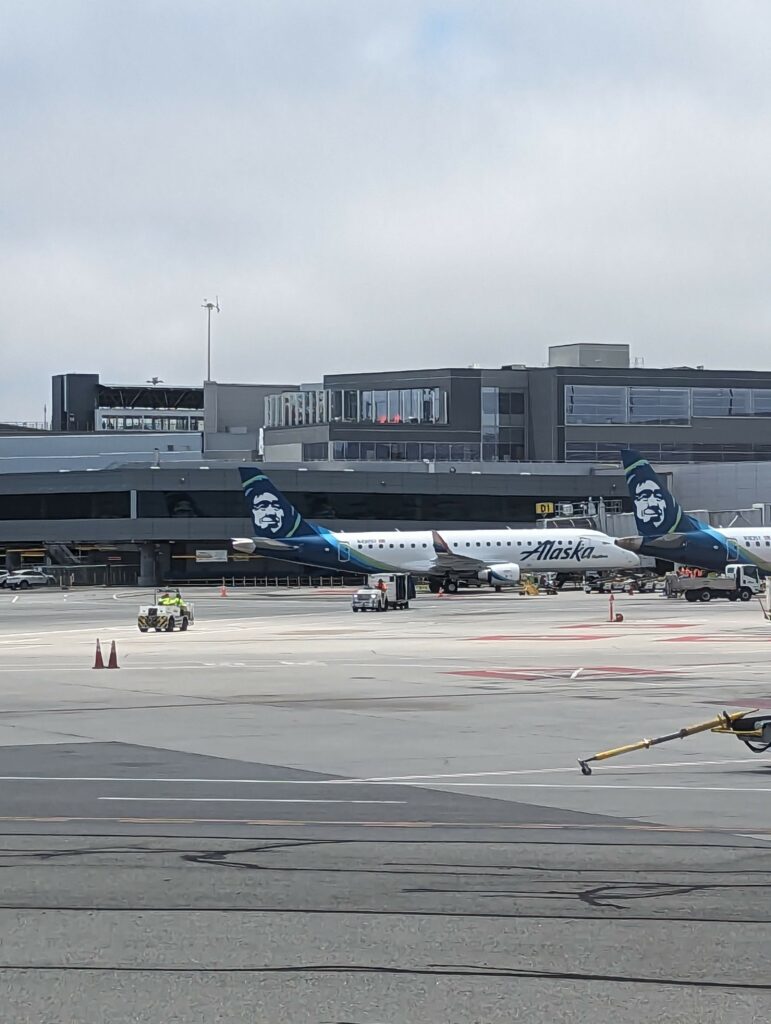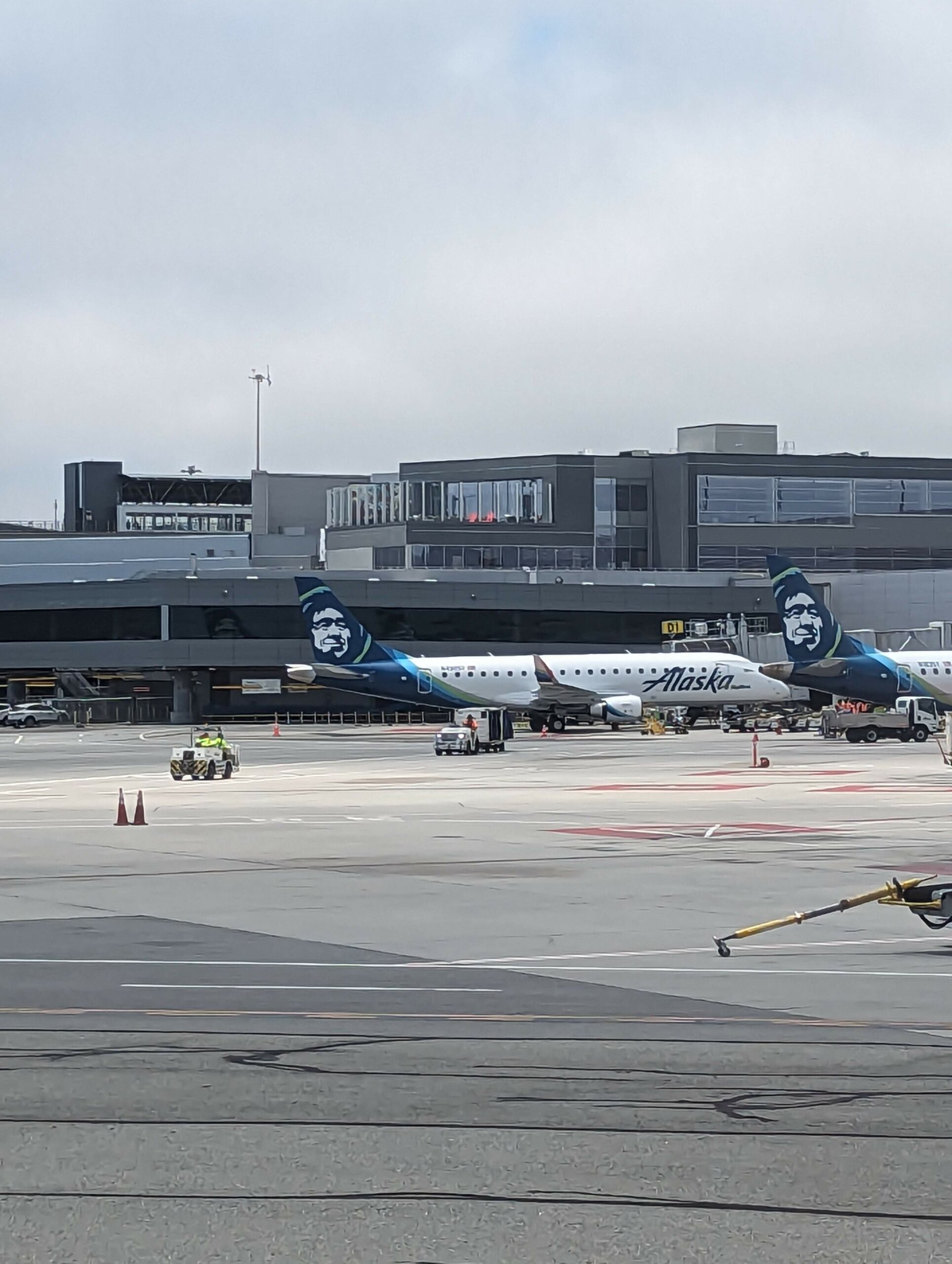 The large stones in the landscaping give the terrace a very chic look.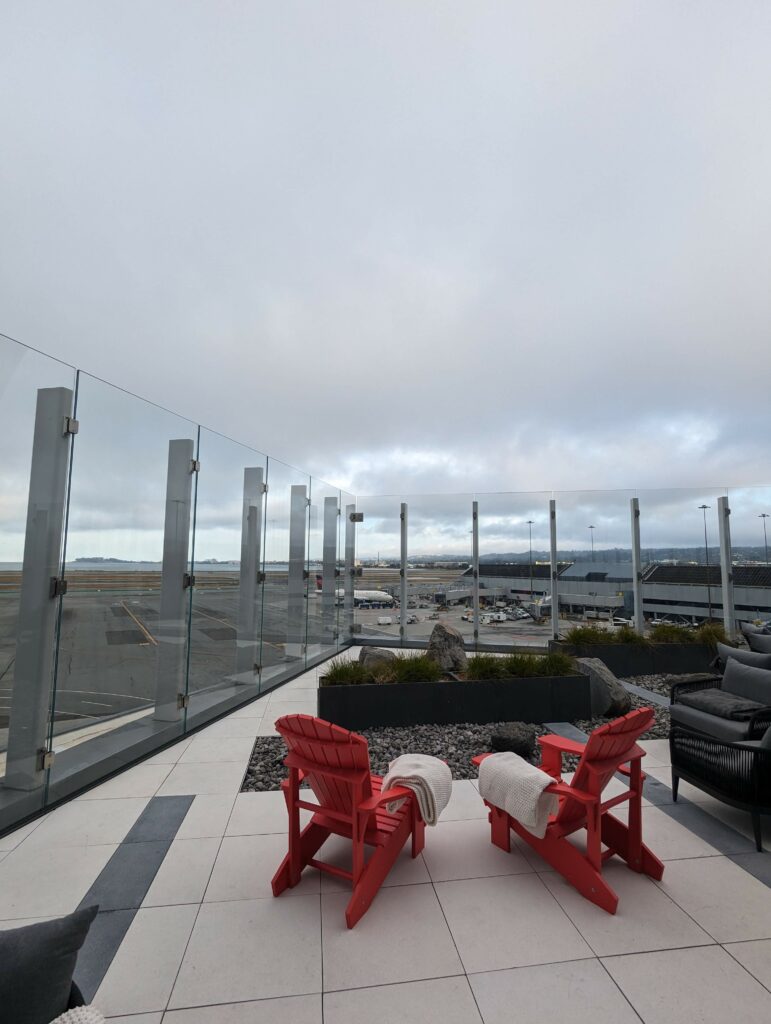 It's really wonderful unique outdoor space. And it gives you a great view of the water and even the runways!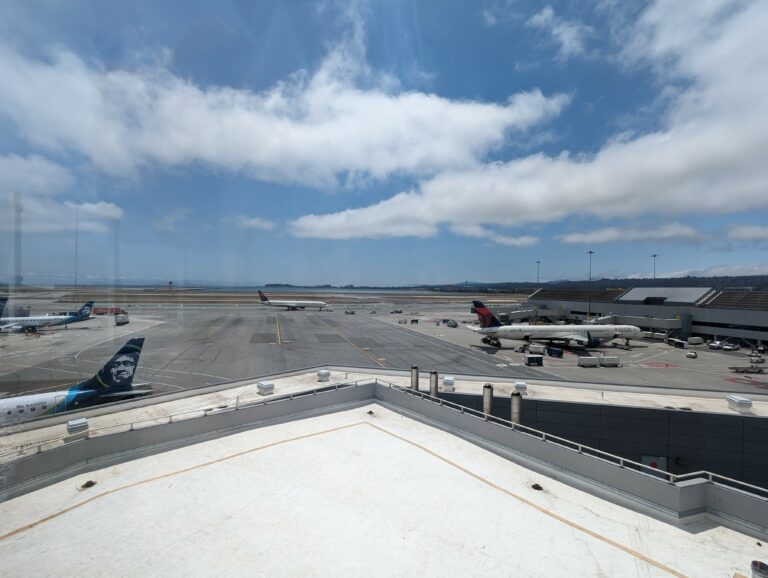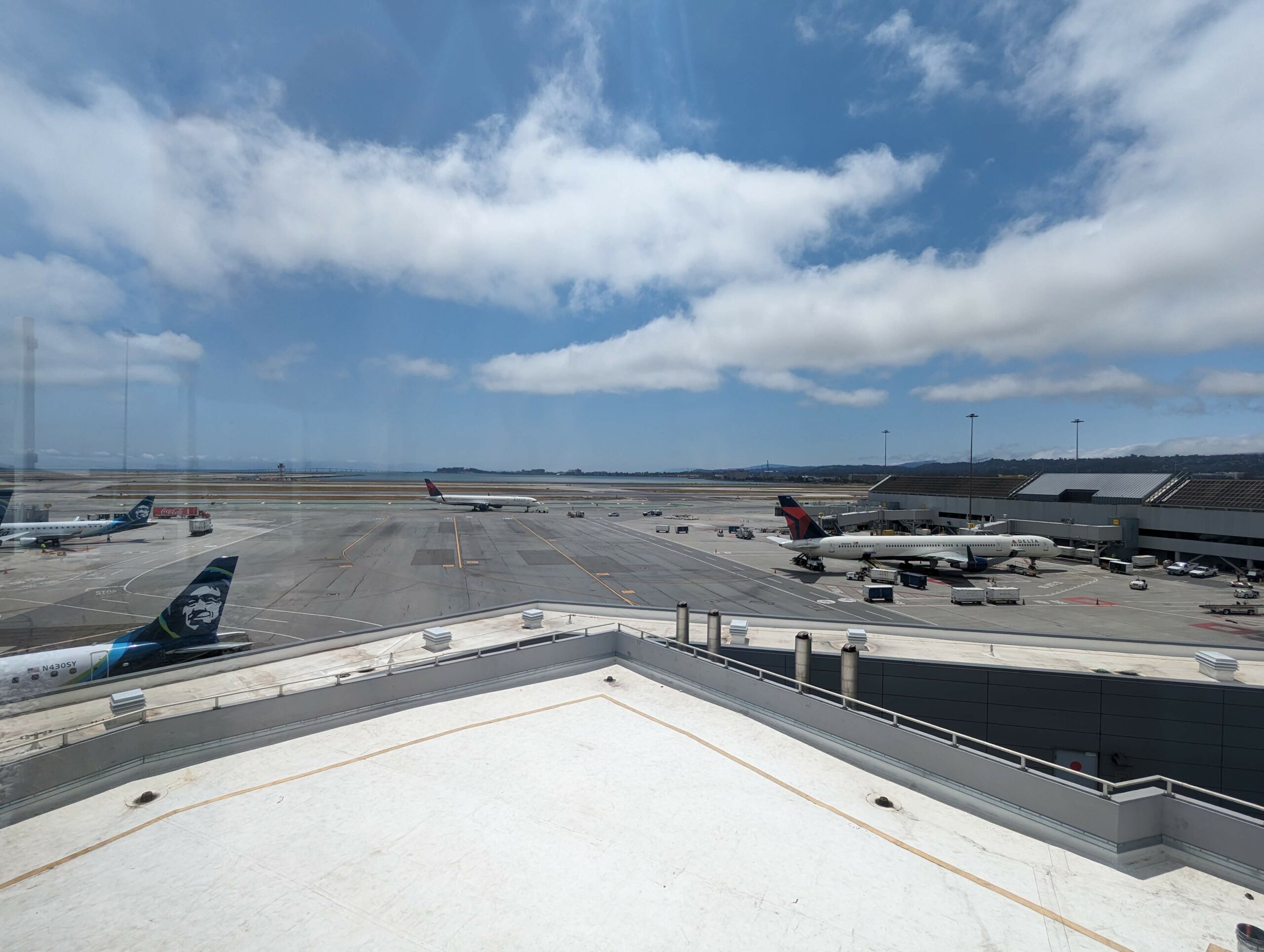 Having a drink before a flight is always interesting, but on an outdoor terrace, it's even better. Especially for an AvGeek who likes to admire the runways!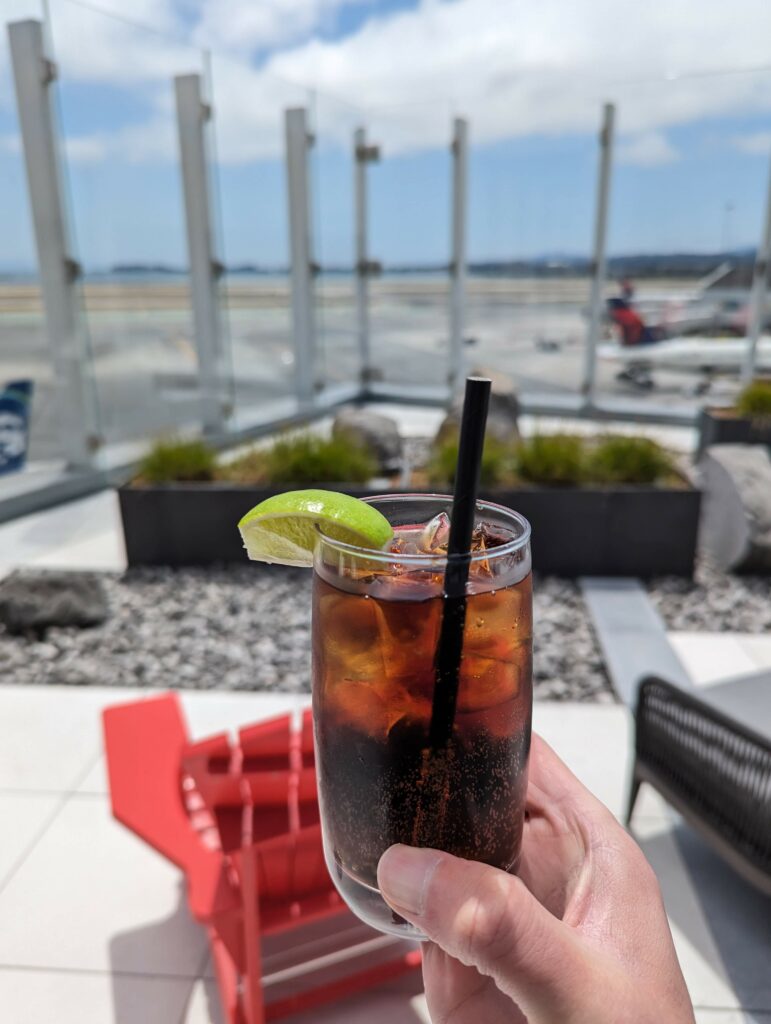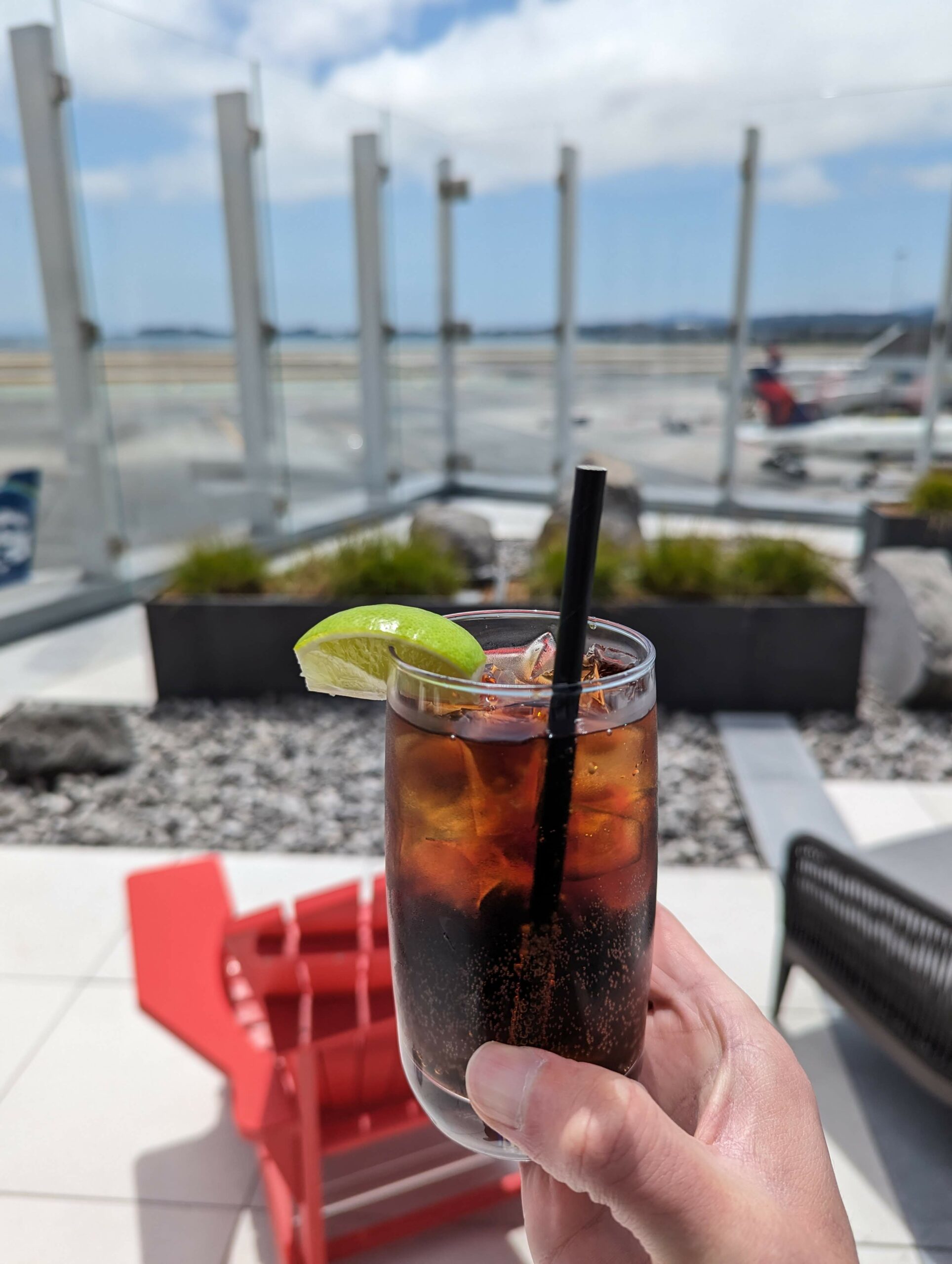 Air Canada Maple Leaf Lounge San Francisco (SFO) — Food and beverage
The area with the complimentary food and beverages is in the center of the lounge.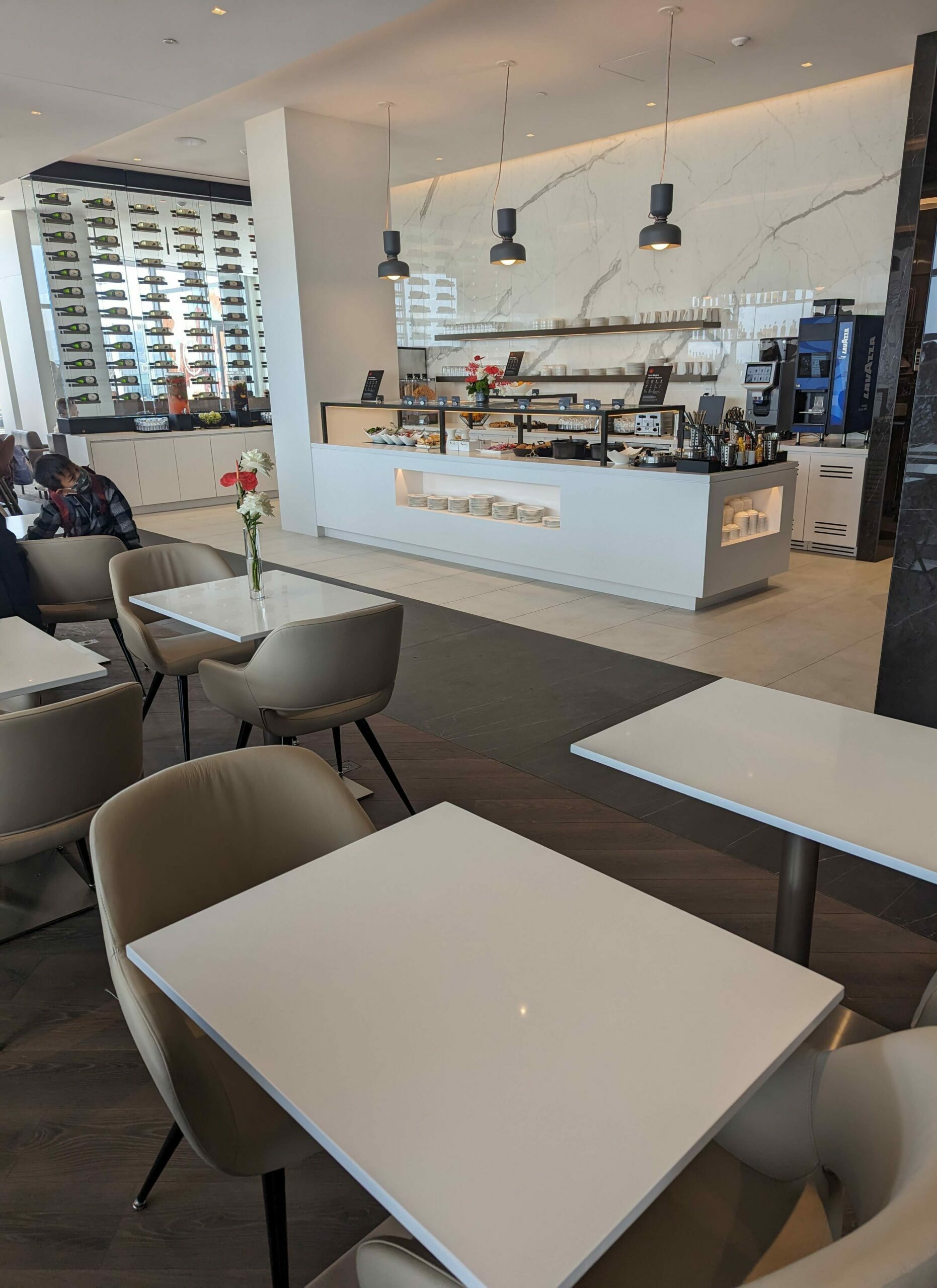 Food is one aspect where Air Canada's new lounges aim to stand out even more. The hot meals are very interesting, and some are inspired by local Californian flavors.
For example, at the event and on my normal visit there was San Francisco's iconic cioppino fish stew.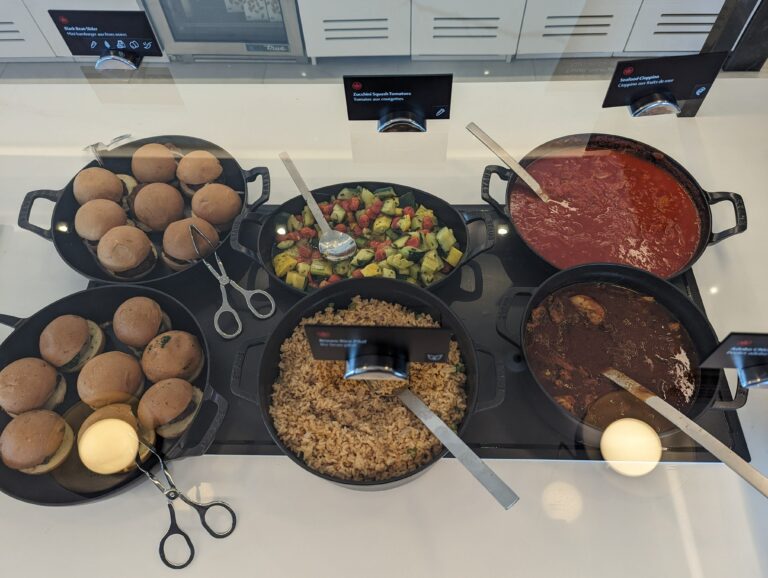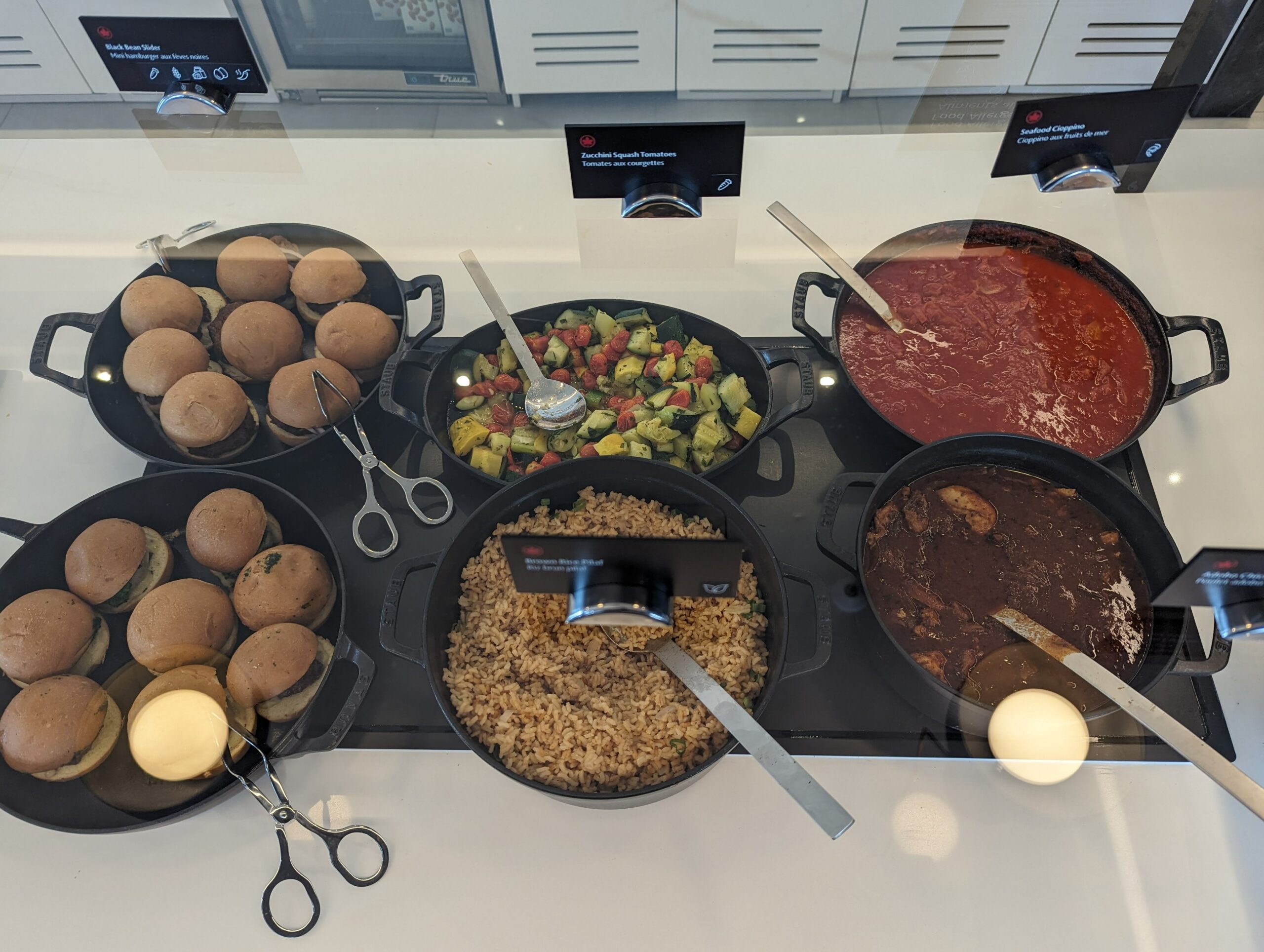 There was also chicken adobo and chimichurri burgers. I tried both and they were very good both days.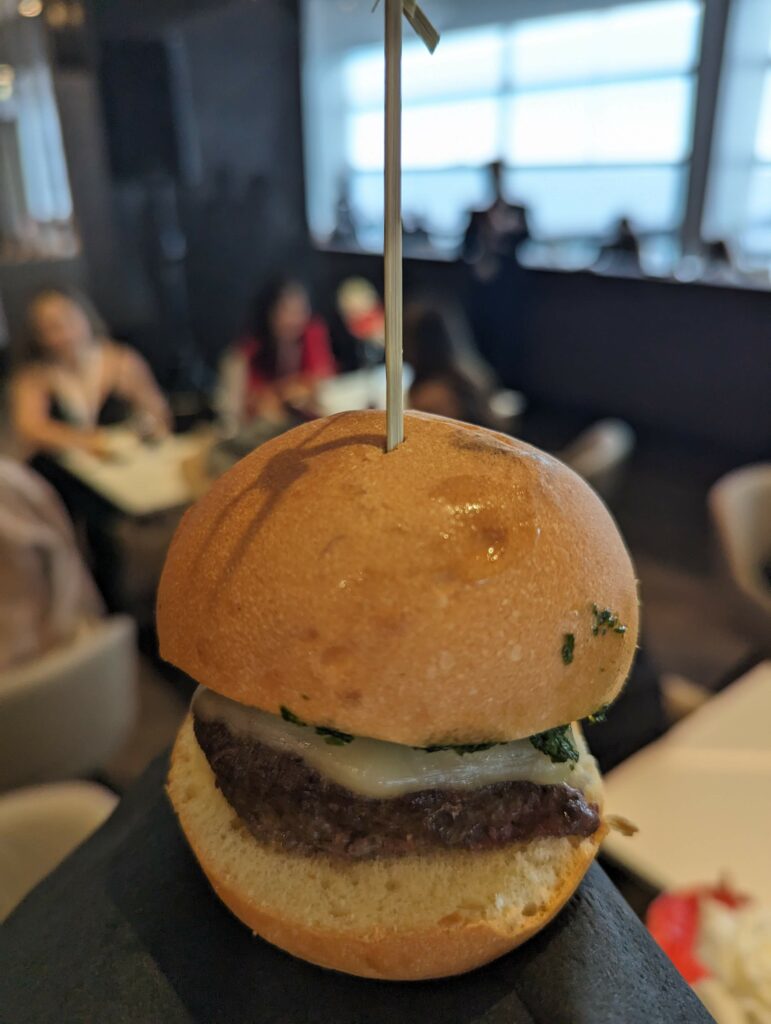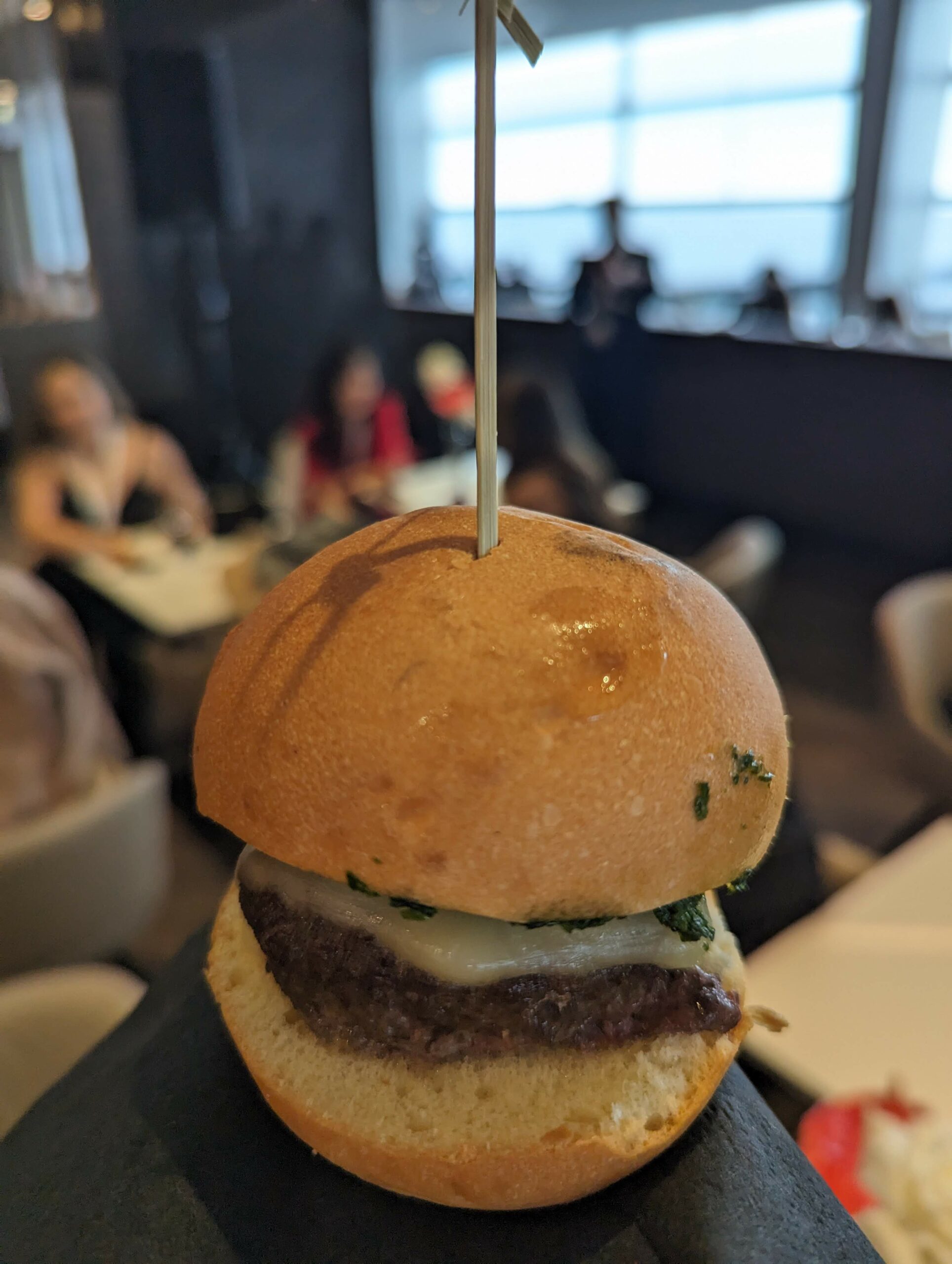 For breakfast, there were potato hashbrowns, sausages, eggs, and more.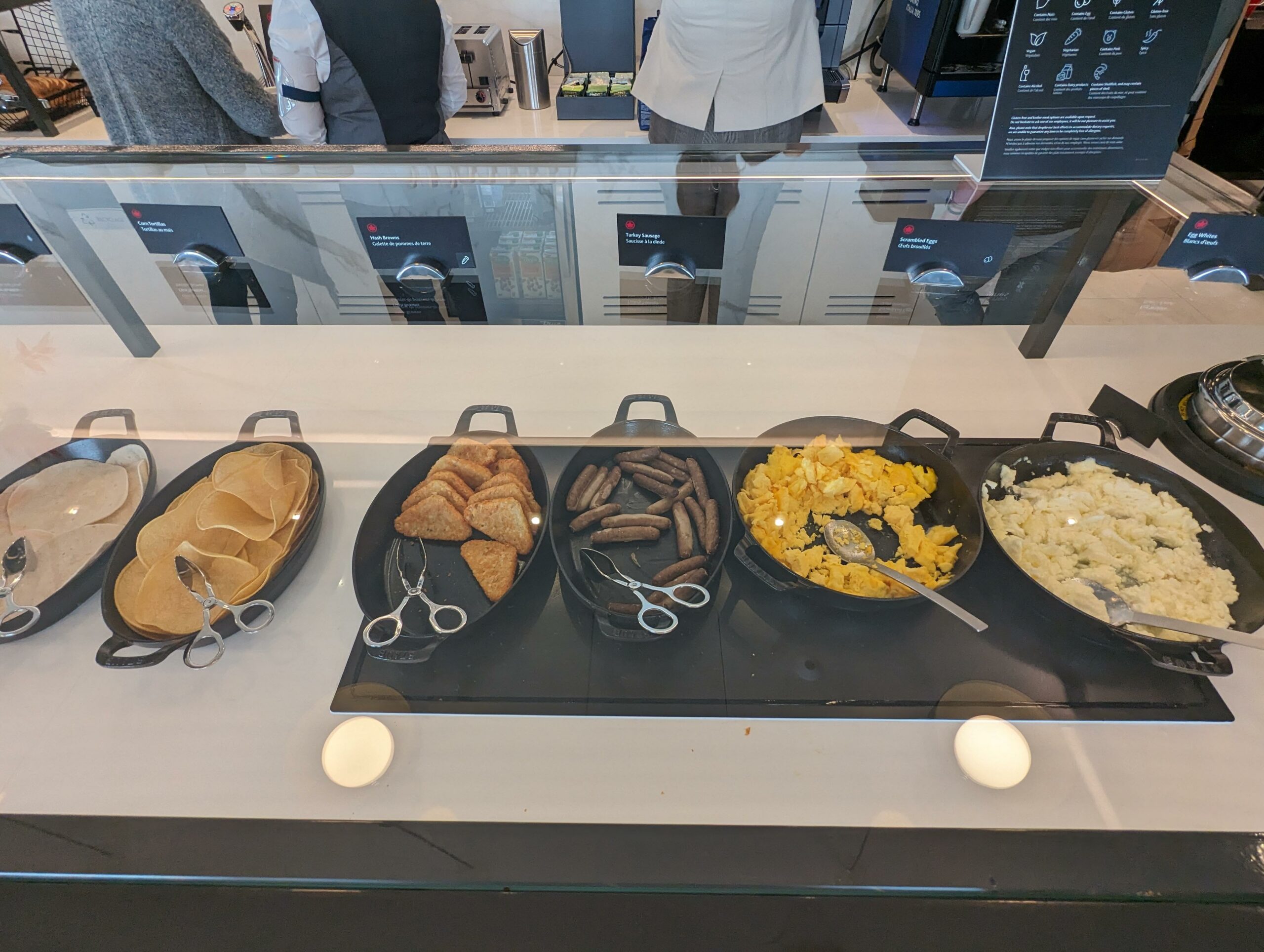 My free breakfast at the hotel was very hearty so I just took a few items to sample (to leave me room for more burgers later). That was good too, especially the chocolate bite.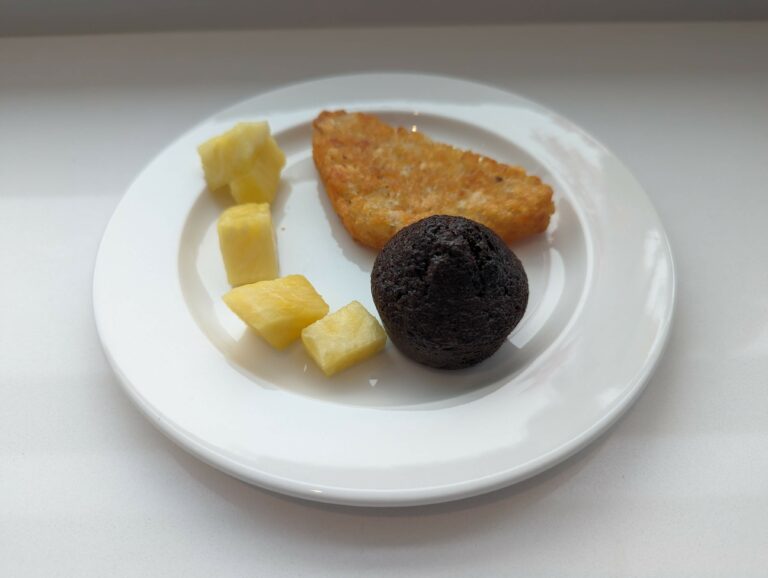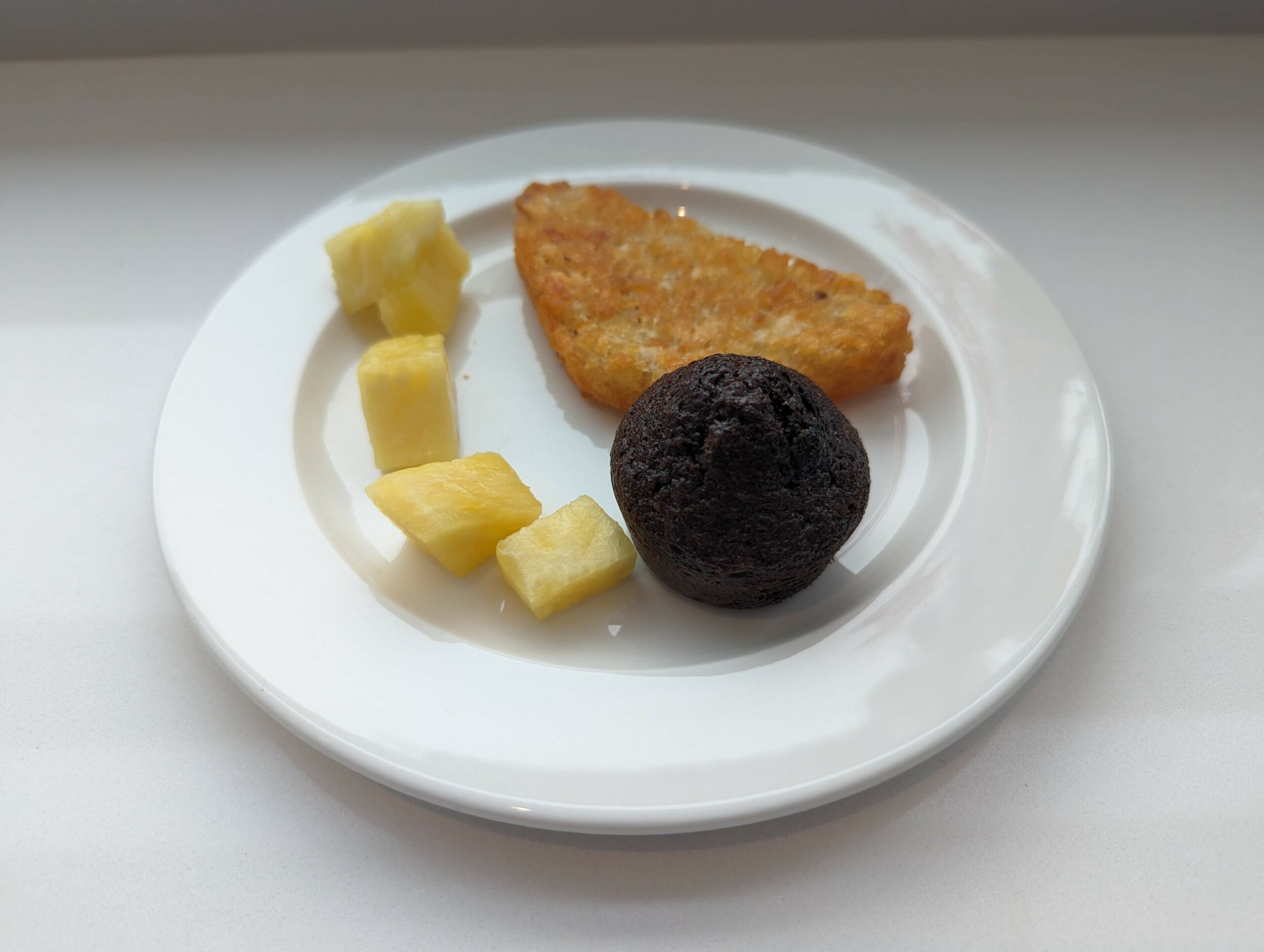 There's obviously a selection of cold food too, to give you more options.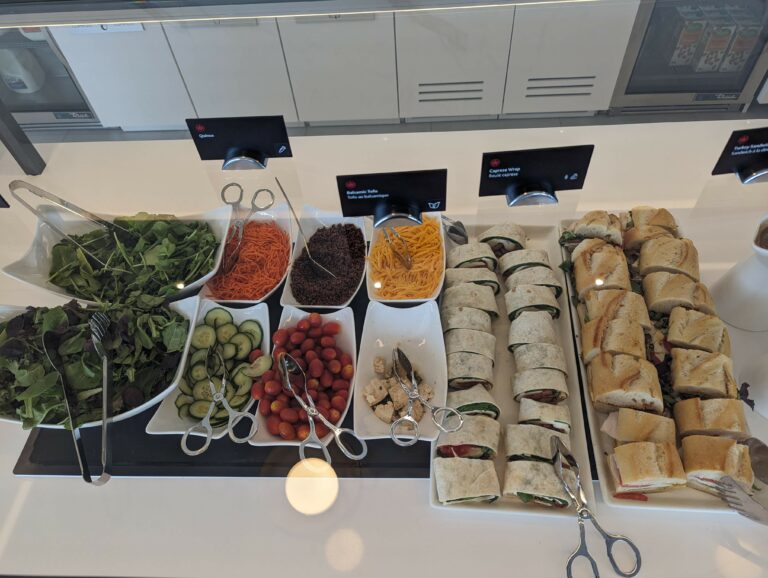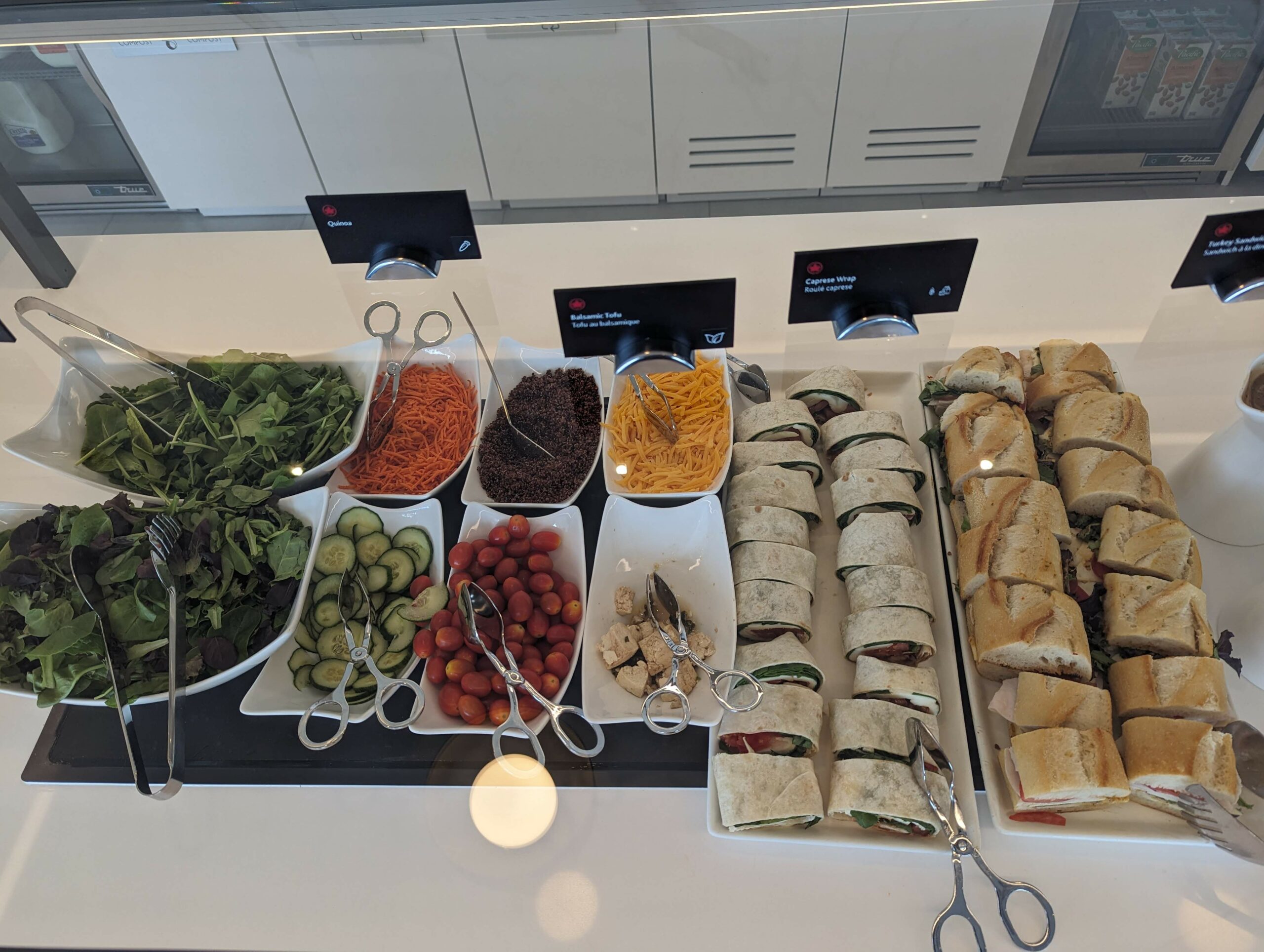 The counter at the back has desserts and snacks like delicious cookies, other kinds of chocolate cakes, and even oranges and apples as healthier options.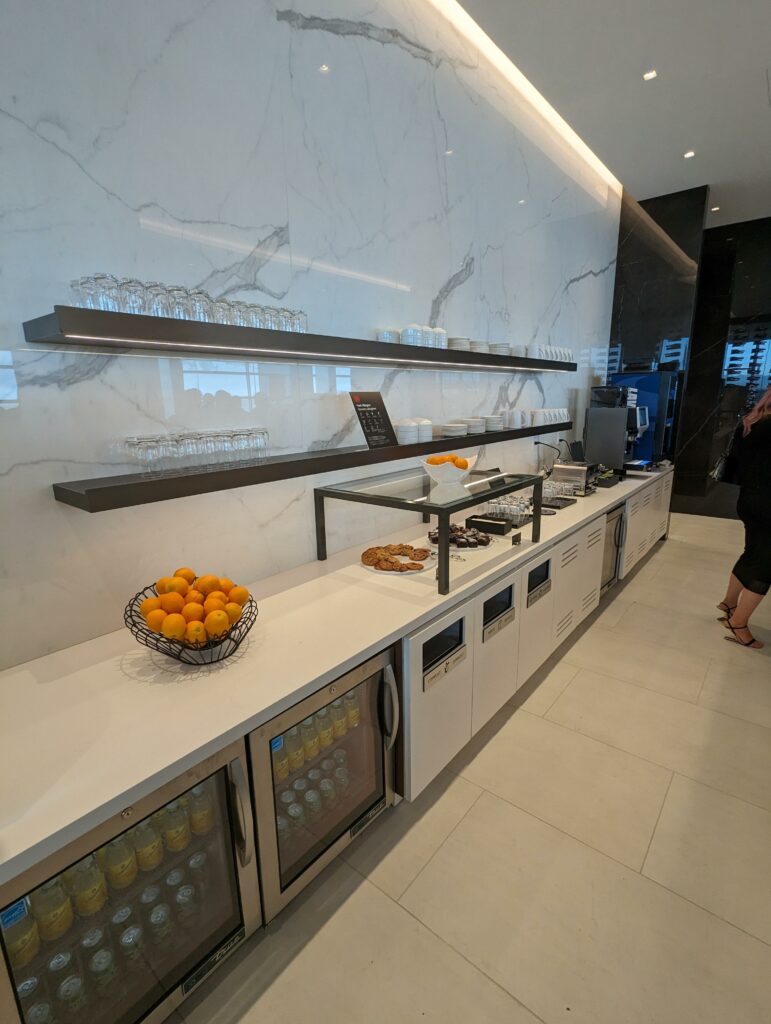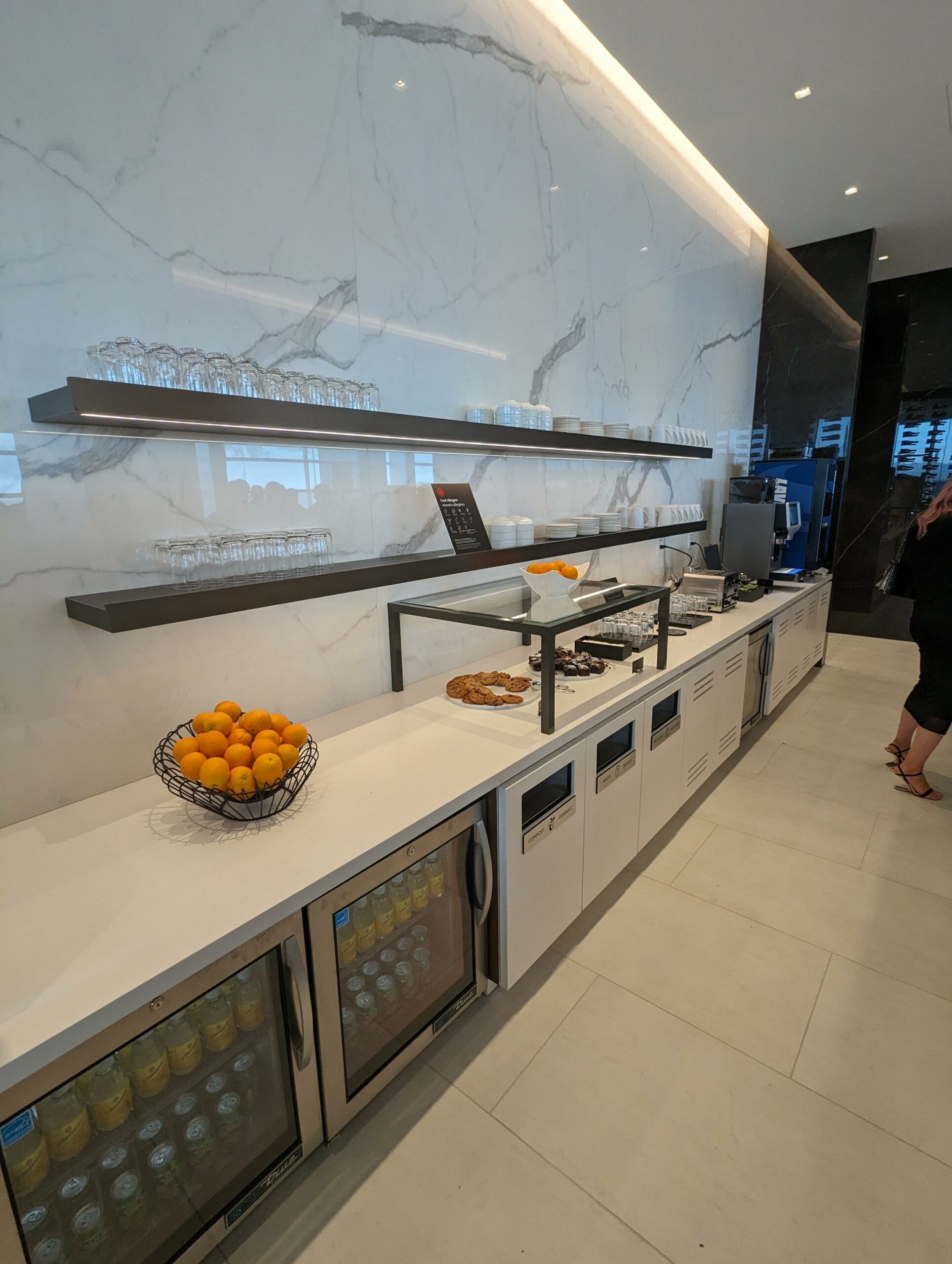 Unlike the new Air Canada Café lounge concept (and the very unique, more easily accessible Aspire | Air Canada Café Lounge), there were no bags to encourage you to take anything to go.
Dispensers for still and sparkling water and coffee machines are on the back counters too, but the main bar also has an espresso bar.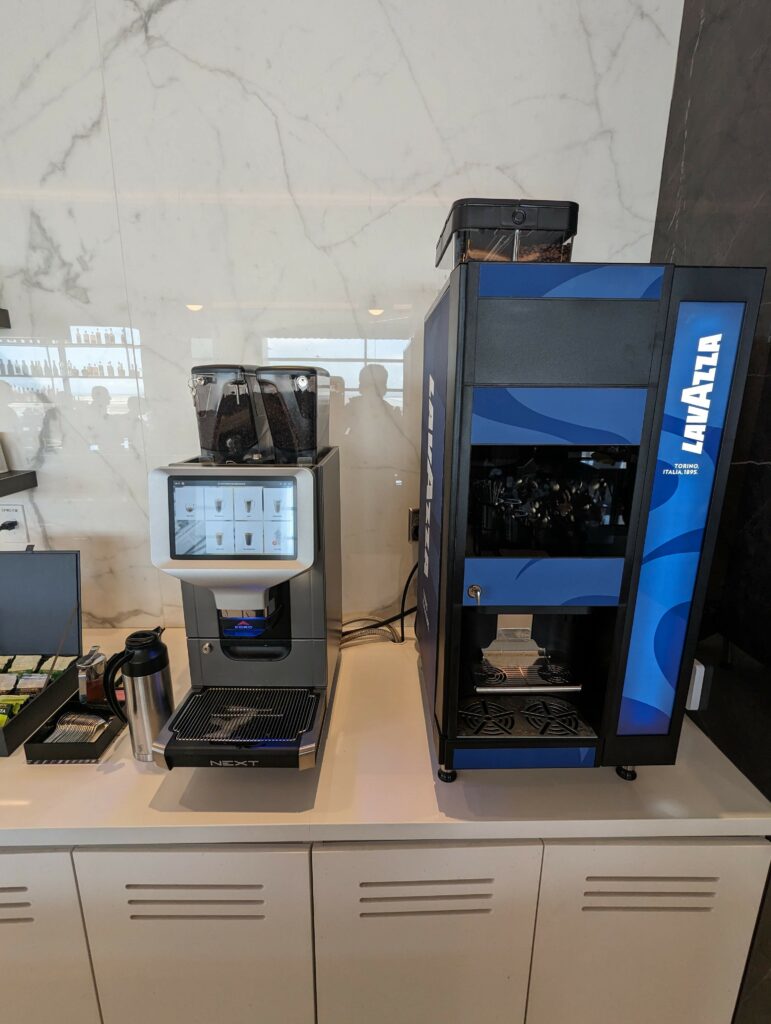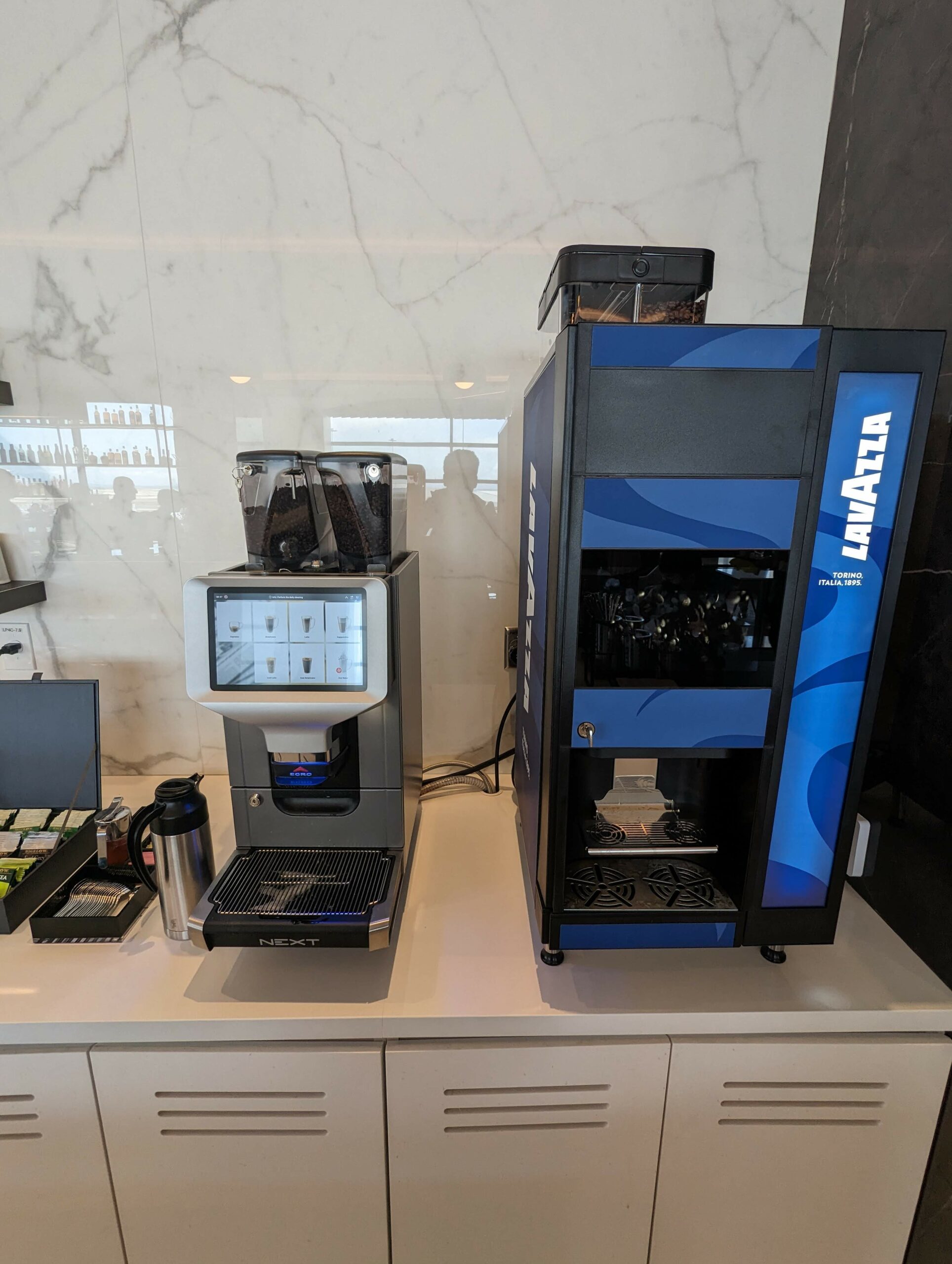 The corner with fountain soft drinks, flavored water, and iced tea is topped by a wall of wine bottles that separates the food section from the back of the lounge.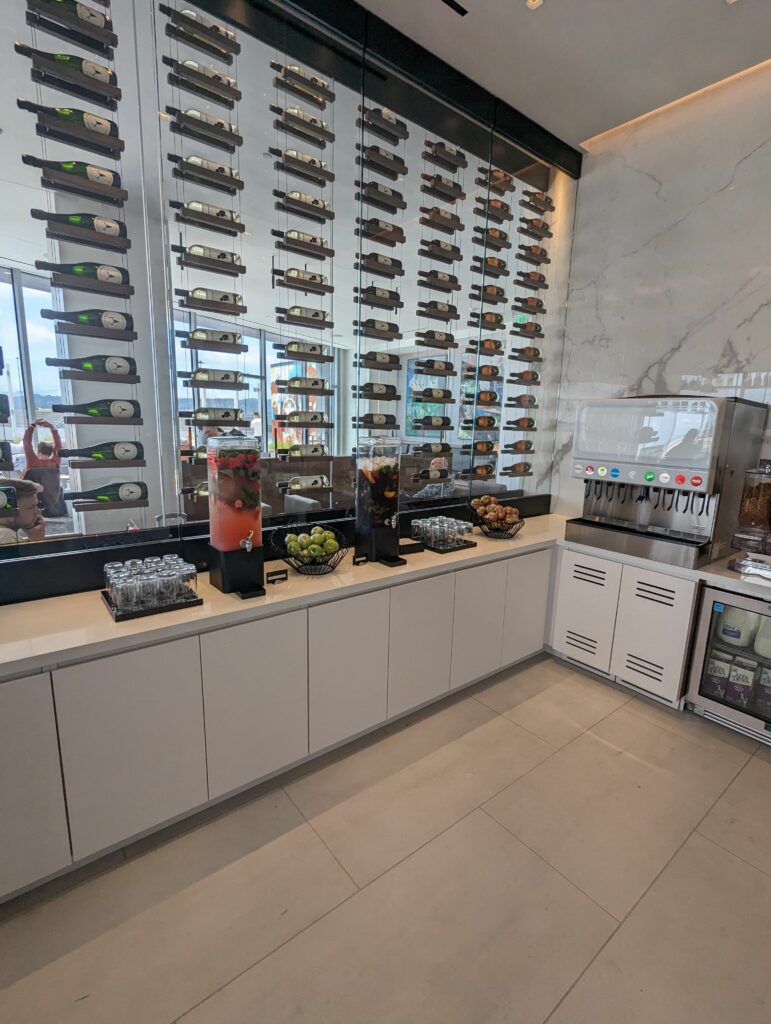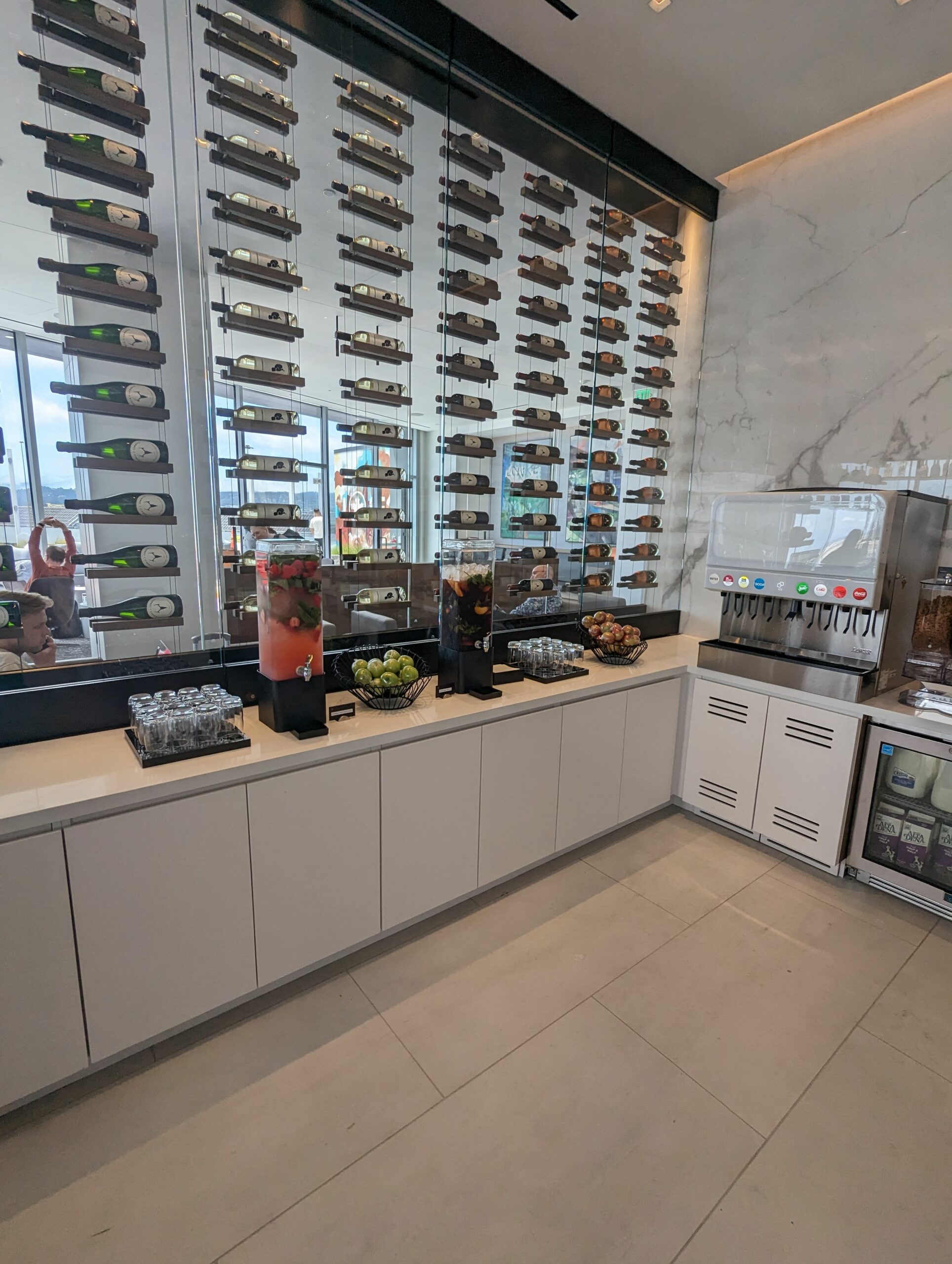 Directly opposite is the large, full-service bar (i.e. with bartenders and just about every kind of alcohol), with a beautiful design that highlights the drinks selection above.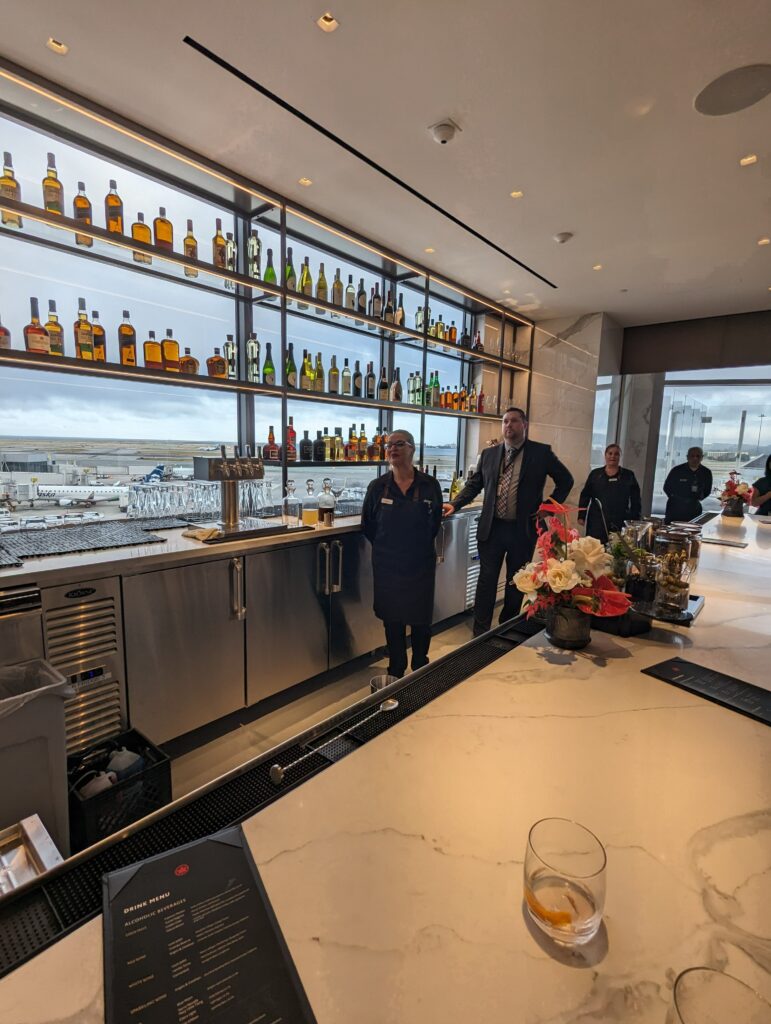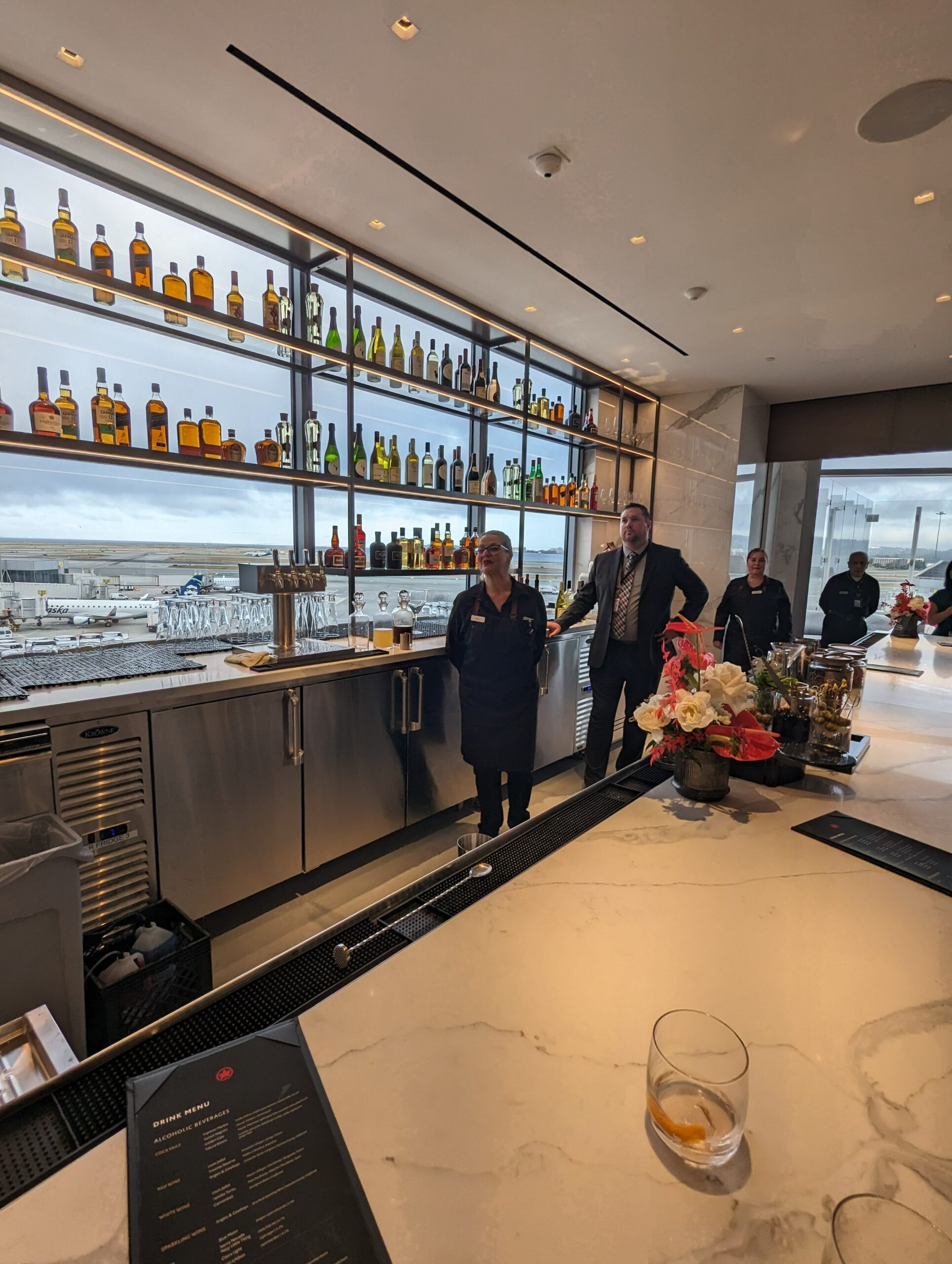 Of course, you can order whatever you like, but there's also a curated menu of locally inspired cocktails and recommended options, such as Californian wines.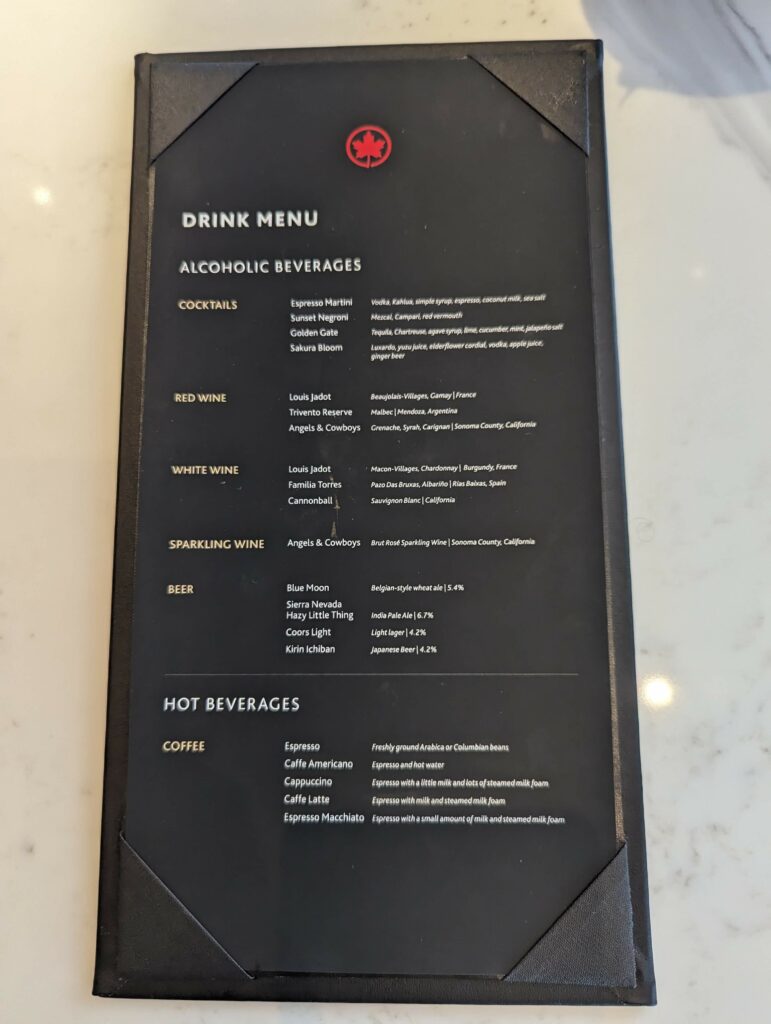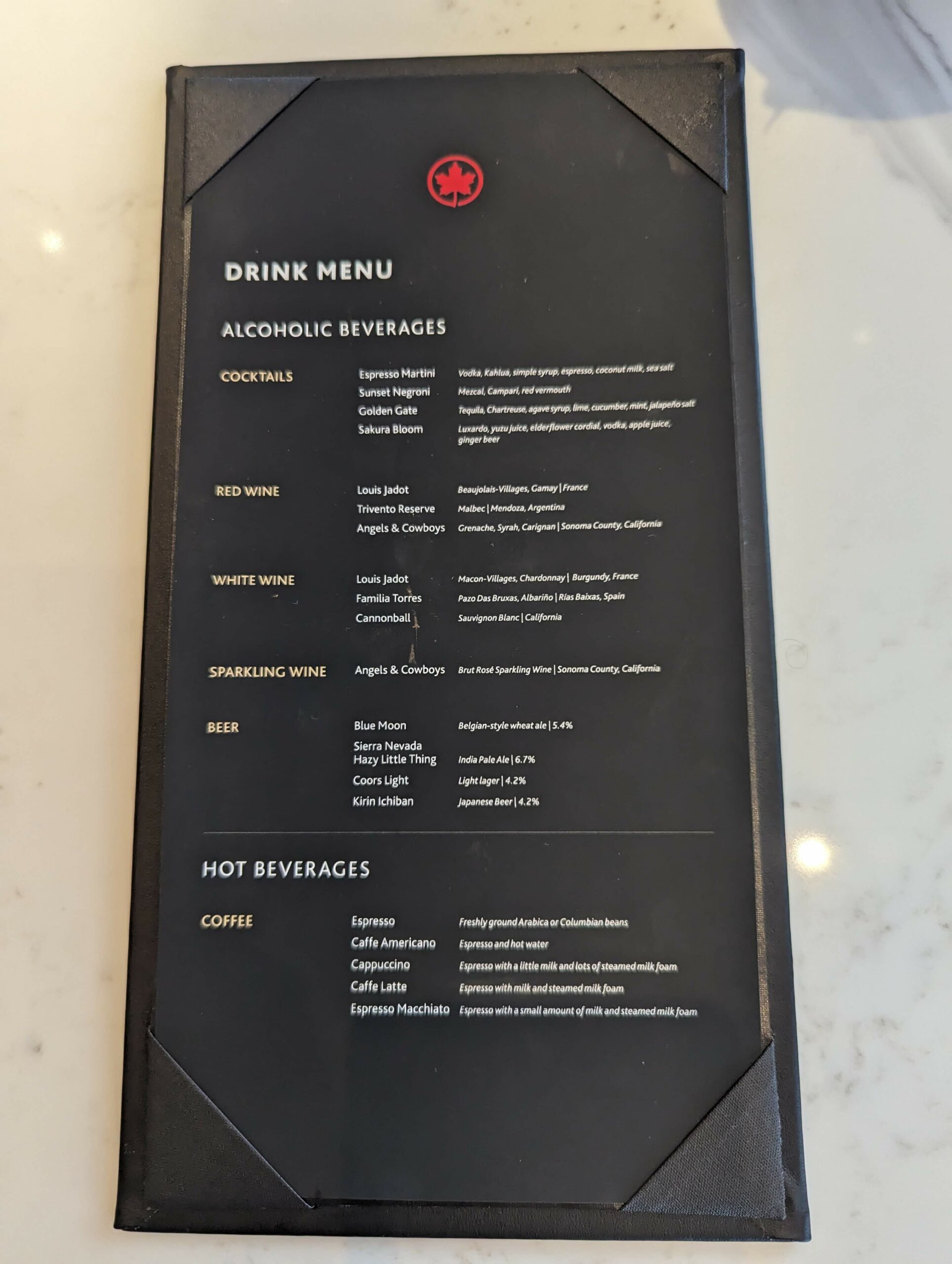 They also have local beer (including what was apparently the first American craft beer, from Anchor Brewing) and Canadian wines.
You can also see the Lavazza espresso machine behind the bar.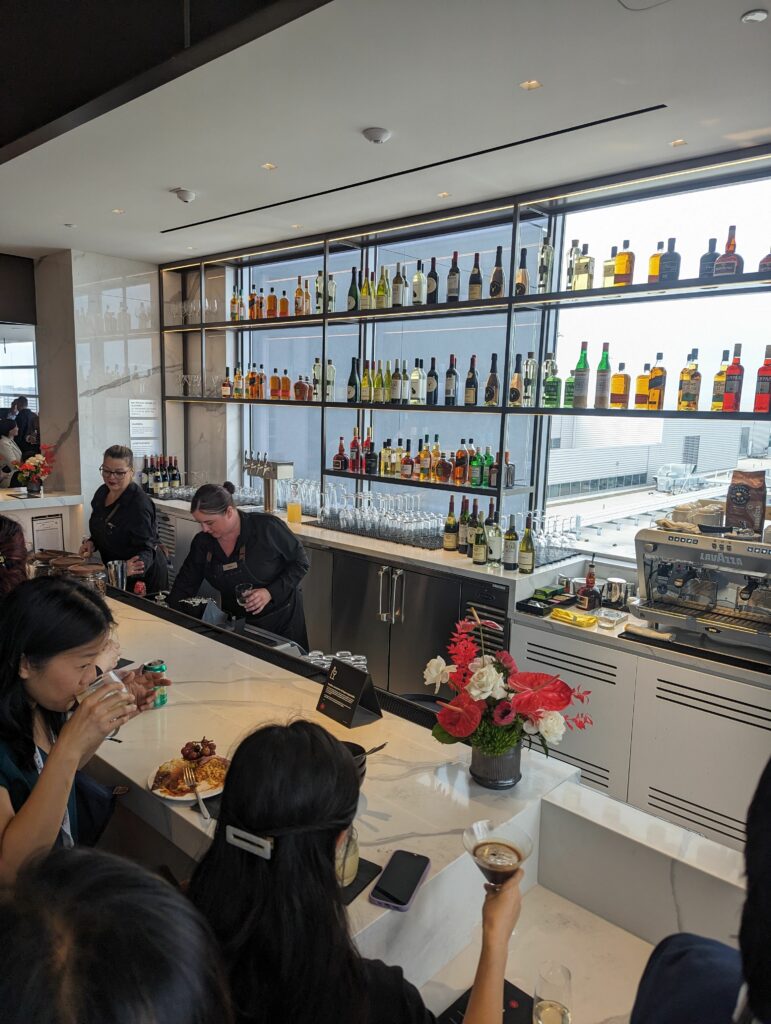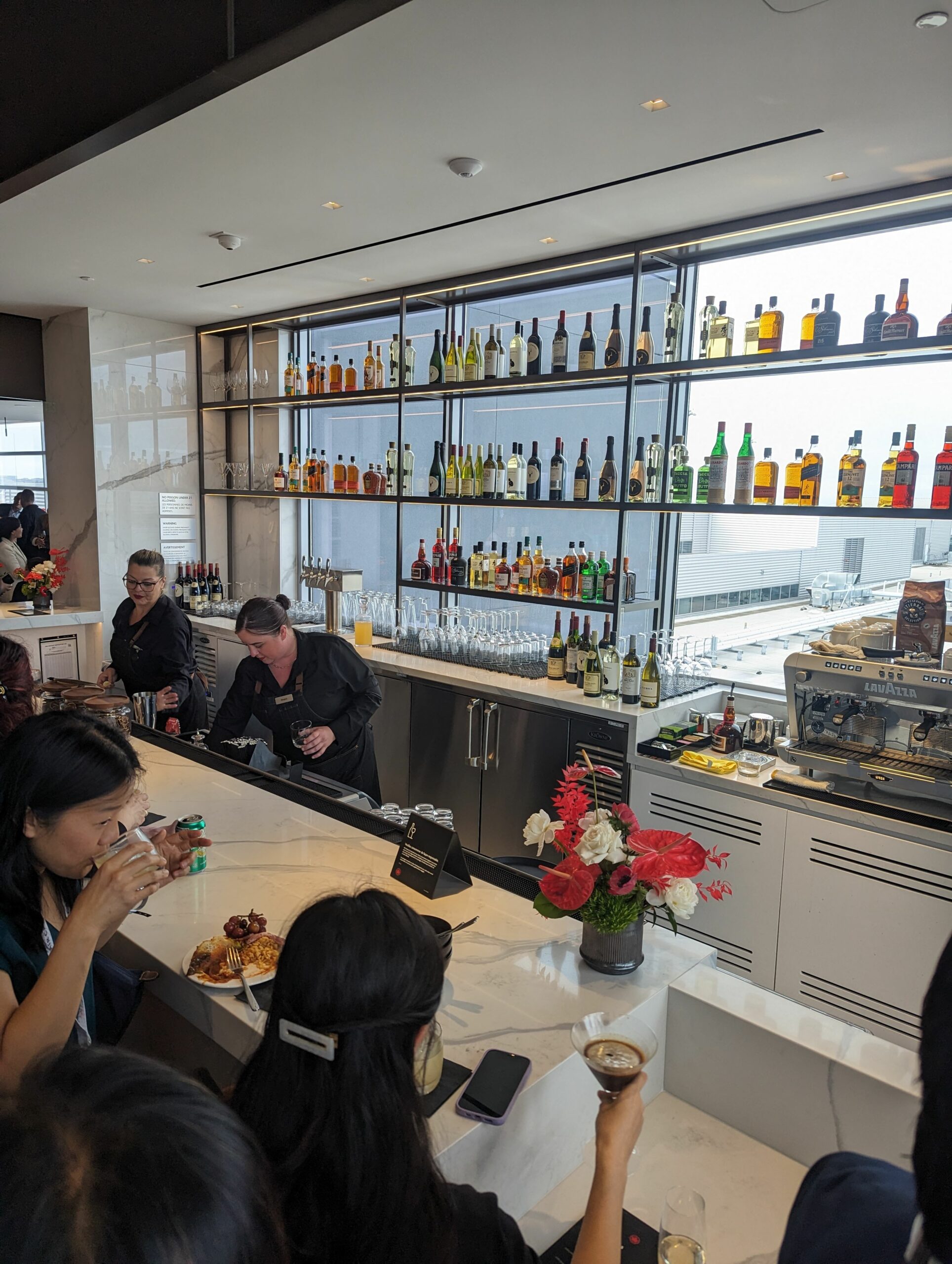 Air Canada Maple Leaf Lounge San Francisco (SFO) — Restrooms and showers
Restrooms and showers are in 2 separate areas. The restrooms are towards the lounge entrance, in a clearly marked corridor.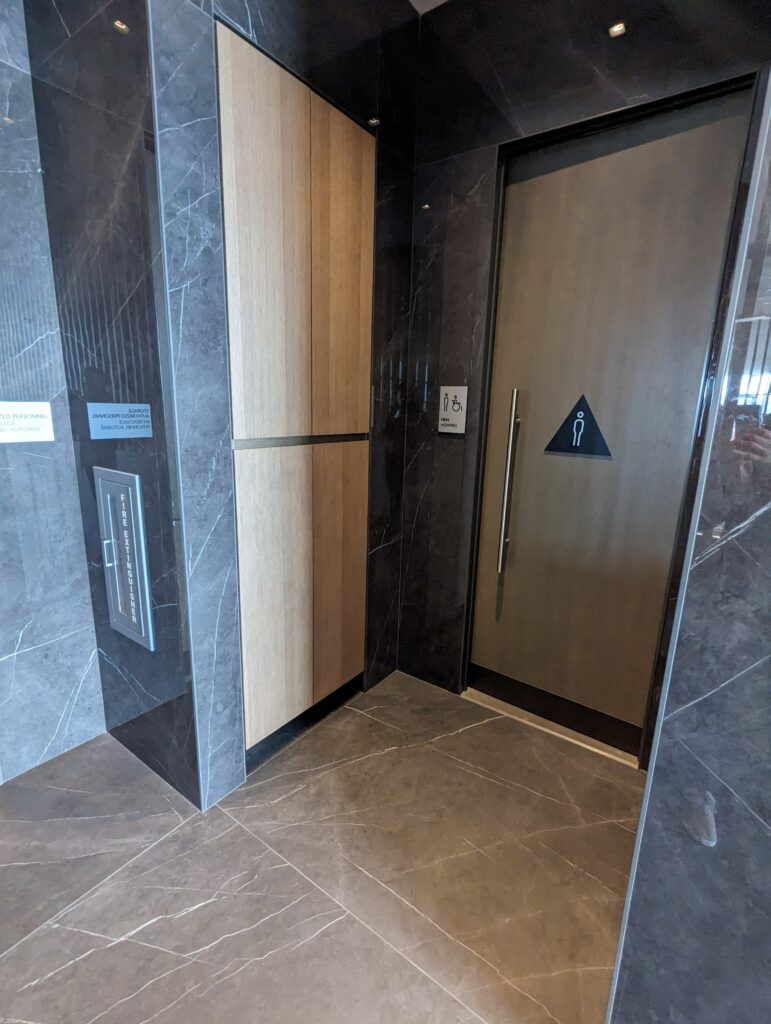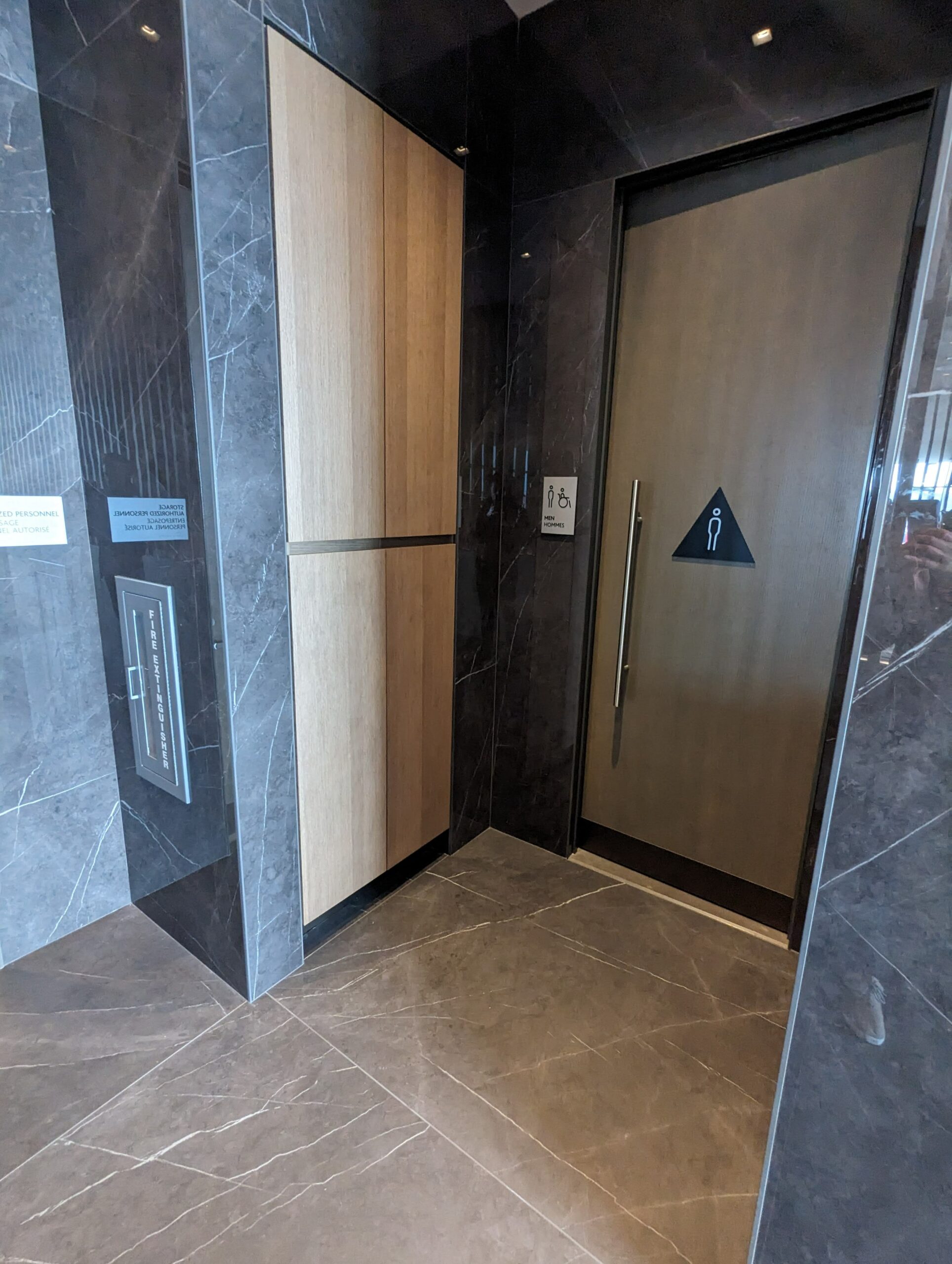 They are very modern.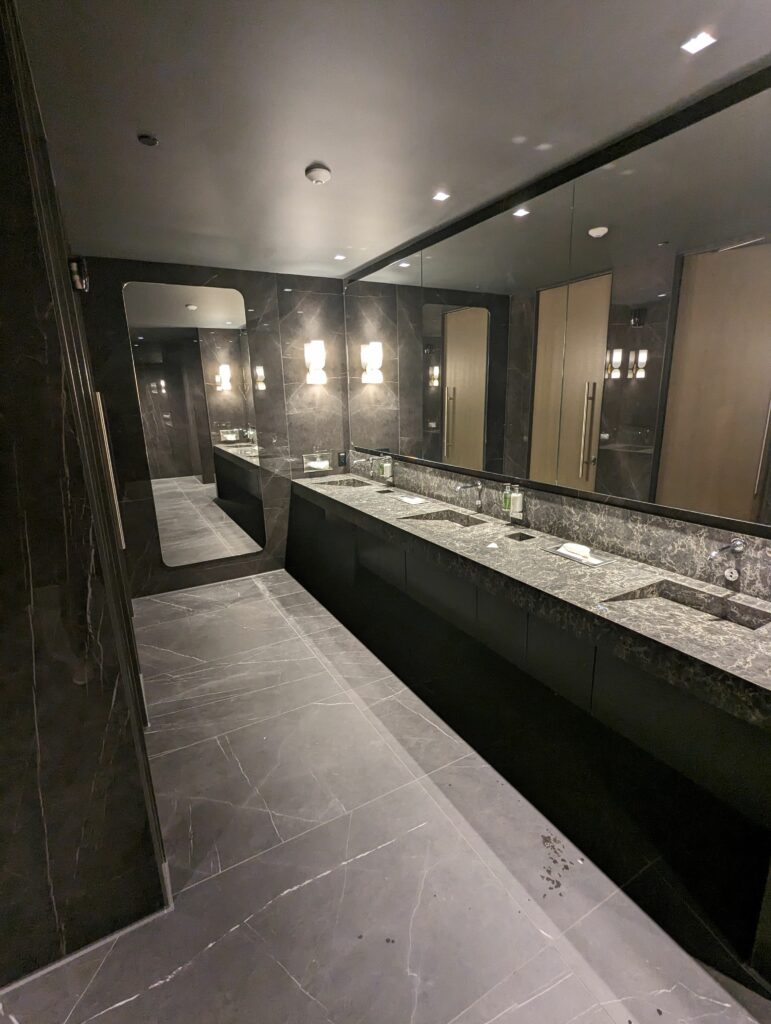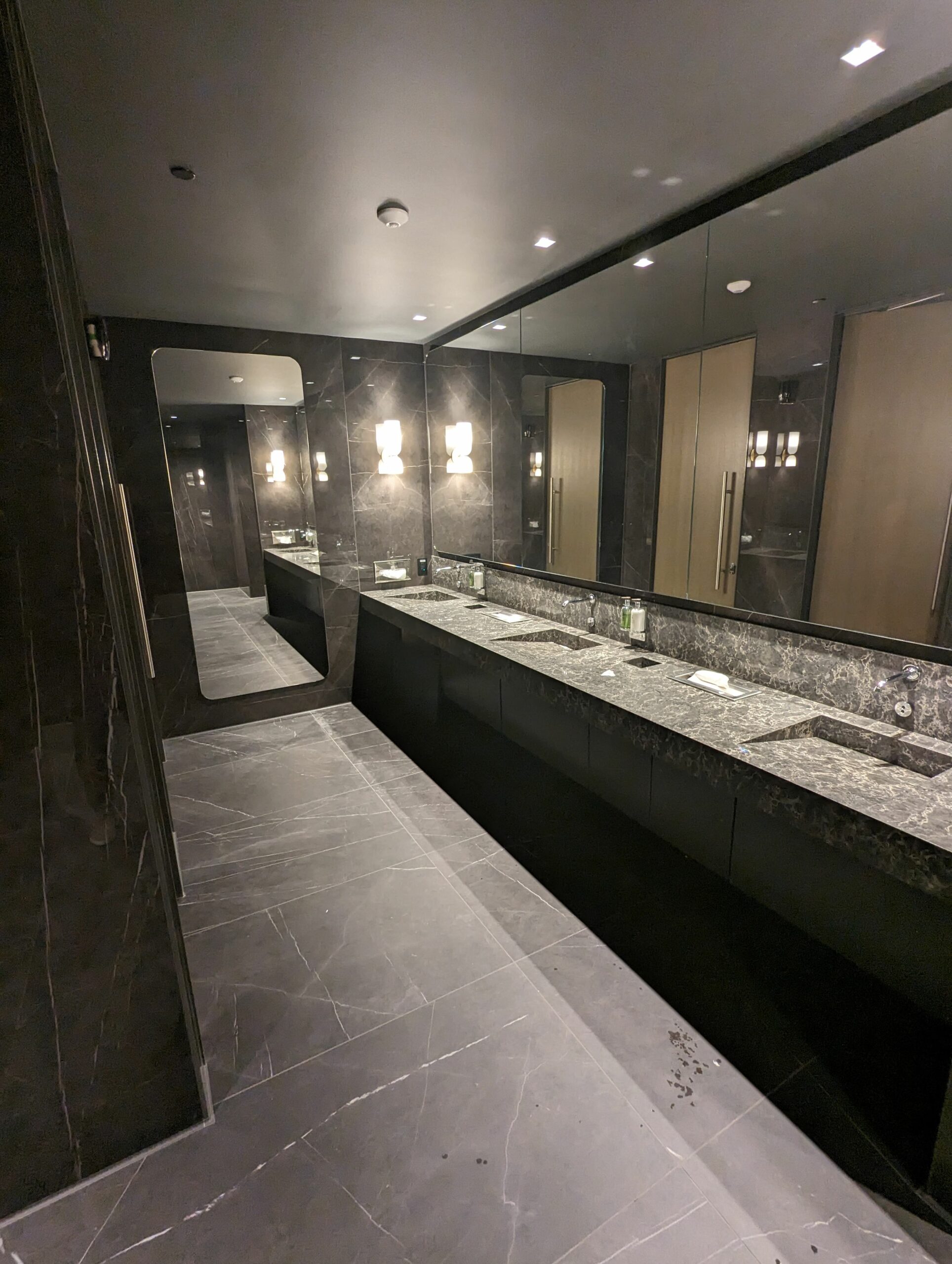 Soaps and lotions are by Molton Brown, a well-regarded British brand, as in other Air Canada Maple Leaf Lounges.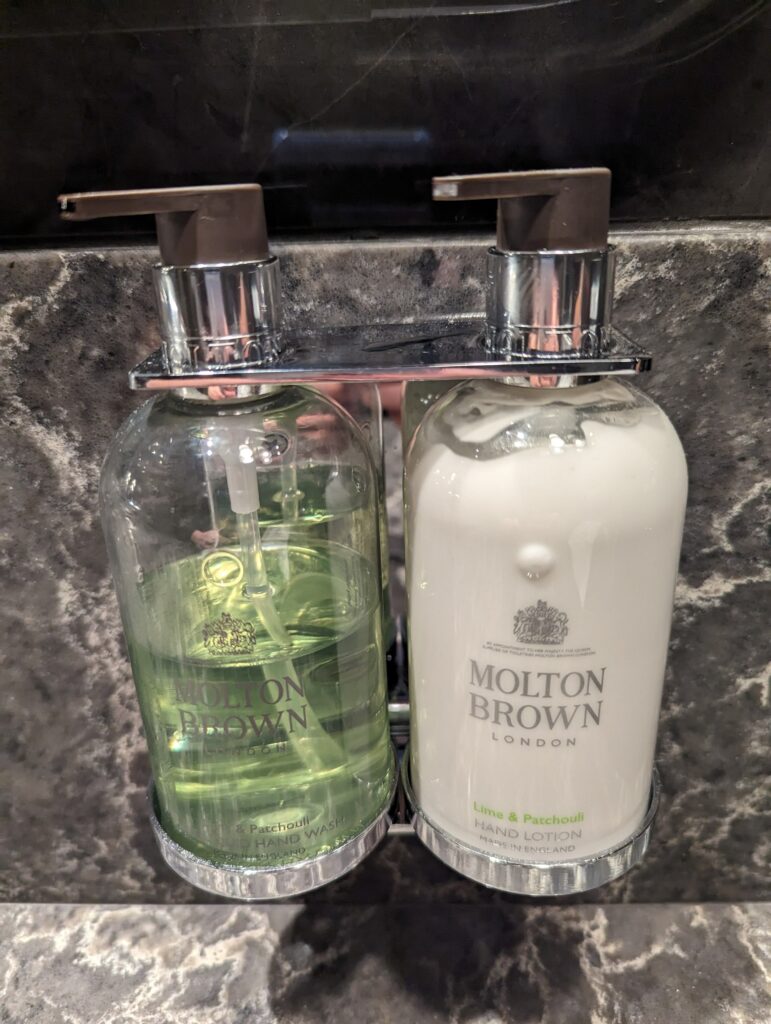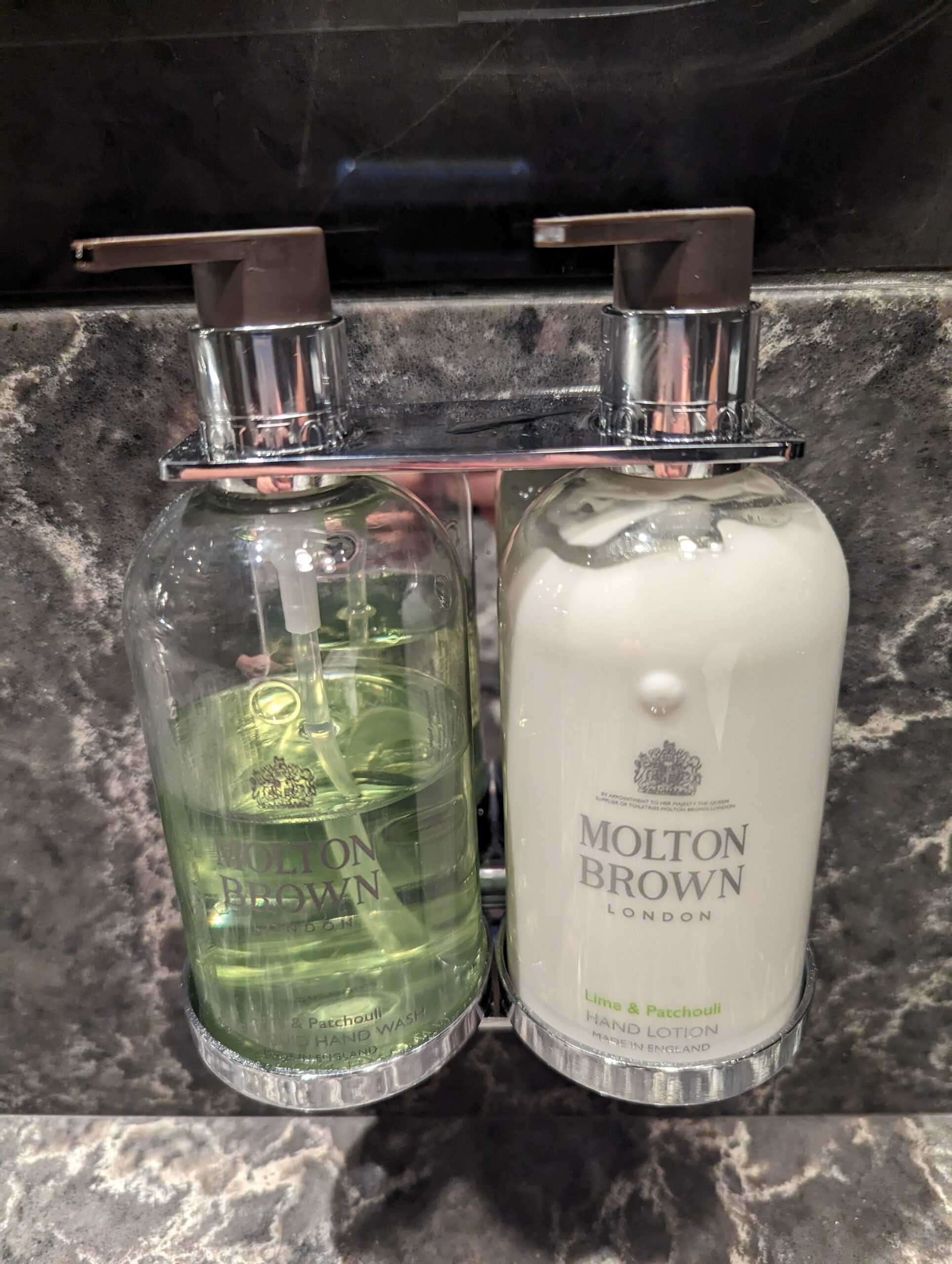 Another hallway leads to the lounge's 2 shower rooms.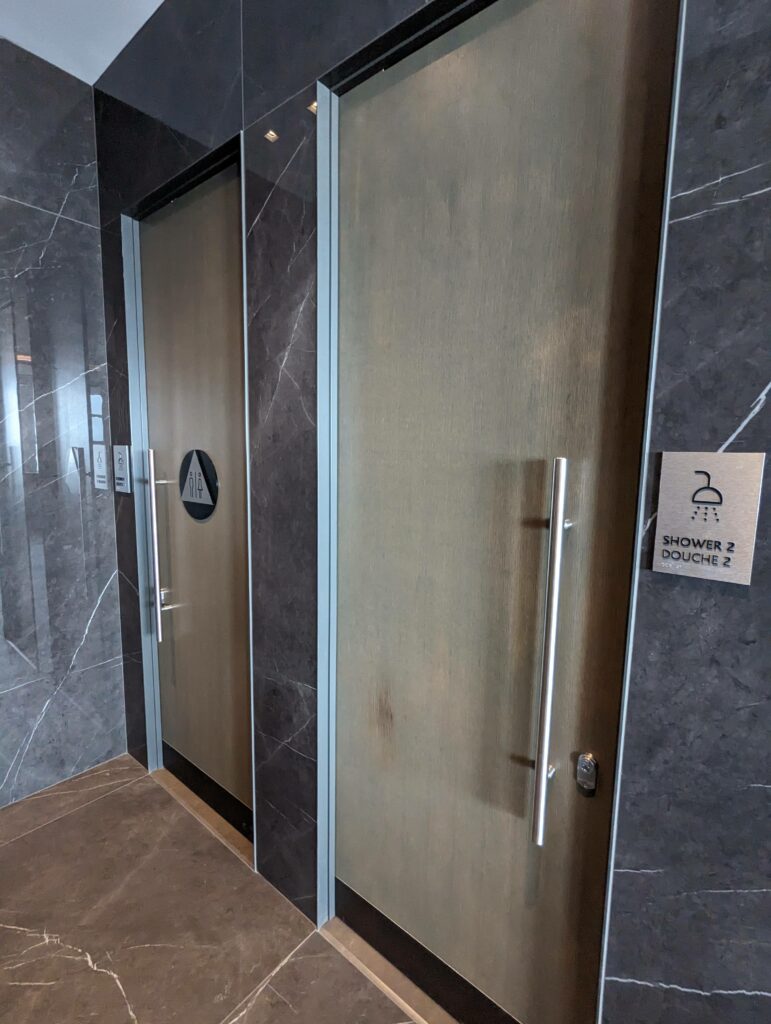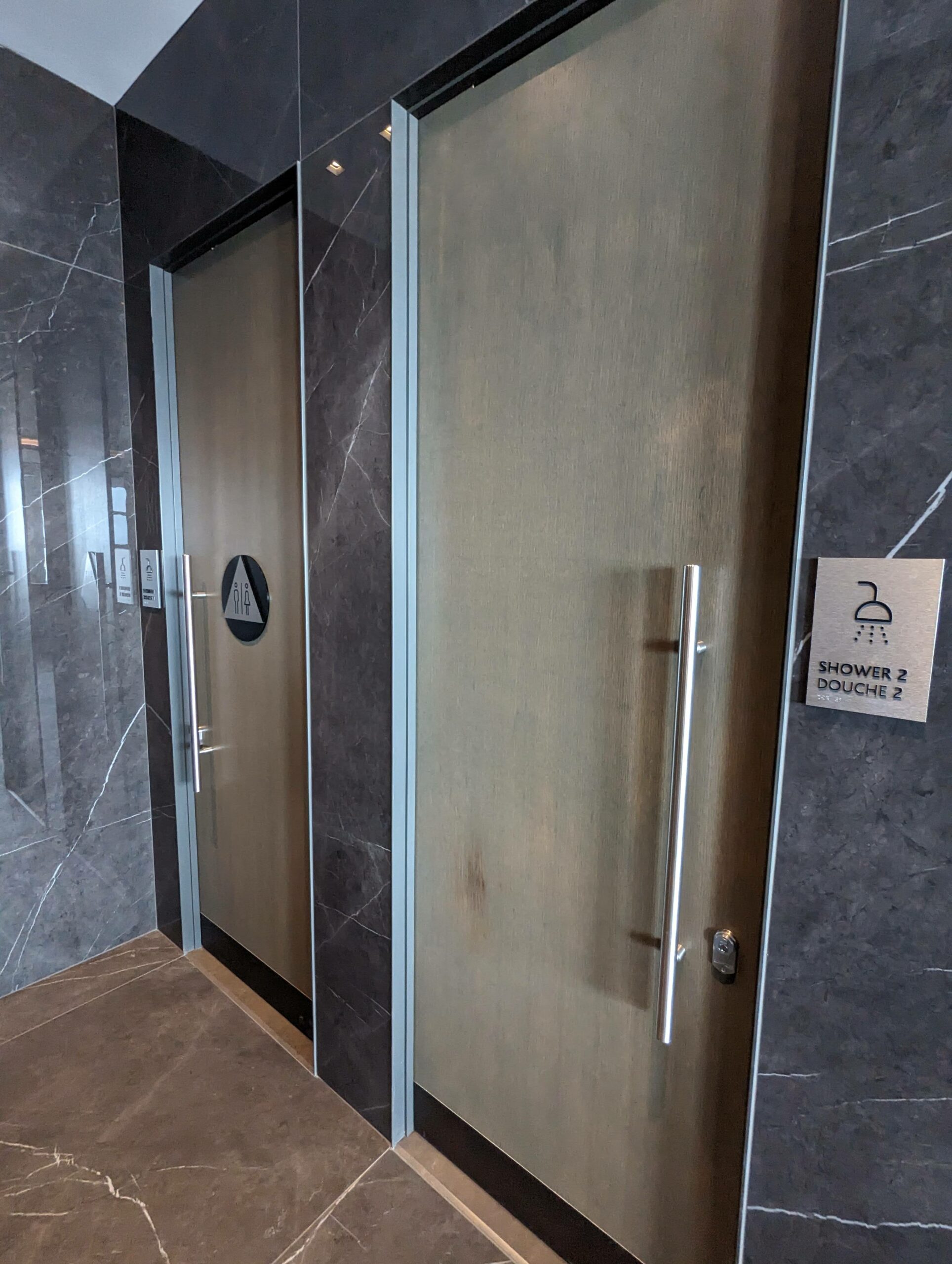 The towel racks are even heated! Showers in an airport lounge are a really practical feature.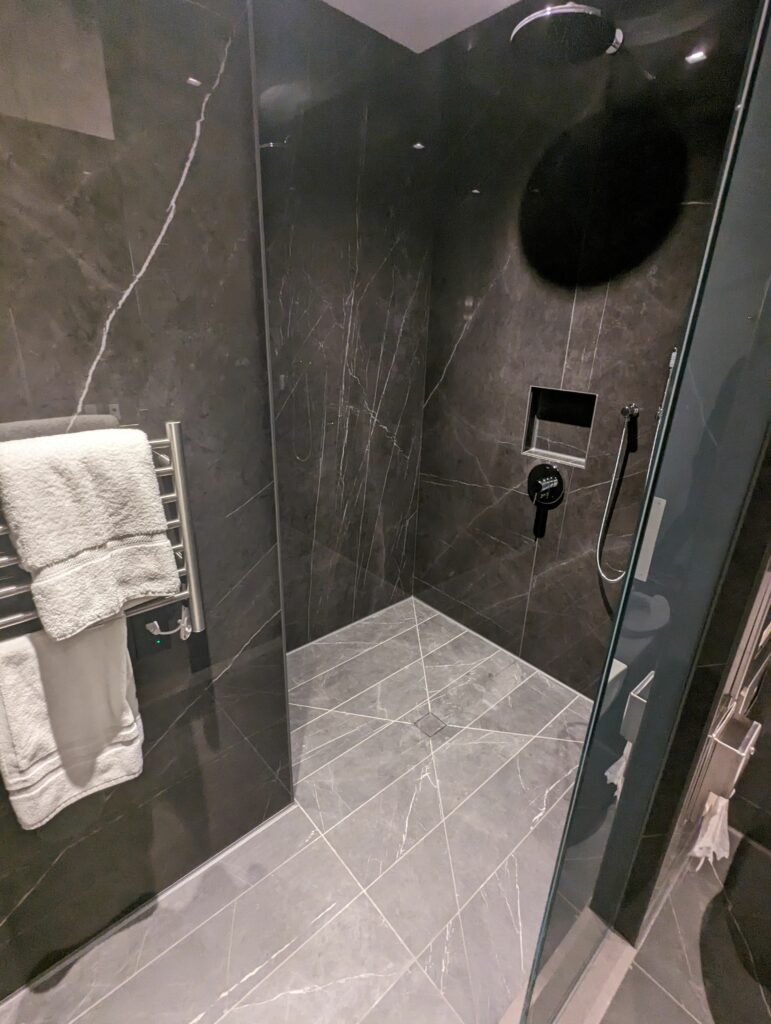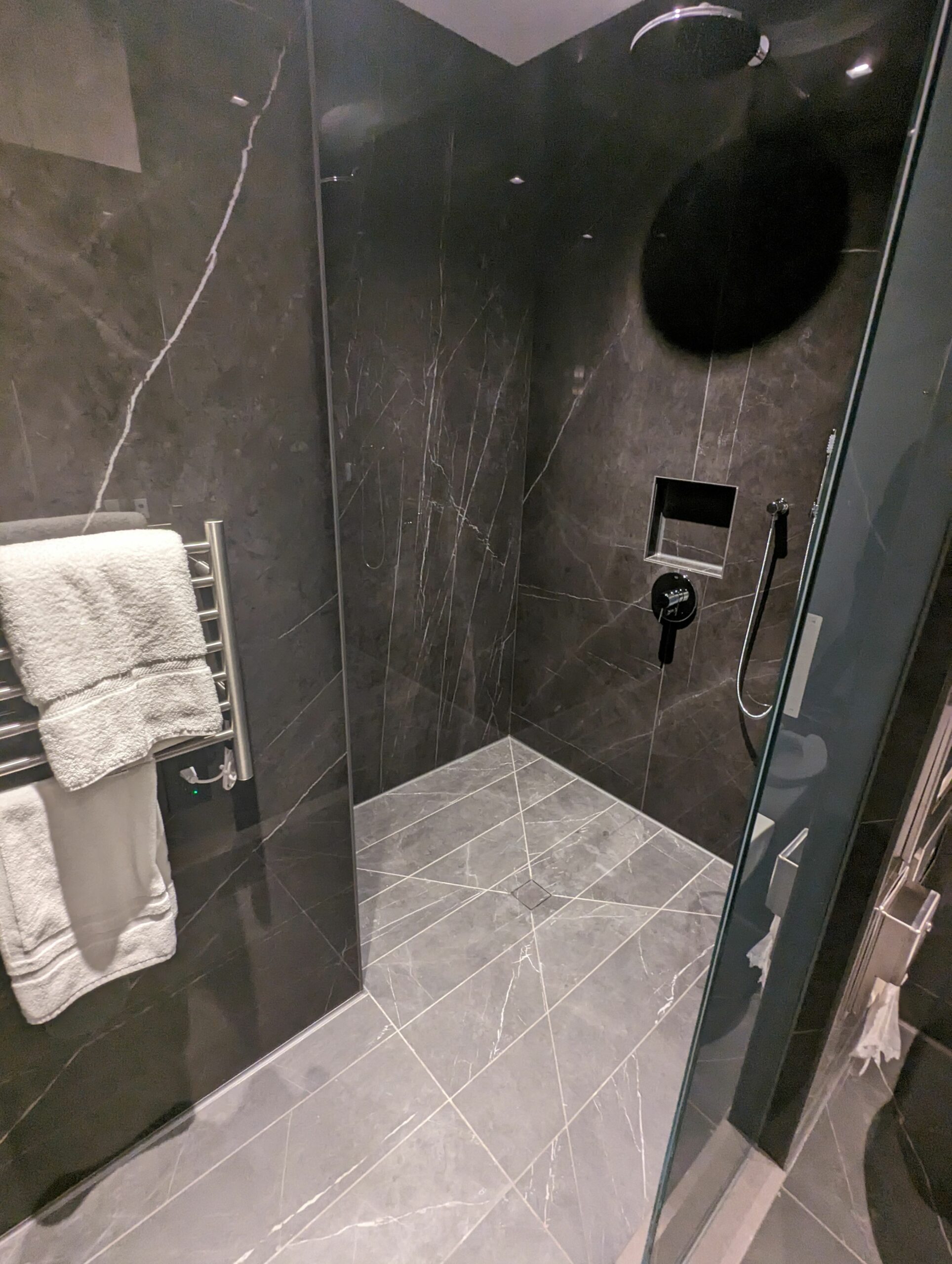 The shower rooms are also full private bathrooms.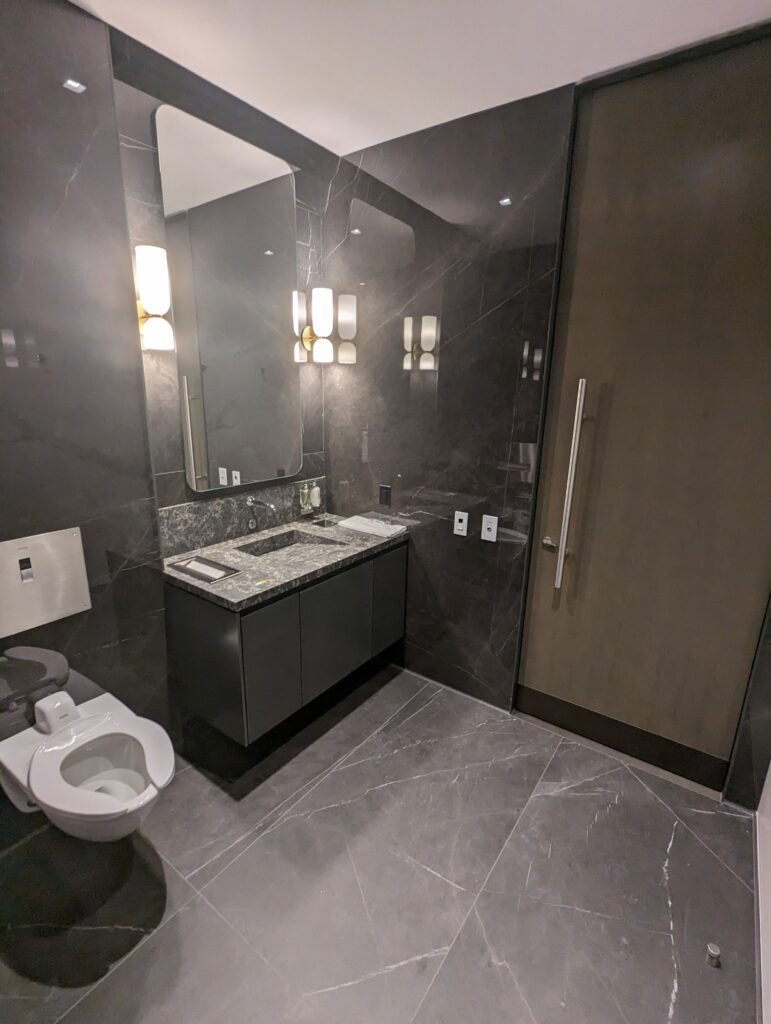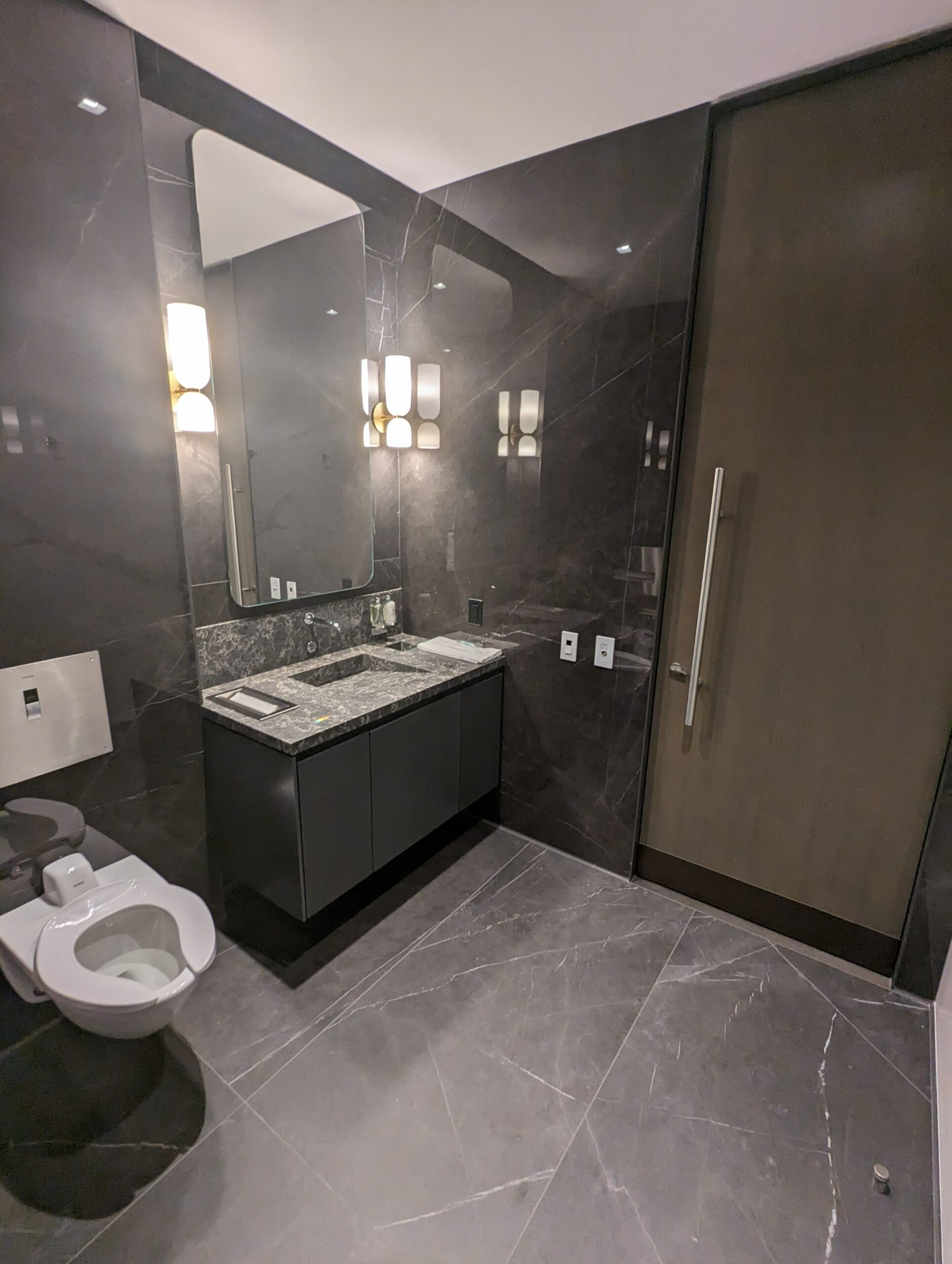 Air Canada Maple Leaf Lounge San Francisco (SFO) — Work spaces
Opposite the main wall, which has high counters and tables that can obviously be used as workspaces, there's a section with 3 enclosed offices and a printer.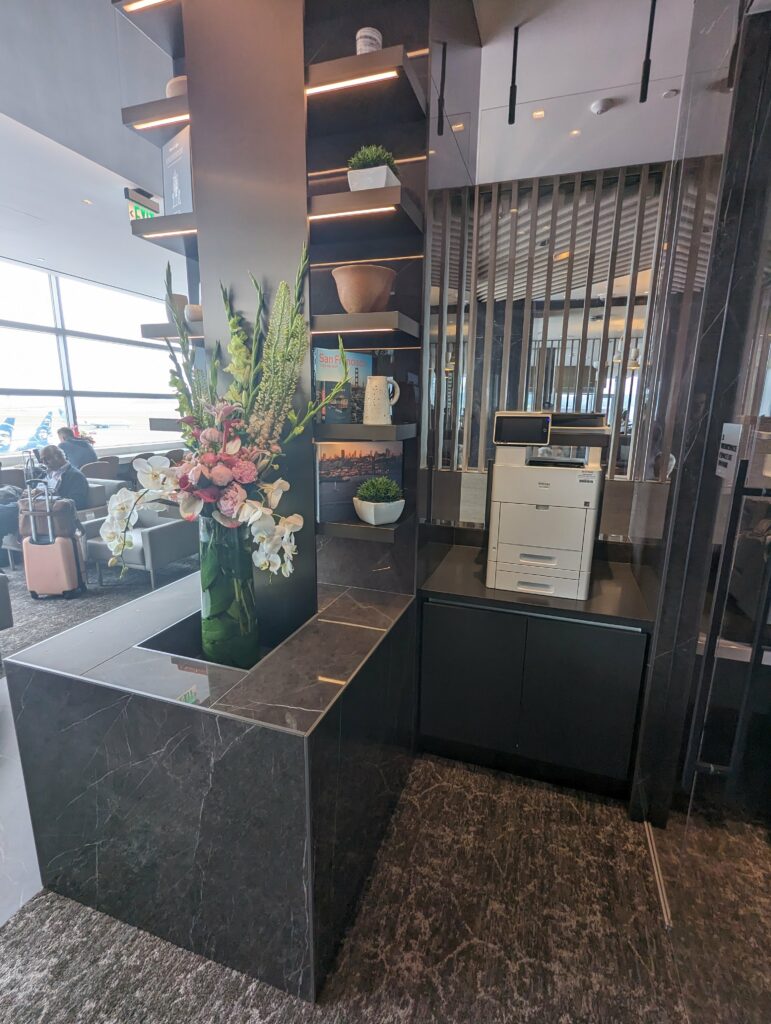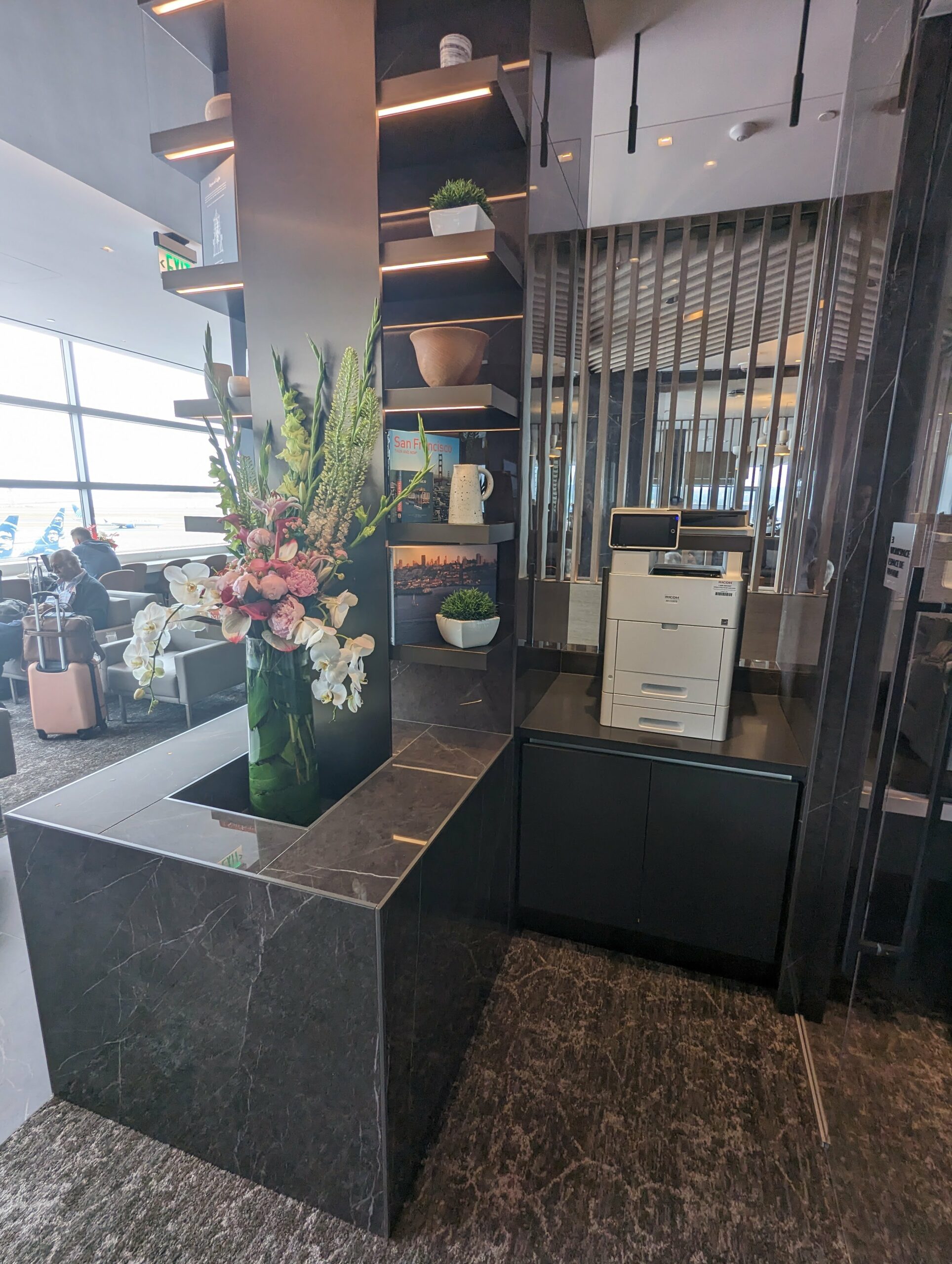 This means you can work in silence and with a real chair, or take calls without disturbing the rest of the passengers.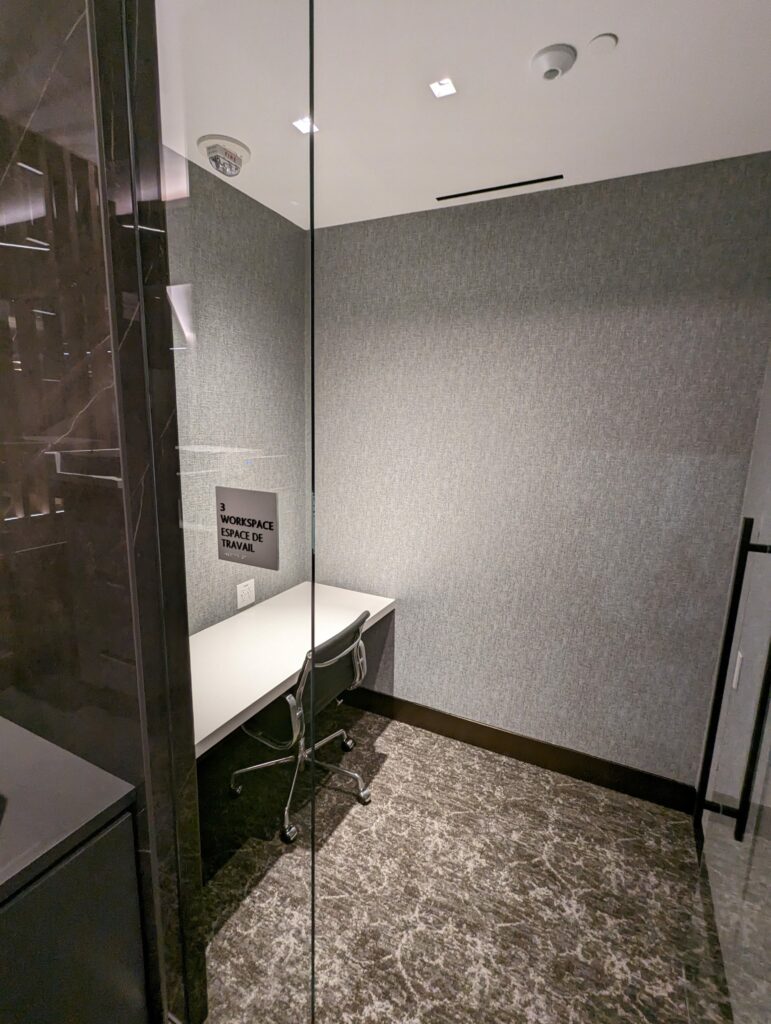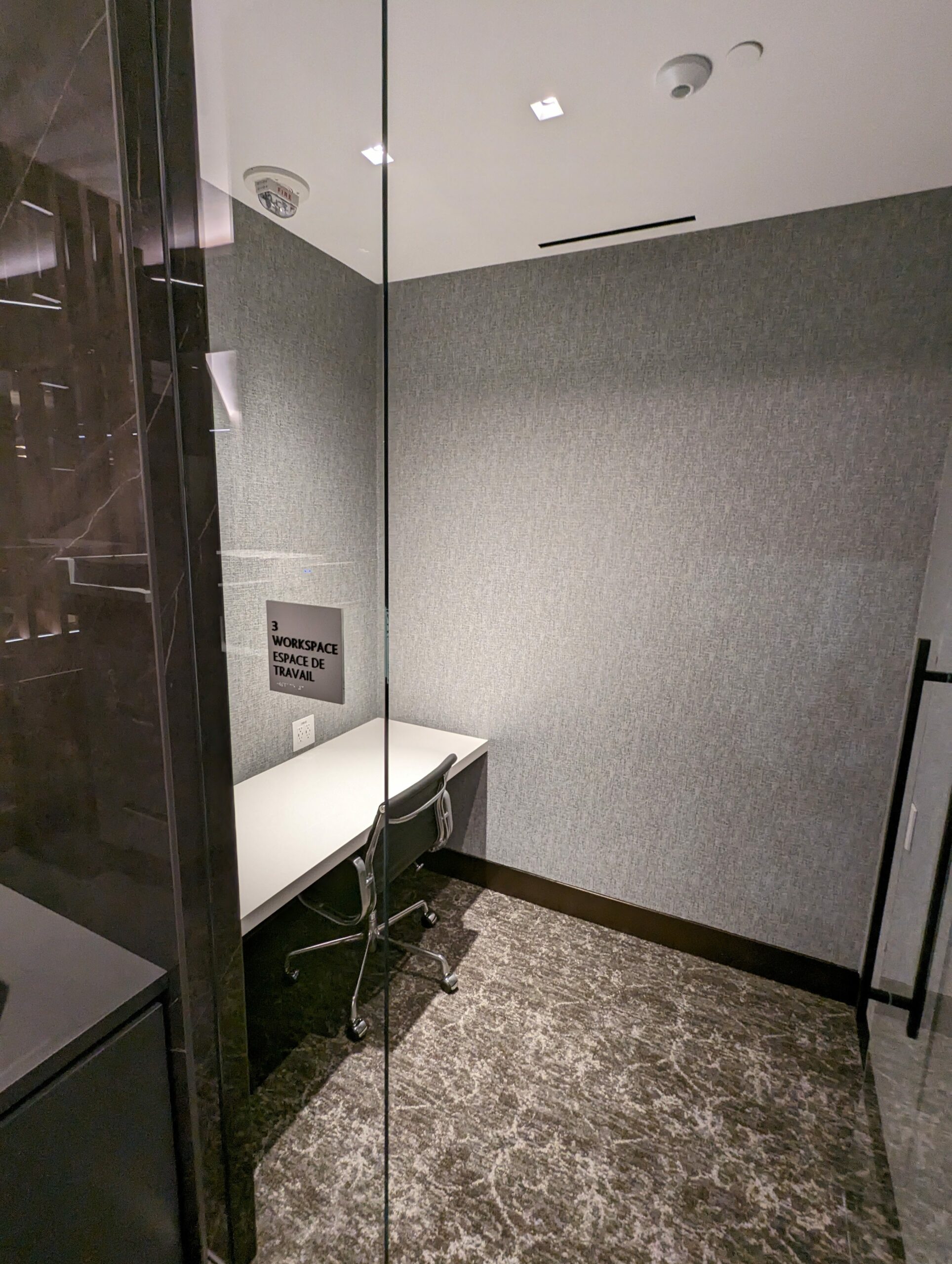 Air Canada Maple Leaf Lounge San Francisco (SFO) — Launch event
For those interested in a behind-the-scenes look, it's quite an experience to go to the air side (post-security) of an airport without having a flight to catch.
Air Canada had a temporary counter for guests, where I received a wristband and a boarding pass, which is really just a special pass for the security check.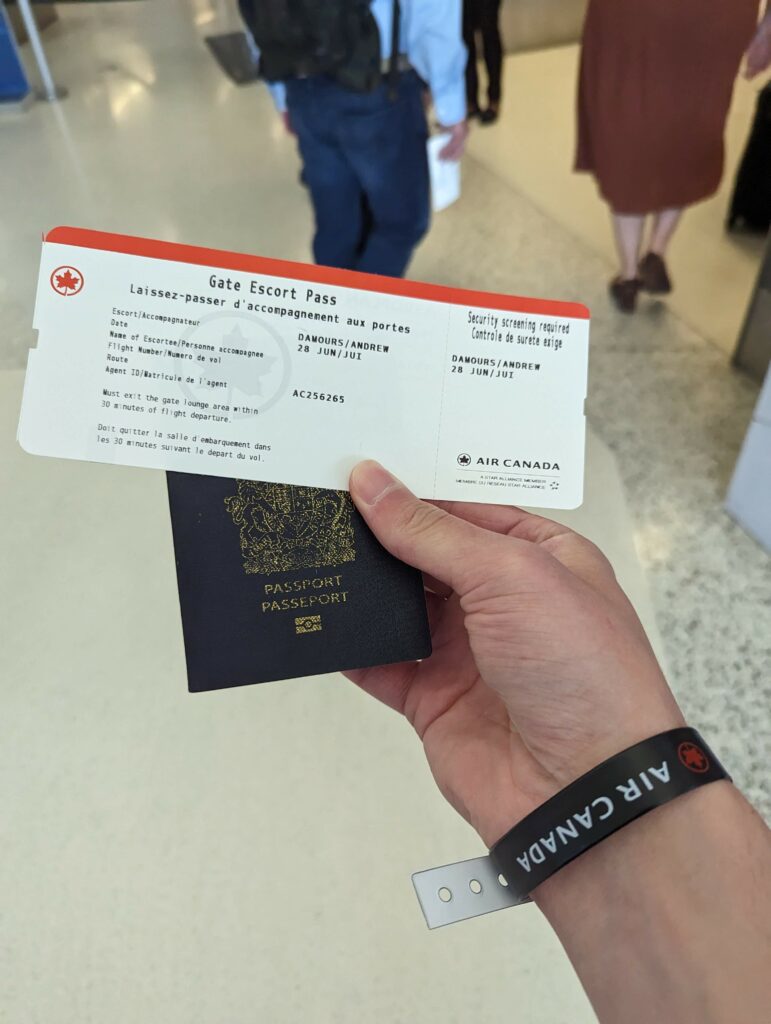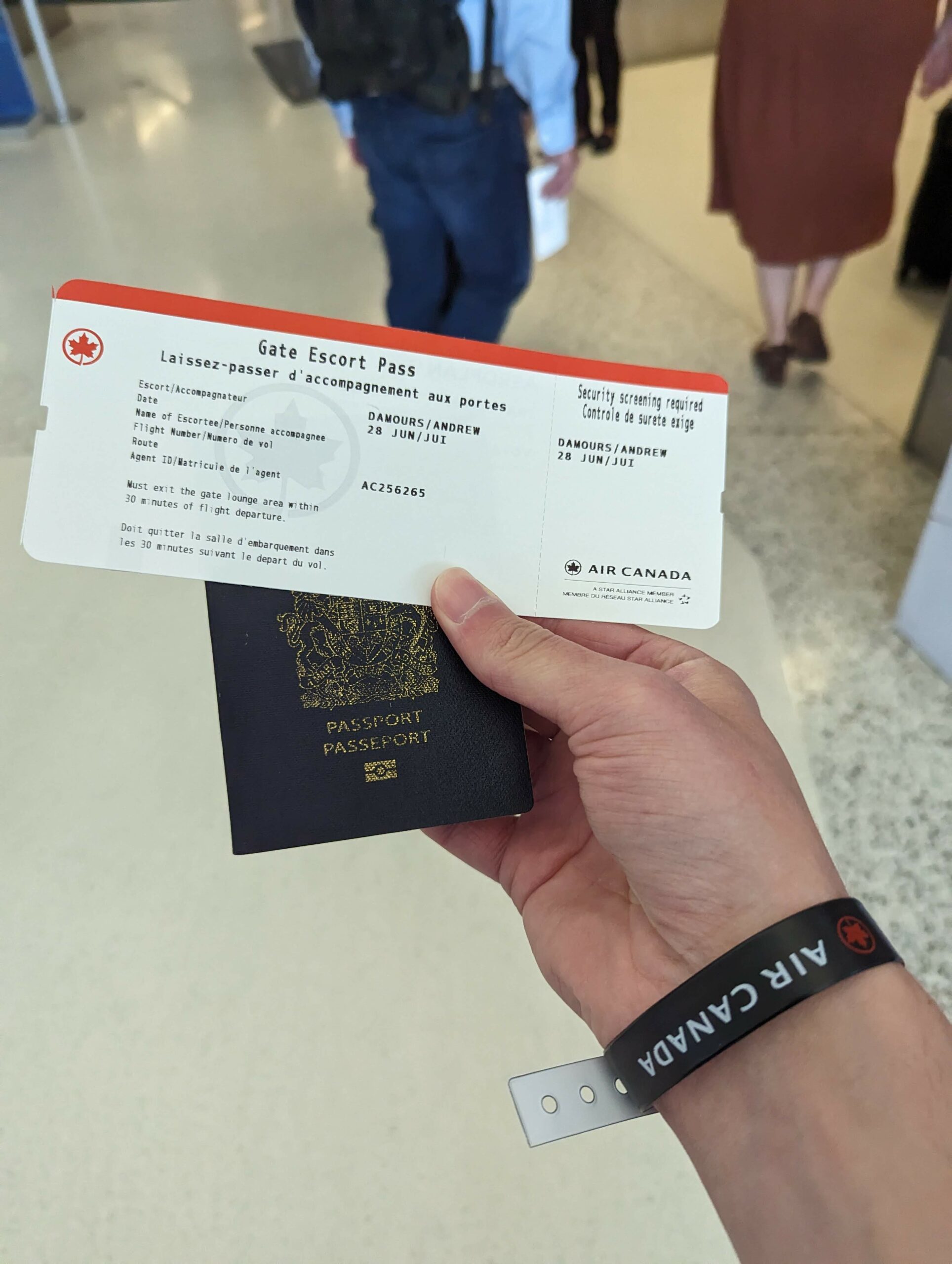 Members of the Air Canada team escorted us to the lounge.
I got to see the hidden side of the airport where I can't normally go, because we didn't go through the regular security checkpoint.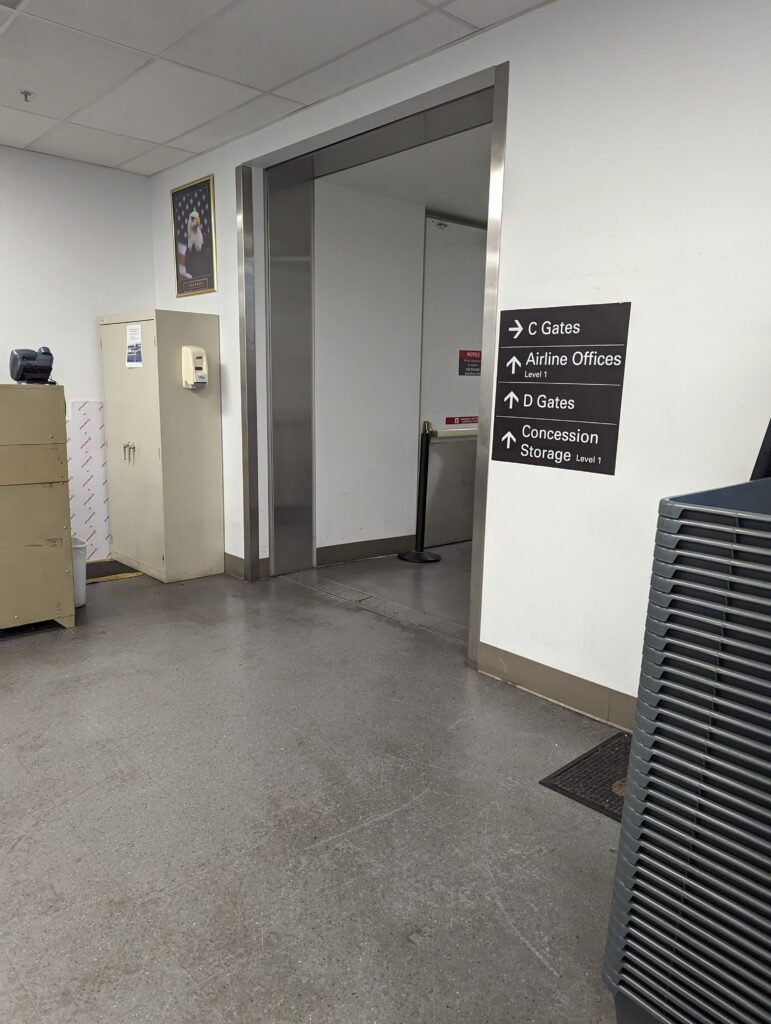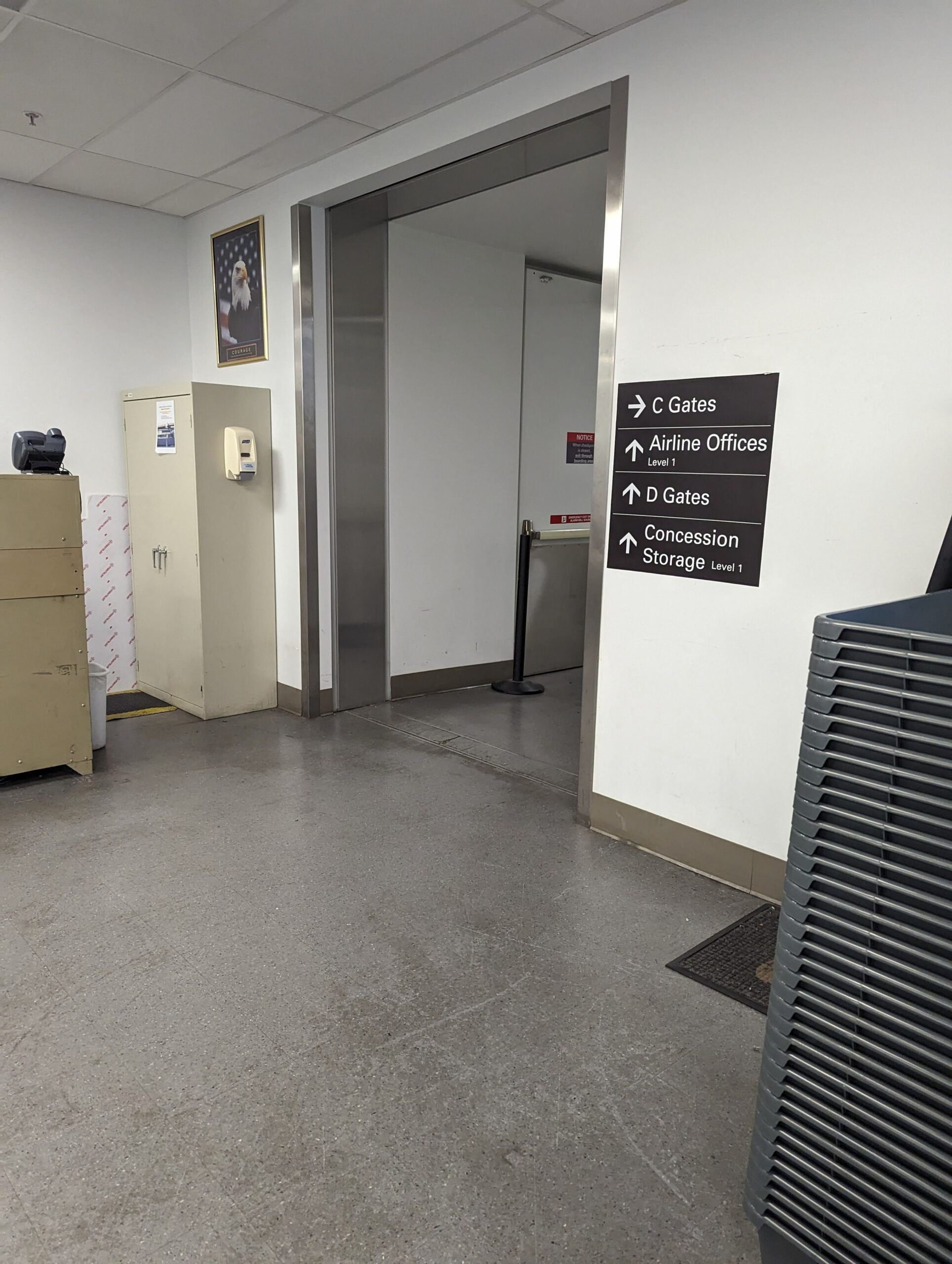 It's a checkpoint where employees pass through to avoid the lines.
It was even faster than the TSA PreCheck priority line I always have access to as a member of the NEXUS program.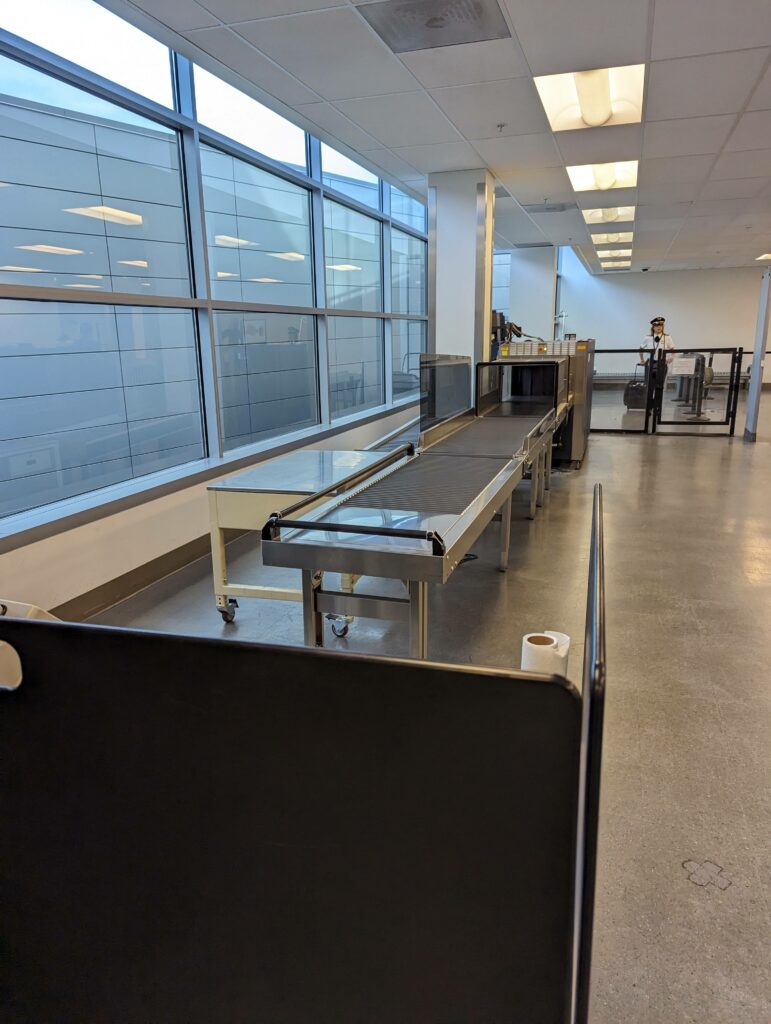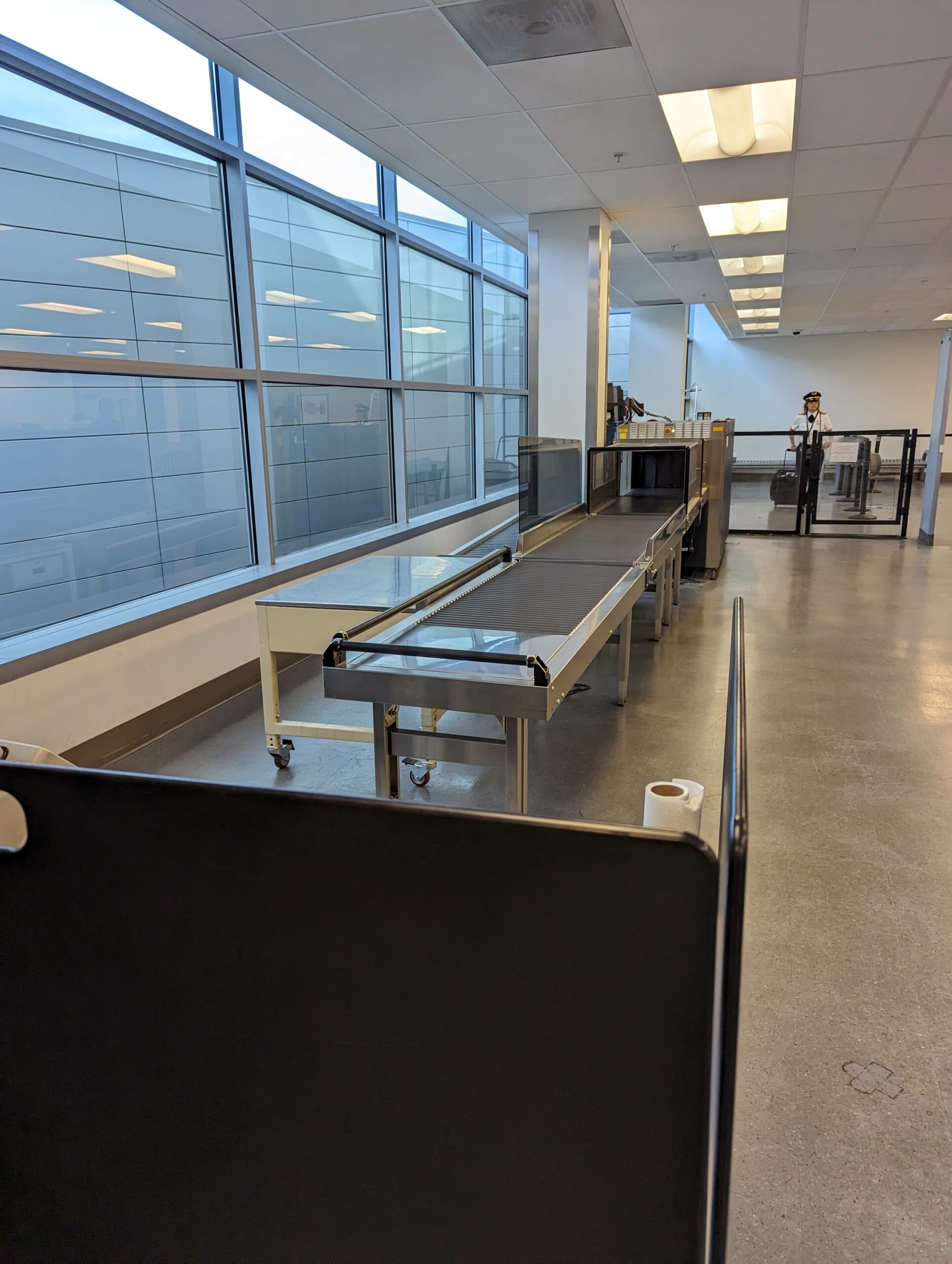 There were balloons at the entrance to celebrate the event.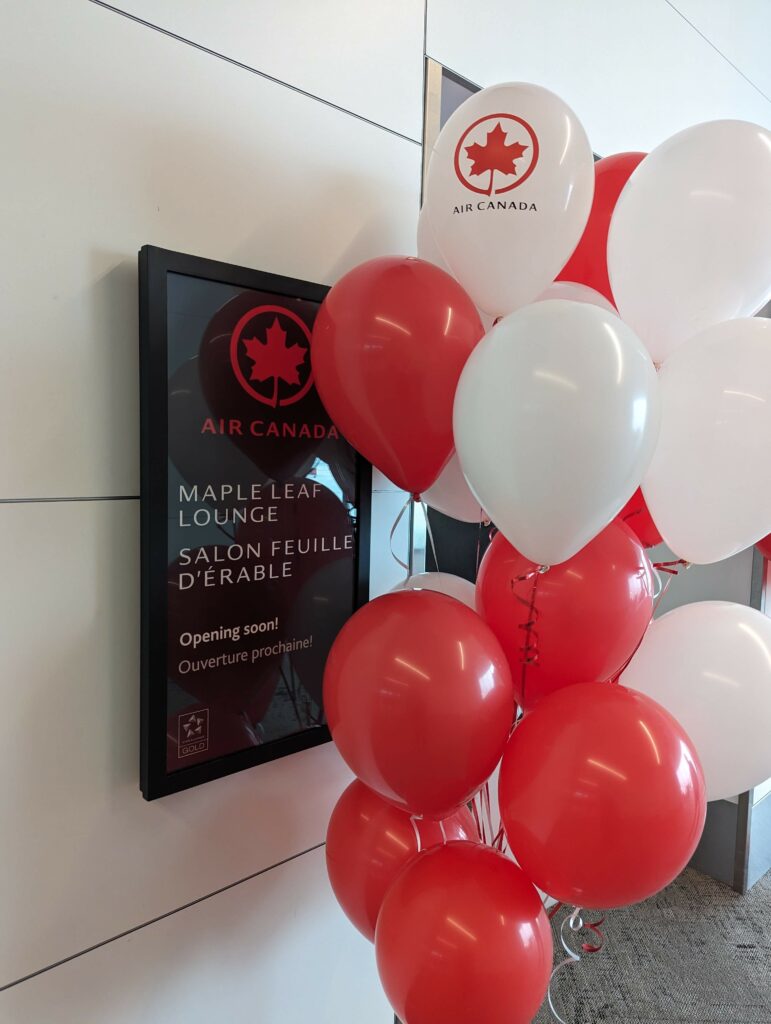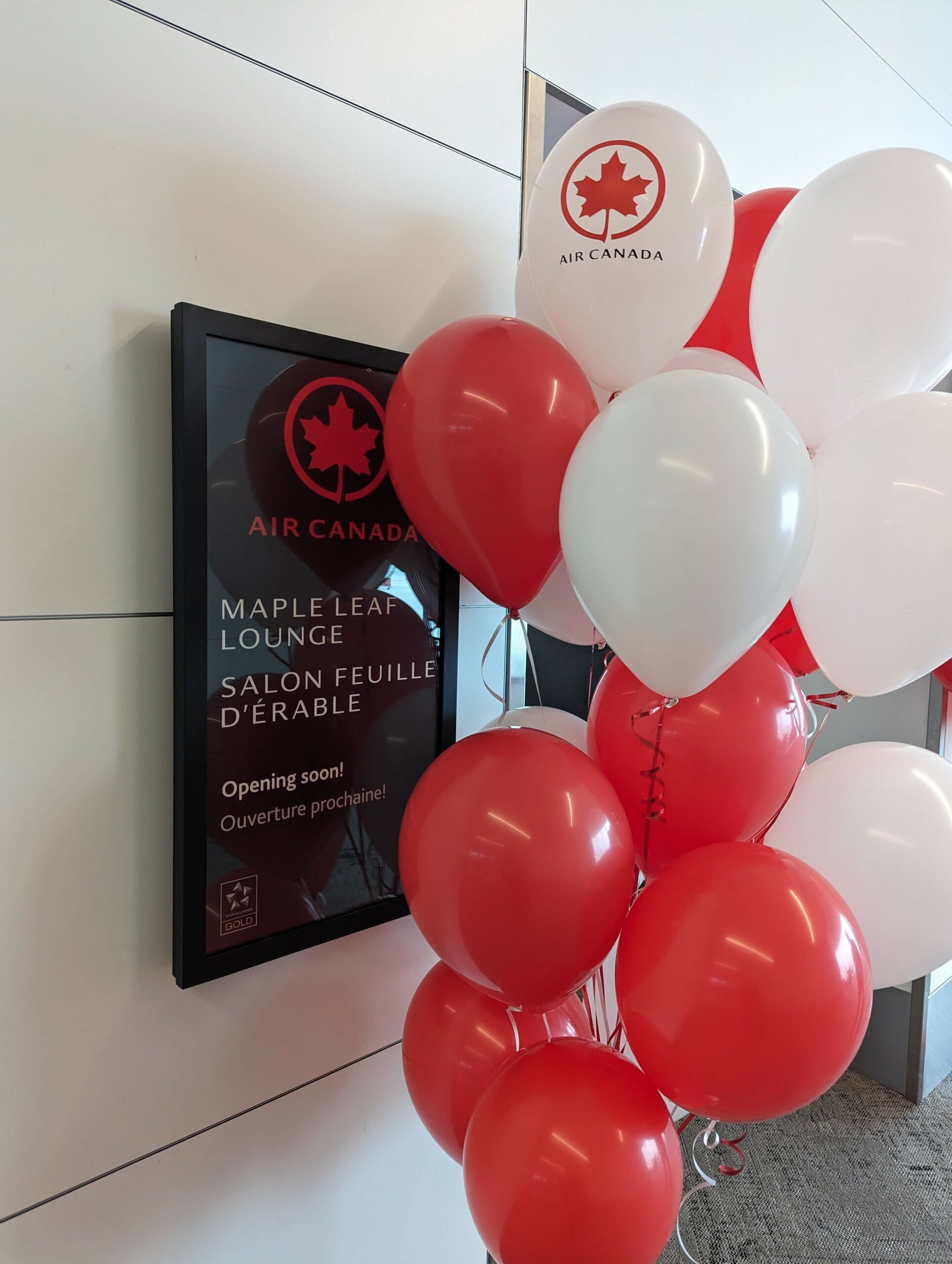 A waiter greeted us with sparkling wine, because you need something special since lounges always have an open bar anyway… that alone wouldn't be enough for a special event!
During the evening, Air Canada's vice-president Mark Nasr gave a brief speech introducing the lounge, and there was the traditional ribbon-cutting ceremony for the official inauguration.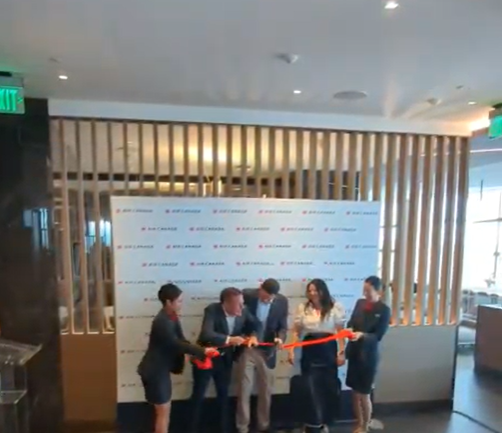 There was a DJ on the outdoor terrace to set the mood.
Finally, in terms of special features in the lounge for the launch, there was a graffiti artist on hand to tie in with the emphasis on art in the lounge's design. He wrote Flytrippers with correction fluid (what we call Liquid Paper) on a postcard of San Francisco's famous streetcars.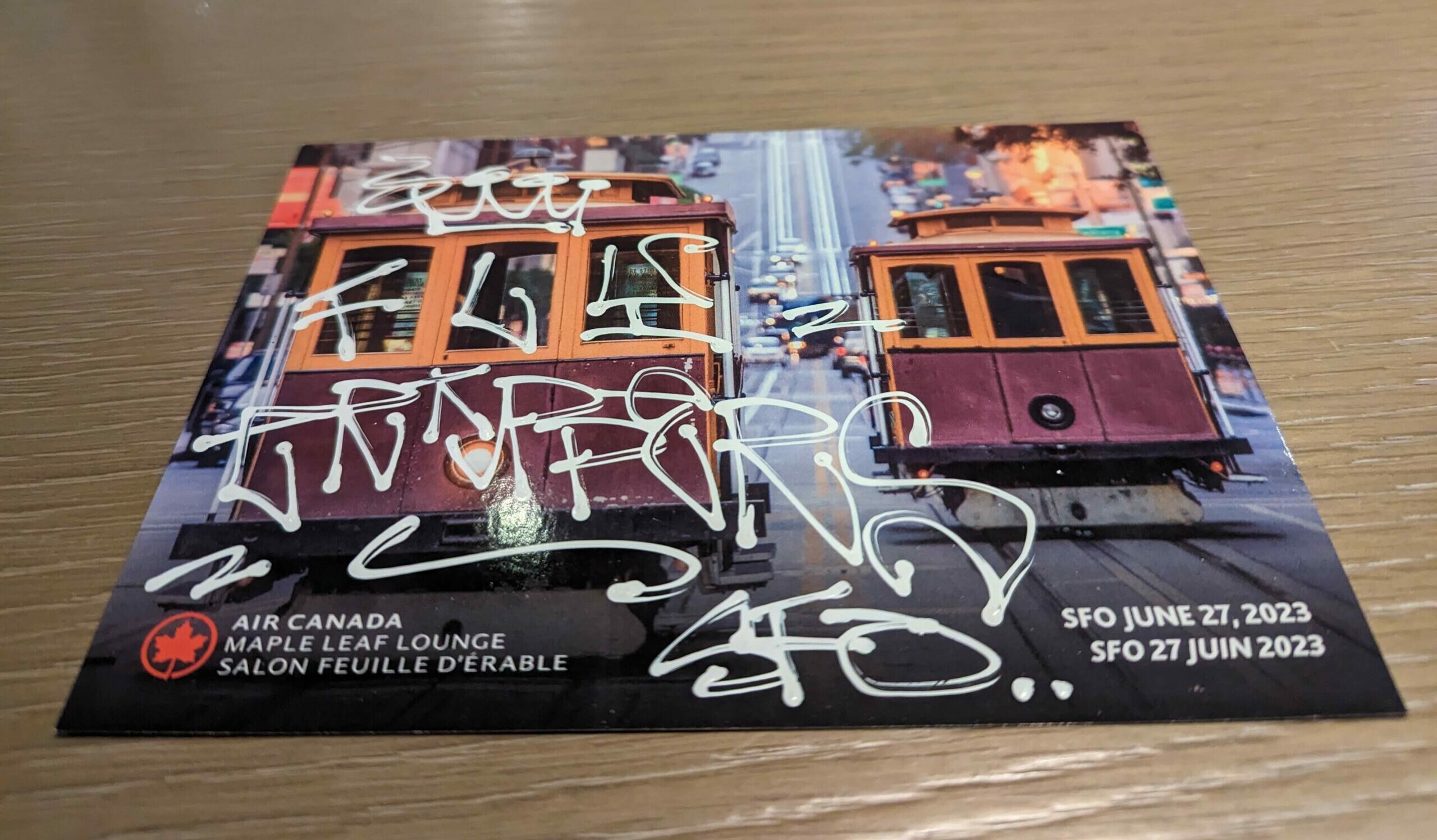 After lots of interesting discussions with lots of interesting travelers, it was all over far too quickly!
Want to get more content to make your airport experience more enjoyable?
Summary
The Air Canada Maple Leaf Lounge in San Francisco (SFO) is a magnificent new airport lounge with a superb outdoor terrace. Like the other Air Canada lounges, it's more exclusive than the others in terms of access, but if you do have access, it's a great place to relax before your flight.
What would you like to know about the Air Canada Maple Leaf Lounge in San Francisco (SFO)? Tell us in the comments below.
See the deals we spot: Cheap flights
Explore awesome destinations: Travel inspiration
Learn pro tricks: Travel tips
Discover free travel: Travel rewards
Featured image: Air Canada Maple Leaf Lounge San Francisco (photo credit: Andrew D'Amours/Flytrippers)
Share this post to help us help more people travel more for less: