New Zellers store locations are coming to Canada in 2023, so we mapped them out for nostalgic Canadians! There are only 25 new Zellers stores opening, so to travel back in time by revisiting this iconic Canadian brand, you might need to do some actual travel too.
And you'll probably earn 5% in travel rewards easily on your purchases to travel more, or even more than 5% on their online store that will be opening soon.
Here are the details of the Zellers relaunch, since our map of Tim Hortons locations all over the world has been so popular and Zellers is almost as much of a Canadian icon.
Map of new Zellers stores
Let's show you the map right away.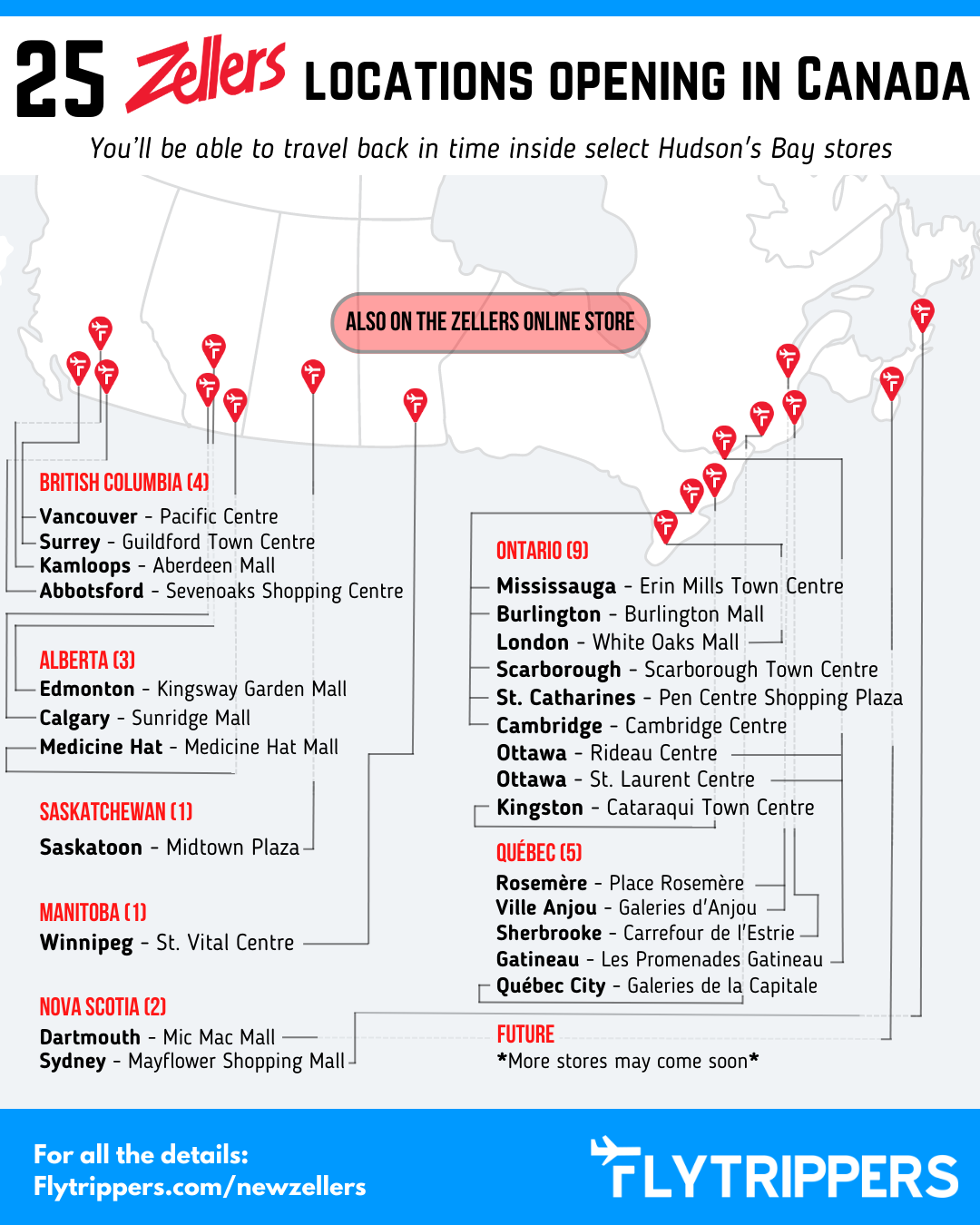 Here's what you need to know:
Zellers will be returning through the store-within-a-store concept
They will all be located inside Hudson's Bay locations
They will be small, at under 1,000 square feet
There will be an online store
There will be 25 locations in 7 provinces at first
More stores "may" come
Zellers was an iconic Canadian discount department store for decades, reaching a peak of 350 stores in the late 1990s.
Then, it shut down about 10 years ago after the Hudson's Bay Company sold many of the store leases (not the stores or the brand) to the equally iconic US retailer Target.
Target then proceeded to orchestrate one of the most epic failures in the history of retail business and lost billions. Less than 2 years into the debacle, they announced they were pulling out of Canada entirely, leaving us with no remnant of Zellers at all.
Maximizing your return at Zellers or Hudson's Bay
Every traveler should get into travel rewards to get a ton of free travel. It can be really easy too. For example, just get the TD First Class Travel Visa Infinite Card and you'll get an easy $825 travel credit for free with the welcome bonus!
Welcome bonuses are the key (attend our free webinar for beginners if that's news to you), but you should also maximize your earnings on your purchases too, even if it's less important. It's still free points.
For almost all big-name retailers, it's so easy to get at least 5% in return. How?
With the gift card trick.
A few cards earn 5% or more at grocery stores. Grocery stores carry a ton of no-fee gift cards to other retailers as well. So you can get 5% or more at all the other retailers too!
For example, Hudson's Bay gift cards are available in grocery stores. Depending on how the Zellers stores are set up, you might be able to pay with those Hudson's Bay gift cards and earn 5% or more on your Zellers purchases! Or maybe they'll have Zellers gift cards in grocery stores.
Here's an infographic that summarizes the gift card trick.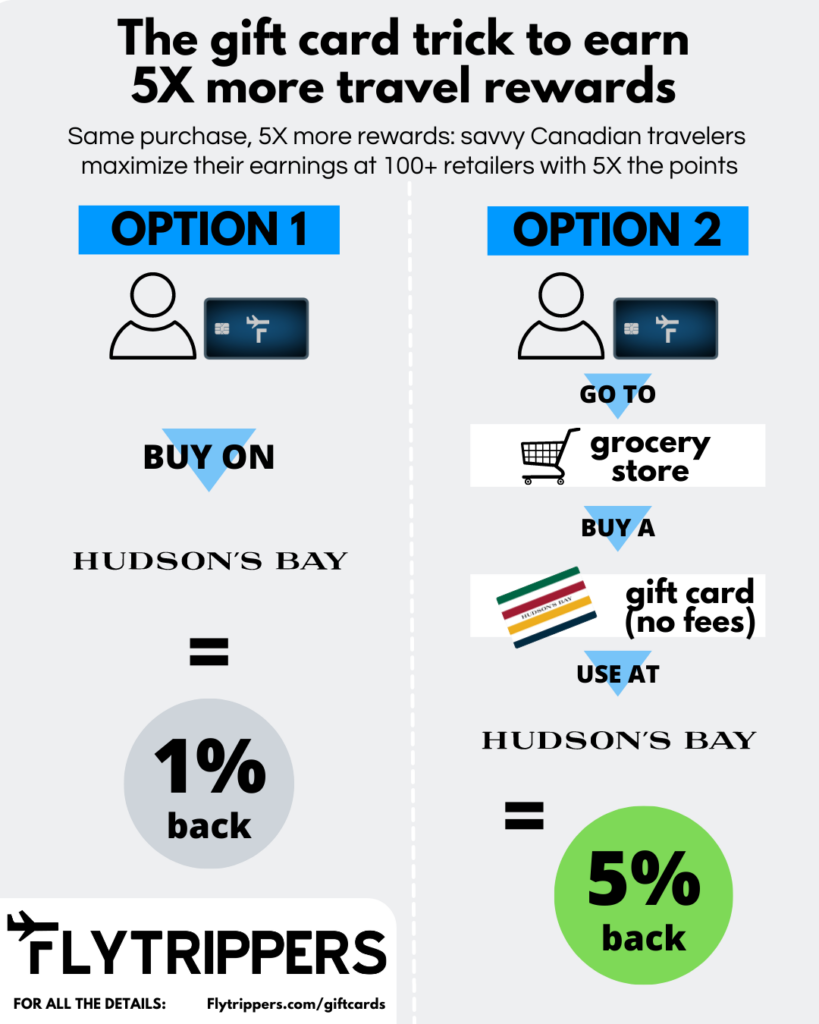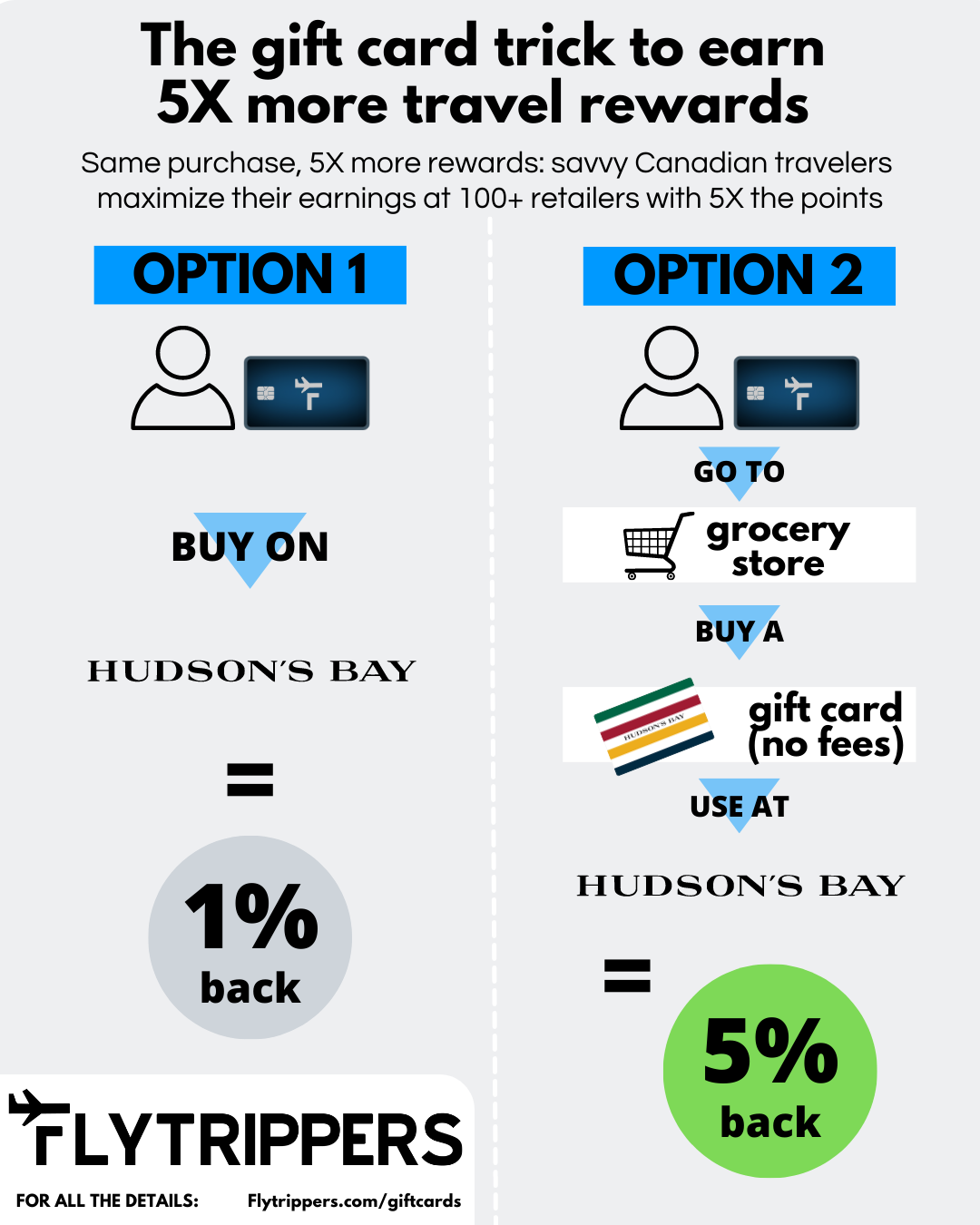 So you'll get at least 5 times more travel rewards for the exact same purchase, just by being a savvy travel rewards pro!
And there's more: the American Express Cobalt Card's 5 points per dollar actually gives you more than 5% if you want! They're worth ≈ 7.5% at our Flytrippers Valuation because you can transfer them to valuable Aeroplan points that have unlimited value! It's a little more complicated, but a lot more rewarding. You can attend our free Aeroplan webinar for an introduction.
Maximizing your return online
Buying online is even more rewarding. And so much more convenient. It's 2023 by the way. If you're among the many people who say they don't have time to plan their trips adequately to save literally thousands of dollars, my tip is to stop wasting time going in stores when everything can be shipped for free in a few clicks at the same price (and you save gas).
And you earn more rewards!
Thanks to online shopping portals that double or triple your rewards in a few clicks.
So if the upcoming Zellers online store ends up being added to online shopping portals, you can an extra 1%-2%-3% (or more during the portals' regular promos) on top of the 5% minimum you earn with your credit card.
Let's just use Hudson's Bay as an example.
On the best shopping portal, the Aeroplan eStore, you get 3 points per dollar spent. That's a ≈ 4.5% bonus!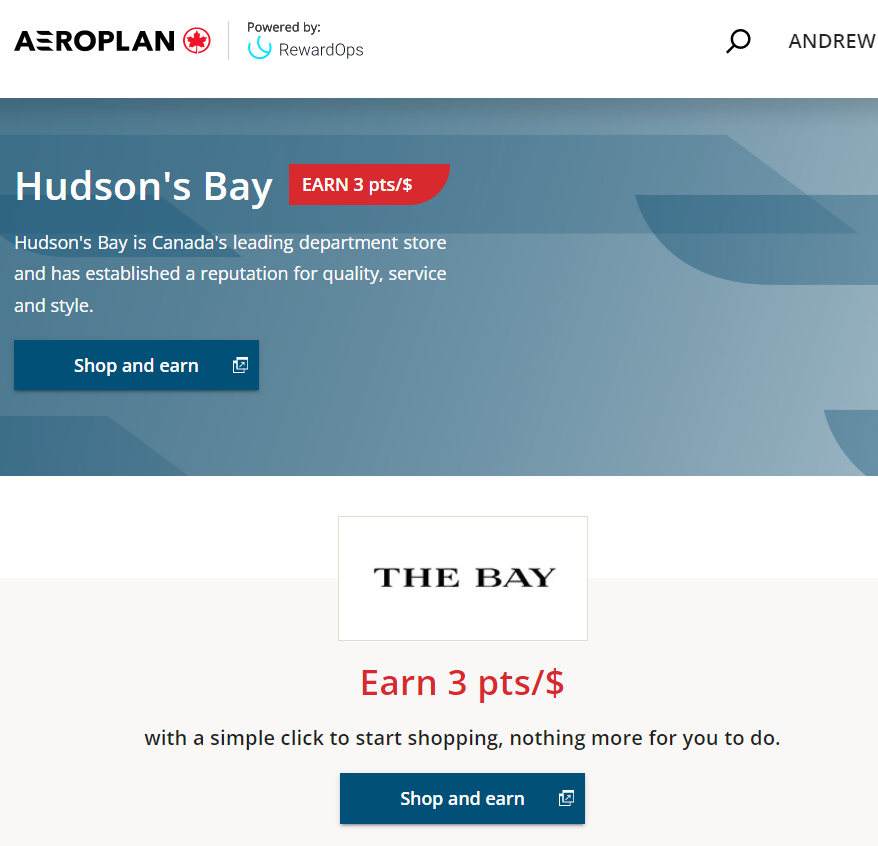 If you use the gift card that you got with the Amex Cobalt Card at the grocery store, you earn ≈ 12% back! For the exact same purchase, when most people sadly only get 1%.
Yes, 12 times more free travel. So easily…
If you want simpler rewards, there's always cashback. But it's almost always less valuable, because it's less complicated. You always get either more simplicity, or more value. In anything.
The Rakuten online shopping portal gives you a 1% bonus at Hudson's Bay.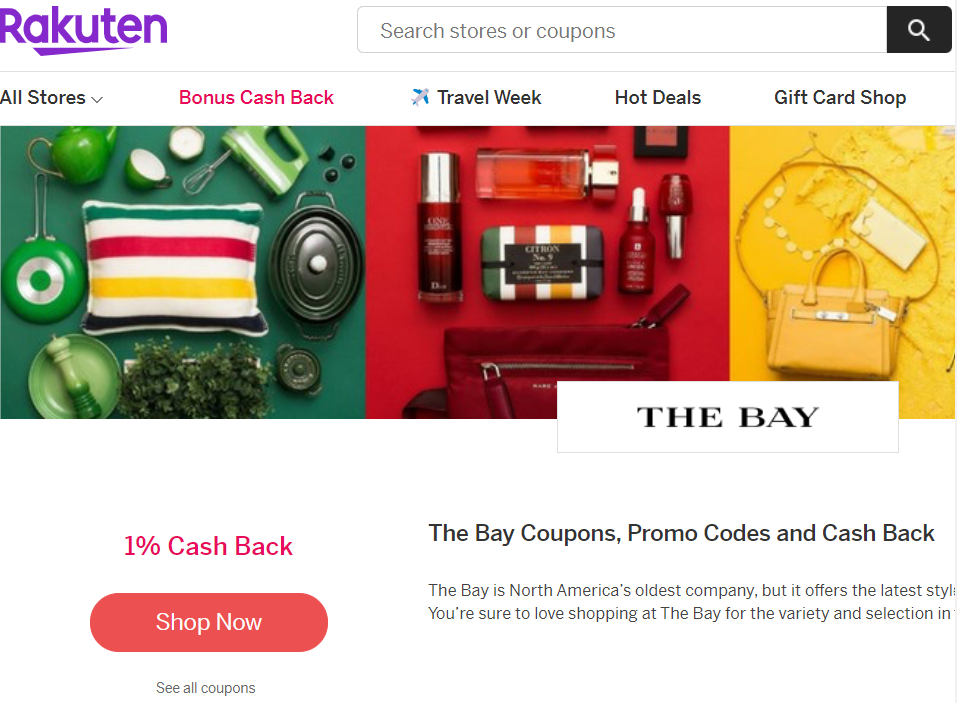 See the difference? It's ≈ 4.5% or 1%.
That really shows how lopsided the value you get with travel rewards is compared to horrid cashback. It's just as striking with credit cards too, not just shopping portals.
So cash back should obviously be avoided if you're a traveler. They offer more simplicity… not more value.
Still, getting a 1% bonus is obviously better than doing what most people do, which is going to the retailer's website directly and getting a big fat 0% bonus, sadly.
Want to keep up with all important news impacting the world of travel?
Summary
The iconic Canadian retailer Zellers is making its way back throughout the country in 25 Hudson's Bay locations and online, and this might be a great opportunity to learn to maximize the travel rewards you get on your purchases through online shopping portals, so you can even more free travel.
What would you like to know about this news? Tell us in the comments below.
See the deals we spot: Cheap flights
Explore awesome destinations: Travel inspiration
Learn pro tricks: Travel tips
Discover free travel: Travel rewards
Featured image: Map of new Zellers store locations in Canada in 2023 (image credit: Flytrippers)
Share this post to help us help more people travel more for less: