Here's a final reminder that the HSBC Rewards program is currently offering a 30% transfer bonus if you transfer your points to the Avios program through June 30 (tonight). This is a great promo for those who want to maximize their free travel, if you can be a little flexible, of course.
The transfer bonus only works if you have the HSBC World Elite Mastercard, one of the best cards in Canada.
(However, unlike most of the cards that give $500+ in welcome bonuses right now in our ranking of the best credit cards in Canada, the HSBC World Elite Mastercard requires a certain minimum income.)
The other 2 cards that earn HSBC Rewards points don't offer the ability to transfer points to get more value, though.
Basics of the HSBC transfer bonus
As a reminder, if you have the HSBC World Elite Mastercard, you can use your HSBC Rewards points in 2 ways:
as a

simple travel credit

on any travel expense so you can have more flexibility

as discounts on specific flights by transferring them to the

Avios program

so you can get even more value
Until June 30, the 2nd option is even more profitable than usual: you get 30% more Avios points!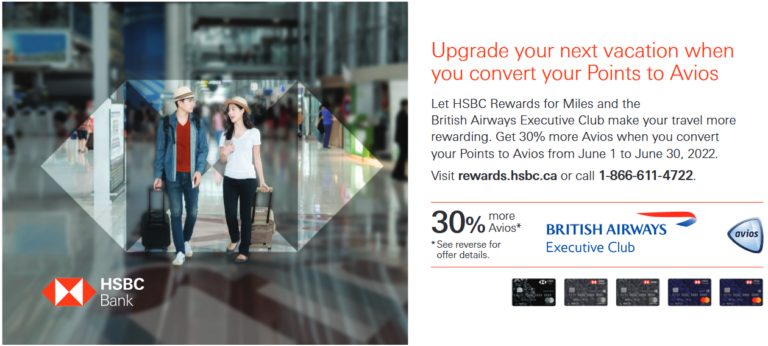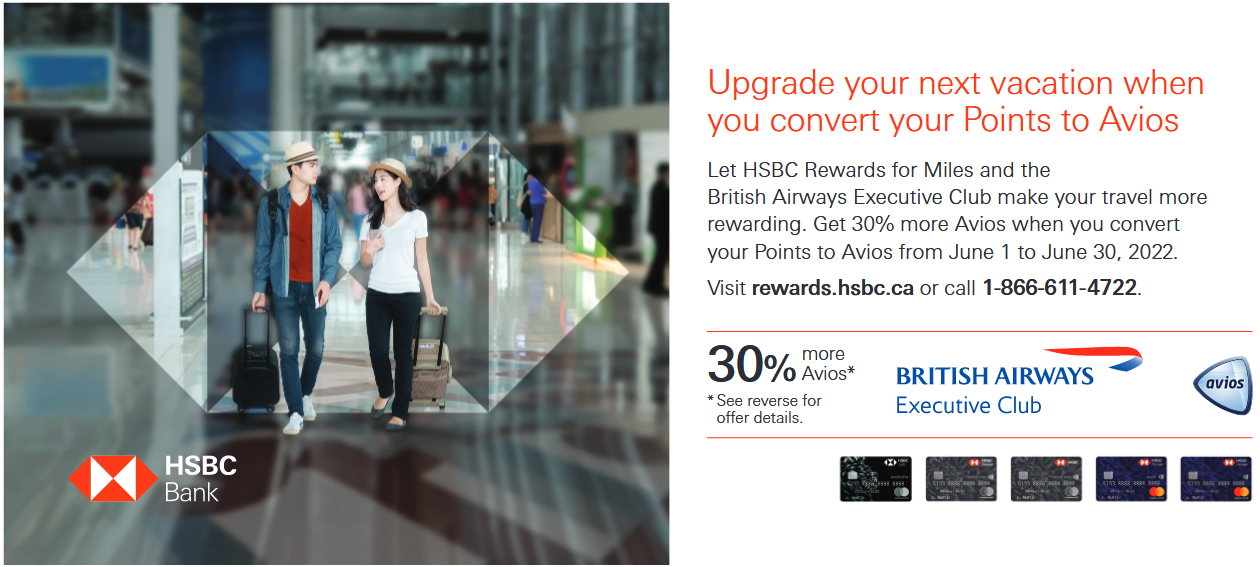 This is called a "transfer bonus" and bank rewards programs do this sometimes. HSBC does this with Avios pretty much every year. Sometimes it's a 35% or 40% bonus, but if you plan on using Avios points in the next year, 30% is great!
It gives you even more free travel… completely for free!
For example, the current HSBC World Elite Mastercard welcome bonus is worth ≈ $639 in free travel right now. With this transfer bonus, that same welcome bonus would be worth ≈ $815!!! (It gives you 98,000 HSBC points, which would be worth 30% more!)
It's absolutely amazing for just one welcome bonus (with no annual fee the 1st year on top of that, at least for non-Québec residents)!
With this transfer bonus, instead of getting 10,000 Avios points if you transfer 25,000 HSBC points, you will get 13,000 Avios points.
This is very interesting for those who know how to use Avios points or who want to learn! But don't forget that transfers are one-way and irreversible! So you have to be sure that you can make a good use of your points in the Avios program.
Basics of Avios points
Avios is in our cheat sheet of the 5 essential rewards programs for Canadian travelers: it's the 2nd best airline program (by far). That's why it's good to have your free account created so you can be ready when there are interesting transfer bonuses like this one.
But you have to understand that Avios points really aren't for everyone either! They're much more niche than Aeroplan points (and the ways you can maximize your points aren't as common as those for the Aeroplan program).
Normally, you get ≈ 20% more value by transferring your HSBC points to Avios, according to our Flytrippers Valuation. With this transfer bonus, HSBC points are 56% more valuable if you transfer them rather than use them as a simple travel credit.
Now it's starting to make a big difference for those who want to travel more and it's worth it for more travelers to transfer points.
You can check out our new ultimate guide to the Avios program or the best uses of Avios points to make sure that this is a better option for your personal situation than keeping them in the HSBC Rewards program.
Deciding whether or not to transfer points
Variable-value rewards (like Avios points) can obviously be much more valuable than fixed-value rewards (like HSBC points), but it's much less flexible of course!
In travel as in everything else: the simpler it is, the less value you get! As passionate travelers and deals lovers who always want to maximize everything, we definitely transfer our HSBC points to Avios.
But some people prefer simplicity, and it's great to have the option to do both with hybrid and transferable points like HSBC points and also American Express points (which is why it's going to be the next ultimate program guide we publish, after HSBC Rewards, Avios, and Marriott Bonvoy).
The HSBC Rewards program is more restrictive than the Amex program for transfers. That's because you have to transfer at least 25,000 HSBC points at a time, and then you can only transfer in increments of 10,000 points (25,000, 35,000, 45,000, 55,000, etc.), whereas Amex allows you to transfer whatever amount you want. If you want to transfer 50,000 HSBC points, you can do 2 separate transfers of 25,000 points each to try to get around that rule.
In short, let's say you have 100,000 HSBC points to make a round number. As a simple travel credit, that gives you $500 off.
With the transfer bonus, that could give you 52,000 Avios points. According to our Flytrippers Valuation, that's worth ≈ $780 (Avios points are worth ≈ 1.5¢ per point)!
But to at least not lose value, you need to save $500, meaning a value of 0.96¢ with your 52,000 Avios points. That's quite doable, even if you don't use Avios points that well!
And if you want to travel in business class, you can easily get 3¢ per Avios point, which is 6X more value than with your HSBC points!
How to transfer HSBC Points
If you decide to transfer your HSBC points (or a portion of your HSBC points), our ultimate guide to the HSBC Rewards program has a section that shows you exactly how to do it step by step. It's not too complicated.
As mentioned, the transfer bonus doesn't appear immediately, but as long as you do it before 11:59 PM (Eastern time) on June 30, you should receive the bonus in your Avios account!
Want to receive all news and promos about travel rewards?
Summary
For a (very) limited time, meaning until June 30, you can get a 30% bonus if you transfer HSBC Rewards points to the Avios program. It's a great way to maximize your free travel!
What would you like to know about the HSBC to Avios transfer bonus? Tell us in the comments below.
See the deals we spot: Cheap flights
Explore awesome destinations: Travel inspiration
Learn pro tricks: Travel tips
Discover free travel: Travel rewards
Featured image: Miami, Florida (photo credit: Mimi Di Cianni)
Advertiser Disclosure: In the interest of transparency, Flytrippers may receive a commission on links featured in this post, at no cost to you. Thank you for using our links to support us for free, we appreciate it! You allow us to keep finding the best travel deals for free and to keep offering interesting content for free. Since we care deeply about our mission to help travelers and our reputation and credibility prevail over everything, we will NEVER recommend a product or service that we do not believe in or that we do not use ourselves, and we will never give any third-party any control whatsoever on our content. For more information on our advertiser disclosure, click here.
Share this post to help us help more people travel more for less: